Taco chicken ready in just 10 minutes! This taco skillet chicken recipe is going to become your new favorite way to make chicken for your tacos or other Mexican inspired dishes! Ready in just 10 minutes, this recipe is so easy to make and incredibly flavorful!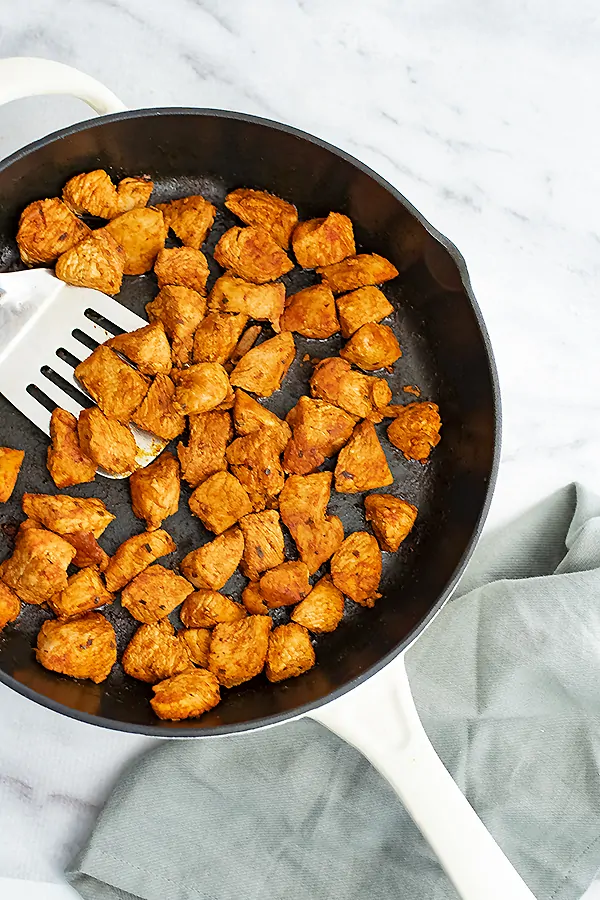 This post contains affiliate links. As an amazon associate I earn from qualifying purchases.
Click here to read my policy
and more about affiliate links.
Why this recipe works

Simple ingredients – you likely have everything you need to make this 10 minutes skillet chicken in your pantry or fridge right now! Make your own taco seasoning to make this super budget friendly!

So many uses – This 10 minute skillet chicken taco meat is packed with flavor and the chicken is perfect for tacos, taco salad, burritos or even pizza!

Easy weeknight meal idea – This healthy recipe for chicken taco meat is perfect for weeknight meals and makes great leftovers!

Family friendly – Try it with homemade guacamole or homemade salsa in tacos for a quick, family friendly meal everyone will love.

Healthy chicken taco meat is paleo, Whole30, low carb, low FODMAP and keto friendly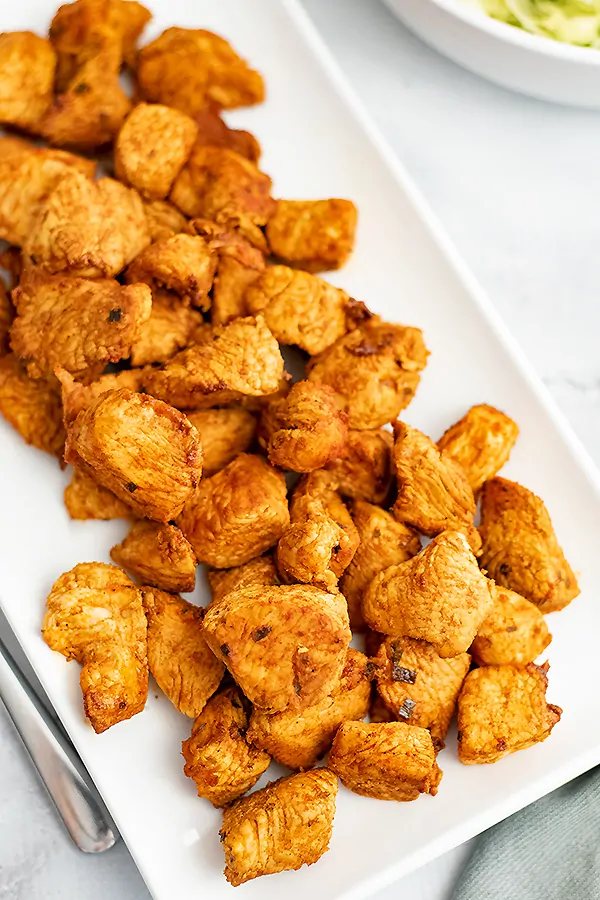 Ingredients
Boneless, skinless chicken breast or thighs – you will want to cut the chicken into bite size pieces. You can use kitchen shears (my preferred method) or you can use a knife and a plastic cutting board.
Taco seasoning – you can make your own taco seasoning or use your favorite store bought.
Olive oil – this helps the seasoning stick to the chicken and also ensures that you won't need to add any oil to the pan.
Red wine vinegar – this helps to give the chicken flavor and also helps to create a brown crust on the outside of the taco chicken as it cooks.
Instructions:
Step 1: Start by cutting up chicken breast or thighs into bite size pieces. I use clean kitchen shears to do this easily.
Step 2: Make the taco seasoning mix in a small bowl.
Step 3: Add the chicken pieces to a large bowl. Add red wine vinegar, olive oil and taco seasoning to the chicken.
Step 4: Stir the chicken and seasoning and make sure it's well coated.
Step 5: Heat a large skillet over medium heat. Once hot, add the chicken and allow to cook for 8-10 minutes depending on how large the chicken bites are and how hot the pan was.
Step 6: Test the temperature of the chicken (should be 165F) before removing it off the heat.
Step 7: Stuff the chicken in a taco, burrito, chimichanga, over a taco salad, or serve on tostadas!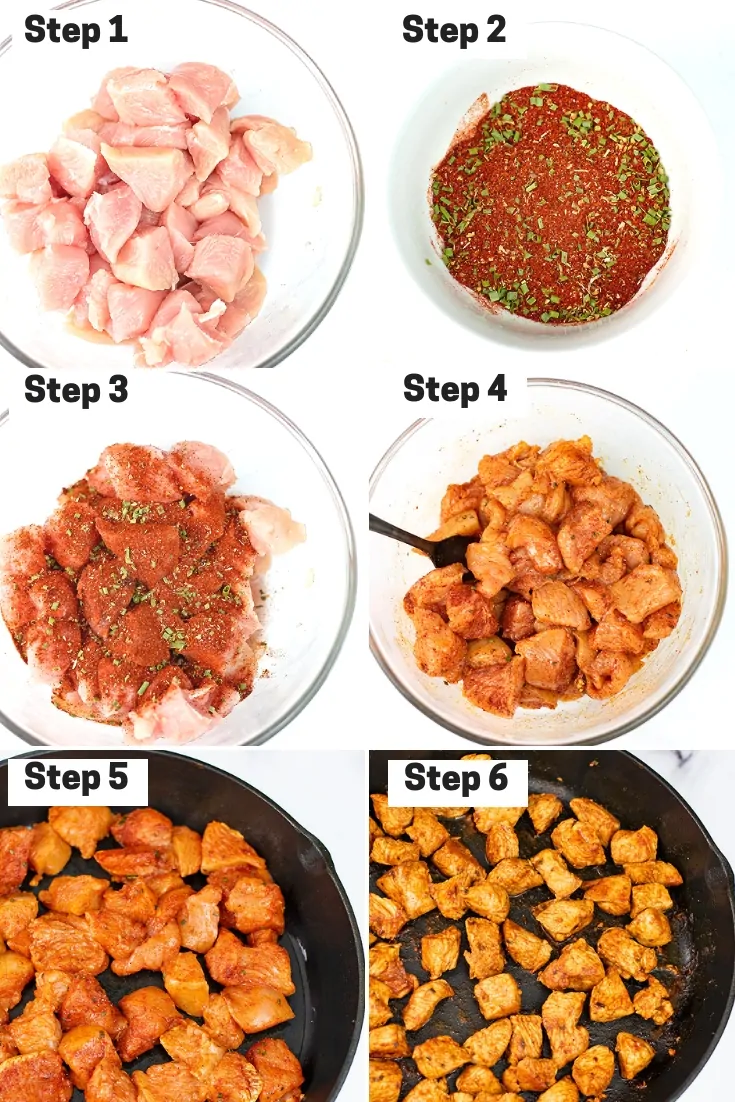 How to use quick taco chicken
Toppings for chicken tacos
What to serve with skillet taco chicken
This skillet taco chicken can be used so many ways or as a simple protein for a quick and easy meal. Here are some great side dishes that are all ready in 30 minutes or less!
Common Questions
Why you should make your own taco seasoning
Making taco seasoning at home is very easy and you get to control the quality of ingredients. Store bought taco seasoning can have preservatives, artificial flavoring and coloring and is often full of additives you don't want (like MSG).
There are healthier brands of taco seasoning on the market but they are often quite expensive.
Instead, you can make your own taco seasoning with spices you likely already have on hand at home. Make a big batch (once you know you like the recipe) and store extra in glass jars.
How to make taco seasoning
Get step by step instructions on how to create my Whole30, Low FODMAP homemade taco seasoning.
In a small bowl combine these ingredients. Stir well and store in a glass container.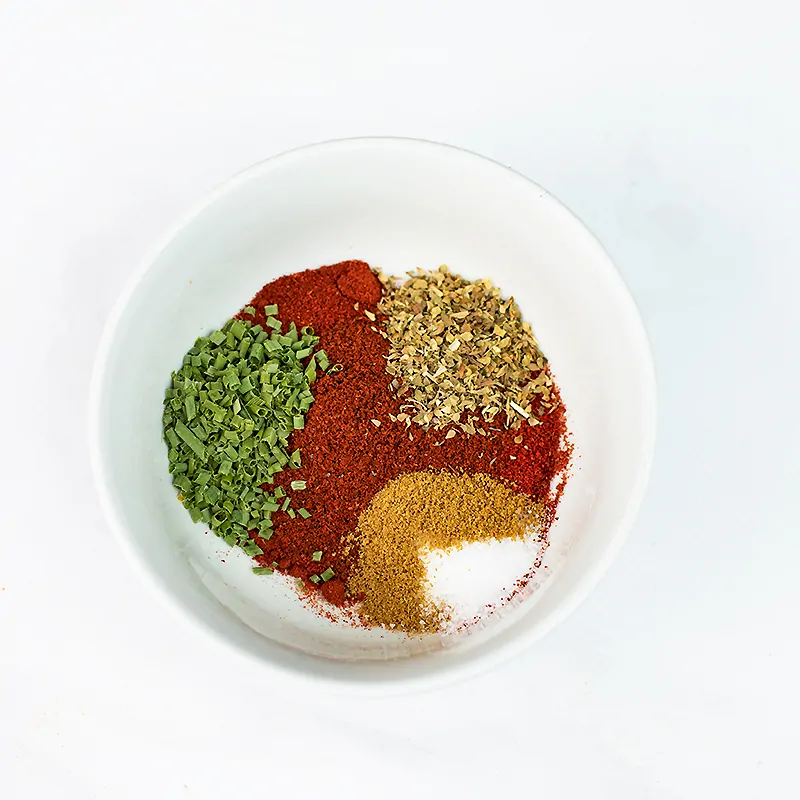 TIP: I like to save glass spice jars once they are empty. Simply wash out the bottle and remove the label. You can reuse these containers over and over again.
For the best tasting taco seasoning, make sure you are using fresh herbs and spices!
I buy all my spices on Thrive Market or try to pick them up at Aldi or Trader Joe's to save money! You can also buy them in bulk at stores like Costco or Sams.
Storing leftover chicken
Fridge: Once cooked, the chicken will last about 3 days in the fridge in a sealed container
Freezer: In the freezer, the chicken taco meat will last about 3 months. Be sure to store it in an airtight freezer safe container.
TIP: Freeze individual portions of the cooked chicken taco meat for an easy grab and go protein (I love Soupercubes for this). Let it defrost overnight or in your lunch box for the next day. Reheat in the microwave or in a skillet over medium heat until warmed through.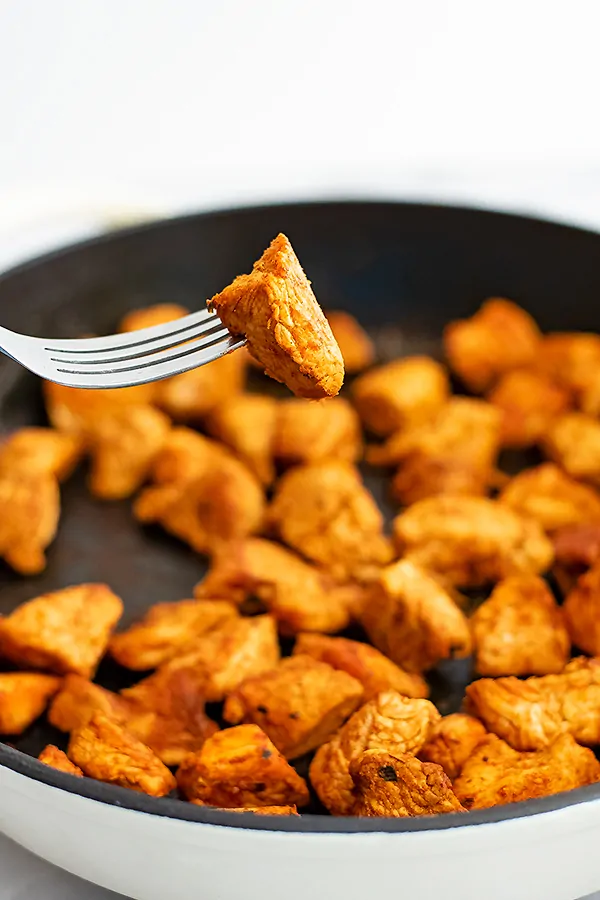 Substitutions
Boneless, skinless chicken breast or thighs – you could also use turkey breast or thighs (boneless, skinless) if you don't have chicken. Another great option is using chicken tenders, as they are already cut into very thin pieces, you can cut these up faster into bite size pieces.
Red wine vinegar – If you don't have red wine vinegar you can use apple cider vinegar, lime juice, white wine vinegar or lemon juice.
Olive oil – you can also use avocado oil in place of olive oil. You could use melted coconut oil or ghee as well, but this will change the flavor of the dish.
Taco seasoning – if you don't have taco seasoning and don't have all the ingredients listed above to make your own, simply use a combination of chili powder, ground cumin and garlic powder.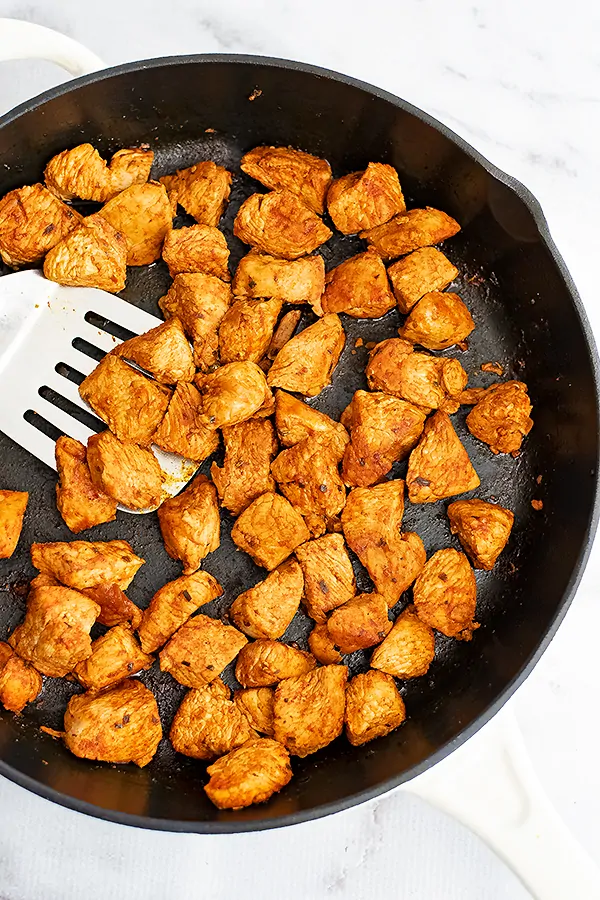 If you love this recipe, you should try:
★ Did you make this recipe? Please give it a star rating below!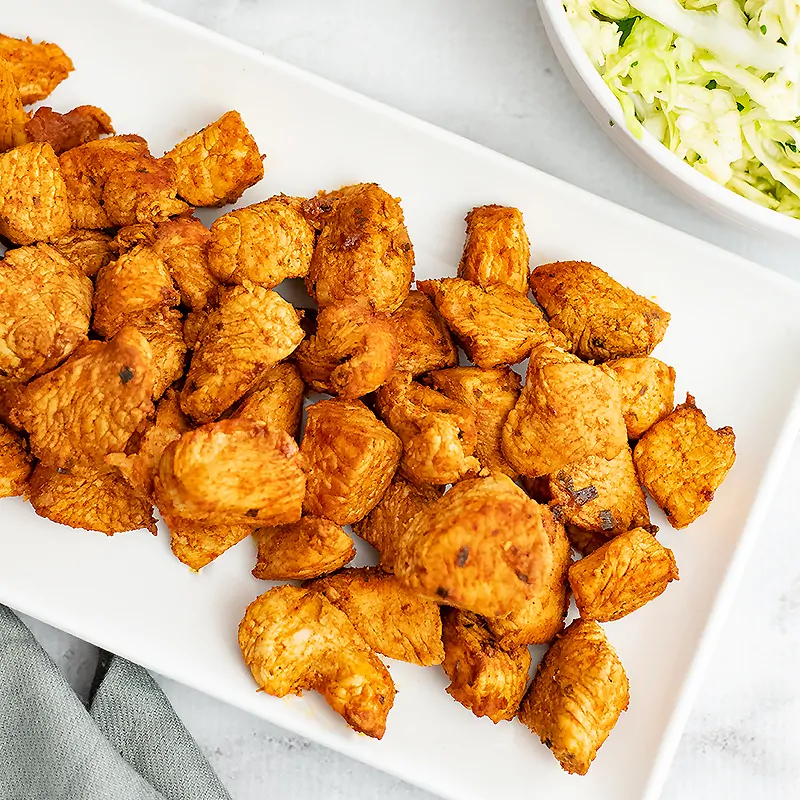 10 Minute Skillet Chicken Taco Recipe
$7.76 Recipe/$1.94 Serving
10 Minute Skillet Chicken Taco Recipe is the perfect easy weeknight meal and is great for leftovers! This simple healthy recipe is paleo, Whole30, low carb and keto friendly. Use chicken breast, thighs or tenders!
Print
Pin
Save
Saved!
Rate
Instructions
Chicken Taco Recipe
Cut the chicken breast into bite size pieces using kitchen shears or a sharp knife.

Add the cut chicken pieces to a large bowl. Add 1 tablespoon of taco seasoning, 1 tablespoon of red wine vinegar and 1 tablespoon of olive oil.

Stir the chicken well to make sure it is evenly coated.

Preheat a large cast iron skillet (or stainless steel skillet) over medium heat.

Add the chicken and allow it to cook for 3-4 minutes untouched.

For the last 4-5 minutes, stir the chicken occasionally making sure all sides get heat.

Take the chicken off the heat. Make sure it's completely cooked (check the temperature should be 165F)

Serve the chicken taco meat with your favorite toppings in a taco shell on a burrito or on a salad.
Notes
Make your own taco seasoning or use your favorite store bought brand!
Substitutes: You can substitute the red wine vinegar for apple cider vinegar, white wine vinegar, lime juice or lemon juice.
Storage: Double or triple the recipe and store in the fridge for up to 3 days or in the freezer for up to 3 months.
Budget tip: To make this meal more budget friendly, use boneless, skinless chicken thighs. This recipe would be $5.76 recipe/$1.44 per serving using this swap.
If you don't have chicken breast you can also use chicken tenders, turkey breast, boneless skinless chicken thighs.
See how I calculate food cost
.
Nutrition Information
Nutrition Facts
Amount per Serving
Where does nutrition info come from? Nutrition facts are provided as a courtesy, sourced from the USDA Food Database.
DID YOU LOVE THIS RECIPE?
Let others know by rating and leaving a comment below!