Mexican spiced cauliflower white bean soup is the perfect lunch or weeknight meal.
This creamy cauliflower and white bean soup is packed with flavor and only has 7 ingredients! You are not going to believe how easy this soup is to make.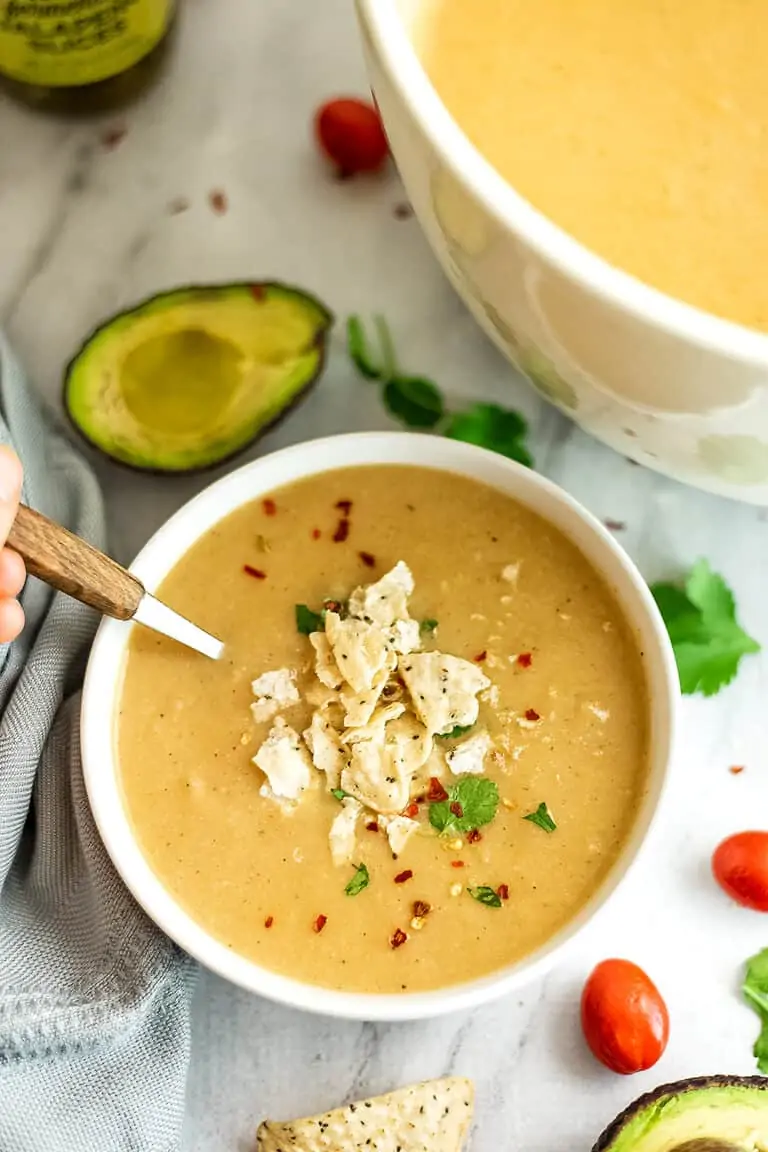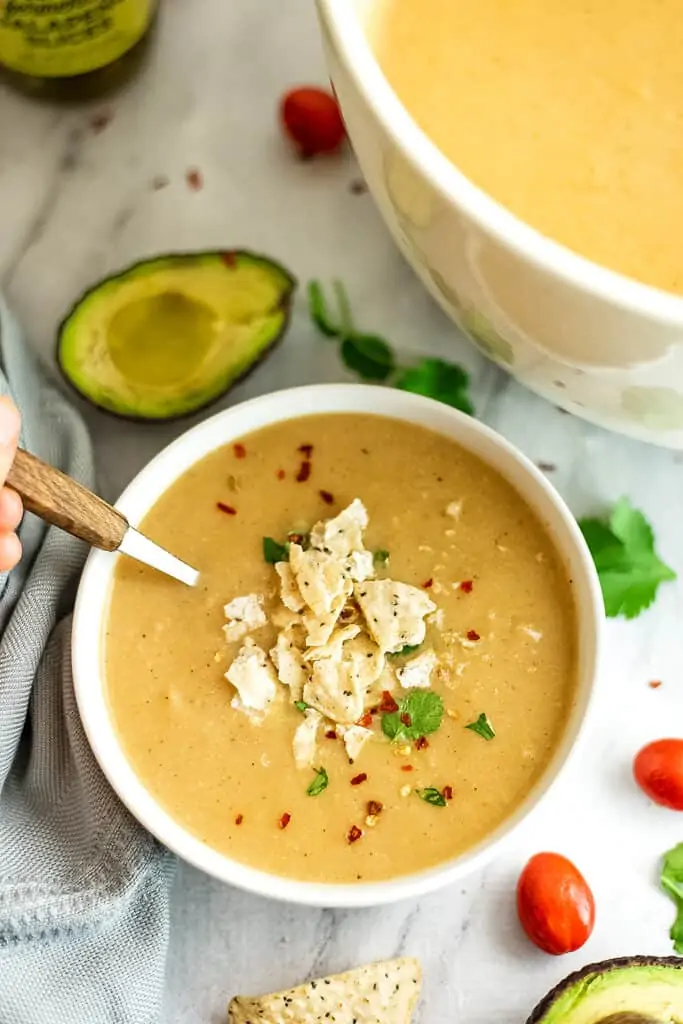 This post contains affiliate links. As an amazon associate I earn from qualifying purchases.
Click here to read my policy
and more about affiliate links.
Why you will love this recipe
Soup is a great way to get in more veggies! This Mexican spiced cauliflower soup is smooth and creamy and the perfect comfort food. You are not even going to notice that the soup is filled with veggies! Add your favorite toppings and watch it disappear!
Great for meal prep! This soup is even better the next day! Make a batch on the weekend and enjoy it for lunch 3-4 days in a row! You can change up your toppings to make it a different meal each time!
Satisfying soup can be served on it's own or with your favorite salad for a super simple meal! The white beans add protein and fiber and the cauliflower will help keep you feeling full! This healthy soup is vegan, gluten free, dairy free and is sure to please a crowd!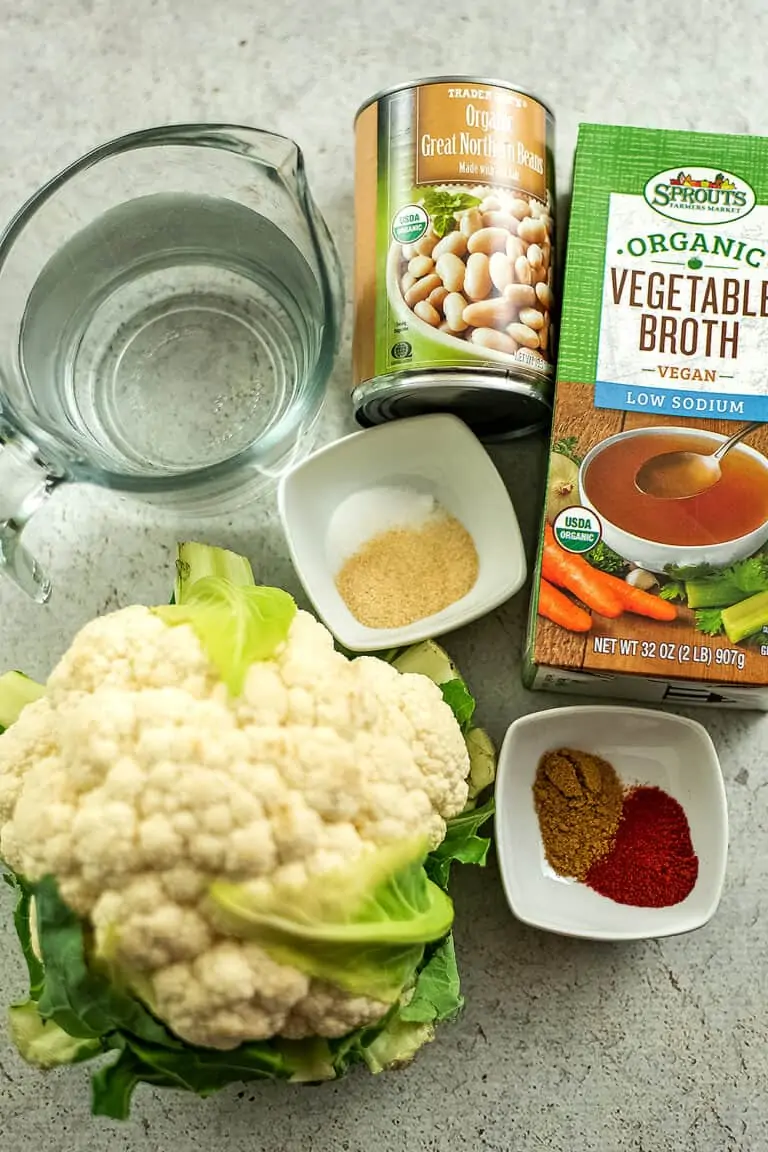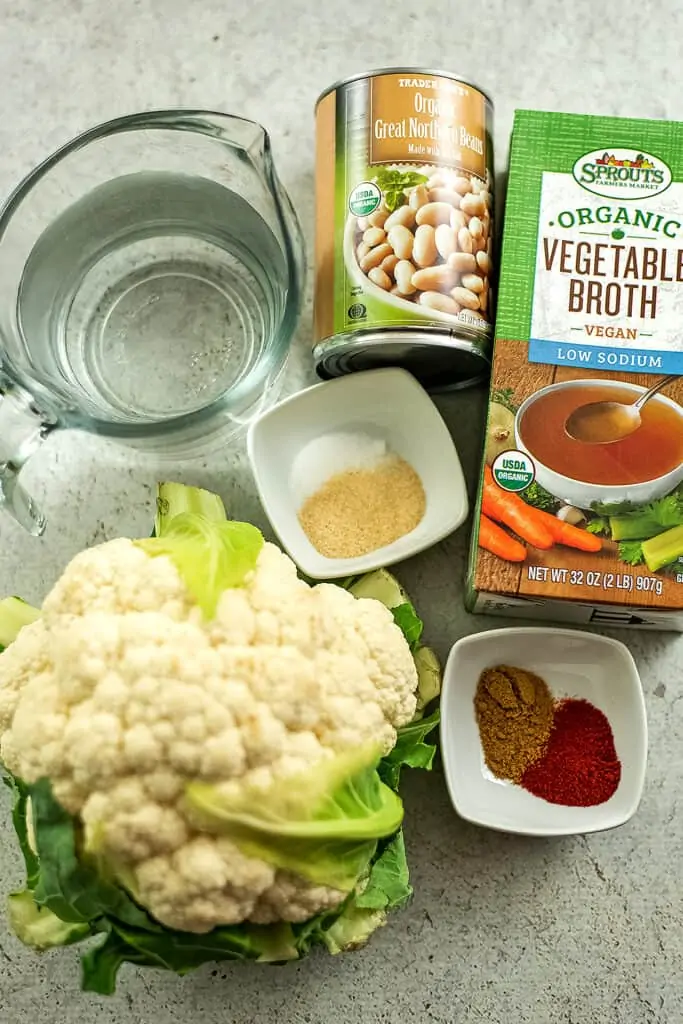 Ingredients
Cauliflower
Water
Vegetable Broth
Salt
Smoked paprika
Garlic Powder
Cumin
Great Northern White Beans (or cannellini beans)
How to make mexican cauliflower white bean soup
Preheat a large dutch oven or stainless steel soup pot over medium heat while you chop up the cauliflower (about 5 minutes).
Start by removing the florets from the cauliflower and chop them into even size pieces, no need to make them pretty florets. Learn how to cut a head of cauliflower in this video.



Spray the pot with olive oil or avocado oil spray (or add about ½ – 1 tbsp. olive oil) and add the cauliflower.
Stir the cauliflower well after cooking about 2 minutes (this will allow the cauliflower to start to get a bit of a char to it). Cook the cauliflower a total of 4-5 minutes over medium heat.



Add the water, vegetable broth, salt and spices to the pot and stir well.



Cook over medium heat 15 minutes, allowing the cauliflower to simmer and soften.
While the cauliflower cooks, drain and rinse the can of white beans.



After the cauliflower has simmered about 15 minutes, add the white beans and cook 2-3 minutes to warm the beans through.



Take the soup off the heat. Blend smooth with an immersion blender or transfer the soup in batches to a blender, being careful to not overfill the blender with hot liquids (also be sure to vent the blender and put a clean dishtowel over the top so you don't get soup on the ceiling). Watch me blend the soup in this video.



Serve hot with your favorite toppings.
Recommended kitchen tools
Time saving tips
Buy a bag of cauliflower florets from the store. Take a minute to chop the florets so they are all relatively the same size before cooking.
You could even use cauliflower rice in place of the cauliflower. You will need 2 bags of frozen cauliflower rice. Since the cauliflower rice will be soft in about 7 minutes, you will also need less water, as less will evaporate as you are simmering the soup. Reduce the water to 1 cup.
If you need this soup to be ready in 20 minutes, omit sautéing the cauliflower and just add all the ingredients (except the beans) to the pot and simmer for 16-17 minutes. Add the beans, simmer 2-3 more minutes and blend.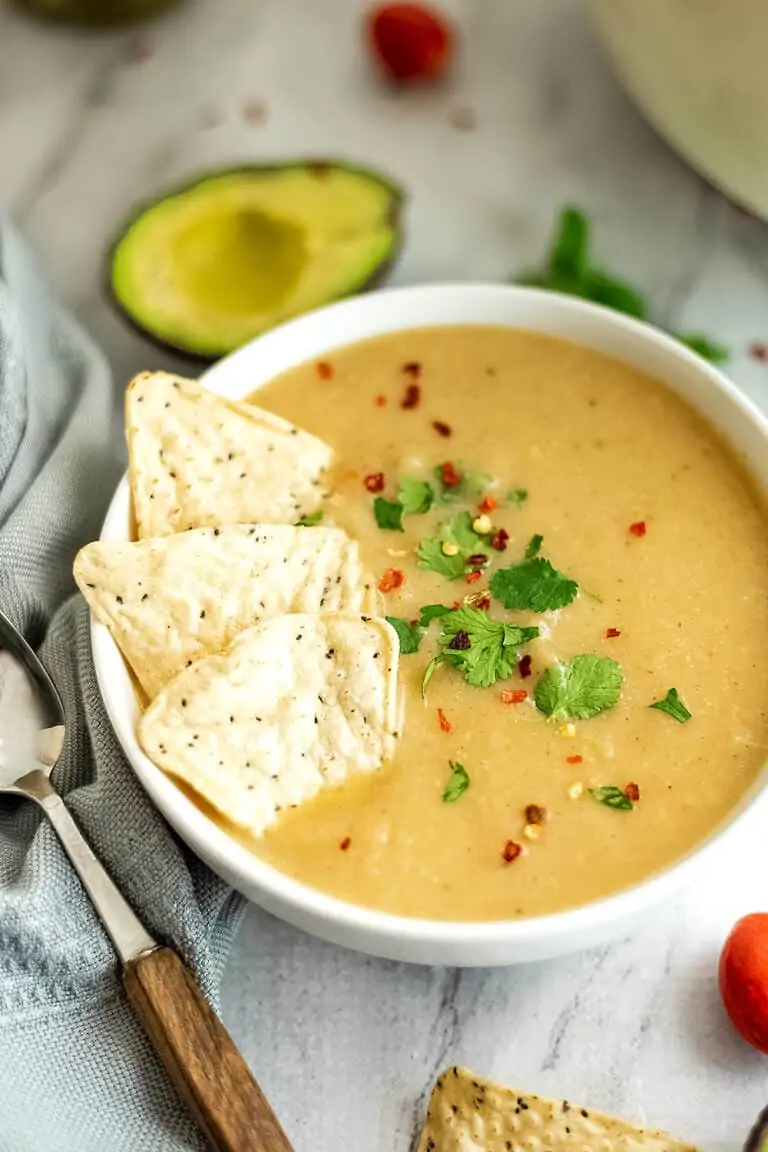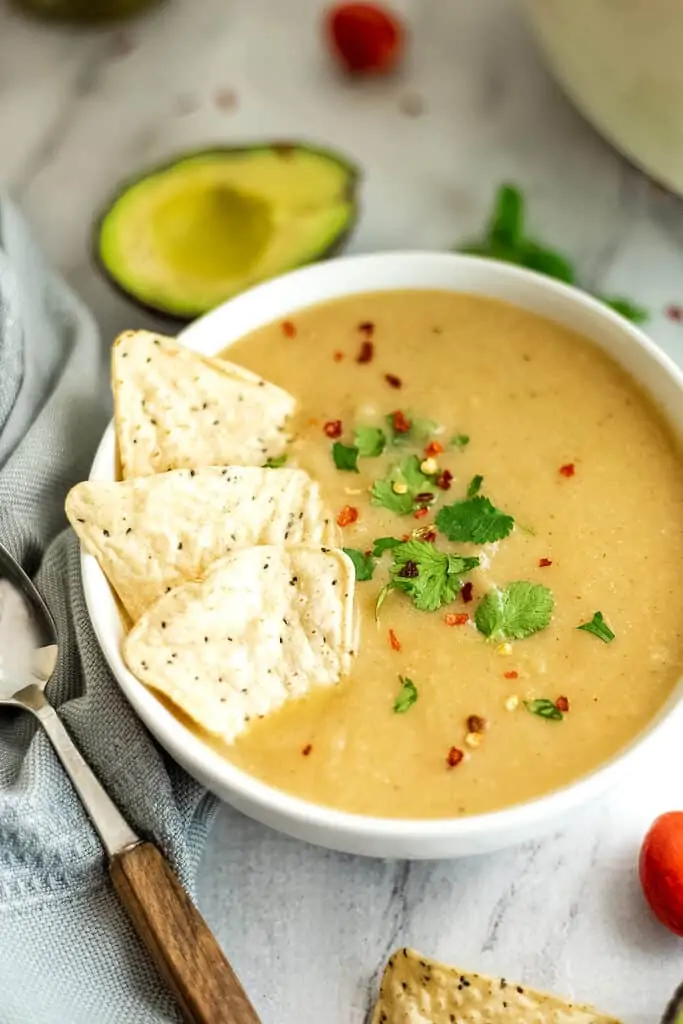 The best toppings for this soup
This Mexican spiced cauliflower white bean soup is great on it's own. If you love added crunch or color to your soup, here are some great toppings you could add:
Cilantro
Sliced jalapenos (fresh or pickled)
Chopped red onion, roasted red pepper, tomatoes
Avocado cubes
Crushed tortilla chips or plantain chips
Crushed red pepper flakes
Roasted cauliflower florets
What to serve with this mexican white bean soup
This cauliflower bean soup is seasoned with Mexican spices and would be a great start to a Mexican inspired meal! You could serve it with: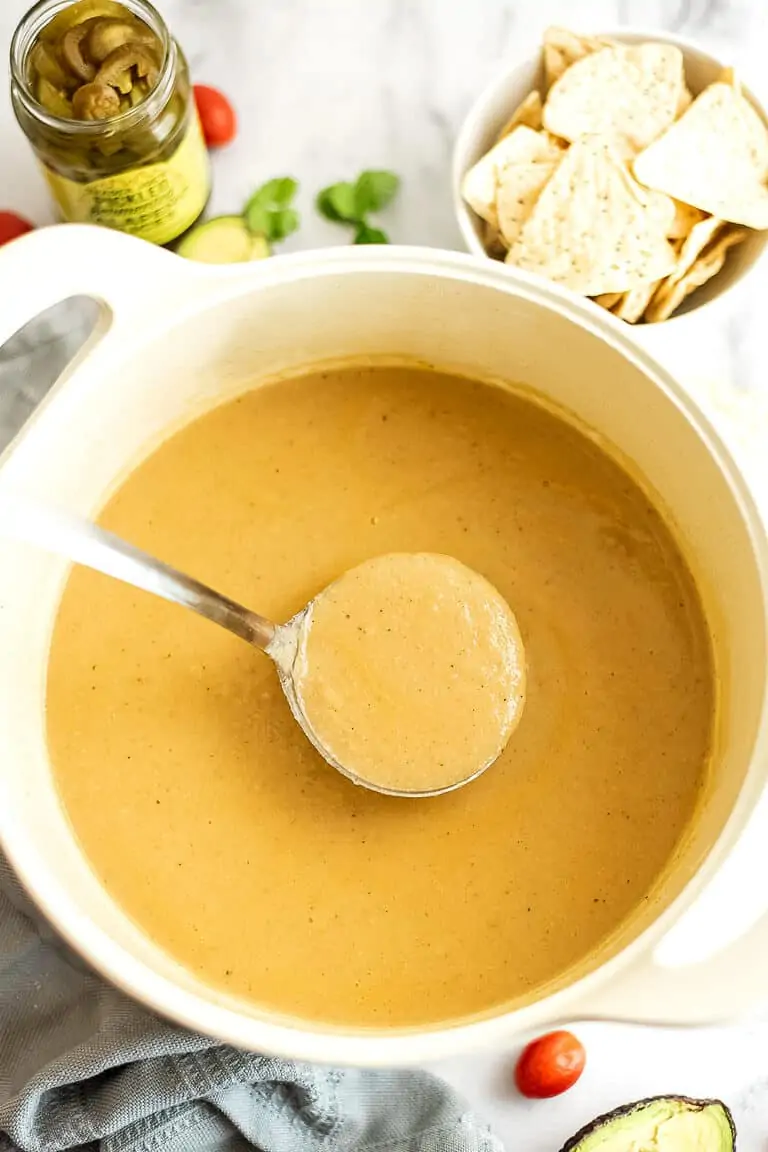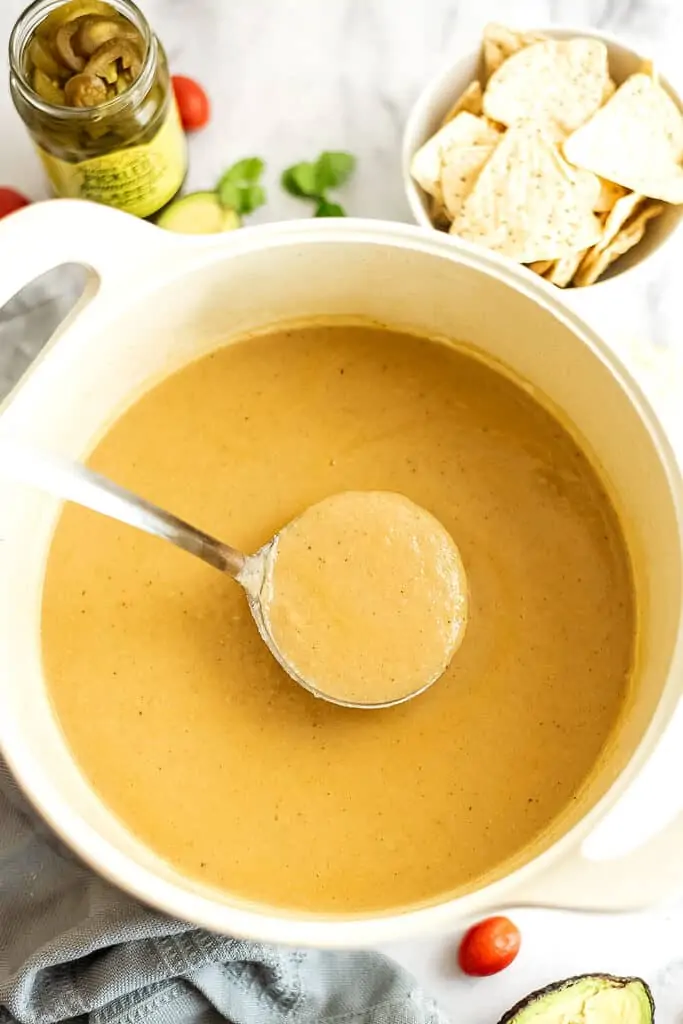 FAQs
What other beans can you use to make this cauliflower bean soup?
I like to use a thin skinned white bean. They blend well into the soup and help keep that creamy off white color. You could also use:
Cannellini beans
Navy Beans
Chickpeas
Kidney beans (this will change the color)
Lentils (green or red would work here – this will change the color).
What if you don't have an immersion blender?
Immersion blenders (or a stick blender) are great for blending up thing like soup right in the pot. This helps eliminate transferring hot liquids from the pot to the blender. I love using my immersion blender to puree cauliflower to make creamy cauliflower mash or to blend up fruit to make chia jam.
If you don't have an immersion blender, you can use a regular blender, just be careful with hot liquids. It's advised that you don't fill the blender too full (about 2/3 full max) and that you vent the blender (leave the cap at the top of the blender off or vented). This usually means you need to put a towel or something over the opening so that air can escape through the towel but not get soup on your ceiling as you are blending. Watch how easy the soup is to blend in this video.
PS: I love my immersion blender, it also came with a mini food processor attachment that I use almost daily. It has replaced my big food processor for any small job! I highly recommend the investment if you have the funds.
How to store cauliflower white bean soup
Fridge: This creamy cauliflower white bean soup is even better the next day! Store in the fridge in a well-sealed container for up to 4 days.
Tip: To store the soup in individual containers, use a pint size mason jar. Add the soup while it's still hot, put the metal lid on and allow it to cool to room temperature on the counter. Put in the fridge once it's cooled off and the lid will vacuum seal, making the soup fresh for days! Using a mason jar to store your soup in individual portions makes it easy to grab a single portion to take to the office for a simple lunch at work.
Freezer: This soup freezes very well. Allow the soup to cool (to room temperature or overnight in the fridge). Pour the soup into freezer safe containers and freeze up to 3 months. I highly recommend using these 1 cup silicone dividers to freeze one cup of soup at a time to make it easy to portion when defrosting. Once frozen, transfer the cube of frozen soup to a freezer safe bag or container to store long term in the freezer.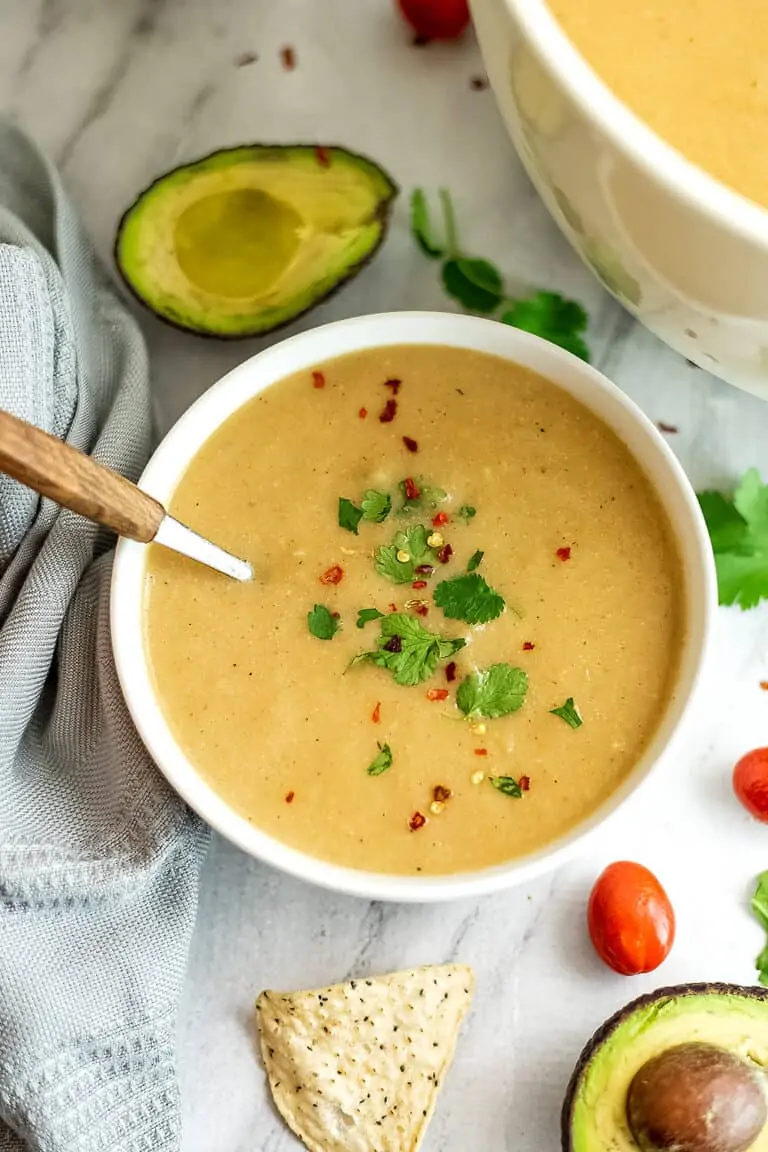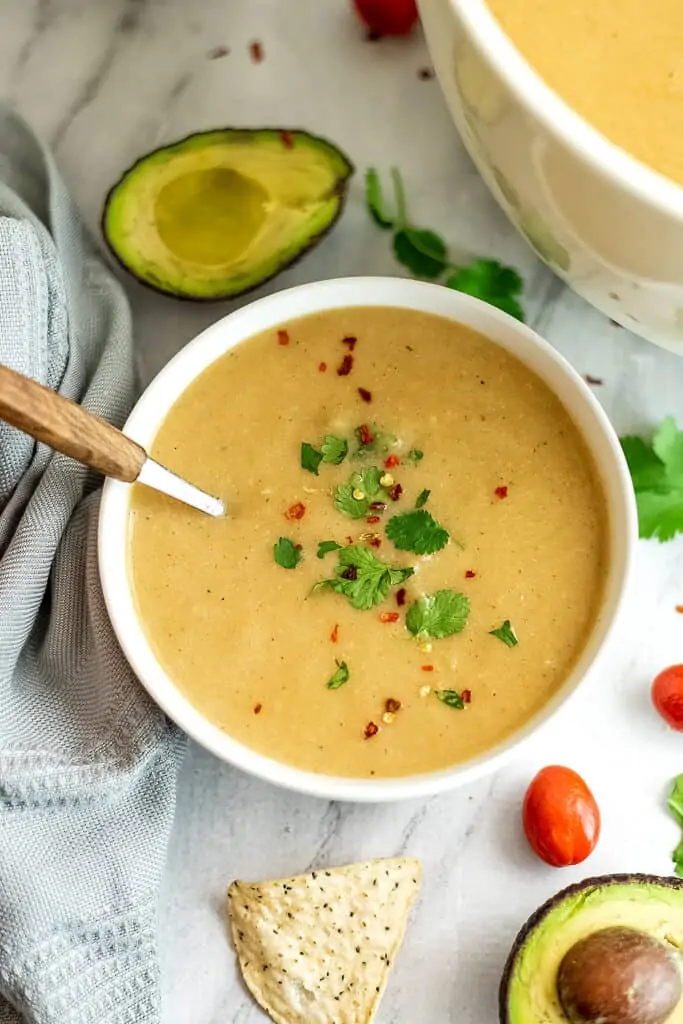 If you love this recipe, you should try
★ Did you make this recipe? Please give it a star rating below!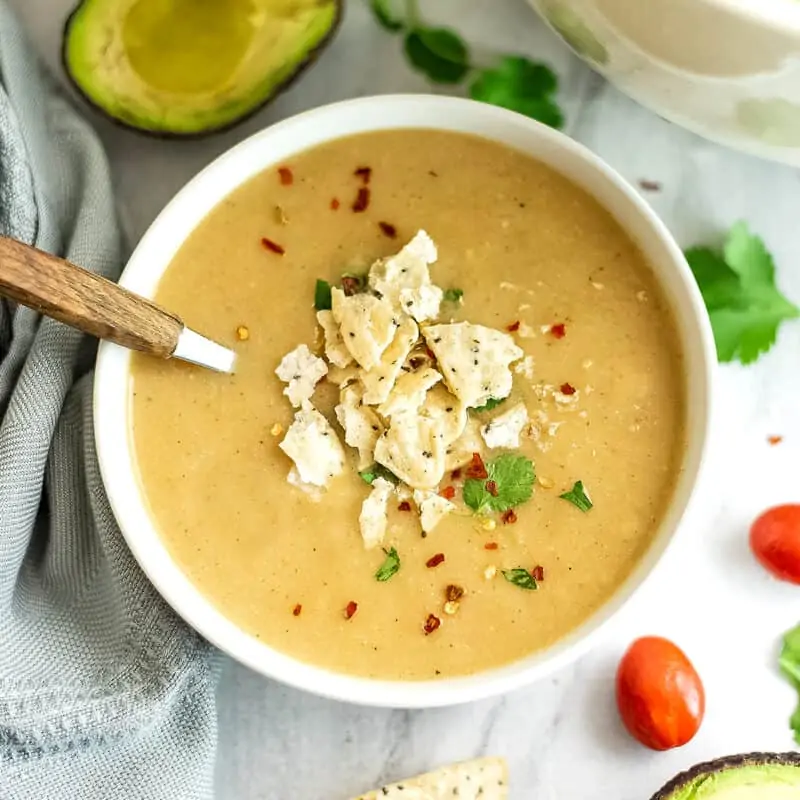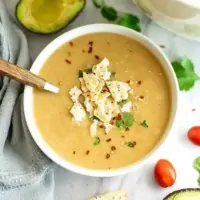 Mexican Cauliflower White Bean Soup
$7.37 recipe/$1.84 serving
Mexican Cauliflower White Bean Soup is the perfect satisfying lunch or dinner! Ready in under 30 minutes, this soup is creamy, rich in flavor and uses easy to find ingredients! Vegan, gluten free, dairy free and so easy to make.
Print
Pin
Save
Saved!
Rate
Instructions
Preheat a Dutch oven or large pot over medium heat.

Chop the cauliflower florets into equal size pieces (no need for them to be pretty, just uniform).

Spray the pot with olive oil (or avocado oil) spray and add the cauliflower, don't stir immediately.

After about 2 minutes, stir the cauliflower and continue to cook, a total of 4-5 minutes.

After cooking 4-5 minutes, add the vegetable broth, water, smoked paprika, cumin, salt and garlic powder, stir well.

Simmer over medium heat for about 15 minutes, to soften the cauliflower.

While the soup is simmering, drain and rinse the canned white beans.

After 15 minutes of cooking, add the white beans so the soup mixture. Cook 2-3 minutes to heat the beans.

Turn off the heat. Blend the soup using an immersion blender in the pot or carefully transfer the soup (in batches) to a blender to blend until smooth.
Notes
Tips on cutting a head of cauliflower:
Start by turning the cauliflower over so the stem is pointing up. Cut away any green leaves.
Use your knife and cut around the stem at a 30 degree angle, this will remove most of the stem and the cauliflower will break up into much more manageable pieces.
From here, since you aren't worrying about presentation, just cut the cauliflower into equal size pieces.
Time Saving Tips:
If you are short on time, you can also use a bag of cauliflower florets from the store. You will want to take a moment to chop them into equal size pieces so they are able to cook evenly.
You can also use frozen riced cauliflower (2 bags) in place of the cauliflower. This cuts the cooking time down as well. Simmer the riced cauliflower for about 7-8 minutes before adding the beans. You will want to reduce the water from 2 cups to 1 cup.
Storage:
Store in the fridge 4 days (use mason jars for individual storage).
Store in the freezer up to 3 months in a freezer safe container. To make it easy to portion, I recommend freezing in silicone containers first, then transfer those to a freezer safe bag for long term storage.
See how I calculate food cost
.
Nutrition Information
Nutrition Facts
Amount per Serving
Where does nutrition info come from? Nutrition facts are provided as a courtesy, sourced from the USDA Food Database.
DID YOU LOVE THIS RECIPE?
Let others know by rating and leaving a comment below!