Cilantro jalapeno hummus is the perfect snack food!
Ready in just 5 minutes, this healthy hummus is easy to make, subtly spicy and perfect with veggies, chips or on sandwiches or burgers. This jalapeno cilantro hummus recipe is made without chickpeas and no tahini for a super versatile snack everyone can enjoy!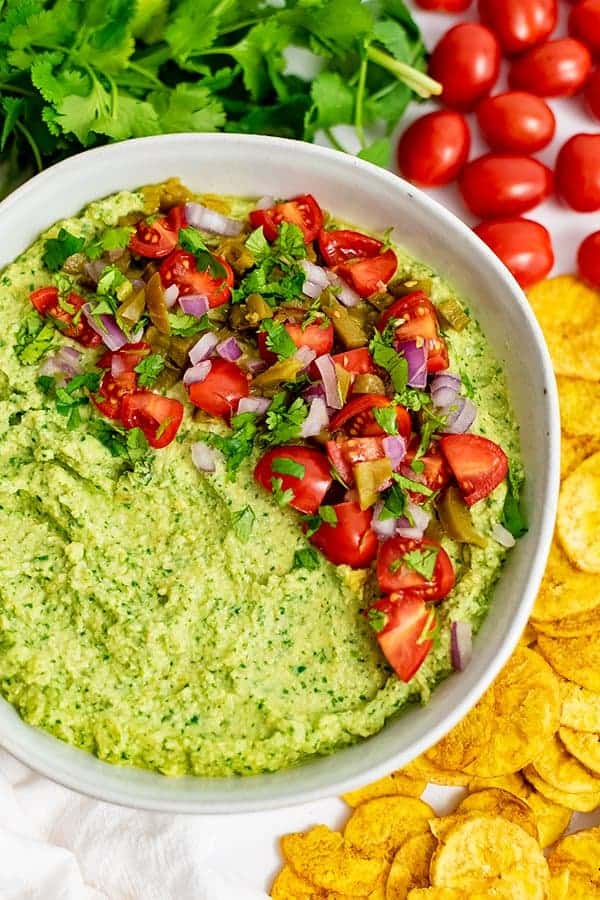 Why you will love this recipe
Sneak in more veggies: This cilantro jalapeno hummus recipe is made with a base of artichoke hearts instead of chickpeas, making it Whole30, lower in carbs, paleo and vegan! You are not going to believe how thick and creamy this hummus gets without chickpeas!
Easy to find ingredients: you can find all the ingredients you need at a regular grocery store and most of them are pantry staples and cilantro can easily be stored in the fridge for a week or two.
Perfect snack food: Hummus is the perfect snack food! Use it as a dip for veggies, chips, plantain chips or even sweet potato toast! You can also use this cilantro jalapeno hummus to top sandwiches, burgers, on eggs or even on burrito bowls and taco salads!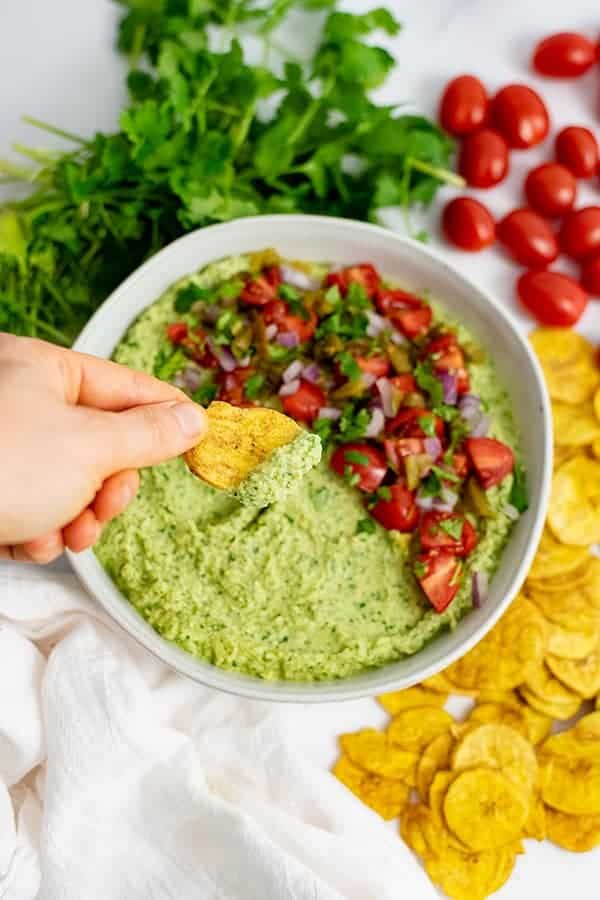 This post contains affiliate links. As an amazon associate I earn from qualifying purchases.
Click here to read my policy
and more about affiliate links.
Ingredients for cilantro jalapeno hummus
Canned artichoke hearts (in water) – canned artichoke hearts will get nice and creamy in the food processor. You could also cook down frozen artichoke hearts and use those as well. I would not recommend using jarred artichoke hearts unless you can find them just in water.
Cilantro – use the leaves and stems! The stems are packed with flavor!
Lime Juice – acid helps to balance out the dish and the lime juice pairs perfectly with the cilantro.
Salt – salt is required to make all the flavors pop!
Garlic powder – garlic powder is great because it adds umami without overpowering the dish. Raw garlic can quickly take over hummus to be the star ingredient, and we want the jalapenos and cilantro to be the star!
Olive oil – this helps to smooth out the hummus and make it silky and creamy.
Pumpkin Seeds – pumpkin seeds help to add depth and also make this hummus extra creamy! You could also use sunflower seeds or cashews.
Jalapeno peppers – canned, jarred or fresh will all work. I love canned jalapeno peppers because they are easy to work with and I always have a can or 2 in the pantry.
Tomatoes (for topping) – optional but tomatoes make for a great presentation.
Red onion (for topping) – optional but red onion add crunch and a diverse flavor to the hummus as a topping.
How to make cilantro jalapeno hummus with no tahini
Start by adding draining the canned artichoke hearts. Add the artichoke hearts, cilantro, lime juice, salt, garlic powder, olive oil, pumpkin seeds and jalapeno peppers to a food processor.
Process on high for 1-2 minutes, pausing to scrape down the sides as needed.
Chop the tomatoes, red onion and cilantro for the topping.
Spread the hummus out on a plate and top with tomatoes, red onion, cilantro and chopped jalapeno for a beautiful presentation.
Store leftovers in the fridge for up to 5 days.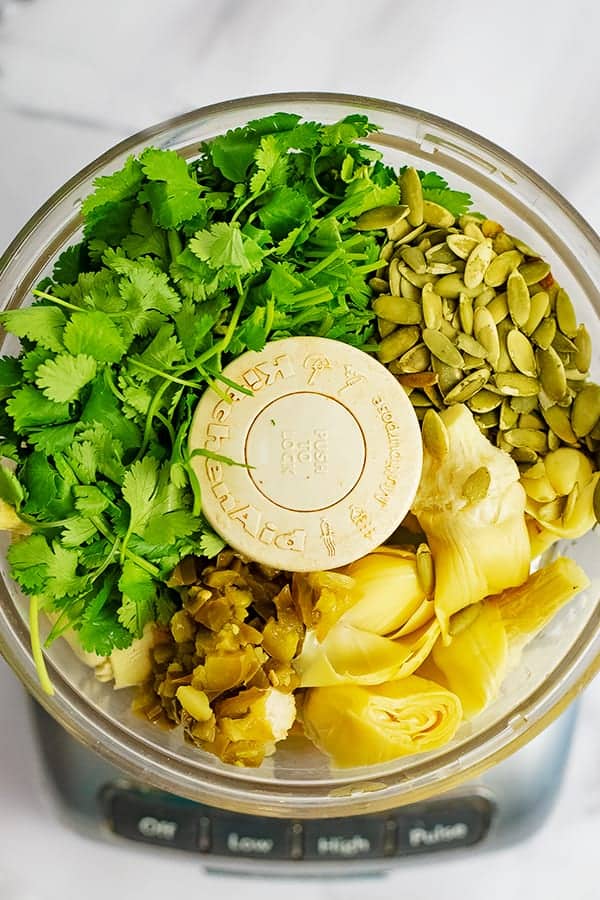 Top tips
If you choose to use fresh jalapeno: The seeds and membrane of the jalapeno are spicier than the flesh. If you want to keep this hummus mild, remove the seeds and white membrane from the peppers. I advise that you use gloves, or you wash your hands very diligently after handling jalapenos. Do not touch your eyes after handling fresh jalapenos.
Use those cilantro stems! Did you know that the stems of the cilantro are just as flavorful as the leaves? I typically store my cilantro in the fridge in a glass of water. I use the stem up to the point where the water starts and discard the part of the stem that was soaking in water.
Double or triple this recipe for company but make it in batches! This jalapeno cilantro hummus will disappear quickly so I highly advise you double the recipe or people may be bummed when it's gone. However, the food processor may not make a silky smooth hummus if you double the recipe due to how full the food processor would be.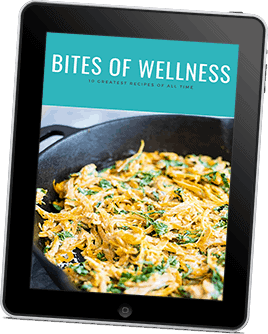 GET 10 OF MY ALL TIME GREATEST RECIPES
IN THIS FREE EBOOK
How to serve cilantro hummus
Serve with tortilla chips, plantain chips or pita chips
Serve with raw veggies
Serve as a dip for roasted veggies (or pour it on top of roasted veggies)
As a topping for burgers or sandwiches or in a wrap
As a sauce for grain bowls, buddha bowls or burrito bowls
As a topping for tacos or to dip quesadillas in.
Other topping ideas
Sliced black olives
Sliced radish
Diced avocado
Chopped roasted red peppers
Pickled red onion or pickled radish
Pumpkin seeds, sunflower seeds or hemp hearts
Chopped green onions
Drizzle with olive oil and sea salt
Red pepper flakes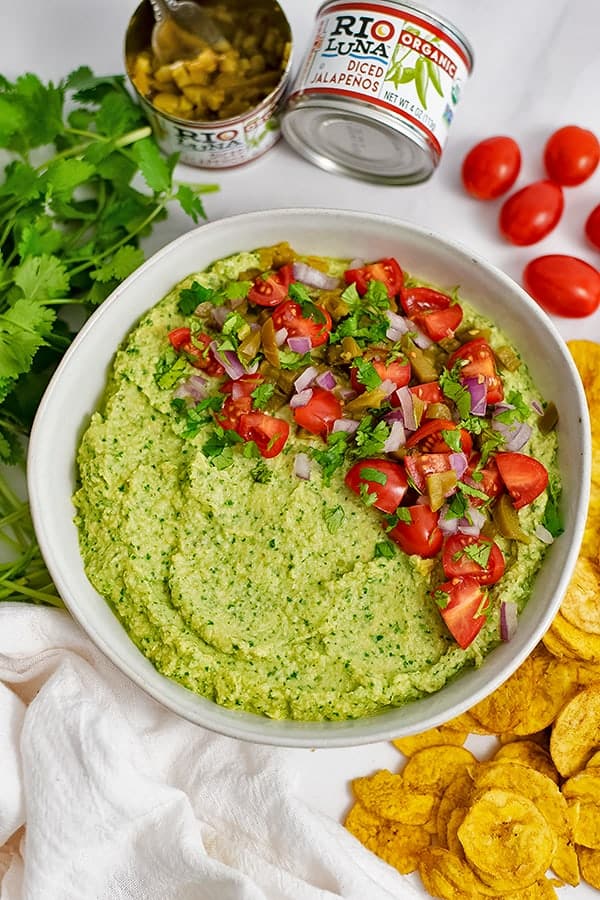 How to store leftover hummus
Fridge: Store in the fridge in an airtight container for up to 5 days.
Freezer: Store in individual servings in the freezer (silicone ice cubes are great for this) for up to 3 months. After frozen solid, transfer the hummus blocks to a freezer safe bag or container.
Substitutions
Artichoke hearts: If you don't have artichoke hearts or really want a traditional hummus, you could use canned chickpeas instead. You will need 1 can of chickpeas. Here is a tip when working with chickpeas to make hummus. Rinse and drain the chickpeas then boil them in water for 15-20 minutes. Drain them and blend them immediately (with just the olive oil and lime juice first). This will help the chickpeas get super fluffy and smooth. No peeling of chickpeas required!
Cilantro: If you don't love cilantro or are out, you could use flat leaf parsley in place of the cilantro, but the flavor will be different.
Lime juice: You could also use lemon juice in place of lime juice in this recipe. Remember that lemons are often bigger than limes so you may not need all the lemon juice. Start with ½ if it's a large lemon.
Olive oil: you can use whatever neutral oil you have on hand. Avocado oil would be great here too!
Pumpkin seeds: In place of pumpkin seeds, you could use sunflower seeds or hemp hearts to keep it nut free or cashews or sliced almonds.
Salt: Salt really elevates the flavors in the hummus. If you cannot use salt, use whatever your favorite non-salt seasoning here.
Garlic powder: Like I said above, raw garlic can quickly take over the flavors of a dish. If you love raw garlic, you could use 1-2 cloves finely minced in place of the garlic powder. Mince the garlic before adding it to the food processor so you are sure you or your guests won't be biting down on a large chunk. You can use a microplane to quickly grate the garlic as well!
Jalapenos: You could also use poblano peppers (raw) or green chilis in a can. I have found that green chilis and lime juice don't always go well together so I would wait to add the lime juice if you are using the green chilis. You could also use the chipotle peppers from chipotle in adobo (this will be very spicy though).
Red onion and tomato: You can use any of the other topping ideas listed above in place of these.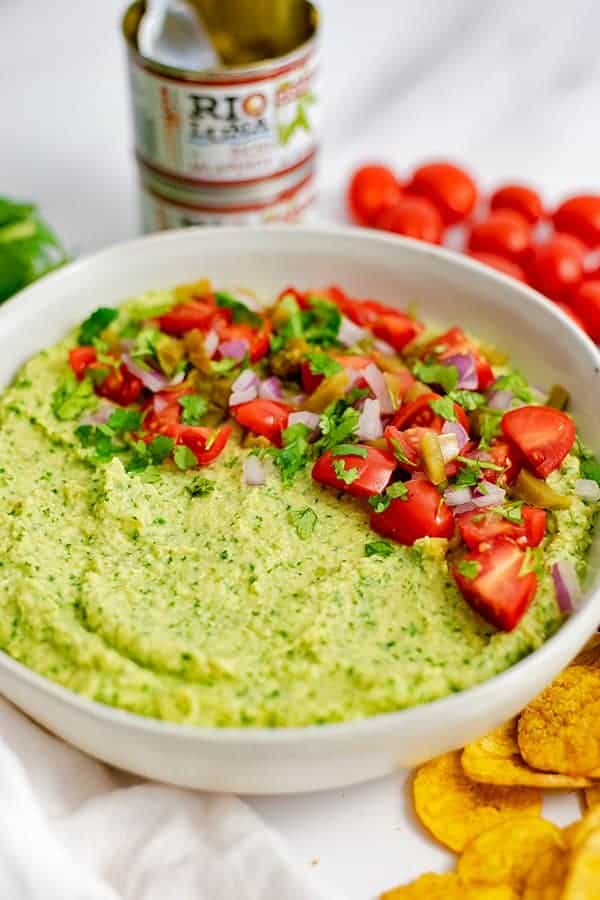 If you love this recipe, you should try
★ Did you make this recipe? Please give it a star rating below!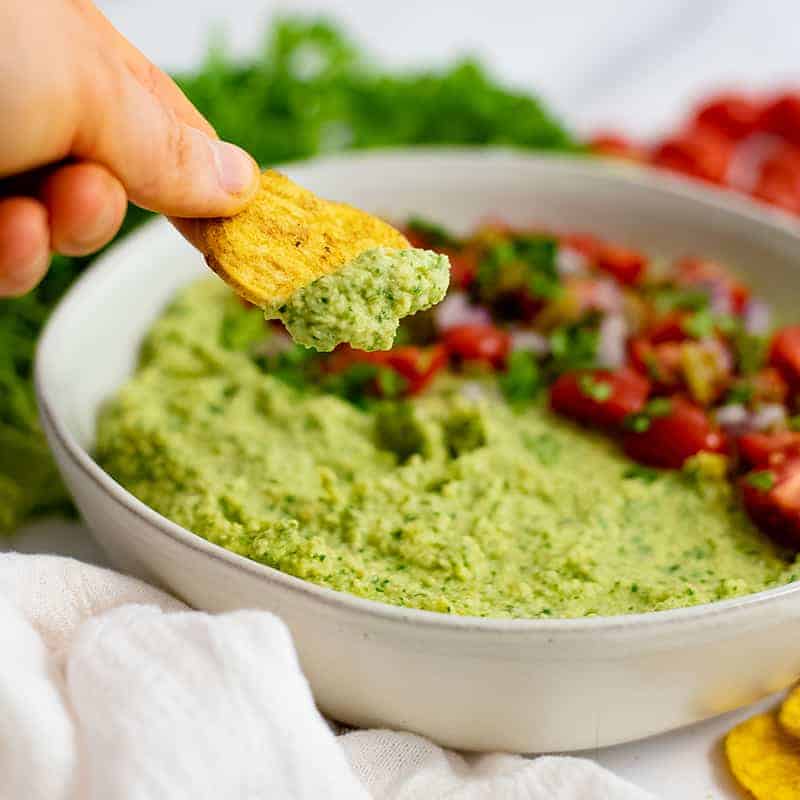 Cilantro Jalapeno Hummus
$8.60 Recipe/$1.08 Serving
This jalapeño cilantro hummus is the perfect appetizer or weekday snack! Made with artichoke hearts, not chickpeas, this hummus is a great way to get in more vegetables into your day,
Print
Pin
Save
Saved!
Rate
Instructions
Drain the water and rinse the artichoke hearts. Add the artichokes to the food processor.

Add the cilantro leaves, lime juice, salt, garlic powder, olive oil, pumpkin seeds and 3 tbsp. of the diced jalapeños to the artichoke hearts.

Process the artichokes in the food processor on high until smooth. You may need to stop the food processor and scrape down the edges once or twice to make sure everything is smooth

After the artichoke mixture is smooth, add it to a bowl.

Top the jalapeño cilantro hummus with the remaining diced jalapeños, red onion, chopped tomatoes and serve with vegetables or your favorite chips.
Notes
If using fresh jalapenos, you will want to use 1-2 jalapenos, depending on the level of heat you prefer. Remember the seeds and white membrane are where a lot of the heat is in jalapenos so omit the seeds and membrane for a more mild hummus.
Store leftovers in the fridge for up to 5 days or in the freezer for up to 3 months.
See how I calculate food cost
.
Nutrition Information
Nutrition Facts
Amount per Serving
Where does nutrition info come from? Nutrition facts are provided as a courtesy, sourced from the USDA Food Database.
DID YOU LOVE THIS RECIPE?
Let others know by rating and leaving a comment below!