Pineapple coleslaw is the perfect side dish or even topping for tacos!
This simple slaw is made without mayo is slightly sweet, tangy, smoky and just a little spicy and comes together in just minutes! Made with a Mexican twist, this pineapple slaw goes perfectly with tacos but could also serve as a super simple side dish for any meal!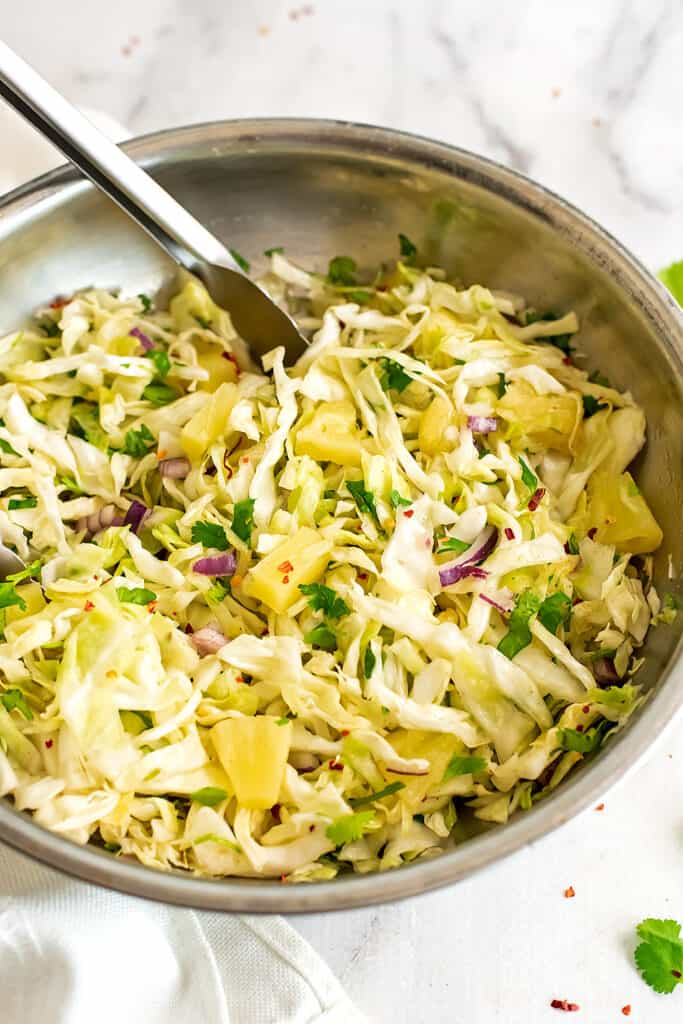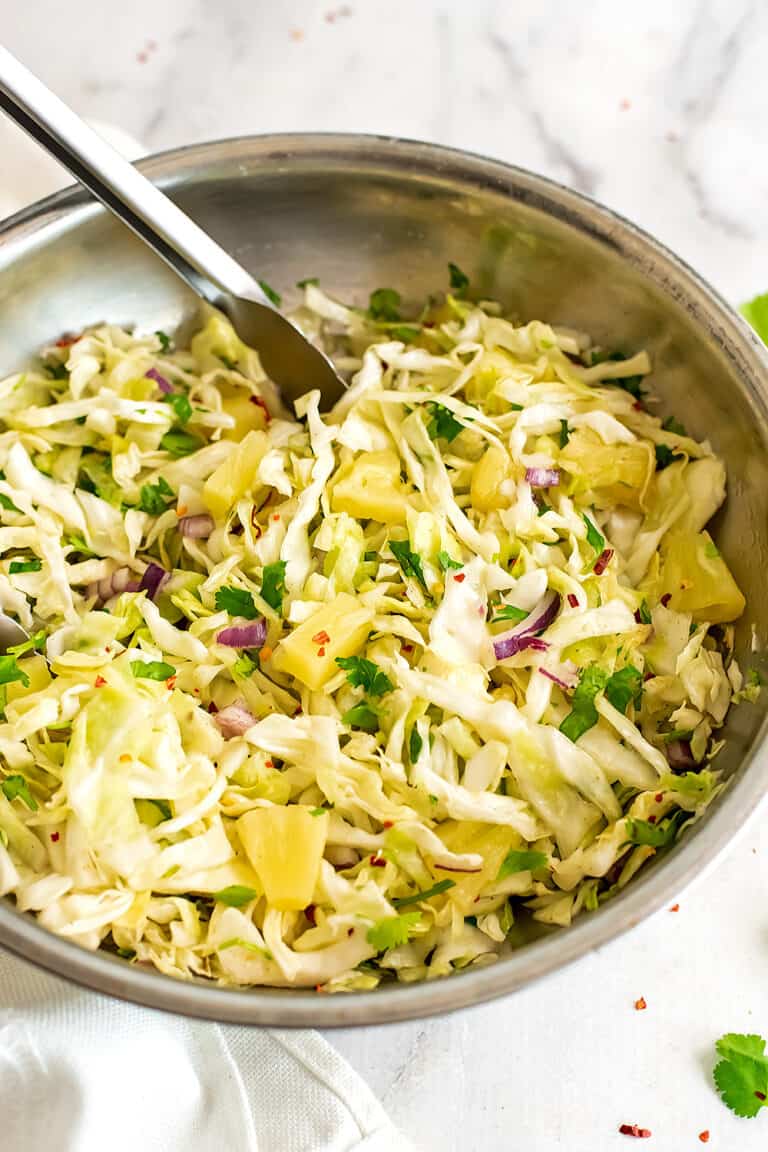 Why you will love this recipe
Pineapple slaw is the perfect side dish. Made with budget friendly cabbage, this slaw is packed with flavor! The smoky cumin perfectly complements the sweet pineapples for a sweet and smoky flavor combo that is hard to beat! Even better this slaw has no added sugar and is Whole30, paleo and vegan friendly.
Because this pineapple coleslaw has no mayo, it's perfect for summer cookouts and bbq's with friends! You are going to quickly become known for your slaw and you will happily make it for every event because it's so easy! All easy to find and budget friendly ingredients!
This pineapple slaw is great served with fish tacos, shrimp tacos or with any of your favorite Mexican dishes! You can even increase the spice by adding a few pickled jalapenos!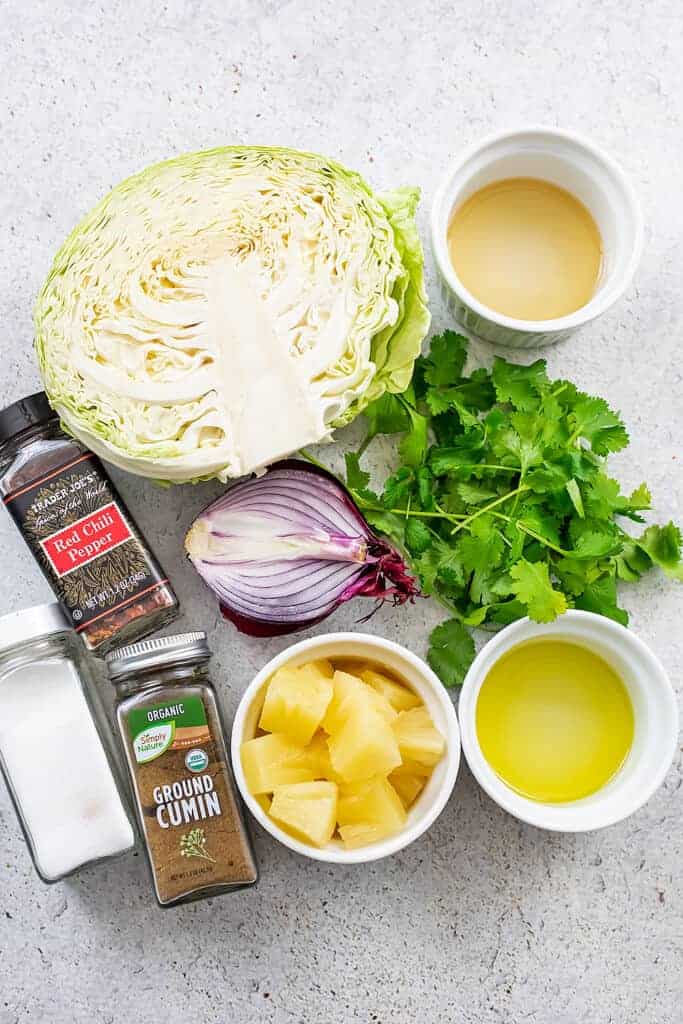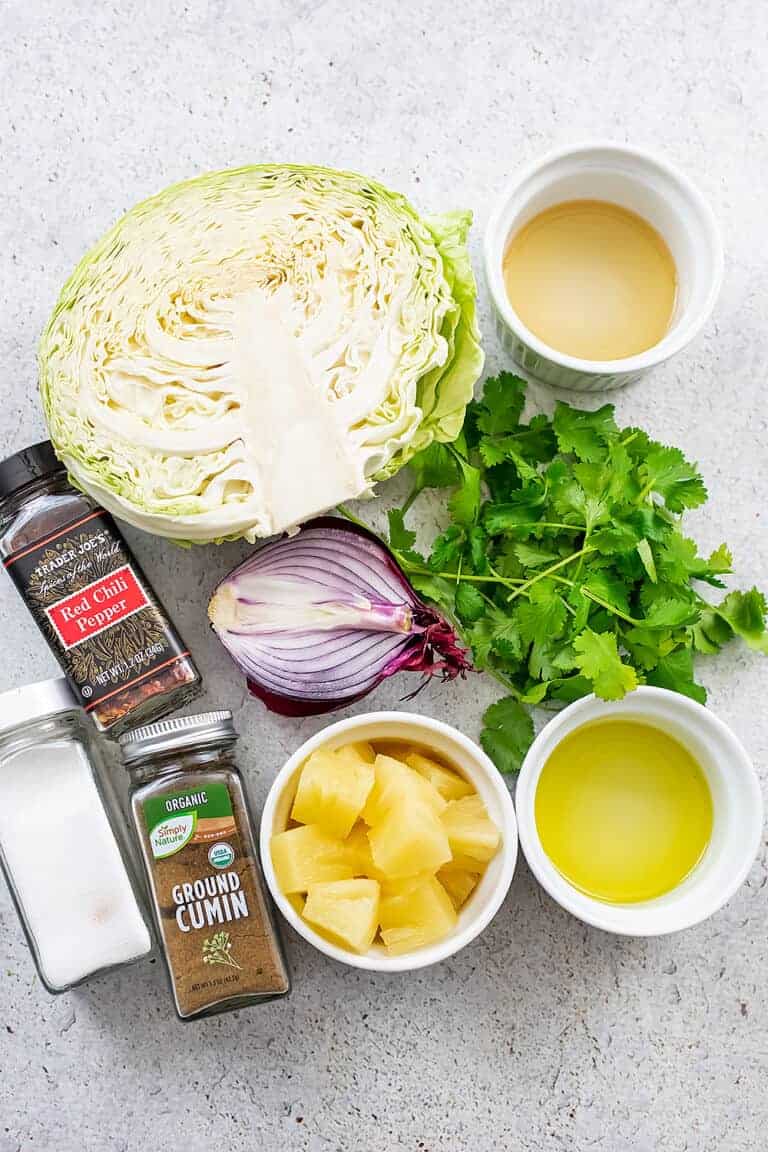 This post contains affiliate links. As an amazon associate I earn from qualifying purchases.
Click here to read my policy
and more about affiliate links.
Ingredients to make pineapple coleslaw
Cabbage – I default to green cabbage here because it's budget friendly and I always have some on hand. You could also use red cabbage, napa cabbage or even broccoli slaw.
Red onion – I'm not sure why but the red onion elevates the flavors of this entire dish. The acid helps to cut through the harsh onion flavor and mellow out the onion. I highly recommend red onion unless you cannot tolerate it.
Cilantro – the cilantro really balances out the flavors of this slaw well. Unless you think cilantro tastes like soap, don't skip this ingredient!
Canned or fresh pineapple chunks – Be sure to drain the canned pineapple well. I like to break down the pineapple chunks with my knife, as I find that crushed pineapples are a bit too mangled, but the big chunks of pineapple do not allow the flavor to be distributed well.
Apple cider vinegar – the vinegar gives the slaw a bit of a tang and is perfectly balanced against the sweetness from the pineapple.
Olive oil – olive oil provides some fat which also helps to reduce the acidity from the apple cider vinegar. I have omitted the oil in the past and think it's necessary for balance in the dish.
Salt – salt helps to elevate all the flavors, making the pineapple even sweeter and the other flavors pop more.
Cumin – this adds a smoky flavor to the slaw without overpowering the pineapple.
Red pepper flakes or cayenne pepper – adding some heat is optional but if you can tolerate a bit of heat, I highly recommend adding it.
How to make pineapple slaw
Start by thinly shredding the cabbage. Start by removing the core then thinly slice the cabbage using a sharp knife. Add the cabbage to a large bowl.
Thinly slice the onion and add it to the bowl with the cabbage.
Finely chop the cilantro – I use both the stems and leaves as the stems are full of flavor as well. Add the cilantro to the bowl.
Roughly chop the pineapple chunks – run your knife over them to break them up from the larger chunks. Add chopped pineapple to the bowl with the rest of the veggies.
Pour the apple cider vinegar, olive oil, salt and cumin on top of the cabbage and stir well 2-3 minutes to fully incorporate.
Sprinkle with a pinch of red pepper flakes and stir again.
Enjoy immediately or allow to sit in the fridge for 1-2 hours before serving.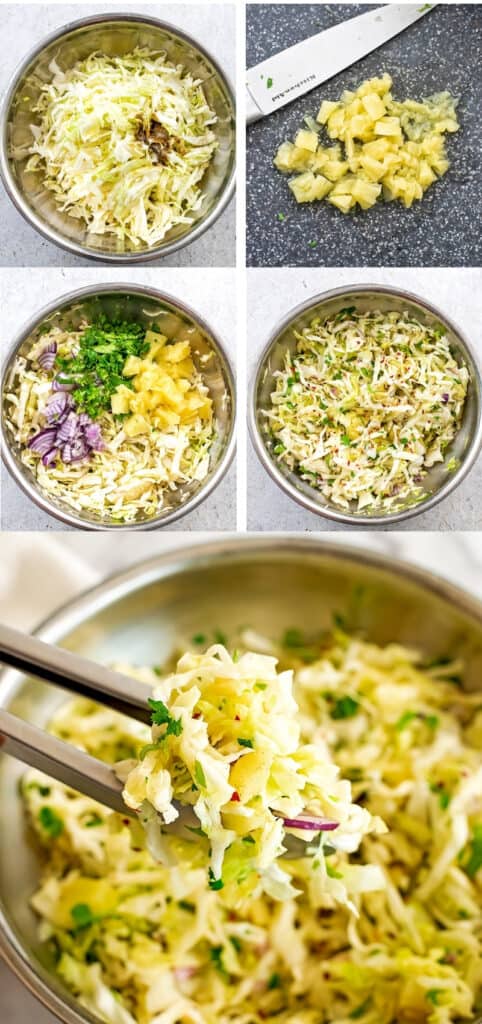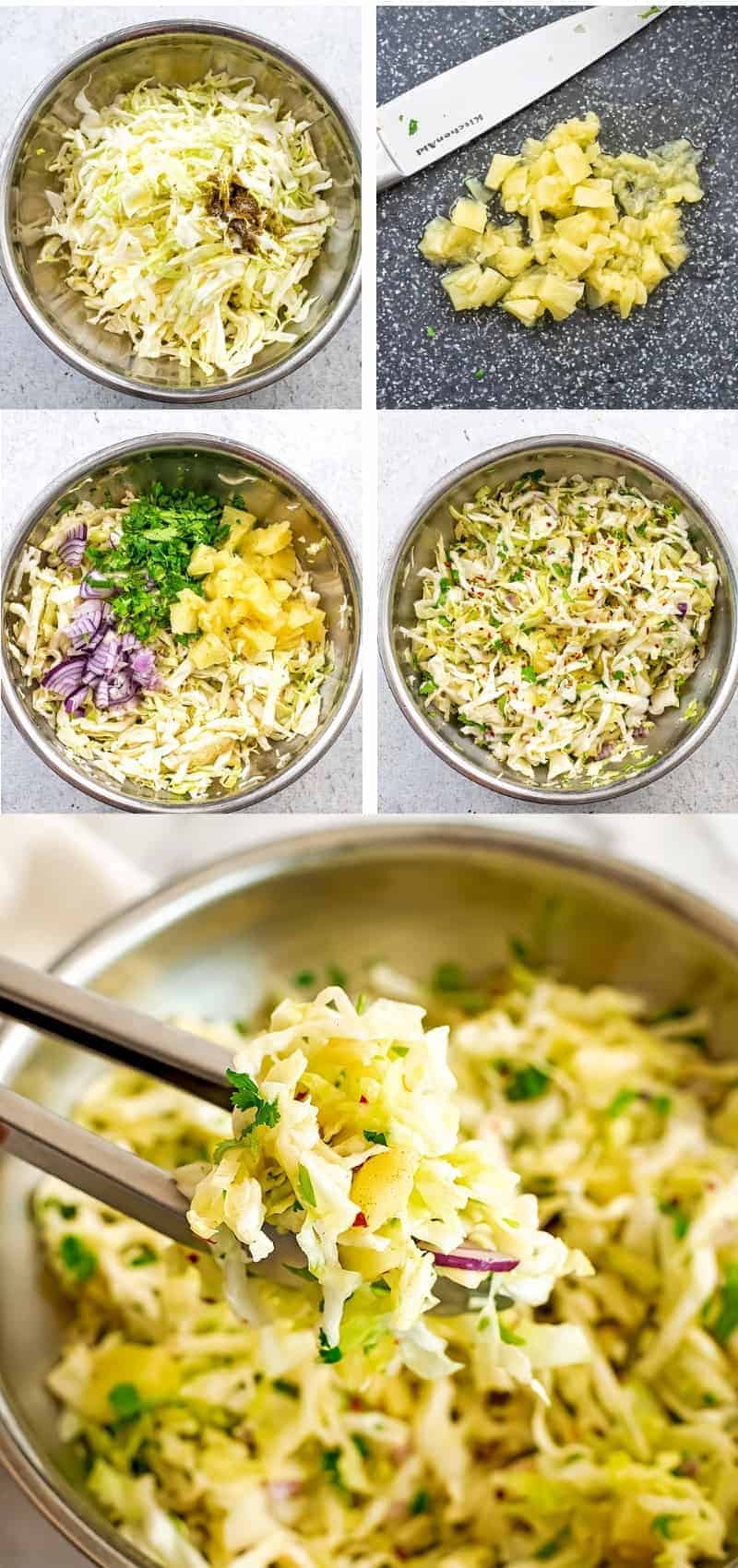 Top tips
Time saving tip: If you want to save time, you could also buy coleslaw mix at the store. It's typically very inexpensive and an easy time saver! This may have sliced carrots or red cabbage in it as well, which is totally fine for this dish!
Toss the slaw before serving: No matter when you make this, the dressing tends to sink to the bottom of the bowl pretty quickly. Because of this, I recommend that you stir the slaw well (I use tongs) to make sure all the veggies are well coated before serving.
Great for meal prep! This recipe holds up well in the fridge for 2-3 days, making it perfect for meal prep! You can easily double or triple this recipe and use is as salad for lunch and serve with your favorite protein!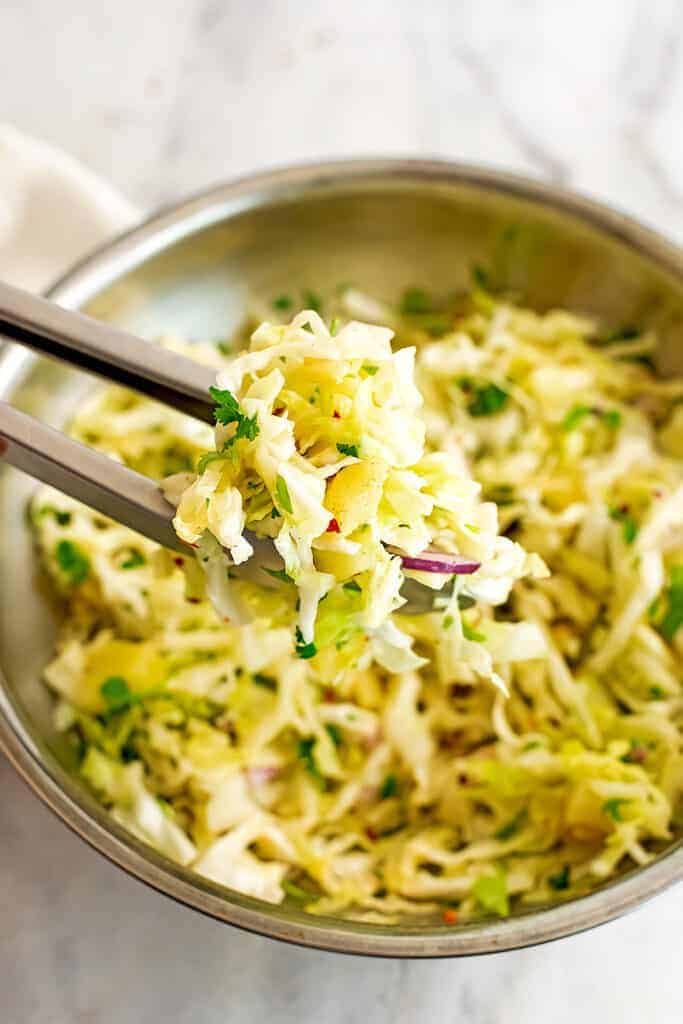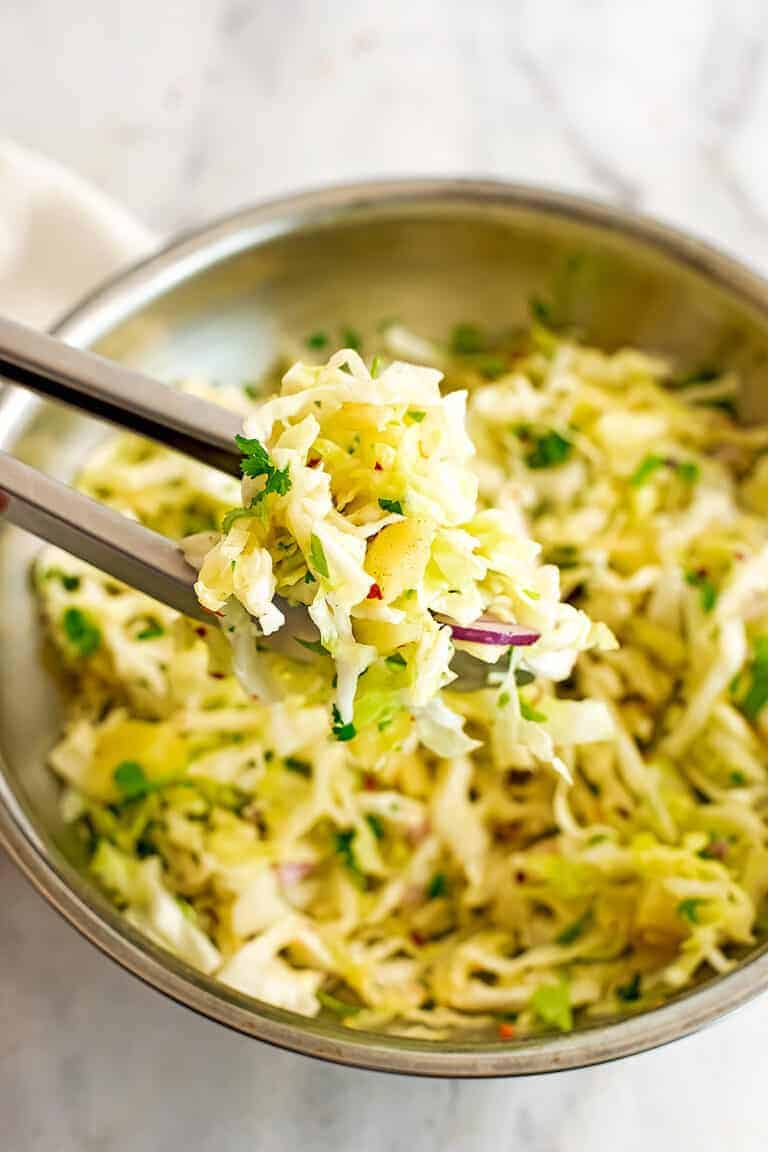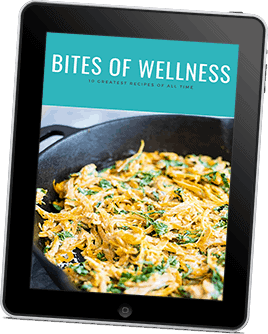 GET 10 OF MY ALL TIME GREATEST RECIPES
IN THIS FREE EBOOK
Other add-in's
I love the simplicity of this dish. However, you can easily change up the ingredients based on what you have on hand. Some other great additions include:
Sliced jalapenos or pickled jalapenos
Thinly sliced radish (or chopped into thin matchsticks)
Shredded carrots
Broccoli slaw
Red cabbage
Shredded kale
Shredded brussel sprouts
Chopped mango slices
Mandarin oranges
Pumpkin seeds, sunflower seeds or sliced almonds for crunch
What to serve with pineapple coleslaw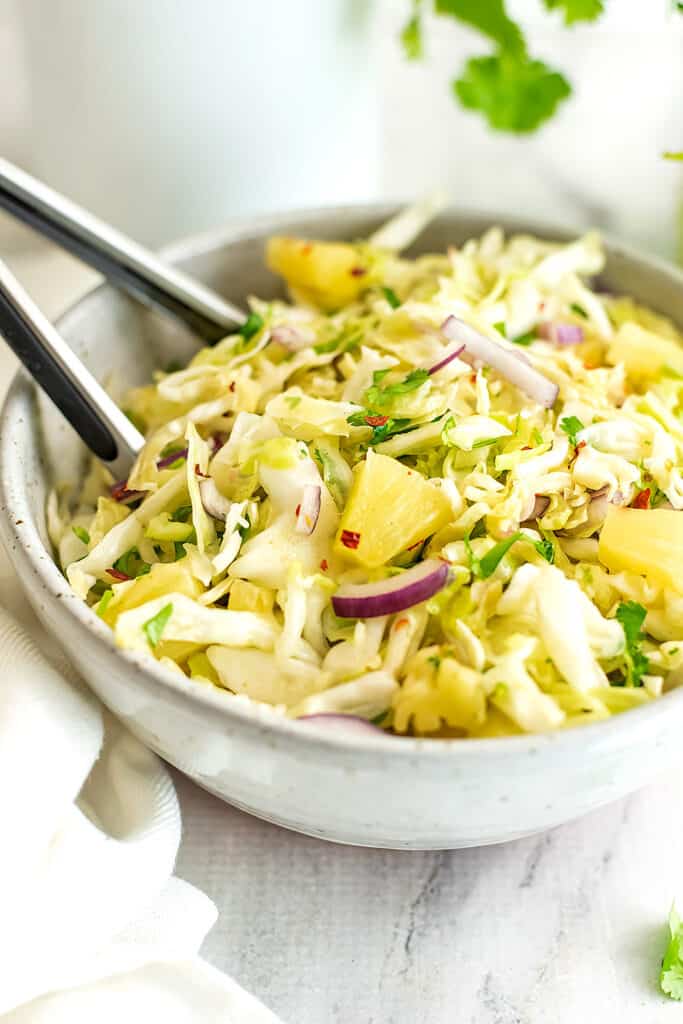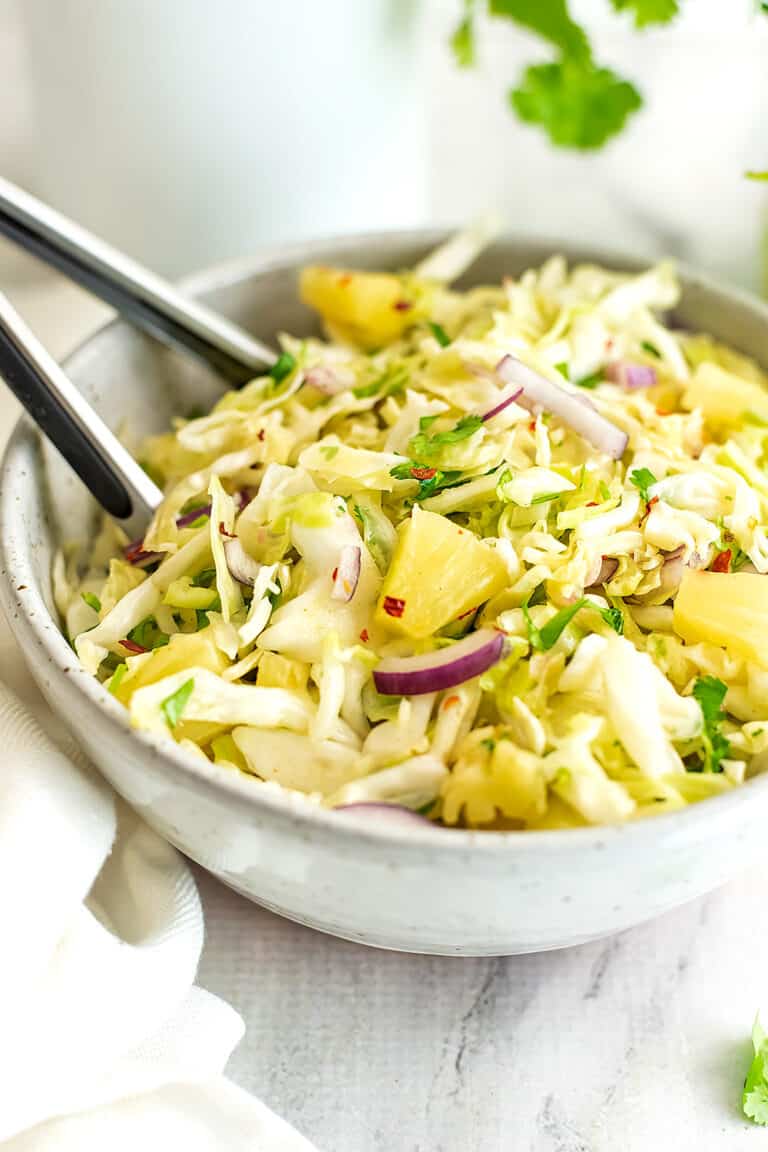 FAQs
How much pineapple do you need
This recipe uses about 2/3 cup of pineapple chunks. I always buy canned pineapple in juice (not in syrup). You can save the juice for other recipes like this sweet and sour chicken.
How to prep this slaw ahead of time
Shred the cabbage, slice the onion and chop the cilantro ahead of time. Roughly chop the pineapple and add it to the top of the cabbage mixture. Store this in the serving bowl (covered).
In a small bowl, combine the vinegar, olive oil, salt and cumin.
Right before serving (up to an hour before) pour the dressing over the slaw and stir well (1-2 minutes to really incorporate the dressing over the slaw).
How to store pineapple coleslaw
Fridge: Store leftover pineapple slaw in the fridge for up to 4 days. The slaw will start to wilt, so if you are serving this to a crowd, you likely want to make it the day of.
Substitutions
Green cabbage: I love green cabbage because it's inexpensive and easy to find. You can also use napa cabbage, red cabbage or even broccoli slaw in place of the green cabbage.
Red onion: Red onion adds a bright, almost sweet flavor (the acid from the vinegar helps to remove the "bite" from the onion). You could also use green onion in place of red onion. If needed you can omit the onion.
Cilantro: Cilantro adds so much flavor to this slaw. If you don't love cilantro or don't have it on hand, you could also use fresh mint or omit it completely.
Canned or fresh pineapple: The pineapple adds sweetness to the slaw so additional sugar is not needed. You could also use fresh or frozen mango in place of the pineapple.
Apple cider vinegar: You could also use the juice of 1-2 limes in place of the vinegar.
Olive oil: This helps to offset the acidic bite from the vinegar. You could also use avocado oil in place of olive oil.
Ground cumin: This adds a smoky flavor. You could also use smoked paprika (1/2 tsp) in place of cumin.
Salt: Salt helps to elevate all the flavors. I would not recommend omitting the salt but you could reduce it if needed.
Red pepper flakes (or Cayenne pepper): If you wanted to add heat without the red pepper flakes, you could add jalapeno slices (fresh or pickled).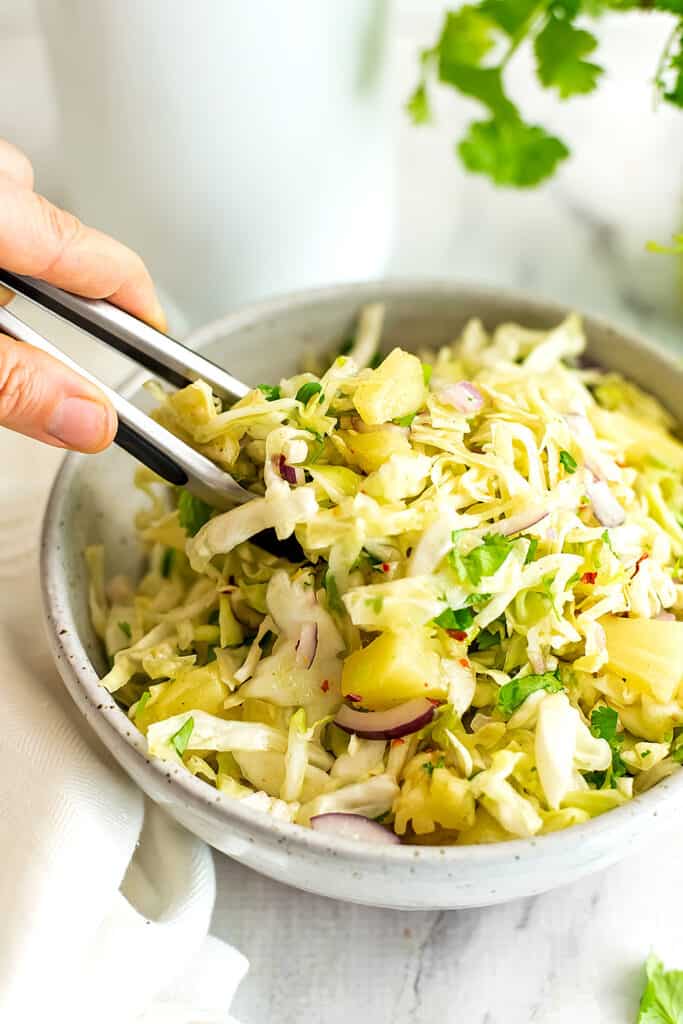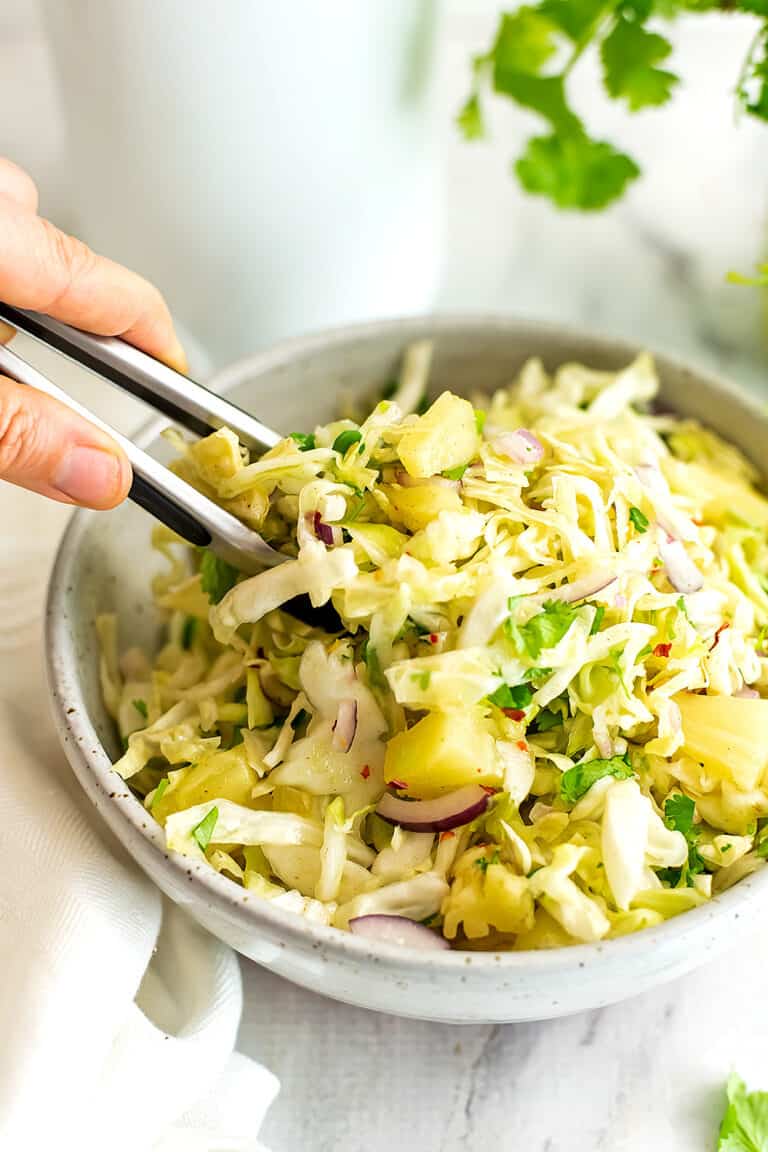 If you love this recipe, you should try
★ Did you make this recipe? Please give it a star rating below!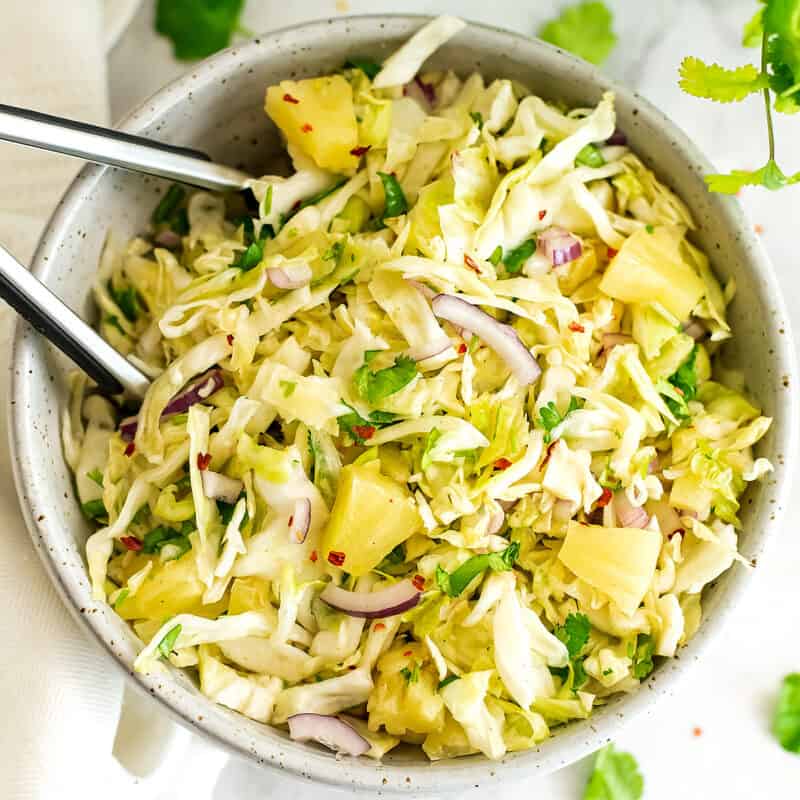 Pineapple Coleslaw (No Mayo)
$3.90 Recipe/$0.65 Serving
Pineapple coleslaw (no mayo) is the perfect balance of sweet, smoky, tangy and a bit spicy. It's a simple weeknight side dish or would be great served in fish tacos or with any Mexican style dish! Great for summer cookouts too!
Print
Pin
Save
Saved!
Rate
Instructions
Thinly slice the cabbage and add it to a large bowl.

Add the apple cider vinegar, olive oil, salt, and cumin to the cabbage and stir well.

Thinly slice the onions and add them to the cabbage.

Drain the liquid from the pineapples. Roughly chop the pineapple so they are in small chunks. Add to the bowl with the cabbage and onions.

Finely chop the cilantro (stems and leaves) and add the cilantro to the bowl with the rest of the ingredients.

Stir everything together well, the cabbage will start to wilt.

Add red pepper flakes or cayenne pepper (optional) – if you don't love heat start with a very small pinch of cayenne.
Notes
An 8oz container of pineapple chunks is about 2/3 cups of pineapple in cubes.
Store leftover slaw in the fridge for up to 3 days.
You can also add:
1/2 tsp. smoked paprika for a bold smoky flavor
1/2 tsp. garlic powder or 1 clove garlic finely minced
2-3 tbsp. pumpkin seeds, sunflower seeds or sliced almonds for crunch
See how I calculate food cost
.
Nutrition Information
Nutrition Facts
Amount per Serving
Where does nutrition info come from? Nutrition facts are provided as a courtesy, sourced from the USDA Food Database.
DID YOU LOVE THIS RECIPE?
Let others know by rating and leaving a comment below!