Air fryer carrot fries are a great alternative to sweet potato fries or regular fries!
Ready in 20 minutes, these healthy air fryer carrots can be made sweet or savory and go with any meal! Great as a fun side dish or even a filling, healthy snack these crispy carrot fries are going to become your new go-to recipe when you want fries!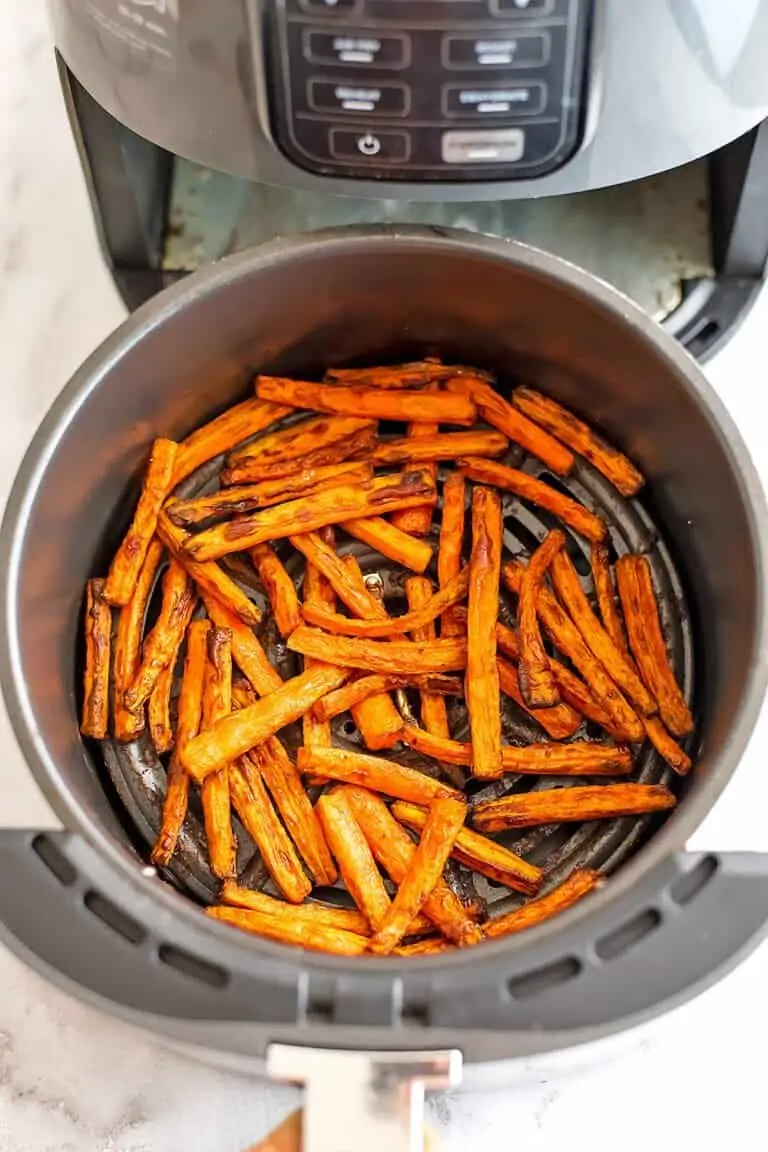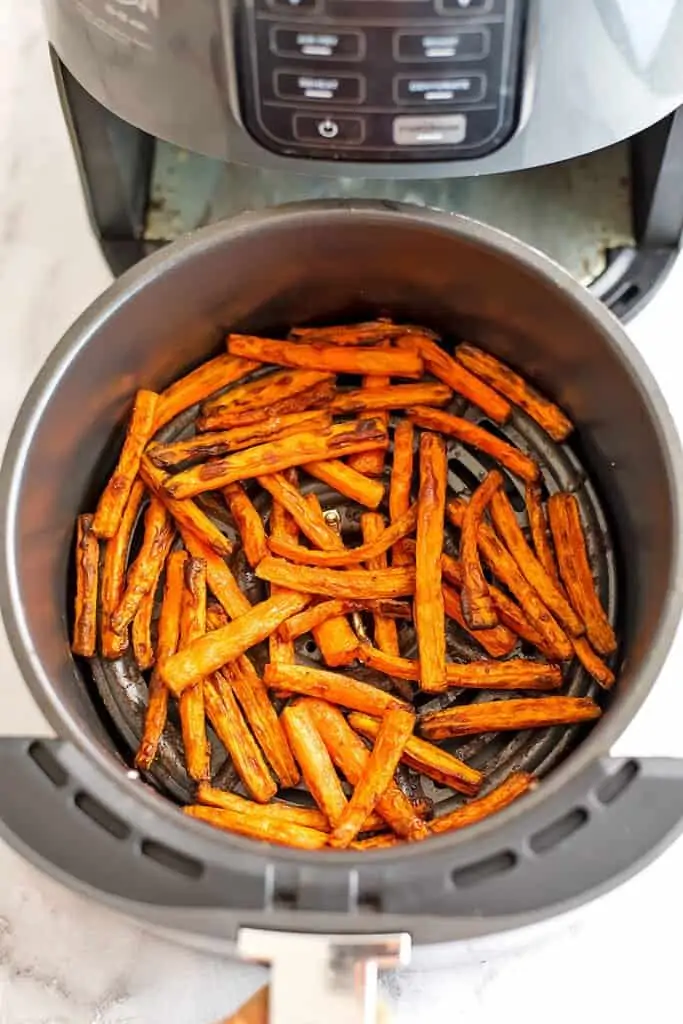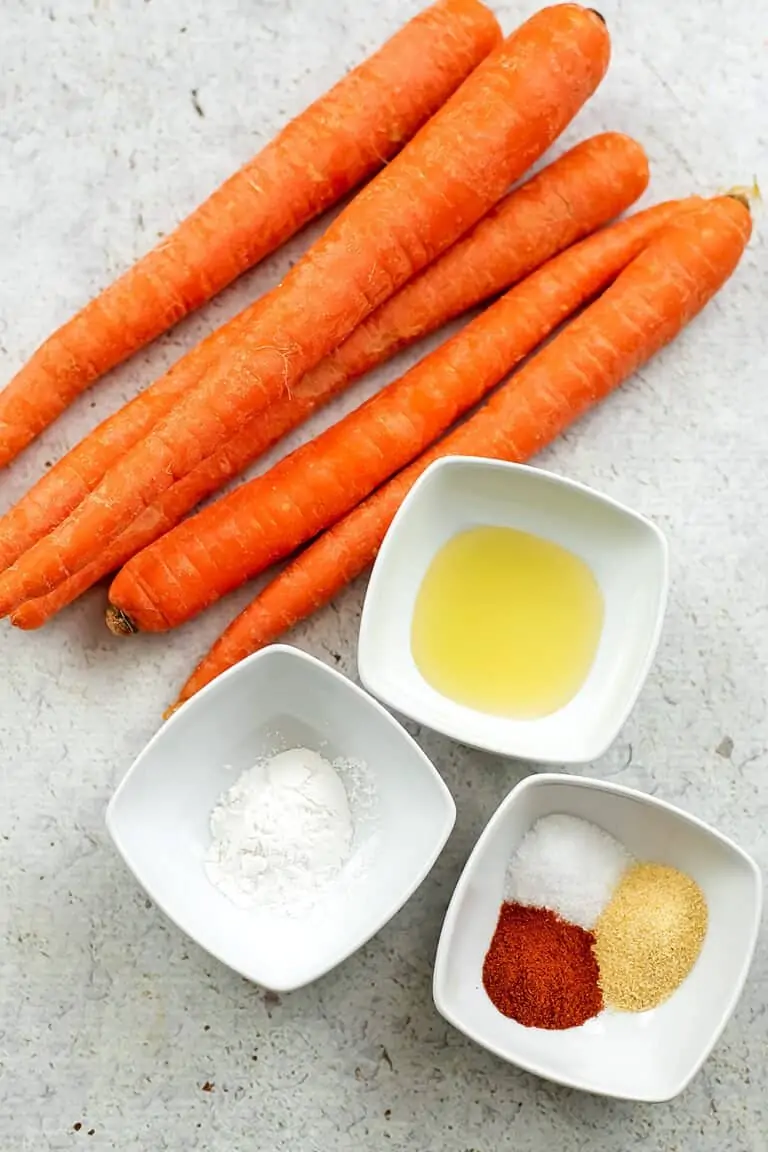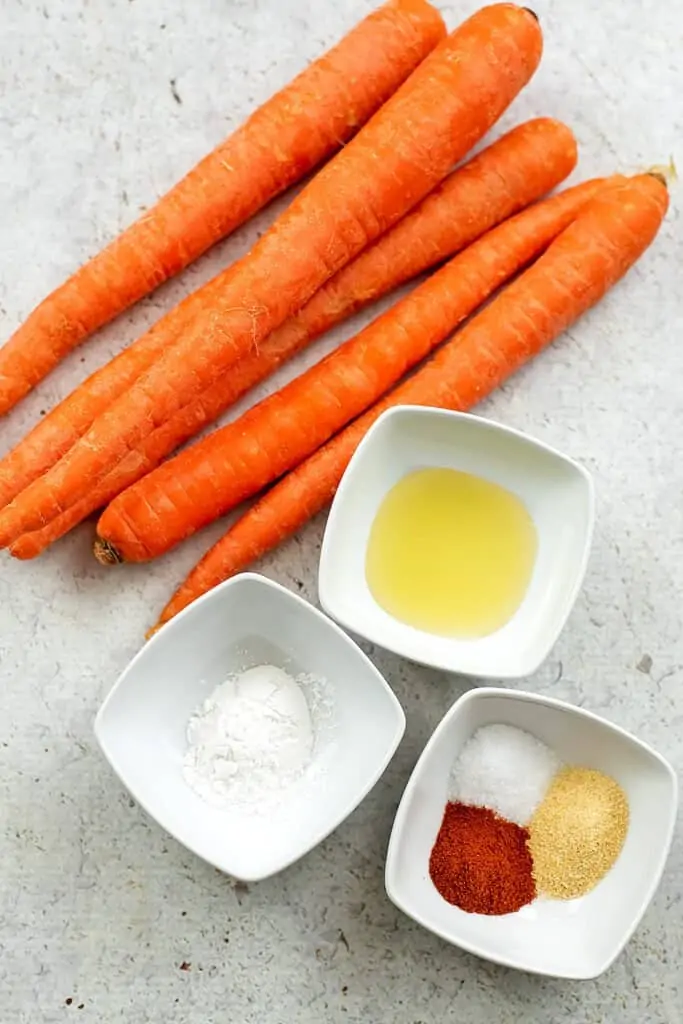 Ingredients
Carrots – you can use whole or baby carrots in this recipe
Avocado oil or olive oil – you want some oil to help the carrots get a bit crispy on the outside. If you are 100% against using oil you could omit this.
Salt – I like to use sea salt in recipes. It helps to elevate the flavors of the carrots and the other seasonings. Omit if you have issues with sodium.
Paprika (optional) – this adds a depth of flavor and makes the carrots a bit more savory.
Garlic powder (optional)- helps to add more flavor to the carrots and helps them with a more "savory" profile.
Arrowroot powder or tapioca flour (optional) – this helps create a little crust on the outside of the carrot fries.
How to make carrot fries in the air fryer
Start by washing your carrots: Most people prefer to peel their carrots as the outside can sometimes be tough and a bit bitter. I find that with organic carrots this is less of an issue (unless they have been sitting in the fridge for quite a while). Peel your carrots if necessary.
Cut the carrots into fries:
Cut the top and bottom from the carrot.
Cut the carrots in half where they start to get wider from the bottom to the top.
Cut those halves in half, so they are half-moon shaped.
Cut into fries

The bottom part of the carrots may be a good size now, or may need to be cut in half again.
The top part of the carrots likely need to be cut in half or into thirds depending on how big your carrots are.


Season the carrot fries: Place all the carrot sticks in a bowl. Pour avocado oil (or olive oil) over the carrots with salt, paprika, garlic powder and arrowroot powder. Mix well (with tongs or use your hands).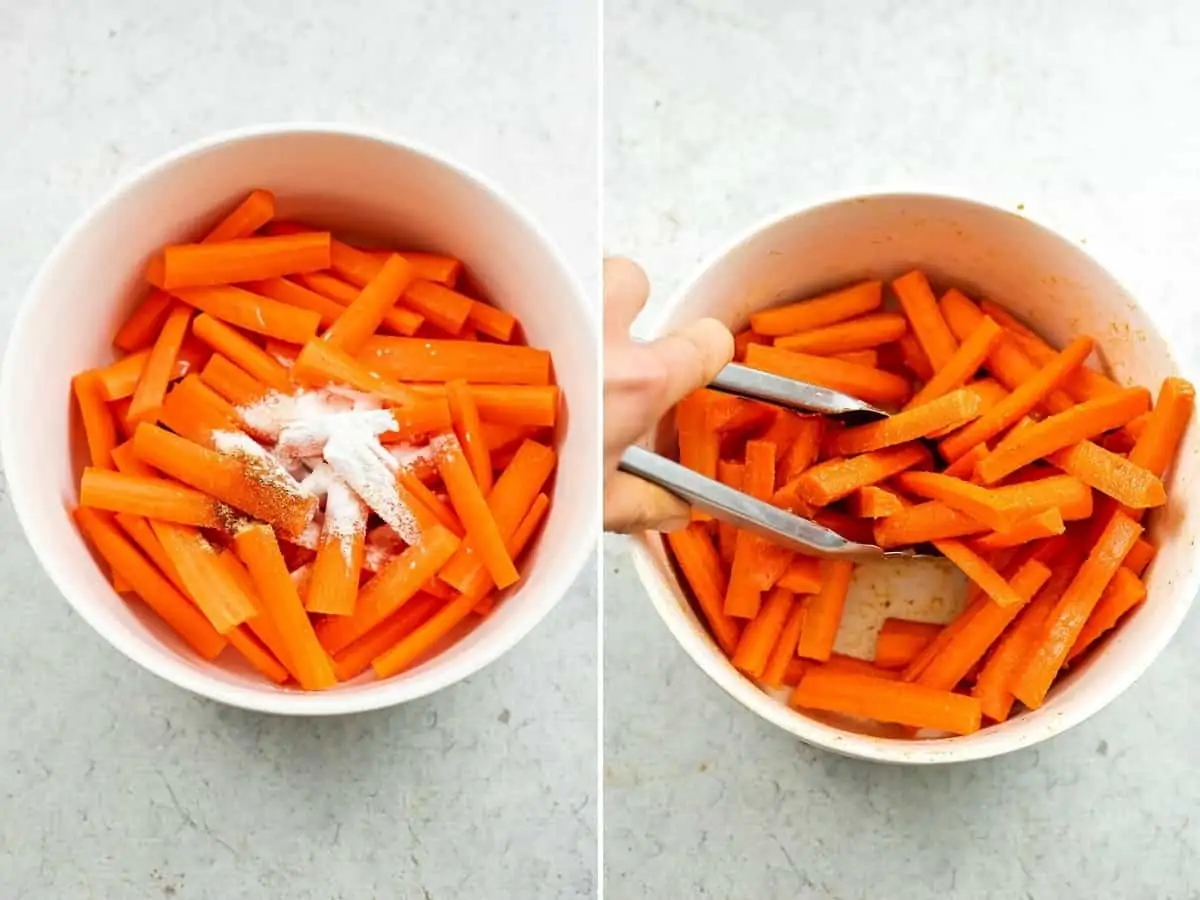 Cook the carrot fries: Add the carrots to the air fryer basket and cook 390F for 16 minutes, shaking the basket regularly (every 3-4 minutes) after the first 8 minutes pass.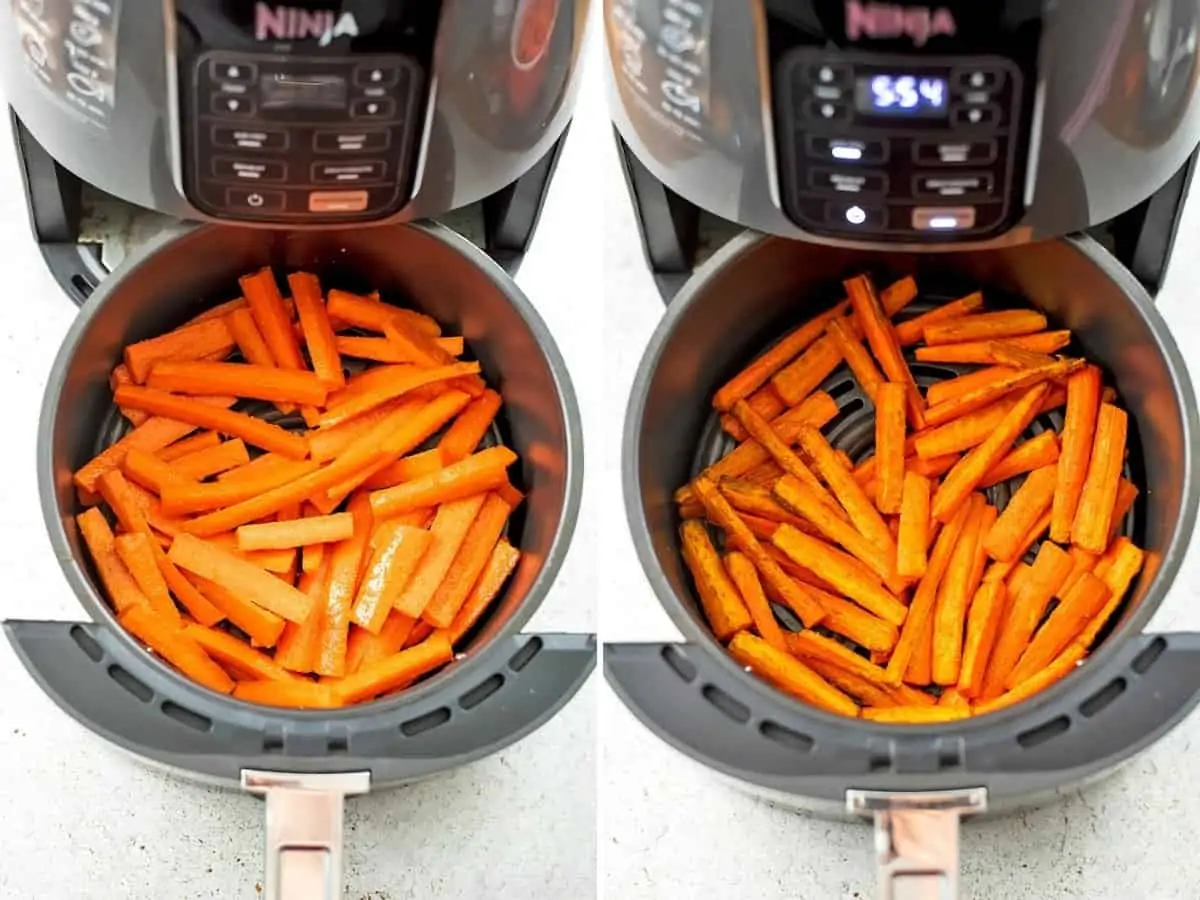 Check the carrots after cooking: If you think they need a few more minutes; continue cooking 2-3 more minutes, keeping a close eye on them so they don't burn.
Enjoy with your favorite dipping sauce or on their own!
Top tips
Don't over-crowd the air fryer basket. This may mean that you have to make in batches or shake the basket more regularly depending on how full the basket is.
Don't expect these to be crispy like the fries you buy at restaurants. They are not deep fried and don't have the same structure as a potato, however the arrowroot powder on the outside does help create a crust. These fries will disappear like they are from a restaurant though!
Serve these carrot fries pretty quickly after cooking. As the carrots sit, they begin to steam, which makes them have a less fry like texture. They turn into roasted carrots (which are still amazing) but may not be as fun for small kids to eat once they sit for some time.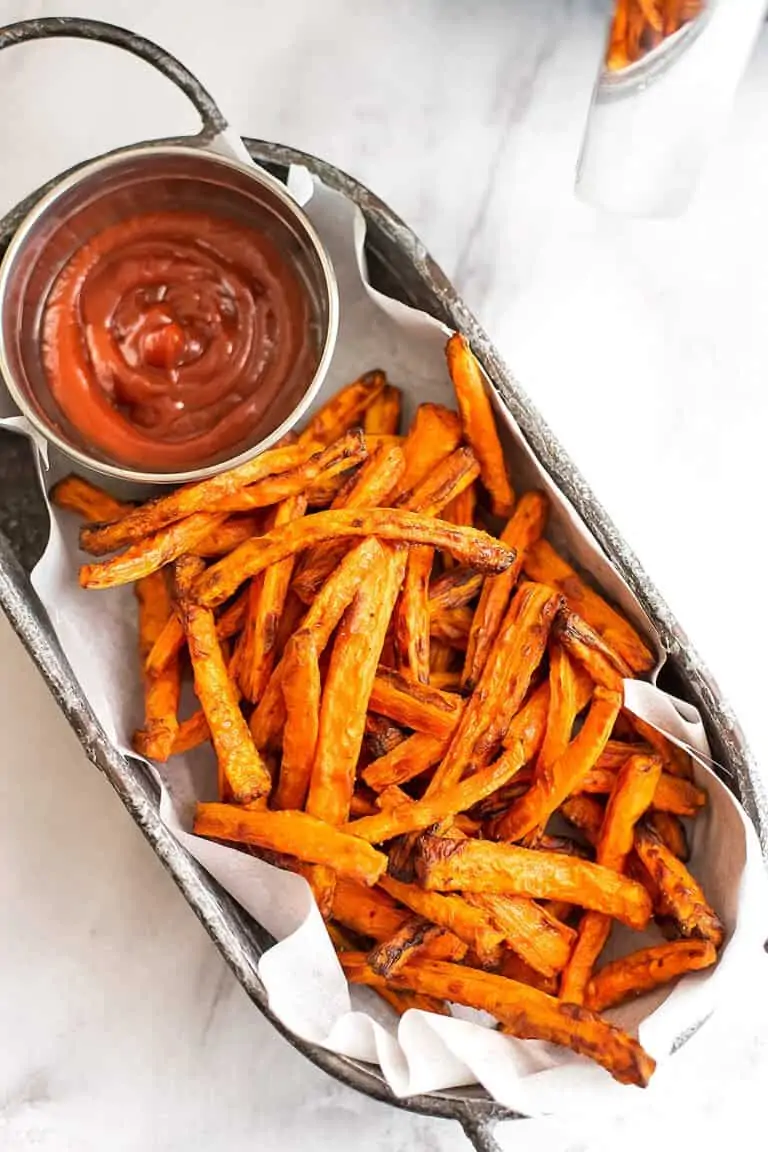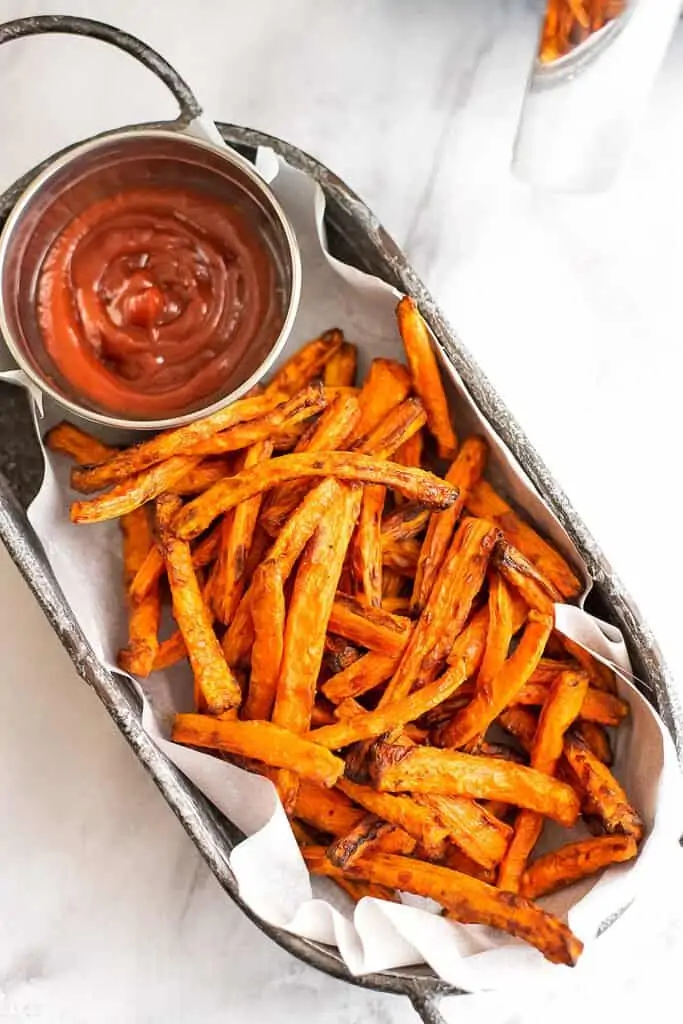 How to make carrot fries crispy
To give the fries a crunchy exterior, I add 1 tsp of arrowroot powder or tapioca starch to the carrots with the oil and spices. The starch helps the carrots crisp up when cooking, giving them a crunchier coating.
You can omit the arrowroot (if you don't have it or don't want it) and the fries will still taste amazing.
Other spices you could use
Carrot fries are very versatile and can easily change flavors based on the seasonings you use. These flavor combinations would replace the paprika and garlic powder.
Curry: Curry powder (1/2 -1 tsp.)
Smoky: Cumin (1/2 tsp) + cinnamon (1/2 tsp) + smoked paprika (1/2 tsp)
Slightly sweet and savory: Garam masala (1/2 tsp) + cinnamon (1/2 tsp)
Cajun: Cajun seasoning (1 tsp)
Ranch: Ranch seasoning (1 tsp)
Spicy: Chipotle pepper powder (1/4 tsp) + cumin (1/2 tsp)
Sweet: Omit the salt. Add cinnamon (1/2 tsp), coconut sugar (1-2 tsp) and pinch of ground cloves (optional)
The best carrot fries dipping sauces
Take this recipe to the next level with the right dipping sauce! Here are some of my favorites: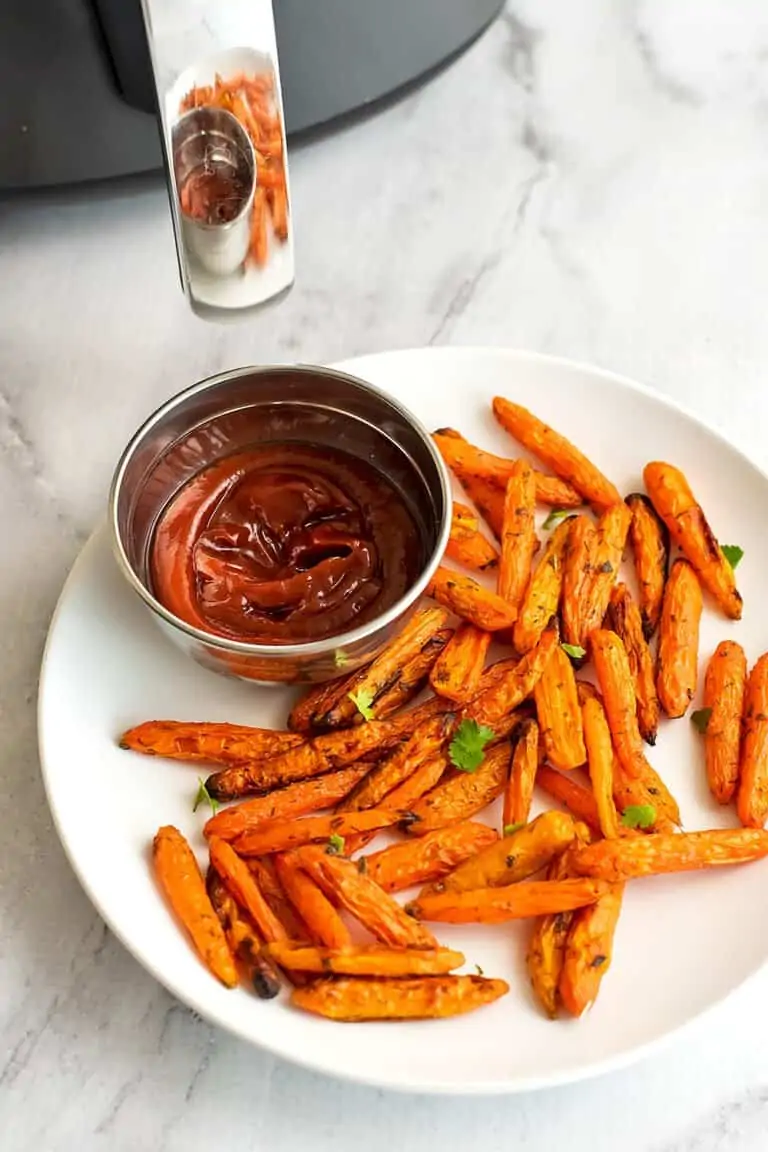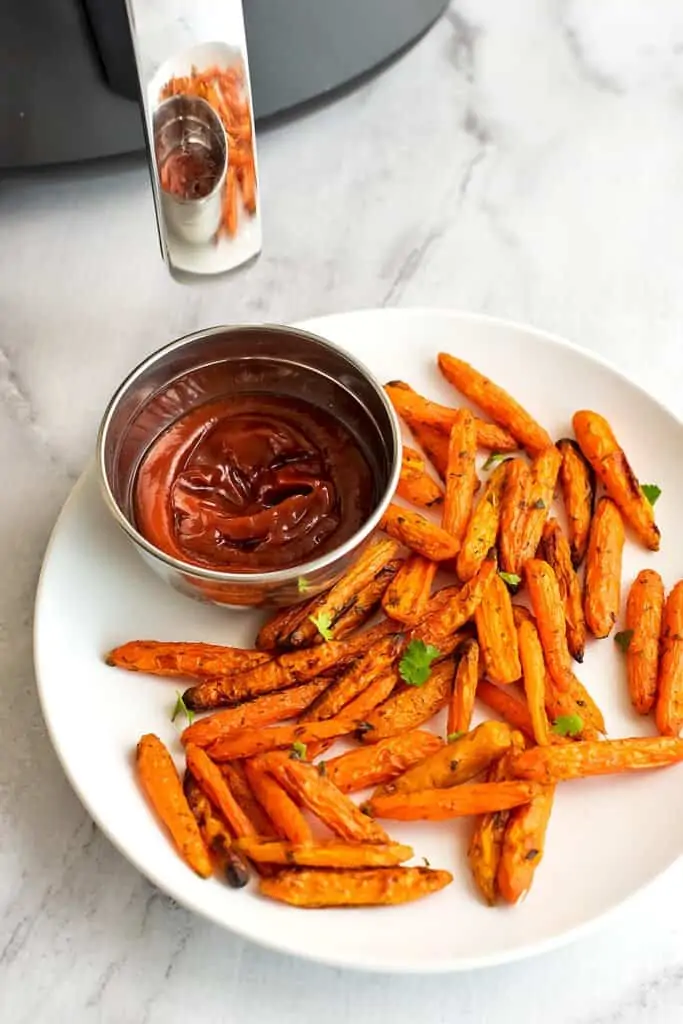 How to make air fryer baby carrots
If the baby carrot is any thicker than your pinky finger, cut it in half before coating with oil + seasoning and baking them in the air fryer.
It's important to cut these carrots down before air frying them, as they will likely steam from the inside, making them feel mushy or too soft after cooking, or not cooking through all the way.
How to make carrot fries in the oven
You can make crispy carrot fries in the oven! If you need to make a large batch at once or if you don't have an air fryer, you can instead use the oven method.
How to store carrot fries
Store leftover carrot fries in a well sealed container in the fridge for up to 4 days.
Leftovers don't have that same crisp crunch, they become more like roasted carrots. They are great on salads, in omelets or for snacking. You could reheat roasted carrots by letting them air fry at 350F for 4-5 minutes to help crisp them back up.
Leftovers can also be frozen, but the texture will not be the same after defrosting. Again you could reheat them in the air fryer 350F for 5-7 minutes after defrosting, but the texture will never be the same.