Creamy cilantro lime slaw is the perfect side dish for a simple dinner or the perfect topping for fish tacos!
This creamy cilantro lime slaw is made with just a few ingredients and is made without mayo or dairy! Naturally vegan, gluten free, dairy free, paleo, low carb and Whole30 friendly, this slaw is perfect for get-togethers too!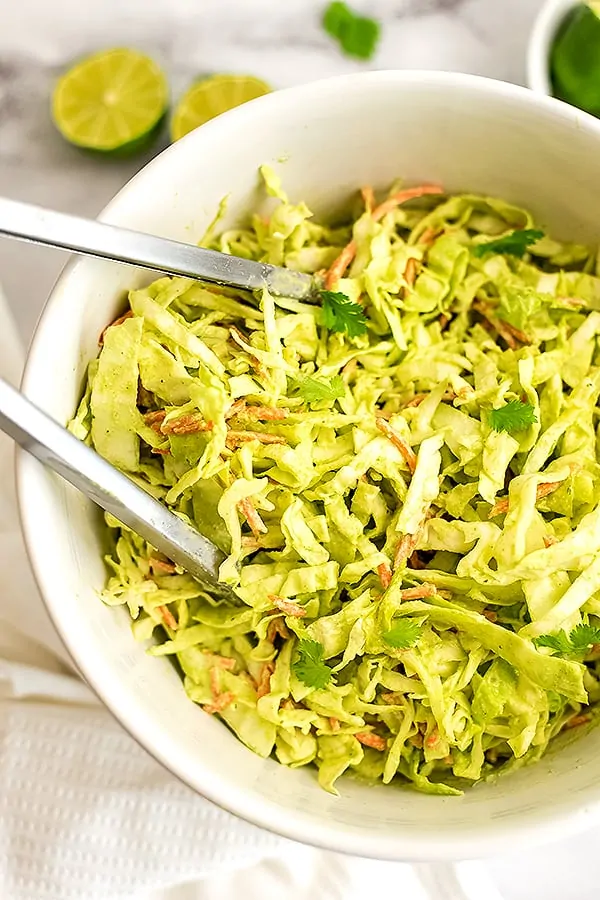 This post contains affiliate links. As an amazon associate I earn from qualifying purchases.
Click here to read my policy
and more about affiliate links.
Why you will love this recipe
Creamy cilantro lime slaw is the perfect way to change up your typical slaw recipe! The cilantro and lime bring brightness and so much flavor to the cabbage!
This creamy cilantro lime dressing is made with cashews instead of mayo or yogurt, making it dairy free, egg free and perfect for cookouts or potlucks!
Slaw is such an inexpensive side dish and this flavor combination is so versatile! Serve with any Mexican or Asian inspired dish or on top of burgers or hotdogs!
Easy to make ahead the day before! Can make this slaw up to a day in advance, and the flavors and colors will still be incredible!
Ingredients
Cabbage
Shredded Carrots
Creamy Cilantro Lime Dressing:
Cashews (soaked)
Water
Cilantro
Lime Juice
Garlic Powder
Salt
How to make cilantro lime coleslaw
Shred up a small head of cabbage (2-3 pounds). Add the cabbage to a very large bowl.
Add the shredded carrots to the bowl with the slaw (I buy store bought but you could also shred them in the food processor or using a hand grater).
Make the dressing, pour the dressing over the slaw and mix well (I use tongs).
Let sit in fridge about 1 hour for the best flavor (although you can serve immediately).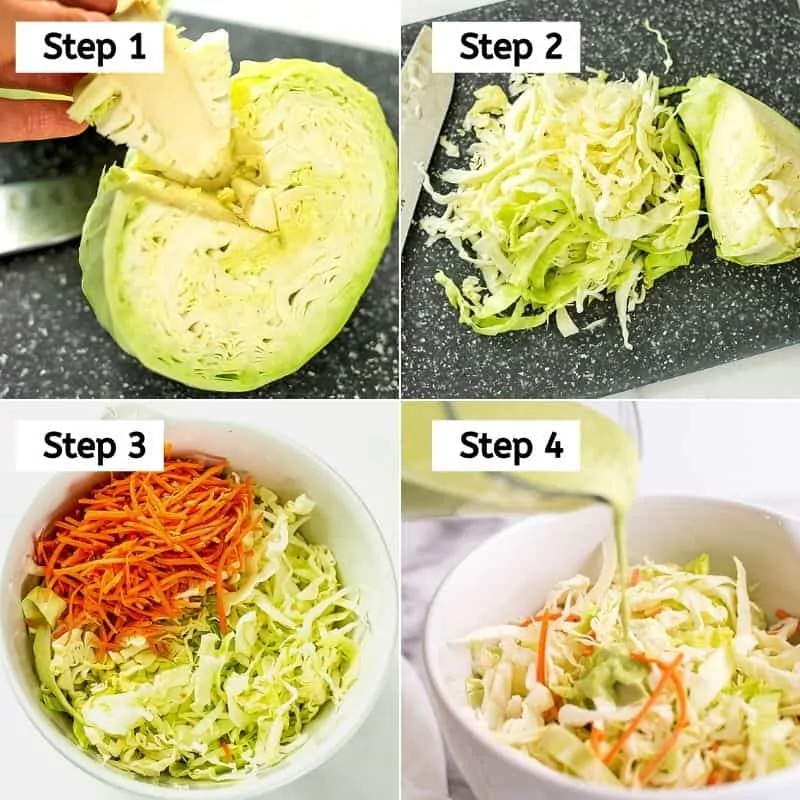 How to make cilantro lime dressing
Start by soaking the cashews and draining them of soaking liquid. See below on how to soak cashews.
Add the soaked cashews, water, cilantro, lime juice, garlic powder and salt to a high speed blender (I use a bullet blender) and blend about 1 minute until smooth.
Possible Variations
I love the flavor profile of this cilantro lime slaw however, there are some great ways to add in more heat from peppers or more veggies! Some great additions include:
Add more veggies: Add thinly sliced bell peppers or poblano peppers, jicama or even radishes!
Make it spicy: Add Sliced jalapenos (to the slaw or added to the sauce) or add canned green chilis to the sauce
Make it smoky: Add smoked paprika or 1-2 of the canned chipotle peppers (in adobo sauce) to the sauce before blending
Make it crunchy: Add toasted cashews, almonds, pumpkin seeds (pepitas) or sunflower seeds to the slaw.
Change the cabbage: You could also use purple cabbage or even broccoli slaw in place of some of the cabbage in this recipe.
Recommended kitchen tools
What to serve with cilantro lime slaw
The cilantro lime dressing makes this slaw perfect with Mexican and Asian flavors. Here are some of my favorite ways to serve it: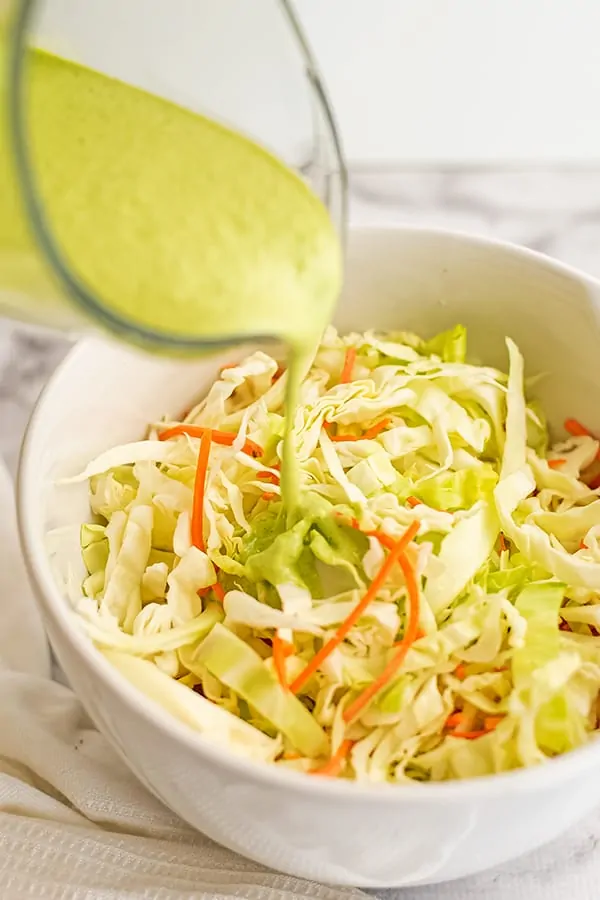 Tips for making the best slaw
Did you know that the stems of cilantro are packed with flavor? Instead of just cutting off the leaves, add in the stems too! This will help you save money and reduce food waste.
Before cutting a lime to juice it, take 10 seconds to roll it on the counter, putting pressure on the lime. If it still doesn't feel super juicy, you can microwave it for 10 seconds before cutting it to juice it, this will help release the juices.
Cilantro lime coleslaw common questions
How to shred cabbage for slaw
Shredding cabbage can be tricky, however I have some top tips to make this a very quick process!
Use a sharp knife: Remove the center core from the cabbage and cut with a sharp knife. This is the most time consuming option.

Use a food processor: Cut the core from the cabbage and cut it into pieces small enough to fit in the top of your food processor. Add the shredding blade (not grater) to the food processor and turn on the food processor. Feed the cabbage through the feeder tube at the top of the food processor and it will shred all the cabbage in about 1 minute or less.

Use a spiralizer: Place the cabbage on the spiralizer so the core is in the pointy spikes and the top of the cabbage is by the blade. Making sure you have a flat blade (on the Insprializer it will be Blade D), spiralize the cabbage. This tends to get a little messy but works really well. Takes about 1-2 minutes.

Use a mandolin: Mandolins are a great way to quickly shred up cabbage or cut vegetables into even slices. However, these are very sharp and can be very dangerous. I cut my hand with one and do not recommend you using them without proper gloves to help shield your hands from the blade. Go slow.
How to soak cashews
Soaked cashews create a thick, rich, creamy sauce. However if you do not spend time soaking your cashews, your sauce will not turn out as creamy, instead it will be chunky.

There are 3 main ways to soak cashews:
1. On the counter: Soak cashews in just enough water to cover them on the counter for about 8 hours. Drain the liquid before using in recipes. This is the easiest method but most time consuming.TIP: To cut down on soaking time on the counter, you can also bring an electric kettle up to full boil and pour the boiling water over cashews, allow to sit on the counter 10 minutes before draining.
2. On the stove: Add cashews and just enough water to cover them to a small pot on the stove, bring water to a boil and boil cashews 3-5 minutes on the stove. Carefully drain water before use.
3. In the microwave: Add cashews and just enough water to cover them to a very large glass container or bowl. I use a quart size wide mouth mason jar. Microwave cashews and water 2 minutes. Allow to cool 3-5 minutes before trying to handle the glass. Drain liquid before use.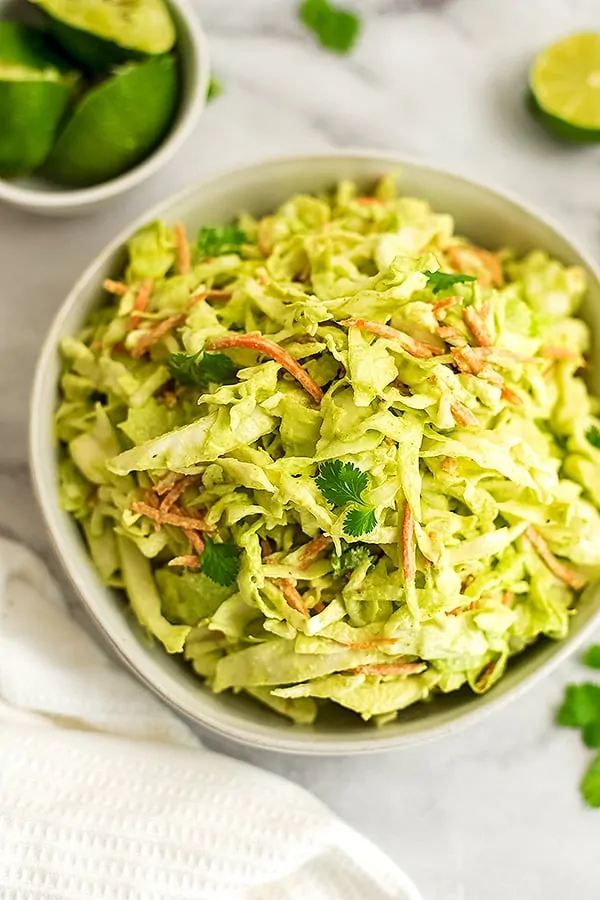 Can you use store bought slaw with cilantro lime dressing?
Yes! That is a great way to save time! You will need about 2 bags of store bought slaw mix to make this recipe.
Can you make cilantro lime slaw in advance?
Yes! This slaw is great made 1 day ahead if you have a get together or party you are planning for! This is because the slaw will start to loose color after 1 day. You can also make the dressing up to 3 days in advance and store it in a well sealed jar. Simply dress the cabbage about an hour before serving.
How long does slaw last in the fridge?
This slaw tends to last about 3 days in the fridge before the cabbage gets too watery.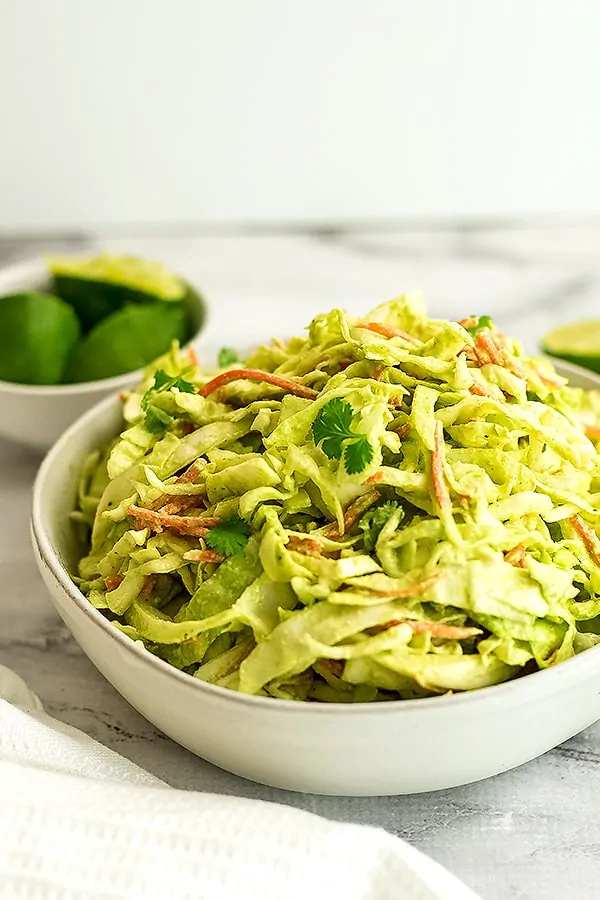 Substitutions
Cabbage: You can also use broccoli slaw (which is made from broccoli stems and carrots)
Cashews: If you cannot have nuts, you could also make this dressing with hemp hearts (no soaking required), tahini (about 1/3 cup) or raw sunflower seeds soaked in a way similar to how you soak cashews.
Cilantro: Cilantro can be very polarizing (some people love it, others hate it). I think the cilantro is so important in this dish. You could try making this with Italian parsley and a little mint for a similar flavor.
Lime juice: Lime juice and cilantro are made for each other! If you don't have limes on hand you could try the juice of half a lemon and 1-2 tbsp. red wine vinegar.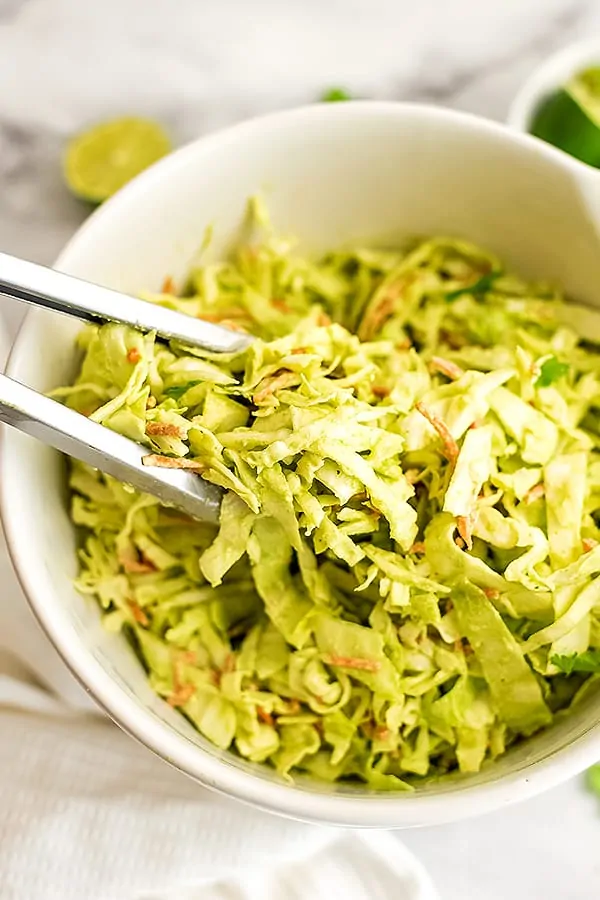 If you love this recipe, you should try
★ Did you make this recipe? Please give it a star rating below!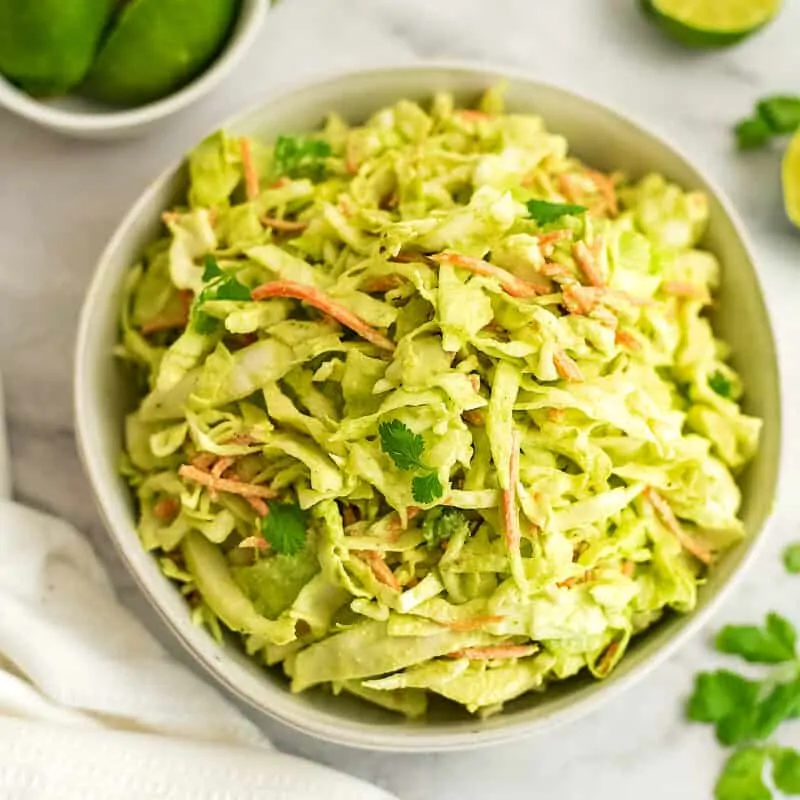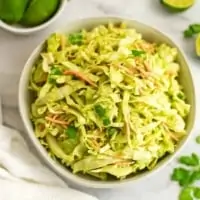 Creamy Cilantro Lime Slaw
$5.22 recipe/$1.31 serving
Creamy cilantro lime coleslaw is the perfect topping for tacos and is so easy to make! This healthy recipe is made with no mayo, and is naturally dairy free, vegan, low carb, paleo and Whole30 and keto friendly! Perfect for fish tacos or shrimp tacos, and is ready in less than 10 minutes!
Print
Pin
Save
Saved!
Rate
Ingredients
1

small

head of cabbage, shredded

-

$2.47

1/2

cup

shredded carrots

-

$0.38
Instructions
Soak cashews in water (8 hours on counter) or cook in microwave in water 2 minutes or on stove boiling 3-5 minutes. Allow cashews to cool slightly before handling (2-3 minutes). Carefully drain the water and discard it.

Remove the core from the cabbage and shred (using a knife, the food processor, spiralizer or mandolin).

Add shredded cabbage and shredded carrots to a very large bowl.

Make dressing by combining drained cashews, water, cilantro, lime juice, garlic powder and salt in a high speed blender, about 1 minute on high.

Pour dressing over cabbage and mix well (I like to use tongs).

Store in fridge about 1 hour before serving if possible.
Notes
Make ahead and storage:
You can make this slaw 1 day in advance if you need to save time! You can also make the dressing up to 3 days in advance and store it in a well sealed jar. Simply dress the cabbage about an hour before serving.
Store slaw in a well sealed container in the fridge for up to 3 days (however the presentation is best within the first 24 hours).
Do not freeze the slaw, the cabbage has too much water and this will not turn out.
Substitutions:
Cashews: You can also use hemp hearts (no soaking needed) or raw sunflower seeds (soaked the same way as cashews).
Cabbage: If you don't want to use all green cabbage you can reduce it or replace it with purple cabbage, broccoli slaw or even shredded jicama.
See how I calculate food cost
.
Nutrition Information
Nutrition Facts
Amount per Serving
Where does nutrition info come from? Nutrition facts are provided as a courtesy, sourced from the USDA Food Database.
DID YOU LOVE THIS RECIPE?
Let others know by rating and leaving a comment below!