This healthy Mediterranean tuna salad recipe with no mayo is the perfect lunch or quick dinner recipe!
Packed with flavor this healthy tuna salad comes together in under 5 minutes and is gluten free, grain free, low carb, paleo, Whole30 and keto friendly! You can eat this tuna salad without mayo on a bed of spinach, served in a lettuce or collard green wrap or enjoy it on sweet potato toast or your favorite bread for a quick and healthy meal!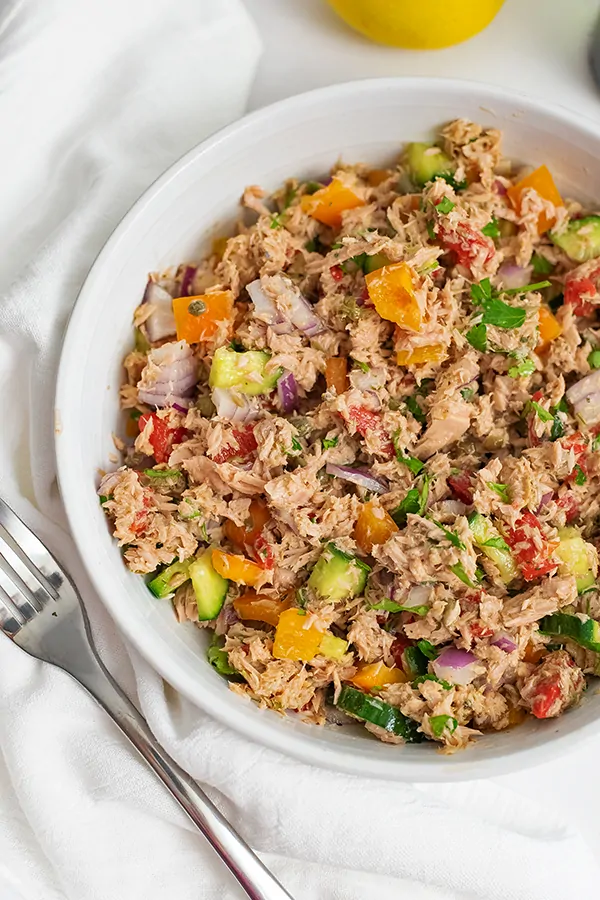 This post contains affiliate links. As an amazon associate I earn from qualifying purchases.
Click here to read my policy
and more about affiliate links.
Why you will love this recipe
Versatile! This Mediterranean tuna salad is so versatile. Put it in wraps, on a sandwich, eat it on toast or use it as a dip with crackers or eat it as is right out of the bowl!
Healthy ingredients, no mayo! No mayonnaise what-so-ever! And fits into almost every lifestyle diet including Whole30, paleo and keto.
Easy to make! This tuna salad with no mayo is so simple, ready in just 5 minutes and packed with flavor (thanks to the quick and easy lemony dressing) and crunchy veggies! This healthy tuna salad recipe will soon become your favorite go to recipe for a quick and easy lunch!
No Mayonnaise Tuna Salad
I have a confession – I despise mayonnaise!
I never liked it growing up and it's one of the few foods I still cannot tolerate as an adult. So I would often make tuna salad with mustard instead of mayo and it was fine! But eventually that got old, so I had to start thinking outside of the box. I love my Mexican Tuna (stuffed in bell pepper) but was craving something different!
If you have ever had canned tuna, you know it can be a bit of a strong flavor, but it pairs really well with citrus and other Mediterranean flavors. So using a lemon juice based dressing instead of mayo is the perfect way to switch up your usual tuna salad.
I am always looking for ways to add in more veggies, so instead of just the usual chopped celery and onion, I decided to add in lots of Mediterranean veggies right into the tuna salad for texture, crunch and to make it more filling!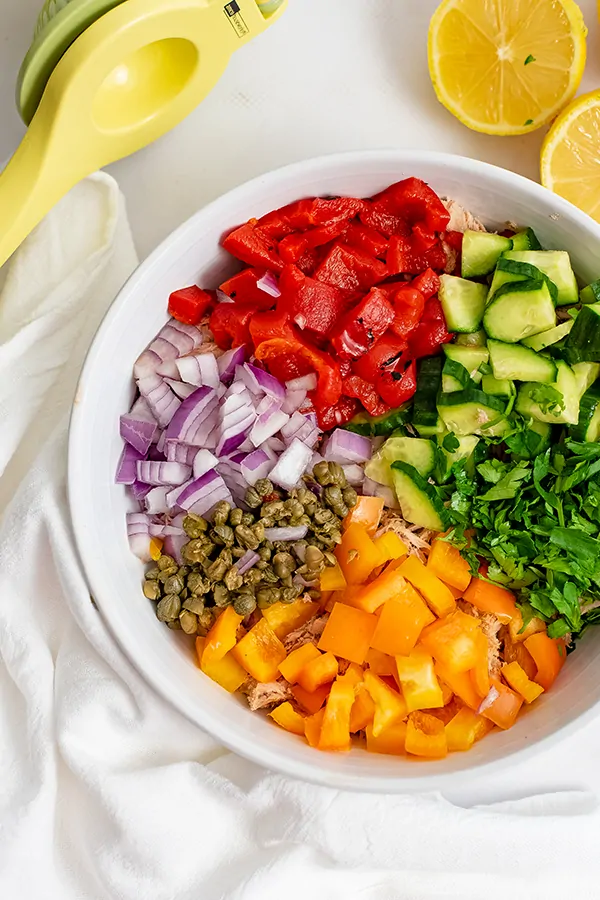 Ingredients
Salad ingredients
Skipjack tuna – you can also use albacore tuna, but skipjack is often the lowest in mercury since it's a small fish and it's usually more budget friendly. You could also make this with canned salmon or canned chicken as well.
Bell peppers – bell peppers add crunch and color and a touch of sweetness. I recommend red, orange or yellow for the best flavor.
Red onion – red onion provides a unique flavor and is mellowed out a bit by the lemon dijon dressing. Typical tuna salad recipes often include red onion because of how well it goes with tuna, and this healthy tuna salad recipe is no different.
Cucumber – cucumbers provide crunch and help make this no mayo tuna salad super filling.
Roasted red pepper (optional) – I love the contrast between the roasted red pepper and fresh bell pepper. I find the roasted red pepper to be a bit sweeter and if you have them on hand, it's a great addition to canned tuna salads.
Capers (or chopped kalamata olives) – capers provide a briny, salty addition to the tuna salad, and I think they help make this salad extra-ordinary in flavor.
Fresh flat leaf parsley – flat leaf parsley helps to add a fresh element to the salad and really helps to make the flavors fresh and bright. You could also use fresh mint, basil or fresh oregano (not as much oregano as parsley though as it's overpowering).
Dressing Ingredients:
Lemon juice – fresh lemon juice is best in this recipe. You can use bottled if needed but I really think fresh is best!
Olive oil – olive oil helps to coat the salad ingredients and emulsifies with the lemon juice to create a super yummy dressing.
Dijon mustard – dijon mustard helps to emulsify the dressing (make it thick and allow the oil to bind with water from the lemon juice). Dijon also adds so much flavor to the dressing.
Spices: Herbs de Provence (or Italian seasoning), salt, garlic powder – these spices help to bring flavor to the dressing and the salad and are easy to find.
How to make healthy tuna salad without mayo
Start by chopping all the veggies, making sure they are bite size pieces. For the fresh parsley, you will want to finely chop it so that it incorporates throughout the salad.
Drain the tuna and add it to a large bowl with the rest of the chopped vegetables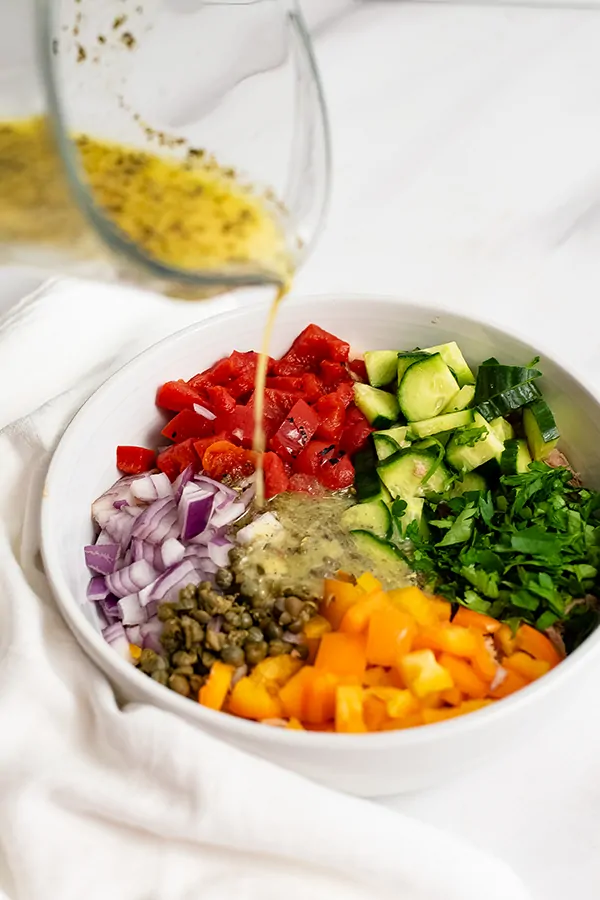 Next make the lemon herb dressing by adding everything to a mixing bowl and stirring with a fork or a whisk until well incorporated.
Pour The dressing over the tuna salad and stir well.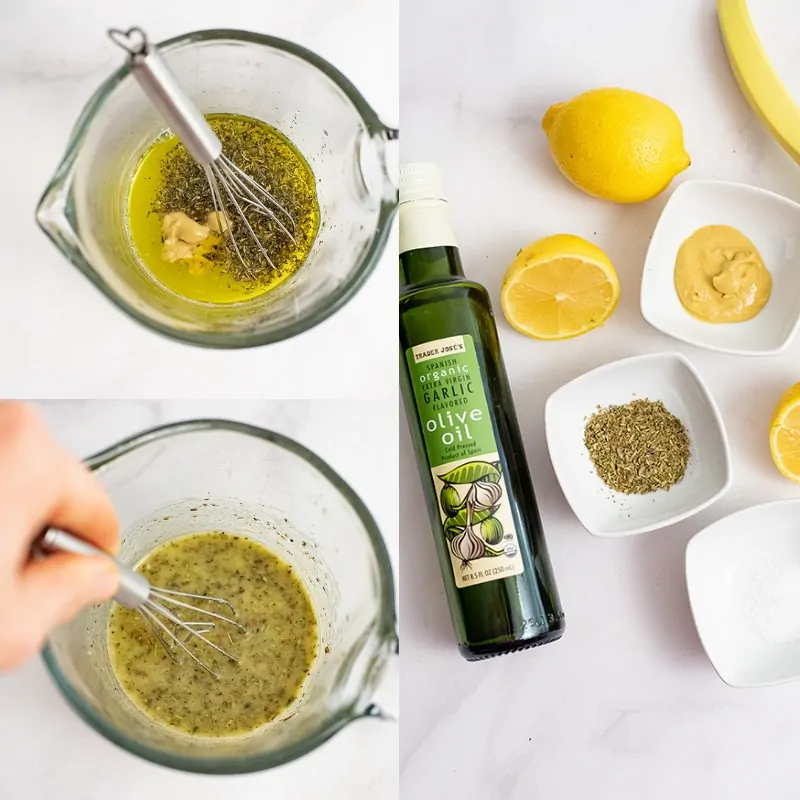 Recommended kitchen tools
Other veggies to add to Mediterranean tuna salad
Cooked broccoli, asparagus or cauliflower, chopped into small pieces
Artichokes (canned or jarred)
Olives (kalamata would be amazing)
Fresh mint, oregano or basil
Hearts of palm
Shredded carrots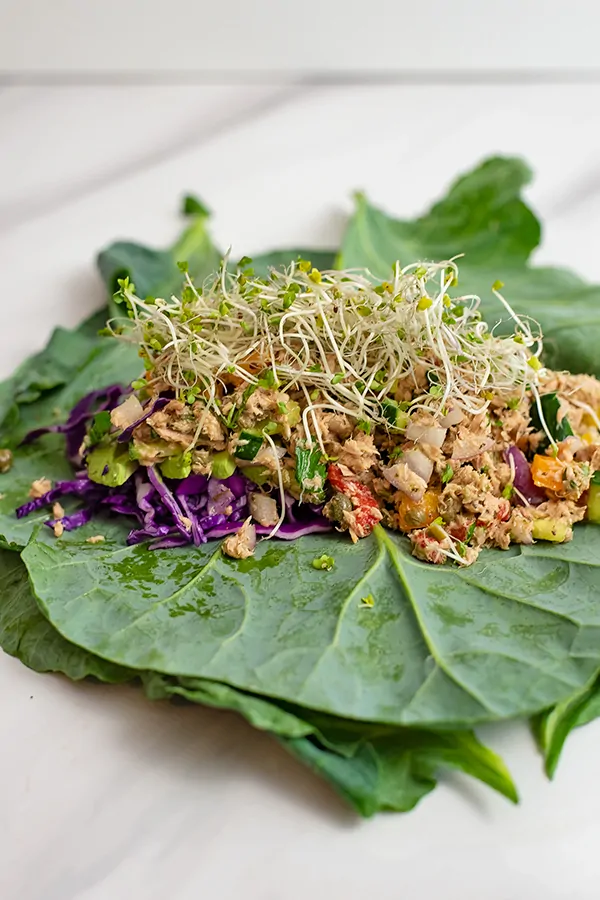 Common questions
What can you use instead of mayo in tuna salad
If you want the same traditional creamy consistency but don't love mayo, you could use greek yogurt, mashed avocado or even cottage cheese instead of mayo. Or you could try a tahini based dressing as tahini creates a creamy dressing without any dairy or mayo.

To switch things up and want a different take on tuna salad, you can use a vinaigrette or your favorite dressing (like this creamy basil dressing) instead of mayo!
Healthy ways to enjoy tuna salad
Tuna salad does not have to just be eaten on a sandwich or on salad greens! Here are some fun ways to serve tuna salad that you may not have thought of:

– Stuffed in a bell pepper
– On crackers
– Stuffed in a cucumber boat
– On cucumber rounds
– On sweet potato toast or regular toast for tuna sandwiches
– Fill avocados
– Stuff in tomatoes
– Fill celery sticks
– In collard green wraps
– In lettuce cups
– In red cabbage leaf cups
Storing leftovers
Fridge: You can store leftover healthy tuna salad no mayo in the fridge in an airtight container for up to 3 days. The veggies may start to get soft at this point, but the flavor will still be delicious!
Freezer: You can usually freeze tuna salad but I would not recommend freezing this recipe because of the veggies that were added. When defrosting this recipe, the veggies will get watery and lose their texture. If you know you want to freeze tuna salad for later, only make the dressing and the tuna and combine them before freezing. Once defrosted, you can add freshly chopped veggies. Tuna salad without veggies can be frozen for up to 1 month in a freezer safe bag.
Substitutions
Skipjack tuna: you can use whatever canned tuna you have on hand, although I recommend that you use a tuna in water here since you will be draining out the liquid in the can. You could also use canned salmon, canned chicken or even canned chickpeas (mash 1/2 the can for texture).
Veggies: For any of the veggies listed, you can simply omit them if you do not have them on hand. See the notes above on other veggies you could also add. Cooked broccoli, asparagus, cauliflower, carrots, artichoke hearts and hearts of palm would all be great options!
Fresh parsley: If you don't have flat leaf parsley, you could also use fresh basil, fresh mint, fresh oregano or simply omit the fresh herbs and add some lemon zest and more dried herbs (1/2 teaspoon more dried herbs de Provence or Italian seasoning) to the dressing.
Lemon juice: If you don't have lemon juice on hand, you could use lime juice or 2-3 tablespoons of red wine vinegar or apple cider vinegar in place of the lemon juice.
Olive oil: extra virgin olive oil can be substituted with avocado oil very easily without changing the recipe at all. If you don't have that, you may want to use tahini + water or almond butter + water in place of the olive oil. You will want to use about 2 tablespoons of tahini or almond butter and 1-3 tablespoons of water. If you choose this, I would recommend stirring well and starting with just 1 tablespoon of water and adding more water slowly until you get your desired consistency.
Dijon mustard: the mustard really helps to emulsify the dressing and without mustard of some sort, the dressing will have a hard time coming together. If you don't have dijon, you can simply leave it out and just know the dressing will likely not come together.
Spices: If you don't have herbs de Provence or Italian seasoning, you can use 1 teaspoon dried basil. If you don't have garlic powder, you can use fresh garlic (1-2 cloves finely minced) but I prefer garlic powder as fresh garlic can sometimes be too strong.
If you love this recipe, you should try
★ Did you make this recipe? Please give it a star rating below!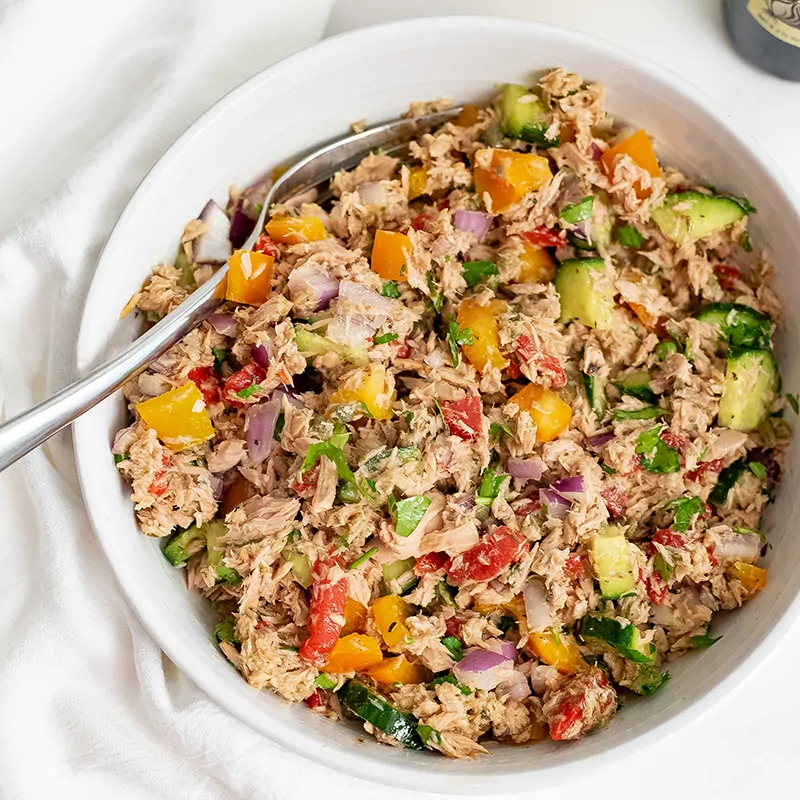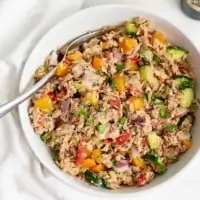 Healthy Mediterranean Tuna Salad (No Mayo)
$8.62 Recipe/$4.31 Serving
Healthy Mediterranean Tuna Salad (No Mayo) is the perfect 5 minute lunch or dinner recipe! Gluten free, grain free, low carb, paleo, Whole30 and keto, this easy no mayo tuna recipe is the perfect way to switch up your normal tuna salad! Serve it over salad, in a lettuce wrap, or on sweet potato toast for the perfect simple meal!

Print
Pin
Save
Saved!
Rate
Ingredients
2

cans

skipjack tuna -

$3.98

1/2

medium

bell peppers

-

$0.65

1/2

small

red onion, chopped

-

$0.17

1/2

cup

cucumber, chopped

-

$0.64

1

large

roasted red pepper -

$1.00

2

tbsp

capers, chopped -

$0.08

2

tbsp

fresh flat leaf parsley, chopped

-

$0.65
Instructions
In a large bowl combine the tuna with the rest of the chopped vegetables
Lemon Herb Dressing
In a small mixing bowl, combine the lemon herb dressing ingredients and whisk with a fork or small whisk until combined.

Pour the dressing over the tuna salad and stir well.
See how I calculate food cost
.
Nutrition Information
Nutrition Facts
Amount per Serving
Where does nutrition info come from? Nutrition facts are provided as a courtesy, sourced from the USDA Food Database.
DID YOU LOVE THIS RECIPE?
Let others know by rating and leaving a comment below!