Black bean zucchini burgers are going to become your go-to dinner on busy weeknights! These gluten free black bean burgers are so easy to make, ready in just 15 minutes from start to finish and made with just 5 ingredients!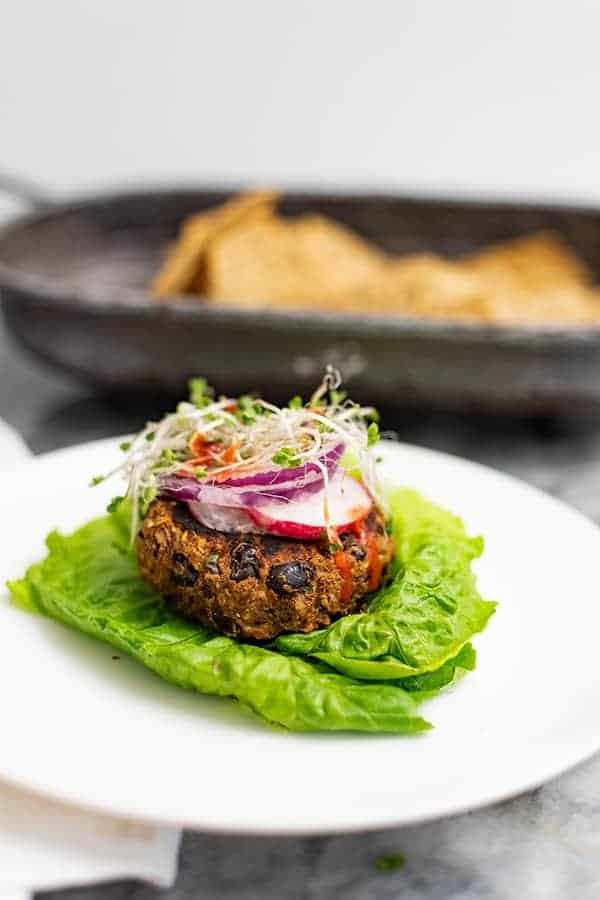 This post contains affiliate links. As an amazon associate I earn from qualifying purchases.
Click here to read my policy
and more about affiliate links.
Why you will love this recipe
These veggie burgers are packed with flavor and are so easy to make. Plus they don't fall apart when you are flipping them.
Ready in about 15 minutes from start to finish. These zucchini black bean burgers cook on the stove and could easily be made in a cast iron skillet on the grill as well. If you don't want to cook them on the stove, you could also make them in the air fryer!
Packed with veggies – the zucchini in these black bean burgers adds moisture, ensuring they don't dry out when cooking, This is a great way to get picky eaters to eat their veggies!
Great for meal prep! These last up to 4 days in the fridge and there are so many ways to use them. Eat them like burgers, break them up over tacos, salads or burrito bowls.
Budget friendly! These are less than $3 for the entire recipe! They could be even less expensive if you have zucchini growing in your garden or you are using dried cooked black beans (the instant pot is my favorite way to cook dried beans).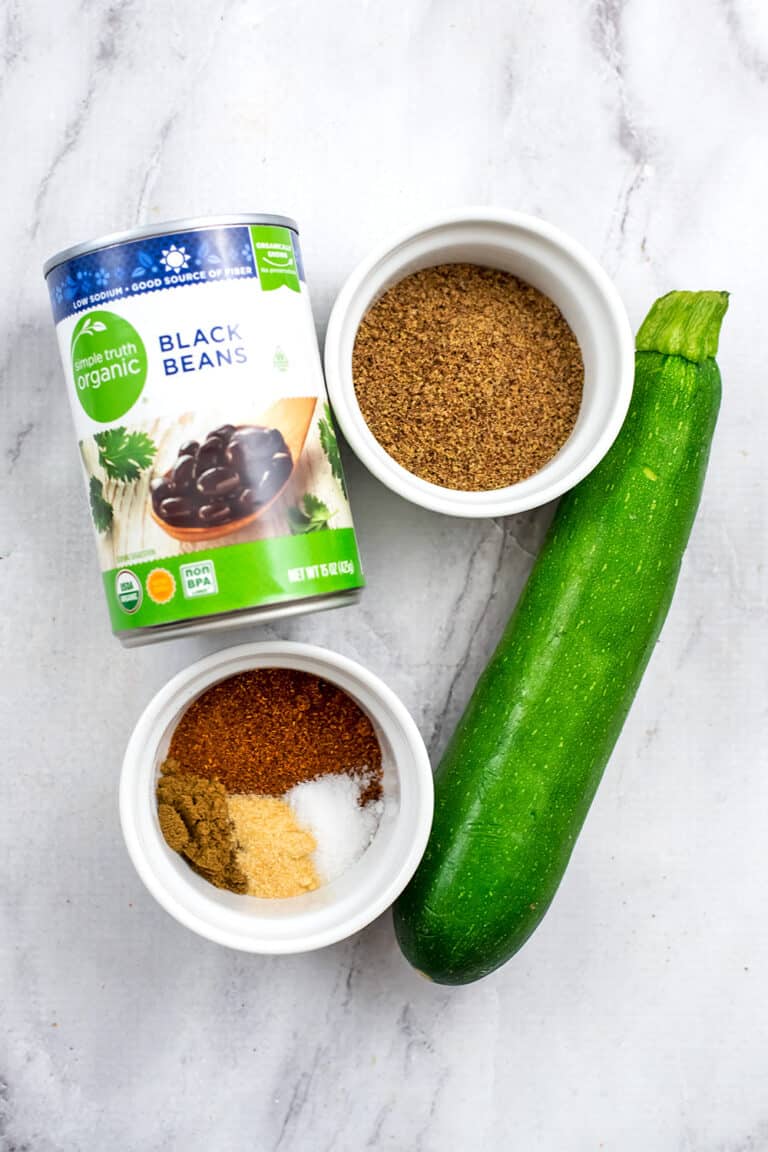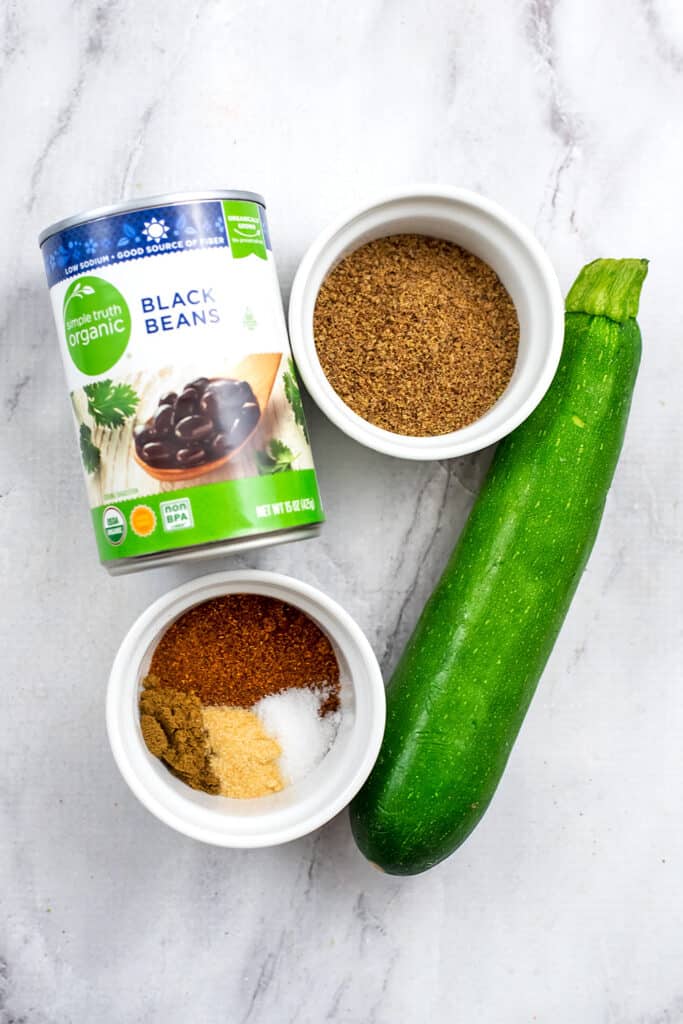 Ingredients
Black beans – typically I always have instant pot black beans in the fridge but I made these with canned black beans because I figured that is what most people have in their pantry. You will want 1 can of black beans, rinsed and drained well.
Ground flax – ground flax replaces eggs in recipes and helps to bind together these burgers, ensuring they don't break apart when flipping!
Zucchini – the zucchini adds moisture to the burgers, but it's important that you take the time to squeeze out as much excess liquid from the zucchini as possible before adding it to the beans and ground flax.
Salt and Spices: Chili powder, ground cumin and garlic powder are all used to add flavor to these burgers.
How to make zucchini black bean burgers
Check out a step by step story on how to make easy black bean burgers.
Start by draining the black beans and rinsing them well. I like to use a fine mesh strainer for this step.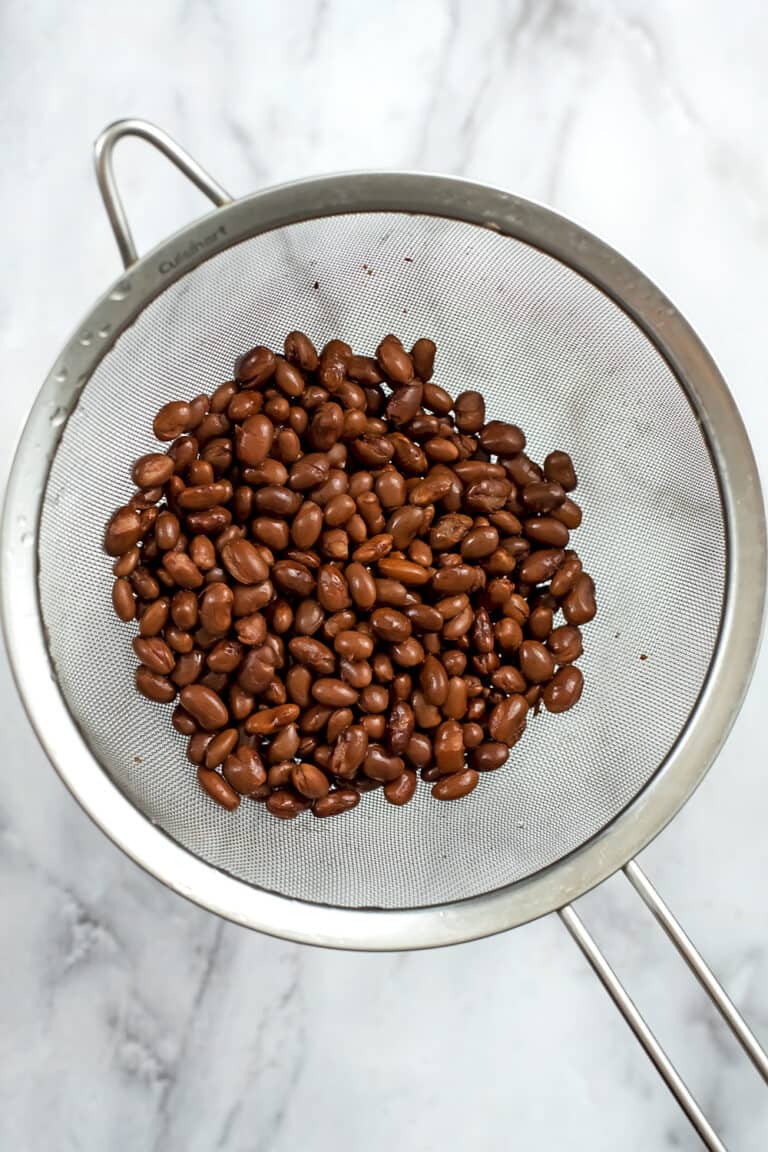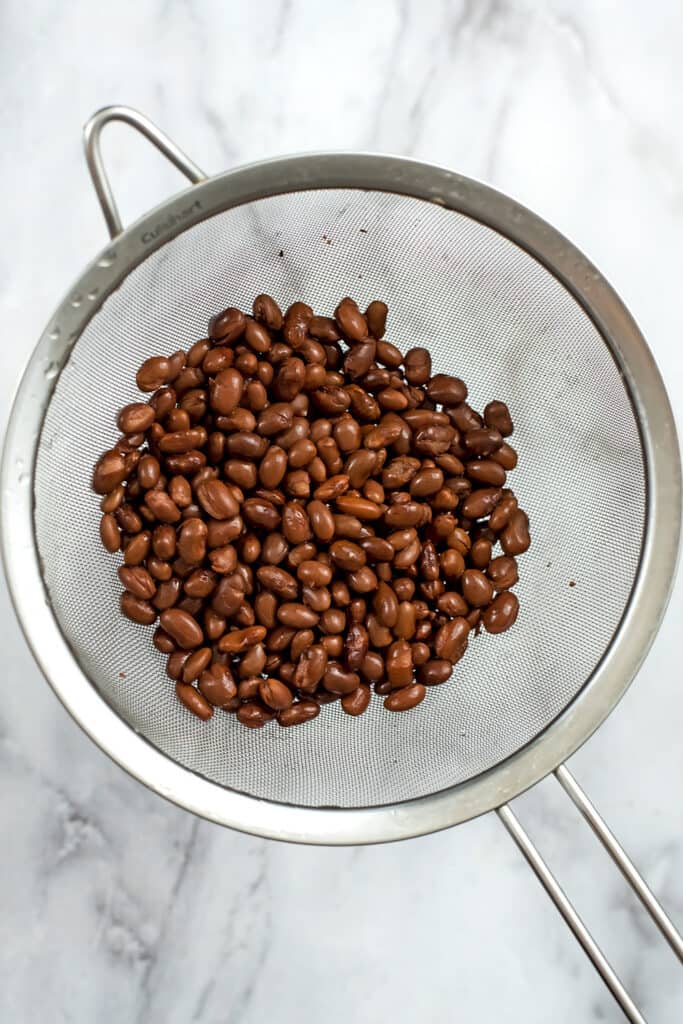 Add the rinsed beans to a large bowl. Mash half the beans with a fork.
Add the ground flax to the mashed beans and stir well, you want the flax to absorb any excess liquid from the beans.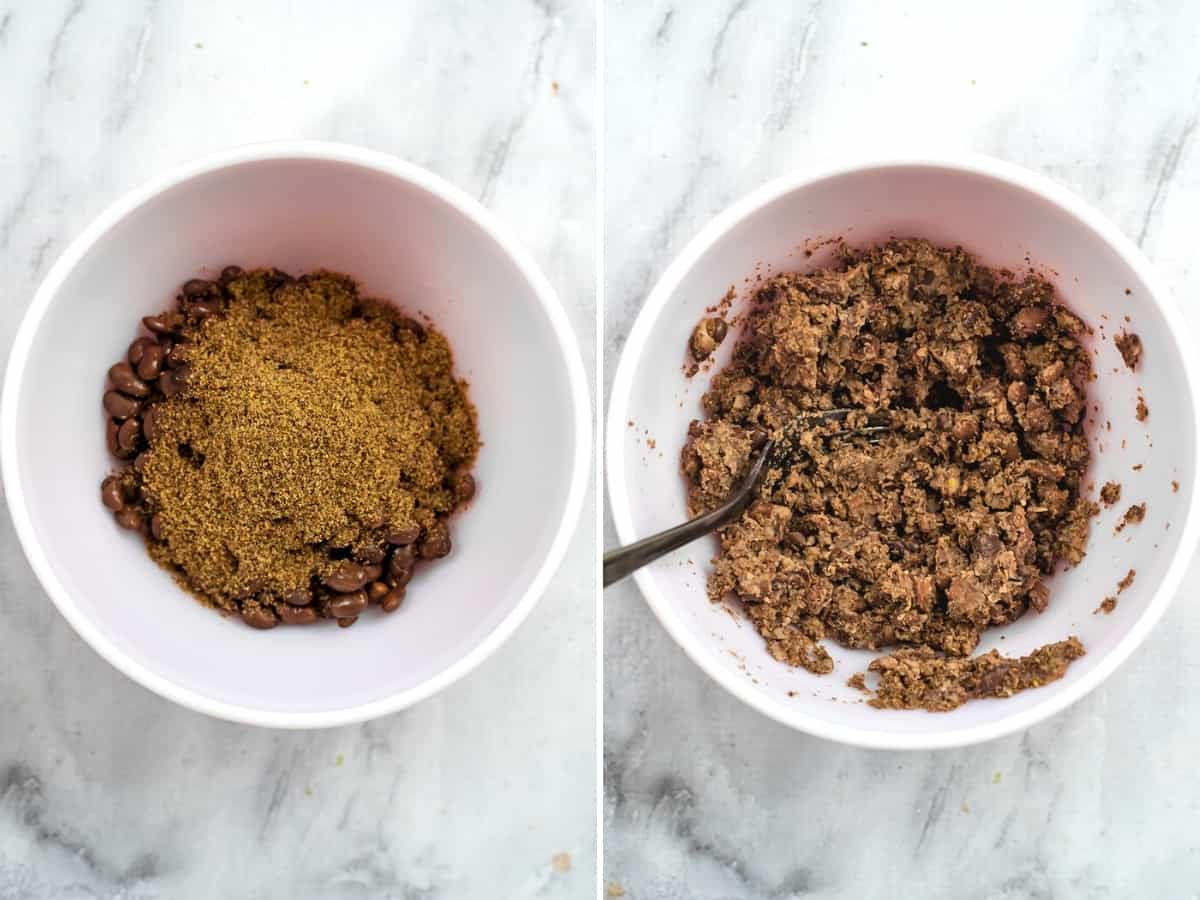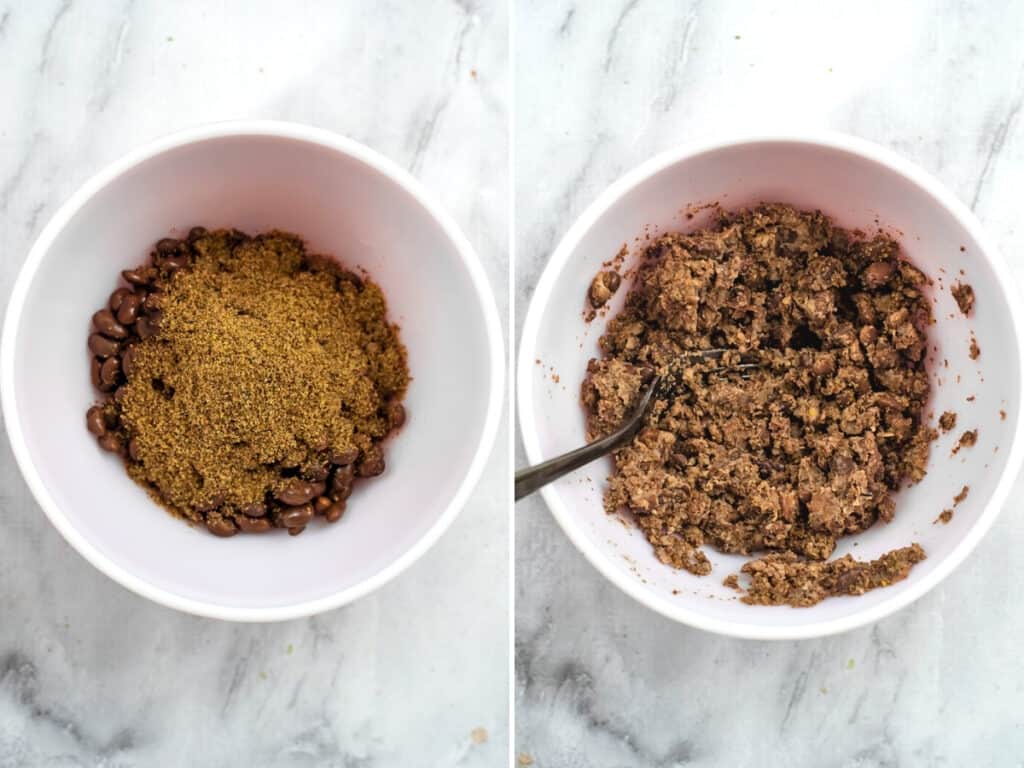 Wash your zucchini and grate in on the large holes of a box grater. Squeeze out the extra water from the zucchini. I like to take a handful of zucchini at a time and squeeze it over the sink. You could also use a fine mesh strainer and cheesecloth or a clean kitchen towel but I prefer to squeeze over the sink.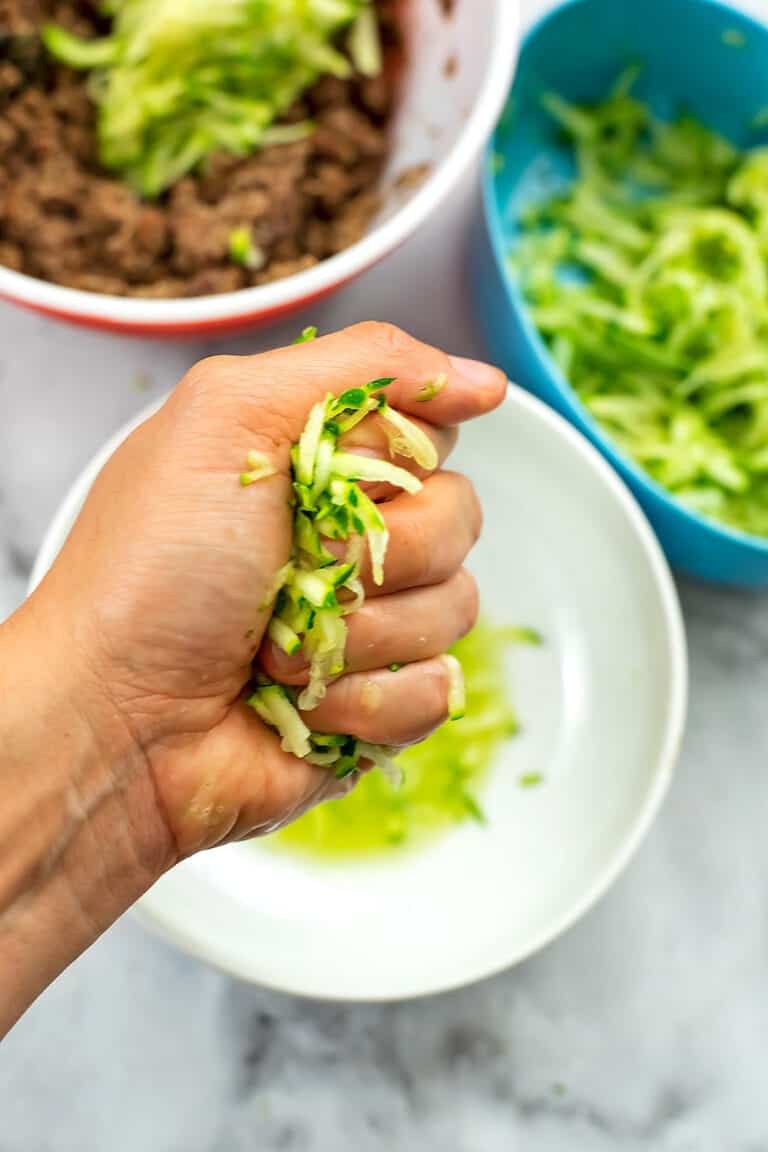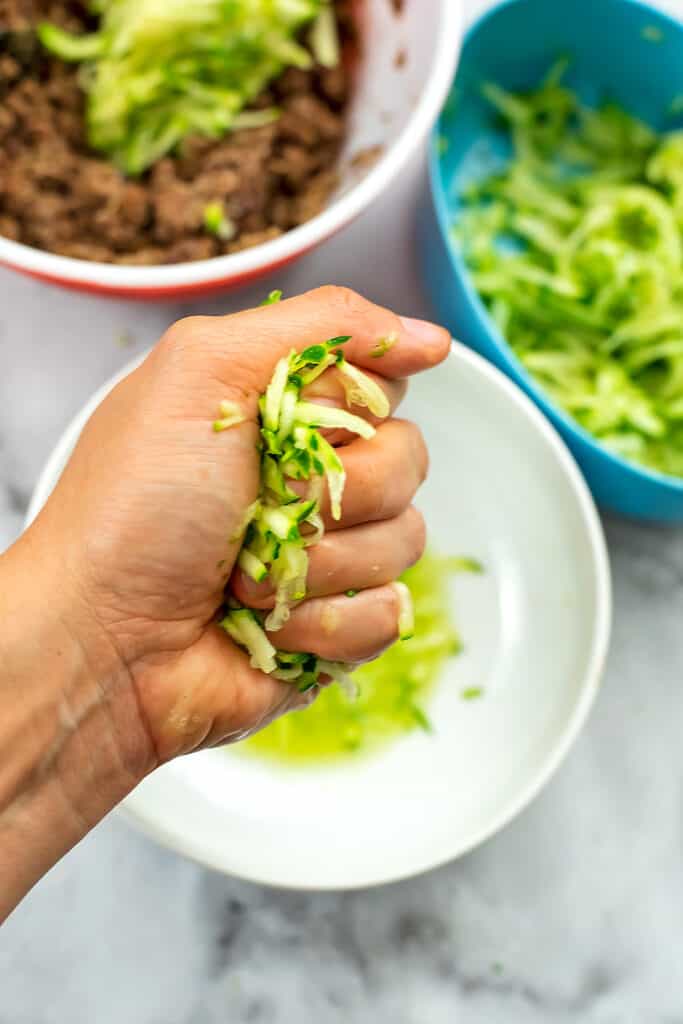 Add the zucchini to the black bean mixture along with the spices. Stir well, making sure to fully incorporate the zucchini with the black bean mixture. This may take a minute or two to fully incorporate.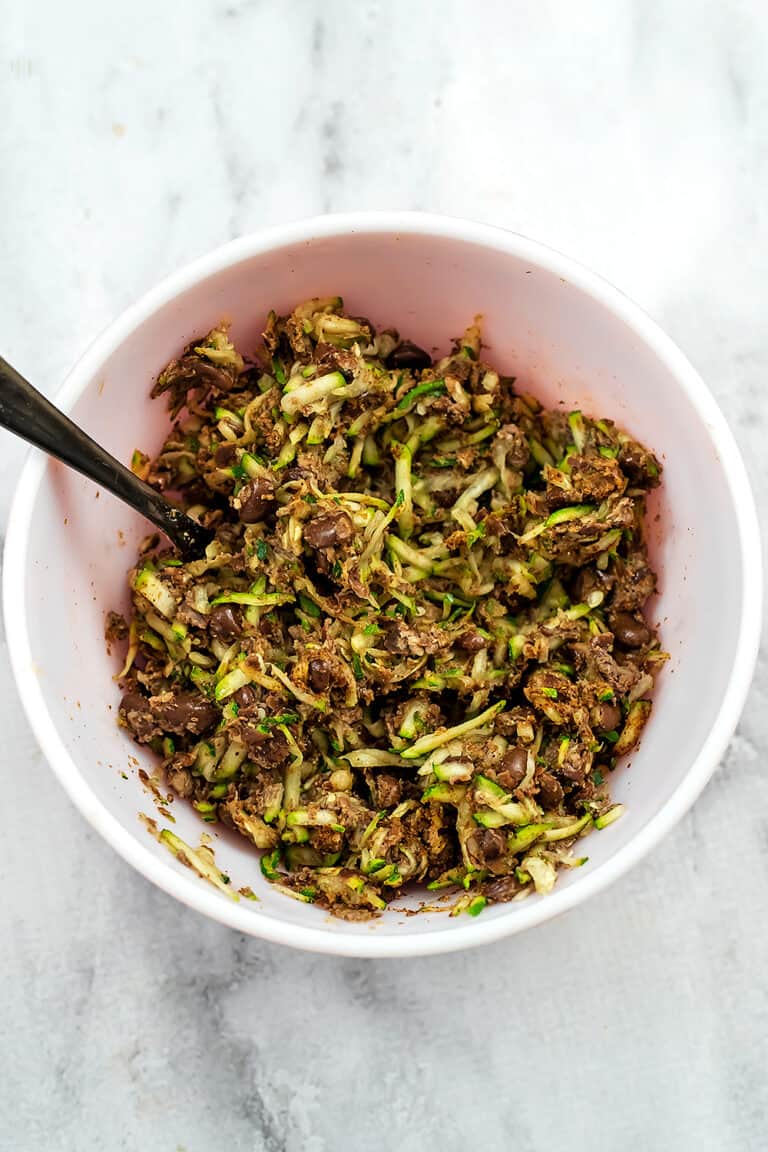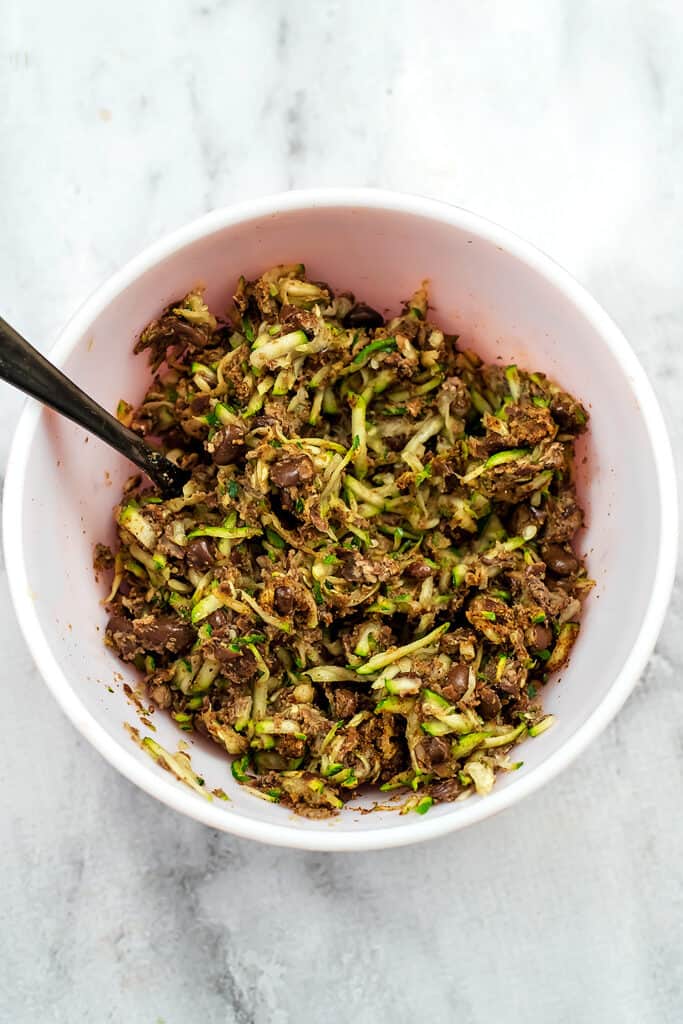 Preheat a large skillet (stainless steel or cast iron) over medium heat.
Take about 1/3- ½ cup of the black bean zucchini mixture and form into patties using your hands. Press them together well so they will not fall apart when cooking. I like to press them firmly into a tall cylinder shape, then flatten that with my hands. Store on a plate or cutting board until all the burgers are formed.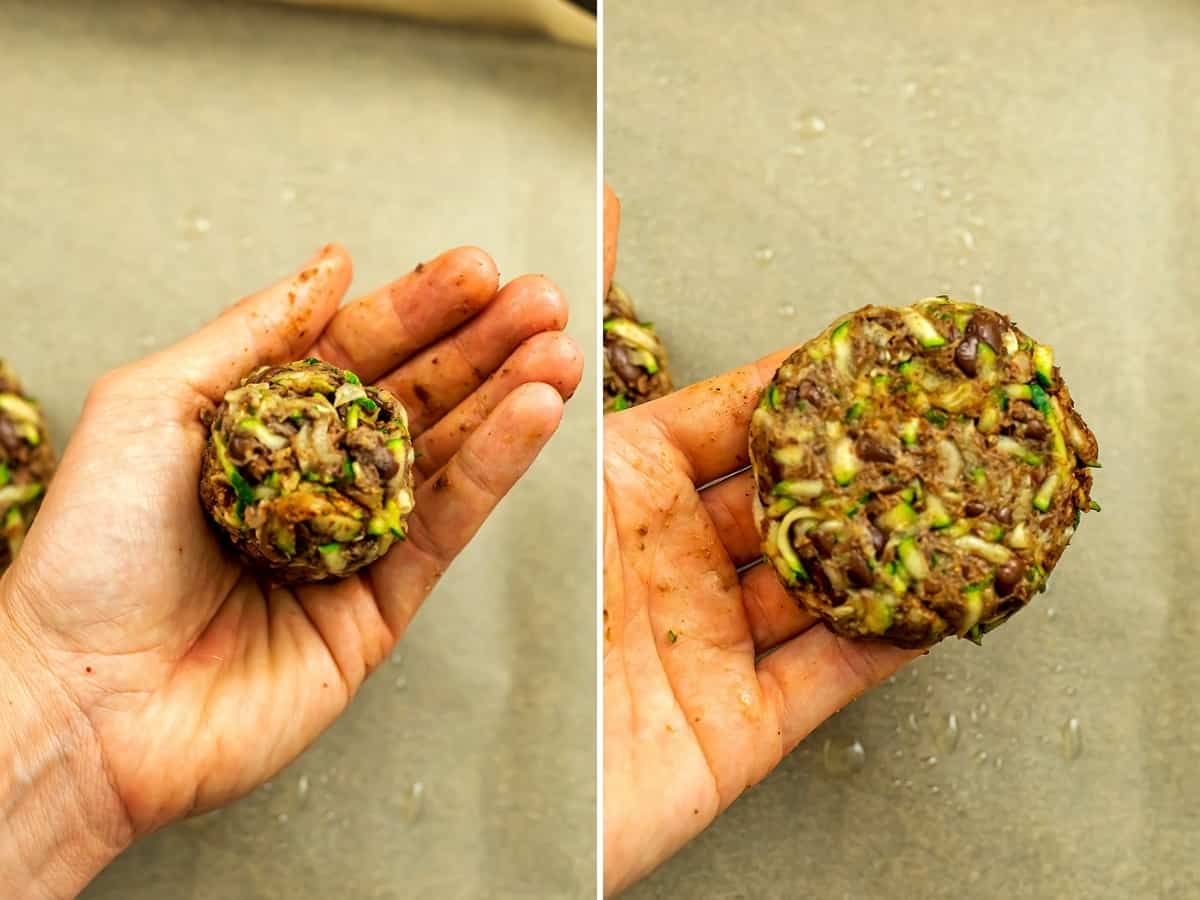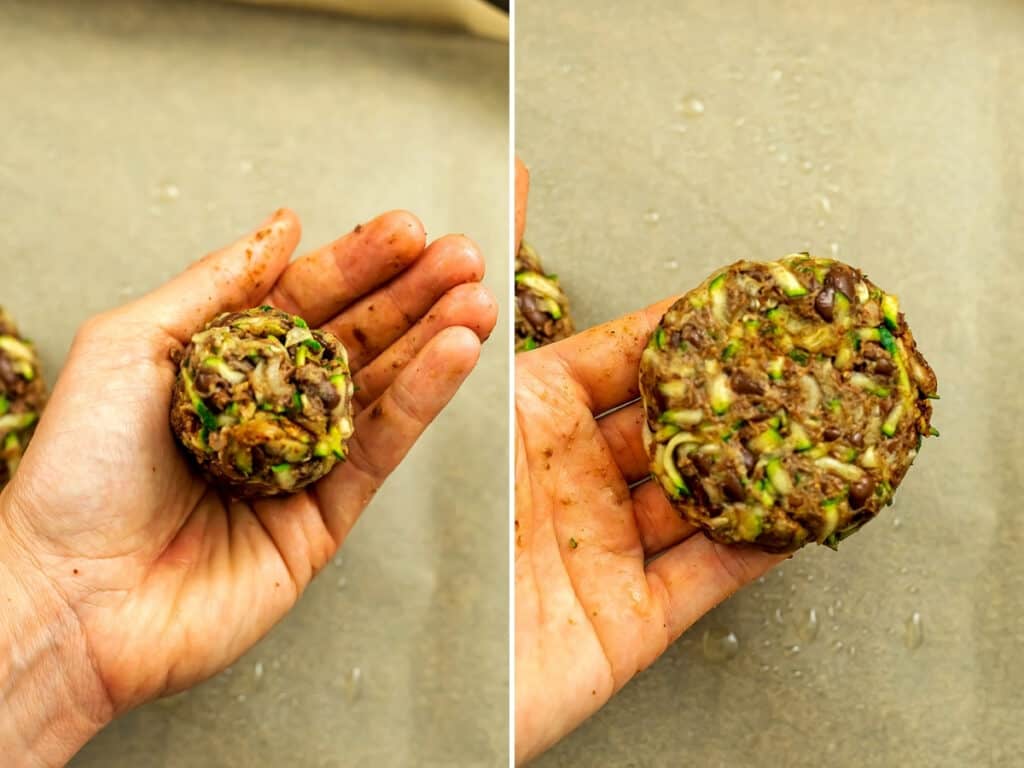 Once the skillet is hot, spray with non-stick (avocado oil, olive oil, coconut oil) and add the burgers. Cook for 5 minutes.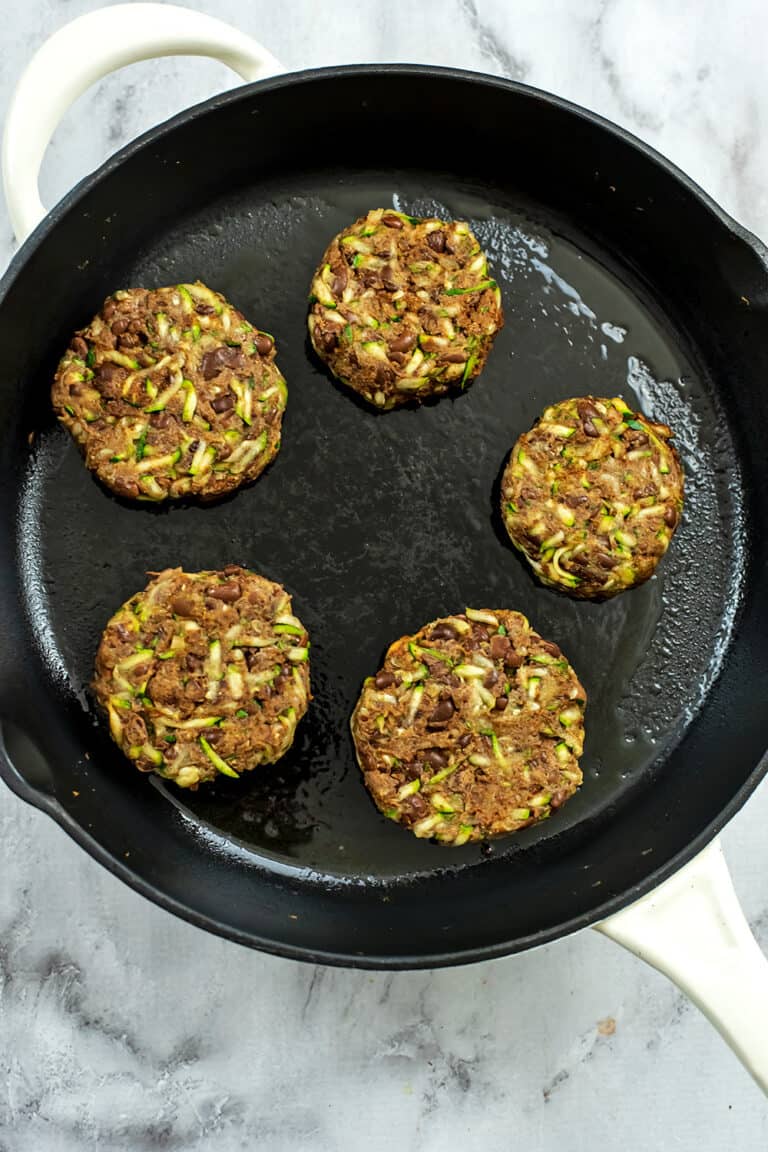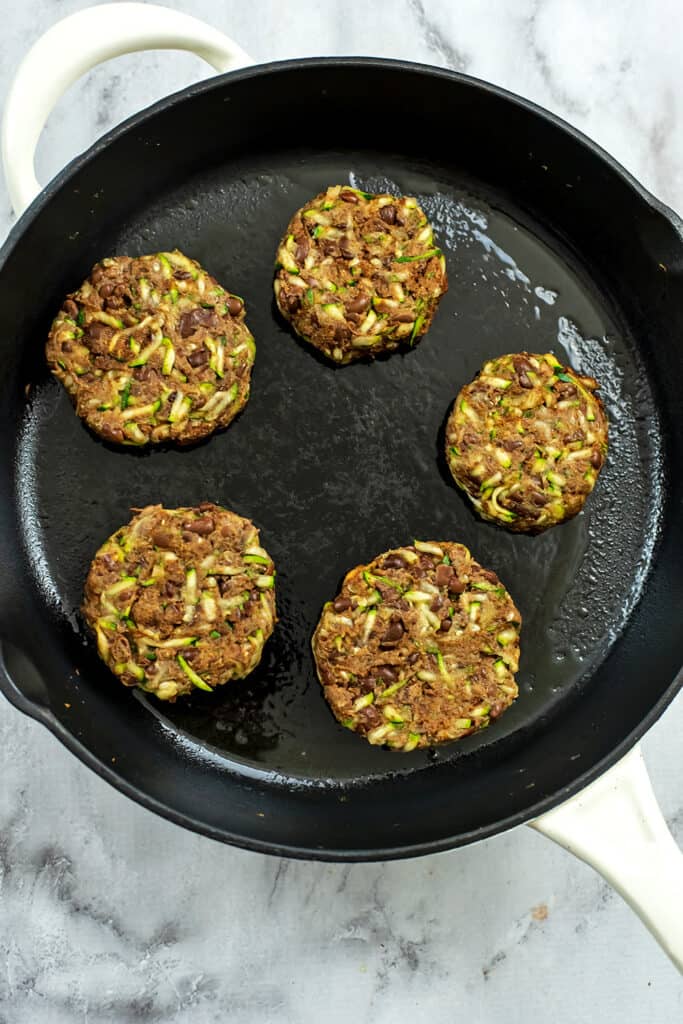 After 5 minutes, flip carefully and cook 3-4 more minutes on the other side.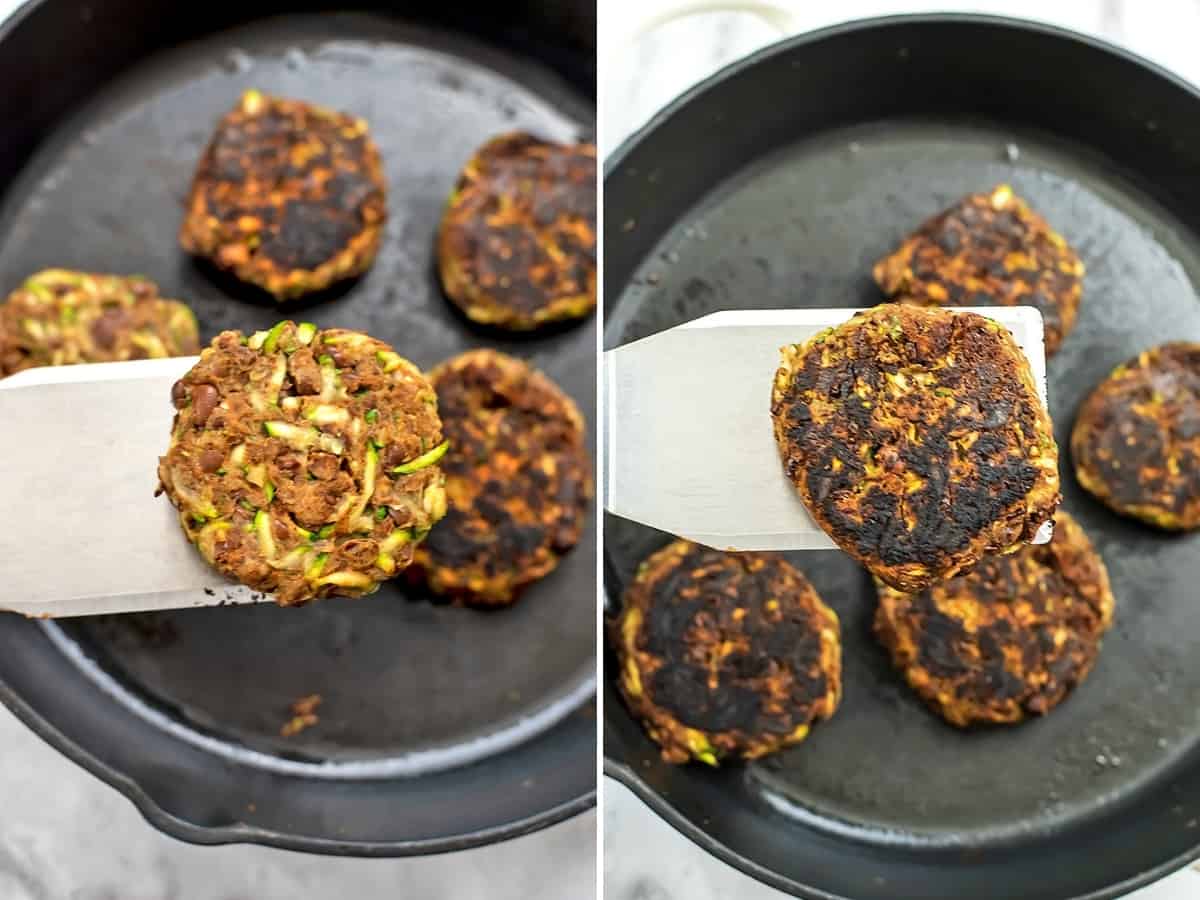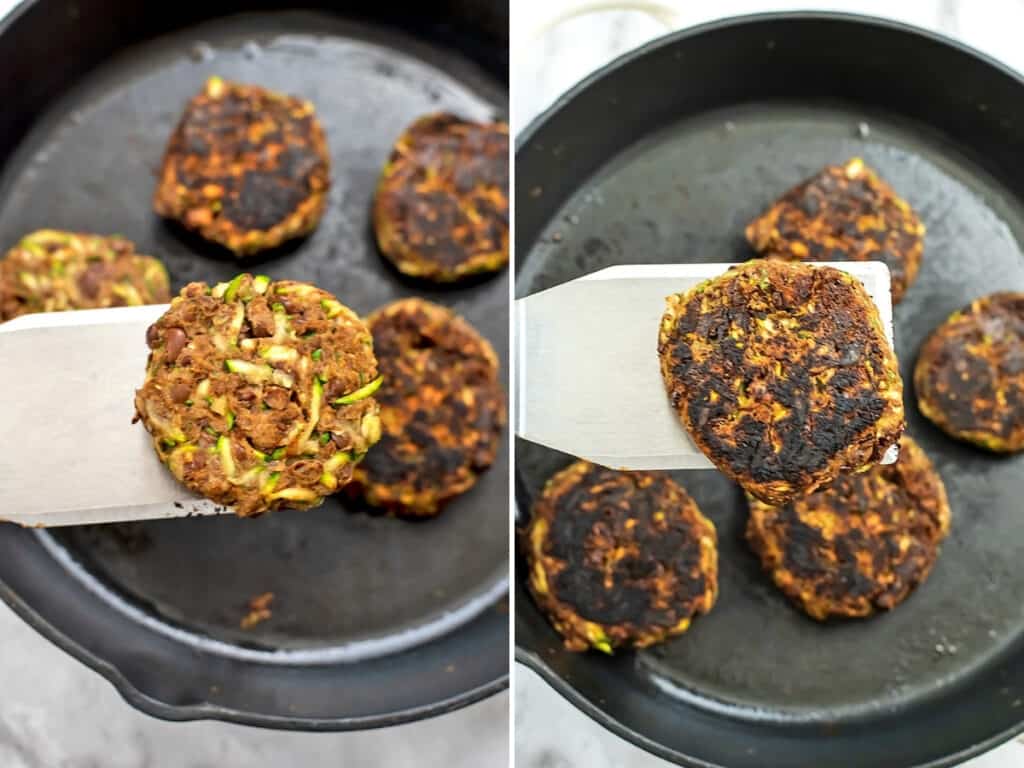 Serve hot with your favorite toppings.
Top tips
Mash at least half the black beans with the ground flax and let it sit together while you are shredding the zucchini.
I typically use a box grater to shred the zucchini but if you are going to double or triple the recipe, you can use your food processor shredding tool to shred up the zucchini quickly.
Be sure to squeeze out ALL THE EXTRA liquid from the zucchini before you add it to the black bean mixture. You can easily do this with your hands over the sink, no need to get a special towel. Just take about half the shredded zucchini and squeeze it between your hands, pressing until you can't get more liquid. Add this to the black beans and repeat with the second half of the zucchini.
Get your skillet HOT before you add the oil and black bean burger patties. This ensures that your burgers don't stick. Also, don't be afraid to really spray your skillet so these don't stick. I like to use a stainless steel or cast iron skillet for this so you don't have to worry about the coating on the skillet as the pan preheats.
Depending on how large your zucchini is, you may decide to add 1-2 tbsp. ground oat flour, almond flour or breadcrumbs to the mixture to ensure the burgers aren't too mushy on the inside.
You can also use the air fryer to cook the burgers as well. Depending on the model you have, you may have to cook them in batches in the air fryer. Line the air fryer basket with parchment paper or silicone liner and cook at 390F for 10 minutes, flip and cook 5 more minutes.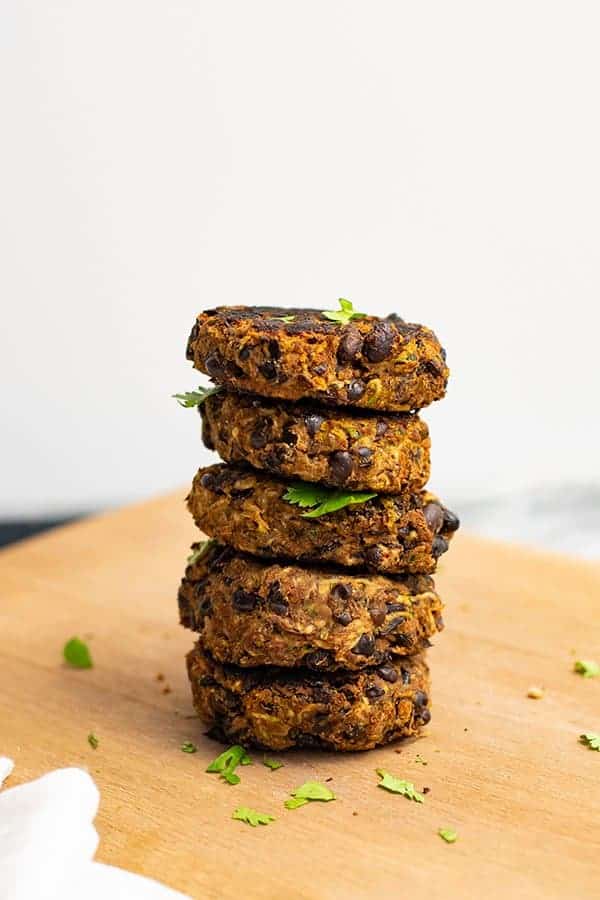 Other additions
Smoky flavor: Smoked paprika, chipotle in adobo (1-2 chipotles finely chopped)
Spice: Red pepper flakes, fresh or pickled jalapeno, sriracha
Other veggies: Red onion, green onion, roasted red pepper, shredded carrots.
Other grains: Add 1 cup of cooked rice, quinoa, farro to the mixture. This will result in more burgers and you may need a ¼ tsp. extra salt.
How to serve gluten free black bean burgers
What to serve with these burgers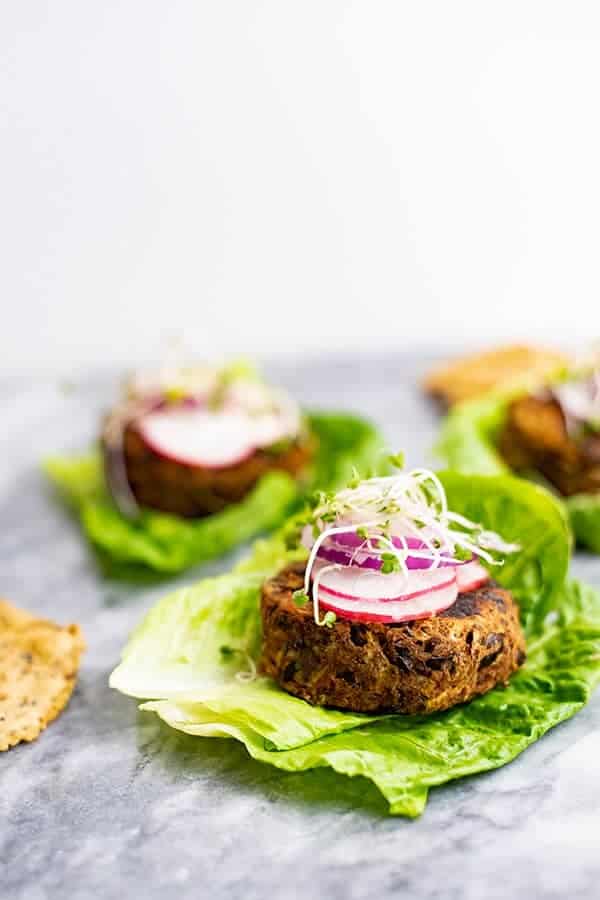 Storing leftovers
Store leftover zucchini black bean burgers in the fridge up to 4 days.
You can also freeze leftover black bean burgers. To freeze, add wax paper or parchement paper to a baking sheet. Freeze the burgers on the baking sheet in a single layer. Once frozen, store in a freezer safe bag with squares of wax paper or parchment between the burgers.

To cook from frozen: Cook in a 350F oven for 15 minutes.
To reheat after defrosting: Defrost in the fridge or in the microwave. Once defrosted, cook on a hot skillet with non-stick spray (avocado oil, olive oil, coconut oil) about 5 minutes.
Substitutions
Black beans: You could also use white beans (cannellini bean, great northern white beans, navy beans), or red beans (dark or light kidney beans) in place of black beans.
Ground flax: Ground flax is the binder that ensures the burgers hold together well. You can grind your own flax in a coffee grinder or high speed blender. If you don't have flax, you could use ground chia seeds.
Zucchini: Zucchini adds moisture to the burgers. You could use summer squash or shredded carrots in place of the zucchini if needed.
Spices: The garlic powder and ground cumin are optional ingredients. If you don't have them, you can simply omit them. If you don't have chili powder, you can use 2 tsp. paprika, ½ tsp. ground cumin, ½ tsp. garlic powder and ¼ tsp. dried oregano in place of the chili powder.
Salt: Salt helps to elevate all the flavors in the dish. If you cannot tolerate salt, be sure to use your favorite no sodium added alternative.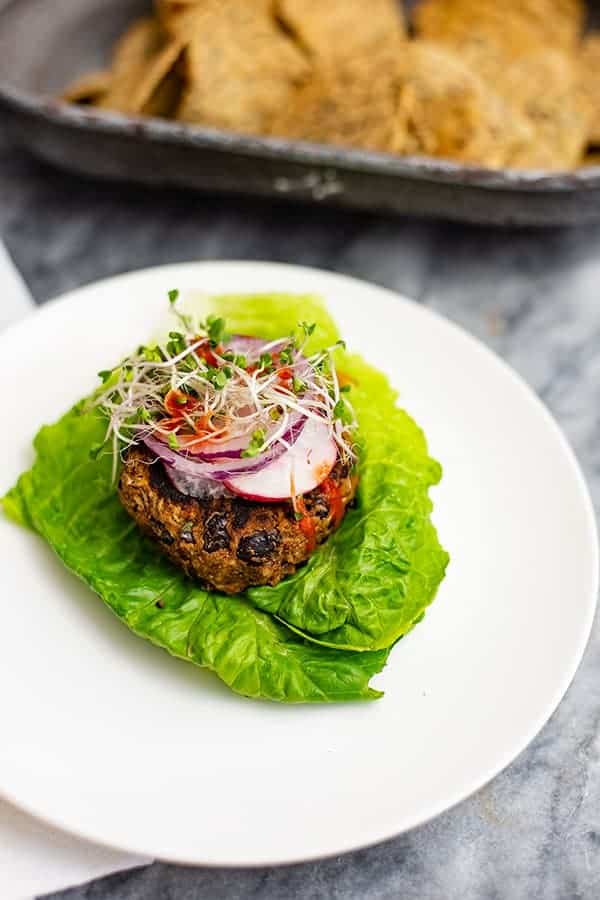 If you love this recipe, you should try
★ Did you make this recipe? Please give it a star rating below!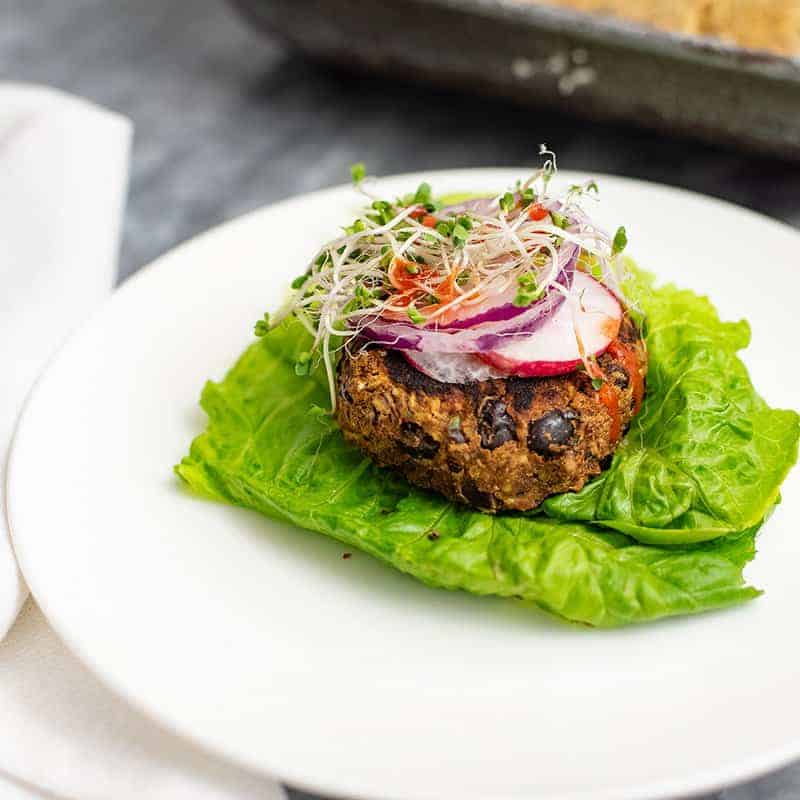 5 ingredient vegan black bean burger recipe
$2.58 Recipe/$1.29 Serving
Zucchini black bean burgers are quick and easy and made with just 5 ingredients. Vegan black bean burgers are simple to make and ready in about 15 minutes, perfect for weeknight meals. This recipe is vegan and gluten free and super filling!
Print
Pin
Save
Saved!
Rate
Instructions
Rinse and drain black beans. Add ground flax seed and mash half the black beans with a fork, making sure to incorporate the ground flax seed into the mash.

Let the ground flax and mashed beans sit together while you grate the zucchini. You can use your food processor attachment or grate by hand.

Once the zucchini has been grated, you will have to wring out the excess water. You can use your hands or a clean cheese cloth to do this.

Add the zucchini to the black bean and ground flax mixture. Add the spices and stir well, to fully incorporate the zucchini and spices.

Form the burgers into 6 equal size patties, about the size of your palm cupped.

Preheat a cast iron skillet (affiliate link) over medium heat. Spray with non-stick or add about 1 tsp. avocado oil and brush it out to cover the surface.

Add the vegan black bean burgers and cook for 6 minutes over medium heat. Flip and cook 4 additional minutes.

Serve with your favorite toppings.
See how I calculate food cost
.
Nutrition Information
Nutrition Facts
Amount per Serving
Where does nutrition info come from? Nutrition facts are provided as a courtesy, sourced from the USDA Food Database.
DID YOU LOVE THIS RECIPE?
Let others know by rating and leaving a comment below!