This 5 ingredient vegan black bean burger recipe is going to become your go-to dinner on busy weeknights! These vegan black bean burgers are ready in just 15 minutes from start to finish and could not be easier to make! The are vegan, gluten free, low fat and super simple!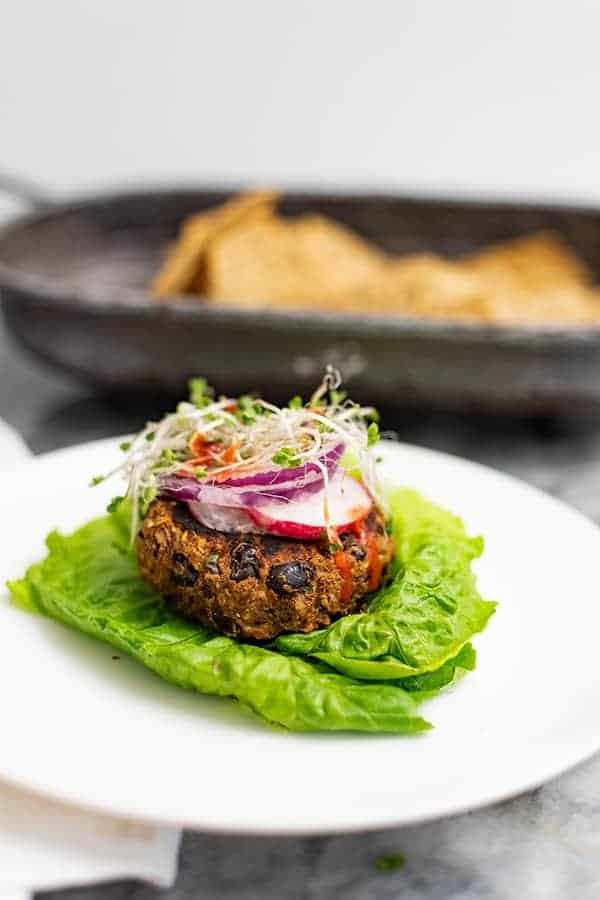 Why you'll want to make these Vegan Black Bean Burgers
This recipe for 5 ingredient vegan black bean burgers is sure to become a family favorite. These burgers stay together when you flip them (big win), are packed with flavor and even have a full serving of veggies hidden in them! Yup not only are these black bean burgers egg free and grain free, but they are also packed with zucchini!
I'm sure if you are anything like me, you have had your fair share of pretty boring veggie burgers. Sometimes they can taste really good but be full of some super sketchy ingredients. This is why I wanted to make a super simple recipe that you could put together in about the same amount of time it would take you to pull one out of the fridge or freezer.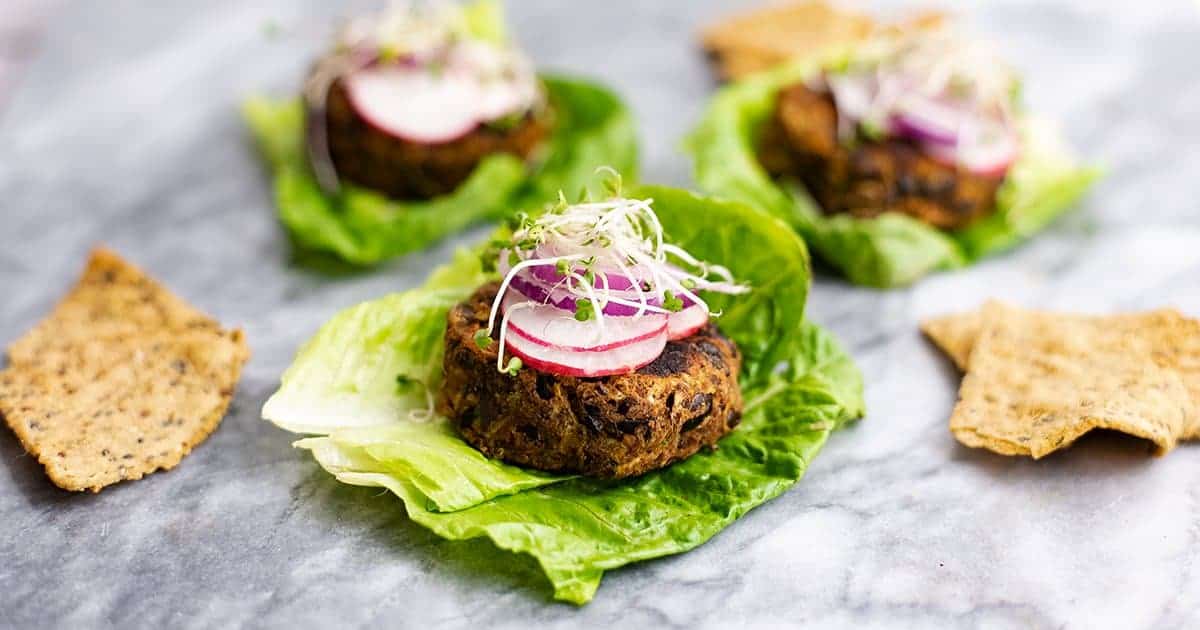 This post contains affiliate links. As an amazon associate I earn from qualifying purchases.
Click here to read my policy
and more about affiliate links.
Vegan Black Bean Burger Recipe Ingredients:
Oh, and oil to spray on your pan to make sure these don't stick but I'm not counting that as an ingredient.
Yup this is the CLEANEST vegan black bean burger recipe you are going to find. And you don't have to be a gourmet chef to put it together!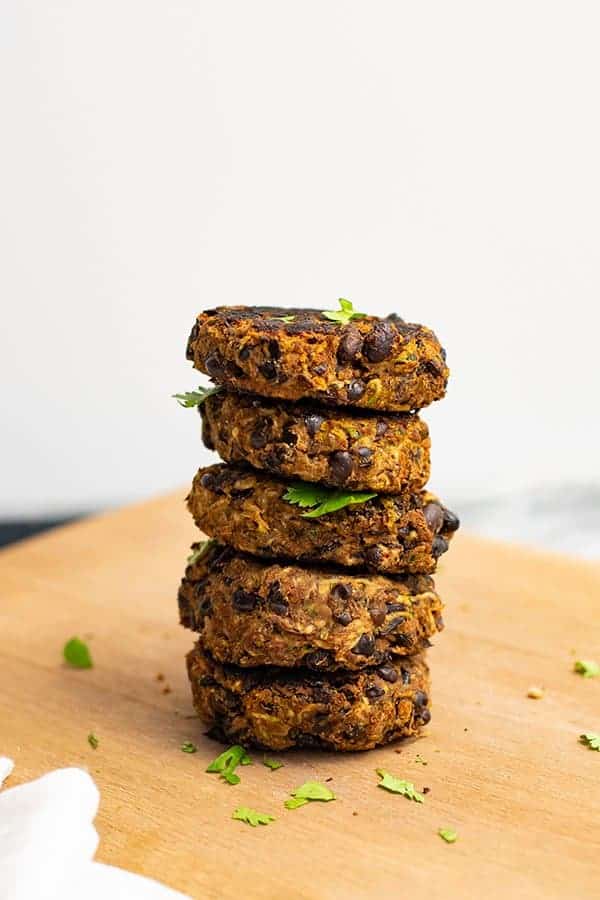 Tips for making the vegan best black bean burger recipe: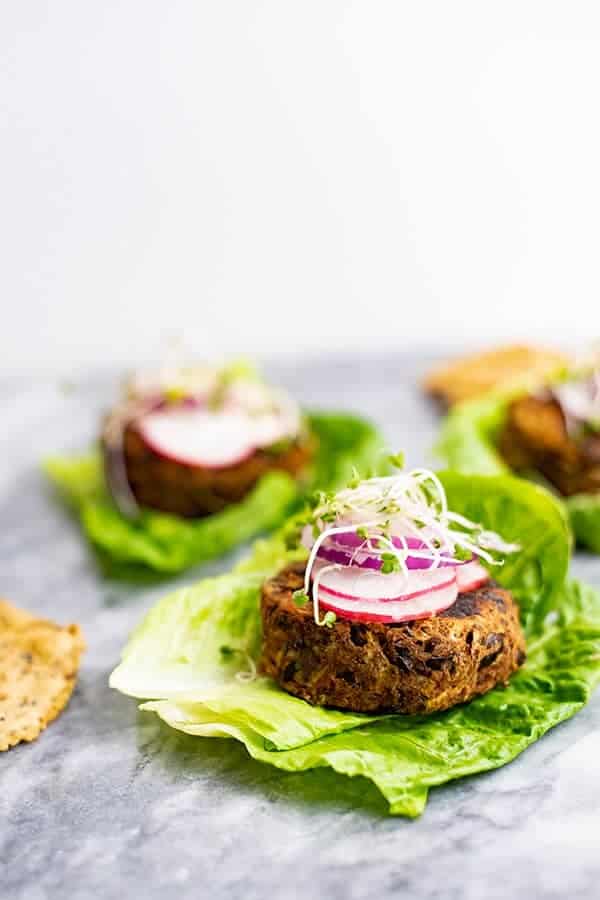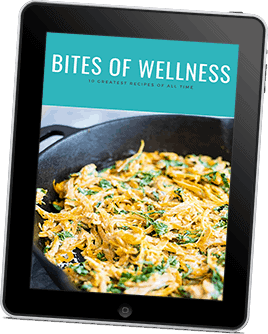 GET 10 OF MY ALL TIME GREATEST RECIPES
IN THIS FREE EBOOK
How to avoid digestive discomfort from eating beans?
I have a confession to make, I haven't made my own vegan burgers in so long. I actually gave up eating lentils, beans, and quinoa after I realized that eating these foods was causing me a ton of discomfort and pain. This was a huge shift for me since I grew up eating vegetarian and beans, lentils and quinoa were my usual go-to sources for protein (along with eggs) most days.
Tops tips for better digestion:
These are the steps I take to ensure I am able to digest beans easier! After 1 year of removing these foods, I can happily say that I can eat all the black beans, chickpeas and quinoa without any tummy trouble! So if you have experienced the same discomfort, there is still hope!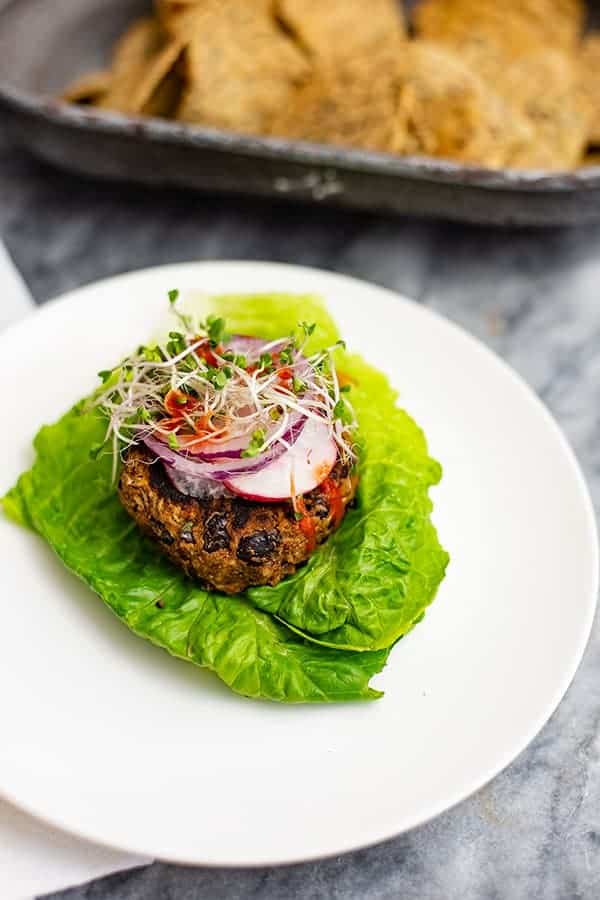 I've mentioned this before but make sure to buy organic beans (both canned and dried), as I've heard that the pesticides sprayed on these crops can contribute to tummy troubles! Also, be sure to soak your beans in apple cider vinegar (if you are soaking and cooking them yourself) or drain the beans from the can and let them soak in fresh water for at least 5 minutes to make them easier to digest!
Of course, being able to tolerate beans again made me jump for joy because there is nothing better than a homemade vegan burger and this 5 ingredient vegan black bean burger recipe was the first thing I made and it was so good I couldn't wait to share it with you!
Health benefits of these black bean veggie burgers:
Black beans and ground flax are both a great source of soluble fiber, meaning they will help fill you up and help you stay regular! Black beans are also a great source of vegan protein and complex carbohydrates, meaning they help provide a slow steady release of energy for your body and brain!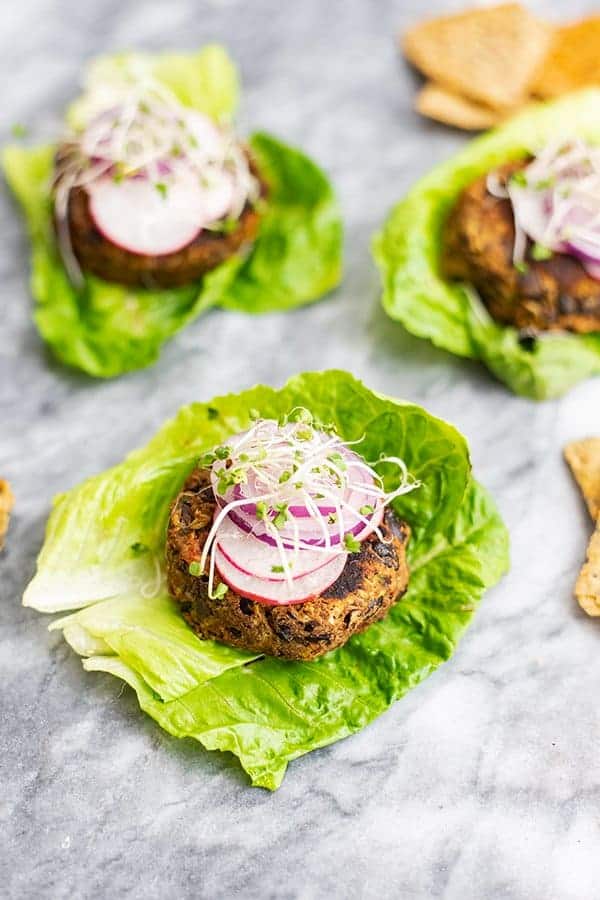 The combination of complex carbohydrates, filling fiber and lean muscle supporting protein makes these veggie burgers a great option if you are trying to lose weight and/or feel full after your meals.
Black beans are also a great source of key vitamins and minerals, including magnesium, iron, folate, phosphorus and B vitamins!
Black beans have gotten a bad rap, especially in the paleo and ancestral diet community because they have a compound called lectins associated with them. Lectins are thought of as the beans natural defense mechanism, as it is thought that they bond to key nutrients in the food, thus not allowing to absorb the minerals in the food you are eating along with the beans.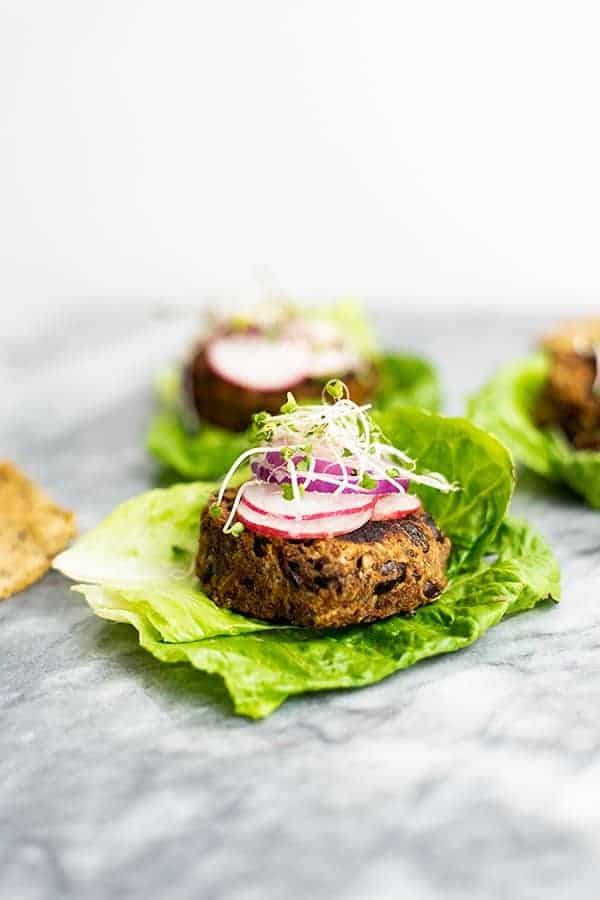 However, from my research, soaking your beans overnight and cooking them in a pressure cooker is a great way to help reduce and essentially eliminate the lectins binding qualities. The same holds true for canned beans, since essentially these beans are pressure cooked as well. This is one of the main reasons I got an InstantPot!
If you love this vegan black bean burger recipe you should try:
★ Did you make this recipe? Please give it a star rating below!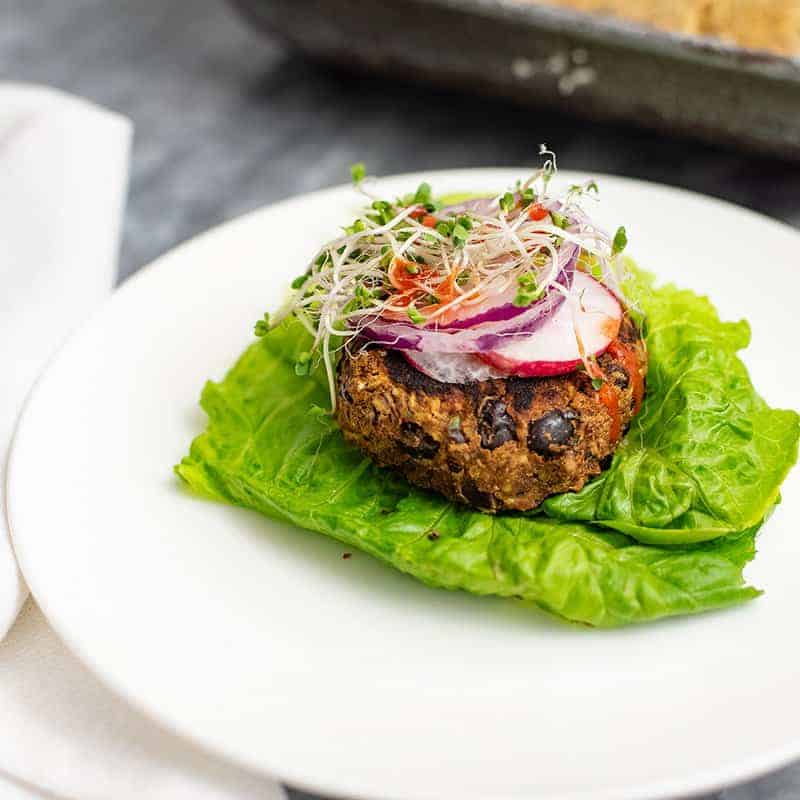 5 ingredient vegan black bean burger recipe
$2.58 Recipe/$1.29 Serving
This is the easiest and best 5 ingredient vegan black bean burger recipe! Simple to make and perfect for a quick and easy weeknight meal (ready in 15 minutes or less). This recipe is vegan and gluten free and super filling!
Print
Pin
Save
Saved!
Rate
Instructions
Rinse and drain black beans. Add ground flax seed and mash half the black beans with a fork, making sure to incorporate the ground flax seed into the mash.

Let the ground flax and mashed beans sit together while you grate the zucchini. You can use your food processor attachment or grate by hand.

Once the zucchini has been grated, you will have to wring out the excess water. You can use your hands or a clean cheese cloth to do this.

Add the zucchini to the black bean and ground flax mixture. Add the spices and stir well, to fully incorporate the zucchini and spices.

Form the burgers into 6 equal size patties, about the size of your palm cupped.

Preheat a cast iron skillet (affiliate link) over medium heat. Spray with non-stick or add about 1 tsp. avocado oil and brush it out to cover the surface.

Add the vegan black bean burgers and cook for 6 minutes over medium heat. Flip and cook 4 additional minutes.

Serve with your favorite toppings.
See how I calculate food cost
.
Nutrition Information
Nutrition Facts
Amount per Serving
Where does nutrition info come from? Nutrition facts are provided as a courtesy, sourced from the USDA Food Database.
DID YOU LOVE THIS RECIPE?
Let others know by rating and leaving a comment below!