Chipotle mayo sauce is the perfect spicy sauce to add flavor and excitement to any meal!
This creamy, smoky, spicy sauce is so easy to make and will add a fun Mexican flair to any dish! Use this vegan chipotle mayo on tacos, sandwiches, pitas, or salads to take them to the next level!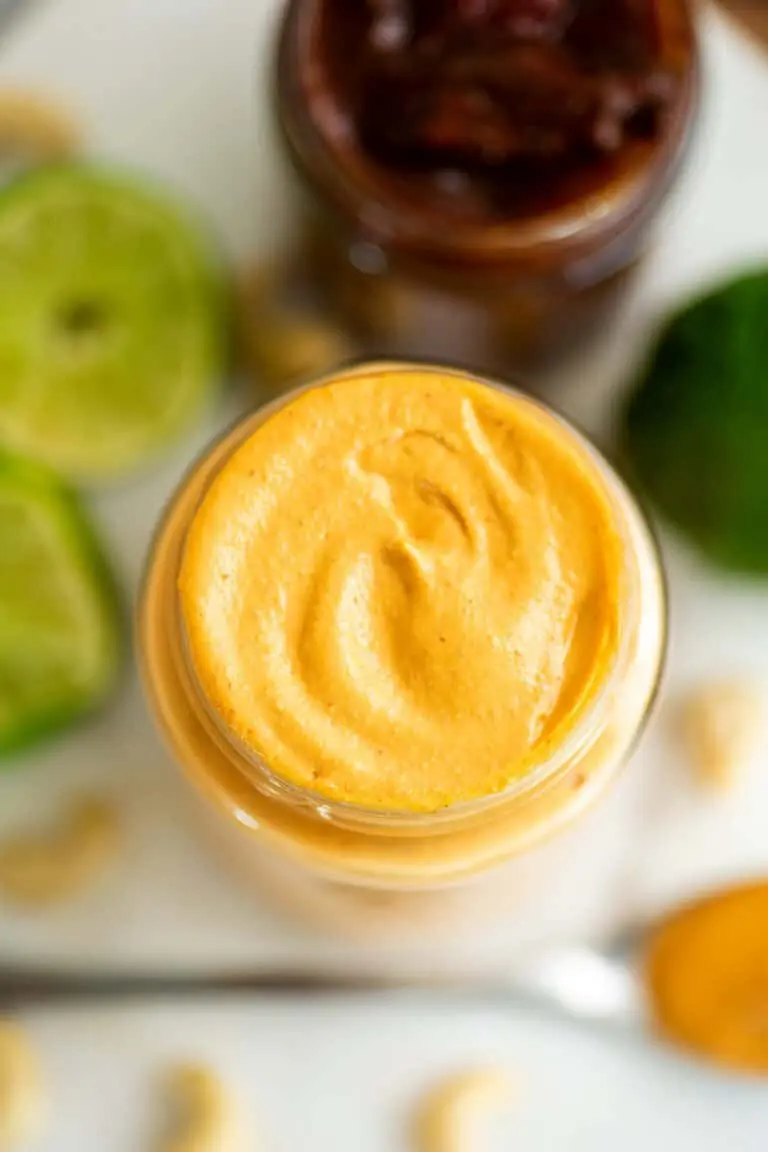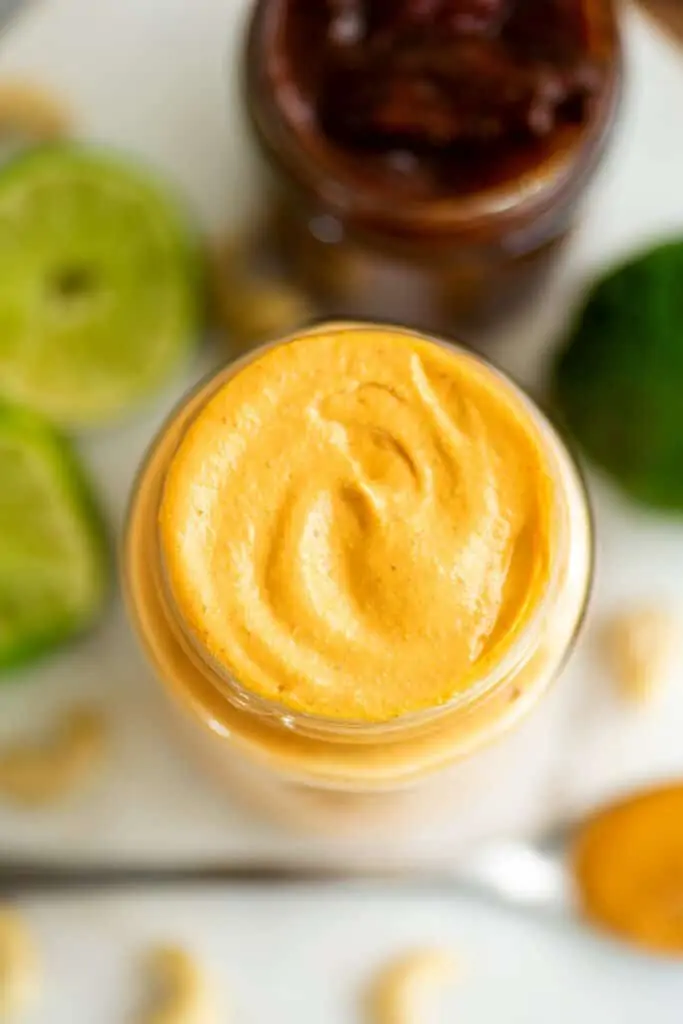 This post contains affiliate links. As an amazon associate I earn from qualifying purchases.
Click here to read my policy
and more about affiliate links.
Why you will love this recipe
This creamy vegan chipotle mayonnaise is made with just 5 ingredients and goes with just about anything savory! Once you make this you are going to want to always have a jar of it in the fridge.
Vegan cashew mayo is thick, creamy and a bit tangy. The spicy kick comes from canned chipotle peppers in adobo sauce. These are easy to find in almost any grocery store and take this vegan mayo to the next level!
This chipotle mayo sauce is egg free and dairy free and is made with cashews! This means that it's vegan friendly but also Whole30 and keto friendly as well!
Make this chipotle vegan mayo to dip your French fries, to add heat to your favorite veggie burger, burger, sandwich or wrap or take your Mexican food up a notch!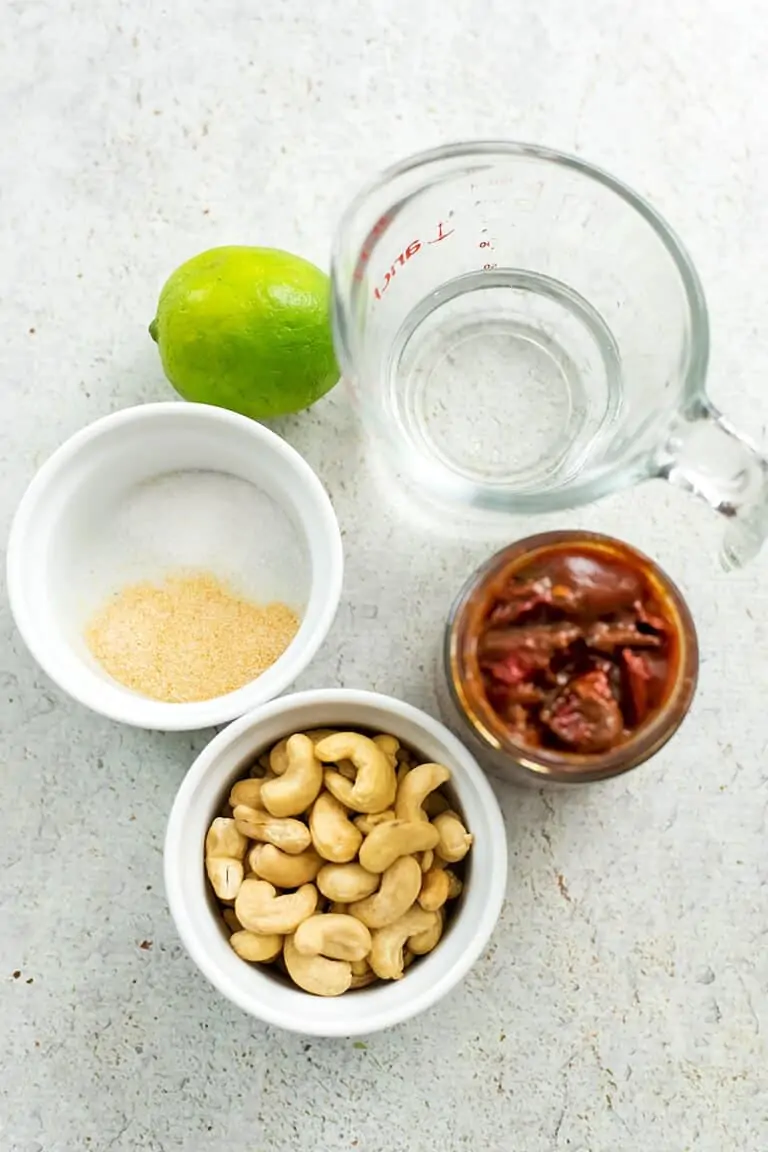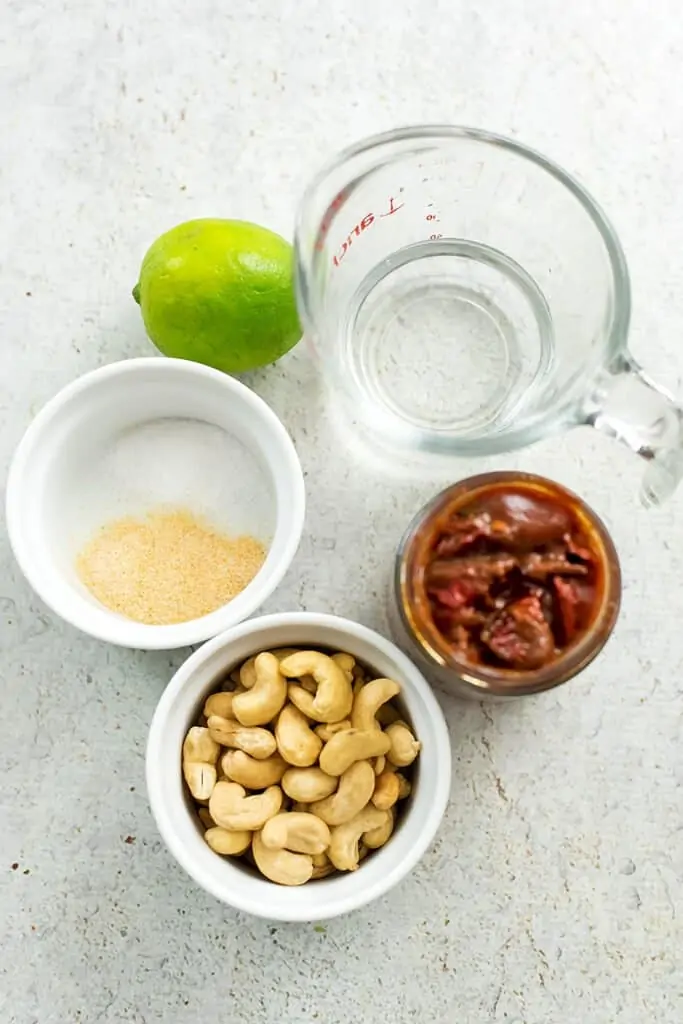 Ingredients
Raw Cashews – raw cashews are best for this recipe because they get smooth and creamy after soaking them. If you cannot find raw cashews, you can use roasted, just know they might need some extra time in the blender to get smooth.

Chipotle in adobo sauce – these chipotles are spicy! Chipotle peppers are jalapenos that are smoked and packed in a zesty adobo sauce to preserve the peppers. These peppers can vary in size and are spicy! If you don't love spice, you may want to cut down the peppers (you can always add more).

Lime juice – the lime juice helps to heighten the flavor and cut through some of the spice from the peppers. You could also use lemon juice or apple cider vinegar in place of lime juice.

Spices: Salt, garlic powder – These help to elevate the flavors and add some umami.
Step by step instructions
Start by soaking the cashews. There are 4 methods I use for soaking cashews (see tips below). To save time I typically either microwave the cashews, boil them on the stove or add boiling water from my electric kettle. You could also let them sit on the counter for 8+ hours at room temperature.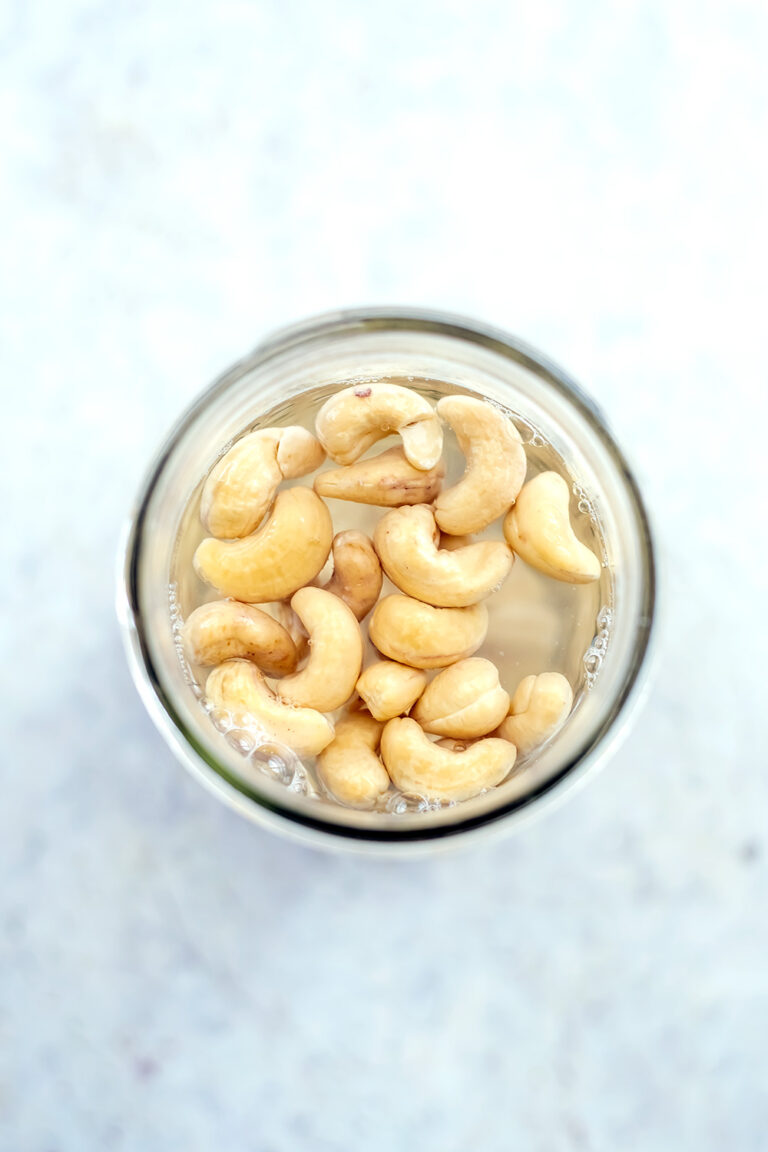 Once the cashews have been soaking long enough, drain the water and discard the soaking water.
Add all the ingredients to the blender and blend on high at least 1 minute. I use a bullet blender to ensure the cashews can get pulverized.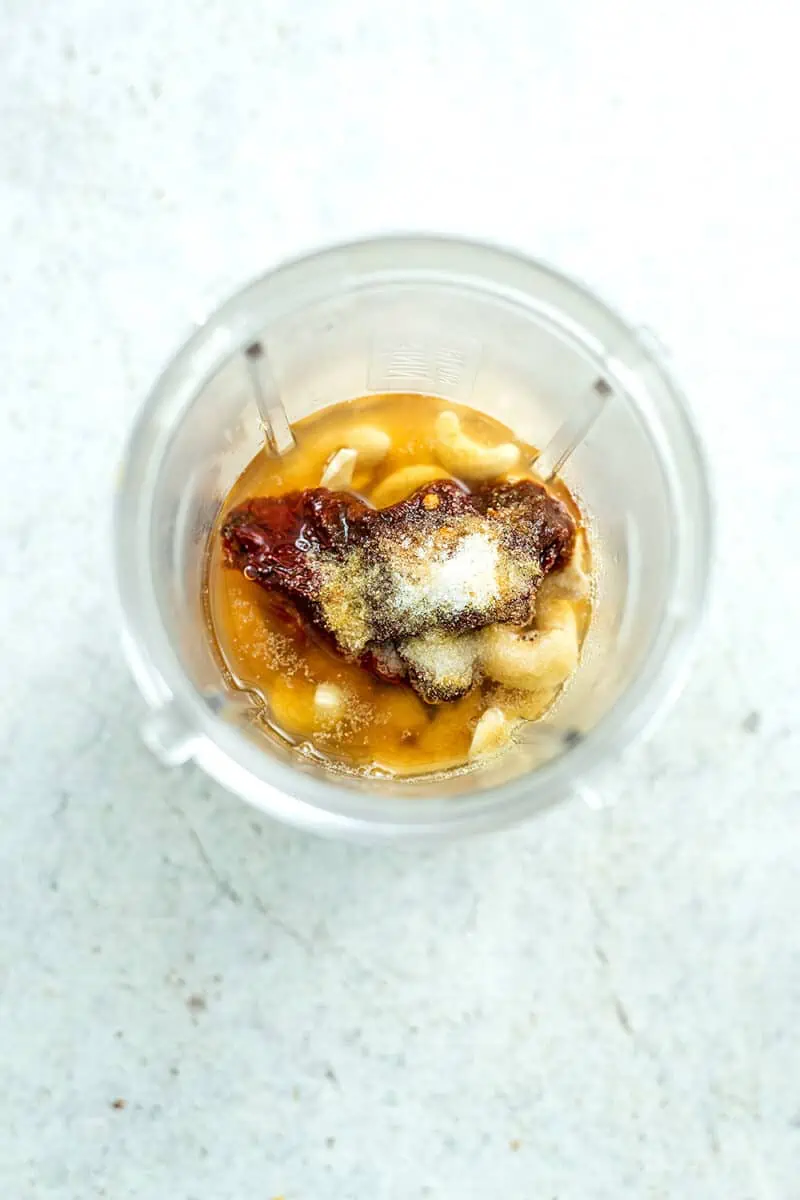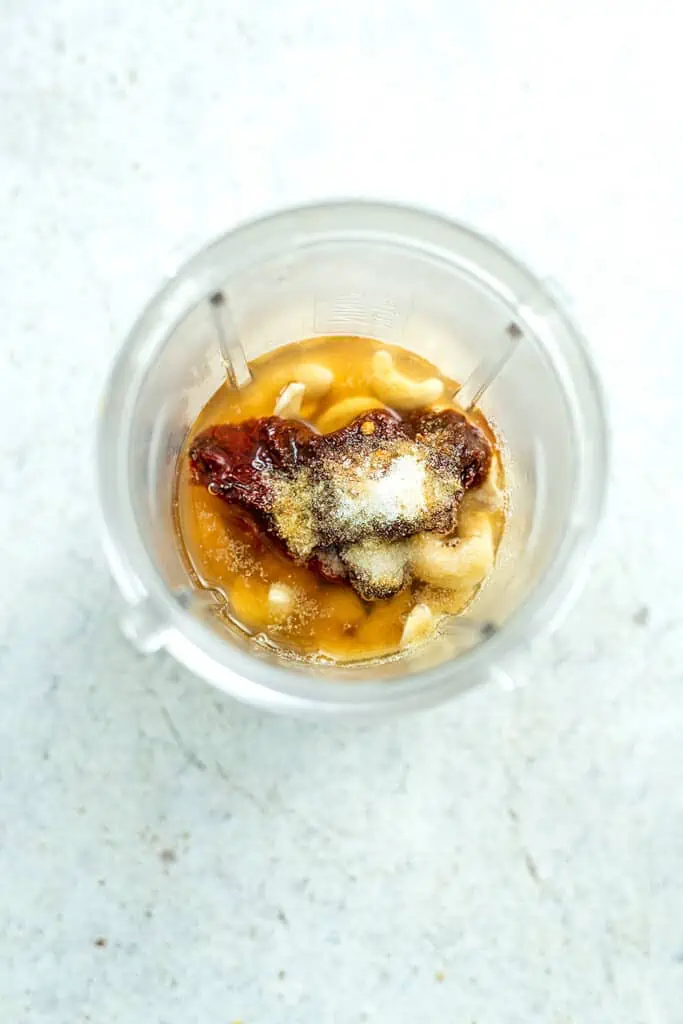 Once smooth, you can use the mayo immediately or store it in the fridge for up to a week.
Top tips
I find that using a bullet style blender is best for making sauces with soaked cashews (unless you are making a huge batch). This is because larger blenders need more volume to really be effective. If you are blending more than 1 cup of cashews, a regular blender could be great. Anything under 1 cup of cashews, I would recommend a bullet blender.
Be sure to soak the cashews before blending. Soaking cashews is important to get the texture you are looking for with mayo. There are 4 easy ways to soak cashews depending on how much time you have and what equipment you want to use.
Freeze leftover chipotle in adobo in 1 or 2 pepper ice cubes. Never waste a can again! Once frozen, you can transfer the cubes to a freezer safe bag and add them 1-2 at a time to future recipes.
What to serve this with
Once you try this vegan chipotle mayo, you are going to want to serve it with everything. Here are some of my favorite ways to use it:
As a dip for fries, sweet potato fries, delicata squash fries or carrot fries.
Drizzled over tacos, fish tacos, burritos and taco salads.
As a sauce for burgers, veggie burgers, sandwiches and wraps.
Over grain bowls, rice bowls, buddha bowls to add a ton of flavor.
As a dip for roasted veggies (cauliflower, brussel sprouts, broccoli, green beans) or for fresh veggies (bell peppers, carrots, cucumbers, broccoli).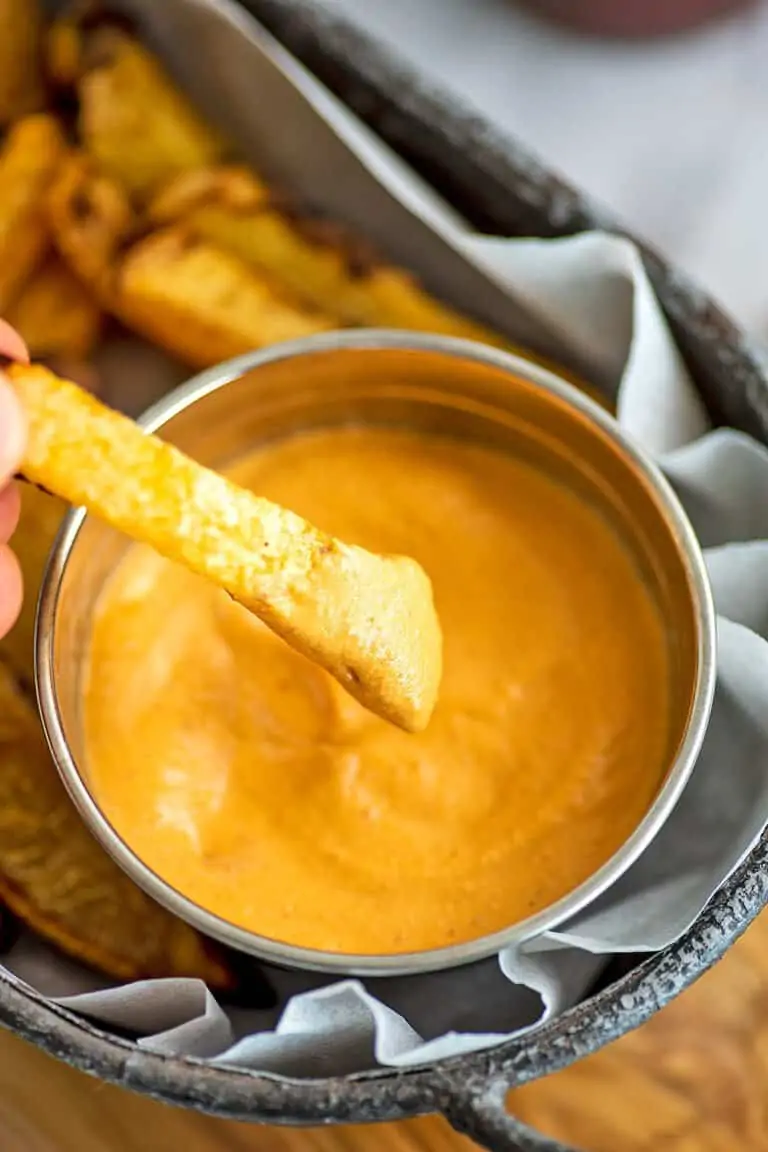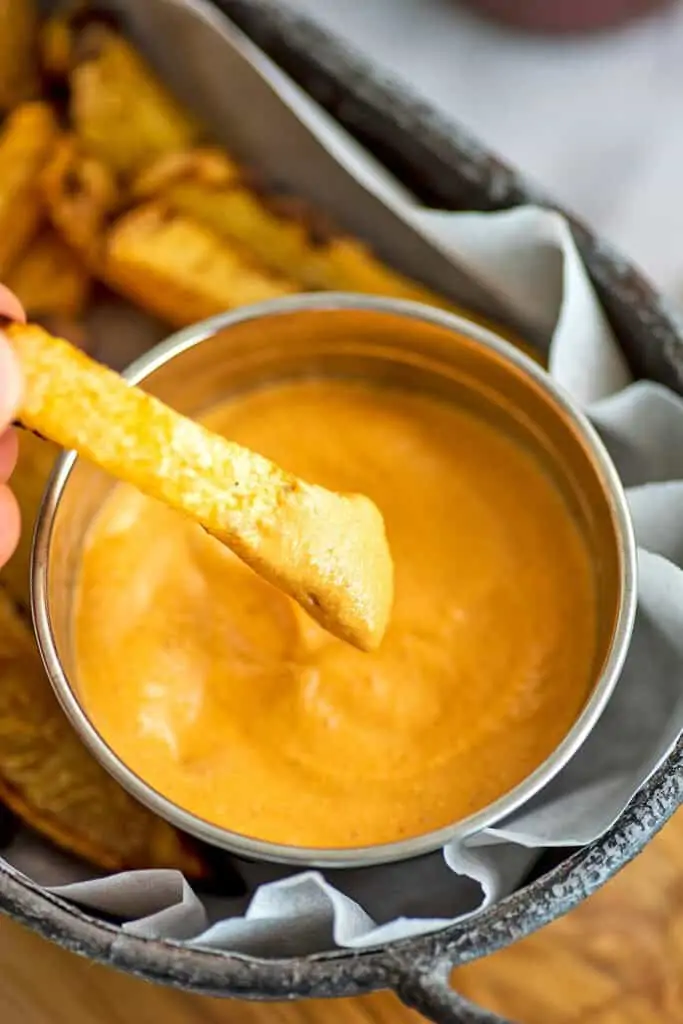 FAQ's
How to soak cashews
Soaking cashews sounds a bit weird the first time you try it but it's an important step to this recipe. Essentially you are trying to soften the cashew by soaking it in water. There are 4 ways that you can soak cashews for a recipe:
On the counter: This is the easiest. Add your cashews to a cup. Cover the cashews in fresh water and let them hang out on the counter for 8-12 hours. Drain and discard the water after soaking.

In the microwave: Add your cashews to a cup that is at least 4-5 times larger than the cashews (example I'm using ½ cup of cashews in a 4 cup mason jar). Add just enough water to cover the cashews. Microwave on high for 2-3 minutes. The water will start to boil (if you don't use a large enough jar it will boil over). Carefully using oven mitts, remove the glass jar from the microwave and allow to cool slightly. Carefully drain and discard the water from cooking.

On the stove: Add your cashews to a pan. Cover them in fresh water (just enough to cover). Bring to a boil and allow to boil for 2-3 minutes. Turn off the stove and allow to cool slightly. Drain and discard the water from cooking.

Using a hot water kettle: Bring your water to a boil in the kettle. Add cashews to a jar. Pour boiling water over the cashews (about double the water to cashews). Allow to sit on the counter for 5-10 minutes. Drain and discard the water after soaking.
What kind of cashews to use
The recipe calls for raw cashews. They can be whole cashews or cashew pieces (this doesn't matter since they are getting blended into a sauce).
Raw cashews are not roasted or salted and get the softest when soaking. I typically buy raw cashews at Trader Joe's or Sprouts.
You can also use roasted cashews, just know that these cashews have been roasted in oil so they may take longer to soak.
Note: if you use roasted and salted cashews, you will likely want to reduce the amount of salt in the recipe since the salted cashews will add salt to the recipe even after you discard the water.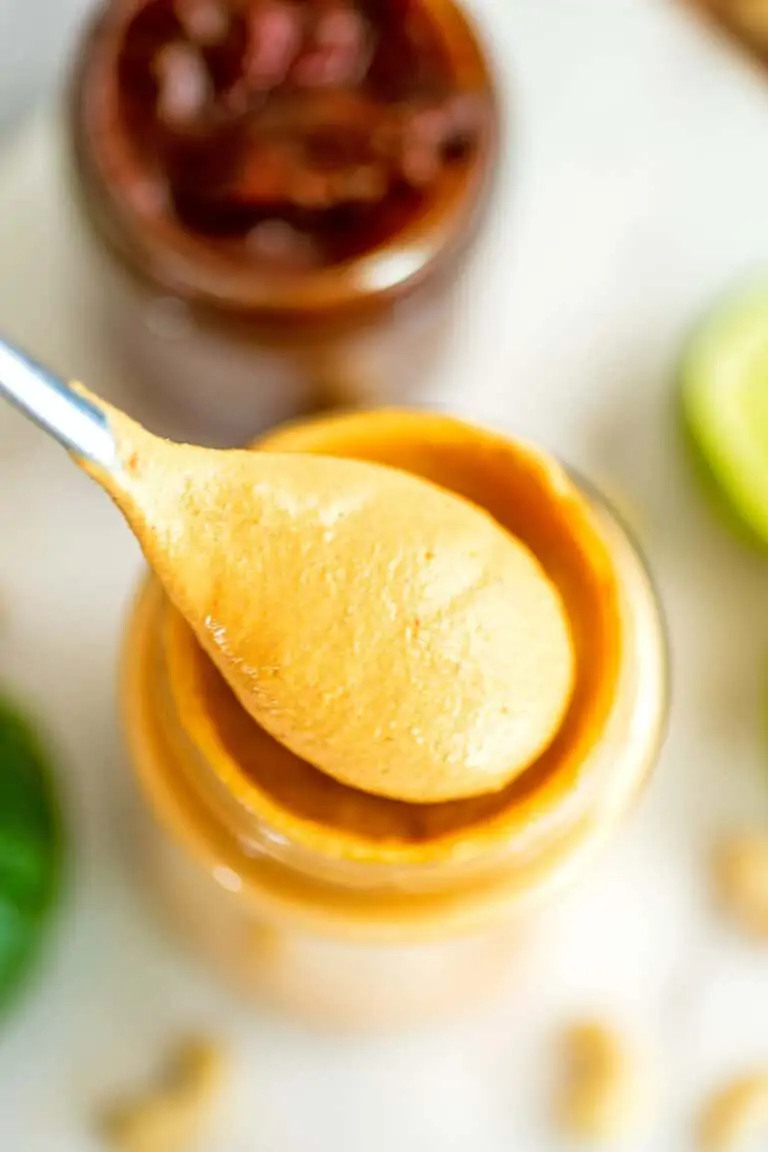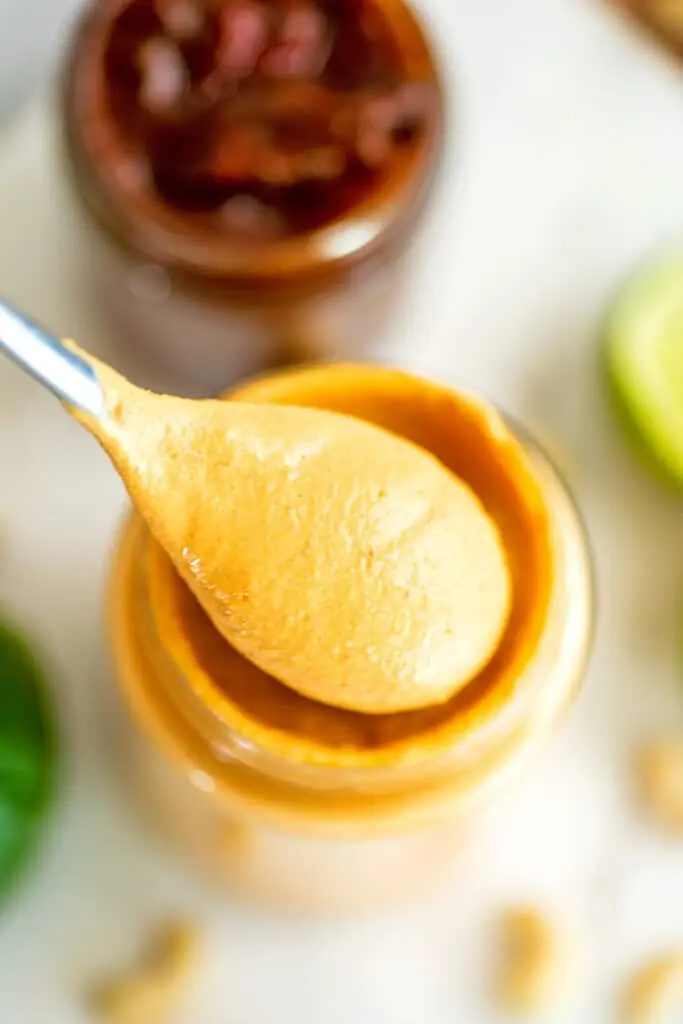 What are chipotles in adobo sauce
Chipotle peppers are made by smoking the peppers and the pepper are either dried and crushed into a powder or after smoking the peppers are stewed in adobo sauce which is a vinegary sauce use for preserving the peppers.
Chipotle in adobo sauce can be found in most grocery stores in the international or specialty food sections – I typically buy mine at Aldi!
You can store leftover chipotle in adobo sauce in the fridge for a few weeks in an airtight container (transfer it out of the metal container) or in the freezer for months.
To freeze, simply portion out 1-2 peppers and some sauce and freeze in ice cube trays. Pop the peppers out once frozen and store in a freezer safe bag.
Storage
The chipotle vegan mayonnaise can be store in the fridge for up to a week in an airtight container.
This sauce can also be frozen for up to 3 months, however the texture may not be the same after freezing. I would recommend that you freeze in 2 tablespoon servings so you could grab a serving or 2 at a time.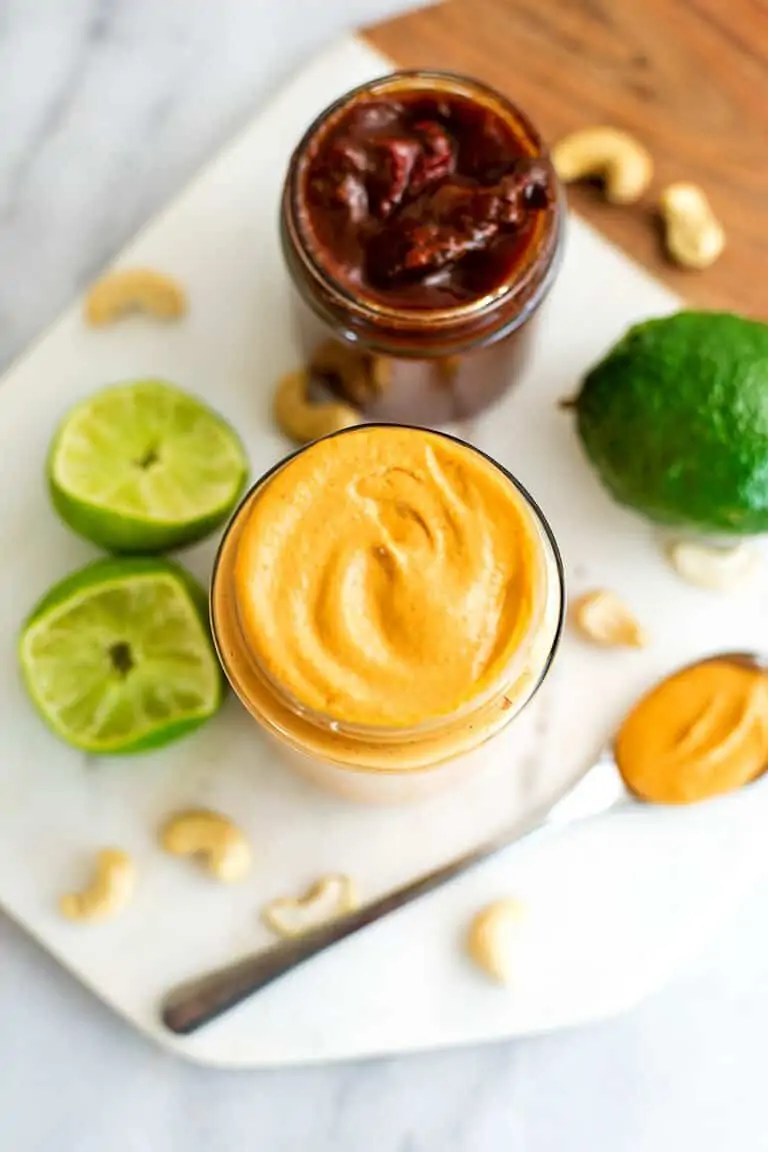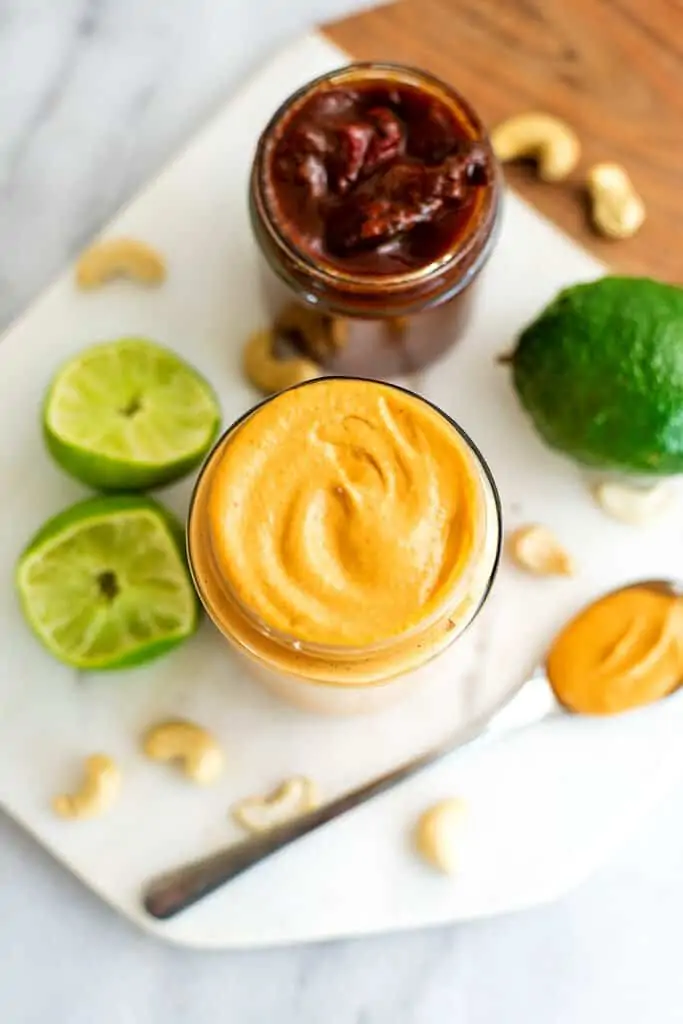 Substitutions
Cashews: If you cannot tolerate cashews, you could also use raw shelled sunflower seeds (soaked) or hemp hearts (no soaking needed). You could also opt to use a prepared mayonnaise in place of the cashews and most of the water. You will want about ½ cup of mayo.

Chipotle in adobo: You could also use chipotle powder in place of the canned chipotle in adobo sauce. You will need about ½ teaspoon for every ½ cup of cashews you use.

Lime Juice: You could substitute lemon juice, apple cider vinegar or white wine vinegar in place of the lime juice. You will need about 2 tablespoons of vinegar.

Garlic powder: You can omit or even use fresh garlic if you prefer (I find that fresh garlic can be overpowering and overshadow the chipotle so I use garlic powder).

Salt: Sea salt is used to help bring out all the flavors and really help them pop. If you are sensitive to salt or are trying to avoid salt, you can reduce or remove the salt from this recipe but I have not tried that.
If you love this recipe, you should try
★ Did you make this recipe? Please give it a star rating below!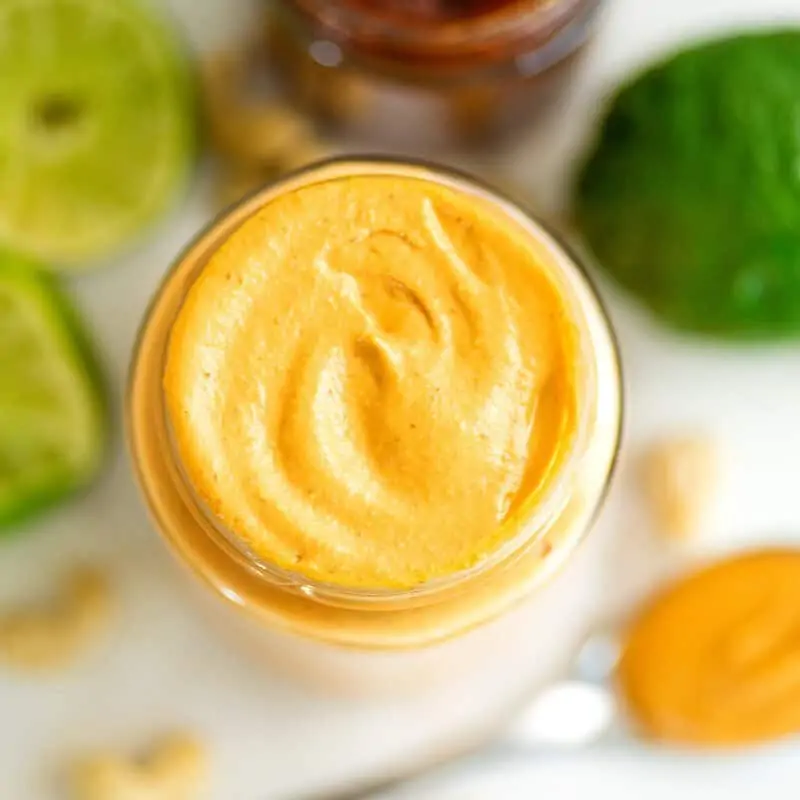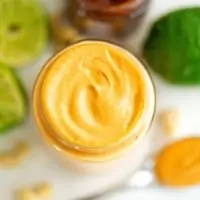 Vegan Chipotle Mayo
$1.56 Recipe/$0.26 Serving
Vegan chipotle mayo could not be easier to make and packed with flavor! Add a spicy chipotle kick to anything with this mayo! Made without eggs or dairy, this thick and creamy mayo is made with cashews and is ready in under 5 minutes!
Print
Pin
Save
Saved!
Rate
Instructions
Soak cashews in fresh water (see notes below on tips on how to soak cashews).

Drain the water from the cashews after soaking.

Add the soaked cashews, water, chipotle peppers, lime juice, salt and garlic powder to a high speed blender. I like to use a bullet style blender.

Blend on high 1 minute until smooth.
Notes
To soak cashews you can:
Countertop: Soak on the counter 8-12 hours.
Boil: Boil on the stove 2-3 minutes.
Microwave: 2-3 minutes in a large container.
Soak in boiling water: 5-10 minutes.
If you don't have chipotle in adobo, you can use 1/2 tsp. chipotle powder for every 1/2 cup of cashews.
Store leftover chipotle mayo in the fridge up to a week or in the freezer up to 3 months.
See how I calculate food cost
.
Nutrition Information
Nutrition Facts
Amount per Serving
Where does nutrition info come from? Nutrition facts are provided as a courtesy, sourced from the USDA Food Database.
DID YOU LOVE THIS RECIPE?
Let others know by rating and leaving a comment below!