Asian slaw with peanut dressing is the perfect side dish or summer salad! This crunchy slaw is paired with a super simple peanut lime dressing that comes together in just minutes! Add your favorite protein for a super simple low carb meal.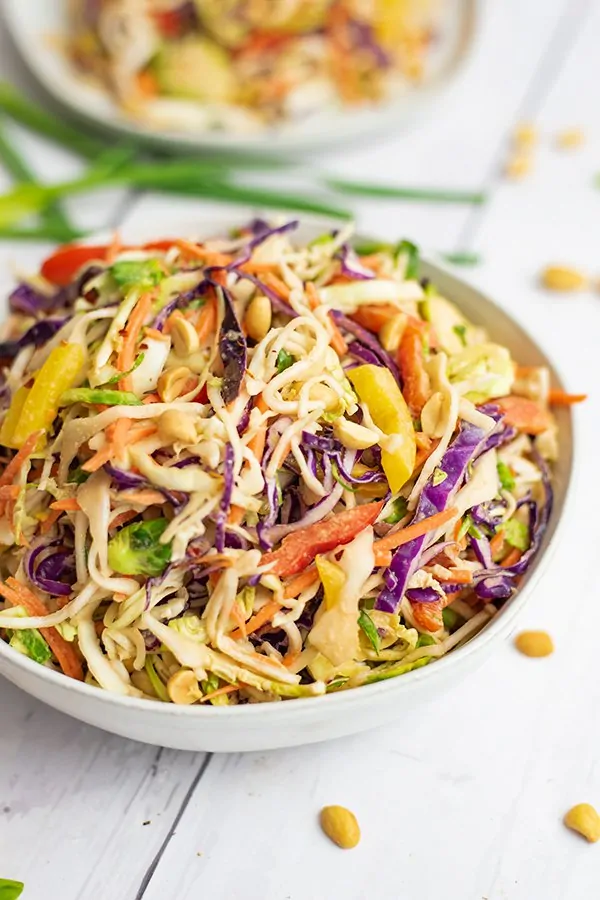 This post contains affiliate links. As an amazon associate I earn from qualifying purchases.
Click here to read my policy
and more about affiliate links.
Why you will love this recipe
Great way to get in more veggies! Asian cabbage slaw with peanut dressing is the perfect way to get in more veggies! The creamy peanut sesame dressing makes the veggies irresistible and so easy to eat!
Budget friendly – Cabbage is so hearty and filling and very inexpensive!
Great for meal prep – Because the base of this salad is cabbage, it can be made ahead and enjoyed for up to 4 days.
Great for cookouts, parties or weeknight meals. Asian slaw with peanut butter dressing is so easy to make, it's perfect for simple weeknight meals or even for breakfast! Since this slaw has no mayo or dairy, its a great option for cookouts or parties. This recipe is vegan, gluten free, dairy free and low carb it's sure to be a hit anytime you serve it!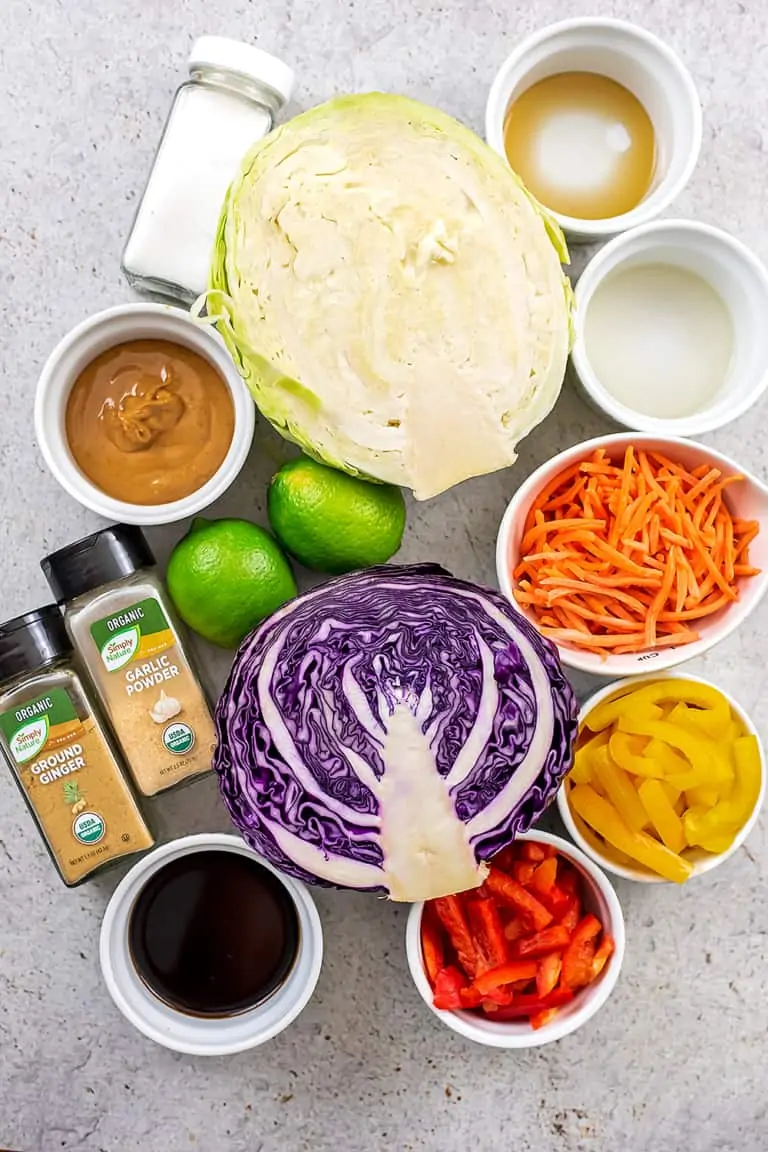 Ingredients
Asian Slaw
Green cabbage – green cabbage is inexpensive and will sit in your fridge for a week or two (great to always have on hand) for salads or stir fry's.
Red cabbage – this gives the salad a great pop of color and adds to the crunch.
Shredded carrots – I typically buy at least one bag of shredded carrots each week to throw into salads or slaws. You can also make your own shredded carrots by using the shredding attachment on your food processor.
Bell pepper – I used red and yellow bell pepper for color but you could use all red, all yellow, orange or a mixture. I prefer the sweeter peppers (red, yellow or orange) over green peppers in salads.
Peanut Sesame Dressing
Peanut butter – smooth peanut butter works best here. I always buy the drippy kind of peanut butter (that you have to stir the oil in when you first open the jar). You could also use a crunchy peanut butter if you wanted that added crunch to your salad.
Coconut aminos – this is a gluten free and soy free alternative to soy sauce.
Lime juice and rice wine vinegar– helps to add a tangy flavor to the sauce and to balance out the fat from the peanut butter.
Sesame oil – sesame oil has a very distinct flavor and a little sesame oil goes a long way. Store sesame oil in the fridge to ensure it doesn't go rancid.
Garlic powder, ground ginger, salt – I tend to use garlic powder and ground ginger in recipes as I always have them on hand and they are easy to add to the sauce.
How to make Asian cabbage slaw with peanut dressing
Start by shredding the cabbage and slicing the peppers thinly.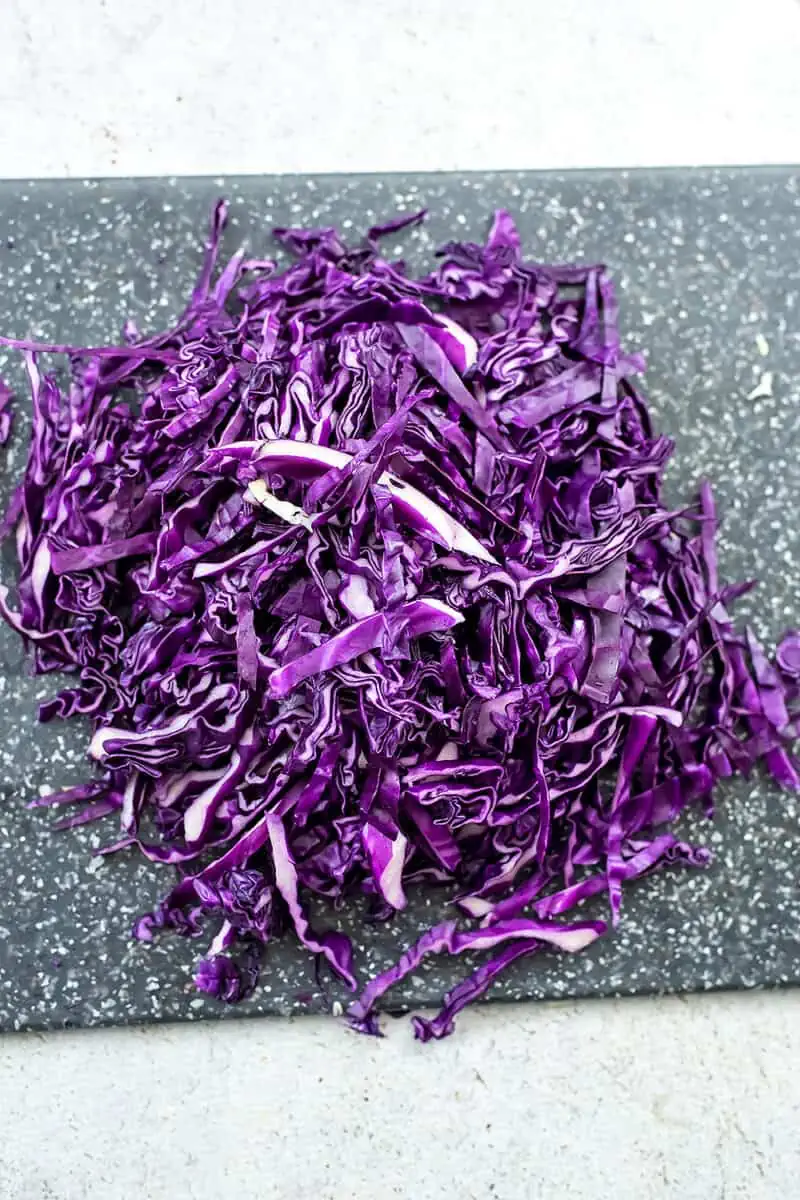 Add all the veggies to a large salad bowl.
Combine the ingredients for the peanut sesame dressing in a bowl. Stir well until everything is well combined.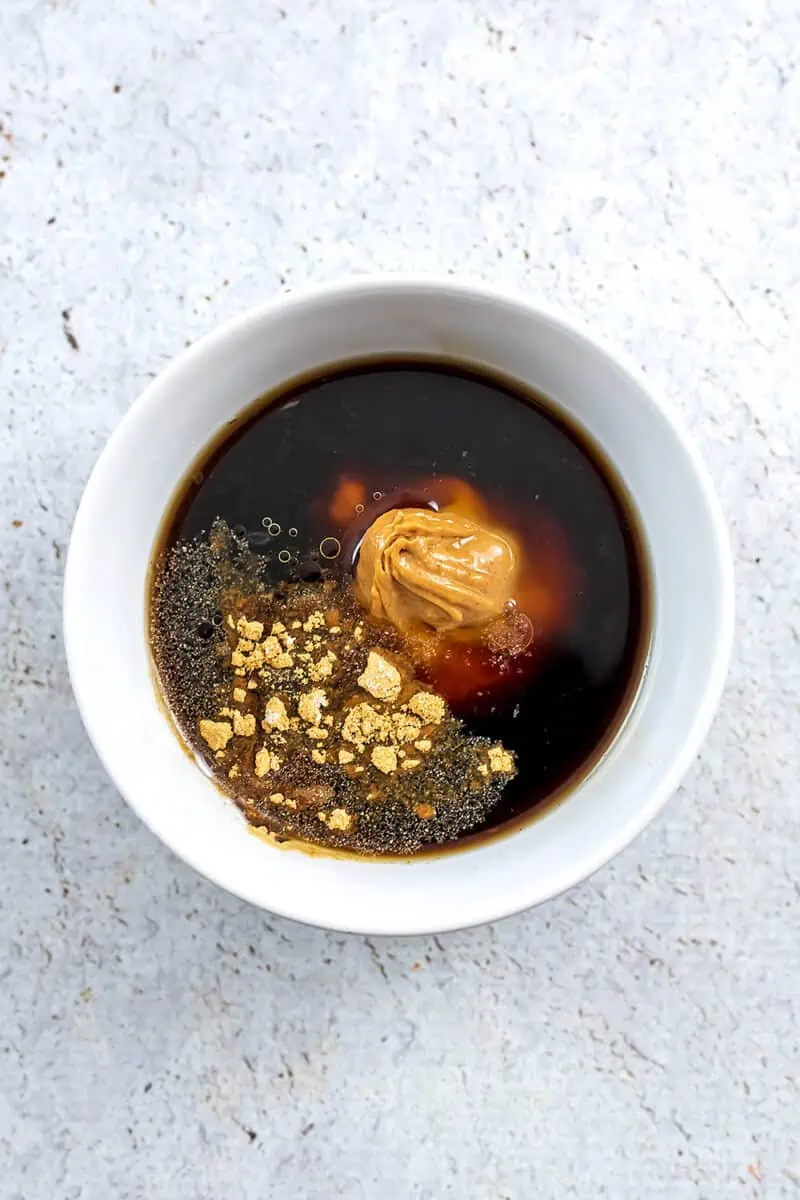 Pour the dressing over the veggies and stir well until the dressing is coating all of the vegetables. I like to use tongs for this.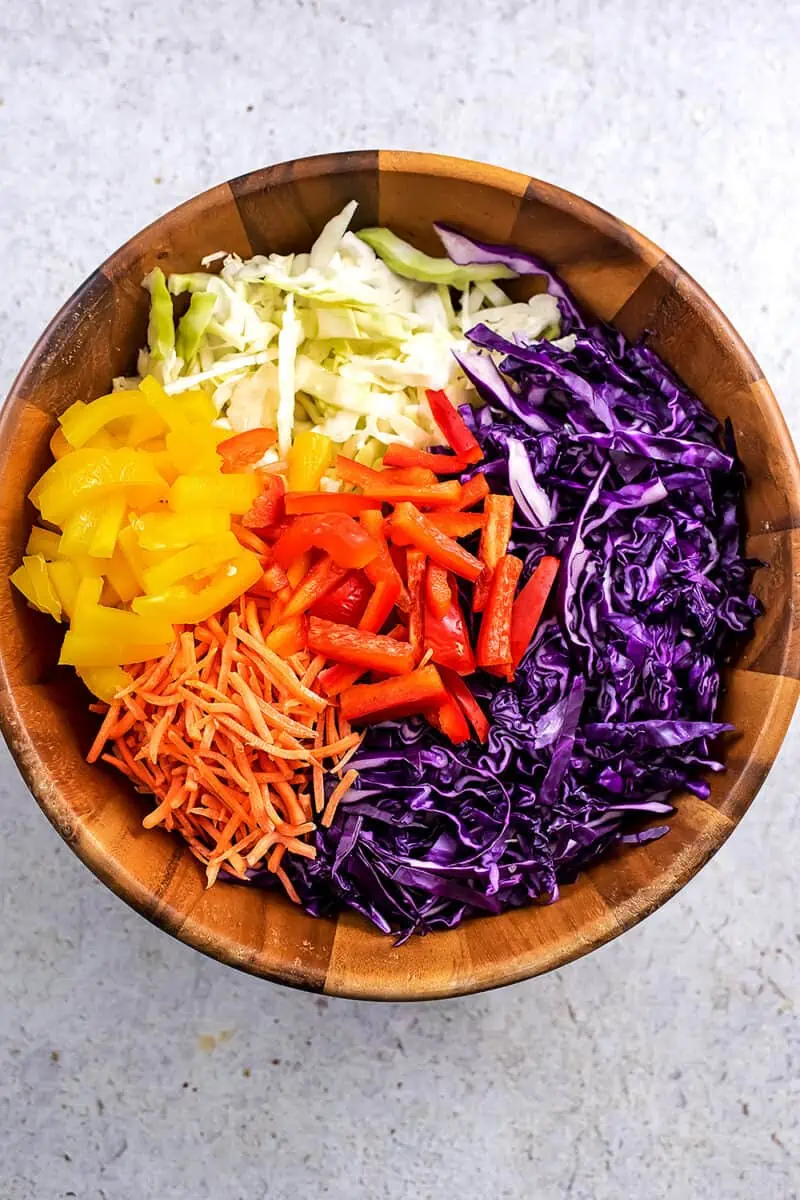 Serve immediately or allow to sit in the fridge to let the flavors combine for 1-2 hours.
Top tips
Time saving tip: Instead of shredding your own cabbage, buy shredded cabbage (cole slaw mix) from the store. Most grocery stores carry shredded cabbage and carrots together (sometimes just green cabbage and carrots but often green and red cabbage with carrots).
Make the recipe easier: The peanut butter dressing can take a minute to stir together, since the peanut butter does not immediately want to break down into dressing with the wet ingredients. To make this easier and to save time, you can pour all the dressing ingredients into a high speed blender and blend 20-30 seconds to make sure the dressing is well incorporated.
Easily double this recipe, but mix it in 2 separate containers. This Asian cabbage slaw is great for parties, cookouts or family bbq's. To ensure that all the veggies are coated in the creamy peanut dressing, I would advise you mix it in two separate bowls, or it may be messy trying to stir that much cabbage in one salad bowl.
Make it ahead! Make the dressing up to a week in advance and store it in the fridge. Chop all the veggies ahead (1-2 days ahead) if you are short on time. Combine the dressing and the slaw together within 24 hours of a get-together for the best presentation and flavor.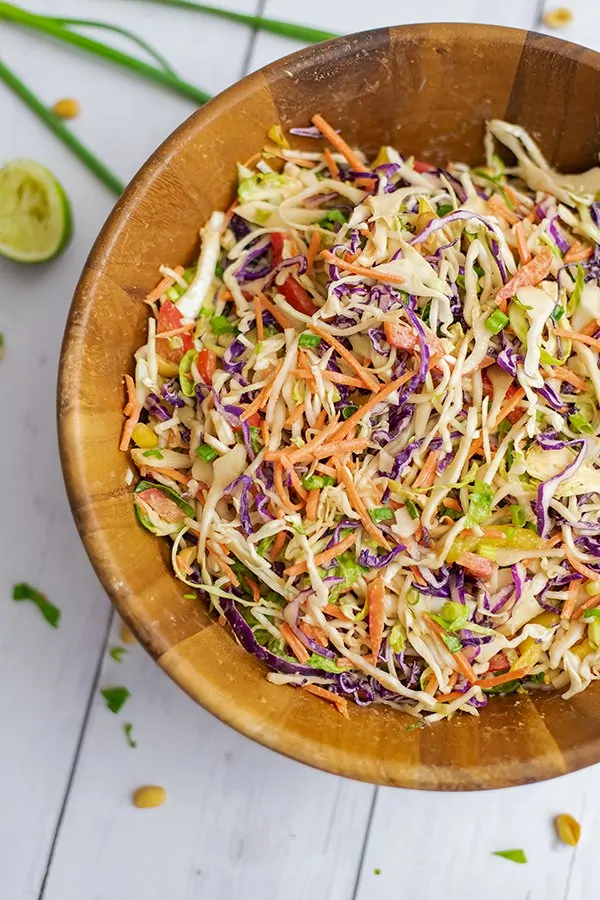 Other additions
I love how simple this recipe is and I typically have all these ingredients on hand at all times. You can add whatever veggies you have on hand. Some other great additions include:
Add veggies: Shredded brussel sprouts (raw or sauteed), napa cabbage, sugar snap peas or snap peas (chopped), sauteed asparagus, green beans, broccoli, broccoli slaw, edamame
Fresh herbs: Cilantro, mint, green onion
Make it Spicy: Add in red pepper flakes (1/2 -1 tsp), garlic chili sauce (1-2 tbsp) or sriracha (1-2 tbsp)
Make it Sweeter: Add in 1-2 tbsp. honey, maple syrup or date paste
Make it Creamier: Add in 1-2 more tablespoons of peanut butter
Make it Crunchier: Top the salad with peanuts, sesame seeds, cashews or sunflower seeds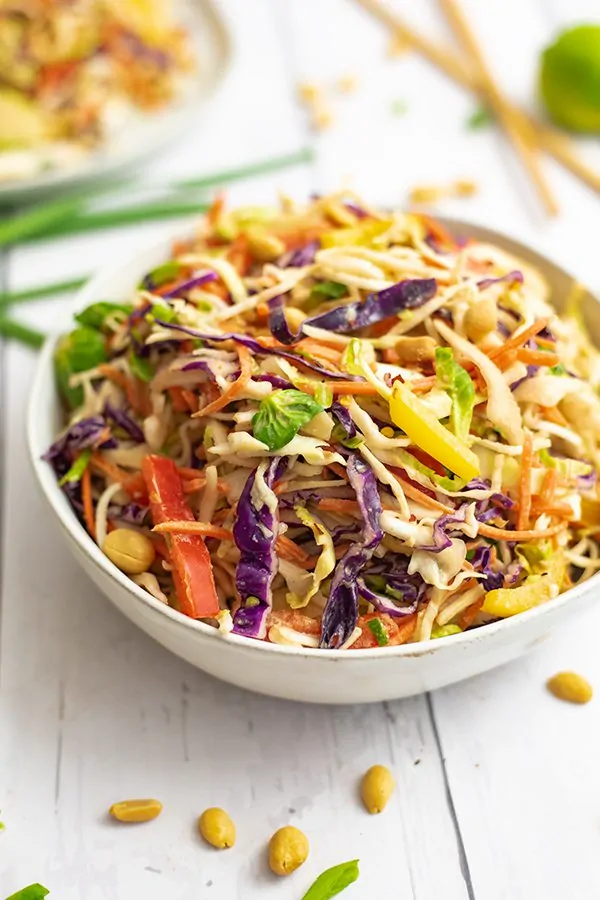 What to serve with Asian cabbage slaw?
This Asian slaw with peanut dressing would go great with your favorite Asian dishes or as a simple side for most weeknight meals. You could try it with:
Common Questions
What are other ways to use peanut lime dressing
The peanut lime dressing is great for salads and slaws. Some other ways to use it include:
As a dip for spring rolls or collard wraps
As a sauce to pour over stir fry's or noodles and veggies
As a marinade for chicken or salmon
Use it as a dip for roasted or fresh veggies
How to make the Asian slaw ahead of time
This simple Asian cabbage slaw will last about 3-4 days in the fridge but it looks best within a few hours of preparing. If you will be making this for guests/parties, you may want to make the dressing and chop the veggies ahead but wait to combine the dressing with the slaw until 1-2 hours before the party.
You can make the dressing and store it in the fridge for 7 days ahead.
Shred/chop the veggies 1-2 days ahead (or buy pre-shredded cabbage to save time).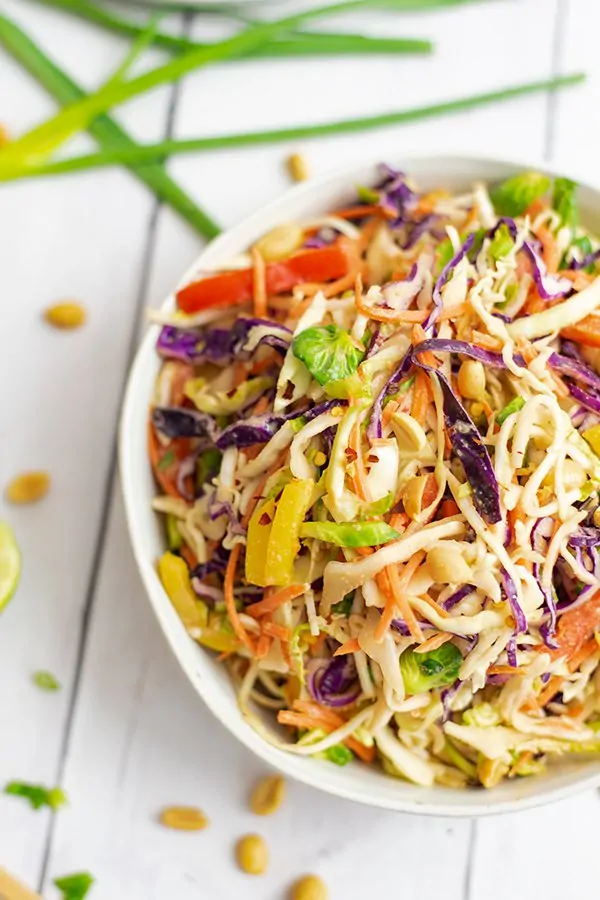 What is the easiest ways to slice cabbage for slaw
Thinly slicing cabbage is the most time consuming part of making this slaw. There are some ways to quickly slice cabbage to make this easier:
Food processor: This is typically my go to for shredding/slicing. My food processor has a shredding attachment (not the grater) that replaces the S-shaped blade. Cut the cabbage into small enough chunks to fit through the feeding tube at the top of the food processor and quickly shred the cabbage.
Spiralizer: Using a spiralizer to shred cabbage is so easy, but the cabbage can fly everywhere in the process so know that it can make a mess to clean up. Put the root of the cabbage on the handle of the spiralizer with just a flat blade and spiralize from the top of the cabbage. As you get closer to the core, the core will also spiralize which makes thicker pieces (which are not great for slaw).
Sharp knife: When using a knife, it's best to create a flat base to work with. Cut the cabbage in half, cut out the core and then thinly slice the cabbage making sure the cabbage is flat on the cutting board to make this as easy as possible.
What kind of peanut butter to use
I always use natural peanut butter (the only ingredients should be peanuts or peanuts and salt). This type of peanut butter typically has to be stirred when you first open the jar. This drippy peanut butter is great for dressings and doesn't' have any added hydrogenated oils or sugars.
You can use smooth (creamy) or crunchy peanut butter, just know that crunchy peanut butter will add some crunch to the salad.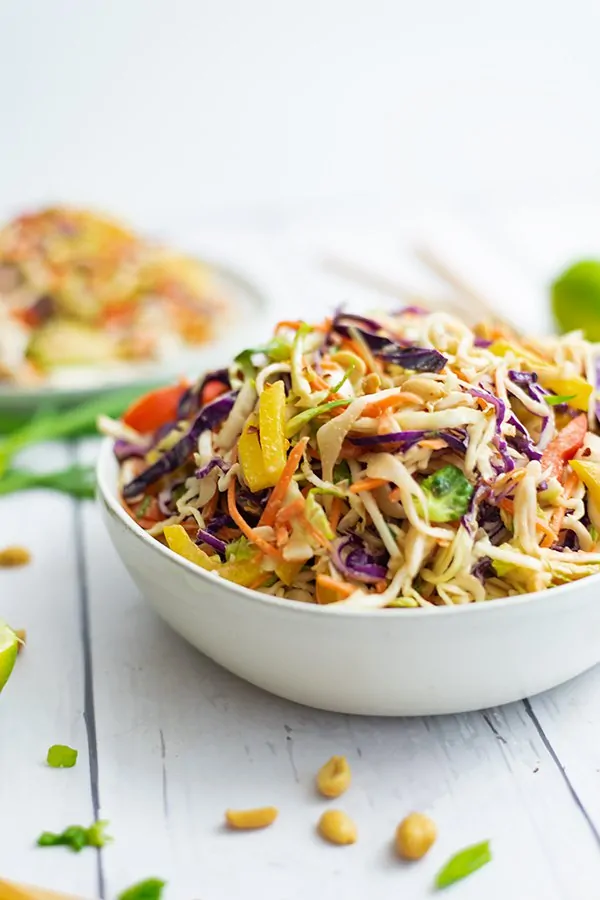 Storing leftover
Fridge: Store Asian cabbage slaw in the fridge for up to 4 days. Be sure to stir the slaw before serving, as the dressing can fall to the bottom of the bowl when sitting in the fridge.
Freezer: Do not freeze the slaw, the texture will not be the same when defrosting.
Substitutions
Green or red cabbage: The cabbage is to add crunch. You can use all green cabbage, all red cabbage or even replace the cabbage with broccoli slaw or napa cabbage.
Shredded carrots and bell peppers: Use any of the veggies listed above to replace the bell peppers or shredded carrots.
Peanut butter: You can also use sunflower seed butter (nut free), almond butter or cashew butter in place of peanut butter.
Coconut aminos: These are a replacement for soy sauce. You could use tamari (gluten free soy sauce) or soy sauce in place of coconut aminos. Note: coconut aminos tend to have a sweet undertone, so you may need to add some maple syrup or honey if you use tamari or soy sauce.
Lime juice: The lime juice adds it's own unique combination or tart and slightly sweet flavor to the dressing. You could use more rice wine vinegar (2 tbsp.) or lemon juice.
Rice wine vinegar: The rice wine vinegar helps to round out the dressing and cut through the peanut butter. You could use apple cider vinegar or white vinegar in place of the rice wine vinegar.
Sesame oil: Sesame oil has a very unique flavor. If you don't have sesame oil, you can simply omit it from the recipe.
Garlic powder: You can use fresh garlic (1-2 cloves very finely grated) or ¼ cup of chopped green onion in place of the garlic powder.
Ground ginger: You could use 1-2 tbsp. fresh ginger in place of the ground ginger. Be sure it's very finely minced or grated. You may want to use a blender if you opt for fresh ginger to ensure it's fully combined.
Salt: If you are sensitive to salt, you can omit it but salt can really help to balance flavors and make the dressing pop. If you use a normal soy sauce or tamari, you may want to omit the salt since those seem to be saltier than coconut aminos.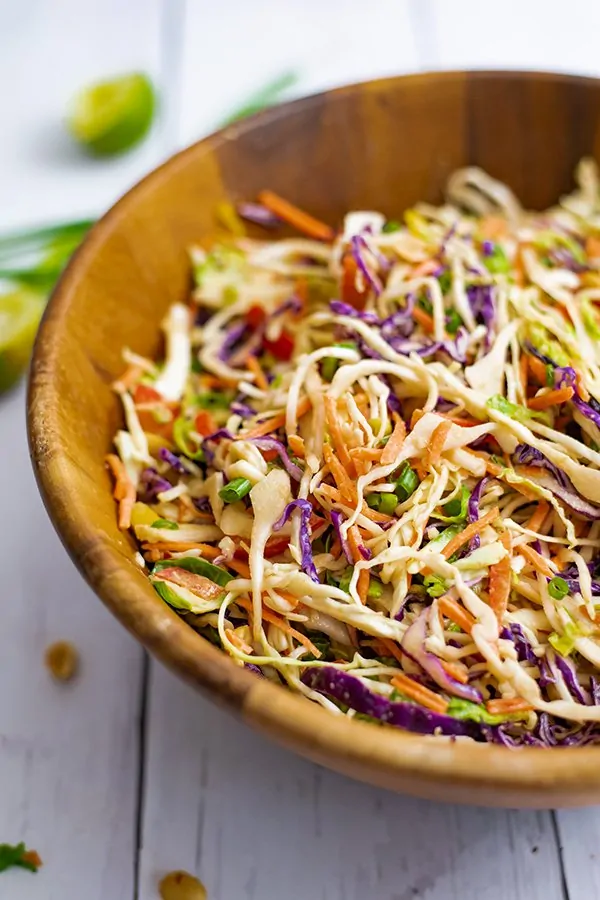 If you love this recipe you should try
★ Did you make this recipe? Please give it a star rating below!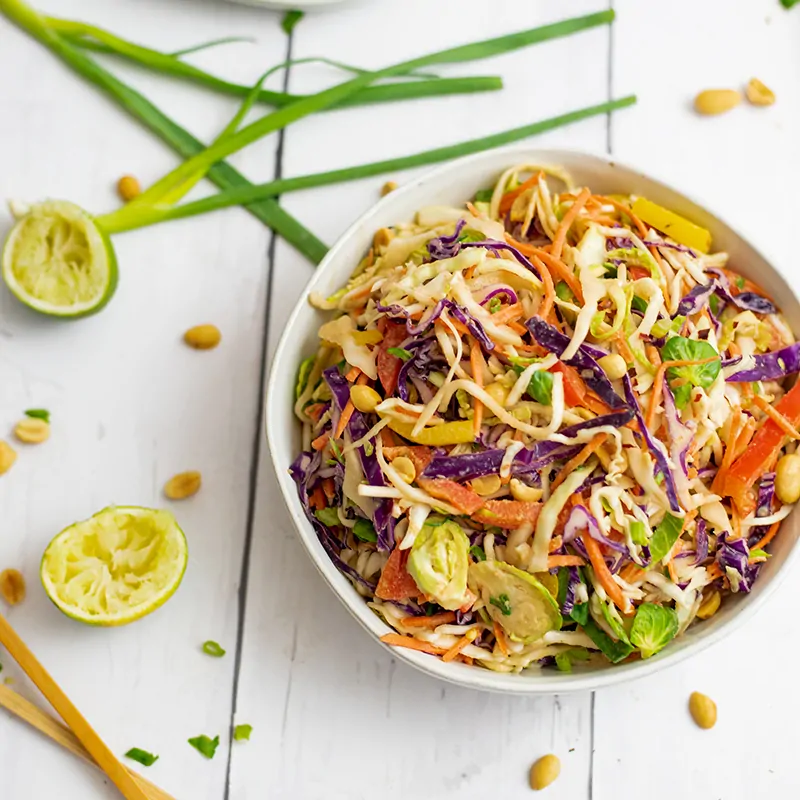 Asian Cabbage Slaw with Peanut Lime Dressing
$7.69 Recipe/$1.92 Serving
This Asian Cabbage Slaw with peanut lime dressing is the perfect side dish! Low fat, gluten free, vegan and so simple to make. Perfect for an easy weeknight meal or cookout and great for meal prep!
Print
Pin
Save
Saved!
Rate
Ingredients
1/2

head

green cabbage

-

$1.69

1/2

head

purple cabbage

-

$1.70

1/2

medium

red bell pepper

-

$0.65

1/2

medium

yellow bell pepper

-

$0.65

1/2

cup

shredded carrots

-

$0.38
Instructions
Chop or shred the green and purple cabbage. Add the cabbage to a large bowl.

Chop red and yellow bell pepper into thin bite-size pieces. Add the bell peppers to the bowl with cabbage.

Add the shredded carrots to the bowl with the rest of the veggies.
Peanut Sesame Dressing
Combine all the ingredients in a small bowl. Stir well until all the ingredients are fully combined (making sure there are no lumps).

Pour the dressing over the vegetables and stir well 2-3 minutes to ensure all the vegetables are well coated. I use tongs for this.
Notes
Store Asian cabbage slaw in the fridge for up to 4 days. Be sure to stir the slaw before serving, as the dressing can fall to the bottom of the bowl when sitting in the fridge.
How to make the Asian slaw ahead of time
Make the dressing ahead and store it in the fridge for 7 days.
Shred/chop the veggies 1-2 days ahead (or buy pre-shredded cabbage to save time).
The day of, combine the dressing and the veggies and allow them to sit in the fridge for 1-2 hours before serving.
See how I calculate food cost
.
Nutrition Information
Nutrition Facts
Amount per Serving
Where does nutrition info come from? Nutrition facts are provided as a courtesy, sourced from the USDA Food Database.
DID YOU LOVE THIS RECIPE?
Let others know by rating and leaving a comment below!