Instant pot quinoa is done in under 20 minutes and you can walk away while it's cooking! No more worrying about your water ratio and things boiling over while cooking on the stove!
Cooking instant quinoa in the pressure cooker is a game changer and you are never going to want to cook it any other way! Use the cooked quinoa as a side dish, add it to salads or soups or even make a sweet breakfast out of it! Great for meal prep!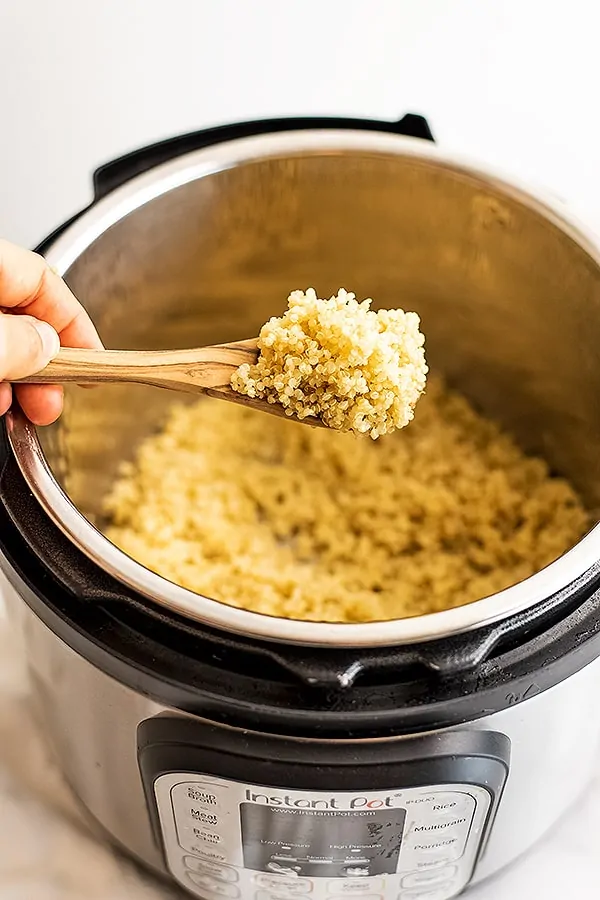 This post contains affiliate links. As an amazon associate I earn from qualifying purchases.
Click here to read my policy
and more about affiliate links.
Why you will love this instant pot quinoa
Quinoa is a great source of fiber and protein (it contains all 9 essential amino acids) and has a pretty neutral flavor profile so it can go with so many dishes! I love to make a big batch in the beginning of the week during my Ingredient prep and use it all week long in dishes to add bulk (to salads or soups) or season it as a side dish!
This recipe is ready in about 16 minutes (from start to finish) but doesn't require any attention from you during cooking! That means you can be off doing other things while this recipe is cooking! Make perfect quinoa without worrying about burning it or it boiling over!
You can easily double or triple this recipe and freeze leftovers for up to 3 months. No more spending money on buying pre-cooked convenience quinoa from the frozen food section. Now you can make your own for much less using the pressure cooker!
Ingredients you will need
Quinoa (you can use white, red or a mix, whatever you have on hand)
Water (or broth for more flavor)
How to cook quinoa perfectly
Rinse: Start by always washing your quinoa. If you have ever had quinoa and thought it tasted bitter or soapy, that is because it was not washed before cooking.
The quinoa has a protective coating called sapion that is very bitter and needs to be rinsed off. I like to add the quinoa to the insert of the pressure cooker, add hot water and agitate the quinoa by hand to really make sure the coating comes off. Rinse this water off with a fine mesh strainer and add the quinoa back to the pressure cookerpot.
Measure: Next add 1.5 cups of water (or broth) for every 1 cup of dry quinoa. This will give you the perfect water to quinoa ratio.
This ratio is the same for white, red and mixed varieties of quinoa.
Cook: Put on the lid, set it to "sealing" and turn the pressure cooker on for 1 minute of cook time, high pressure (2 minutes of cook time if you are in high altitude). This is how long you will need to cook it.
Vent: After the quinoa comes up to pressure and cooks 1 minute, allow it to naturally release 10 minutes for the white quinoa or up to 15 minutes for the red or mixed variety. If you are unsure, just allow it to naturally release.
To release pressure, turn the vent from "sealing" to venting using a long wooden spoon or other utensil to keep your hands and face away from the steam that will come out.
Fluff: Open the pressure cooker lid and fluff the quinoa with a fork. Serve immediately or store in the fridge or freezer.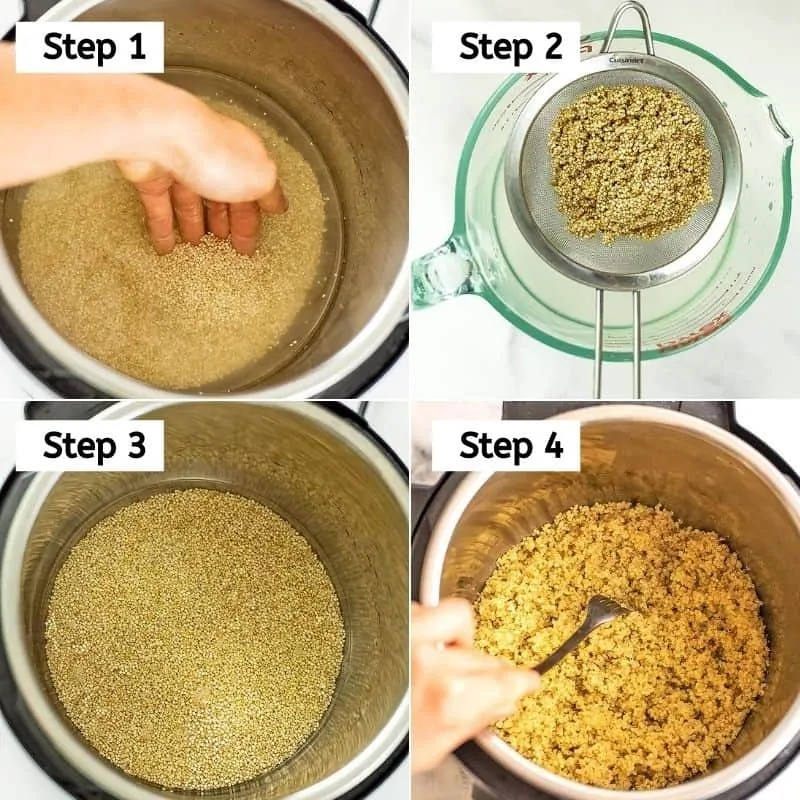 Best ways to serve this instant pot quinoa
Quinoa is a versatile dish and can easily be made into sweet or savory meals! Just like rice, you can add any flavors you love and it will work well together!
Here are some of my favorite ways to use it:
Tomato Spinach Quinoa Salad
Add to salads
Add to soups
Add to burrito bowls or tacos
Recommended kitchen tools
Instant pot quinoa common questions
Troubleshooting tips
If you notice that your quinoa is watery after cooking, the brand/type you used may need less water. For sprouted or Canadian quinoa, you will only need 1 cup of liquid to every dry cup of quinoa.
To double or triple the recipe, the cooking time will not change. However, as quinoa cooks, it can get frothy/bubbly. With just 1 cup quinoa, it's not an issue but if you are cooking 2-3 cups of dry, you may want to add olive oil (about ½ -1 tablespoon) to the liquid or spray down the sides of the instant pot insert before cooking. This will help keep the froth from building up and making clean up difficult.
I typically leave on the "keep warm" function during natural release. If you plan on walking away and you may not get to your quinoa within 30 minutes of cooking, be sure to turn off the keep warm function before you start your instant pot or the quinoa may burn to the bottom.
If you don't have time to naturally release the pressure, you can increase the cooking time from 1 minute to 5 minutes under high pressure. After 5 minutes of cooking, you can manually vent the pressure (carefully), and fluff the quinoa with a fork.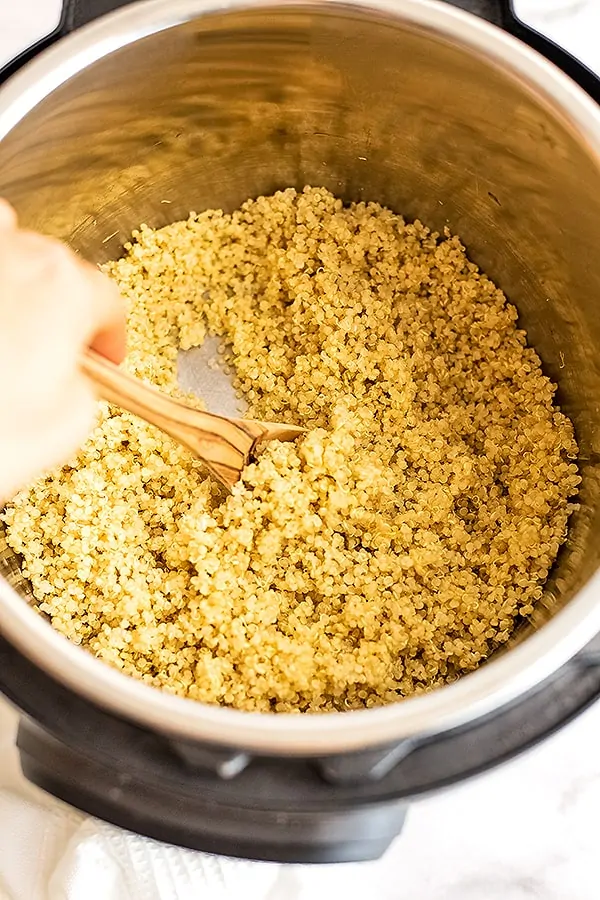 How much does 1 cup of quinoa make?
One cup of dry quinoa will make 3 cups of cooked. This is typically more than you need for just one recipe, so it's great to store the rest.
How long does cooked quinoa last?
Fridge: It can last in the fridge in a well-sealed container for up to 5 days.
Freezer: After cooking, allow it to fully cool. Once cool, store the quinoa in freezer safe bags (remove as much air as possible) and freeze for up to 3 months.
To defrost: You can defrost the quinoa overnight in the fridge. You can quick defrost in the microwave (about 1 minute) or on the stove (add 1-2 tablespoons of water or broth to a sauce pan with a lid, cook over low heat until defrosted).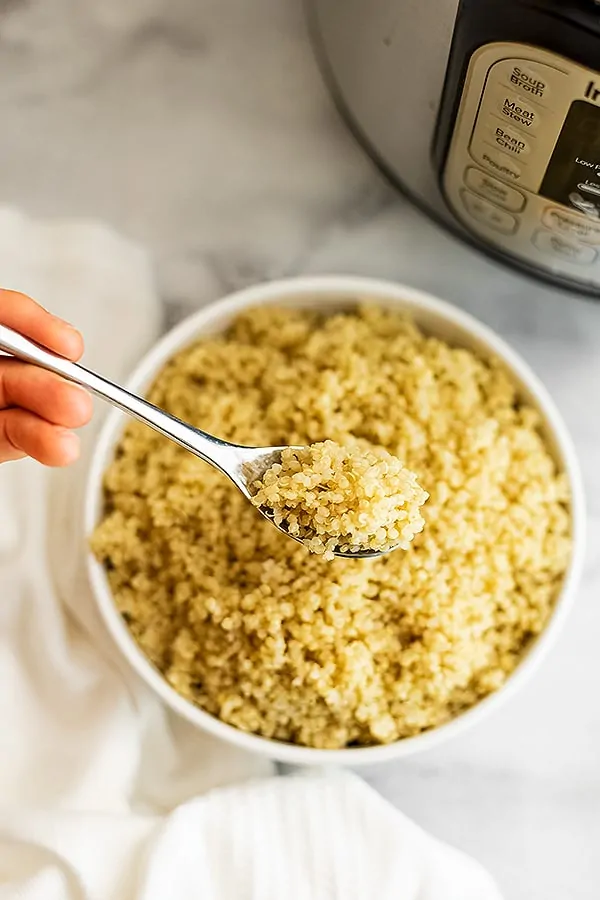 Other amazing instant pot recipes
★ Did you make this recipe? Please give it a star rating below!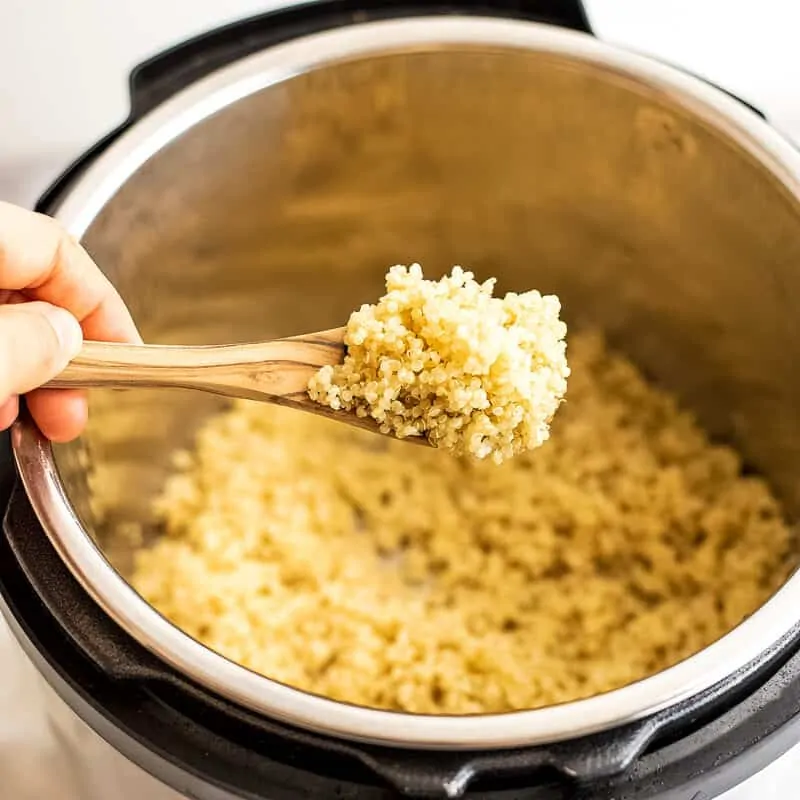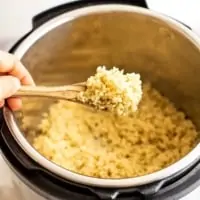 Instant Pot Quinoa
$1.45 recipe/$0.36 serving
instant pot quinoa is the easiest way to make quinoa! This fail proof method is ready in under 20 minutes and makes the perfectly cooked, fluffy quinoa every time! You will never make quinoa another way again! Naturally gluten free, dairy free, vegan and packed with protein and fiber!
Print
Pin
Save
Saved!
Rate
Instructions
Start by rinsing the quinoa. Add it to the instant pot insert and add hot water. Agitate the quinoa to try to remove the bitter coating. Drain the water with a mesh strainer.

Add the rinsed quinoa to the instant pot and add 1.5 cups of fresh, filtered water.

Add the lid to the instant pot, make sure the vent is set to the "sealing" position. Set the instant pot to cook for 1 minute, high pressure.

Allow the instant pot to come up to pressure (takes about 4 minutes), cook for 1 minute and allow the pressure to naturally release (you will see L10). After natural release for 10 minutes, you can manually release the pressure. See notes below for red or tri-colored quinoa.

Once the pressure is released fully, remove the lid and fluff the quinoa with a fork.
Notes
Troubleshooting:
If you have red or tri-colored quinoa, allow to naturally release pressure 15 minutes to allow the quinoa to soften more.
If you are using sprouted or Canadian quinoa, you will want to reduce the water to 1 cup of water per 1 cup of quinoa.
You can easily double or triple the recipe without changing the cook time. To ensure the quinoa doesn't get too bubbly, add 1/2 tablespoon of olive oil or spray the instant pot insert with non-stick spray to keep it from bubbling up the sides during cooking.
If you are at high altitude, you will want to cook the quinoa for 2 minutes instead of 1 minute.
Storage:
Fridge: 5 days in a well sealed container.
Freezer: 3 months in a freezer safe bag/container. Defrost in the fridge overnight, microwave (1 minute) or on the stove with 1-2 tablespoons of water in a sauce pan with a lid over low.
See how I calculate food cost
.
Nutrition Information
Nutrition Facts
Amount per Serving
Where does nutrition info come from? Nutrition facts are provided as a courtesy, sourced from the USDA Food Database.
DID YOU LOVE THIS RECIPE?
Let others know by rating and leaving a comment below!