These sweet potato pizza bites are my new favorite way to enjoy pizza! They are vegan, gluten free, easy to assemble, super versatile, and make a great appetizer for a crowd or an easy dinner for two! There is nothing better than vegetables for dinner, especially when those veggies taste like pizza! :)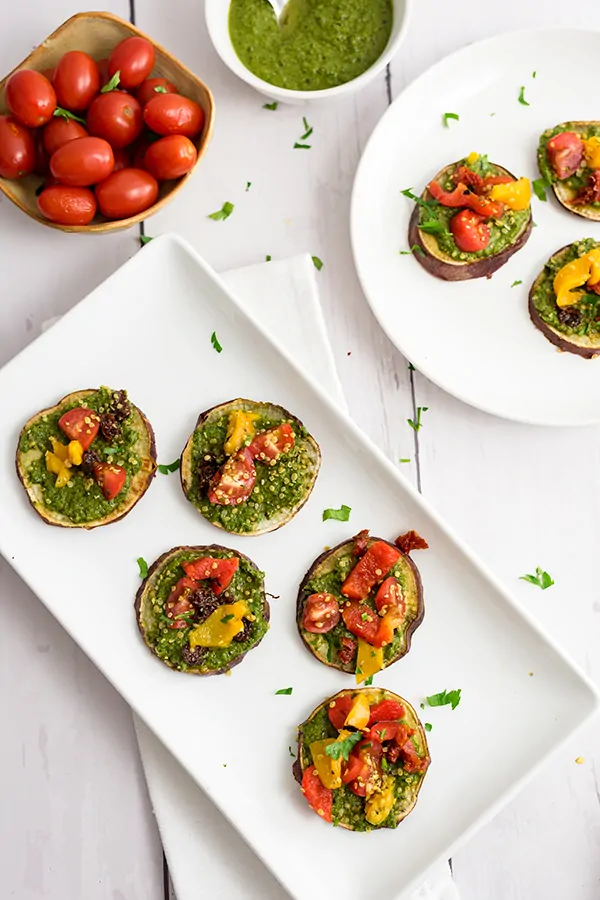 This post contains affiliate links. As an amazon associate I earn from qualifying purchases.
Click here to read my policy
and more about affiliate links.
Why you will love this recipe
Simple, healthy ingredients – you can find everything you need to make sweet potato pizza bites at the grocery store! No specialty items needed here! Make your own pesto or buy it from the store to save even more time!
Great for meal prep – make the sweet potato rounds and the pesto in advance. You can assemble these healthy pizza bites in minutes and heat them up in the oven, toaster oven or air fryer!
Great appetizer for parties or a fun meal – you can easily double this recipe and serve it as an appetizer. It's vegan, gluten free, dairy free, paleo and Whole30 friendly. These healthy pizza bites are great no matter what diet or way of eating your guests may practice!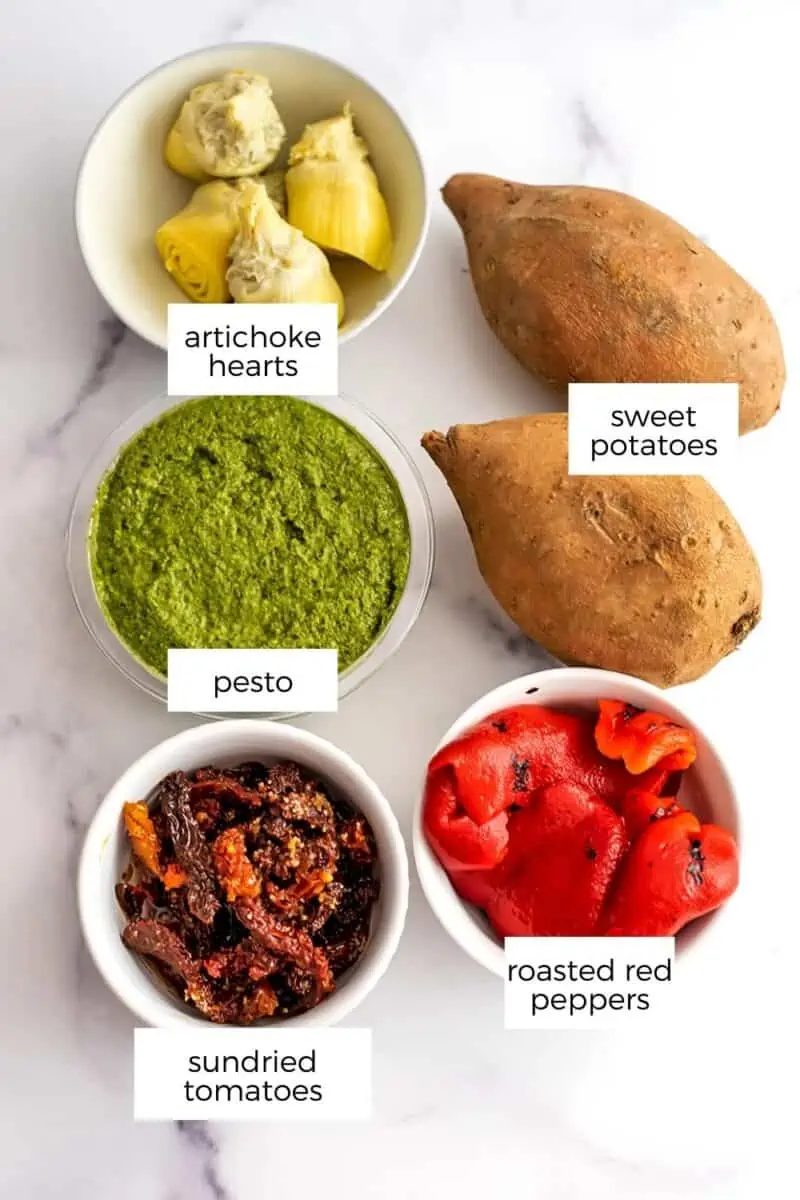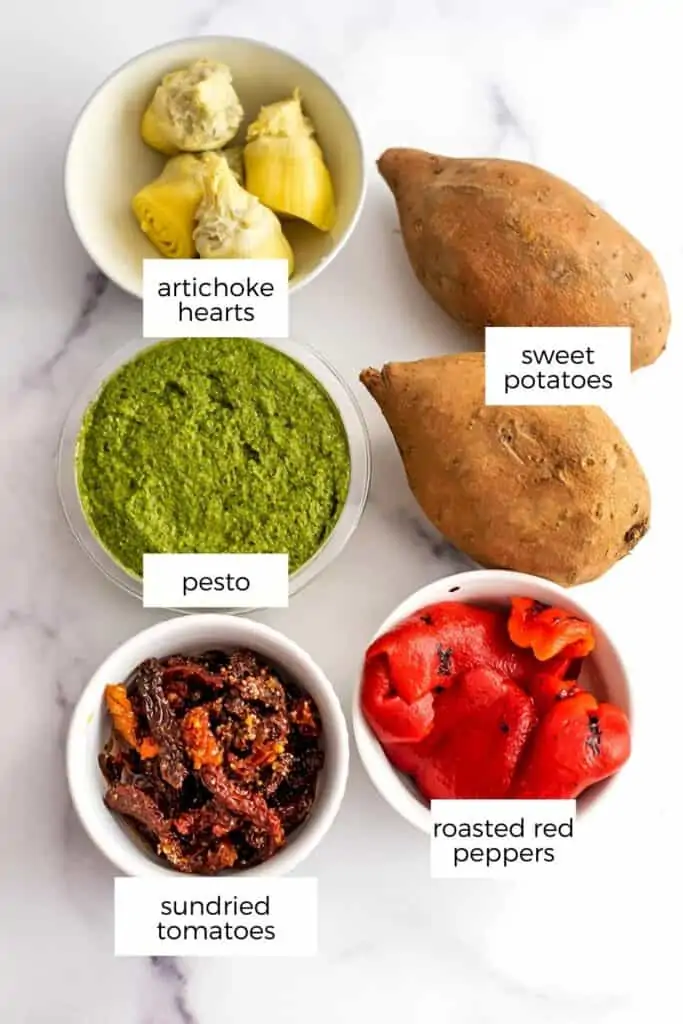 Ingredients
Sweet potatoes – you can use regular orange fleshed sweet potatoes or Japanese sweet potatoes, which are purple on the outside and light yellow/white on the inside. Be sure to grab a sweet potato that is thick enough to hold your toppings!
Pesto – use your favorite pesto for this recipe. My favorite for this is cashew arugula pesto but creamy tahini pesto would be a close second! You can also buy pesto pre-made in most grocery stores. Trader Joe's has a great vegan/dairy free pesto!
Artichoke hearts (from a can, jar or frozen) – artichoke hearts add a great texture to these pizza bites and are easy to find in most stores! I usually have a can or jar of artichoke hearts on hand at all times! Be sure to drain and chop the artichoke hearts before using them. If you have frozen artichoke hearts, cook them first then chop them into bite size pieces.
Sundried tomatoes (in olive oil) – sundried tomatoes in olive oil are packed with flavor and help give these pizzas their distinct flavor! If you need to use dried sundried tomatoes (that come in a bag), rehydrate them in hot water for at least 20 minutes (they are quite chewy otherwise).
Roasted red peppers – these are the ultimate pantry ingredient! Roasted red peppers add a slightly sweet kick to the pizzas and are easy to use! Chop them finely before adding them to the pizzas!
How to make sweet potato pizzas
Start by preheating the oven to 425F.
Cut the sweet potatoes into 1/4-1/2 inch thick rounds (depending on how sharp your knife is). Add the sweet potato rounds to a baking sheet lined with parchment paper.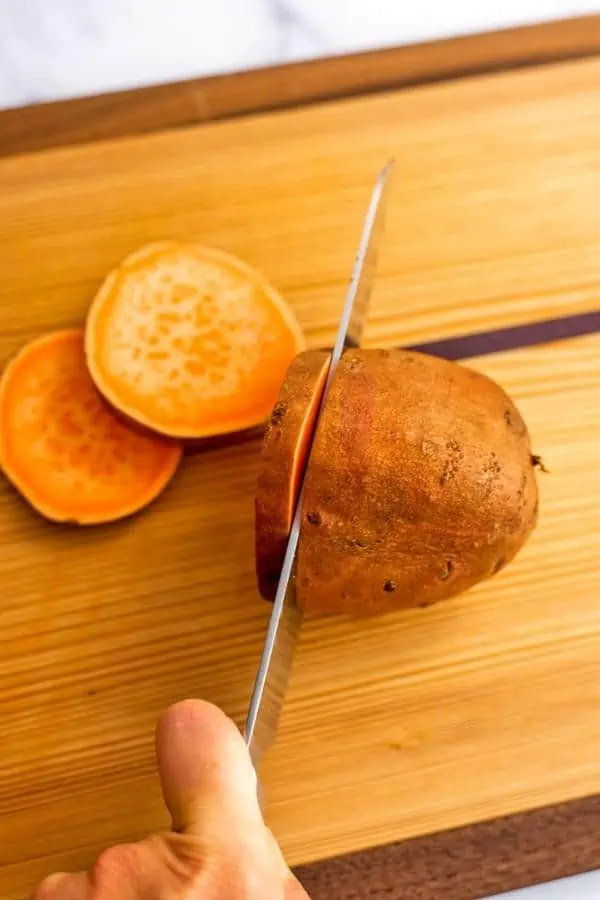 Bake the sweet potatoes at 425F for 15 minutes. After 15 minutes, take them out and flip them. Cook 7-10 more minutes (depending on how thick your potatoes were).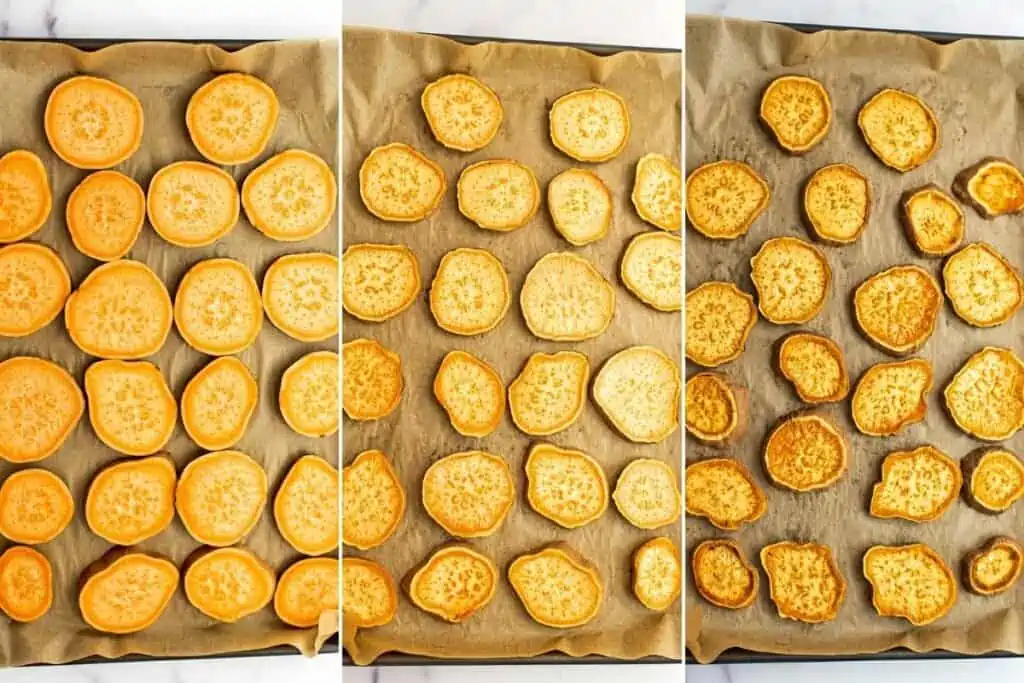 While sweet potatoes are baking, make your pesto (if needed).
Chop the artichoke hearts, sundried tomatoes and roasted red peppers.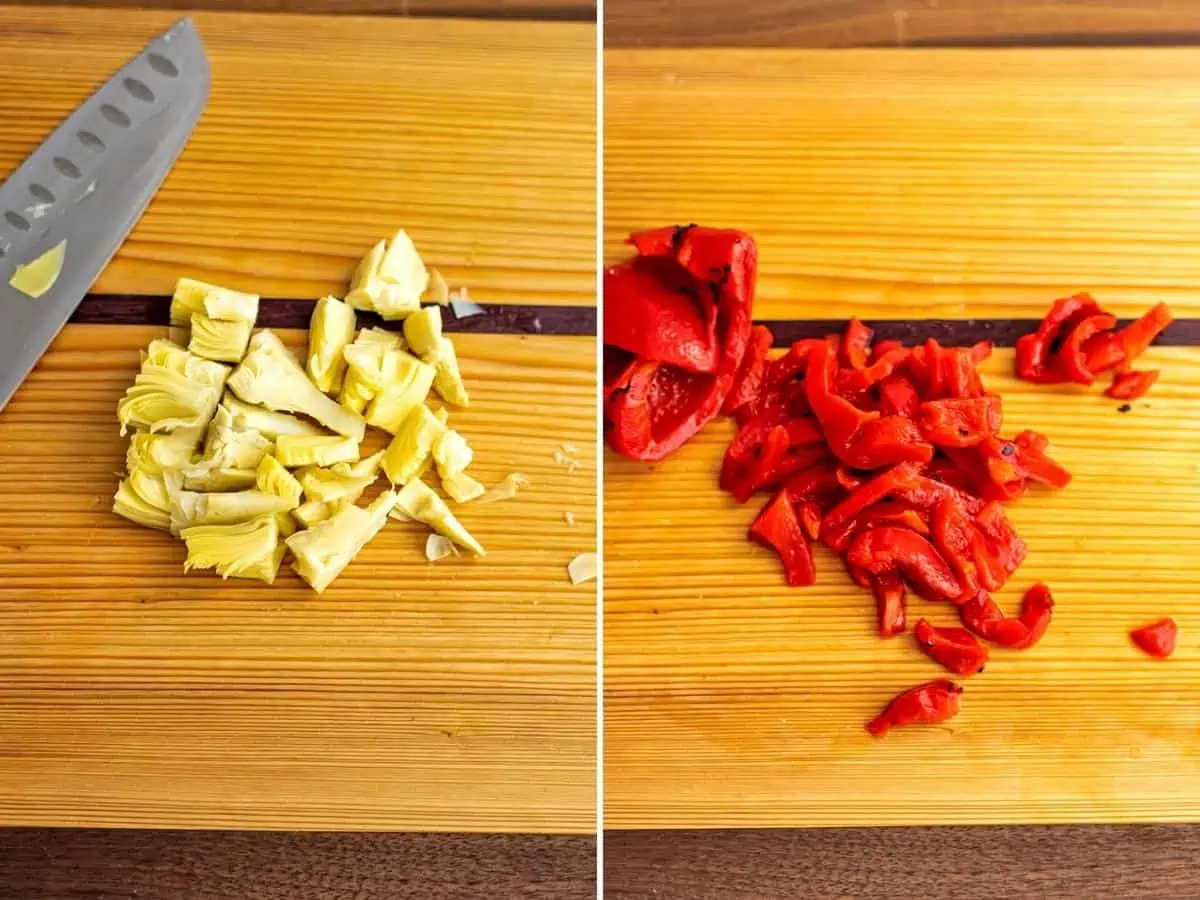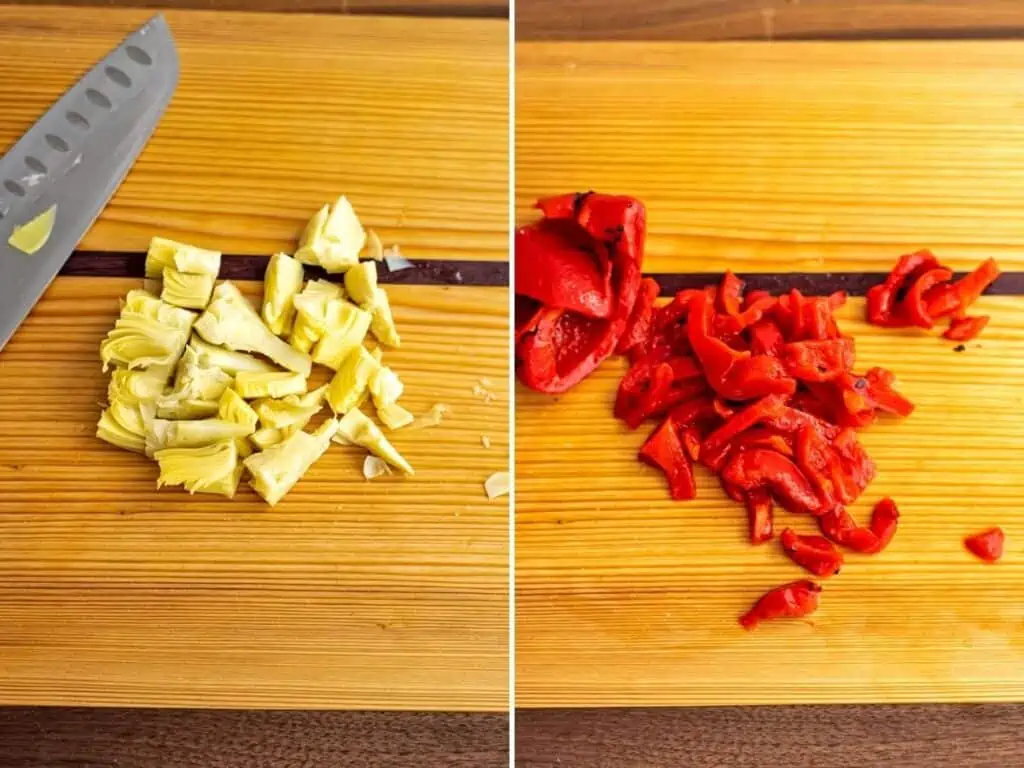 Once the sweet potatoes are done, it's time to make pizzas! Top them with pesto and some of the chopped veggies. Enjoy!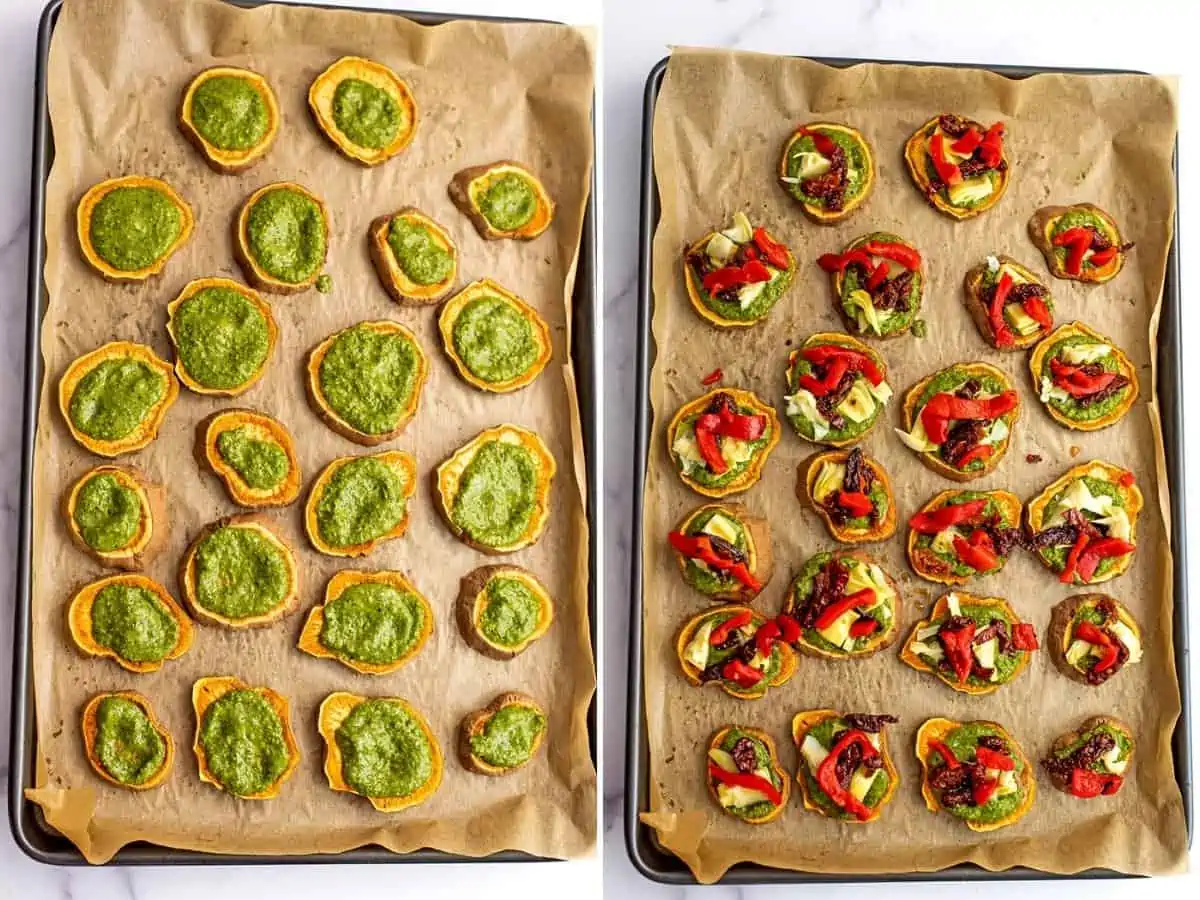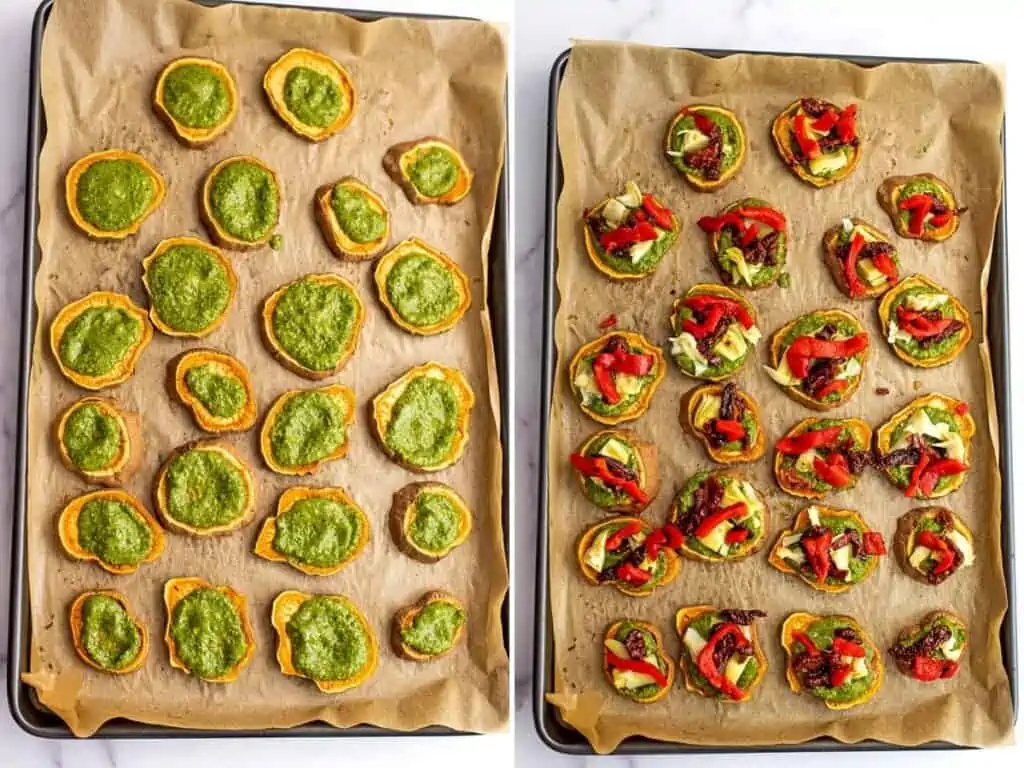 Helpful tips and tricks
The easiest way to make the sweet potato base is to use a sharp knife and cut 1/4-1/2 inch rounds. Go slowly to keep uniform thickness! Make sure that you take the sweet potatoes out of the oven after 15 minutes and flip them over so they get a good crust on both sides.
You can use orange, purple or white sweet potatoes (Japanese are my favorite) or even regular potatoes to make this recipe!
You can make the sweet potato rounds up to 3 days in advance. Just store them in a covered container in the refrigerator.
These can be served hot, at room temperature or even cold! So make extra, they are always great for meal prep or for hungry kiddos after school snacks!
If you need a vegan/dairy free pesto, make your own or be sure to check the ingredients of store bought. Check out my recommendations below!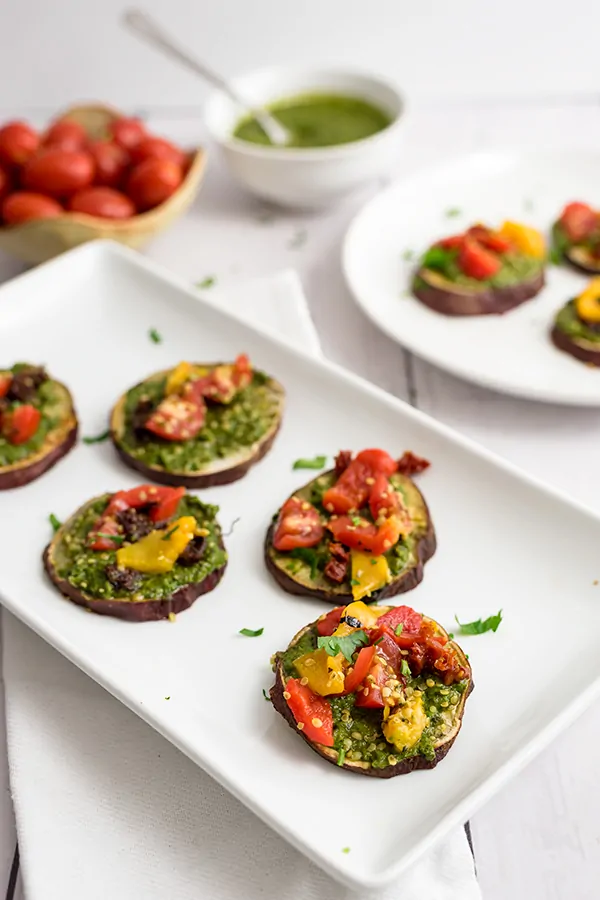 What other toppings can you use:
Protein: Pepperoni, Cooked chicken sausage (chopped), shredded chicken, Italian chicken (chopped), balsamic chicken or white beans
Spice: Add crushed red pepper flakes or hot sauce
Veggies: Olives, cooked mushrooms, red onion (cooked)
Creaminess: Sprinkle your favorite cheese over the pesto and broil the pizza bites for 1-2 minutes before adding the rest of the ingredients.
Common questions
What is the best pesto to use?
Most pesto includes parmesan cheese and is not vegan or dairy free. You can find some great vegan/dairy free pesto in stores or you can make your own at home (super easily).
If you want a store bought vegan friendly pesto, I recommend Trader Joe's Kale Cashew Basil Pesto, ROI Pesto, Amore Pesto Paste or Seggiano Fresh Basil Pesto.
If you want to make your own pesto at home, these are my favorite recipes: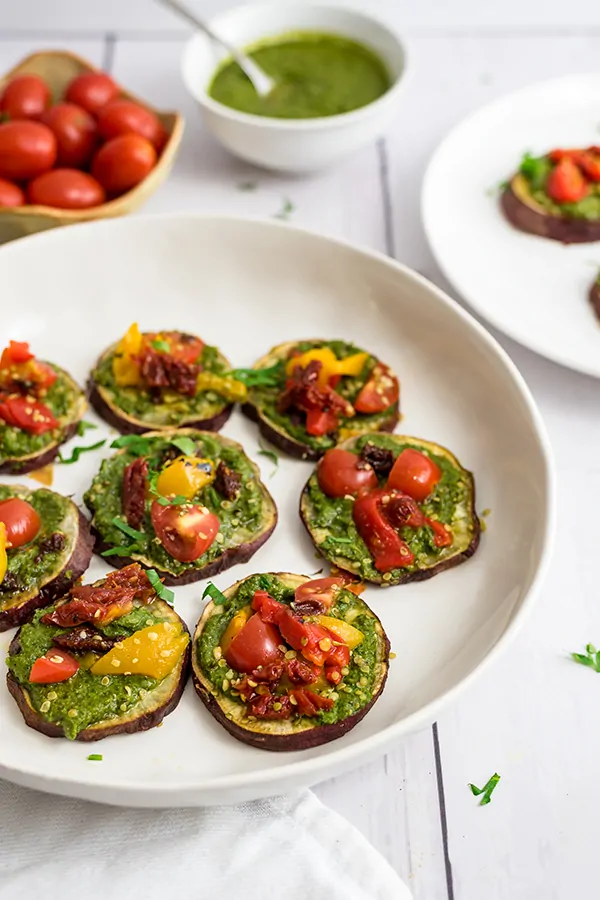 How to make these in advance
Cook the sweet potatoes in advance and allow them to cool before storing in a well-sealed container for 1-2 days.
If needed make the pesto (1-2 days in advance). Store in a well sealed container.
Chop the artichoke hearts, sundried tomatoes and roasted red peppers. Store them in a well sealed container.
When you are ready to serve:
Reheat the sweet potatoes in a 350F oven for 10-15 minutes until hot or add them to the air fryer and cook at 350F for 4-6 minutes until warm.
Assemble the healthy pizza bites and enjoy!
Storing leftovers
Fridge: Store leftover sweet potato pizza bites in the fridge for up to 3 days. Reheat in the toaster oven, oven or air fryer.
Freezer: I do not recommend freezing these sweet potato pizza bites as the sweet potatoes may get watery when defrosting.
If you love this recipe, you should try
★ Did you make this recipe? Please give it a star rating below!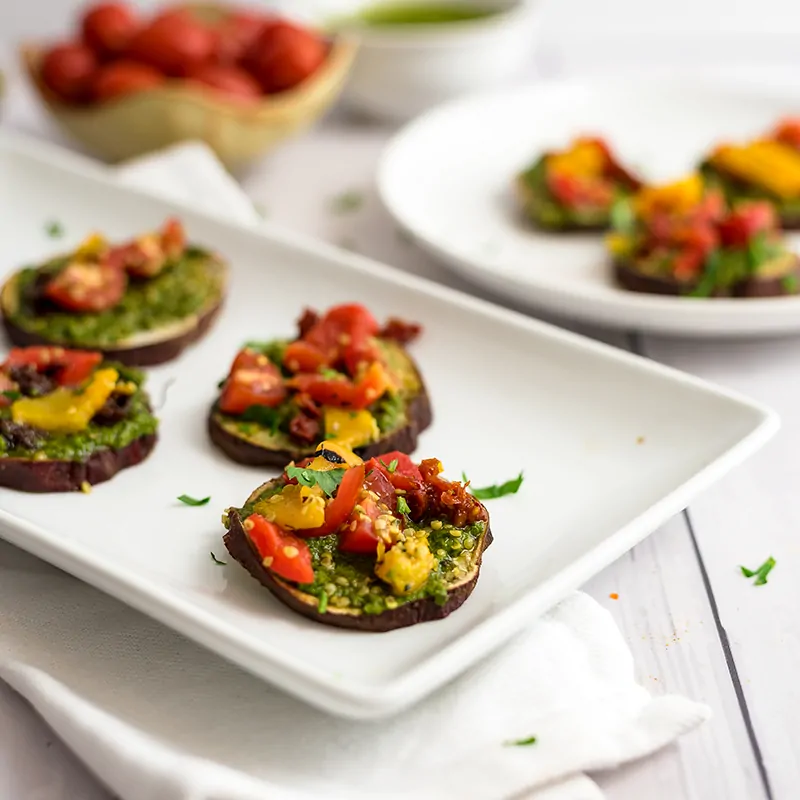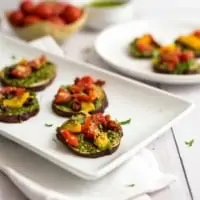 Sweet Potato Pizza Bites
Sweet potato pizza bites are everything you love about pizza bites with good for you ingredients! These healthy pizza bites are gluten free, dairy free and vegan! You are going to love how simple these are to make! Great for parties and as a game-day snack!
Print
Pin
Save
Saved!
Rate
Ingredients
2

sweet potatoes

1/2

cup

pesto

1/2

cup

artichoke hearts

1/2

cup

sundried tomatoes in oil

1/2

cup

roasted red pepper
Instructions
Preheat oven to 425F.

Wash the sweet potatoes and carefully cut the potatoes into 1/4-1/2 inch rounds (not as thin as chips)

Place sweet potatoes round on a parchment paper lined baking sheet in a thin layer, trying to make sure they don't overlap.

Once oven is preheated, place sweet potatoes in the oven for 15 minutes. Take out and flip, cook an additional 7-10 minutes..

Cool sweet potatoes 5 minutes before topping.

Make the homemade pesto if needed.

Chop the artichoke hearts and sundried tomatoes. Thinly slice roasted red pepper from jar. Place to the side.

Top sweet potatoes with teaspoon or two of pesto and a mixture of the chopped veggies.
Notes
Top tips:
Make the sweet potatoes in advance and reheat in the oven for a few minutes before assembling.
Make your own pesto or use store bought!
Great for parties – you can easily double or triple the recipe and use whatever toppings you love!
Storing leftovers:
Fridge: Store leftovers in the fridge for up to 5 days. Reheat in the toaster oven, oven or air fryer.
See how I calculate food cost
.
Nutrition Information
Nutrition Facts
Amount per Serving
Where does nutrition info come from? Nutrition facts are provided as a courtesy, sourced from the USDA Food Database.
DID YOU LOVE THIS RECIPE?
Let others know by rating and leaving a comment below!