Single serve blueberry banana bread is perfect for breakfast, as a snack or even dessert! This gluten free, vegan blueberry banana bread is baked quickly in the oven and only requires 30 minutes from start to finish!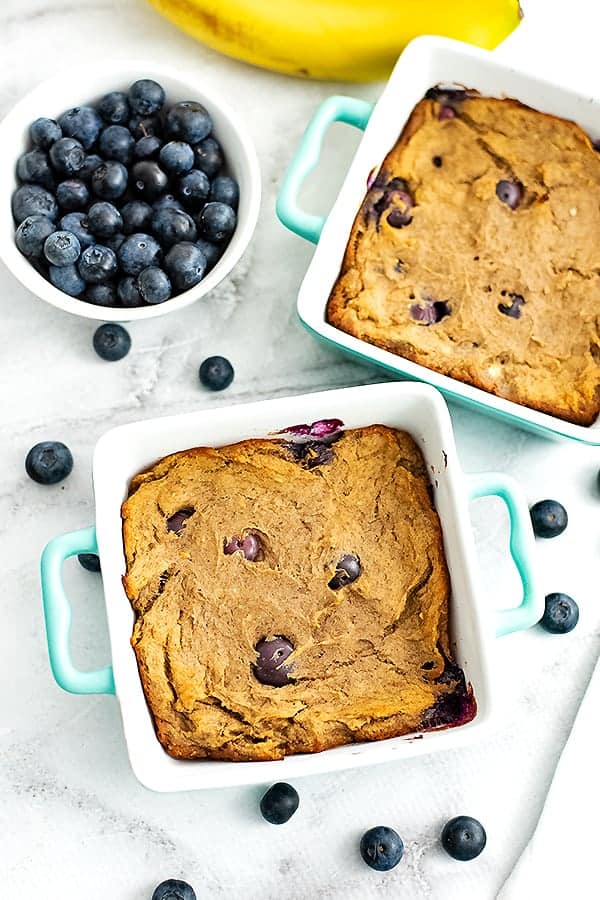 Why this recipe works
Blueberries add a new dimension to this healthy banana bread recipe.
This recipe for single serve banana bread is packed with protein (20 grams per serving), making it the perfect post workout snack or healthy breakfast!
Because this is a single serve recipe, it automatically helps keep portions in check! And this recipe is low-fat, gluten-free vegan, super easy to make!
Make extra servings and store them in the fridge for 3 days! Perfect for meal prep!
This recipe can be mixed by hand in a big bowl with a large spoon, no fancy equipment required! The hardest part of this recipe is not eating the batter while you are mixing it up!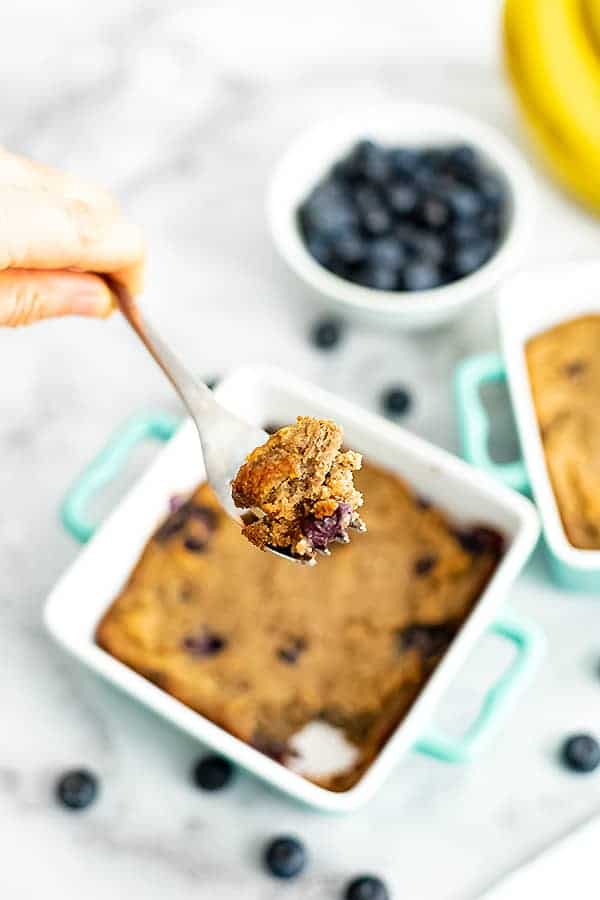 This post contains affiliate links. As an amazon associate I earn from qualifying purchases.
Click here to read my policy
and more about affiliate links.
Ingredients
Bananas
Ground Flax
Water
Protein powder (vegan) or gluten free flour
Almond flour or cashew meal (or gluten free flour of choice)
Cinnamon
Baking powder
Salt
Blueberries
Step by step instructions
Step 1: Mix together the ground flax with water and stir well.
Step 2: Mash up the bananas in a large bowl with a fork
Step 3: Add the protein powder, almond flour, cinnamon, flax egg and baking powder to the mashed bananas.
Step 4: Mix the batter well until all the ingredients (except the blueberries) are fully combined.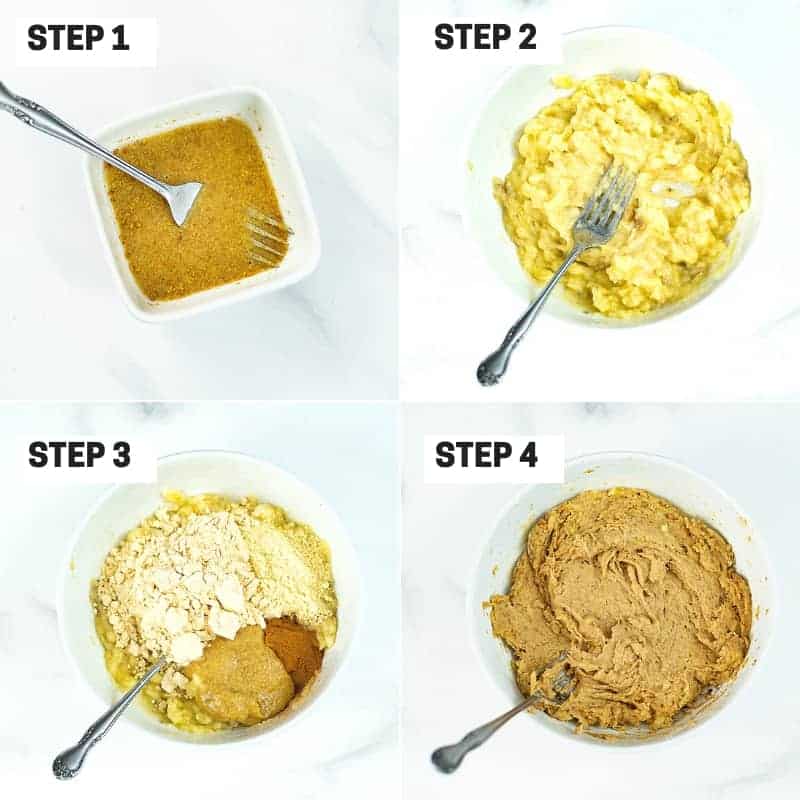 Step 5: Add the blueberries to the batter
Step 6: Mix the blueberries in carefully
Step 7: Spray your ramekins or single serve baking dishes with non-stick spray. Divide the batter between evenly and spread it out so it will cook through.
Step 8: Bake at 375F for 20-25 minutes or microwave 2 minutes each ramekin.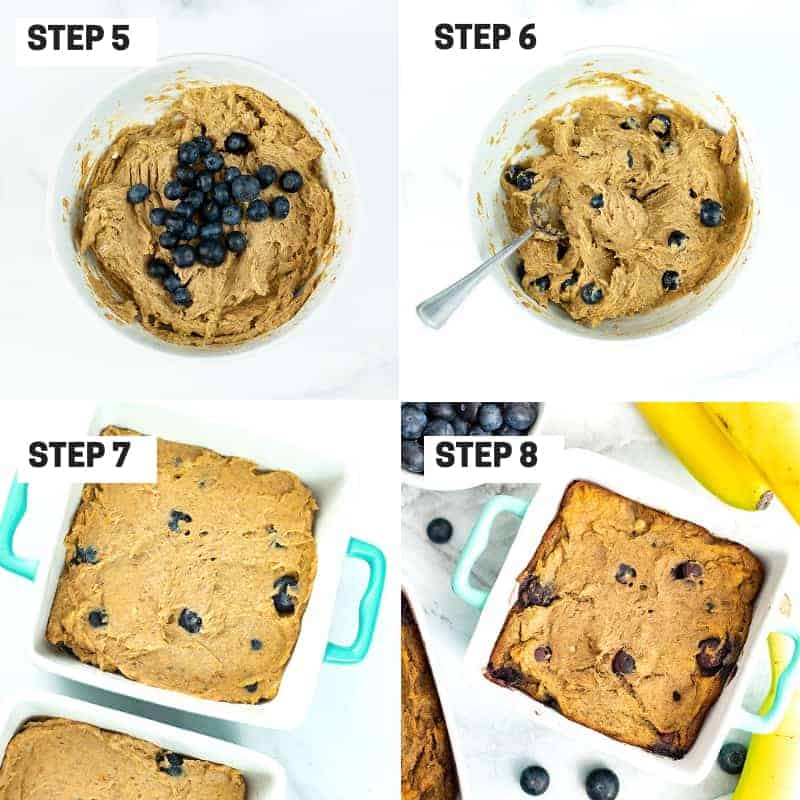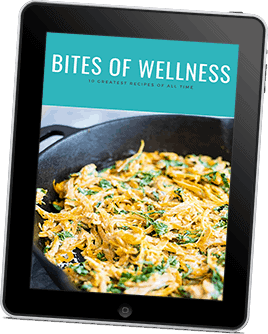 GET 10 OF MY ALL TIME GREATEST RECIPES
IN THIS FREE EBOOK
Substitutions and FAQs
How to add protein to banana bread
Adding additional protein to a recipe can help make it more satisfying and help reduce your hunger later in the day. Because of this, I like to use protein powder in place of traditional flour in recipes, as it helps me feel more satisfied when enjoying a sweet snack. The protein powder I love and recommend is Nuzest Pea Protein.
If you don't want to use a vegan protein powder, you will need more flour. Each scoop of vegan protein is equal to about 1/3 cup of gluten free flour. Oat flour, almond flour or your favorite gluten free flour will work for this!
What are the best bananas for baking
The best bananas for baking are bananas that have a lot of brown spots and are soft to the touch when you press down on the skin. The more spots on the banana peel, the more ripe the banana is inside. The riper the banana, the sweeter the banana bread.
TIP: If you have a bunch of bananas that are all getting very ripe, peel the bananas and freeze them for later use. I like to cut the bananas down into coin or more manageable pieces so it can defrost quicker.
You will have to defrost the banana in the microwave or on the counter before using it in baking. You can also use frozen bananas in smoothies (like this strawberry banana green smoothie). Note, freezing bananas changes the texture and you will not want to eat them like a traditional banana after defrosting.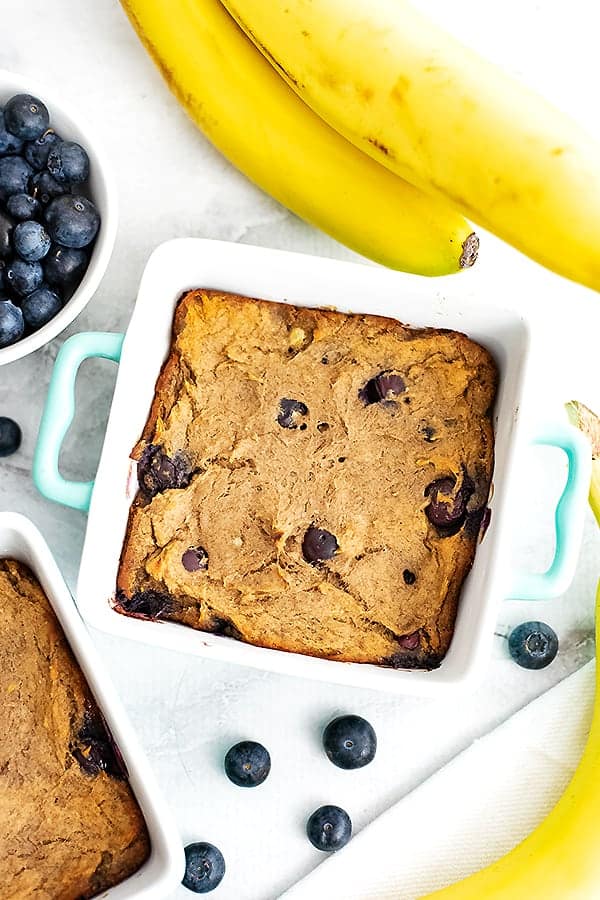 Other add-in's
This single serve blueberry banana bread is great the way it is but can always be upgraded with some additional add-ins! Here are some of my favorites:
Chopped nuts (walnuts, pecans, pistachios, peanuts)
Coconut flakes (toasted or regular)
Lemon zest or orange zest
Dried fruit (apricots, raisins, cranberries)
Chocolate chips
What is the best equipment for baking single serve desserts?
Glass ramekins (affiliate link) – they are affordable and often come with a very tight fitting lid so these are great if you are making a big batch!
Ceramic ramekins (affiliate link) – I always have these on hand and they are the perfect size.
Ceramic mini casserole dishes (affiliate link) – these are really fun for serving to guests!
Storage
Fridge: Store the banana bread in the fridge for up to 3 days. This is a great recipe for meal prep since you can make 2-3 servings at once and have them on hand for a few days of the week.
Freezer: You can also freeze single serve banana bread after baking. You may want to invest in silicone souper cubes, you can bake the banana bread in them and freeze it right in the cube (after allowing the banana bread to come down to room temperature). Once frozen, you can pop the banana bread out of the cube and store in an freezer safe bag or container.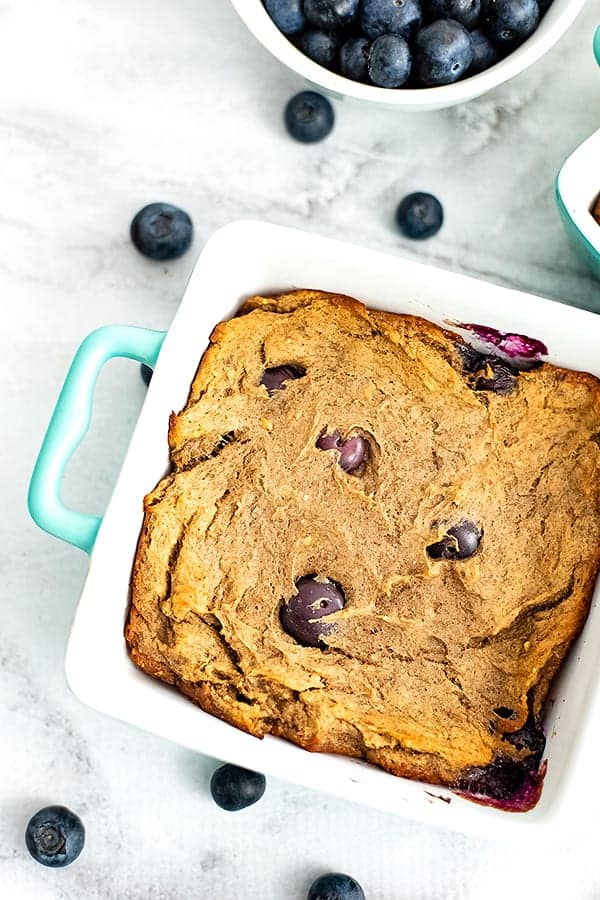 Substitutions
Ground flax: You can also use chia seeds in place of ground flax.
Almond flour: You can substitute oat flour or your favorite gluten free flour!
Protein powder: If you don't want to use a vegan protein powder, replace it with 1/3 cup of gluten free flour of choice. Oat flour works great here!
Frozen blueberries: If you don't have fresh blueberries, you can also use frozen blueberries. Note: when you mix in frozen blueberries, it might turn the batter purple depending on how defrosted they are when you stir them in. If you don't like blueberries, you can substitute them for fresh or frozen:
Strawberries
Blackberries
Raspberries
Cherries
If you want more single serve protein recipes, you should try
★ Did you make this recipe? Please give it a star rating below!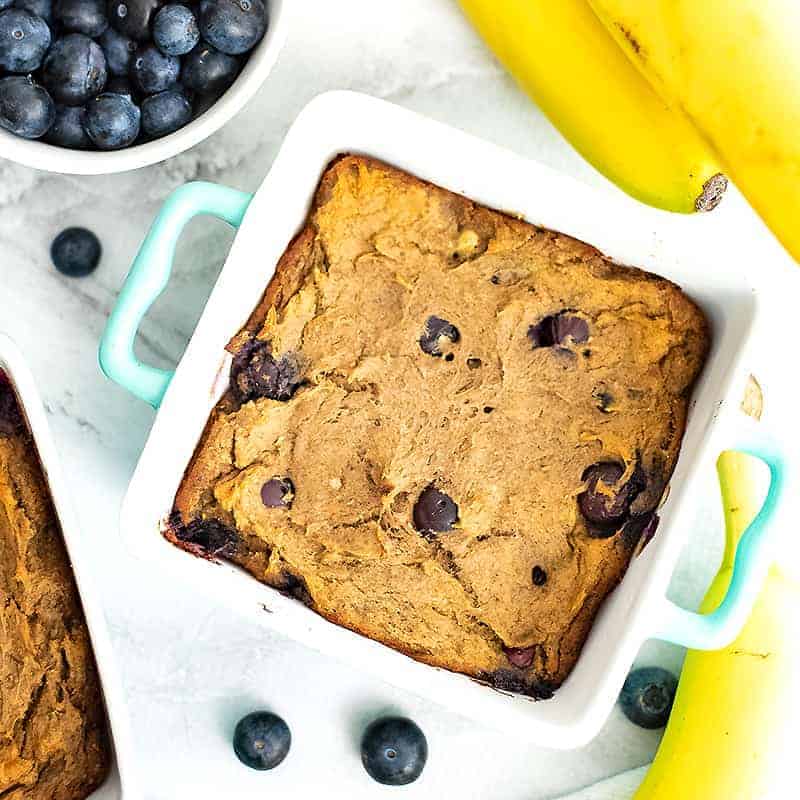 Single Serve Blueberry Banana Bread
Single serve blueberry banana bread is the perfect healthy breakfast or snack recipe! Packed with protein, this recipe is low fat, gluten free, vegan and only takes 30 minutes to make!
Print
Pin
Save
Saved!
Rate
Instructions
Preheat oven to 375F.

Mash the bananas in a large bowl.

To the mashed bananas add the ground flax and water and stir well to incorporate.

Add protein powder, cinnamon, almond flour, salt and baking powder to the wet ingredients. Stir well to combine

Stir in blueberries (frozen is fine).

Spray 2 single serve ramekin with nonstick spray. Divide the batter between ramekins.

Bake at 375 for 20-25 minutes or microwave each for 2 minutes.
Notes
This recipe uses a vegan protein powder which absorbs a lot of liquid. If you don't want to use vegan protein powder, you will need to replace each serving with 1/3 cup of gluten free flour of choice.
If using frozen blueberries, keep them frozen until right before you add them to the batter or they can turn the batter purple. Bake immediately.
Add your favorite mix in's to make this your own!
Chopped nuts
Dried fruit (raisins, apricots, cranberries)
Chocolate Chips
Coconut flakes (toasted or regular)
See how I calculate food cost
.
Nutrition Information
Nutrition Facts
Amount per Serving
Where does nutrition info come from? Nutrition facts are provided as a courtesy, sourced from the USDA Food Database.
DID YOU LOVE THIS RECIPE?
Let others know by rating and leaving a comment below!