Single serve protein brownies are the perfect dessert or afternoon snack!
Made with bananas, protein powder and ground flax, these protein brownies are not just the perfect sweet pick me up, they are also filling and good for you! Naturally gluten free, dairy free and vegan, these brownies are quickly going to become one of your go-to desserts because they are easy to make and so delicious!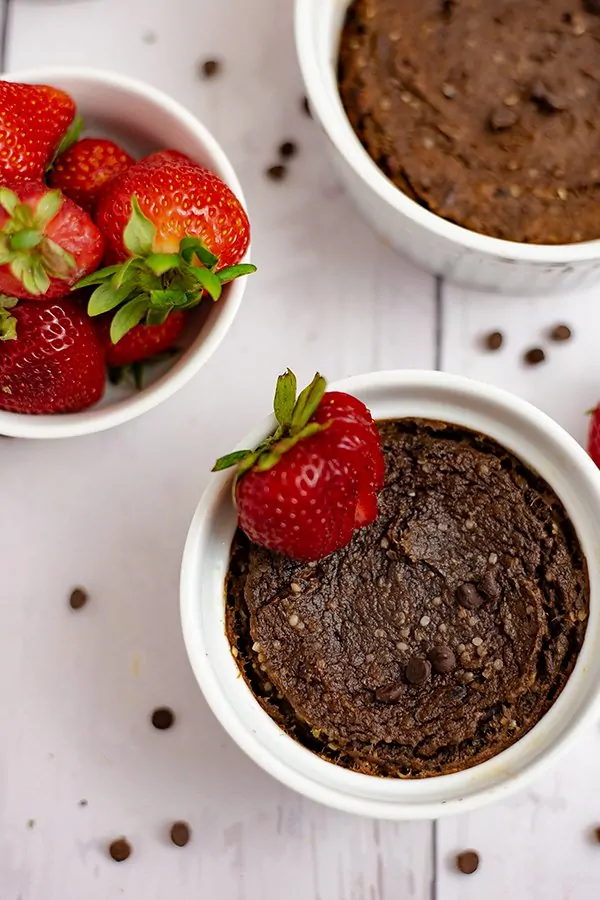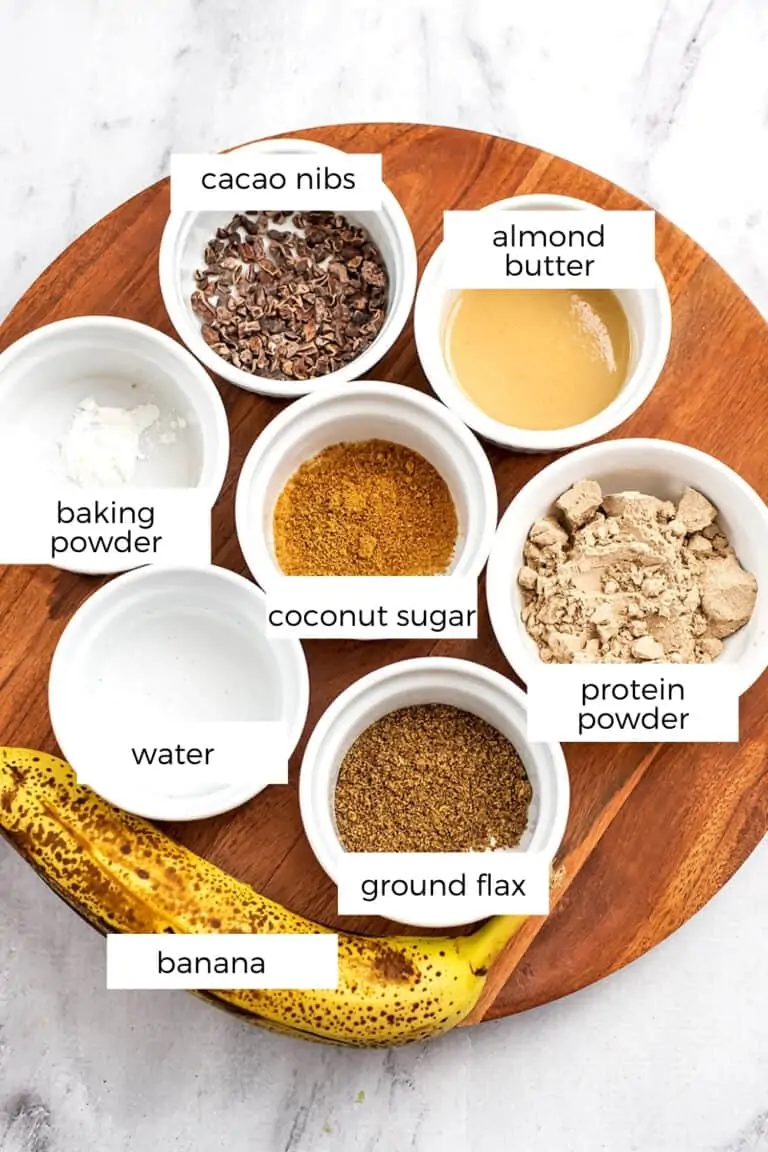 Ingredients
bananas
chocolate protein powder (vegan)
ground flax
water
coconut oil, almond butter, tahini
coconut sugar (optional)
cacao nibs (or chocolate chips)
baking powder
How to make protein brownies
Preheat the oven to 350F
In a large bowl, mash the bananas and add the ground flax and water. Mix well
To the banana and flax mixture, add the chocolate protein powder and stir well until fully incorporated.
Add the remaining ingredients and stir well.
Divide the mixture between two ramekins that have been sprayed with non-stick spray.
Bake in the oven for 20 minutes at 350F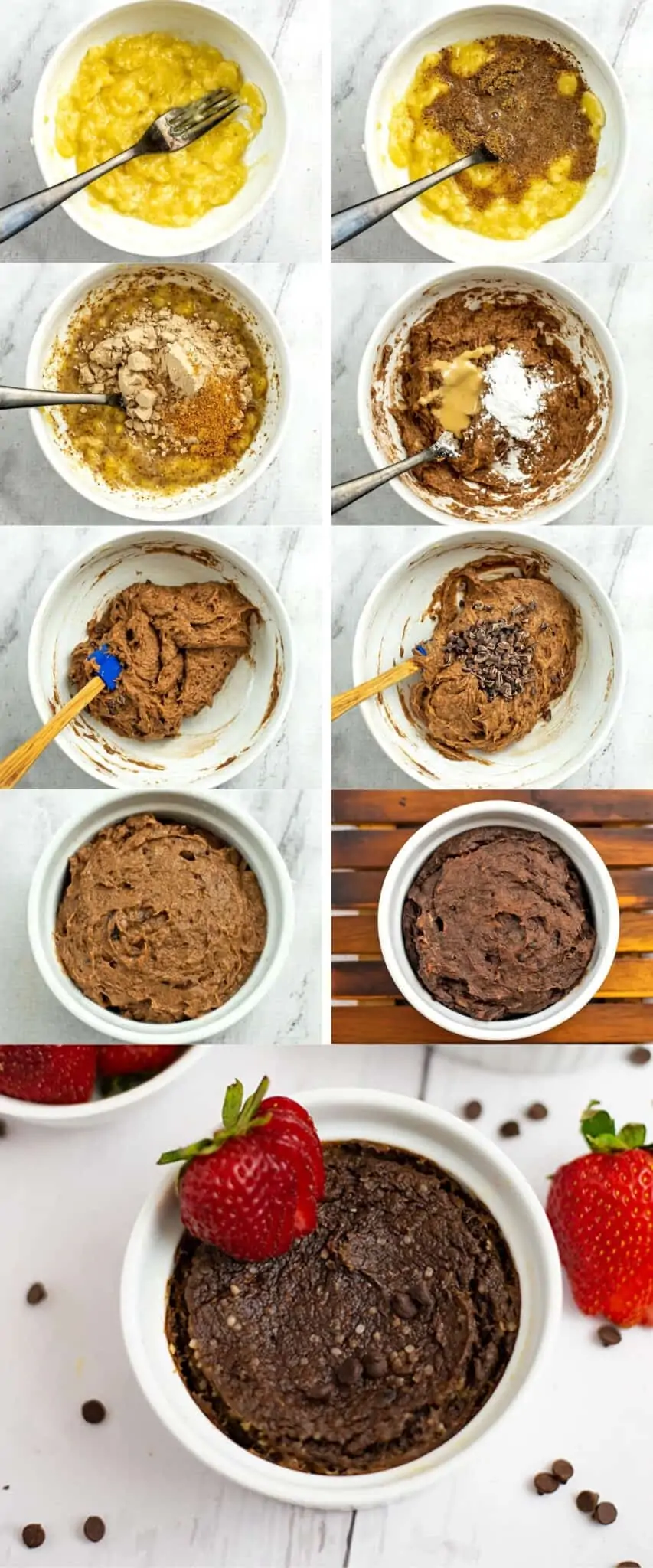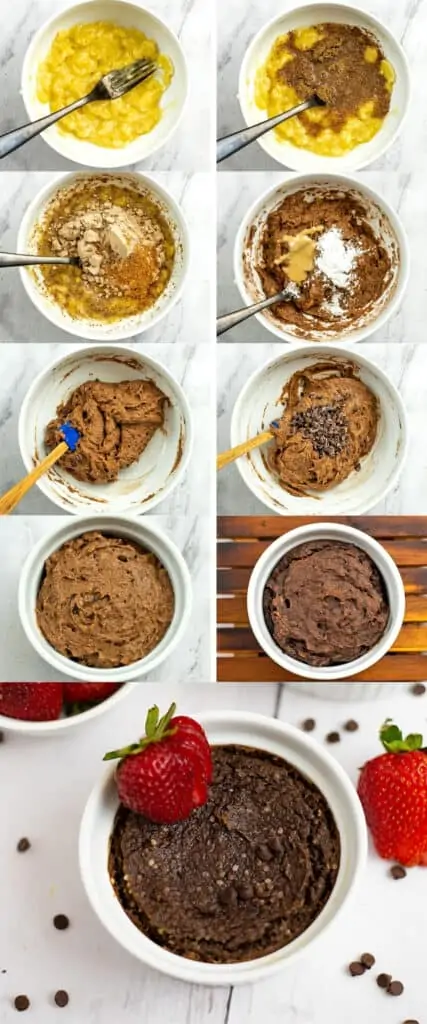 How to make microwave protein brownies
Follow the directions on how to make the brownie batter. Spray down your ramekins and divide the batter.
Instead of placing these in the oven, you will microwave the brownies 1 and a time for 2 minutes.
Once done, carefully remove the ramekins with a oven mitt (the ceramic gets hot). Allow to cool before eating.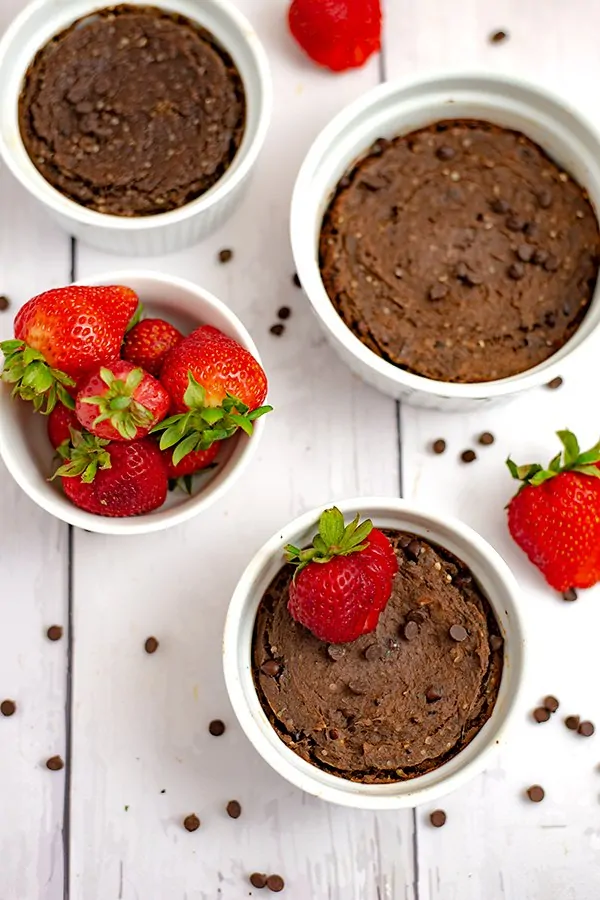 How to serve protein brownies
Naturally sweetened with banana there is no crazy sugar high to come down from or to keep you awake if you happen to indulge in a late night snack.
The best brownie toppings and mix-in's:
Add whipped cream or ice cream to the top!

Break up the brownies and stir them into ice cream (make your own brownie bites ice cream) or stir them into yogurt for a fun way to change things up!

Add fresh chopped strawberries, cherries, raspberries for a fun fruit topping.

Top with chocolate chips, roasted coconut flakes or drizzle with nut butter for a super indulgent treat!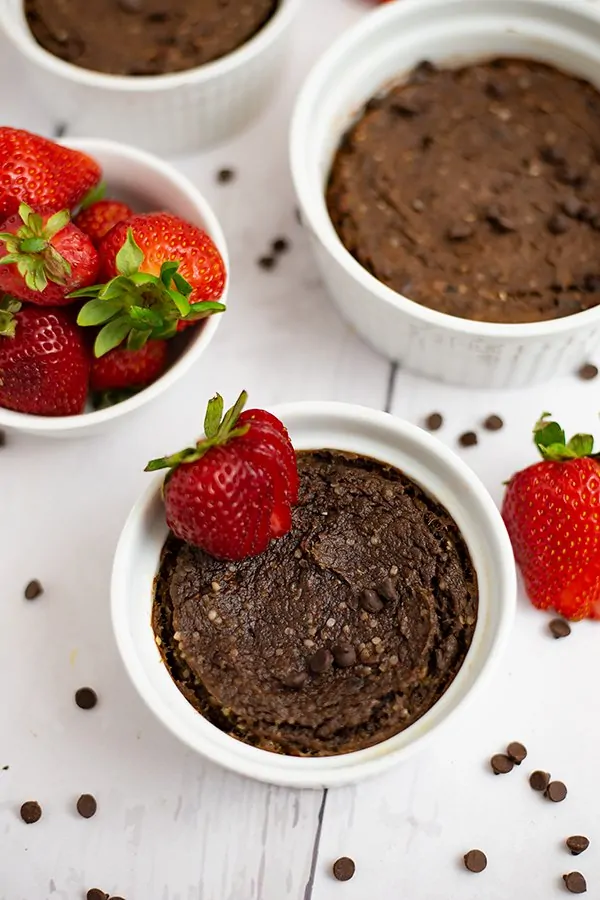 Top tips
When working with protein powder, the protein you use is important! Vegan protein powder cannot be easily replaced with whey protein. I cannot guarantee this recipe will work out with whey, as the whey can dry out recipes when cooking with it. I would look specifically for a recipe that uses whey for best results!
Give these brownies time to cool down. I find that when baking with protein powder, the flavor is off and not as good when the brownies are still hot. As the brownies cool off, the flavor improves and when they are fully cooled, they taste the best! Also this will keep you from burning the roof of your mouth!
Add chocolate chips for a gooey chocolate brownie! Take these brownies to the next level by adding some chocolate chips to the batter before baking.
Protein brownies common questions
How to make these without protein powder
If you would like to make these brownies and omit the protein, use the recipe for Single Serve Brownies with Strawberries instead and omit the strawberries. It does not use protein powder but is also single serve and can be made in the oven or microwave.
I tried to swap the protein powder for gluten free flour and the recipe came out like chocolate cake instead of a brownie. If you think chocolate cake sounds great, you can use 1/3 cup of gluten free flour for every scoop of protein powder.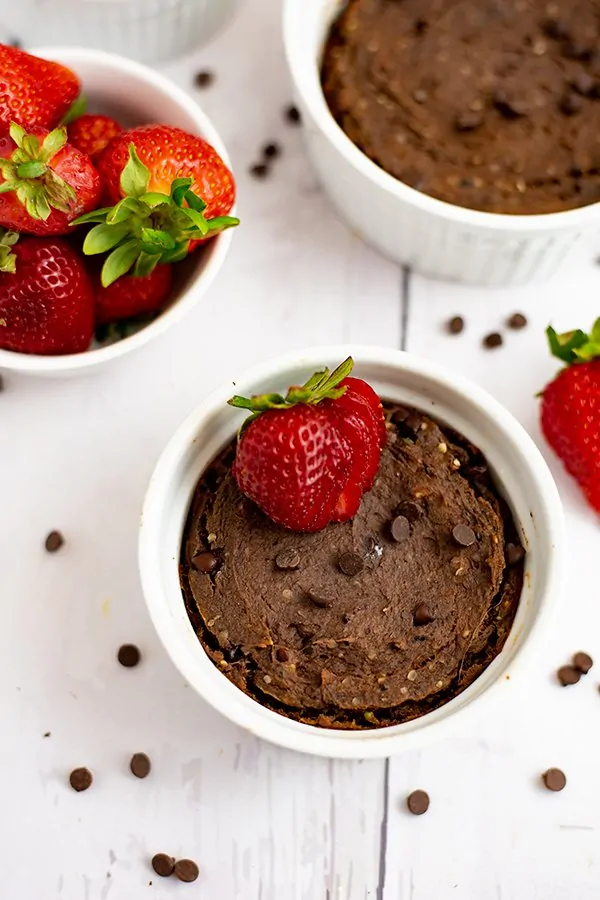 What is the best protein powder for baking
I used Nuzest, which is a vegan plant based protein powder. This has become my go to since I found out that other vegan plant based proteins were testing high on heavy metals.
Vegan protein powder has a different consistency and absorbs liquid differently than these other protein powders and because of this is not easy to substitute.
I have not tested this recipe with any other types of protein powder (egg, whey, collagen). If you want to use collagen, I would follow the recipe for these single serve brownies and add 1-2 scoops of collagen to the batter before baking instead.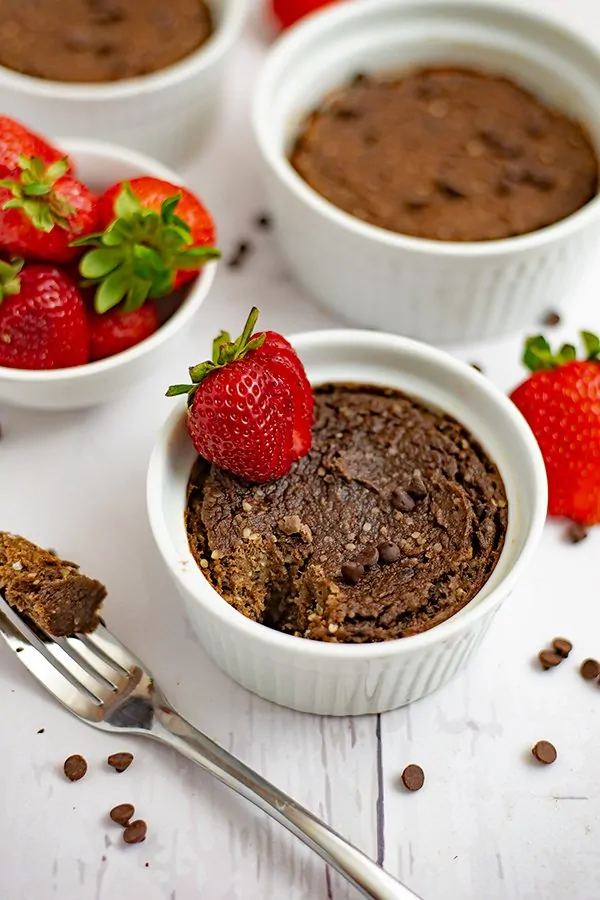 How to store protein brownies
These can store these brownies in the fridge for about 4 days after baking. They are not easy to get out of the ramekins without breaking up, so I would advise storing them in the ramekins and covering the ramekins in plastic wrap.
You can freeze the brownies for up to 2 months. Again, they are tough to get out of the ramekins without breaking them up. Since they need to be stored in the ramekins and you will probably want your ramekins back before that, I do not recommend freezing them.