These mushroom walnut stuffed zucchini are going to become a go to side dish when you are craving pizza or Italian food! I'm not kidding when I say these taste just like mushroom pizza! Except the are dairy free, grain free, paleo, vegan and Whole30 friendly! Once you make these once, you are going to want to make these every week!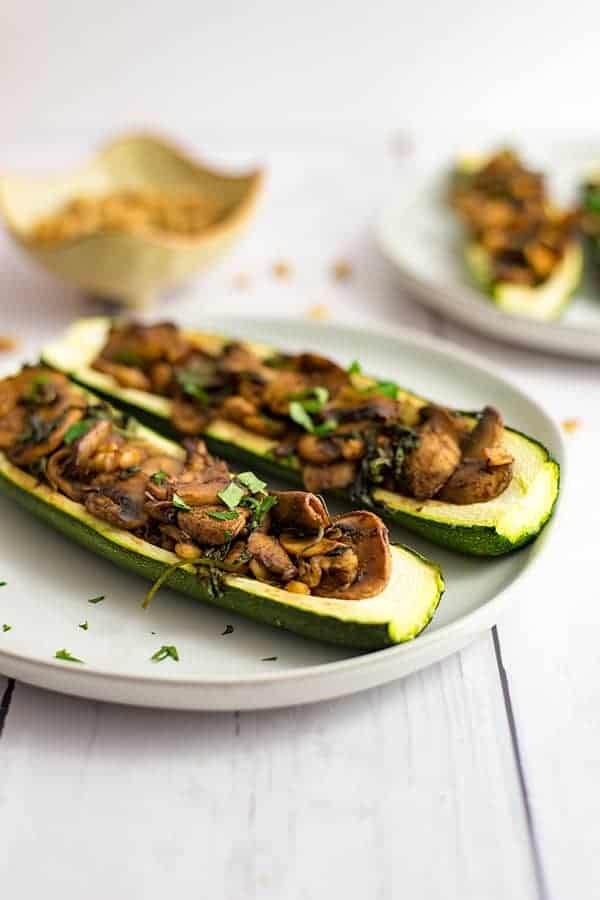 My best friend is getting married this September and I was able to spend a few days with her last weekend to find her dress for the big day. This of course made me reminisce about all the fun times we have had together over the past few years and our shared love of mushroom pizza! She mentioned that the vegetarian dish would be mushrooms, I swooned and chuckled!
She swore that her one day husband "must love mushrooms" and I'm not quite sure if he does or doesn't but I DO! And really that's all that matters! After I came home from wedding dress shopping I was CRAVING mushroom pizza! Well I had mushroom walnut stuffed zucchini on my running list of recipes to try and figured this would be the perfect opportunity!

LATEST VIDEOS

LATEST VIDEOS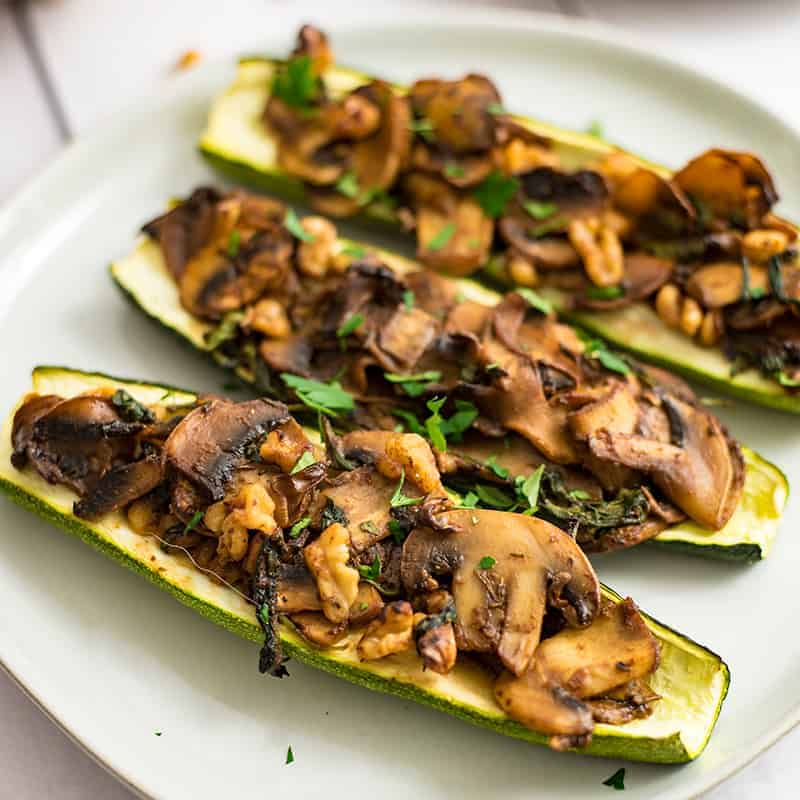 I never would have thought that a stuffed zucchini, without any cheese or pizza sauce could taste so much like mushroom pizza. Seriously, I was sad how quickly this disappeared, and will be making it again soon! Dave doesn't like mushrooms so this mushroom walnut stuffed zucchini is all for me!
If you have tried my Best Ever Mushroom Soup, you will know how perfectly thyme and mushrooms go together. They were practically made for each other. and this recipe is no different!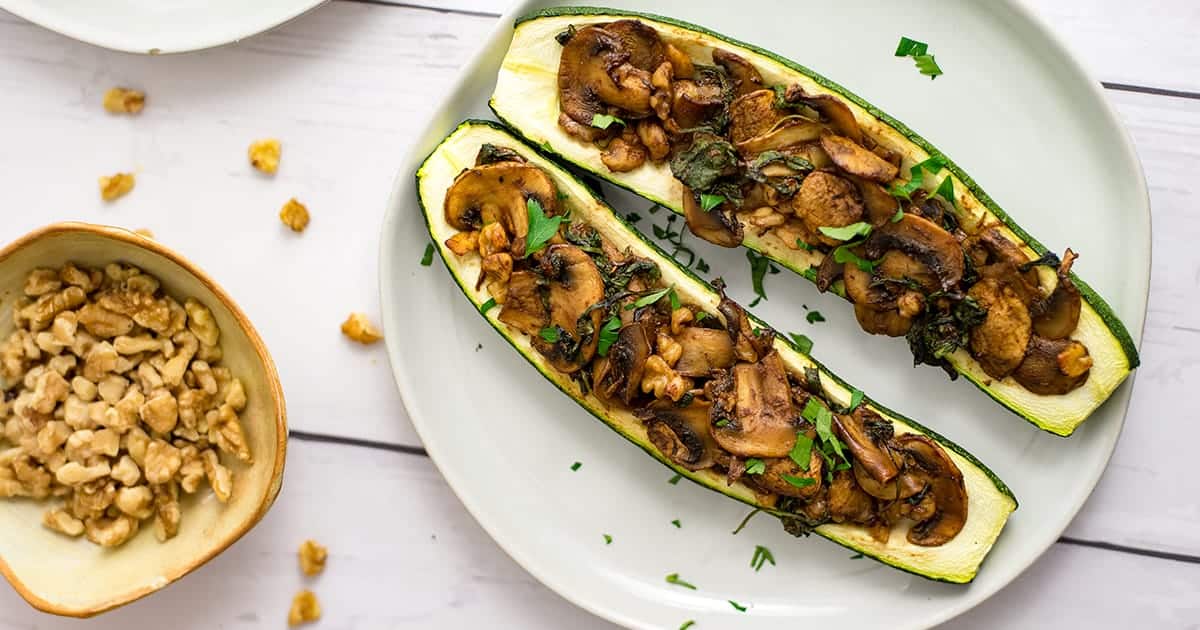 This recipe doesn't take very long and I highly recommend you cook up the mushrooms while the zucchini boats are in the oven, making the best use of your time. I'm pretty sure this recipe would double easily, however, you may want to cook the mushrooms in two separate saute pans, since mushrooms give off so much liquid during the cooking process.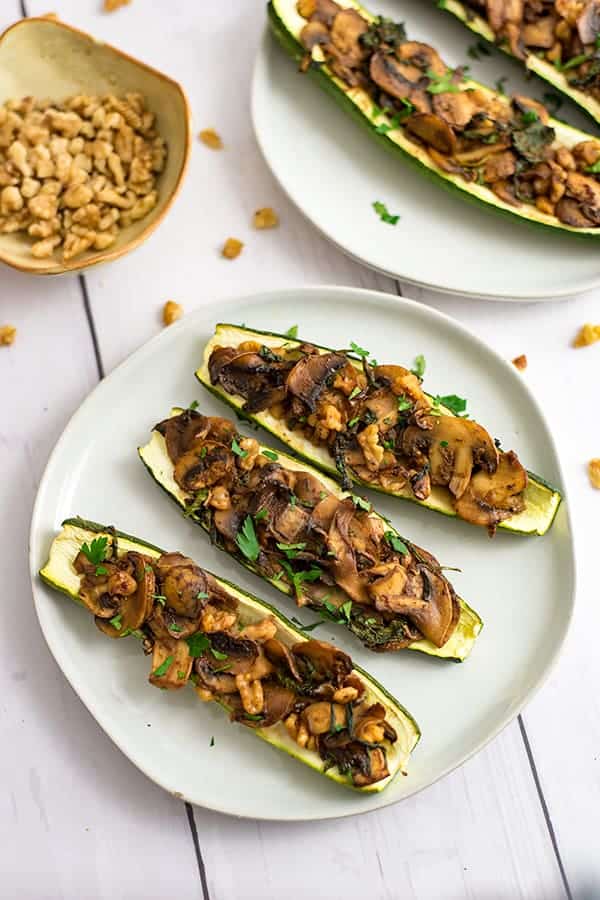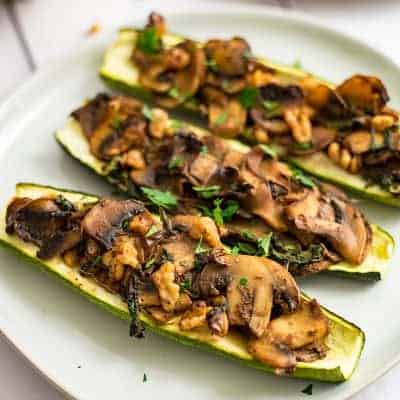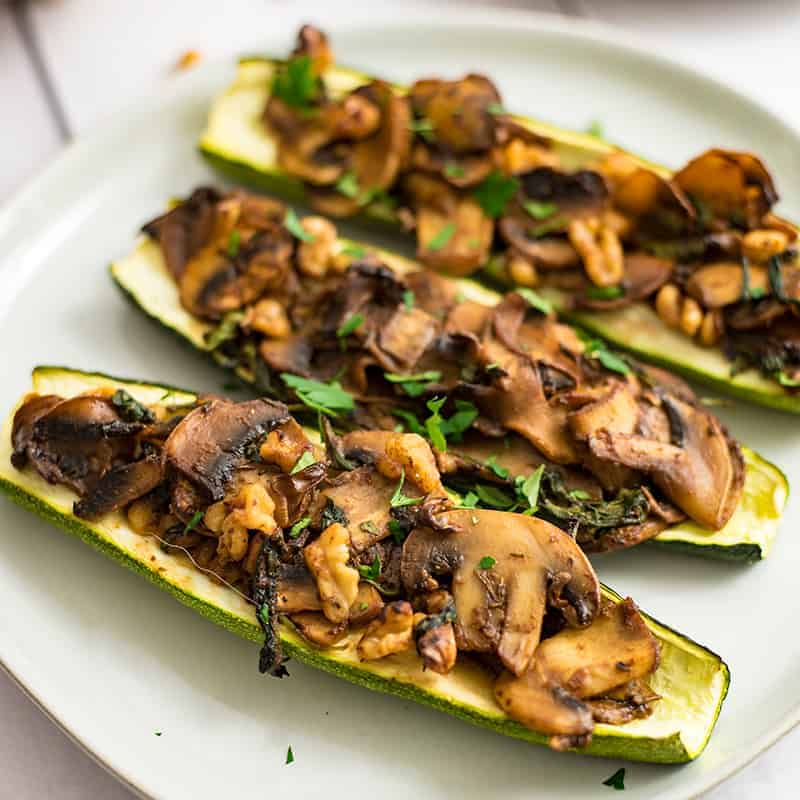 Mushroom Walnut Stuffed Zucchini
This mushroom walnut stuffed zucchini is a healthy alternative to mushroom pizza and will become your new favorite go to side dish when you are craving pizza! Vegan, gluten free, paleo, and Whole30 approved!
Ingredients
3

large zucchini, halved

16

oz

white mushrooms, sliced

3/4

tsp

salt, divided

1

tsp

dried thyme

1

tbsp

organic tomato paste

2

tbsp

balsamic vinegar

2

tbsp

coconut aminos

1/4

cup

chopped walnuts

1

cup

organic arugula
Instructions
Preheat the oven to 400F.

Slice the zucchini in half the long way, creating 2 long halves. Using a spoon, spoon out the seeds by running the spoon down the center, applying pressure to carve out the center area. This will leave a cavity to be filled with stuffing.

Place the zucchini on a baking sheet and sprinkle them with 1/4 tsp. of salt. Bake at 400F for 15 minutes.

While the zucchini are baking, slice the mushrooms and add them to a large skillet over medium high heat.

Cook the mushrooms 4-5 minutes, stirring occasionally. Don't salt the mushrooms right away.

After 4-5 minutes, add 1/2 tsp. salt and continue to cook until the mushrooms have released all of their water and have wilted down and started to brown.

Add the rest of the ingredients to the mushrooms and cook over medium low heat until the liquid has cooked off (about 2-3 minutes) and arugula has wilted.

After 15 minutes, the zucchini should have softened in the oven. Remove them from the oven and divide the mushroom mixture between them.

Return the stuffed zucchini to the oven for 5 additional minutes.
Nutrition Facts
Mushroom Walnut Stuffed Zucchini
Amount Per Serving
Calories 156
Calories from Fat 63
% Daily Value*
Total Fat 7g 11%
Sodium 877mg 37%
Potassium 1125mg 32%
Total Carbohydrates 17g 6%
Protein 9g 18%
* Percent Daily Values are based on a 2000 calorie diet.