Mango salad dressing is such a fun way to switch up your go-to salad!
Instead of using a creamy ranch or a tahini-based dressing, the next time you are looking for a bright and flavorful dressing, try this mango vinaigrette! Made with just 8 ingredients, this simple homemade dressing recipe is so much better than anything you can buy in stores! All you need is a blender or food processor, no cooking required!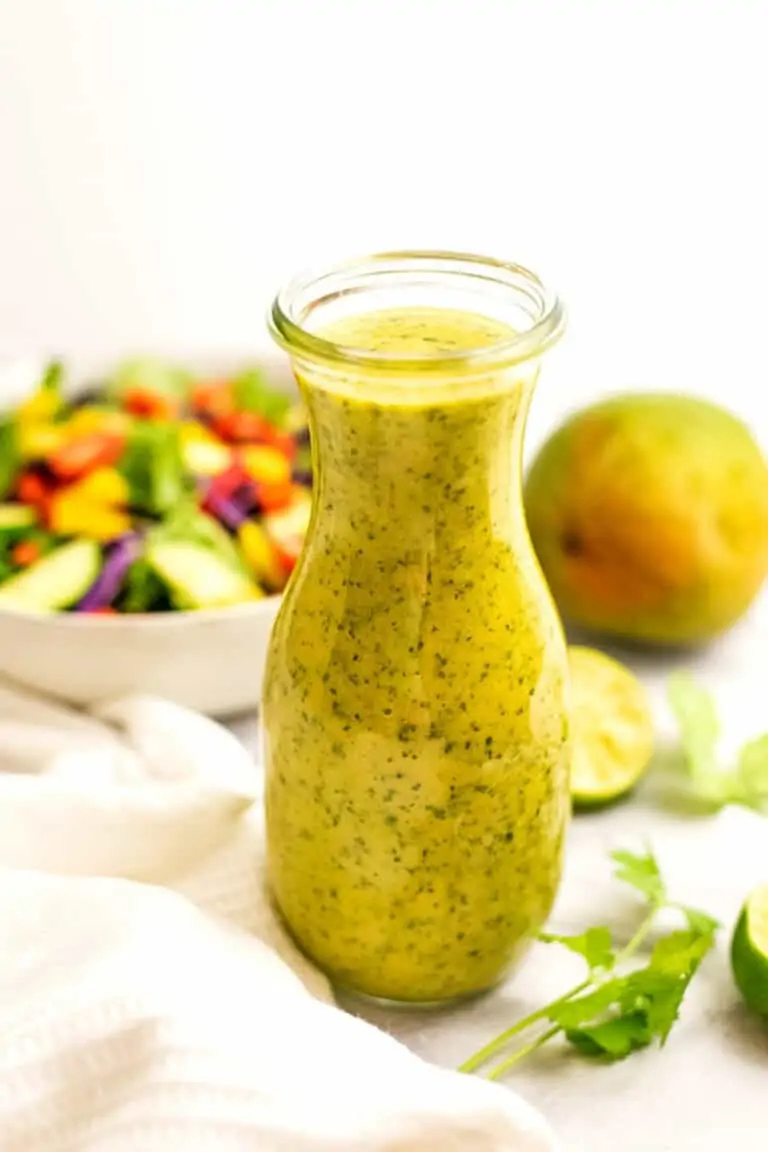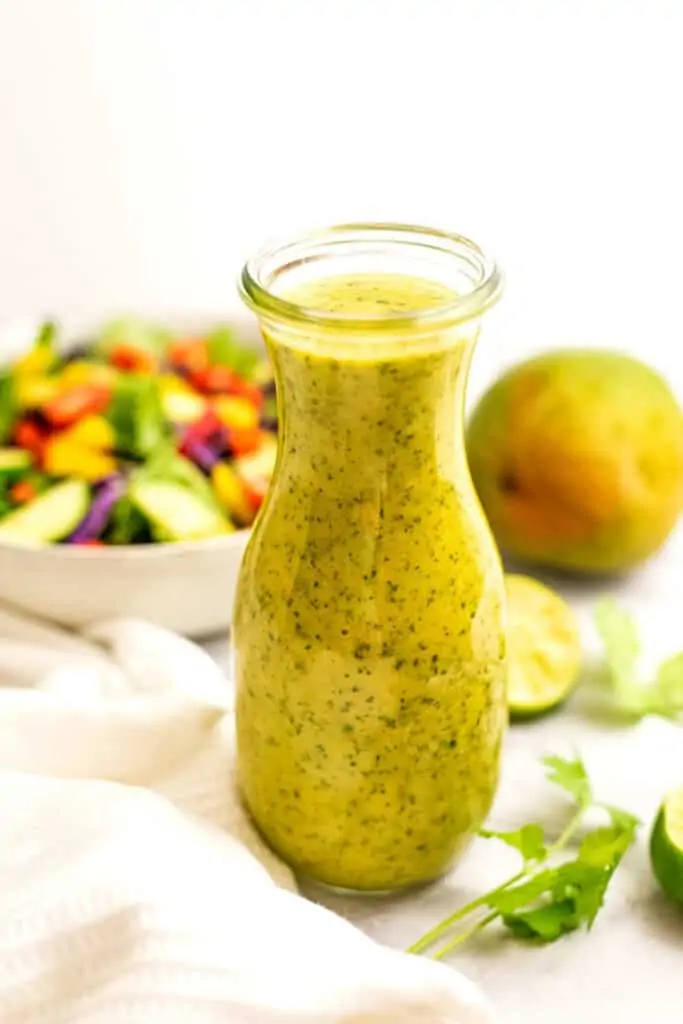 This post contains affiliate links. As an amazon associate I earn from qualifying purchases.
Click here to read my policy
and more about affiliate links.
Why you will love this recipe
Get out of your salad rut! Salads can get boring, especially if you aren't changing up your dressing choices! This bright, sweet and tangy dressing is the perfect solution! Made with fresh or frozen mangos, you can make this dressing all year long!

Not just for salads! This mango dressing is perfect over chicken, fish or even as base for coleslaw! Once you try this, you are going to want to add it to everything!

It's customizable! Do you love sweet and spicy together? Add some fresh jalapeno or crushed red pepper flakes! If you like a slightly sweeter dressing, add a little honey or maple syrup to take the sweetness up a notch! This dressing is customizable depending on your tastes!

Out of the ordinary! This mango salad dressing is fun to serve to guests or at parties because it's so unusual! It's also vegan, gluten free, dairy free and Whole30 friendly – so you can feel good about serving it to all your guests!
Ingredients
Mango – you can use fresh or frozen mango (defrosted) to make this recipe! Fresh mango will likely be a bit sweeter so you may need to add some sweetener if you use frozen (depending on your taste buds and how sweet the frozen mango is).

Olive oil – this helps to emulsify (thicken) the dressing (you could also use avocado oil).

Lime juice and apple cider vinegar – these help to balance out the sweetness with acid. I found that the mixture of lime juice and apple cider vinegar was the best (in my opinion) but you could use all lime juice or all vinegar if needed.

Spices: Salt, Cumin and Garlic Powder – these help to balance out the sweet flavor and give an earthy, smoky undertone to the dressing.
Step-by-step instructions
Defrost your mango in the microwave or in the fridge overnight or If you are cutting a fresh mango, you will need the equivalent to 1 cup which is usually 1-2 large mangos (depending on how big the pit is). If you need instructions on how to cut a mango, this is a great resource.
Add all the ingredients to a food processor and process on high until well combined. You could also use a high speed blender.
Store in an air tight container in the fridge for up to 5 days or serve immediately.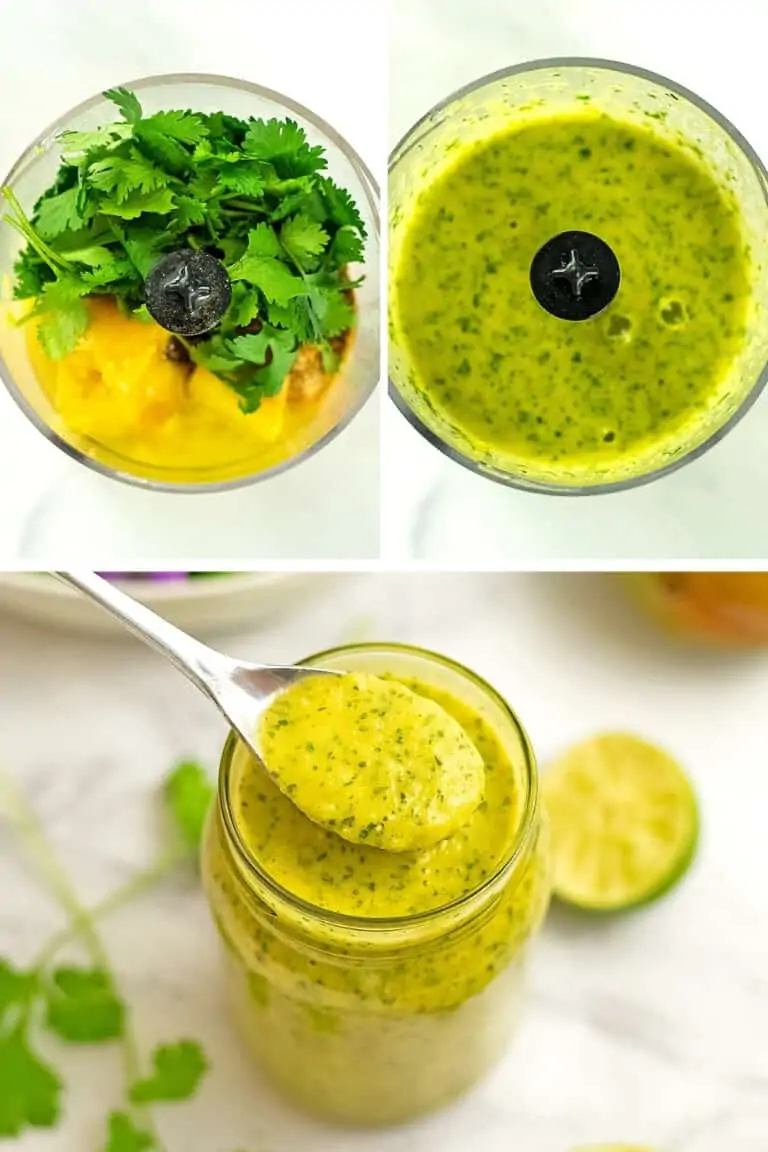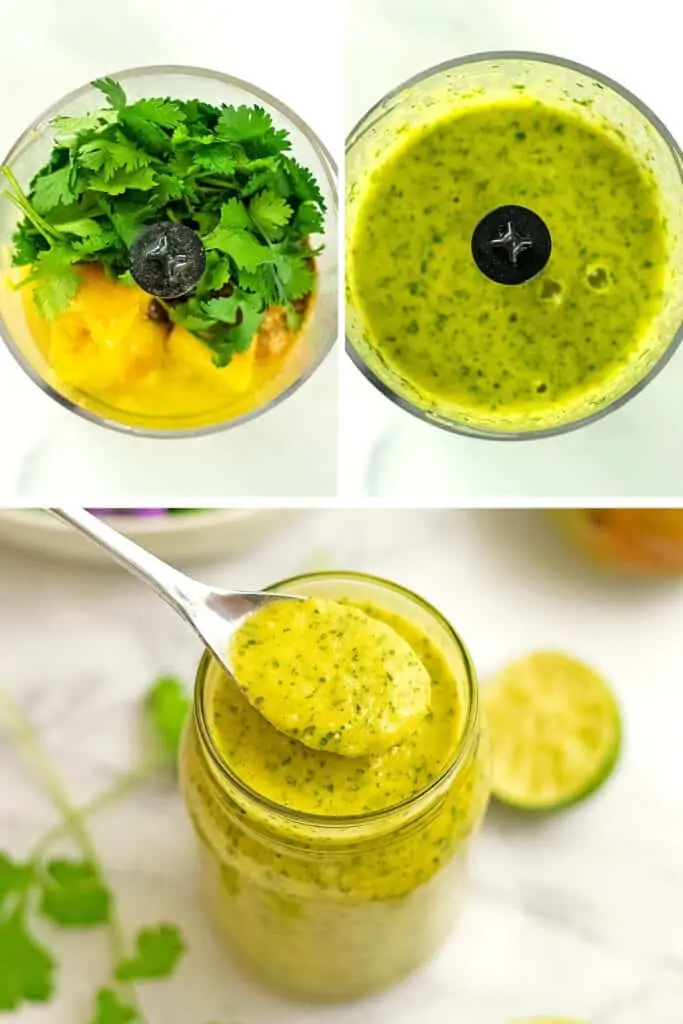 Top tips
The balance of sweet and tangy from the acid is dependent on how sweet your mangos are. You may need to add 1-2 tablespoons of honey or maple syrup to balance out the tartness from the acid. Be sure to taste the dressing before pouring it out of the food processor (I like to taste it on a lettuce leaf to see how the flavor is on salad). For Whole30, you can add 1-2 dates or pineapple juice.
Don't be afraid to add some heat! I actually love this recipe with a heavy pinch of red pepper flakes, but it depends on what I'm serving it with. If it's a light salad with fresh fruit, I typically omit the pepper flakes. If I'm serving it with fish or chicken or on tacos, I always add the pepper!
You could also make this into a thicker, creamy mango dressing by add 1 avocado (peeled, pit removed) to the food processor. You may need to add a few tablespoons of water as well depending on how big the avocado is.
This recipe for mango lime dressing is thick. If you like a thinner dressing, you can add water, 1 tablespoon at a time until it reaches your desired consistency.
What to serve this with
Mango dressing is unique and can easily go with so many dishes! Some of my favorite combinations are:
Over salad, especially salad with fresh fruits like strawberries, blueberries, mandarin orange slices, cherries.

Over chicken salad or tuna salad instead of a mayo-based dressing.

Over tacos, especially fish tacos. The sweet and savory combo is so good together!

Use this dressing as a base for coleslaw!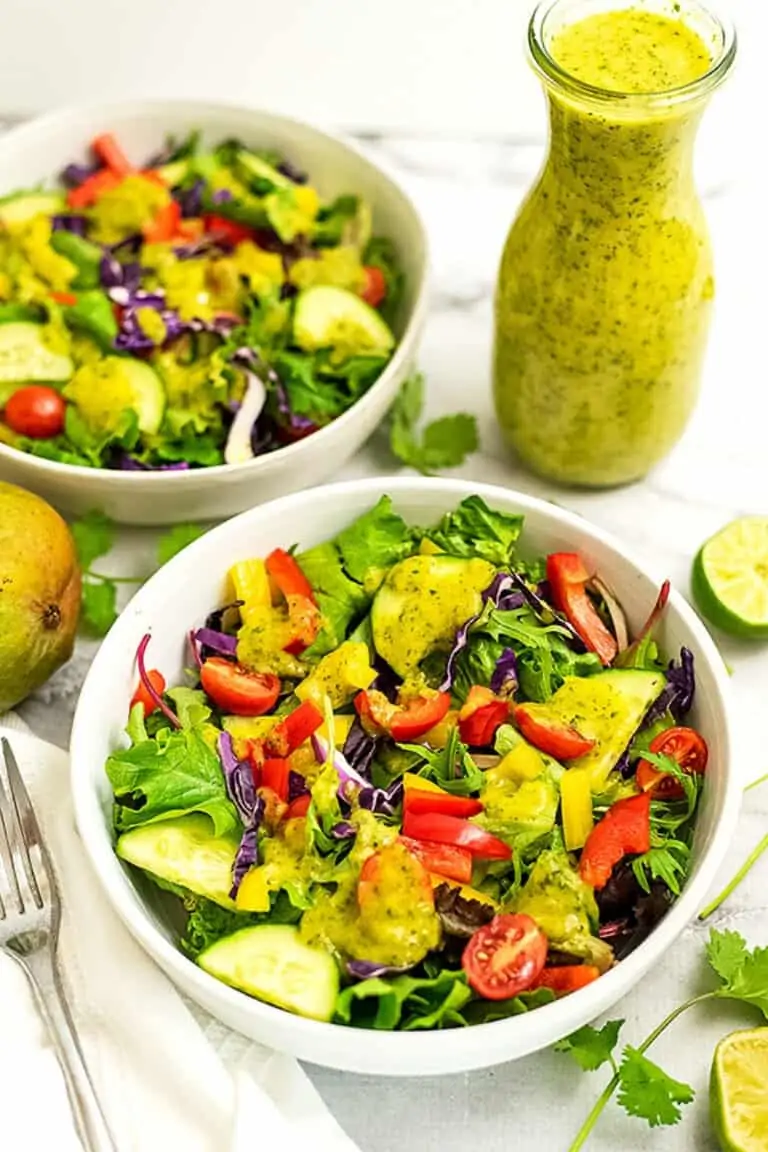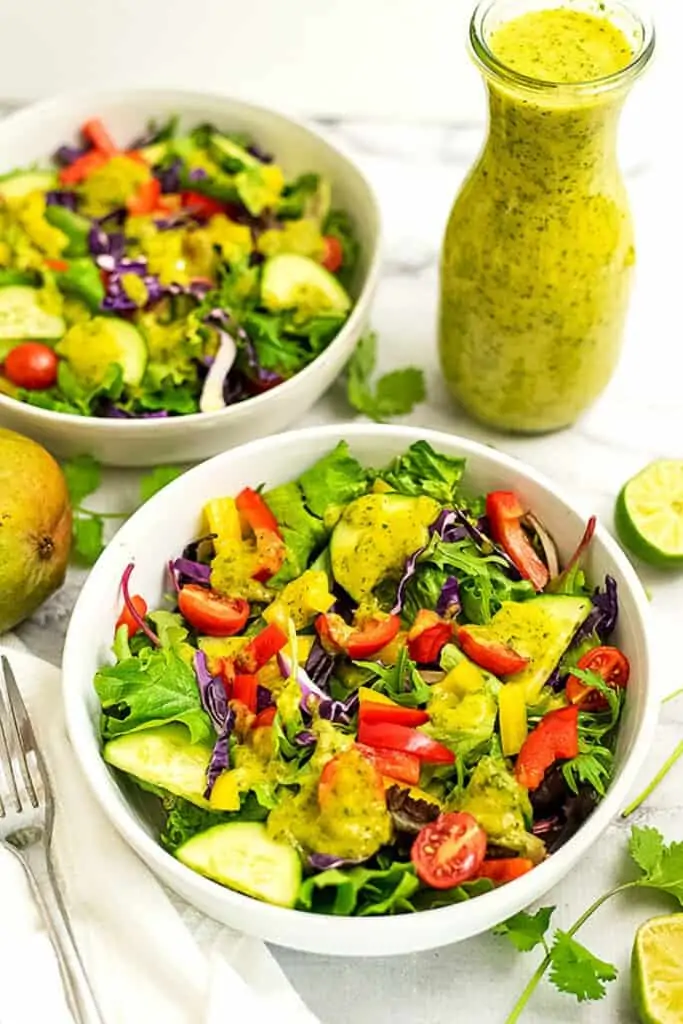 FAQ's
How many servings of dressing does this recipe make
This mango lime vinaigrette recipe makes about for 5-6 servings, depending on how much dressing you usually use. This recipe can easily be doubled or tripled and stored in the fridge.
Other ingredients you could add
Make it spicy: Add fresh jalapeno, crushed red pepper flakes or even a chipotle pepper (from the can) or fresh grated ginger!
Make it creamy: You can add a peeled and pitted avocado or 1/2 – 1 cup of Greek yogurt (dairy free if needed) to make this dressing creamy and delicious.
Change the spices: Add about 1 tsp. of curry powder to make this a curry mango dressing (really good with chicken salad).
Storage
Fridge: Store leftover dressing in the fridge in an air tight container for up to a week.
Freezer: Store leftover mango dressing in the freezer for up to 3 months. You will likely want to re-blend the dressing before using as it may not have the same texture right out of the freezer.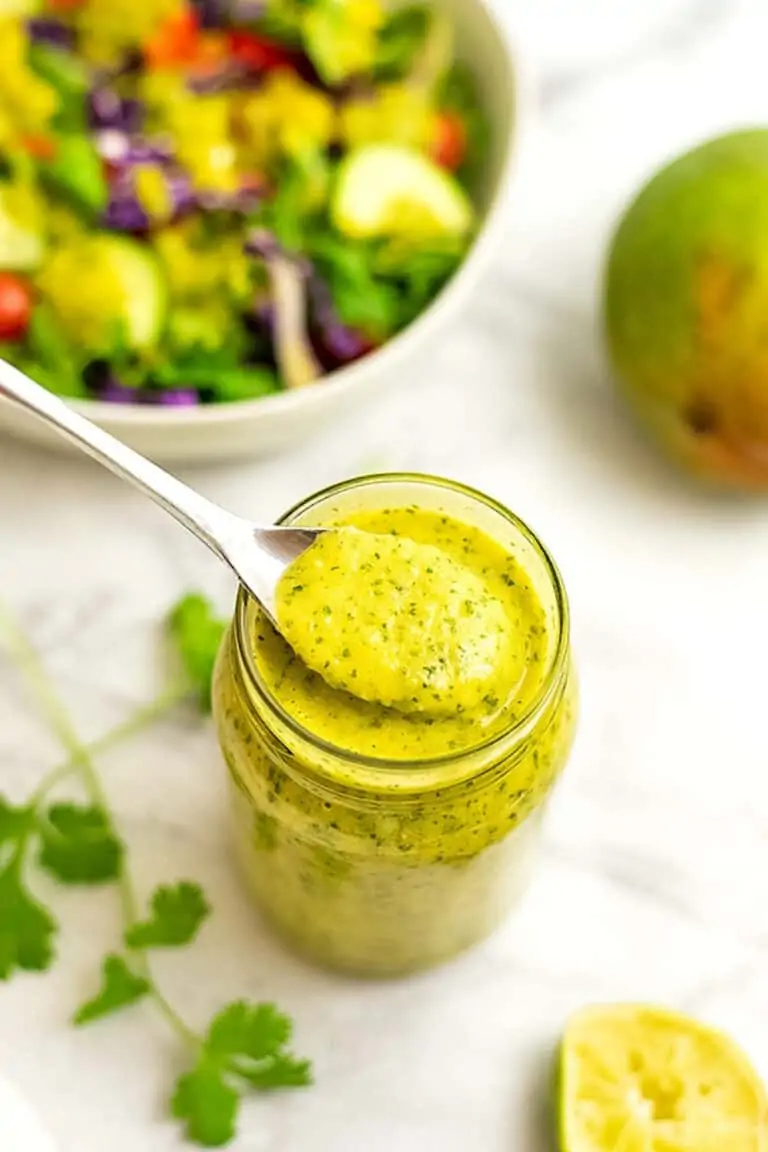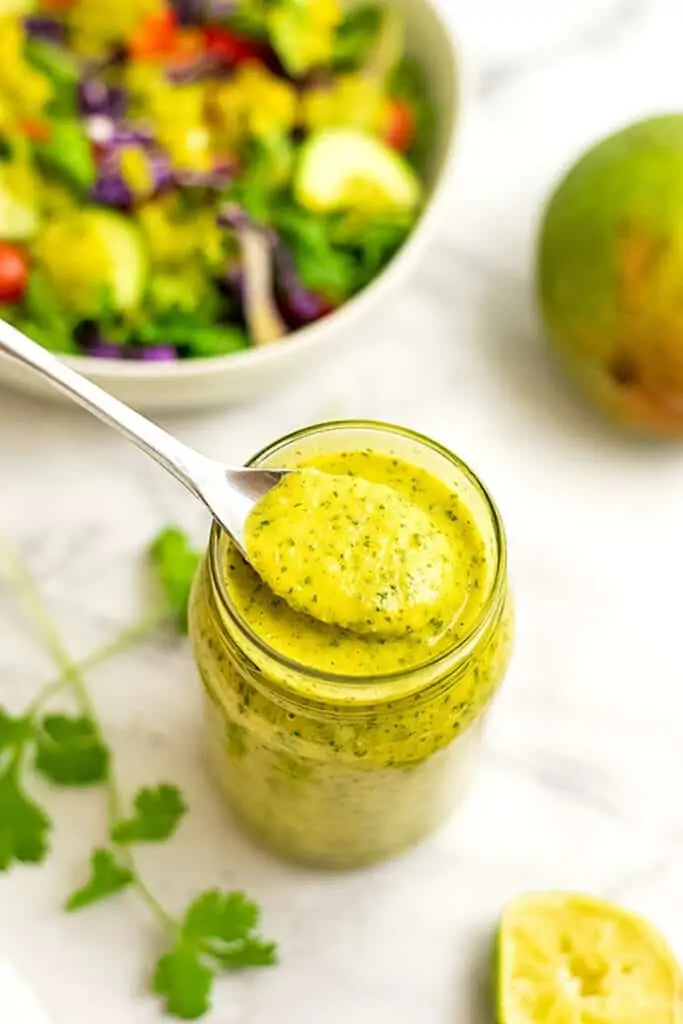 Substitutions
Olive oil: You can also use avocado oil in place of olive oil.

Lime Juice: You can use all apple cider vinegar if you do not have a fresh lime. You will want to use 2-3 tablespoons total of apple cider vinegar:

Apple cider vinegar: If you do not have apple cider vinegar, you can also use white wine vinegar, or more lime juice. You will want to add about 1/2 of a small lime extra.

Cilantro: If you do not like cilantro or don't have cilantro on hand, you could also try adding a mixture of fresh mint and flat leaf parsley.

Spices: You can omit any of the spices listed if you do not have them on hand. If you want a smoky flavor and don't have cumin, you can use smoked paprika (1/2 tsp).
If you love this dressing, you have to try
★ Did you make this recipe? Please give it a star rating below!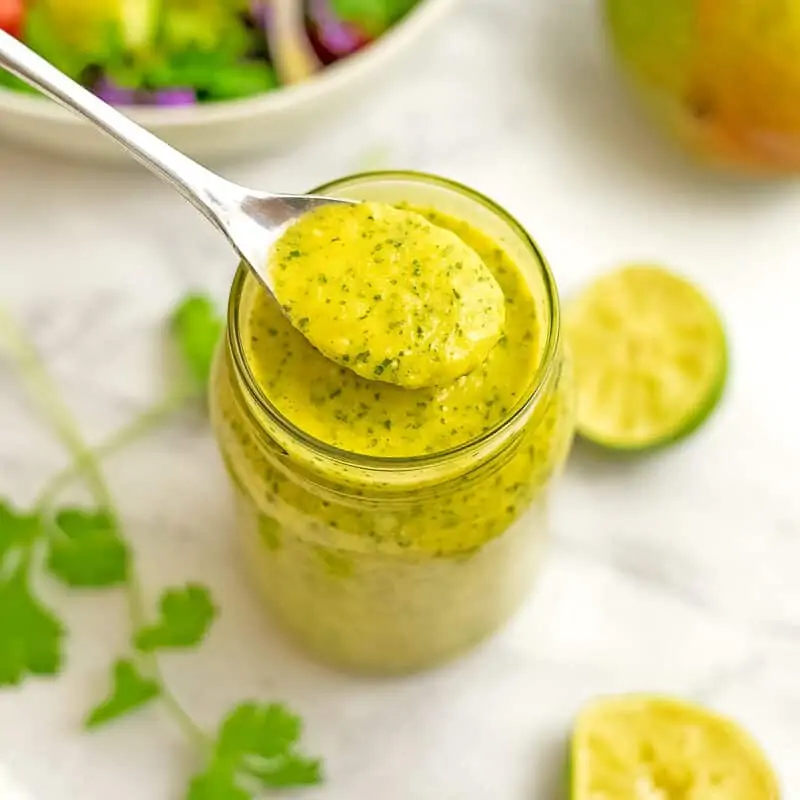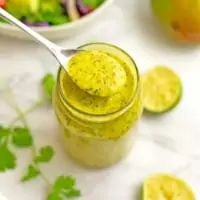 Mango Dressing
$2.89 Recipe/$0.48 Serving
Mango Salad Dressing is such a fun twist on traditional salad dressing! Naturally vegan, gluten free, dairy free and Whole30, this vinaigrette is great on salads, on fish tacos, salmon, chicken, shrimp or roasted veggies! Just 8 ingredients and 5 minutes!
Print
Pin
Save
Saved!
Rate
Instructions
In a food processor or blender combine all the ingredients and blend on high. If needed, add water by the tablespoon to thin it out.

Store in an air tight container for up to a week in the fridge.
Notes
To make this creamier: Add 1 avocado (peeled, pit removed) or 1/2-1 cup greek yogurt (dairy free if needed).
To make this spicier: Add 1/2-1 jalapeno (fresh), 1 big pinch red pepper flakes, 1 chipotle (in adobo, canned), or 1 tsp-1 tbsp. fresh grated ginger.
To add more flavor: Add 1/2 tsp. curry powder
Store in the fridge up to a week or in the freezer up to 3 months. Re-blend after defrosting for best texture.
See how I calculate food cost
.
Nutrition Information
Nutrition Facts
Amount per Serving
Where does nutrition info come from? Nutrition facts are provided as a courtesy, sourced from the USDA Food Database.
DID YOU LOVE THIS RECIPE?
Let others know by rating and leaving a comment below!