These 5 ingredient parsnip are so easy to make, taste amazing and are perfect for breakfast, brunch or dinner! These savory parsnip waffles are gluten free, grain free, paleo, Whole30 and only take 10 minutes and need 5 ingredients!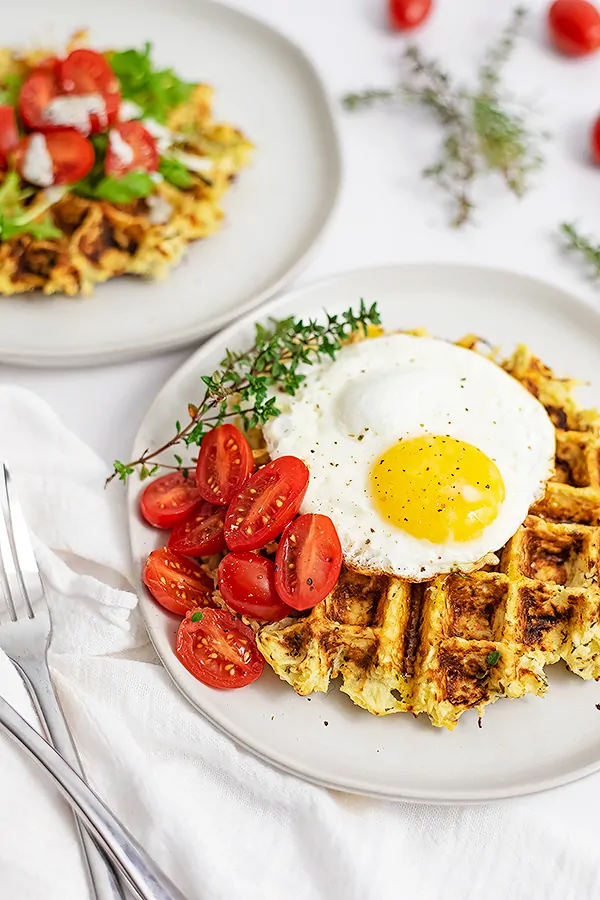 This post contains affiliate links. As an amazon associate I earn from qualifying purchases.
Click here to read my policy
and more about affiliate links.
Why you will love this recipe
These parsnip waffles only require 5 ingredients and 10 minutes to make. They are grain free, Whole30 friendly and vegetarian.
Impress your friends with this out of the box recipe that is so easy to make!
These savory parsnip waffles are great for breakfast, brunch, lunch or dinner!
Serve this savory waffle recipe with asparagus spring salad or topped with oven poached eggs and creamy pea pesto!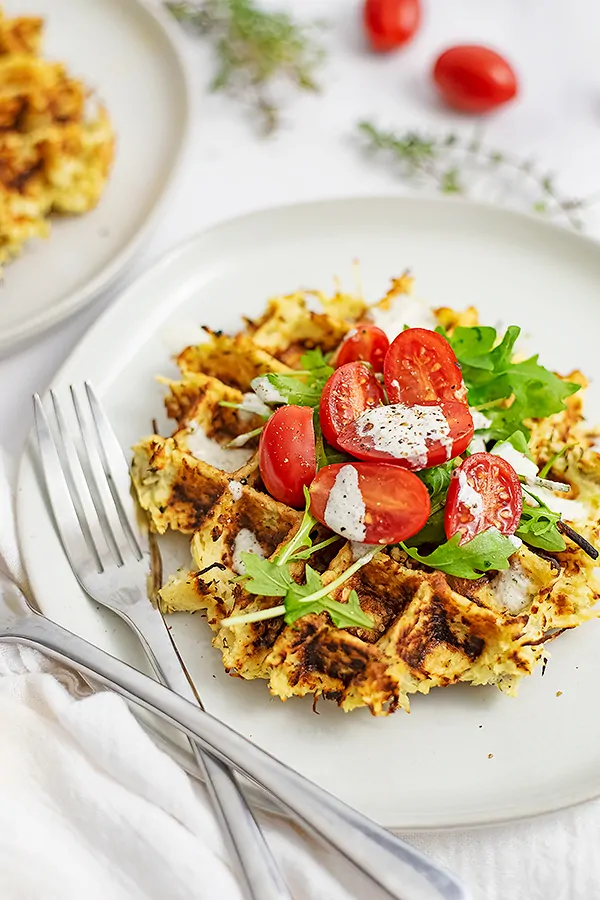 Ingredients:
Parsnips (peeled and shredded)
Eggs
Salt
Garlic Powder (omit for low FODMAP)
Dried thyme
Instructions
Step 1: Peel the parsnips and cut them down to fit into the food processor. Turn on the food processor with the fine grater attachment. Run the parsnips through the grater until all of them are broken down (see video).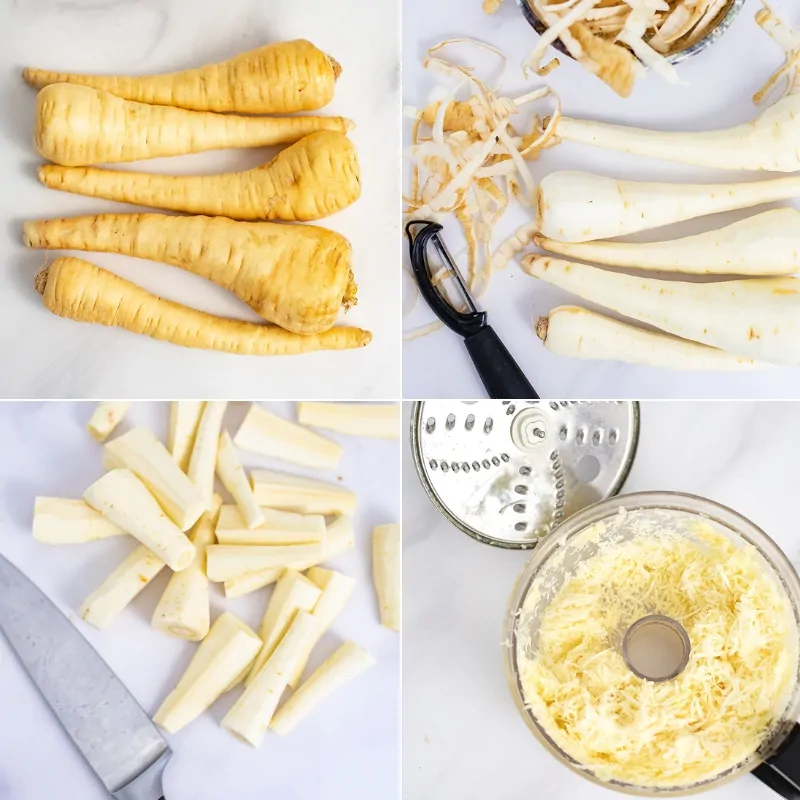 Step 2: Add the eggs to a large bowl and whisk the eggs
Step 3: Add the spices (salt, garlic powder and dried thyme) to the eggs and whisk well to incorporate.
Step 4: Add the shredded parsnips to the egg mixture and stir well, making sure the parsnips are well coated.
Step 5: Preheat the waffle iron, spray it with non-stick spray and cook ½ of the mixture for 5 minutes in a hot waffle iron.
Step 6: Repeat for the second waffle!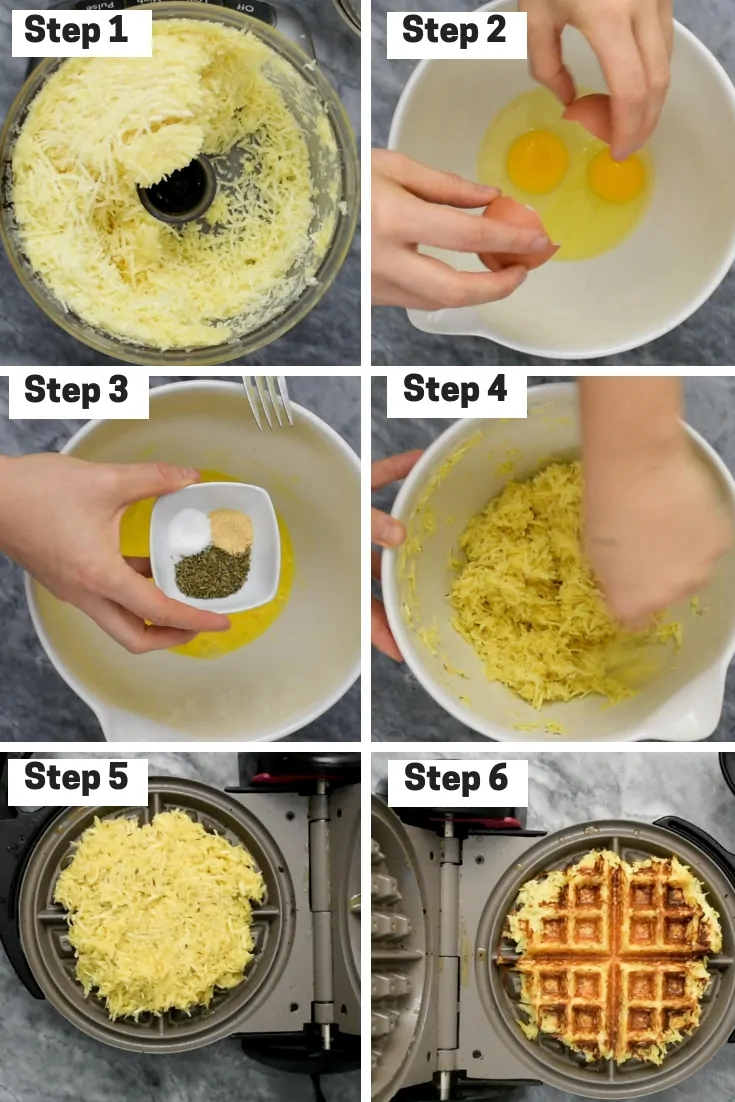 What goes with savory waffles?
Savory waffles can be served with sweet or savory toppings. Here are some of my favorites: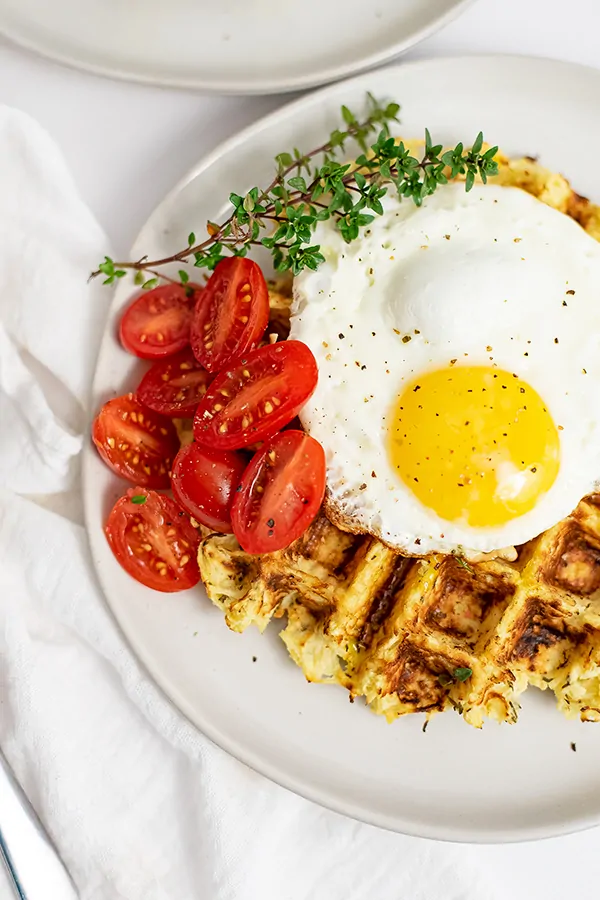 What other flavors of can you add
Health benefits of parsnips
Parsnips are a root vegetable and are a relative of the carrot. They have cream colored skin and flesh and have a very distinct, almost nutty but sharp flavor, as they are also a cousin of parsley.
Parsnips often show up easily available in the grocery store during the fall/winter months, but are available in most stores year round! They are full of fiber (specifically soluble fiber) and are a great source of vitamin C. They are also a great low FODMAP non-starchy vegetable.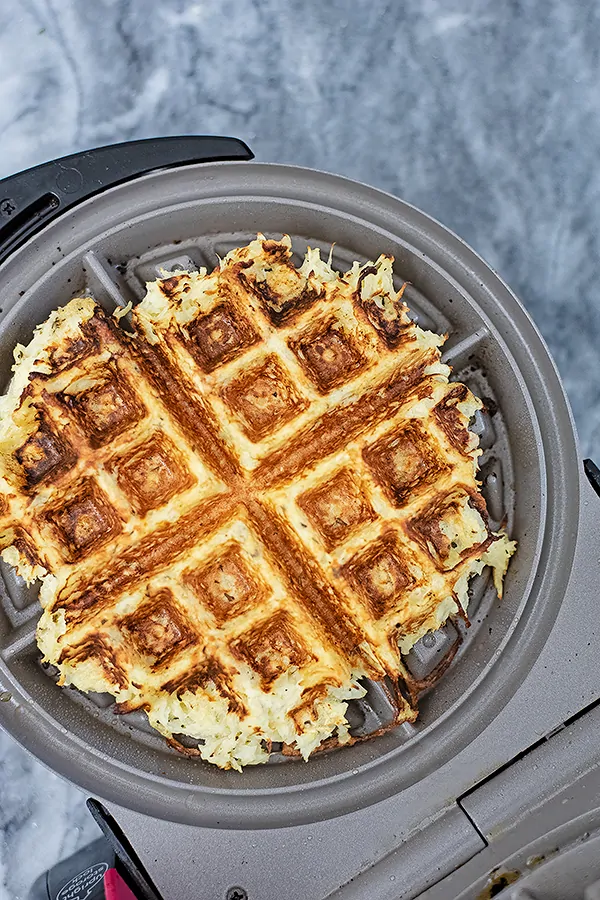 How to buy and store parsnips
When you are in the store, watch out for parsnips that have started to go soft. Parsnips are often in a bulk bin in the refrigerated section, often around where the other root vegetables (turnips, beets, rutabagas, carrots) are sold.
Store parsnips in the refrigerator. I usually keep them in the vegetable crisper drawer and they last a month or more in the refrigerator.
How to use parsnips
Be sure to peel the skin from the parsnip and cut off the top and the bottom ends.
Parsnips can be used in many ways including making parsnip fries, parsnip hash, parsnip mash, or used in stews or soups (like this Easy Beef Stew Instant Pot Recipe).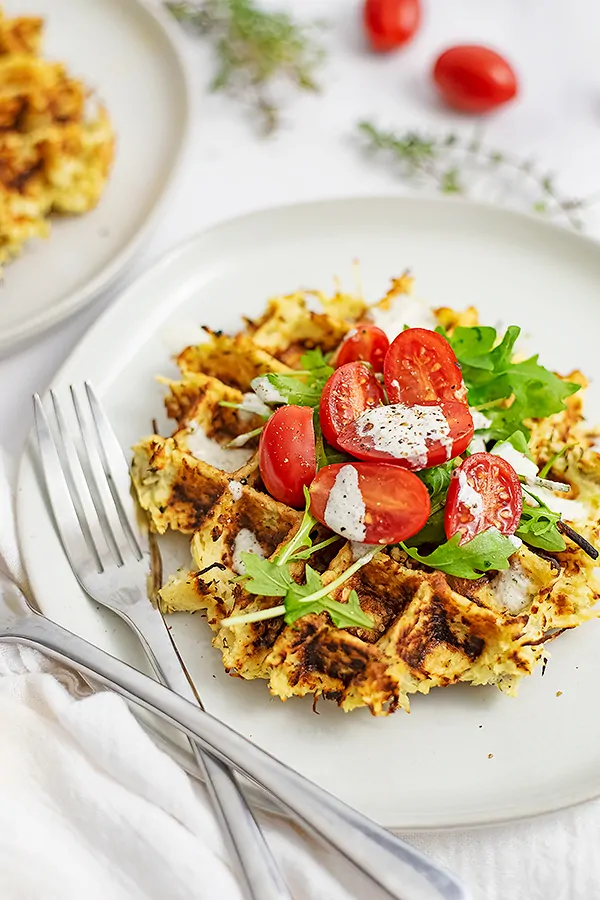 Storage
Fridge: Parsnip waffles will last about 3-4 days in the refrigerator in a sealed container
Freezer: The waffles can also be stored in the freezer for up to 3 months. To easily freeze the waffles flat, first freeze the waffles completely on a flat surface (baking sheet lined with parchment paper or a silicone liner). Once frozen through, store the waffles in a freezer safe container.
Other great savory breakfast ideas
What equipment do you need
To easily break down the parsnips, a food processor with a grater attachment is best! The grater quickly does what hand grater will do in just 1 minute. However, if you don't have a food processor with this attachment, you can also use a hand grater.
Also, you will need a waffle iron. I love this waffle iron because the ceramic coating makes it non-stick and easy to use!
If you love this recipe, you should try
★ Did you make this recipe? Please give it a star rating below!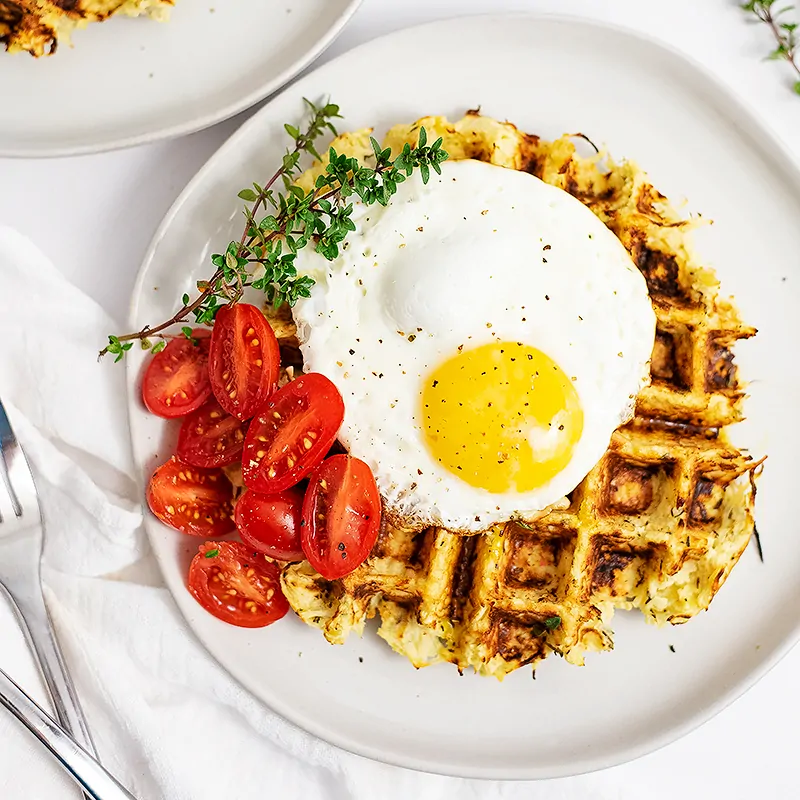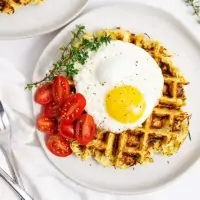 5 Ingredient Parsnip Waffles | Savory Parsnip Waffles
$2.38 Recipe/$1.18 Serving
5 Ingredient Parsnip Waffles are the perfect healthy savory waffle recipe! Perfect for breakfast, brunch or dinner, these vegetarian waffles are paleo, Whole30, gluten free and grain free and so easy to make! Ready in 10 minutes and only 5 ingredients!
Print
Pin
Save
Saved!
Rate
Instructions
Peel the parsnips and cut the top and bottom ends off. Cut the parsnips down into small enough pieces to fit into the feeding tube of your food processor.

Using the grating attachment of your food processor, grate the parsnips. You can also do this by hand if you don't have a food processor

In a large bowl, combine the two eggs, salt, garlic powder and dried thyme. Mix well.

Add the parsnips to the egg mixture and stir well to fully incorporate the eggs into the parsnips

Spray the waffle iron with non-stick spray and pour half the mixture onto the waffle iron. Even it out and close the waffle iron.

Cook for 5 minutes. Carefully remove the waffle when finished and cook the second waffle the same way.
Notes
To change up the flavor you can add any of your favorite spice mixes including Italian seasoning, chili powder, curry powder, cajun seasoning and more!
To keep the waffles warm while making the second waffle, place the waffle in a 250F oven.
The waffles can be stored in the fridge for 3-4 days after they are made. The waffles can be frozen for up to 3 months.
See how I calculate food cost
.
Nutrition Information
Nutrition Facts
Amount per Serving
Where does nutrition info come from? Nutrition facts are provided as a courtesy, sourced from the USDA Food Database.
DID YOU LOVE THIS RECIPE?
Let others know by rating and leaving a comment below!