This stuffed acorn squash recipe is the perfect healthy recipe for the fall season! It's so simple to make, vegan, Whole30, grain free, gluten free and low carb! Oh and it tastes like Thanksgiving all in about 30 minutes time!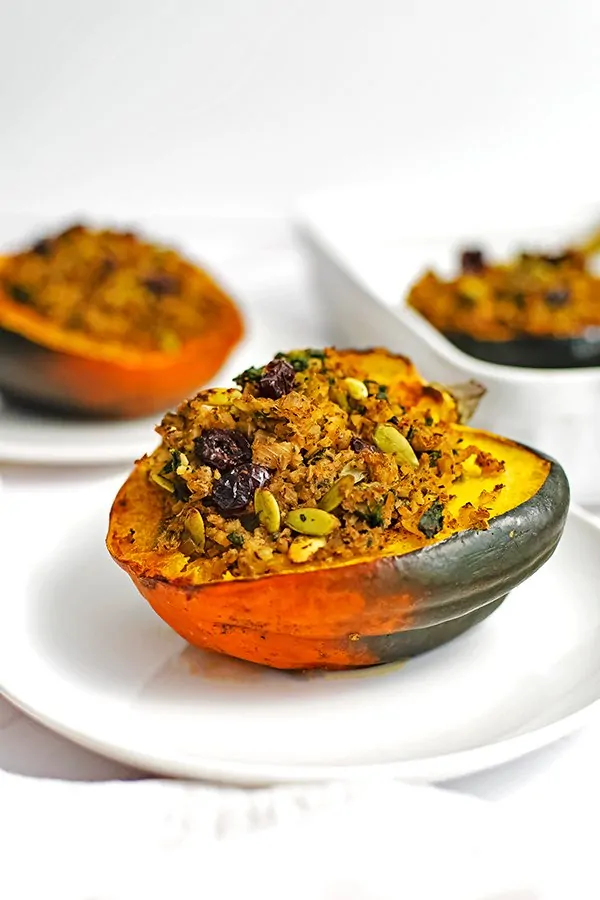 This post contains affiliate links. As an amazon associate I earn from qualifying purchases.
Click here to read my policy
and more about affiliate links.
Why this recipe works
Perfect for weeknight meals or entertaining guests! This recipe is so easy to make and can easily be doubled or tripled based on how many people you have attending!
The stuffing of this stuffed acorn squash is low carb, packed with flavor and so good even on its own! Make a double batch and enjoy it all week with your favorite protein (like shredded chicken or air fryer salmon).
This recipe is naturally gluten free, dairy free, vegan, Whole30 and lower in carbs! Perfect for any occasion or even for the holidays!
I have to admit, acorn squash is not my go to squash of choice – I'm usually pretty obsessed with butternut or kabocha squash. However, I have had a stuffed acorn squash recipe on my "to try" list for so long that when I saw them on sale last week I immediately bought 2 and couldn't wait to test this recipe out.
The reason acorn squash isn't my favorite is because they are less sweet and I really love how sweet butternut squash and kabocha squash get when you roast them. However, what I didn't expect was how perfect that acorn squash would be with the flavors of Thanksgiving stuffed inside of it!
This specific recipe for stuffed acorn squash is made with a vegan cauliflower rice stuffing and is meant to be a side dish. But if you wanted to make this a full meal. you could easily do that by adding in your favorite protein. To do this, you will want to cut the amount of cauliflower for the stuffing in half and replace it with:
A can of cannenili beans or chickpeas (vegan or vegetarian option), or
A pound of your favorite sausage (chicken, turkey, pork or your favorite combo).
This stuffed acorn squash recipe can be made in about 30 minutes. You will want to utilize the time the squash is in the oven to make the stuffing, so most of those 30 minutes will be hands on. But I promise you, it will be 30 minutes well spent and your kitchen will smell like Thanksgiving!
How to cut an acorn squash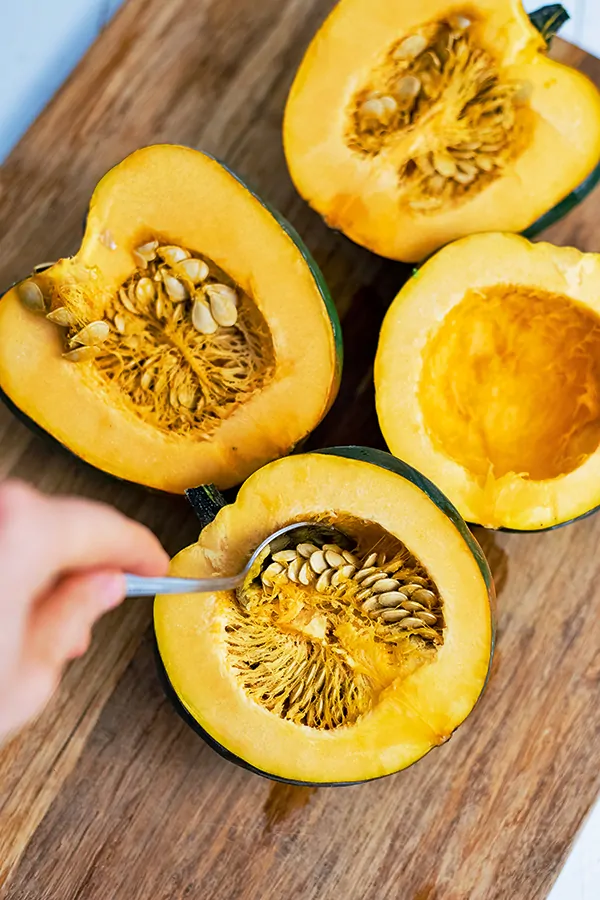 About 4 years ago when I really started eating more whole foods, cutting up winter squash was one of the most intimidating things about fall cooking! But there are some key tips I have to help you with this (that you can apply to almost all winter squash).
Before you cut the squash, make sure you wash the outside. It only takes a second but for the same reason you want to wash your melons before you cut into them, you want to wash your squash (so the stuff on the skin doesn't make it to the inside).
Preheat the oven to 450F.
After the squash has been washed and dried off, you will want to find a very sharp knife. For the acorn squash, place it so that the tip of the squash is up toward you and the bottom stemmed part is on your cutting board (it may be on its side a bit and that is ok). Using the lines in the squash, cut one side of the squash from the top down towards the stem, going slow and being careful to keep your fingers out of the way.
Once you make it to the stem, stop and turn the squash 180 degrees and use the original cut you made to cut down the other half of the squash.
Once you have both sides cut, use your fingers to pry the squash open, don't try to cut through the stem.
Once the squash is in two halves, use a large spoon and scoop out the seeds.
How to make cutting the skin of a squash easier:
With thick skin squash like acorn squash, kabocha squash or spaghetti squash I almost always use this method:
Put the whole squash into the oven as it is preheating for about 5-7 minutes. This will help soften up the skin and make this entire process so much easier. Just be sure to use oven mitts when you are cutting the squash and removing the seeds
Put the whole squash (with one or two small cuts for venting) into the microwave. Microwave on high for 2 minutes to soften the skin.
How do you cook acorn squash?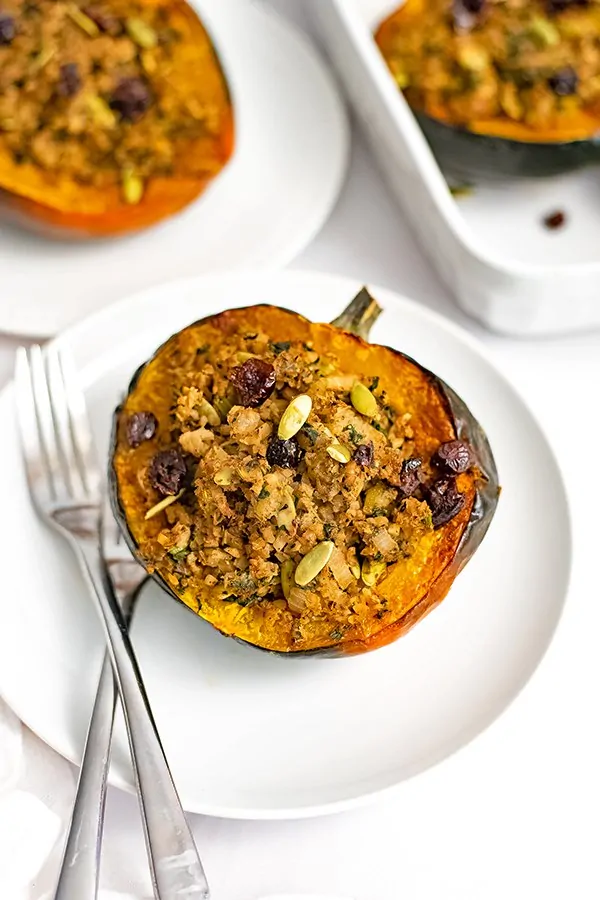 To make sure the squash and the stuffing are done at the same time, I like to roast the squash while the stuffing is cooking on the stove. Roasting acorn squash is so simple, you are going to love how low maintenance it is!
First, you will want to put down either parchment paper or a silicone liner on your rimmed baking sheet. Next, spray it lightly with non-stick spray and place your squash cut side down (so that you see the green skin, not the orange flesh) and put them in the oven for about 25 minutes at 450F.
The easiest low carb stuffing
This low carb stuffing is made with my most favorite vegetable – cauliflower! Cauliflower rice to be exact. Here is what you need:
The trick to this stuffing is to make sure that you cook the cauliflower rice long enough to remove the excess liquid. I almost always have about 5-6 bags of frozen cauliflower rice in the freezer at all times because I use it so often. I've found that the frozen cauliflower rice tends to cook up quicker and needs less liquid to get to the right level of doneness. So if you are using fresh, you might have to cook it a few more minutes.
Start with a HOT pan. I grew up watching Rachel Ray cook and I always let my pans get hot before adding any fat/food to them. It's just how I cook. So start your cast iron pan over medium heat and let it get hot while you are chopping up your onions and celery.
Once the pan is hot, spray it with non-stick spray and add your onions and celery and let cook for 3-4 minutes, stirring occasionally to avoid burning or sticking. After those few minutes pass, add the frozen cauliflower rice, fresh sage, dried thyme, garlic powder, salt and cook for about 10 minutes, stirring occasionally. Add the vegetable stock and frozen spinach and cook about 5 more minutes.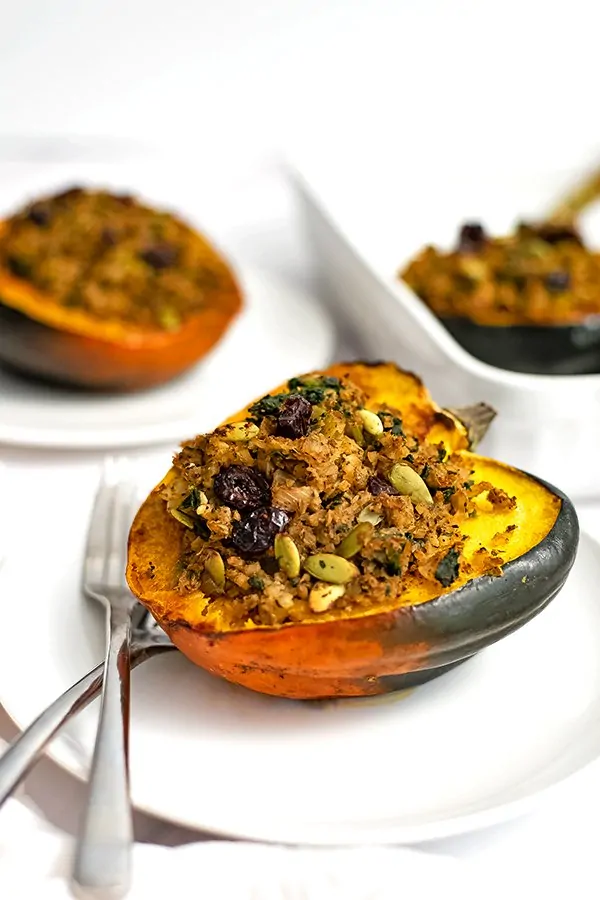 Turn off the burner and add the dried cranberries sweetened with apple juice and pumpkin seeds and stir well. I like to get my cranberries and pumpkin seeds on Thrive Market. Get 25% off your first order of Thrive Market and be sure to stock up on all your favorite healthy groceries!
How do you cook stuffed acorn squash
Once the acorn squash is done roasting (about 25 minutes at 450F) and the stuffing is done, just season the squash with some salt and cinnamon and stuff it with the stuffing. You can put it back in the oven for about 5 minutes at 450F to let all the flavors meld together or serve it as is immediately.
Can you eat the skin of an acorn squash
The skin of acorn squash is pretty thick and unless you want to roast it for 50-60 minutes, I wouldn't advise trying to eat it. It's quite tough. To eat the squash, just use your fork and scoop away the flesh from the skin as you are eating your stuffed acorn squash.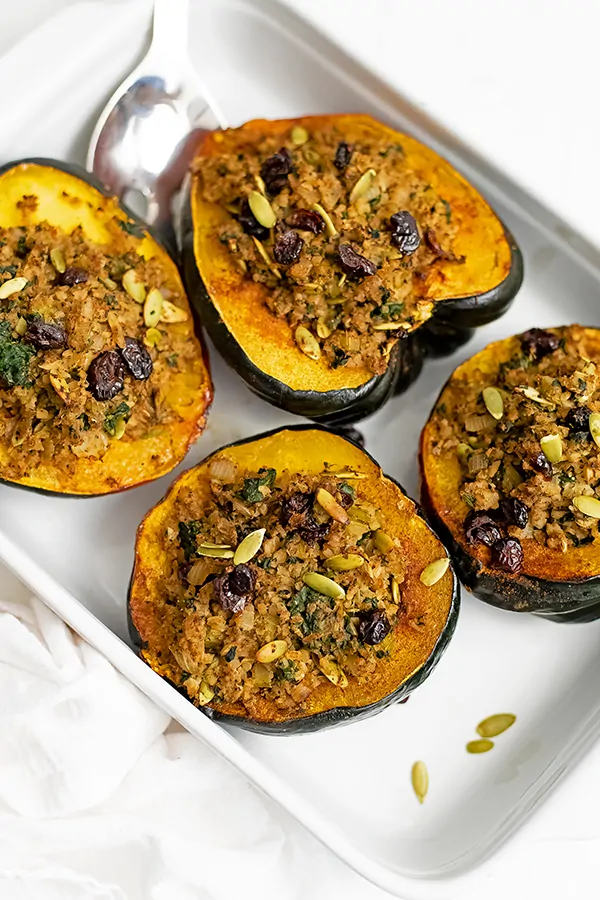 If you want more Thanksgiving themed recipes, try out these favorites:
★ Did you make this recipe? Please give it a star rating below!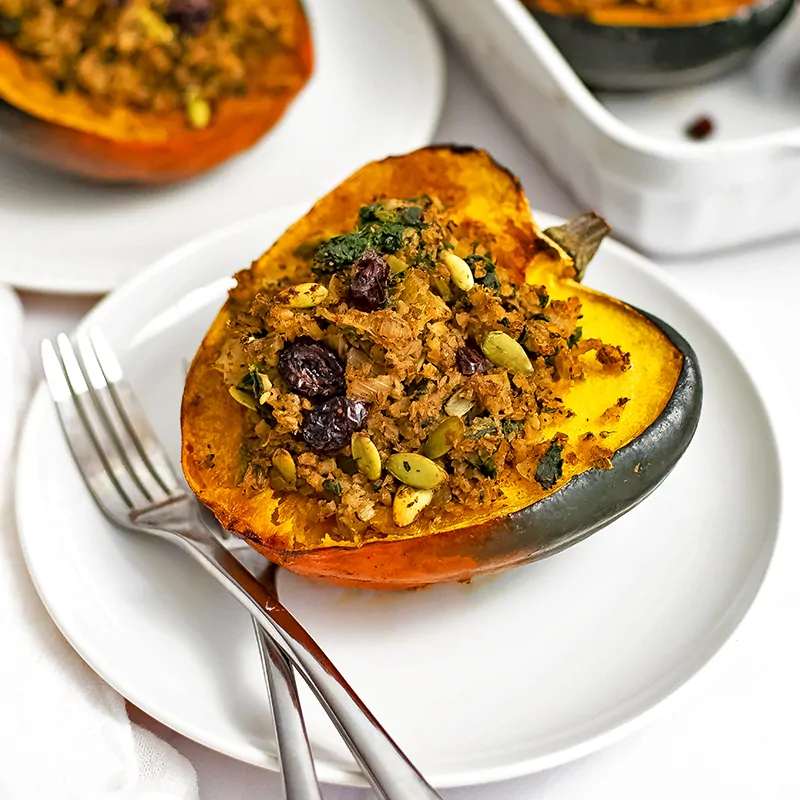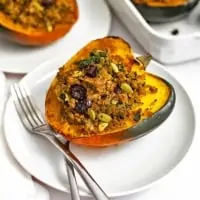 Stuffed Acorn Squash Recipe
This healthy stuffed acorn squash recipe is a simple side dish that has all your favorite fall flavors! Stuffed with a low carb stuffing, this easy dish is vegan, paleo, grain free, gluten free and even Whole30 friendly! It's the perfect weeknight side dish or even perfect for Thanksgiving dinner
Print
Pin
Save
Saved!
Rate
Instructions
Wash the outside of the acorn squash and dry it with a towel. Cut the squash in half (see post for tips). Scoop out the seeds.

Place a sheet of parchment or a silicone mat on a rimmed baking sheet and spray it with non-stick spray. Place the squash so the cut rim is on the baking sheet (so you see the skin not the flesh).

Bake the squash for 25 minutes at 450F

While the squash is baking make the low carb stuffing
Low carb stuffing
Start a pan over medium heat. While the pan is heating up, chop the onion and celery.

Spray the pan with non-stick spray and add the onion and celery. Cook 3-4 minutes until golden and slightly softened.

Add the frozen cauliflower, chopped fresh sage, dried thyme, salt and garlic powder to the pan and stir well. Let cook about 10 minutes, stirring occasionally.

After 10 minutes, add the vegetable broth and frozen spinach and stir well. Let cook about 5 more minutes.

Turn the stuffing off. At this point the squash should be almost done (or done). Let the stuffing sit until squash is done roasting.

Once the squash is done roasting, take it out of the oven and turn it over so you can stuff it with stuffing. Sprinkle with salt and cinnamon before stuffing.

Divide the stuffing between the squash (you will likely have some leftover).

You can serve it this immediately or you can put the squash back in the oven for 5 minutes to let the flavors meld together.
See how I calculate food cost
.
Nutrition Information
Nutrition Facts
Amount per Serving
Where does nutrition info come from? Nutrition facts are provided as a courtesy, sourced from the USDA Food Database.
DID YOU LOVE THIS RECIPE?
Let others know by rating and leaving a comment below!