Easy turkey kielbasa and potato sheet pan dinner is a healthy, simple one pan meal that is ready in under 30 minutes! This easy veggie packed recipe is gluten free, grain free, paleo, Whole30 and kid approved! Did I mention you only have to clean one pan! It's going to become a go to weeknight dish!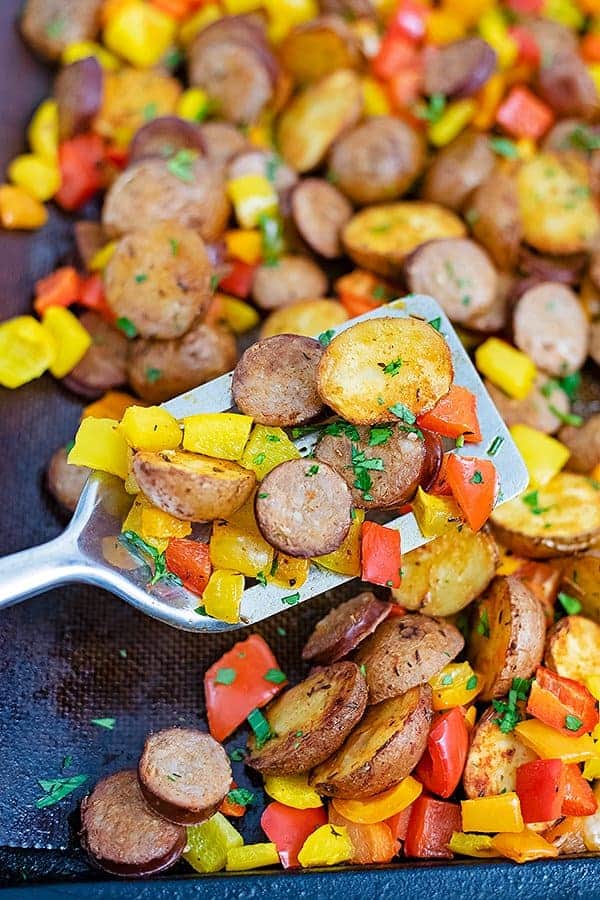 This post contains affiliate links. As an amazon associate I earn from qualifying purchases.
Click here to read my policy
and more about affiliate links.
Why this recipe works
This easy meal is ready in 30 minutes and only requires one sheet pan, making clean up so easy!
This sheet pan meal is simple to assemble, and really doesn't require much cooking skills, so it's perfect for beginner cooks as well!
Because this recipe is so easy to make, it's perfect for meal prep or a simple weeknight meal.
Change out the vegetables in this sheet pan meal to whatever you have on hand.
Serve this turkey kielbasa with 2 minute ketchup for dipping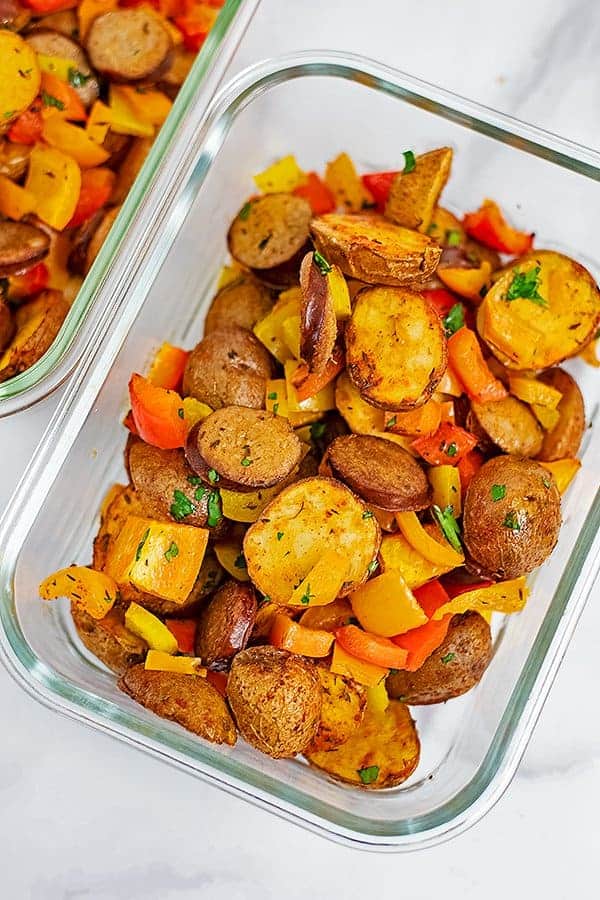 What is Turkey Kielbasa
Kielbasa is Polish sausage. I grew up eating kielbasa and Dave loves it! Kielbasa usually has a mixture of spices, paprika and garlic and has a very distinct smell and flavor when cooked. Kielbasa is traditionally made from exclusively pork or sometimes pork and beef combined. However, you can also find it in the grocery store made with turkey, which is what is used in this recipe.
Kielbasa is already cooked and just needs to be heated up prior to being served. You can find it in the refrigerated section of the grocery store around where other sausage and bacon is sold. We prefer turkey kielbasa but you can easily use traditional kielbasa as well.
How do you cook kielbasa and potatoes in the oven?
Since the kielbasa is already cooked, it doesn't need much time in the oven. If you want the potatoes to get done and a little crispy on the outside, it's best to cook the potatoes separately first and then add the kielbasa to the pan in the last 10 minutes or so of cooking.
To make kielbasa and potatoes in the oven in under 30 minutes:
Step 1: Use small baby potatoes that have been cut in half. Add whatever spices you would like to these potatoes and make sure to use some oil to help them roast.
Step 2: Stir the potatoes well. Add them to a sheet pan and roast the potatoes at 450F for about 15 minutes before adding the kielbasa.
Step 3: Slice the kielbasa into coins
Step 4: Add any other vegetables to the sheet pan with the potatoes and turkey kielbasa. Roast at 450F for an additional 10 minutes.

If you are doubling the recipe, be sure to use a large sheet pan. I have this 2/3 size sheet pan and it makes getting meal prep so much faster!

Step 5: To get additional color on the kielbasa and added veggies, you can broil the dish at the end for 3 minutes, but this isn't necessary.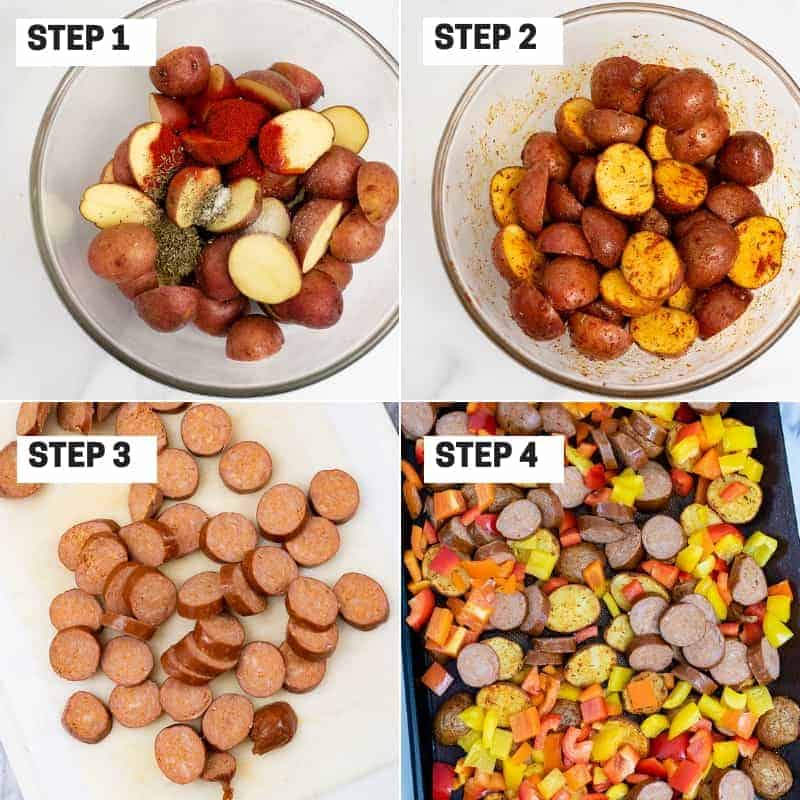 Do you peel kielbasa?
Unlike other sausage products, you do not need to peel the kielbasa from the casing. You can cook it in the casing just like you would a hot dog! That is part of the reason why I love using turkey kielbasa in this dish!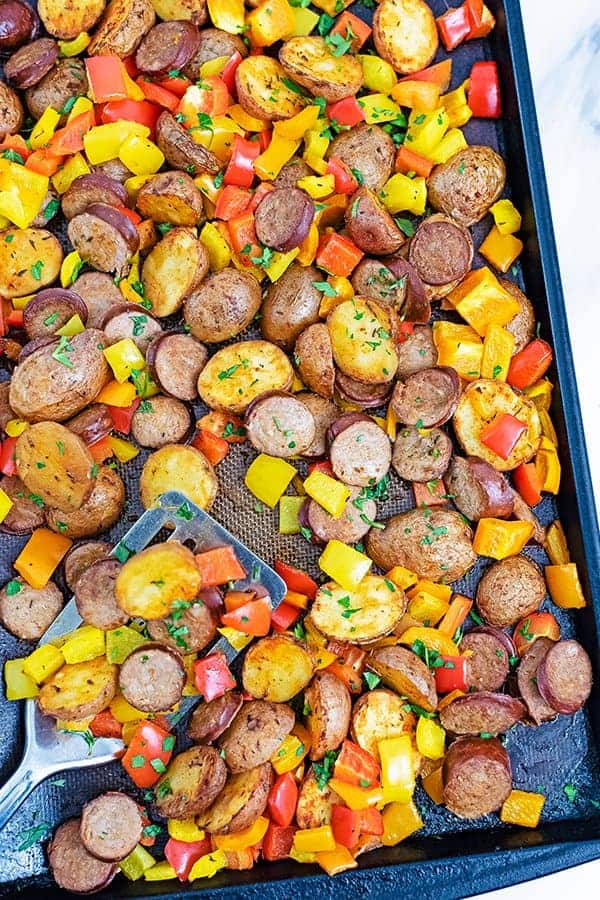 What vegetable goes good with kielbasa?
The vegetables that go good with kielbasa include:
Bell peppers
Onions
Green Beans
Tomatoes
Kale
Spinach
Cabbage
Other substitutions:
If you wanted to make this easy turkey kielbasa and potatoes sheet pan dinner lower in carbs, you could substitute the potatoes for cauliflower florets or rutabaga instead of the potatoes.
If you cannot tolerate white potatoes, you could use sweet potatoes, Japanese sweet potatoes, parsnips or rutabaga in this recipe. Just be sure to cut these veggies up into small, bite size pieces so they will cook up quickly!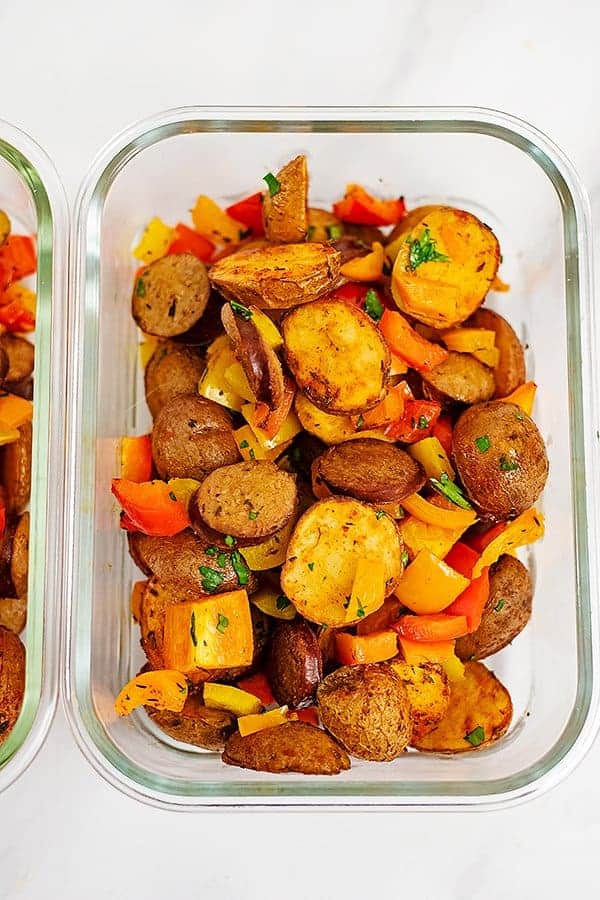 What if you can't find turkey kielbasa?
If you don't have turkey kielbasa, you could use regular kielbasa or whatever your favorite sausage is!
How long does turkey kielbasa last?
Turkey kielbasa usually comes with an expiration date on the package. It usually has a month or longer expiration date, so I make sure to stock up on it at the store so I have a simple, healthy option for nights I don't want to cook!
Once opened, the sausage will last about 3-5 days in the fridge, but it's never gone more than a day or two in our fridge before disappearing.
Other tips:
It's important that you take a minute at the store to look at the ingredients in your kielbasa. The turkey kielbasa that we use has simple ingredients (turkey, water, spices, paprika, garlic powder and collagen casing). Be sure to read the ingredient list and make sure there are no added fillers, sugar or junk. I usually pick up 2 or 3 at Whole Foods, which is where I have found it at the best price.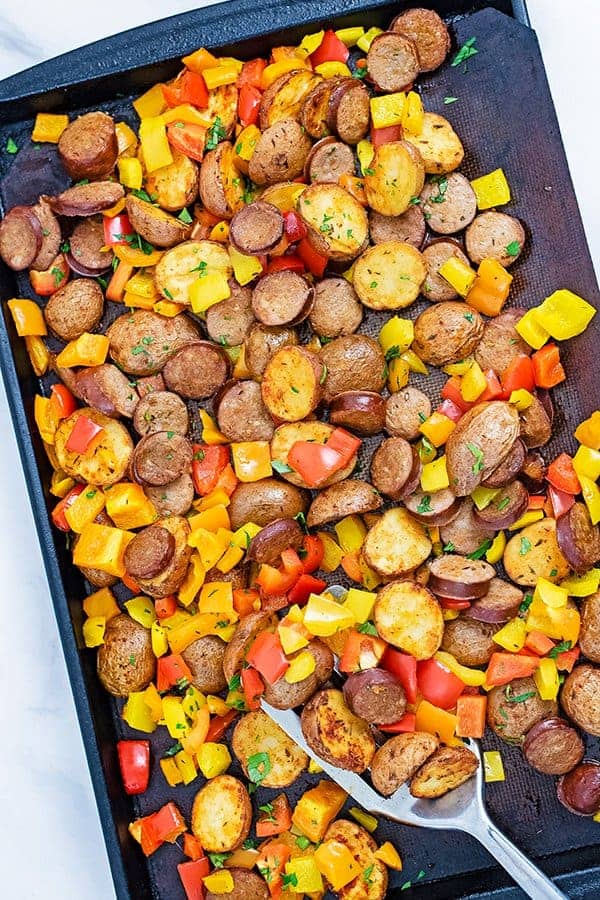 Since you are not peeling your potatoes, opt for organic if possible when you are making this easy turkey kielbasa and potatoes sheet pan meal! I like to use baby potatoes since that reduces the amount of chopping I have to do!
Use a silicone liner or parchment paper to make for an easy clean-up of this dish!
If you are looking for other one pan meals you have to try:
★ Did you make this recipe? Please give it a star rating below!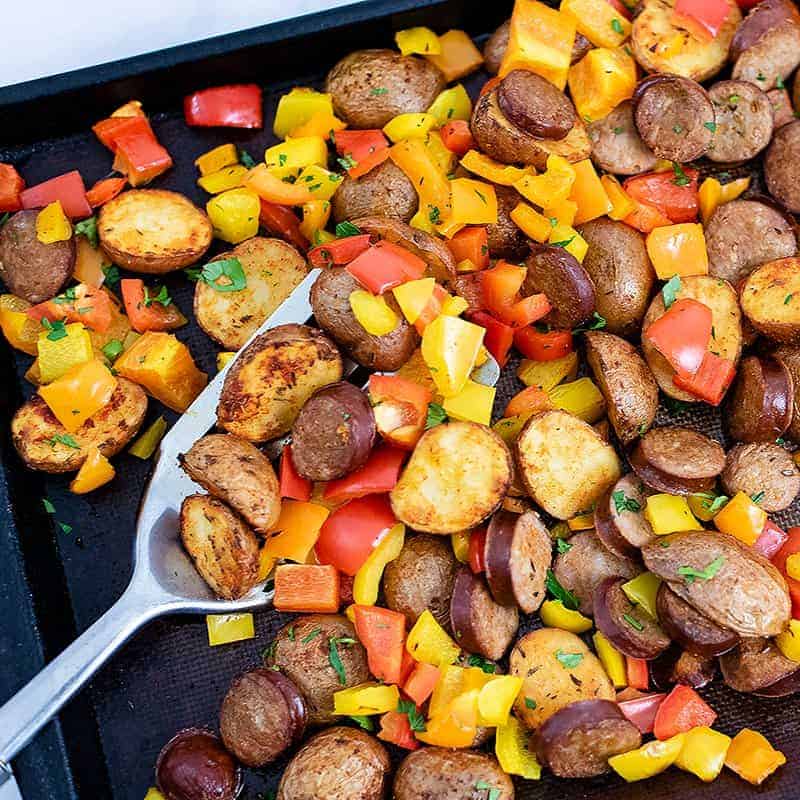 Easy Turkey Kielbasa and Potatoes Sheet Pan Dinner
$11.36 Recipe/$2.84 Serving
Easy Turkey Kielbasa Potato Sheet Pan dinner is a healthy, simple one pan meal that is ready in under 30 minutes! Easy to make and filled with veggies, this recipe is gluten free, grain free, paleo, Whole30 and kid approved! Serve it on busy weeknights, or prep it ahead during meal prep!

Print
Pin
Save
Saved!
Rate
Instructions
Rinse the baby potatoes and cut the potatoes in half so they are bite sized.

Add the potatoes to a large bowl. Add the avocado oil, smoked paprika, dried thyme and salt. Stir well to combine

Place a silicone liner or parchment paper liner on the baking sheet. Add the potatoes and roast at 450 for 15 minutes.

While the potatoes are roasting, slice the kielbasa into coins and chop the bell peppers

After 15 minutes, remove the potatoes from the oven. Add the sliced turkey kielbasa and chopped bell pepper.

Return the pan to the oven for 10 minutes.

TIP: If you want to brown the kielbasa, turn the oven onto broil for 3 minutes. This is optional and not necessary!
Notes
What other vegetables go well with turkey kielbasa and potatoes:
Bell peppers
Onions
Green Beans
Tomatoes
Kale
Spinach
Cabbage
To reduce how much cutting you have to do, use baby potatoes.
See how I calculate food cost
.
Nutrition Information
Nutrition Facts
Amount per Serving
Where does nutrition info come from? Nutrition facts are provided as a courtesy, sourced from the USDA Food Database.
DID YOU LOVE THIS RECIPE?
Let others know by rating and leaving a comment below!
Update Notes: This recipe was originally posted in January of 2019, but was published again in May 2019 to include step by step directions and recipe notes.