You are not going to believe how amazing this low carb pasta is! It's ready in under 10 minutes, no boiling water required! And the best part, it's only 3 ingredients, grain free, gluten free, vegan, paleo and Whole30 approved!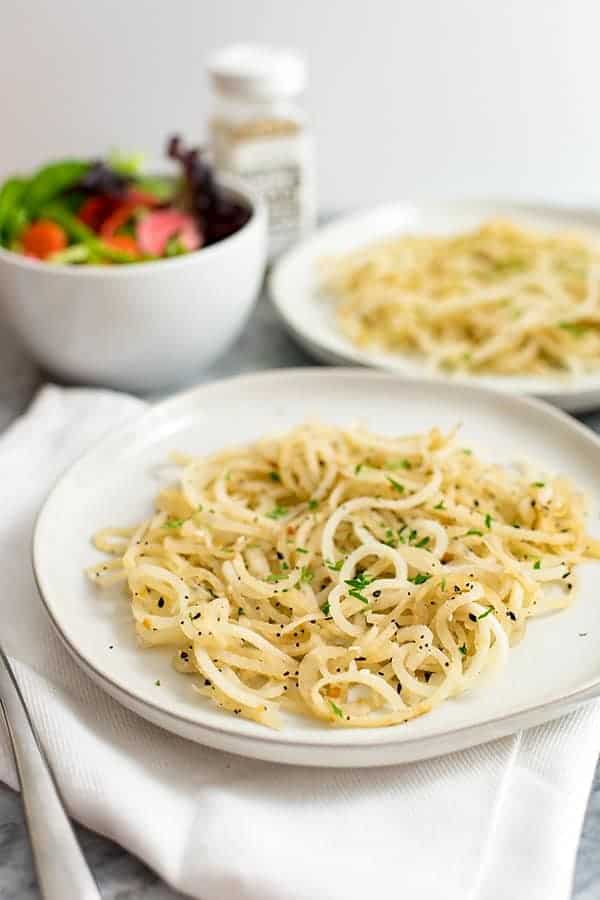 So here is the deal, all of my clients tell me they want to eat more vegetables, but they are short on time and really don't enjoy spending half their Sunday in the kitchen doing meal prep. And I HEAR YOU! So I'm trying to find new exciting ways to enjoy vegetables without spending hours in the kitchen. My solution, this low carb pasta with only 3 ingredients. It's ready in under 10 minutes!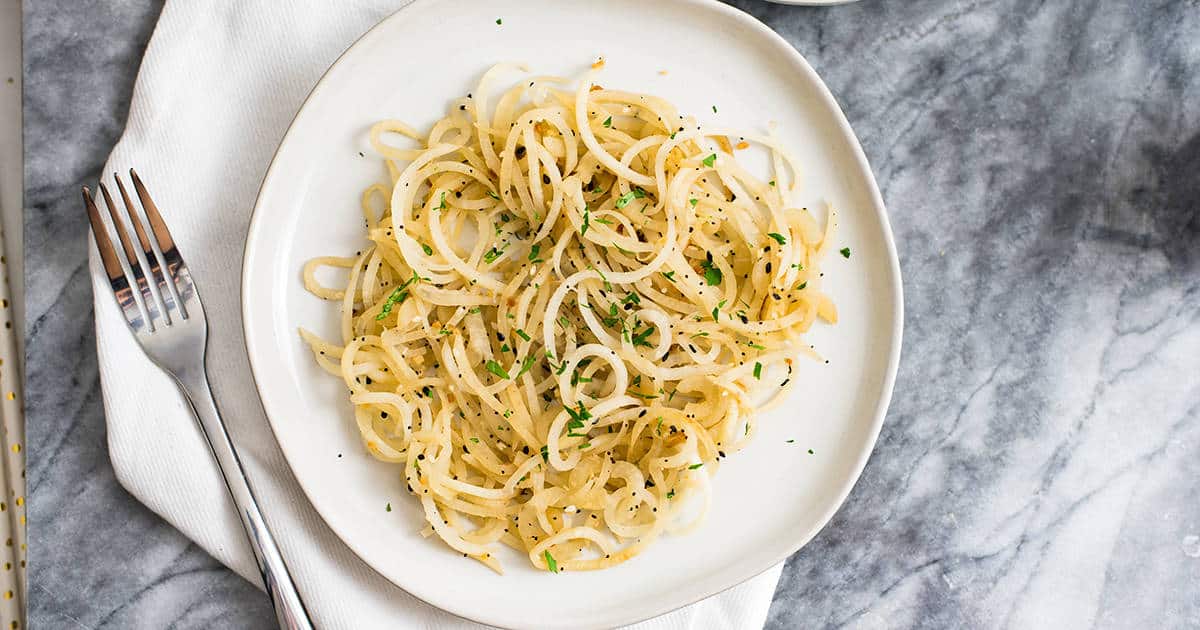 MY LATEST VIDEOS
The ingredients are:
Daikon radish (spiralized)
Everything But The Bagel Seasoning
Garlic Olive Oil
What is a Daikon Radish?
Seriously, if you haven't made daikon radish noodles before, it may become your new favorite spiralized veggie! If you are wondering what the heck a daikon radish is, don't worry, I was in the same boat this time last year. My first experience with daikon radish was in my CSA box. I actually got a purple daikon radish and had absolutely no idea what to do with it. So I pulled out all my cookbooks and found a recipe in my Inspiralize Everything cookbook (affiliate link).
So daikon radish is a long white (sometimes green or purple) root vegetable that resembles a GIANT white carrot. It's actually a cruciferous vegetable (like cauliflower, brussels sprouts, broccoli) and is extremely easy to cook with!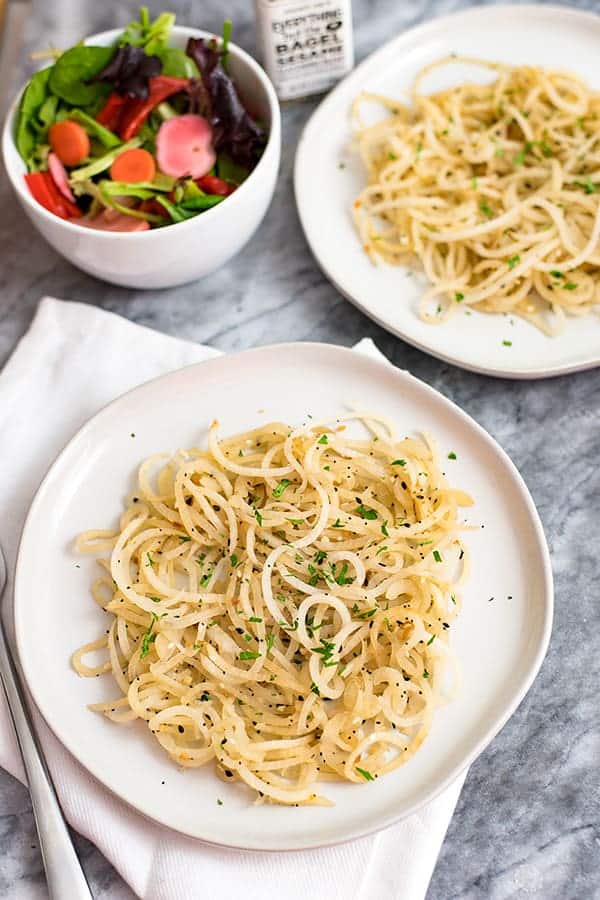 I tried the daikon radish raw and it was very radish-y. Sharp, crisp, but very refreshing. Not sure how else to explain the flavor. But what I discovered was that when you cook the radish, that sharp radish flavor subsides and you are left with a very delicious noodle! So for months, I have been adding daikon radish to my breakfast scramble, which I very often load with Everything but the Bagel seasoning and top with eggs.
So I learned on the internet while searching what the heck to do with this thing, that the flavor of daikon radish changes the closer you get to the top. So if you get a large daikon radish, the top half (closer to the leaves) is much sweeter. This is the part of the radish I use for making 3 ingredient pasta! Our local grocery store only sells daikon roots that are the top half. So be aware that if you spiralize the entire root, it may get more radish flavor closer to the pointy tip of the radish!
About a month ago, I accidentally over bought veggies (happens more often than I like to admit), so I had like 5-6 daikon radishes to eat. So I of course decided to have daikon radish noodles for lunch, covered in everything but the bagel seasoning (affiliate) and it did not disappoint. Seriously though, I have made this meal on repeat and have had cravings for it since then, which is usually a good indication that I should share it with you!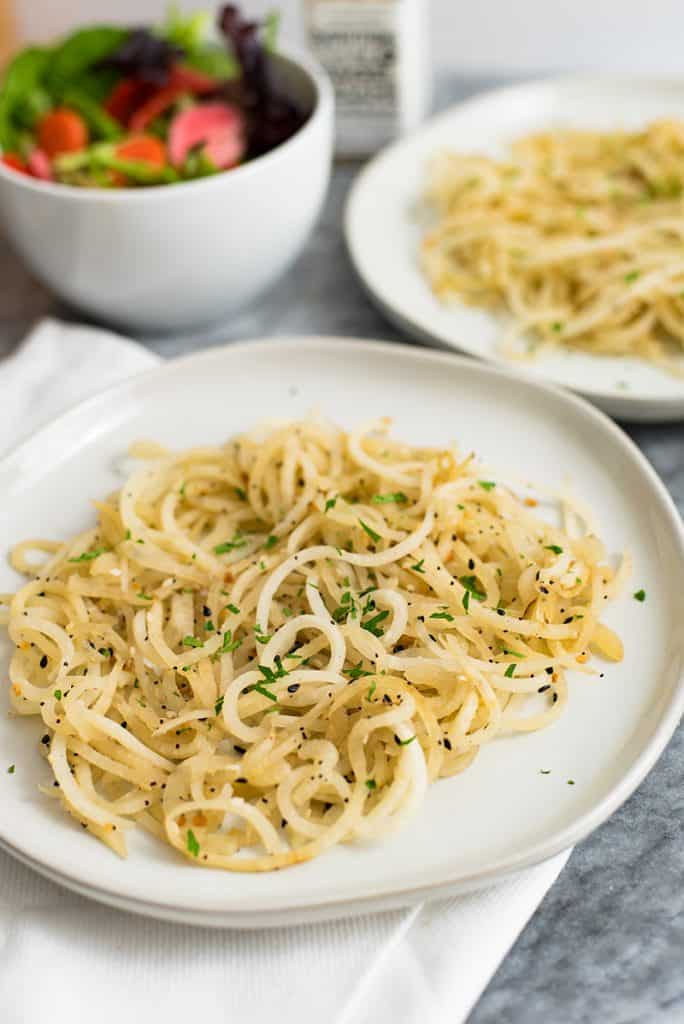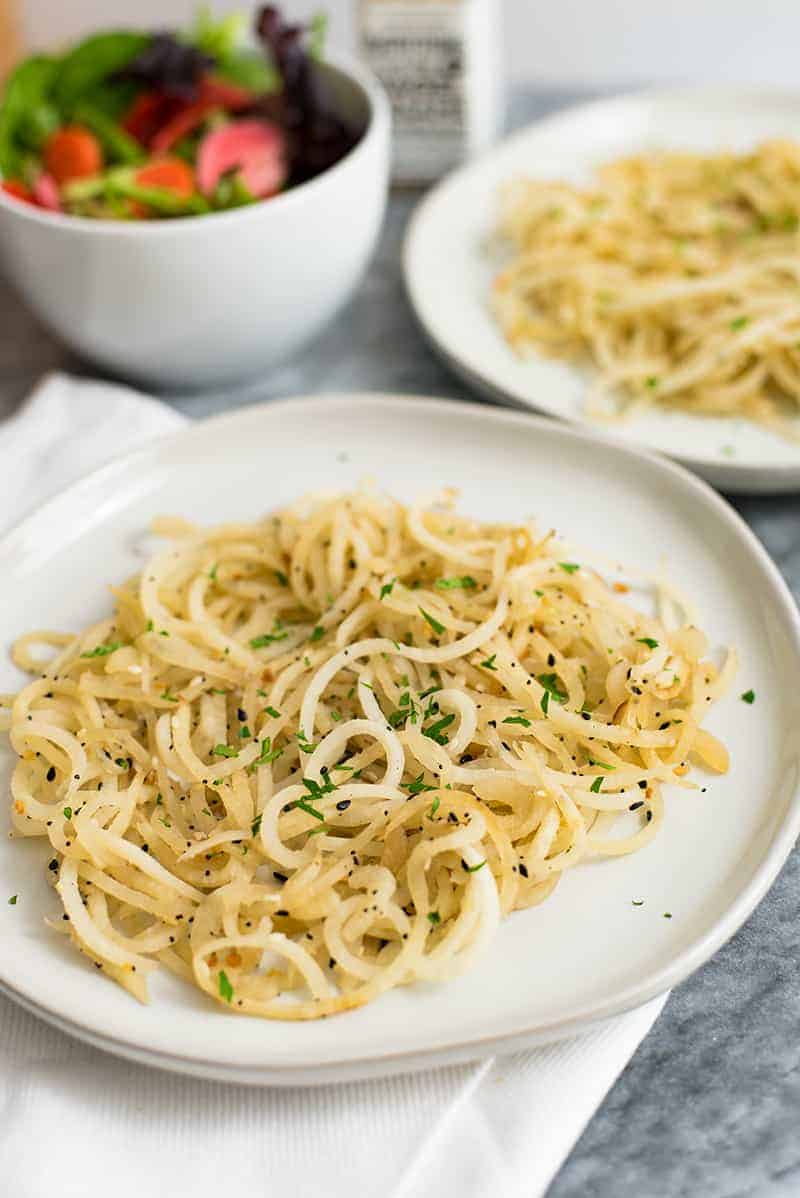 Health benefits of Daikon Radish
Daikon radishes are low calorie, low carb and full of Vitamin C! (One cup of sliced daikon has 21 calories, 3 net carbs and 1 gram of protein), making it a great low carb side dish! Daikon radish contains the active enzyme myrosinase, which has antimicrobial and antimutagenic properties (and is being researched in cancer treatments). Daikon radish also provides digestive enzymes, which help the body break down fat, protein and carbs into easier to digest particles for the body.
More low carb pasta dishes:
Ginger Garlic Shrimp Zoodle Bowl
Low Carb Cabbage Carbonara from Lowcarb-Ology
Zoodles with Turkey Meatballs in a Red Pepper Sauce by a Dash of Megnut
Lemon Dill Shrimp Zucchini Pasta by Wonky Wonderful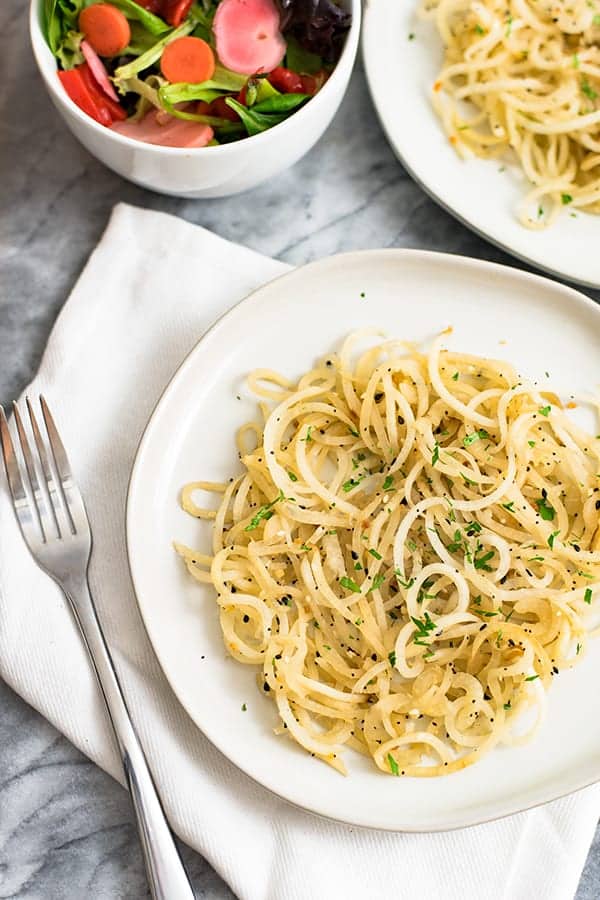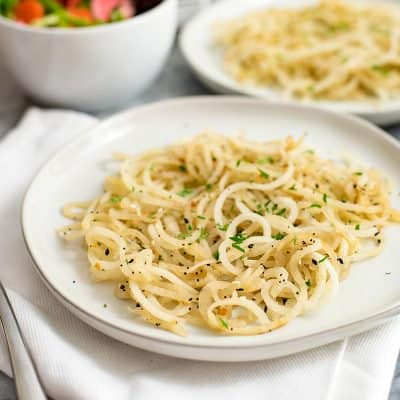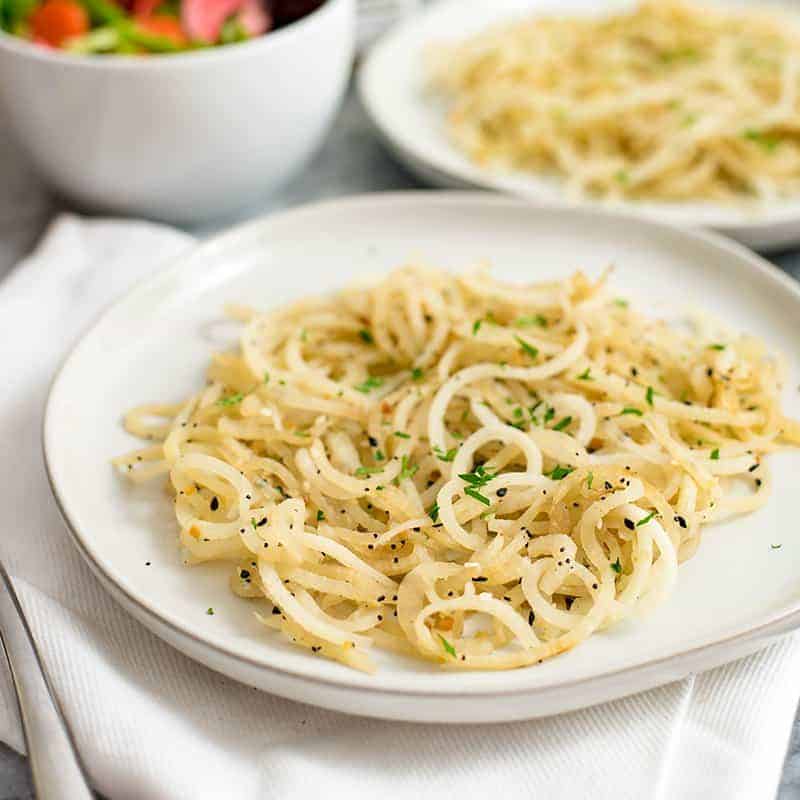 Low Carb Pasta
This low carb pasta is the perfect side dish or quick meal! Ready in under 10 minutes, this 3 ingredient pasta dish is vegan, gluten free, grain free, dairy free, paleo and Whole30 approved!
Ingredients
1

tbsp

garlic olive oil

2

tbsp

Everything But the Bagel Seasoning

Trader Joe's brand

1

lb

daikon radish, spiralized
Instructions
Spiralize the daikon radish.

Heat a cast iron skillet over medium heat. Add the garlic olive oil and saute the daikon radish for 6-8 minutes, stirring occasionally.

Add the Everything But the Bagel Seasoning, stir well and serve hot.
Nutrition Facts
Low Carb Pasta
Amount Per Serving
Calories 162
Calories from Fat 117
% Daily Value*
Total Fat 13g 20%
Sodium 47mg 2%
Potassium 514mg 15%
Total Carbohydrates 9g 3%
Protein 1g 2%
* Percent Daily Values are based on a 2000 calorie diet.