Healthy sliced baked apple recipe is the perfect way to celebrate the fall season.
This recipe for healthy baked cinnamon apples is so easy to make, with no added sugar or sweeteners, paleo, vegan, gluten free, Whole30 and grain free! These healthy sliced baked apples are going to become your new family favorite!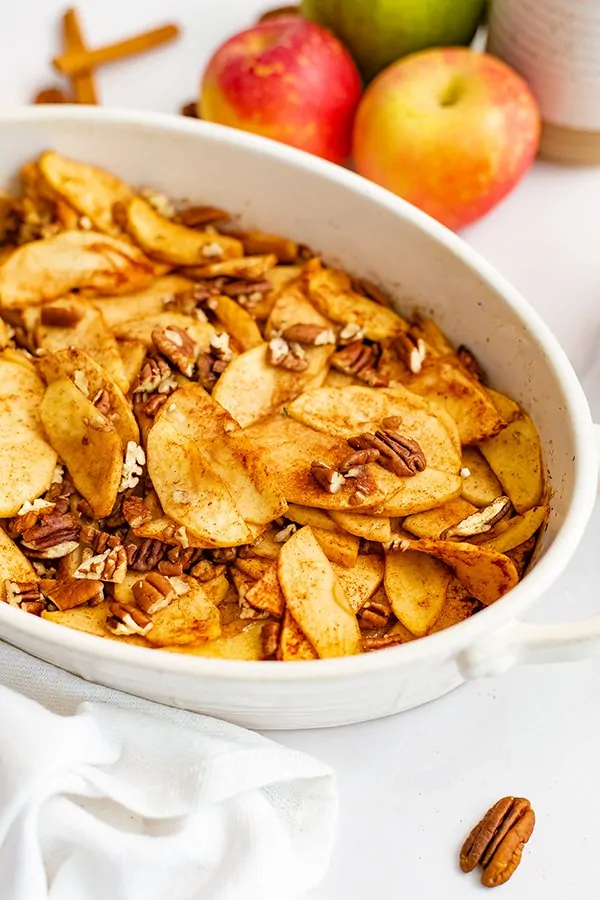 Why you will love this recipe year round
Made with just a handful of easy to find ingredients, these healthy baked apples are the perfect dessert or even breakfast item! They go great with ice cream, on top of oatmeal or even as a topping for pancakes!
You are not going to believe how easy it is to make delicious baked apple slices without sugar! The secret ingredient is ground cloves!
Your house is going to smell incredible as these are baking! Need to impress your guest? Make this ahead of time and let the warm cinnamon and apple combination welcome them into your home! These healthy baked apples also keep really well, so you can make them ahead of time and just reheat them in the oven for a few minutes.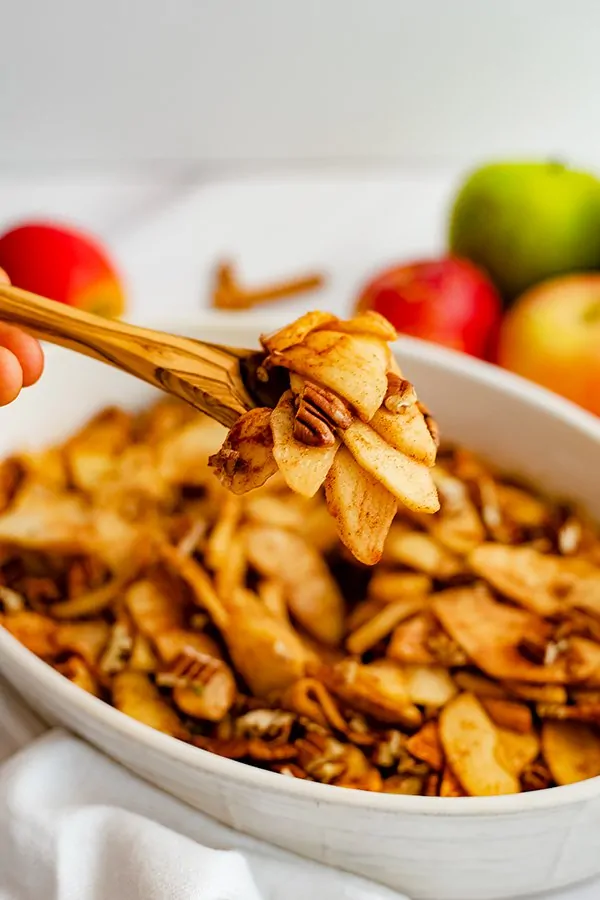 This post contains affiliate links. As an amazon associate I earn from qualifying purchases.
Click here to read my policy
and more about affiliate links.
Ingredients
The great news is that these healthy baked sliced apples are so easy to make! All you need is:
Apples – baking apples are the best for this since they hold up their shape when baked. The best baking apples include: fuji, pink lady, honeycrisp, granny smith apples.
Lemon – lemon juice helps to ensure the apples don't brown and also helps to intensify the sweetness from the apples.
Cinnamon – cinnamon is the perfect pair with apples and helps make the entire dish more comforting.
Cloves – cloves are my secret weapon anytime I'm making anything with apples. They help make the apple seem sweeter than they are and help intesify the aroma when baking.
Arrowroot flour/tapioca powder/cornstarch – this is used to thicken the juices that come off the apples.
Optional: chopped pecans, walnuts, pumpkin seeds or other nut or seed you love for adding crunch to the dish.
How do you make healthy baked apples
Peel the apples.
Slice the apples into similar size pieces. The thinner the apples are, the faster they will cook and caramelize. However, you don't want to make them so thin that they fall apart.
Next, make sure you are adding some acid so the apples don't turn brown from oxidation. You want the apples to still look good after baking!
My favorite tip though is to add cinnamon and ground cloves to the apples. Don't skip the cloves, they are the secret ingredient to creating the most decadent healthy baked apples without the need for any added sugar.
Also, be sure to add arrowroot flour/tapioca powder/cornstarch to make sure the juices that come off the apples create a heavenly sauce that coats the apples as they cook. You only need a tablespoon to do the trick for this recipe!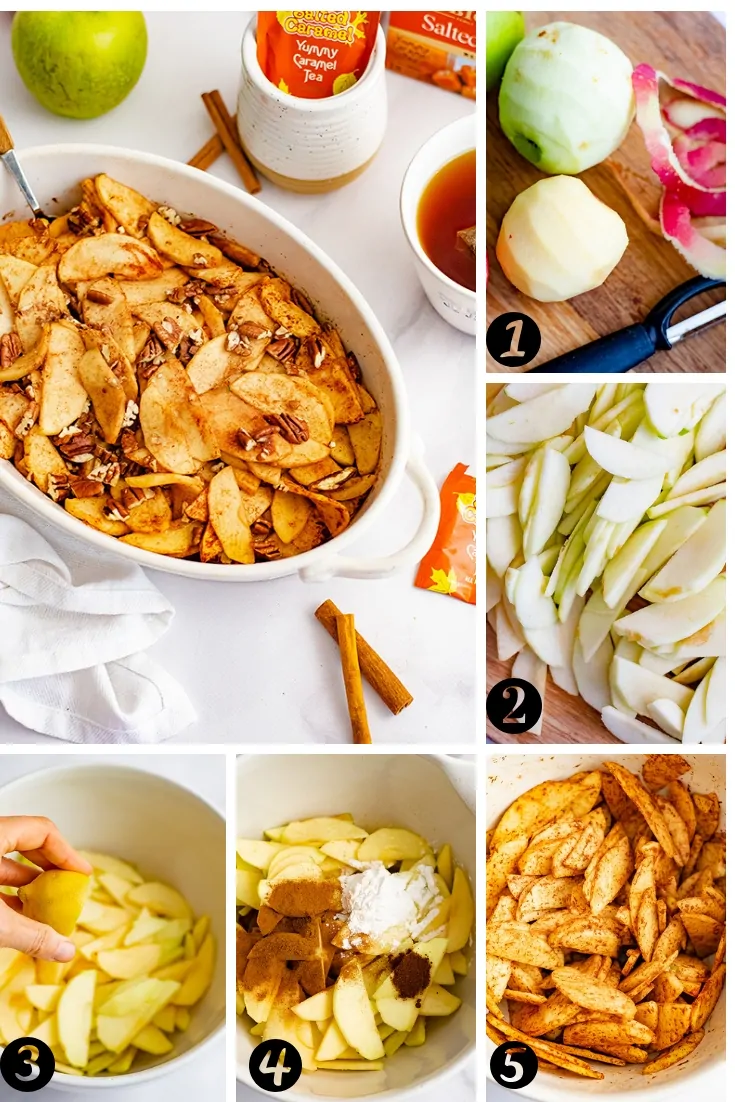 How to make healthy sliced apples in the crockpot (slow cooker)
To make these healthy baked sliced apples in the crockpot, you will need to add 2 tablespoons of water to the apples to help them from sticking to the bottom of the crockpot.
Be sure to spray the crockpot with non-stick spray.
Cook for 4-5 hours on the lowest setting.
Recommended tools for this recipe
What are the best apples for baked apples
I like to use a combination of granny smith apples and fuji apples since they are easy to find in the store and I like the combination of a little sweet from the Fuji's and a little tart from the Granny Smith Apples. But here are some other great apples for baking!
Honeycrisp (sweet and juicy)
Braeburn – very crisp and bakes juicy!
Pink lady – a good all-around apple that is sweet and tart – if I could have found organic Pink Lady apples, I would have used them instead of the mix of fuji and granny smith.
Topping ideas
These healthy baked apple slices are great as is, but you could also take them to the next level (especially for company) with these fun topping ideas:
Dairy free whipped cream or vegan ice cream
Homemade granola for added crunch
Drizzle of cashew frosting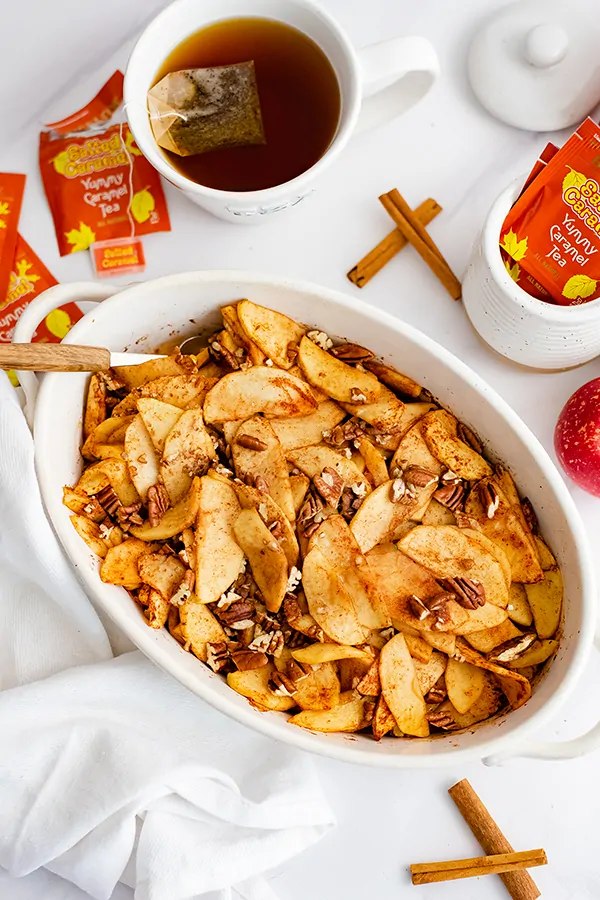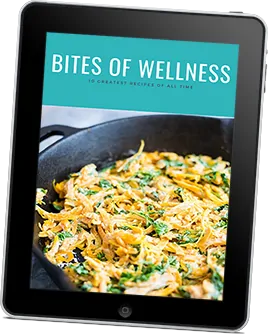 GET 10 OF MY ALL TIME GREATEST RECIPES
IN THIS FREE EBOOK
How to store healthy cooked apples
After baking, you can store these healthy cooked apples in an airtight container for up to 4 days in the fridge.
I would not recommend freezing any leftovers as the texture of the apples will change. If you have leftovers you need to freeze, blend them up into applesauce before freezing.
If you love this recipe, you should try
★ Did you make this recipe? Please give it a star rating below!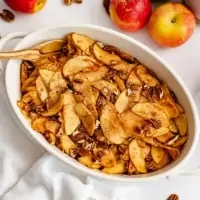 Healthy Baked Sliced Apples
This healthy baked sliced apple recipes is a simple fall dessert! No added sugar, this vegan, gluten free, paleo recipe is easy to make and can even be made in the crockpot!

Print
Pin
Save
Saved!
Rate
Instructions
Peel and slice the apples into uniform slices, about 1/8th of an inch

Add the apples to a large bowl. Squeeze the juice of a lemon over the apples. Add the cinnamon, cloves and arrowroot powder and stir well until all the apples are fully coated with the cinnamon/clove mixture.

Add the apples to a large casserole dish.

Bake in a 350F oven for 30 minutes.

Take the apples out of the oven, stir with a spoon. Add the chopped nuts (or seeds). Bake for an additional 10 minutes.

See post for crockpot modifications
See how I calculate food cost
.
Nutrition Information
Nutrition Facts
Amount per Serving
Where does nutrition info come from? Nutrition facts are provided as a courtesy, sourced from the USDA Food Database.
DID YOU LOVE THIS RECIPE?
Let others know by rating and leaving a comment below!