These protein packed lemon blueberry muffins are the perfect way to start the day! Sweet, satisfying and so delicious, these lemon blueberry muffins are vegan, gluten free, and packed with protein, healthy fats and fiber making them the perfect breakfast or healthy snack!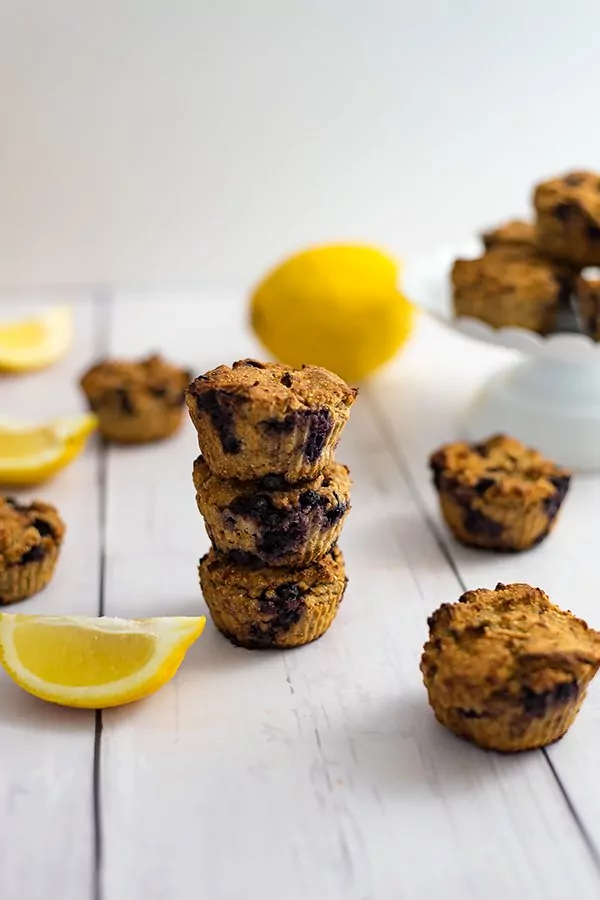 In high school, I would eat a granola bar for breakfast and pack the biggest bowl of Special K cereal for lunch. I would buy skim milk from the lunch line and eat that on repeat every single day. I was a vegetarian that ate NO vegetables. And I was ALWAYS starving when I got home from school. Like, I couldn't get enough food in my body starving. I developed some pretty awful binge eating habits around this time. I remember coming home and feeling like I had to eat until I couldn't breathe.
Looking back, I realize I was likely depriving my body of some pretty important nutrients. Protein, good healthy fats and micronutrients from vegetables to be specific. I remember I would go days and days on pasta, cereal and cheese sandwiches. I struggled with terrible acne and weight issues, which I'm sure my less than stellar diet contributed to. Nowadays I limit my intake of grains, and live a gluten free and dairy free lifestyle, as it's what makes my body feel it's best right now!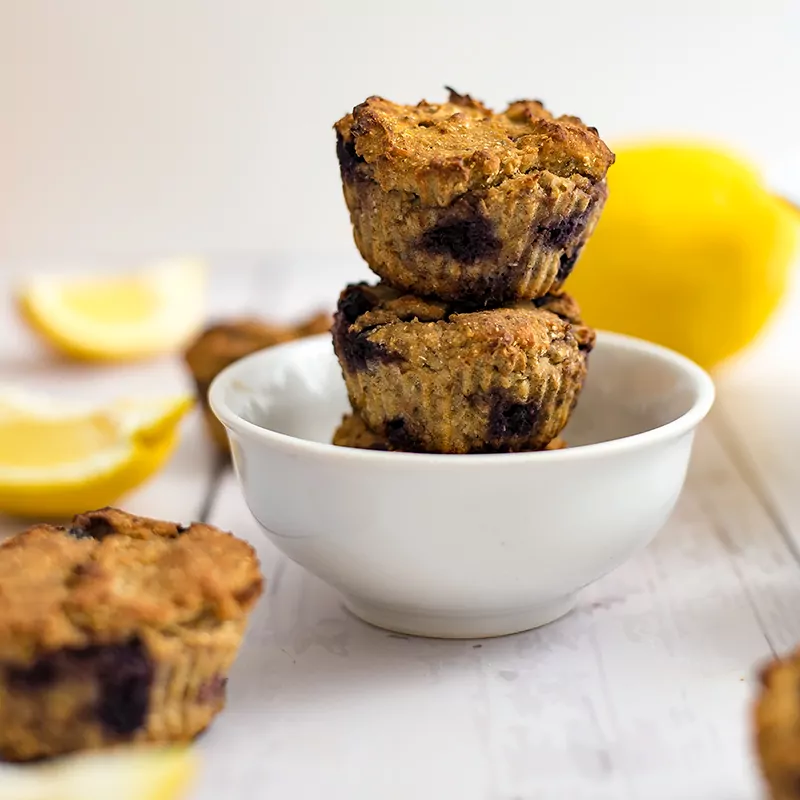 Luckily I have taken action to change my terrible teenage eating habits. These didn't change overnight and I continue to be open to making more and more changes based on where I'm at in my life. I started these changes by incorporating more vegetables into my meals. I learned how to cook so I was relying less and less on processed foods and started playing around with baking since I could never imagine my life with sweets.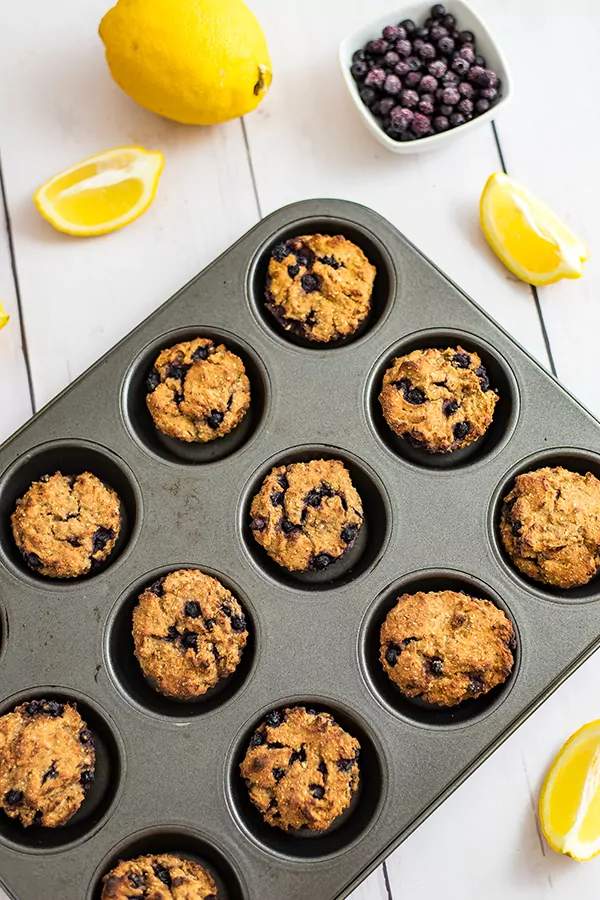 I learned a lot from experimenting in the kitchen. For example, you cannot just replace things like butter or sugar with applesauce and expect the recipe to turn out perfectly. You cannot interchange vegan protein powder with whey protein (or collagen or egg white protein) and expect the same results. Eggs and chia or flax eggs do on create the same texture and may require different baking times. But you can make really yummy baked goodies with better quality ingredients!
Take these protein packed lemon blueberry muffins. They are packed with protein and fiber to help you feel full and satisfy your sweet tooth at the same time. They are made with protein powder, almond flour, coconut flour and other whole food ingredients.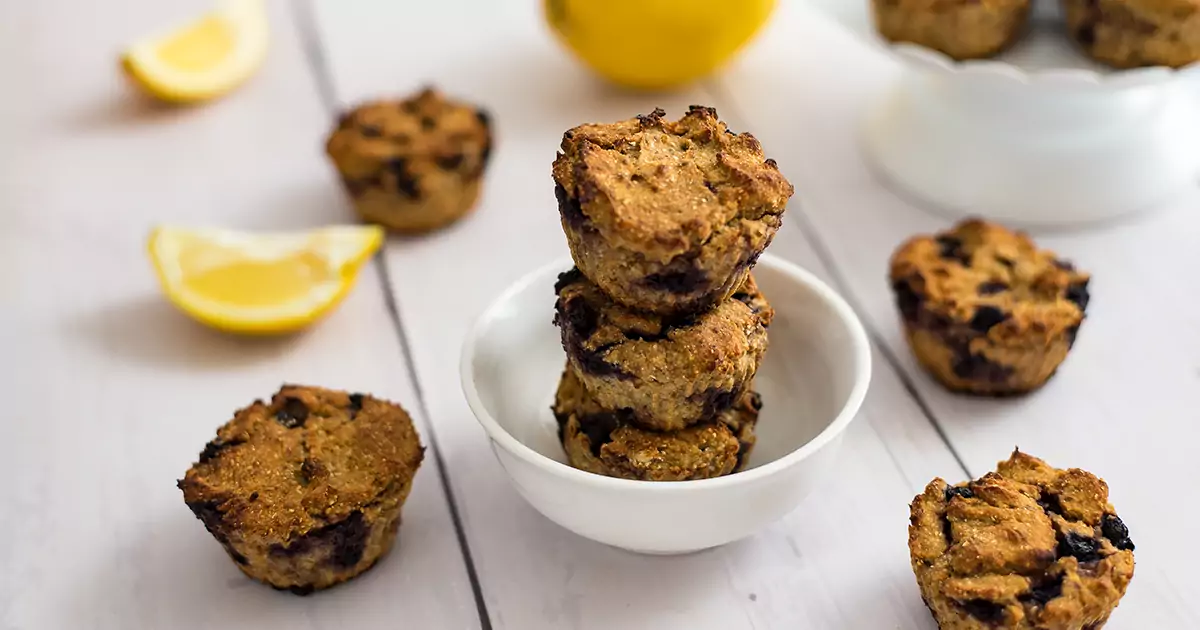 Do these lemon blueberry muffins taste like the muffins as big as your head that you get at the local bakery? No, but I'm ok with that. They are dense, not light and airy, and are much smaller than your traditional muffin (portion control at it's best). But they do taste amazing and were the perfect way to curb my sweet cravings I often have around 3pm, especially on days I workout!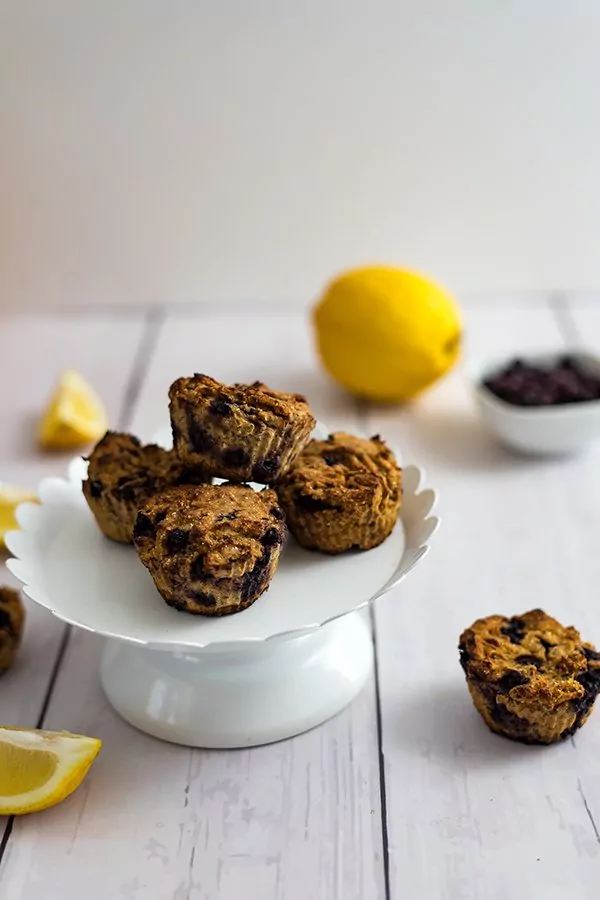 This post contains affiliate links. As an amazon associate I earn from qualifying purchases.
Click here to read my policy
and more about affiliate links.
If you love this recipe, you should try
★ Did you make this recipe? Please give it a star rating below!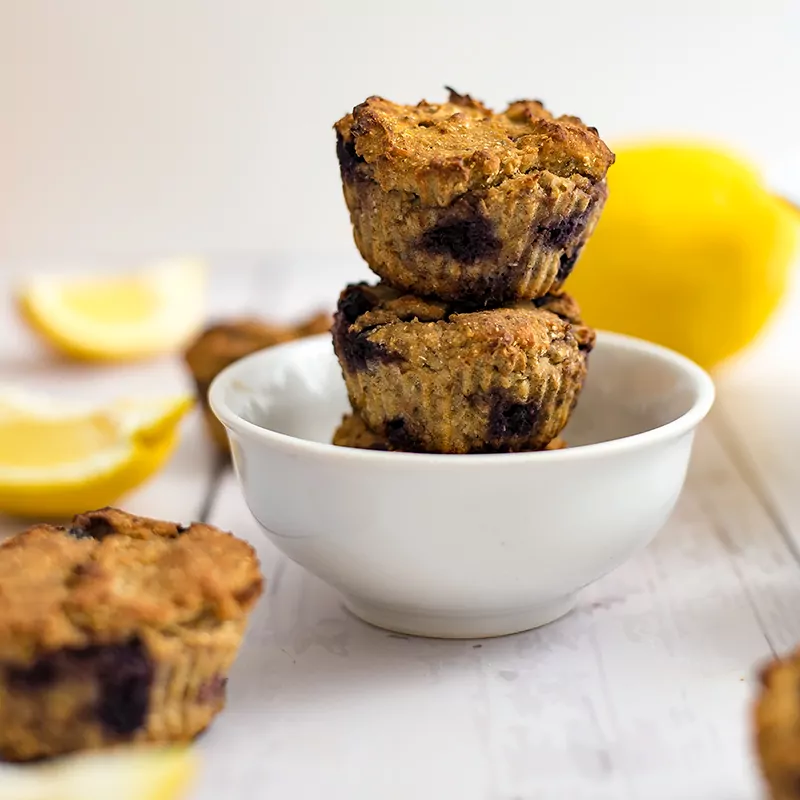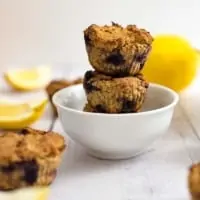 Protein Packed Lemon Blueberry Muffins
These protein packed lemon blueberry muffins are the perfect way to start the day. They are gluten free, vegan, packed with protein, fiber and healthy fats to help you feel full and satisfied instead of craving sugar all day.
Print
Pin
Save
Saved!
Rate
Instructions
In a large bowl, mash the banana. Add applesauce, ground flax and dairy free milk.

Add the almond butter, protein powder, almond meal, gluten free flour, vanilla extract and baking powder. Stir well until fully incorporated

Zest a large lemon (or 2 smaller lemons) and add it to the batter.

Add the frozen blueberries and stir just enough to incorporate them throughout the batter.

Place parchment paper or silicone muffin liners in a muffin tin. Divide the mixture between 8 muffin liners.

Bake at 375F for 35 minutes.
Notes
Allow the muffins to cool completely before removing from muffin tin/liners as they are delicate right out of the oven.
Store in the fridge, in an airtight container for up to 4 days.
Freeze in a freezer safe bag for up to 2 months. Defrost in the fridge overnight or microwave on high until defrosted, in 20 second increments.
See how I calculate food cost
.
Nutrition Information
Nutrition Facts
Amount per Serving
Where does nutrition info come from? Nutrition facts are provided as a courtesy, sourced from the USDA Food Database.
DID YOU LOVE THIS RECIPE?
Let others know by rating and leaving a comment below!