Gluten free protein pancakes are the perfect healthy breakfast.
Packed with protein and fiber, these easy protein pancakes only have 7 ingredients and are so easy to make! No blender needed! Gluten free, dairy free, refined sugar free and no refined grains!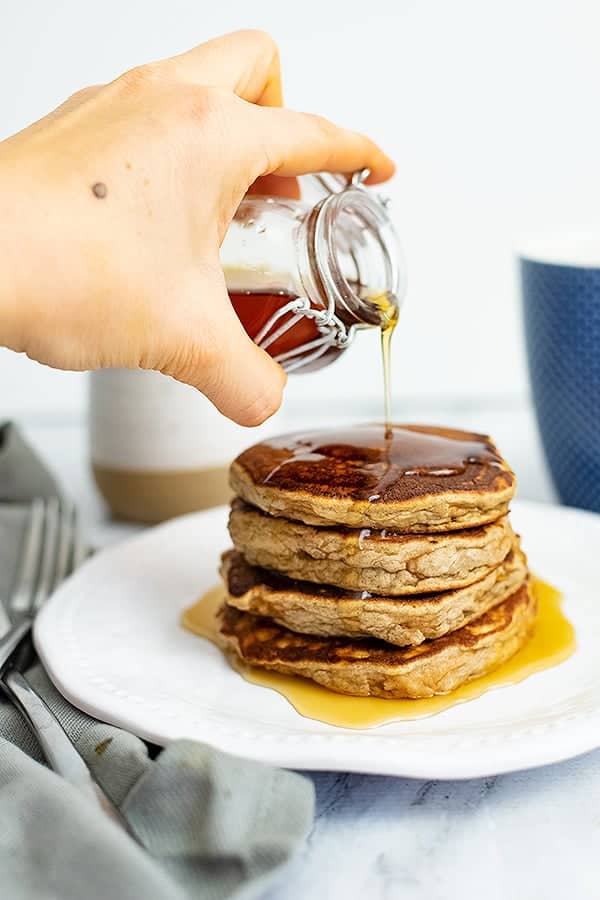 This post contains affiliate links. As an amazon associate I earn from qualifying purchases.
Click here to read my policy
and more about affiliate links.
Why you will love these protein pancakes
These are so easy to make, you only need one bowl and a few healthy ingredients
This recipe for the easiest gluten free protein pancakes makes between 6-8 pancakes, the perfect amount for 2 people. You can easily double this recipe to make extra!
Great the next day too! Great for meal prep!
Top these with balsamic strawberry chia jam or serve with oven poached eggs for a healthy filling breakfast or brunch!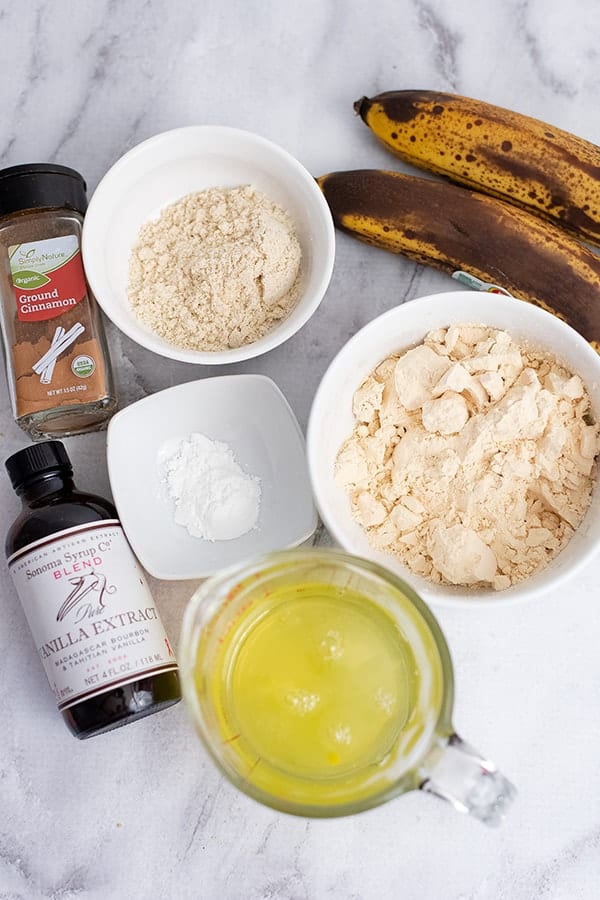 Ingredients
Banana – bananas provide natural sweetness and help create the structure for the pancakes. Ripe bananas will creates a sweeter pancake, so the more brown spots the better!
Egg Whites – egg whites the pancakes stay together as you are flipping them and are really essential to this recipe. I would not recommend using a flax egg for these. You could use 3 whole eggs instead of 6 egg whites, but I don't love the taste.
Protein powder (vegan) – this recipe uses a vegan, pea protein based protein powder. For best results, I recommend using the same kind of protein. I love Nuzest but you can use whatever you have on hand that fits this description. Be sure you like the flavor of your protein powder, as it will influence the flavor of the pancakes.
Gluten free flour of choice – to keep this recipe grain free, you can use coconut flour, cassava flour or tigernut flour. If you just need a gluten free recipe, use your favorite gluten free flour.
Baking powder – baking powder helps the pancakes rise and lets them be fluffy. These pancakes are pretty dense so the baking powder is needed to create the right texture!
How to make protein pancakes
Mash the bananas in a bowl
Combine the mashed banana and whisk in the egg whites. Be sure the egg whites are combined with the banana before trying to incorporate the dry ingredients.
Add the rest of the dry ingredients to the wet ingredients
Stir the ingredients until there are no more lumps.
Spray the skillet with non-stick spray. Use a large spoon to divide out the batter. This recipe makes between 6-8 pancakes. The batter is going to be very thick so use a spoon don't try to pour it! Cook for 4-5 minutes.
Flip them and cook 3-4 more minutes until firm to the touch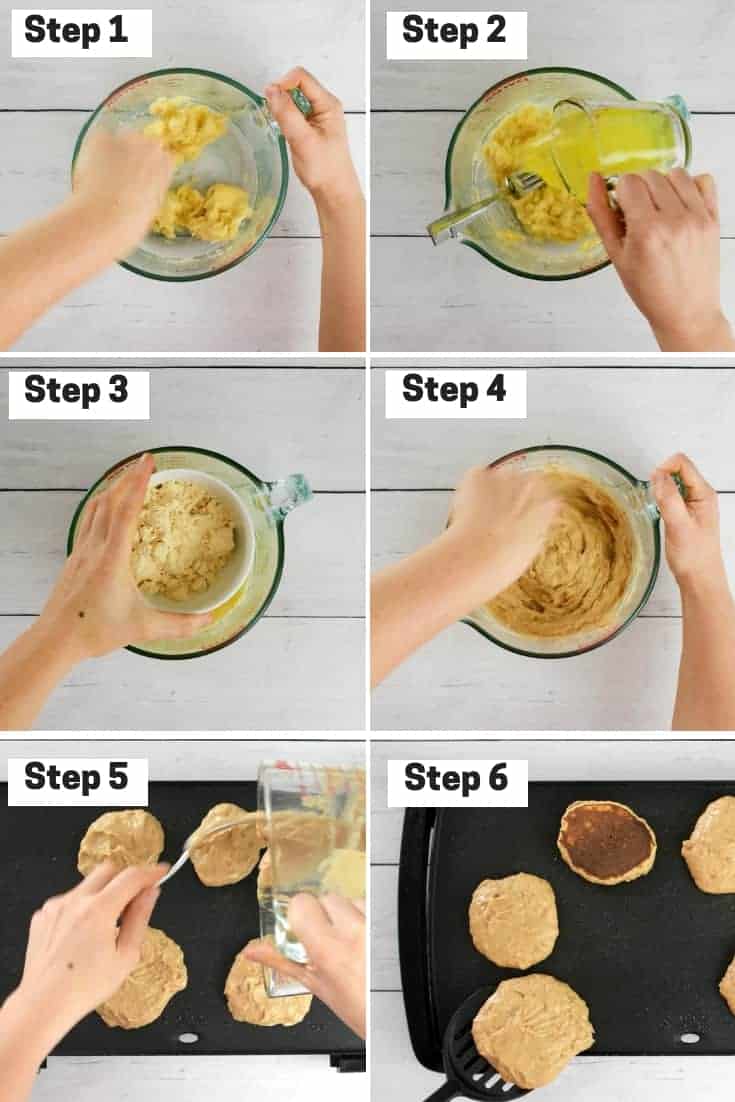 Top tips
Use ripe bananas that are easy to mash! Ripe bananas are also sweeter and since there is no other sweetener in this recipe, that is important!
Use a non-stick griddle! I currently use the non-stick griddle I got right after college but have my eye on a ceramic upgrade that is less toxic.
Don't be afraid to spread the batter out with the back of your spoon to thin them out. If they are too thick, they will be hard to cook all the way through
Unlike traditional pancakes, you won't see as many of the bubbles on the top, you have to check the underside of the pancakes to see if they are ready to flip. The bottom should be golden brown.
How to know if they are done? Press down on the pancakes with your finger! If they are soft, they need another minute. If they feel firm and dense they are done!
If you don't have a griddle where you can cook all of these at once, turn your oven on 200F and store the cooked pancakes in the oven while you make the rest to keep them warm.
Recommended kitchen tools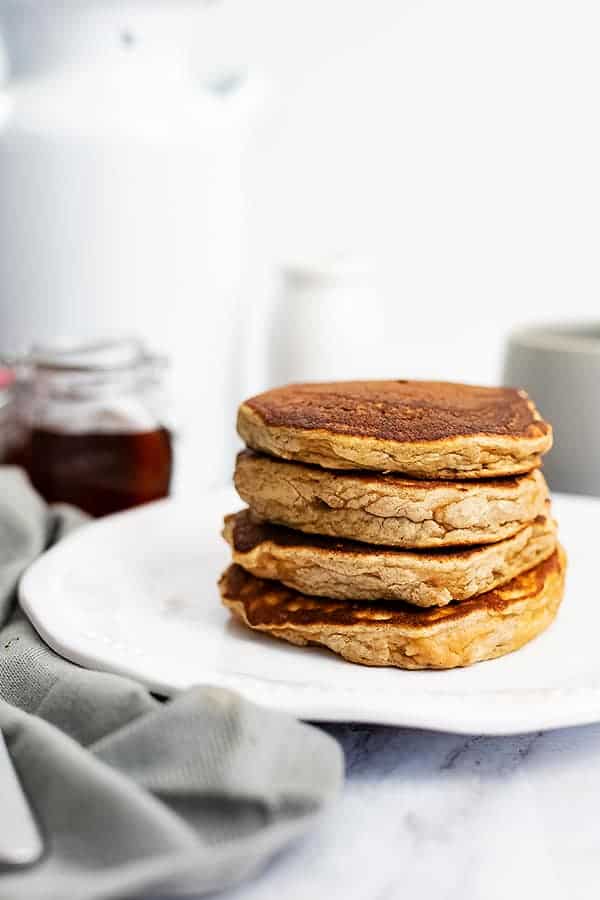 Common questions
How to freeze protein pancakes
Start by cooling the pancakes completely in the fridge first.
Once cool, place the pancakes on a baking sheet lined with wax paper or parchment paper. Freeze the pancakes in a single layer on the baking sheet until frozen solid.
Once frozen, stack them in a freezer safe bag or container with a small piece of parchment paper between layers so they don't stick
Use the toaster oven, air fryer or microwave to reheat.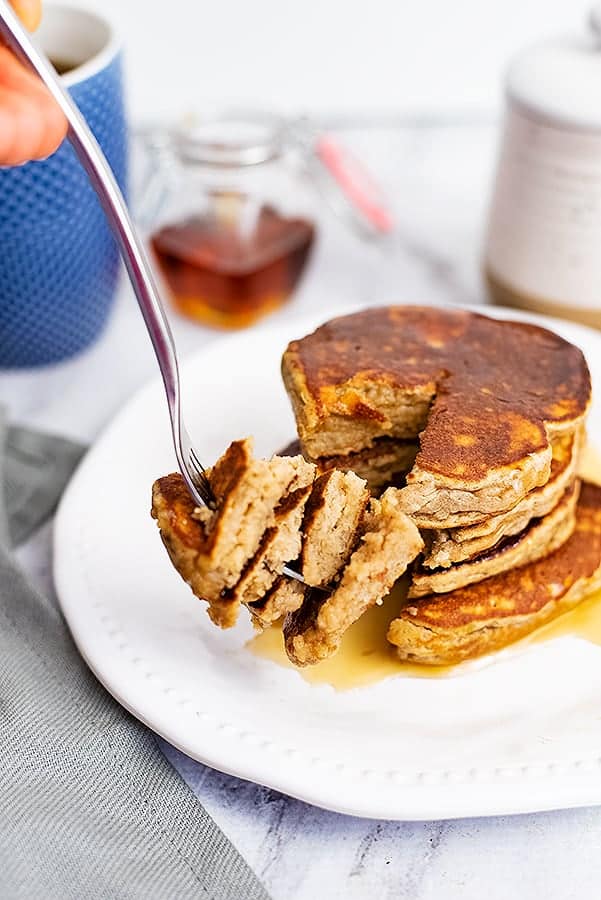 What to add to pancake mix
These dairy free protein pancakes are great on their own. You could also add some fun ingredients right to the batter before cooking!
Dairy free chocolate chips or cacao nibs
Blueberries, chopped strawberries, raspberries
Coconut flakes
Chopped nuts or seeds
Healthy pancake toppings
Chocolate chips
Blueberries, strawberries, raspberries
Banana slices
Maple syrup or honey
Butter or ghee
Yogurt
Nut butter (peanut butter, almond butter, cashew butter, coconut butter)
Chopped nuts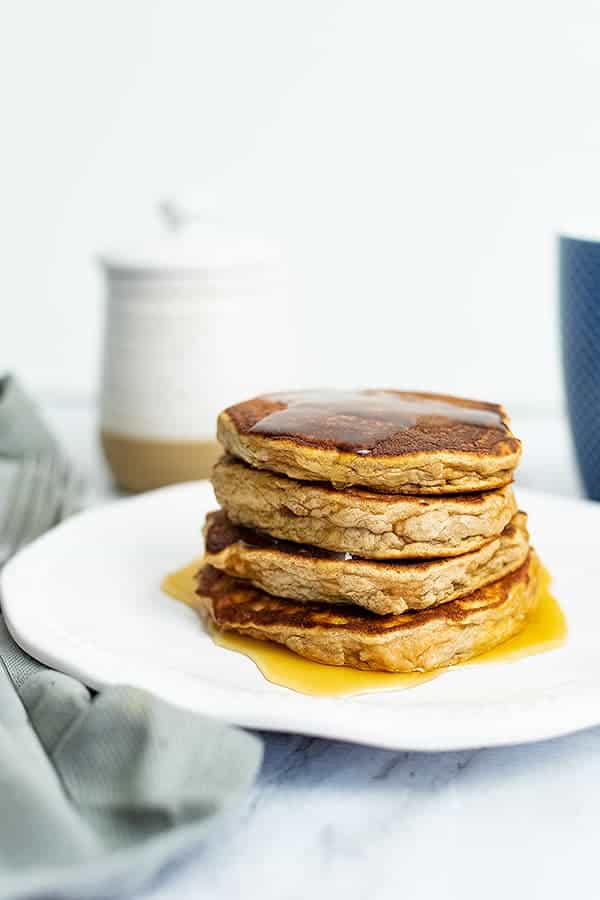 What kind of protein powder should be used
This recipe calls for a vegan protein powder. I personally like to use Nuzest because of the minimal ingredients and no artificial ingredients. But you can use any kind of plant based protein that you have on hand.
Plant based protein takes the place of flour in traditional recipes. Whey based protein or collagen peptides do not absorb as much liquid as plant based and therefore cannot be substituted.
How to store protein pancakes
Refrigerator: Store in the fridge for 3-4 days in a well sealed container.
Freezer: Stored in a freezer safe bag, these pancakes can be stored in the freezer for up to 3 months! See tips above on how to freeze so they won't stick together!
Substitutions
Coconut flour: This recipe calls for coconut flour but I have also used gluten free flour as well. You can replace the coconut flour with 3 tablespoons of gluten free flour.
Protein powder: If you don't have protein powder, you can replace each serving with 1/3 cup of gluten free flour plus 1-2 tablespoons of coconut sugar or maple syrup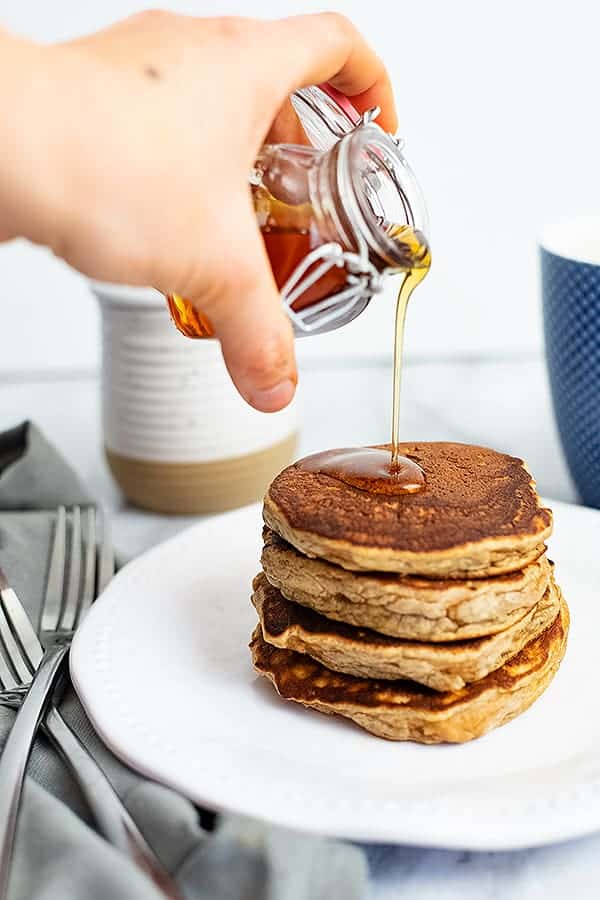 If you love breakfast recipes, you should try
★ Did you make this recipe? Please give it a star rating below!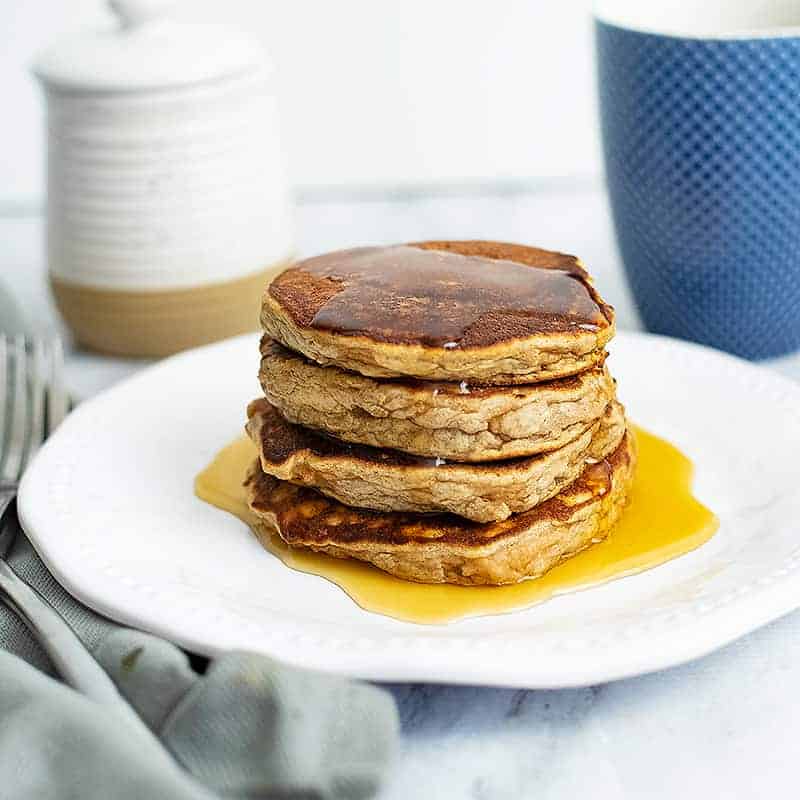 Protein Pancakes
Gluten free protein pancakes are the perfect healthy breakfast. Packed with protein and fiber, these pancakes only have 7 ingredients and are so easy to make! No blender needed! Gluten free, dairy free, refined sugar free and no refined grains!
Print
Pin
Save
Saved!
Rate
Instructions
Preheat a large nonstick pan or griddle (use medium heat).

Mash banana in a large bowl. Tip: to soften banana, put it in the microwave for 30 seconds before mashing.

Combine the egg whites the mashed banana until well incorporated.

Stir in the vegan protein powder and gluten free flour and mix until the lumps are minimal.

Add the baking powder, vanilla and cinnamon. Stir until incorporated, but don't over mix.

Spray pan or griddle with nonstick cooking spray and spoon pancake mixture into pancake sized circles (it will be thick, you may have to flatten the mixture out a bit). 1 Serving is 3-4 pancakes.

Protein Pancakes are ready to flip when the bottom side is lightly brown (usually 3-5 minutes).

Continue cooking for an additional 3 minutes before removing from heat.
Notes
Storage:
Fridge: Store extra pancakes in the fridge 3-4 days in a well sealed container after cooling on the counter.
Freezer: Allow them to cool completely, place parchment paper or wax paper between pancakes and freeze in a freezer safe bag up to 3 months.
Other mix-ins:
Chocolate chips or cacao nibs
Blueberries, strawberries (sliced), raspberries
Coconut flakes
Chopped nuts or seeds
See how I calculate food cost
.
Nutrition Information
Nutrition Facts
Amount per Serving
Where does nutrition info come from? Nutrition facts are provided as a courtesy, sourced from the USDA Food Database.
DID YOU LOVE THIS RECIPE?
Let others know by rating and leaving a comment below!