You are going to love this 4 ingredient vegan granola recipe! This homemade granola is so easy to make, naturally sweetened with maple syrup, gluten free, dairy free and perfect for breakfast, a snack or dessert!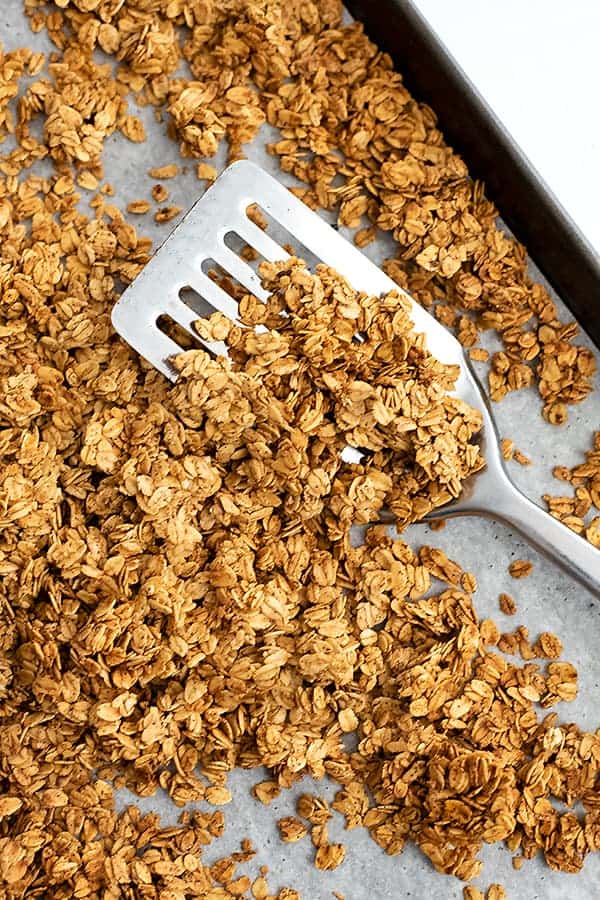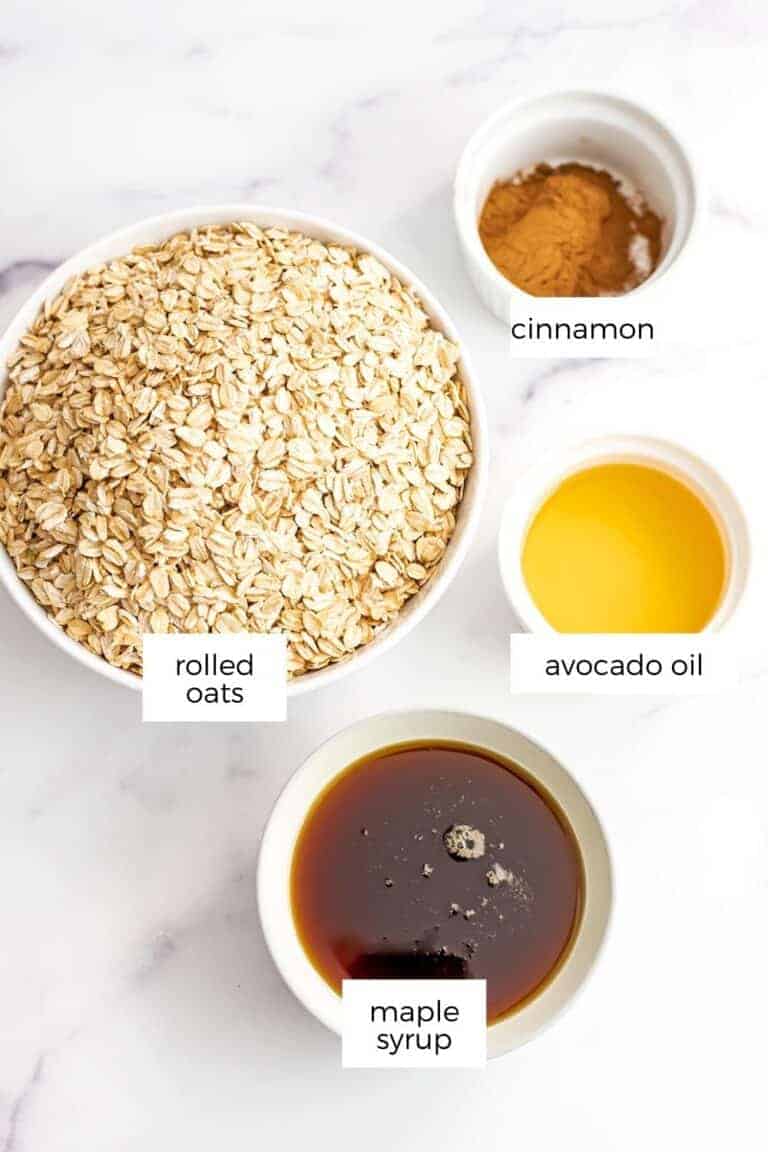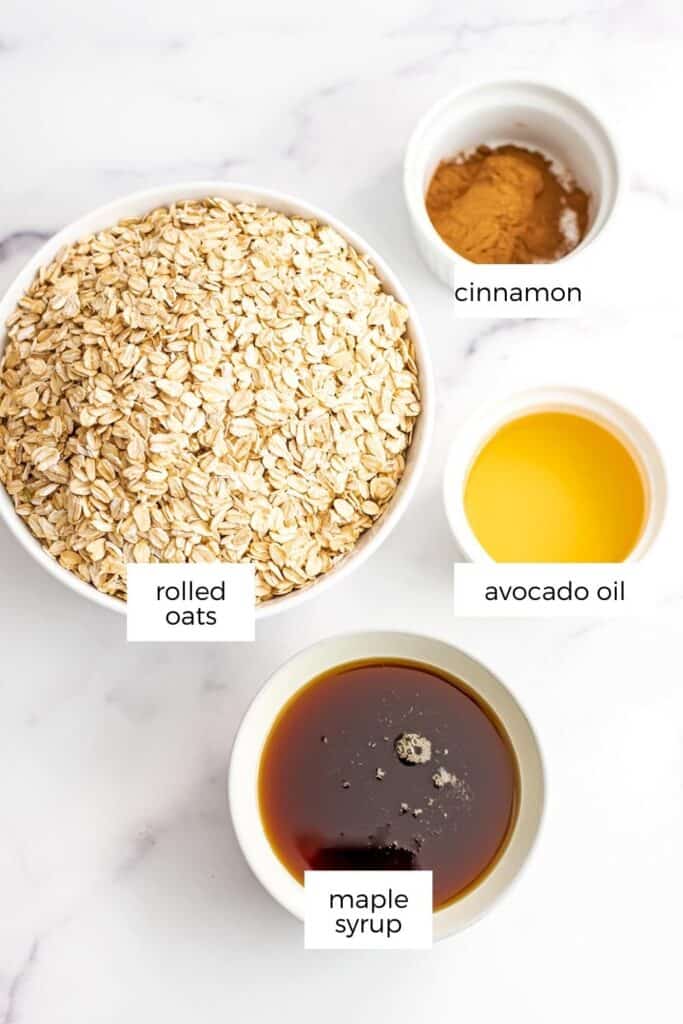 Ingredients
How to make vegan granola
Check out a step by step story on how to make this homemade vegan granola.
Preheat the oven to 350F
In a large bowl combine the gluten free oats, maple syrup, avocado oil and cinnamon. Stir well. Let sit at least 2 minutes. Stir again.



Add parchment paper or a silicone liner to an extra large half-sheet pan (which is the size of your oven). If you don't have a large sheet pan, you will want to prepare 2 sheet pans.
Add the granola mixture to the sheet pan and use the back of your spoon to even it out, spreading it into one uniform layer (that is not too thick).
Use the back of a spoon or a large spatula, press down on the granola mixture, really packing it down. This will help the clusters to form during cooking.



Place the granola in a 350F oven for 21 minutes. Take out immediately.
Let the granola cool completely (about 15-20 minutes) before you try to break it into clusters.
Once cooled completely, add to a glass container and store in the fridge.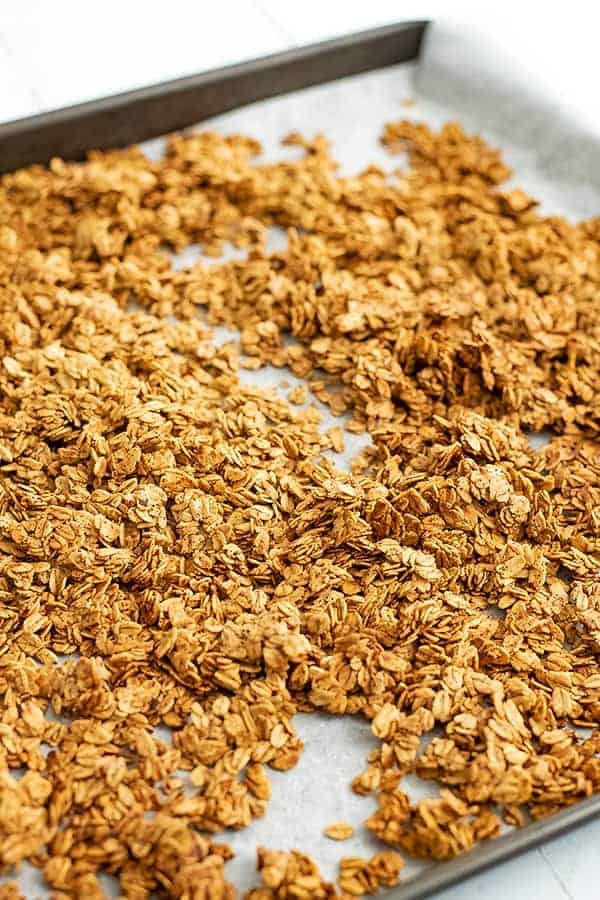 Other add in's to change the flavor
Coconut flakes (buy toasted coconut flakes and add them after cooking or add them half way through baking so they don't burn)
Chocolate chips (add at the end after granola is completely cooled off)
Cacao nibs (add at the end after granola is completely cooled off)
Dried fruit (add after cooking)
Nuts (walnuts, pecans, almonds, slivered almonds, pistachios, cashews, pumpkin seeds, sunflower seeds)
Change the flavor with pumpkin spice instead of cinnamon!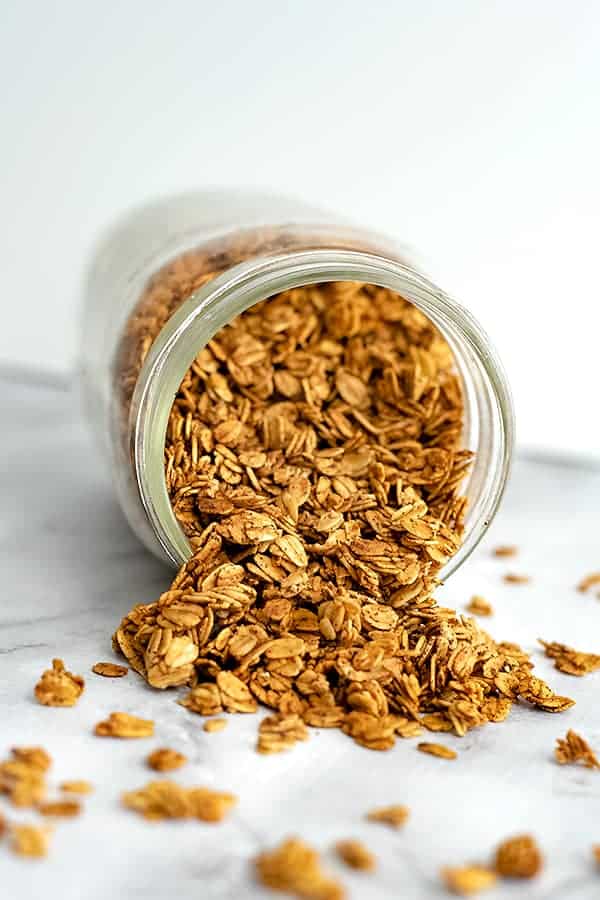 Common Questions for Healthy Granola
How long can you store granola?
You can store this easy vegan granola for up to 1 week in the fridge (for best texture and taste). You can also store it in individual portions in the freezer for a longer storage life (up to 3 months).
Can I cut back on the maple syrup?
This recipe can be cut down to 1/3 of a cup of maple syrup and it still form clusters. However, anything lower than 1/3 cup and the granola will not form the yummy granola clusters very well.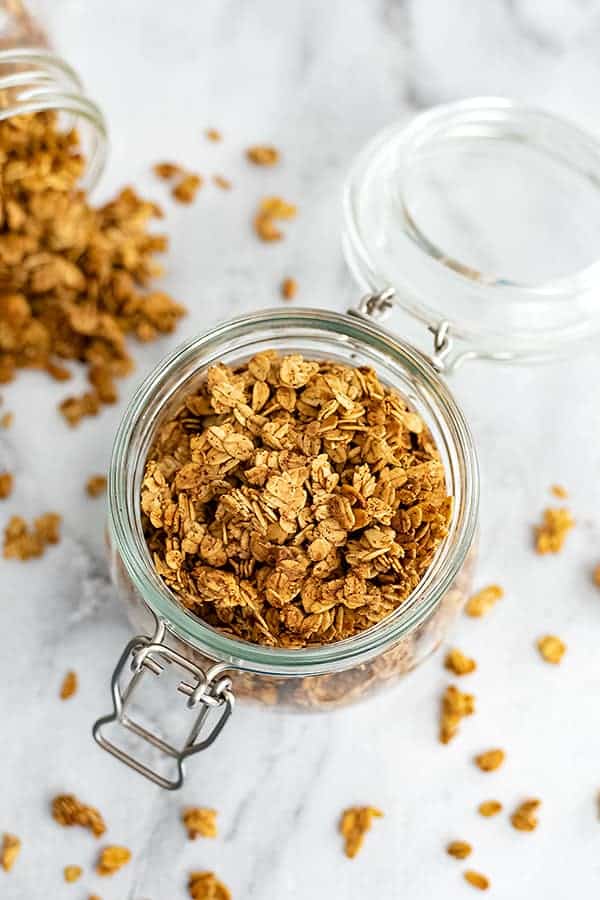 What if the granola doesn't form clusters?
Be sure to really press down with a spoon or a spatula when the granola is raw. Also make sure that you give the granola time to cool completely before breaking it apart. Use a large spatula and go slowly.
What are some ways to use granola?
With fresh fruit
On pancakes with almond butter or dairy free yogurt on top
On smoothies
On yogurt parfaits
As cereal with some fresh berries and milk of choice
On oatmeal or cauliflower oatmeal (for crunch) with some peanut butter or almond butter to make it extra delicious
On top of protein pudding for crunch and added carbs
As a snack right out of your hand (my personal favorite)