Perfect for breakfast, lunch, dinner or even as a side dish for Thanksgiving, this apple Brussels sprouts hash will seriously having you craving Brussels sprouts in the best way possible. I love the sweet apple paired with just slightly browned Brussels sprouts, balsamic vinegar and chopped hazelnuts. This is the perfect side dish for dinner or enjoyed with runny eggs for breakfast or brunch. Ready in just minutes, this vegan, gluten free, paleo hash is also great the next day as leftovers, although you really shouldn't expect any. Yeah it's that good.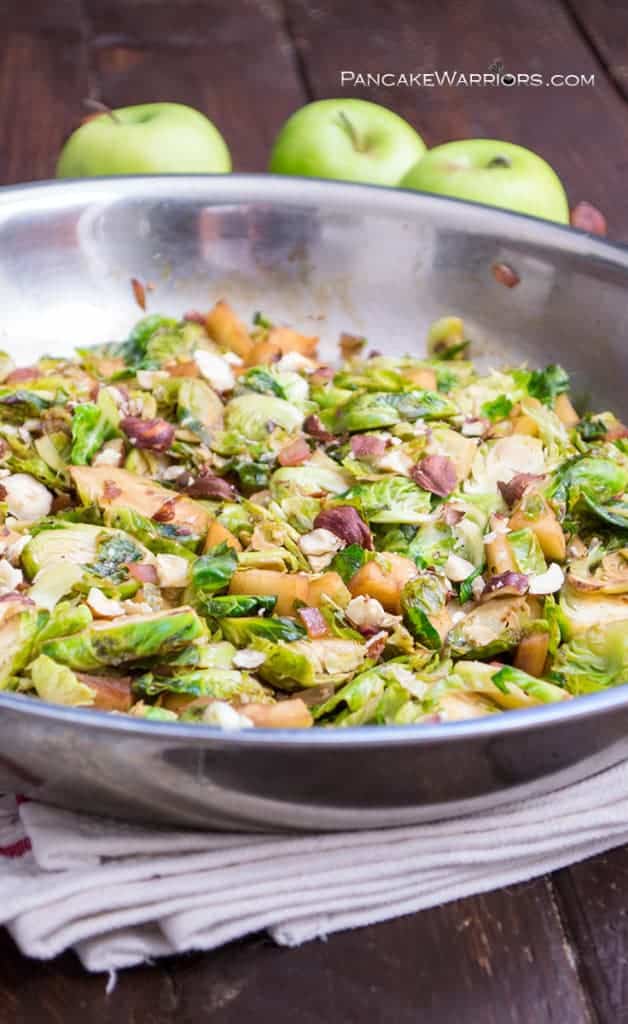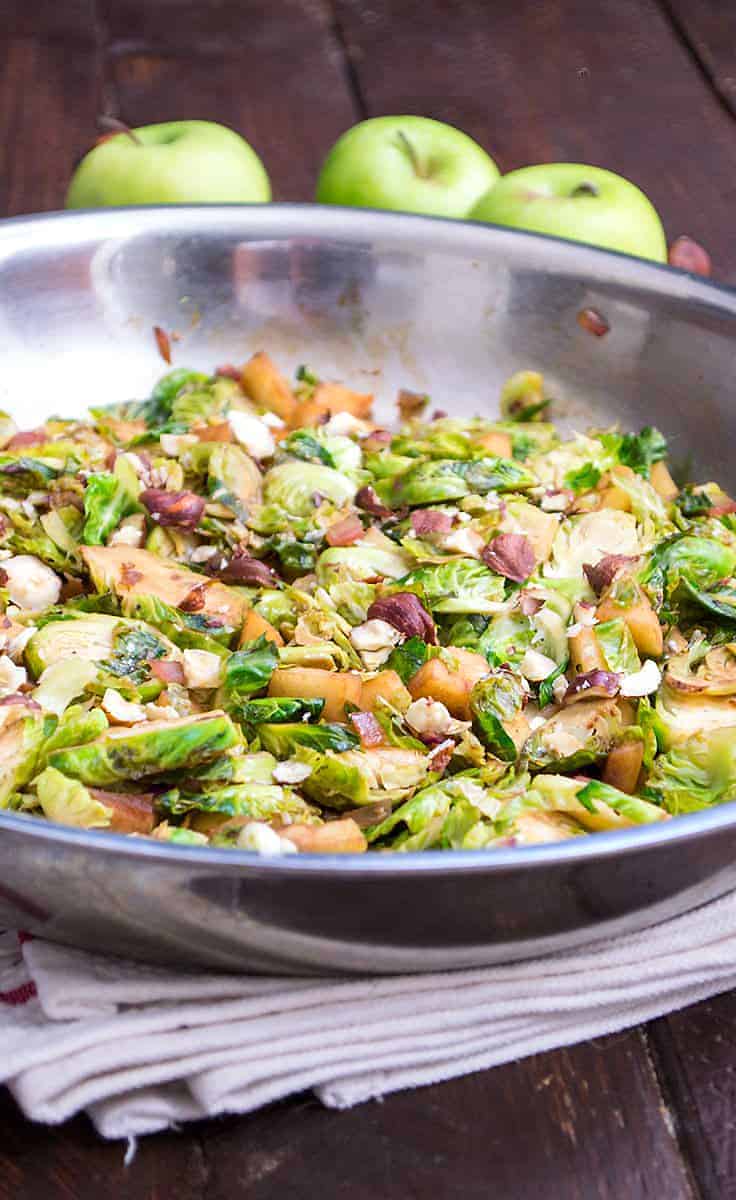 Brussels sprouts. I never in my life would have expected to crave them. But over the past year, I've become slightly obsessed. I eat pan seared Brussels with runny eggs and plantains or sweet potato hash at least once a week. It's one of my favorite breakfast for dinner meals. I buy 2-3 bags of Brussels every weekend. I may have a problem!
I used to think Brussels sprouts were SO GROSS! Then I tried them roasted in the oven with some coconut oil and salt. Holy cow – if you haven't tried them this way. you don't deserve to have an opinion on them! But I don't always have 40 minutes to wait for Brussels to roast in the oven when I have a craving. So I started experimenting and found that about 5-7 minutes over medium high heat allows the Brussels to slightly caramelize without getting soggy. Soggy Brussels (think steamed) are gross. Mushy food in general just does nothing for me – anyone else with me?

MY LATEST VIDEOS
So if you were like me and tried Brussels in their mushy overcooked glory when you were 7 years old. I implore you to try them again, there is nothing worse than writing off a food because you had a bad experience with them over 10+ years ago. The trick is to get them to caramelize a bit. That's where the magic happens. Oh and apples!
Yes the apples take this hash from good to great! They add a touch of natural sweetness as well as a contrasting texture. The layer of chopped hazelnuts add a crunch along with their nutty goodness that just reminds me of all things Fall and Thanksgiving. Breakfast food doesn't have to be fancy to be delicious and nutritious.
Adding green vegetables to every meal has been a focus of mine over the past year. I add frozen spinach to my green smoothies. I like to add kale or spinach to my crustless quiche or I make a coconut peanut butter green smoothie for the days that I just want pancakes or overnight oats. Because really, sometimes you just need pancakes 🙂
This would be an awesome side dish for Thanksgiving as well. To save time I could cut the Brussels (or buy them already shaved from Trader Joe's), as well as chop the hazelnuts the day before. Then it's just 10 minutes of cooking and you have a side dish that doesn't have to compete for space in the oven! Don't forget that apples tend to brown if you peel/cut them early, so just add a bit of lemon juice to the apples if you decide to prep that the day before as well!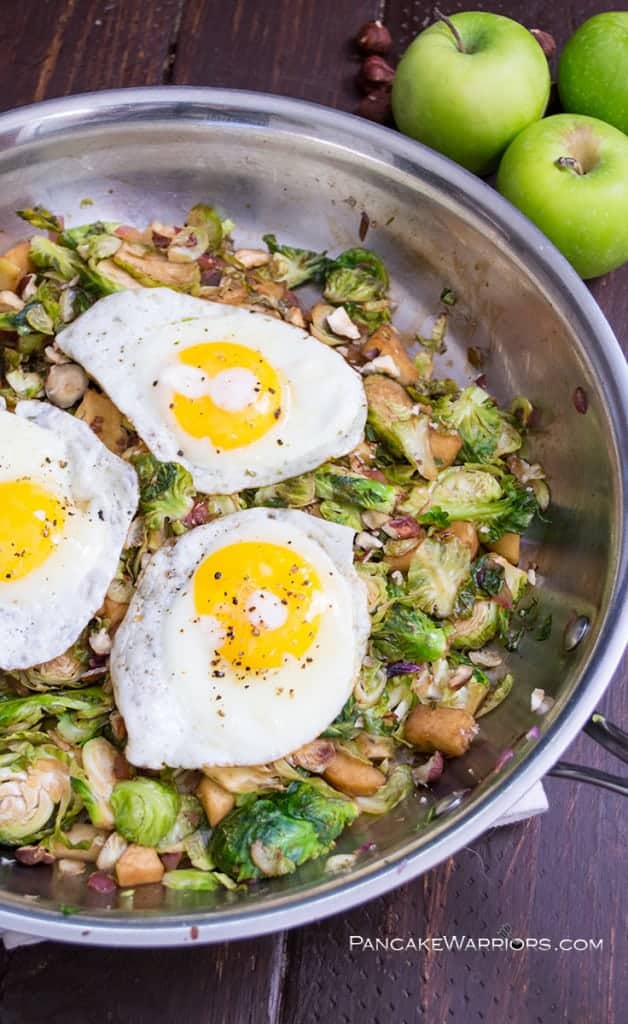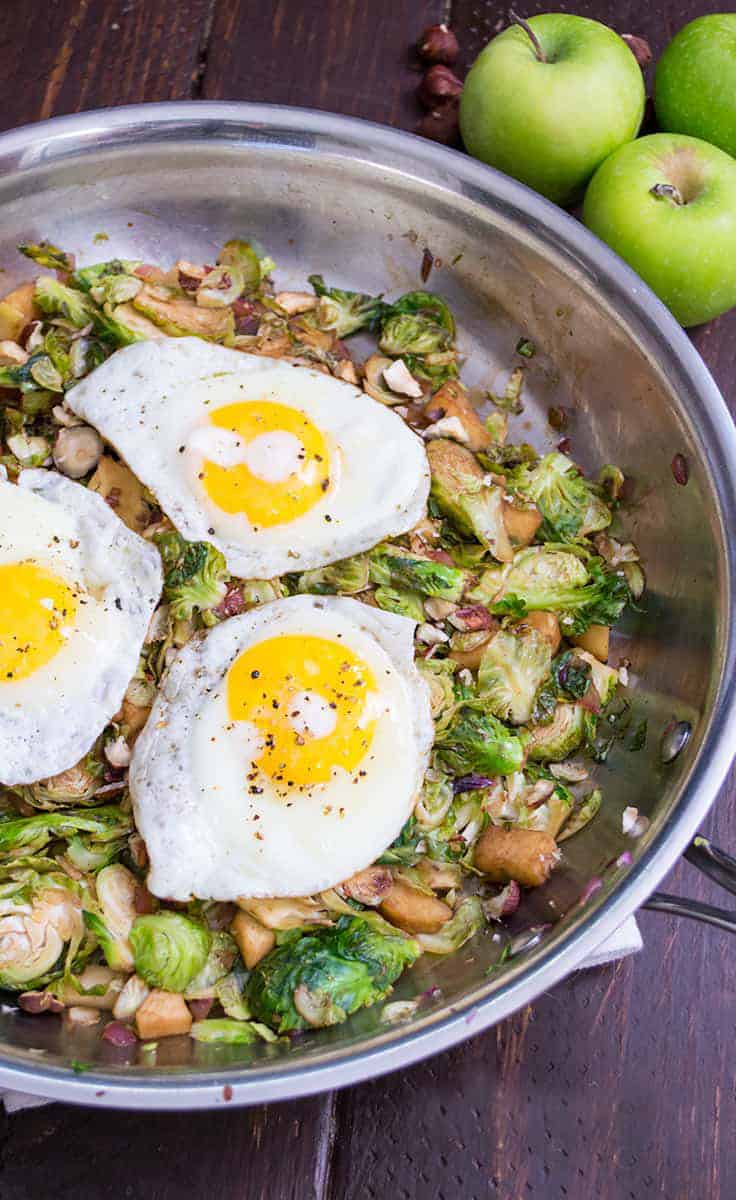 If you loved this Brussels Sprouts hash as much as I do, check out Paleo Brussels Sprouts with Creamy Dijon Sauce recipe.
Apple Brussels Sprouts Hash
Sweet apples paired with caramelized Brussels Sprouts and chopped hazelnuts combine to be a drool worthy hash. Perfect for breakfast, brunch, lunch or dinner. Vegan, gluten free, paleo.
Print
Pin
Rate
Ingredients
1

lb.

Brussels Sprouts

thinly sliced

1/2

tbs.

coconut oil

1-2

small Granny Smith Apples

1/2

tsp.

garlic powder

1/2

tsp.

salt

1

tbs.

balsamic vinegar

1/4

cup

hazelnuts

chopped

pepper to taste

3-4

eggs

optional
Instructions
Carefully slice the Brussels sprouts longwise from top to bottom (so the Brussels stay in tact).

Peel and chop the apple, reserving it to the side.

Heat a large pan over medium heat. Add coconut oil and allow to melt.

Once coconut oil is melted, add sliced Brussels sprouts.

After the Brussels have been cooking about 5 minutes, add the apple, garlic powder, salt, balsamic vinegar. .

Cook 5 more minutes. Add chopped hazelnuts.

Remove from heat and add pepper to taste.

If you are adding eggs, in a separate non-stick pan, crack 2 eggs at a time into the pan. Cook over medium low heat for 5 minutes, or until cooked to your desired consistency.
Nutrition
Calories:
187
kcal
|
Carbohydrates:
19
g
|
Protein:
9
g
|
Fat:
9
g
|
Saturated Fat:
2
g
|
Cholesterol:
122
mg
|
Sodium:
315
mg
|
Potassium:
586
mg
|
Fiber:
6
g
|
Sugar:
8
g
|
Vitamin A:
21.2
%
|
Vitamin C:
119.9
%
|
Calcium:
7.7
%
|
Iron:
14.3
%
What about you?
What's you favorite way to add veggies to your breakfast
Do you love Brussels sprouts.