Asian chicken pasta made in the instant pot is by far one of the easiest one pot dinners you can make!
Ready in under 15 minutes, this healthy gluten free recipe is better than take out and way less expensive! Even your kids are going to love this recipe!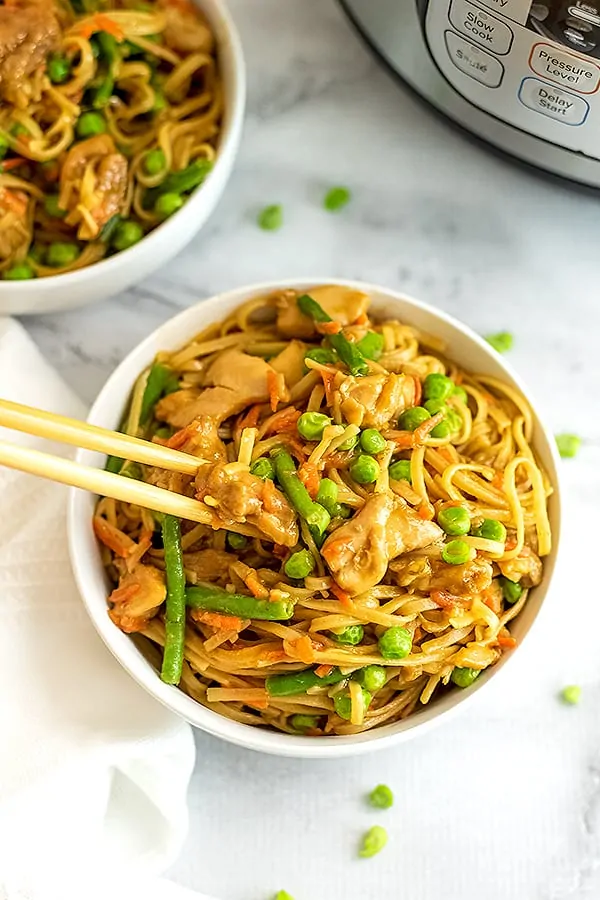 Ingredients
Coconut aminos (or tamari or soy sauce)
Fresh grated ginger
Honey
Chopped green onion
Garlic powder (or garlic olive oil)
Water
Chicken cut into cubes
Brown rice noodles (1/2 package)
Veggies of choice (I use shredded carrots, frozen green beans and frozen peas)
How to make asian chicken pasta
In the insert of your pressure cooker cut the chicken into small cubes (this needs to be boneless, skinless chicken). I use kitchen shears to do this quickly.
To the chicken, add the coconut aminos, ginger, honey, chopped green onion, garlic powder and water. Stir well.
Stir the sauce and chicken well to coat the chicken.
Add the noodles on top of the chicken by breaking them in half (if longer noodles).
Put on the lid to your pressure cooker and cook on high for 3 minutes (make sure you set the lid to "sealing").

After coming up to pressure and cooking for 3 minutes, manually release the pressure within 1-3 minutes of it finishing. Carefully open the lid and stir the noodles around. You will see they look stuck together but with some stirring, they will come apart and mix in with the chicken.
To the chicken and noodles, add the shredded carrots, frozen pea and the frozen green beans that are broken into small pieces (I just use my hands for this).

Stir the veggies in to the chicken and pasta in the Instant pot and put the lid back on. Allow the veggies to steam for about 5 minutes.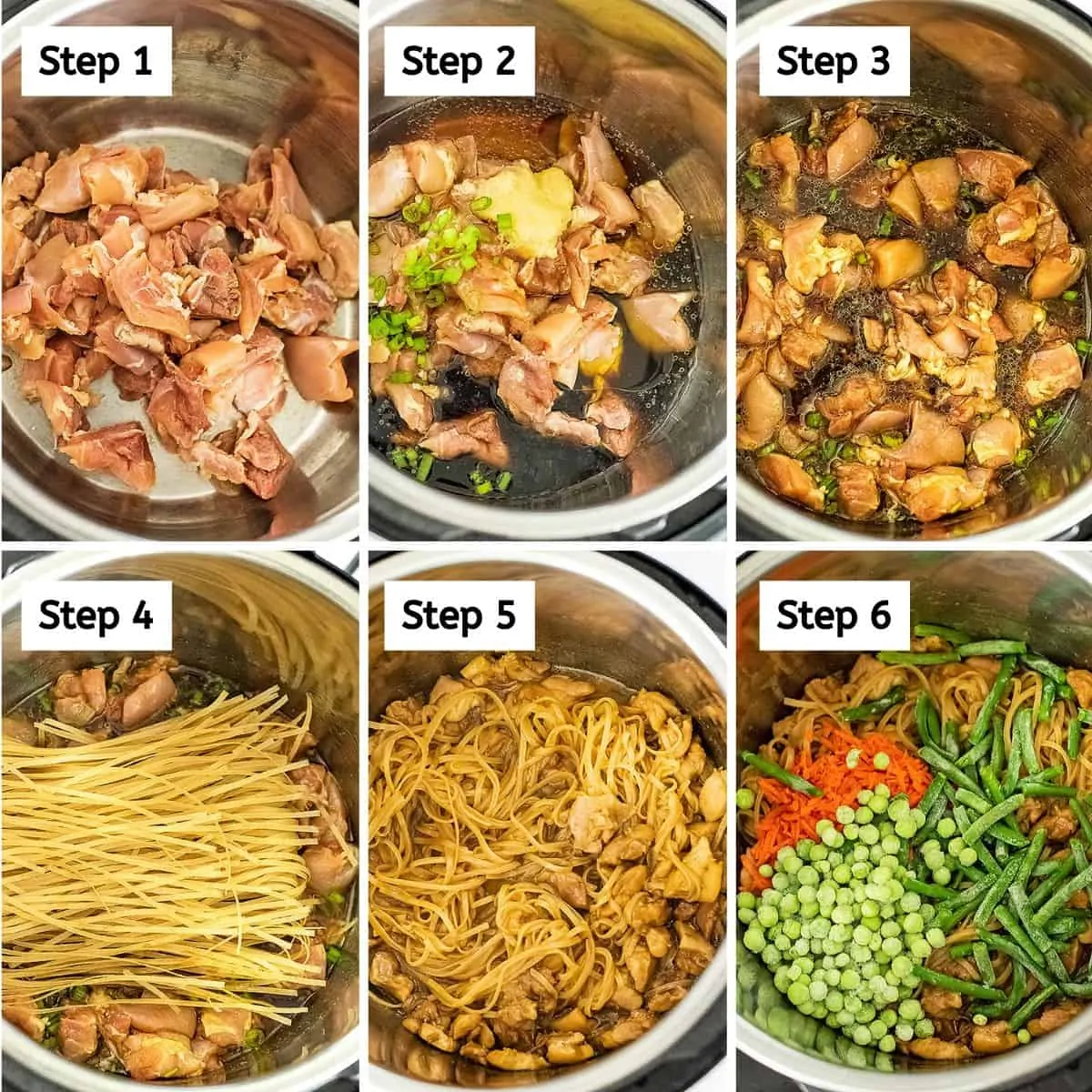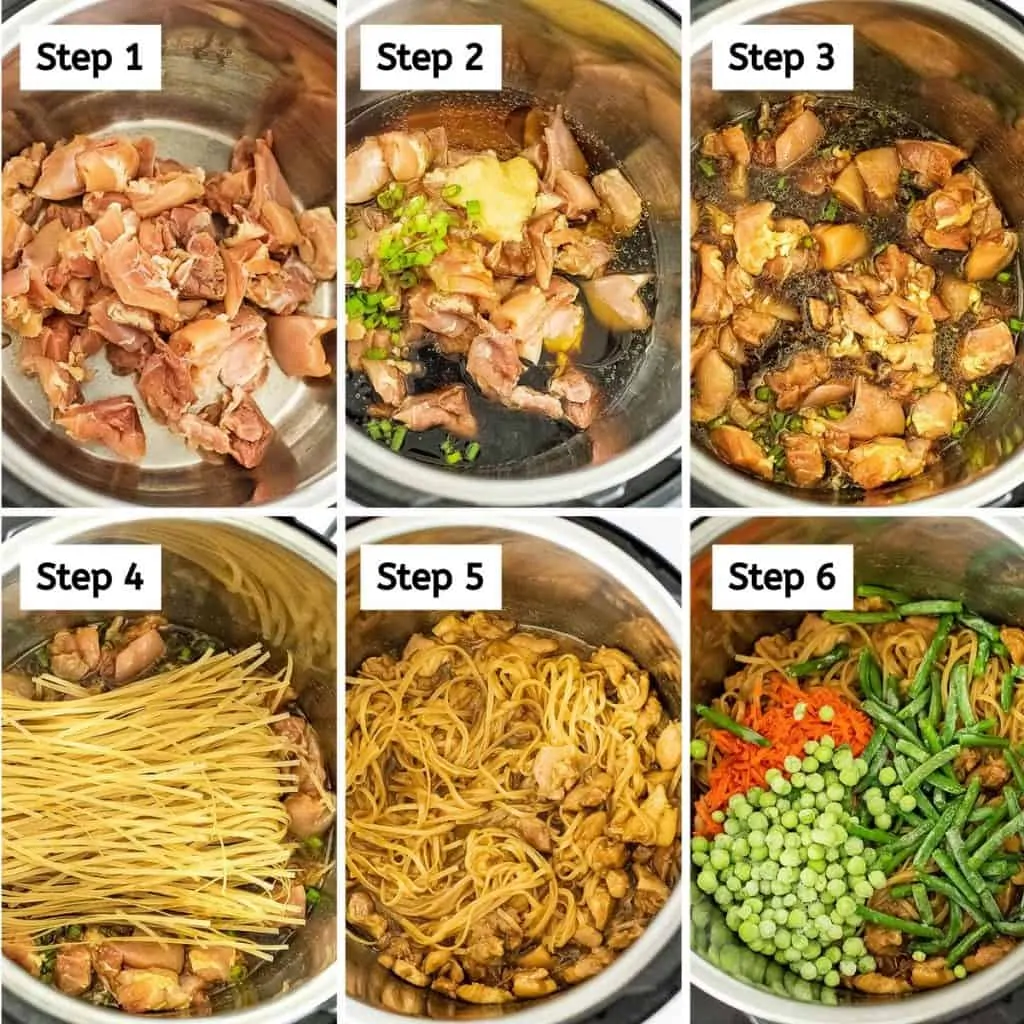 What you need to make this recipe
Top tips
After cooking the noodles in the instant pot, you will notice that the noodles look undercooked and stuck together at first. There is no need to worry, this is expected. You just need to stir the noodles well and they will start to come apart easily and by the time the veggies are done cooking they will be separate.
Cooking the noodles in the instant pot helps to thicken the sauce after stirring in the noodles.
What noodles to use
I use the brown rice noodles that are made for Pad Thai. You will only need 4oz of noodles, so each of these options will provide enough noodles to make 2 batches of this recipe.
There are two different kinds of noodles that I have tested this recipe with:
Organic Brown Rice Noodles – these noodles look like regular pasta – they are long, separate individual noodles that are thick like linguine pasta. You will want to break these noodles in half before adding them to the Instant Pot.
Pad Thai Brown Rice Noodles: these noodles look almost like ramen in the package. You don't have to break these up before cooking. Just put the cake of noodles on top of the chicken and cook for 3 minutes on high pressure.
Veggies to use
Frozen green beans
Shredded carrots
Frozen green peas
Chopped broccoli
Frozen or fresh bell pepper slices
Zucchini noodles
Asparagus
Spinach
Sugar snap peas
Frozen edamame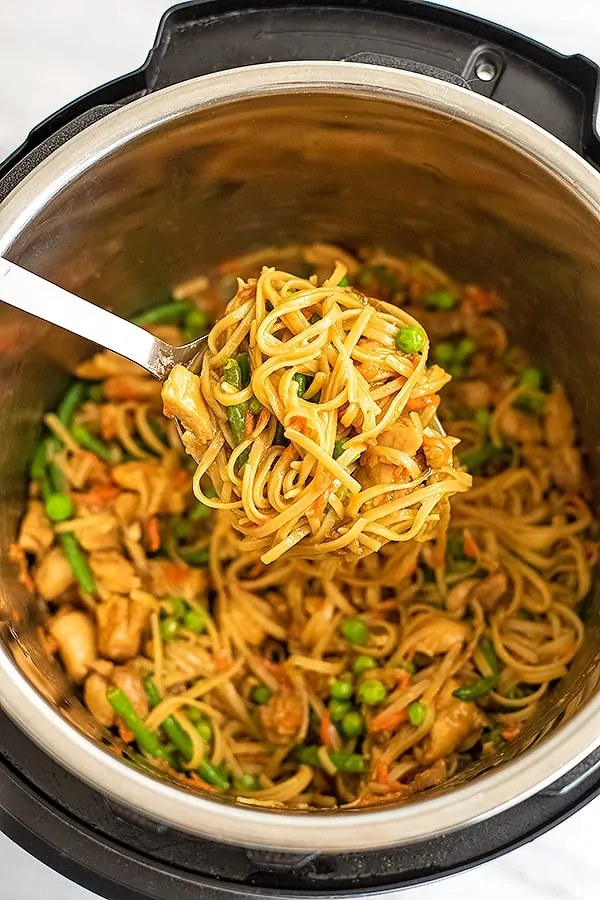 Other mix ins or toppings
Sriracha
Cilantro
Chopped green onions
Chopped peanuts or cashews
Sesame seeds
How to store asian chicken pasta
Store leftover Asian chicken pasta in a glass container for up to 3 days. This dish reheats well the next day in the microwave or on the stove.