Vegan sun dried tomato pesto pasta is the perfect simple weeknight meal!
Gluten free pasta topped with homemade sundried tomato pesto (red pesto). Ready in under 20 minutes, this healthy dinner is both filling and flavorful! This recipe is vegan, dairy free, gluten free and family friendly!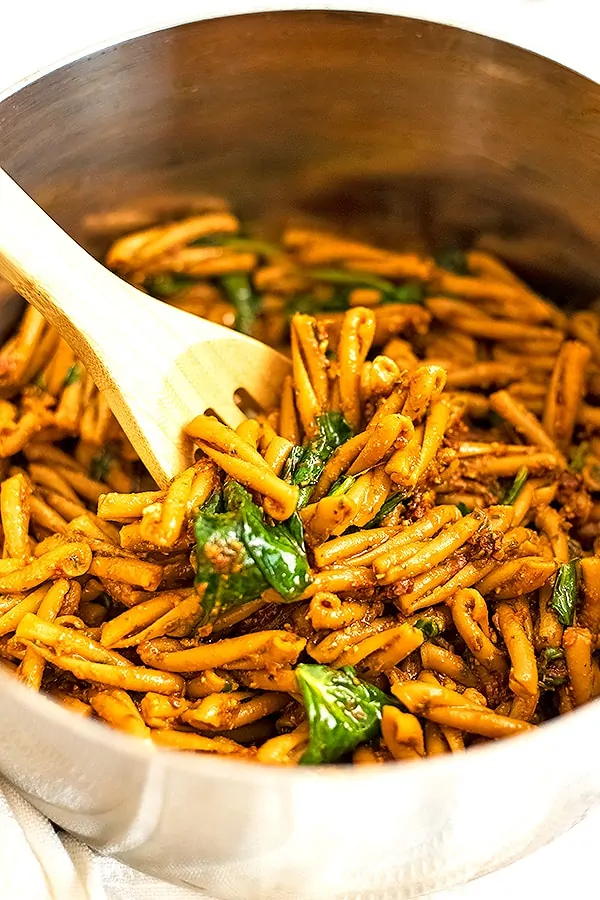 This post contains affiliate links. As an amazon associate I earn from qualifying purchases.
Click here to read my policy
and more about affiliate links.
Why you will love this recipe
Sundried tomato pesto or red pesto is a fun twist on tradition pesto! The sundried tomatoes are bursting with flavor and they pair so well with pesto in this homemade red pesto sauce. After all, the only thing better than pesto is sundried tomato pesto!
Dinner is ready in 20 minutes, that includes the time it takes to get the pasta water boiling too! Make the sun dried tomato pesto while the noodles are cooking and combine everything in the same pot from cooking to make a healthy, comforting, delicious meal!
This is a great meatless recipe. I recommend using higher protein pasta, like lentil pasta or chickpea pasta to make this a complete meal! You could also add your favorite protein to make it more filling!
This recipe makes extra sun dried tomato pesto, so you can use the leftovers all week or freeze the rest to make this red pesto pasta another night later this month!
Speaking of leftovers, take this pasta to cookouts, family gatherings, potlucks or serve at parties, it's guaranteed you won't have any leftovers! That is because this pasta is great hot, room temperature or even cold!
Ingredients for sun dried tomato pesto (red pesto)
Sun dried tomatoes (in olive oil)
Basil
Lemon juice
Cashews (or hemp hearts, almonds or walnuts)
Garlic powder
Salt
Water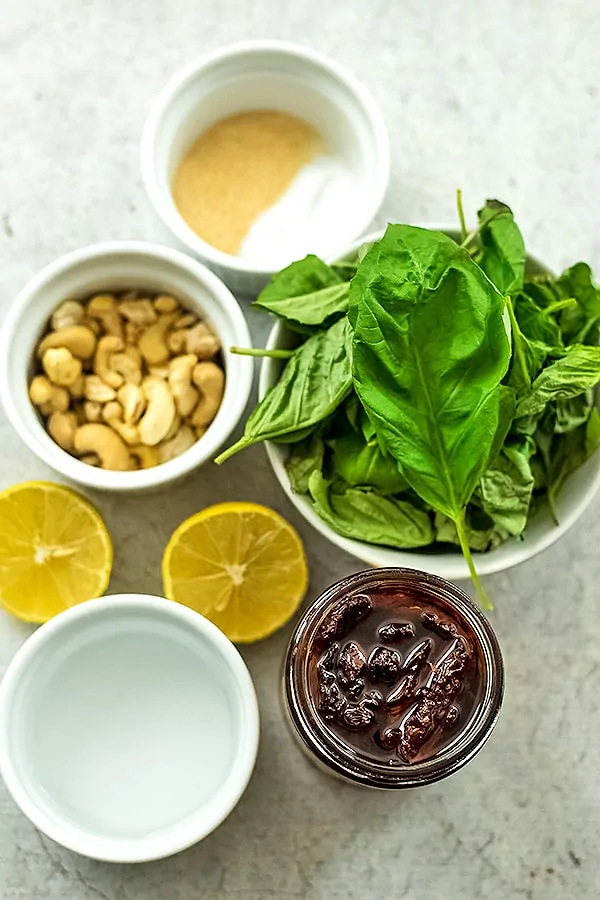 Ingredients for Red Pesto Pasta
Red pesto (from above or store bought)
Pasta (I love red lentil pasta or chickpea pasta)
Water from cooking the pasta
Spinach (or kale)
Salt (if needed)
How to make sun dried tomato pesto (red pesto)
Add the sundried tomatoes (and oil from the jar) to the food processor along with the basil, lemon juice, garlic powder and salt. Process until all the sundried tomatoes have broken down (about 45 seconds).
Add the cashews to the sun dried tomato pesto mixture in the food processor and process on high until fully incorporated (1 minute, you may need to scrape down the sides once).
Check the consistency of the pesto, add water if needed.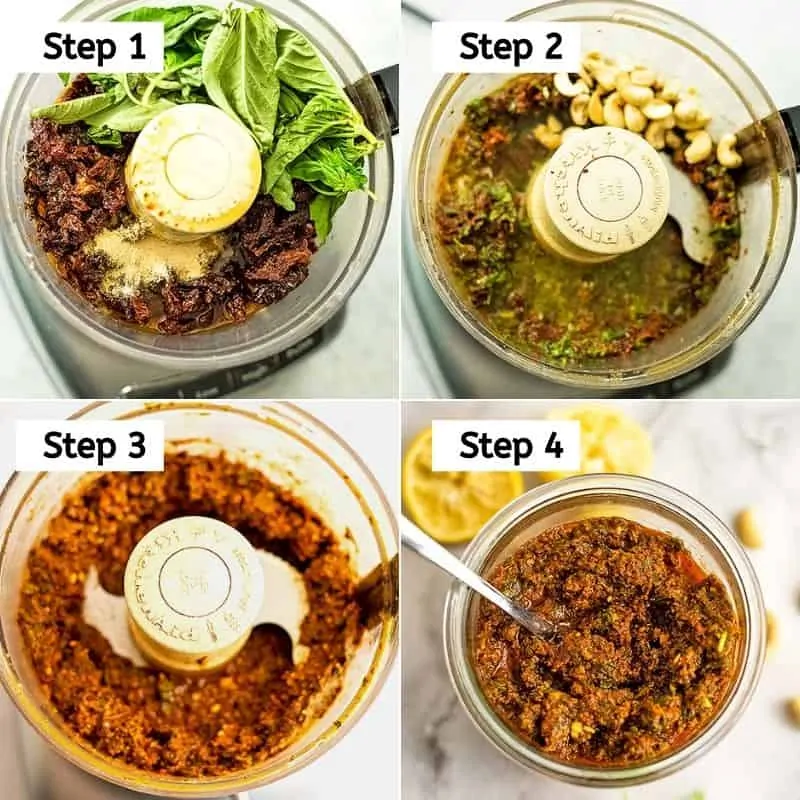 How to make red pesto pasta
Bring water to a boil (check out my tips on how to do this even faster below)
Add the pasta and cook according to the directions on the bag/box.
Right before draining the pasta, reserve about 1 cup of pasta water from the cooking liquid to help build the sauce.
Drain the pasta, add it back to the hot pot.
Add the baby spinach and red pesto sauce to the pot with the pasta.
Pour about ¾ cup of the reserved cooking liquid to the pot, focusing on wilting down the spinach. Stir well for about 1 minute to allow the water and the oil from the pesto to combine and emulsify into a thick, creamy sauce.
Add up to ¼ cup more of the cooking liquid if you find it needs to be thinned out a bit.
Taste for seasoning; add up to ¼ tsp more of salt to the dish (depending on how much spinach you added).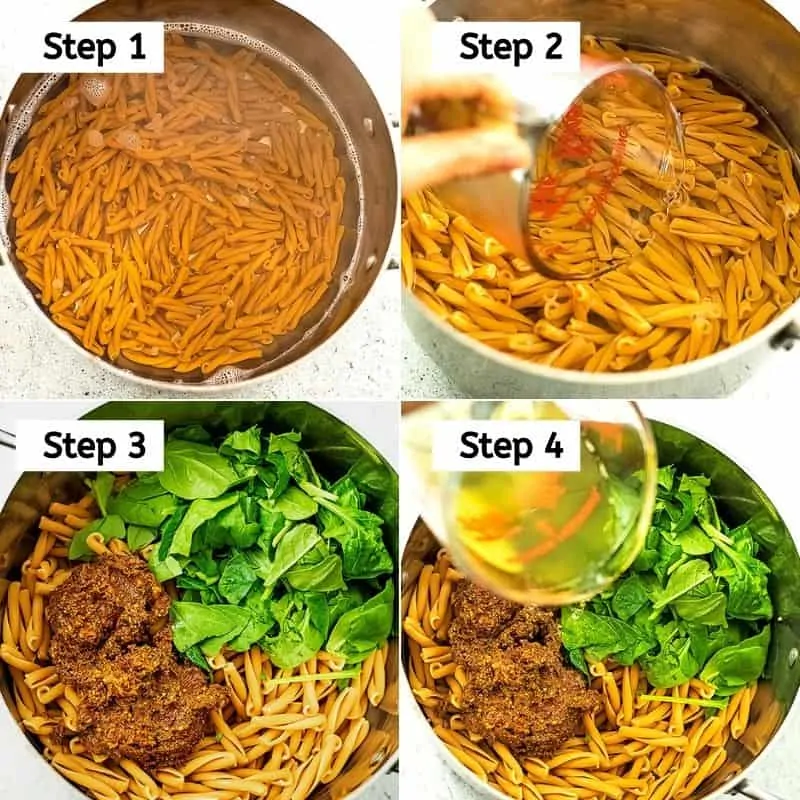 What you will need to make this recipe
What else can you add to this sun dried tomato pasta?
This spinach and sundried tomato pasta is perfect the way it is, but you could also add so other veggies or protein, if you want to make it even more filling. Some great options would be:
Broccoli florets (add to the boiling water when there is 1 minute left of cooking on the pasta)
Roasted cauliflower florets
Jarred or canned artichoke hearts, chopped
Roasted red pepper
Caramelized onions
Sautéed mushrooms
Cooked shrimp
Hemp hearts (for protein)
Chickpeas or white beans (for protein and fiber)
Time saving tips
The longest part of this recipe is waiting for the water to come up to a boil. If you have an electric kettle, fill it full of water and turn it on. While that is coming up to heat, also fill the large pot you are heating up with ½ the needed water and turn on high heat.
Once the kettle boiling, carefully pour it into the pot with the water that has been heating up. This will quickly increase the temperature of the water and help it come to a boil faster.
Take a few minutes to look at the cooking time of your favorite brands/shapes of pasta. Some cook faster than others. For example the red lentil pasta from Trader Joes cooks in just 5 minutes, where some of the chickpea pasta I have takes about 8-9 minutes.
Having a quick cooking pasta on hand can really make it easier to get dinner on the table fast.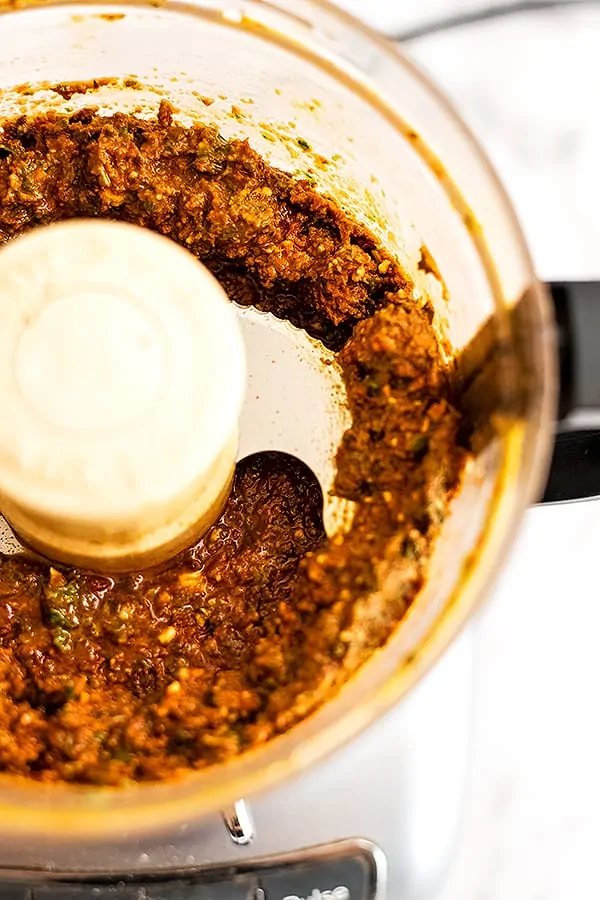 FAQs
What is the best pasta for red pesto pasta?
I like to use a pasta with lots of surface area to really collect all the red pesto sauce. I love a penne, casarecce, rotini, or elbow shape; but almost any shape will do!

You can also change up your dish with the type of pasta you choose! Some of my favorites are:

– Lentil (my favorites are the Red Lentil Penne from Trader Joes and the Tolerant Brand as this is the most like regular pasta I have found)
– Chickpea (I really like the Barilla pasta, and used the Casarecce shape in this recipe, but rotini would be great too)
– Brown rice (my favorite is the brown rice penne from Trader Joe's or the Jovial brand)
– Sweet potato or butternut squash (great for Whole30 option)
– Rutabega noodles (great for Whole30 option)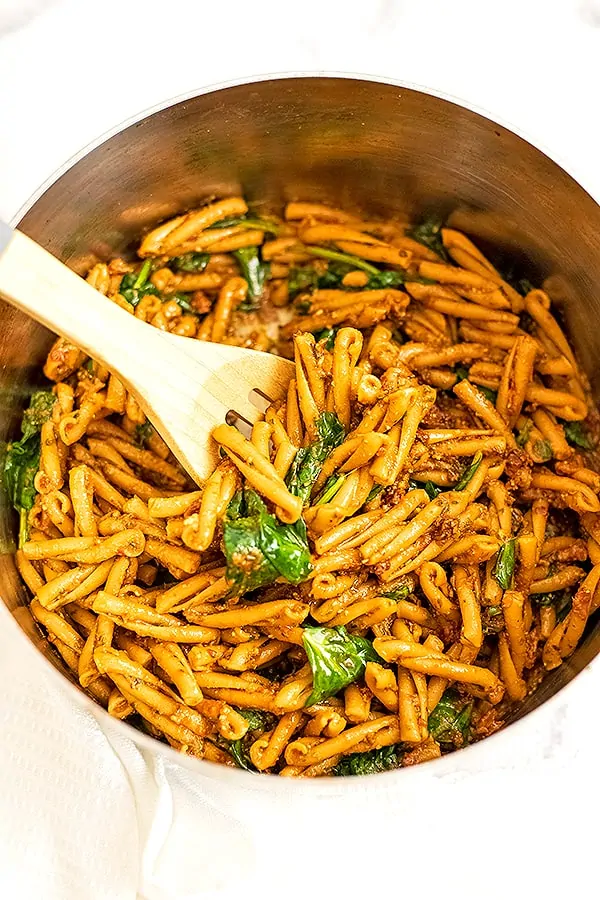 How to store red pesto pasta
This recipe will make 2 batches of the sundried tomato pesto. This pesto can be stored in the fridge for up to 2 weeks or stored in the freezer for up to 3 months. I like to freeze the pesto in silicone ice cube trays to make it easy to just use what you need later on. Once frozen, store them in an airtight bag with a label and a date.
Store any leftover spinach sun dried tomato pasta in the fridge for up to 4 days.
I would not recommend freezing the pasta as I don't believe the pasta will have the right texture after freezing.
What to do with leftover sun dried tomato pesto
Use it as a topping for eggs or toast. Would be great on oven poached eggs or hard boiled eggs as well!
Top you favorite veggies (roasted, sautéed or steamed) with red pesto for instant flavor
Add a punch of flavor to your favorite meal. Serve over protein (chicken, shrimp, salmon, beans) for a super simple meal.
Serve on top of roasted potatoes or sweet potatoes
Substitutions
Sun dried tomatoes in oil: If you can only find sundried tomatoes that are dried in bags, you can reconstitute the tomatoes by soaking them in hot water for about an hour. Add the tomatoes, 2-3 tbsp of olive oil and 2-3 tbsp. of the water from soaking to the food processor in place of the sundried tomatoes in oil.
Basil: Traditional pesto uses basil, which I think pairs really well with the umami of the sun dried tomatoes. If you don't have basil, you could try adding some flat leaf parsley, although the flavor will change some.
Cashews: You can also use hemp hearts or sunflower seeds to make it nut free or almonds, walnuts or pine nuts if you can have nuts.
Pasta: If you are using a non-traditional pasta like zucchini noodles, butternut squash noodles, sweet potato noodles or rutabaga noodles, you will need to add water to loosen up the red pesto sauce. You will want to add about ½ cup of hot water to start with, and I would recommend you combine the red pesto with the water separate from the noodles, so you don't break the noodles from stirring so much.
Baby Spinach: You could also use kale (remove the tough stems), frozen spinach, or any of the veggies listed above.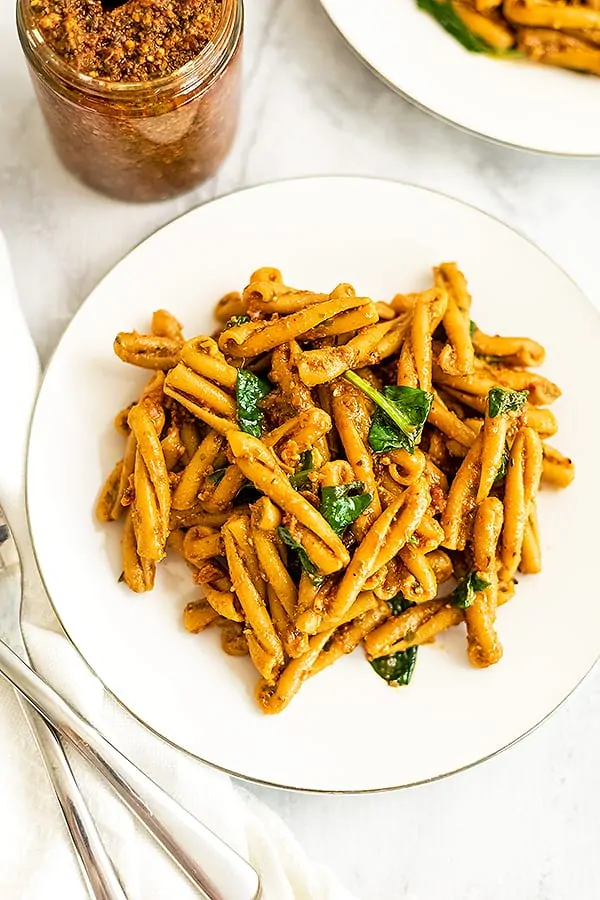 If you love this recipe, you should try
★ Did you make this recipe? Please give it a star rating below!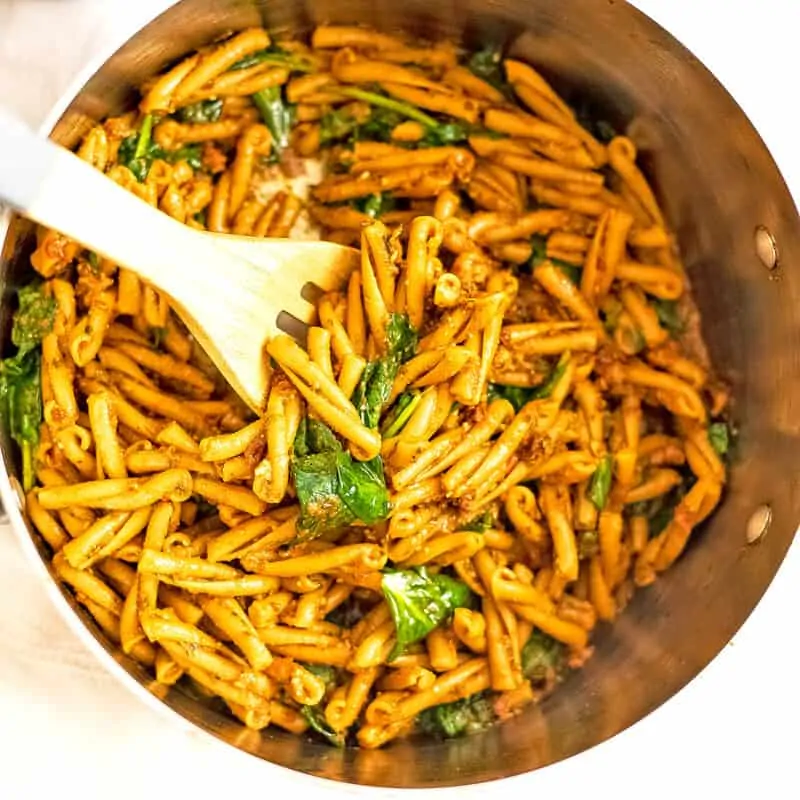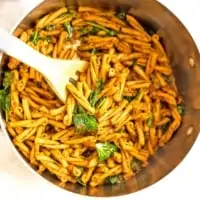 Vegan Sun Dried Tomato Pesto Pasta
$10.33 recipe/$2.58 serving
Sun dried tomato pesto pasta (or red pesto pasta) is the perfect weeknight meal! Ready in just 20 minutes, this meal is incredibly easy to make and extremely comforting! Make your own sun dried tomato pesto while the pasta is cooking! Naturally vegan, gluten free, dairy free and can be made Whole30 friendly!
Print
Pin
Save
Saved!
Rate
Ingredients
Sun Dried Tomato Pesto Pasta
1/2

sundried tomato pesto from above

8

oz

pasta (gluten free) -

$1.99

2

cups

baby spinach (or kale)

-

$1.00

1/4

tsp

salt (if needed) -

$0.02

1

cup

water from cooking liquid

-

$0.00
Instructions
Sun Dried Tomato Pesto
Pour one jar (1 cup) sun dried tomatoes in olive oil into the food processor. Add the lemon juice, basil, salt and garlic powder.

Process on high about 45 seconds until well incorporated.

Add the cashews to the food processor with the sun dried tomato mixtures. Process on high about 1 minute until the cashews are fully incorporated and no longer easy to see.

Add up to 1/4 cup of water to this mixture in the food processor and process on high until well combined and the pesto is thick but more easy to spread.

You will need 12 of this mixture for the recipe, the other half can be stored in the fridge for 2 weeks or frozen for up to 3 months.
Sun Dried Tomato Pesto Pasta
Bring water to a boil in a large pot over high heat.

Once boiling, cook the pasta according to package directions.

Right before draining, take 1 cup of the cooking liquid from the pot and reserve it for the sauce.

Drain the pasta in a colander and return it to the hot pot (turn off the heat).

Add 1/2 the sun dried tomato pesto just made, and the spinach to the pasta.

Pour over 3/4 cup of the hot liquid that was reserved from cooking, trying to wilt the spinach. Stir well to incorporate the water (about 1 minute).

Add up to 1/4 cup more cooking liquid depending on how you like your sauce.
Notes
*Nutrition is calculated only using 1/2 the pesto recipe as written, and chickpea pasta*
You will need 1/2 of this mixture for the recipe, the other half can be stored in the fridge for 2 weeks or frozen for up to 3 months.
Pasta choice:
This recipe was written using chickpea pasta, which is higher in protein and fiber than traditional pasta. It's also gluten free. Other great choices include:
Lentil pasta
Brown rice (gluten free)
Sweet potato noodles, butternut squash noodles, or rutabaga noodles (see how to make these in the post).
Store leftover pasta in the fridge for up to 4 days. Can be eaten hot, cold or room temperature.
See how I calculate food cost
.
Nutrition Information
Nutrition Facts
Amount per Serving
Where does nutrition info come from? Nutrition facts are provided as a courtesy, sourced from the USDA Food Database.
DID YOU LOVE THIS RECIPE?
Let others know by rating and leaving a comment below!