Carrot cake oatmeal bake is healthy, nutritious and so easy to make. Great for breakfast, brunch, snacking or dessert.
Perfectly spiced and naturally sweetened, this healthy carrot cake oatmeal tastes just like carrot cake and it's so simple to make and super filling! This hearty, wholesome breakfast is packed with veggies, is egg free, gluten free and vegan!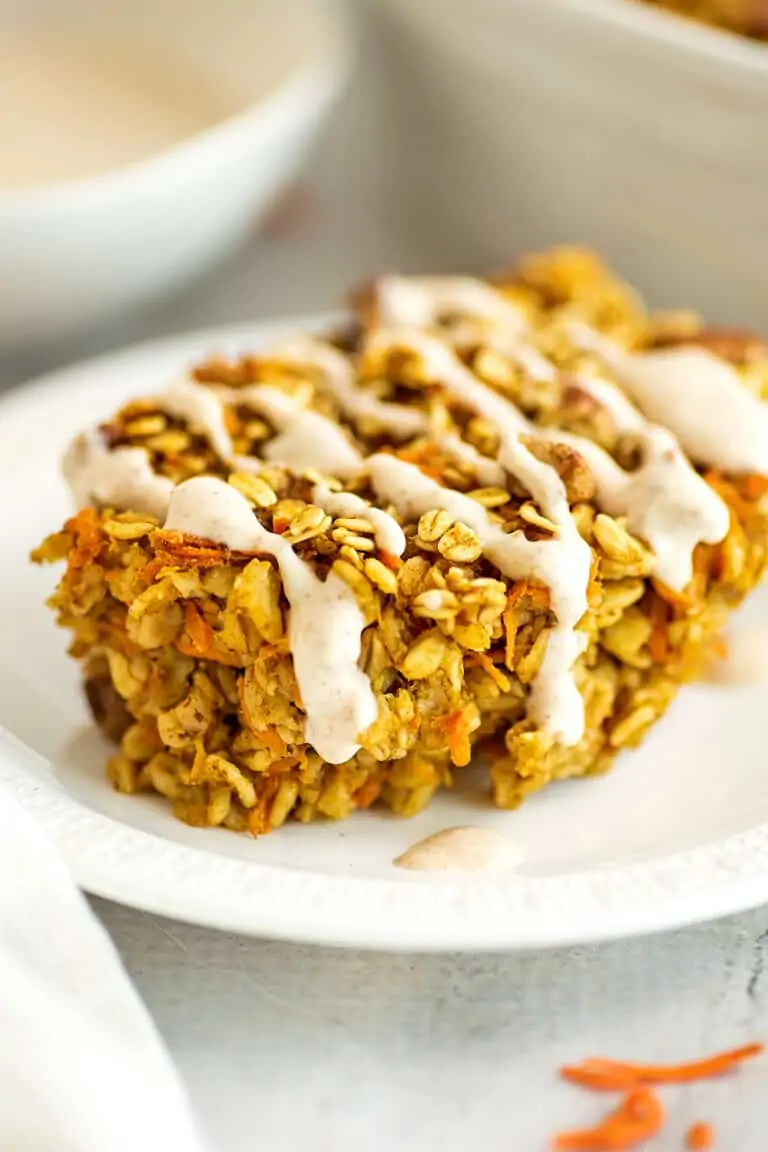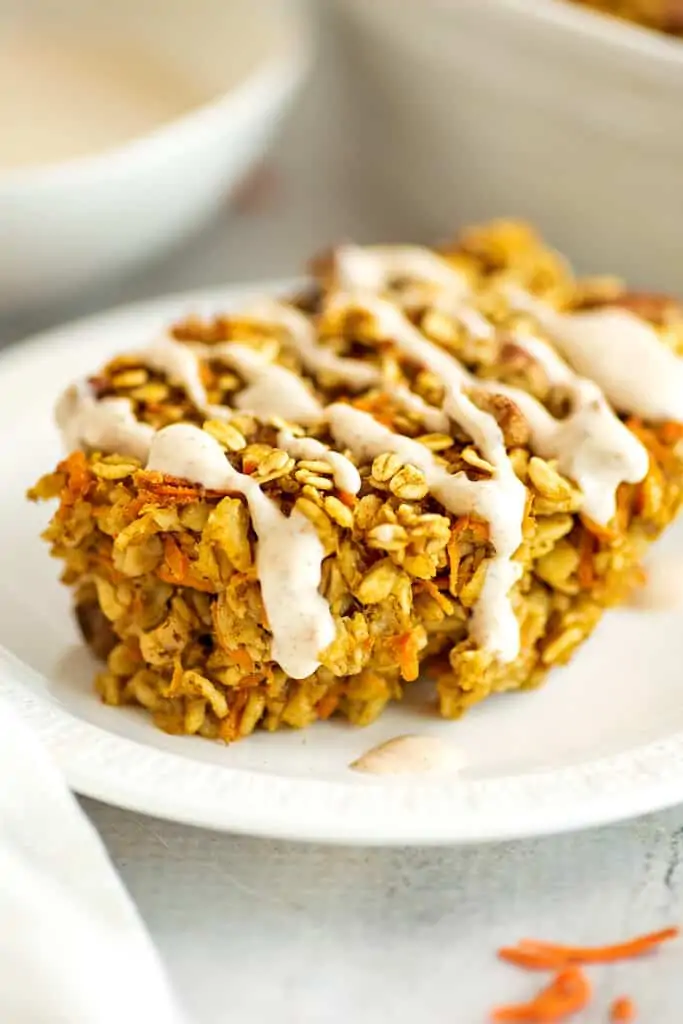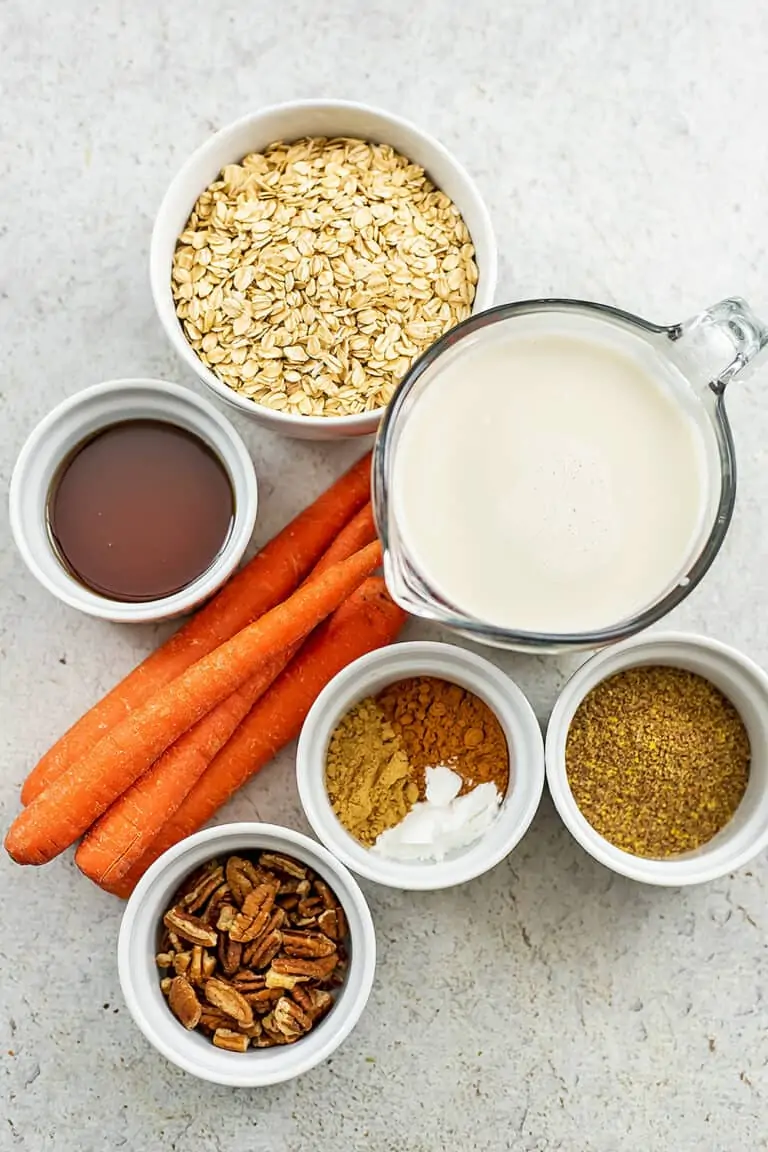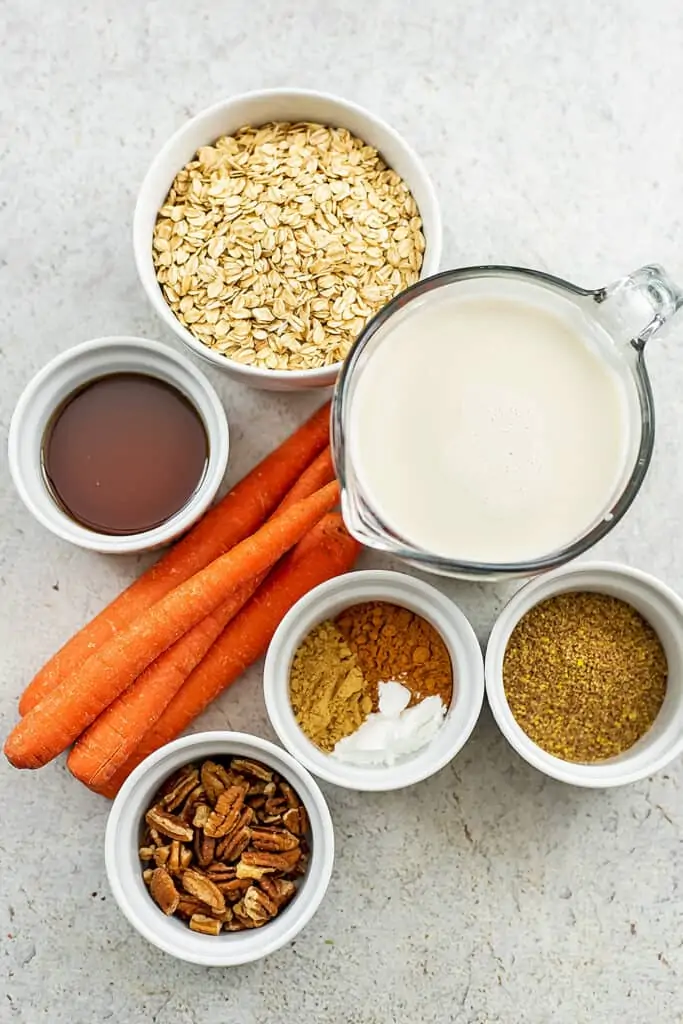 Ingredients
Dairy free milk – use your favorite dairy free milk here (almond milk, cashew milk, oat milk)! I recommend unsweetened but you could use regular or vanilla dairy free milk, whatever you have on hand.
Maple syrup – this adds sweetness to the oatmeal bake. Using maple syrup naturally sweetens the oatmeal without making it too sweet. You could also use honey or date syrup. You could also use a sugar free sweetener (like this monkfruit syrup if you need to manage your sugars).
Ground flax – ground flax combines with the other liquid (milk and maple syrup) to replace the typical eggs you would see in a baked oatmeal. It's important that you use ground flax (vs. whole flaxseeds) as the whole seeds will not absorb the liquid the same way.
Rolled oats – sometimes these are called old fashion oats. Use certified gluten free oats if you need to ensure the dish is gluten free. These helps add texture and absorb the liquid in the recipe.
Grated carrots – I like to finely grate the carrots so they kind of disappear into the background of this recipe. You could also choose to use a thicker grated carrots if you really want the carrots to be pronounced. You can use store bought shredded carrots, but I always advise you cut them down using a knife of the food processor so they aren't so big.
Spices: Cinnamon, ground ginger – These help to add warmth to this recipe and give it that distinct carrot cake flavor. You could also add ground nutmeg or allspice but I like to keep the ingredient list pretty simple.
Baking powder – This helps the baked oatmeal rise during baking. If you don't have any on hand, you can skip this.
Pecans – Ever since I was little I loved chopped nuts in my carrot cake. You can also use walnuts, pumpkin seeds, sunflower seeds or sliced almonds or leave the nuts out completely if you aren't a fan of nuts in your baked goods.
How to make carrot cake baked oatmeal
Check out the step by step story on how to make carrot cake baked oats!
Preheat the oven to 350F.
Grate the carrots. I like to use the food processor with the grater attachment to make this quick and easy. You could also use a hand grater. I use the smaller side of the grater attachment, I prefer the look of the baked carrot cake oatmeal with the smaller shreds of carrot.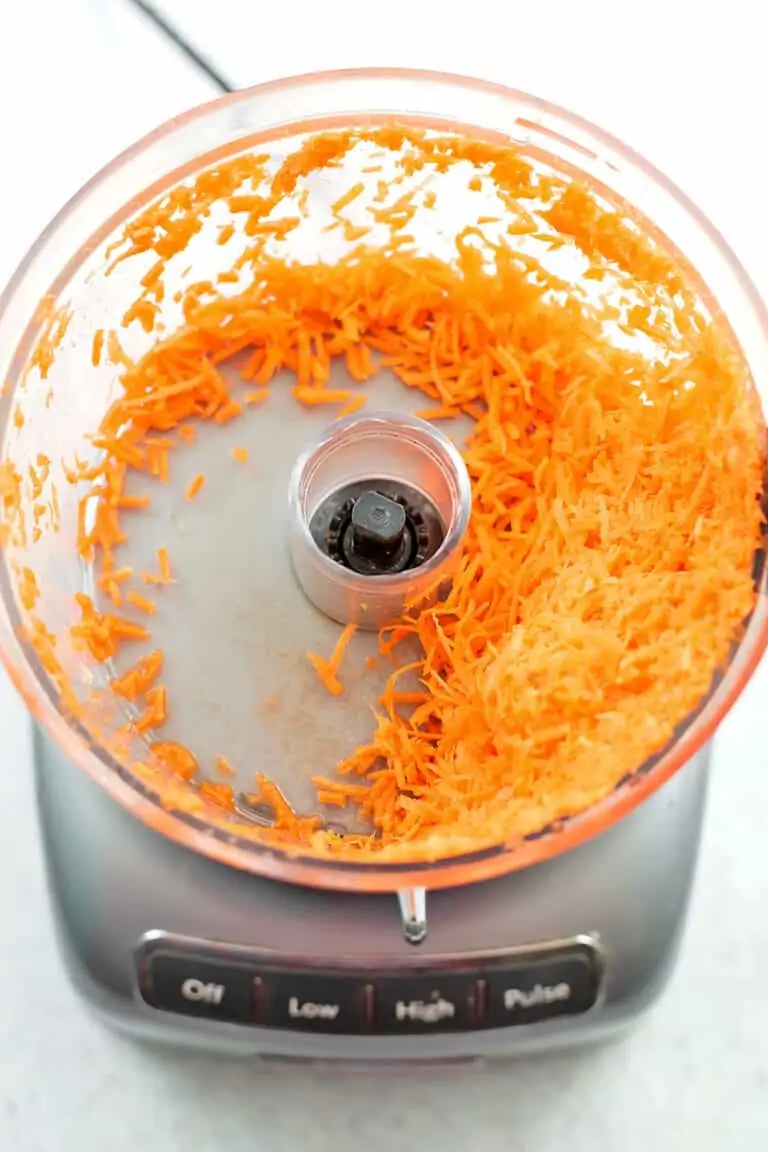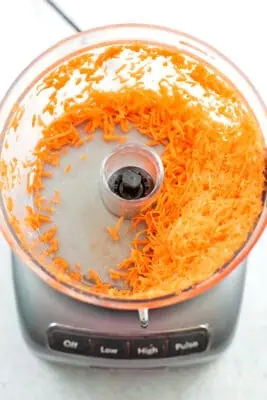 Add the dairy free milk, maple syrup and ground flax to a large bowl and stir well to combine.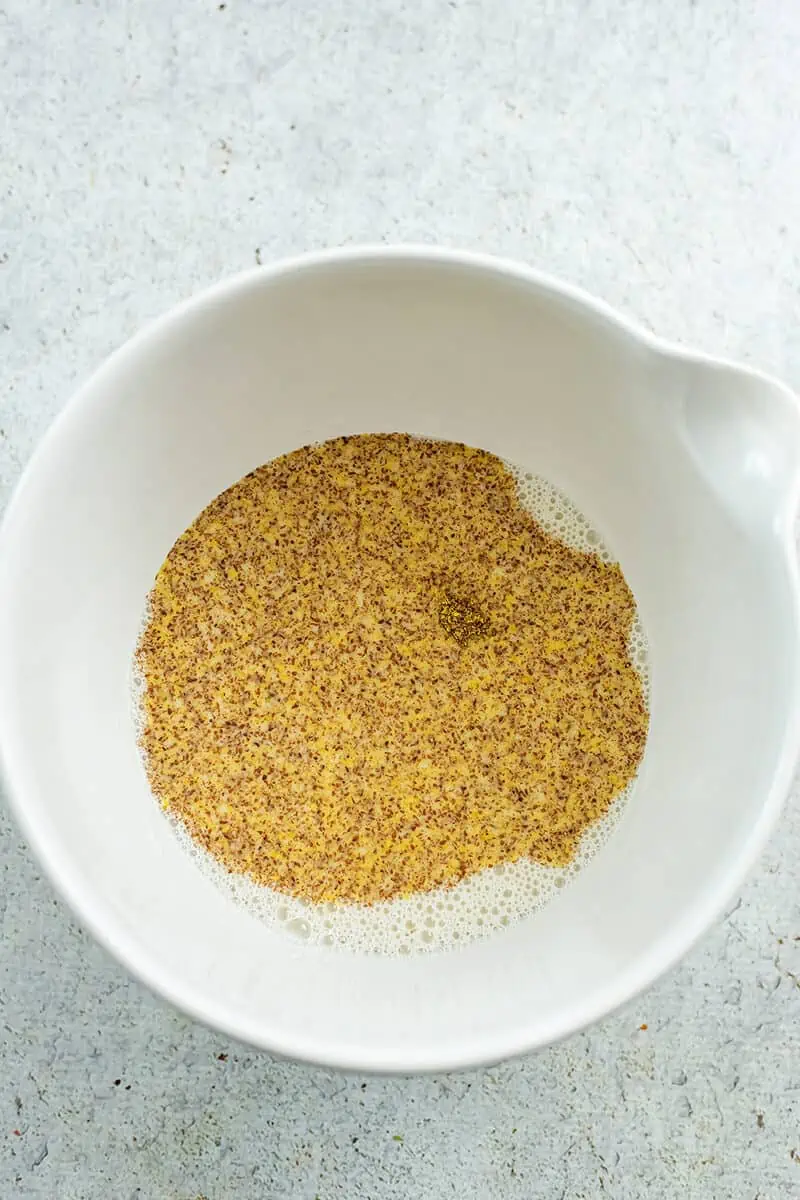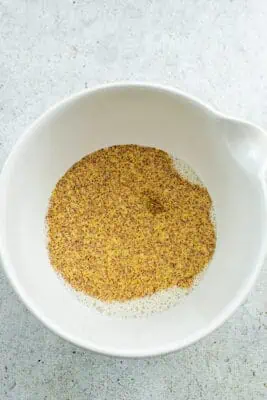 To the same bowl, add the oats, spices and shredded carrots. Stir well to ensure everything is well incorporated.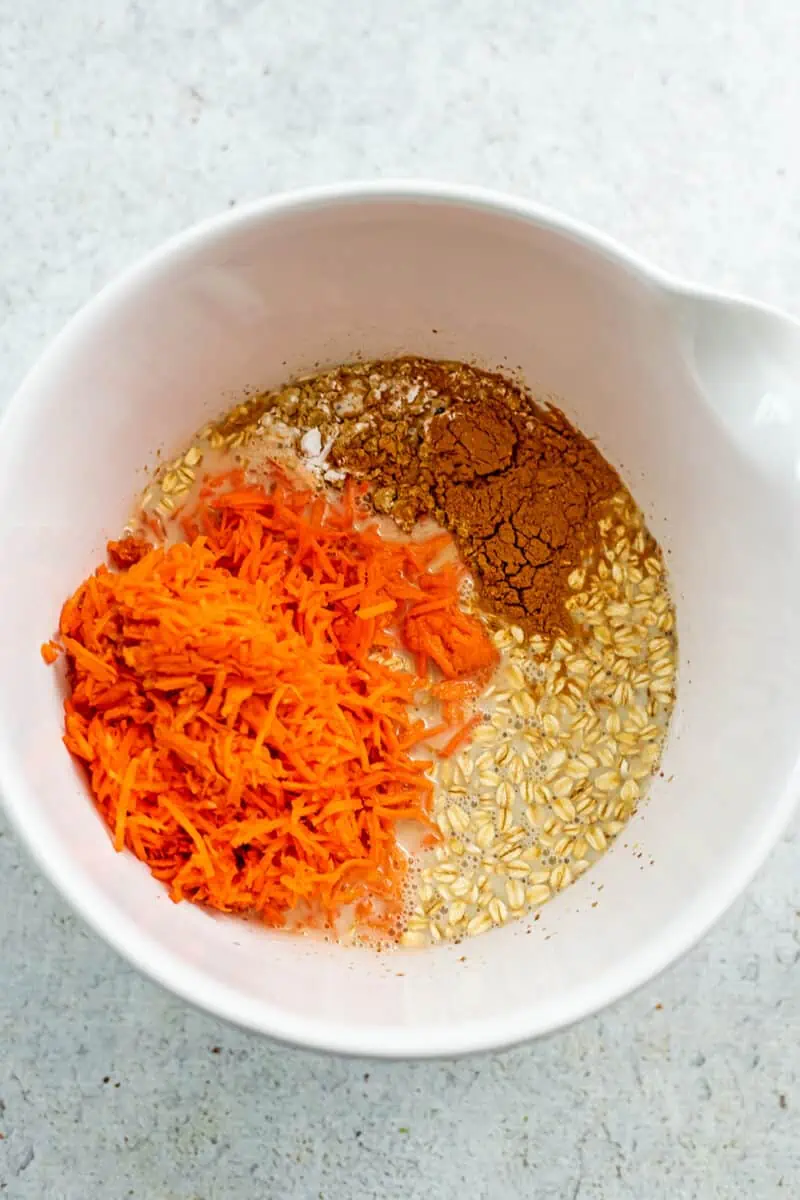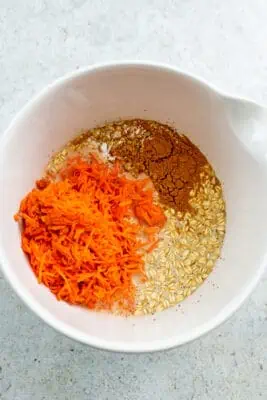 Chop your nuts and add 1/2 to the mixture. I like to do this separately to ensure the carrots and oats get well combined before adding in the nuts.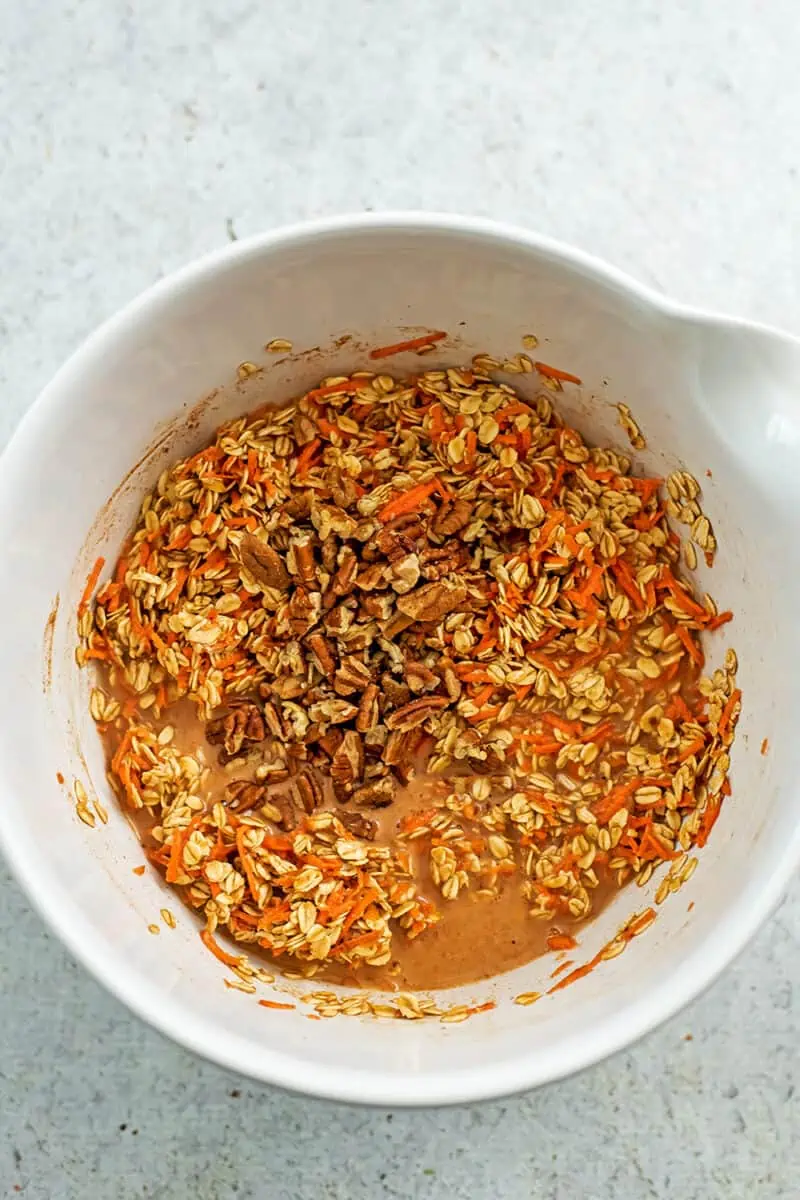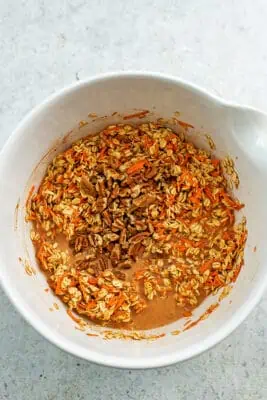 Spray a baking dish (8X8 or equivalent) with non-stick spray (I use olive oil or avocado oil) before pouring the oats in the dish. Pour the oatmeal mixture into the baking dish and take the back of a spoon and flatten it out to ensure it bakes evenly. Add the rest of the chopped nuts to the top of the carrot cake oatmeal bake.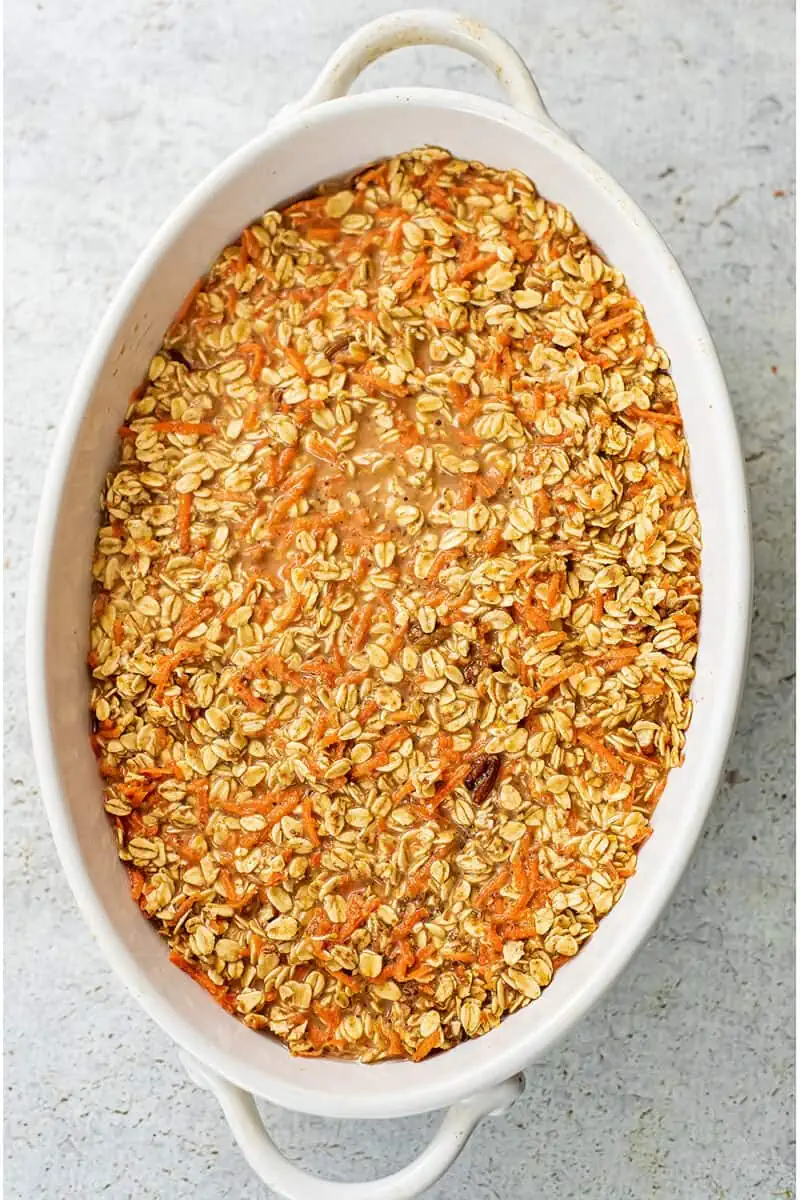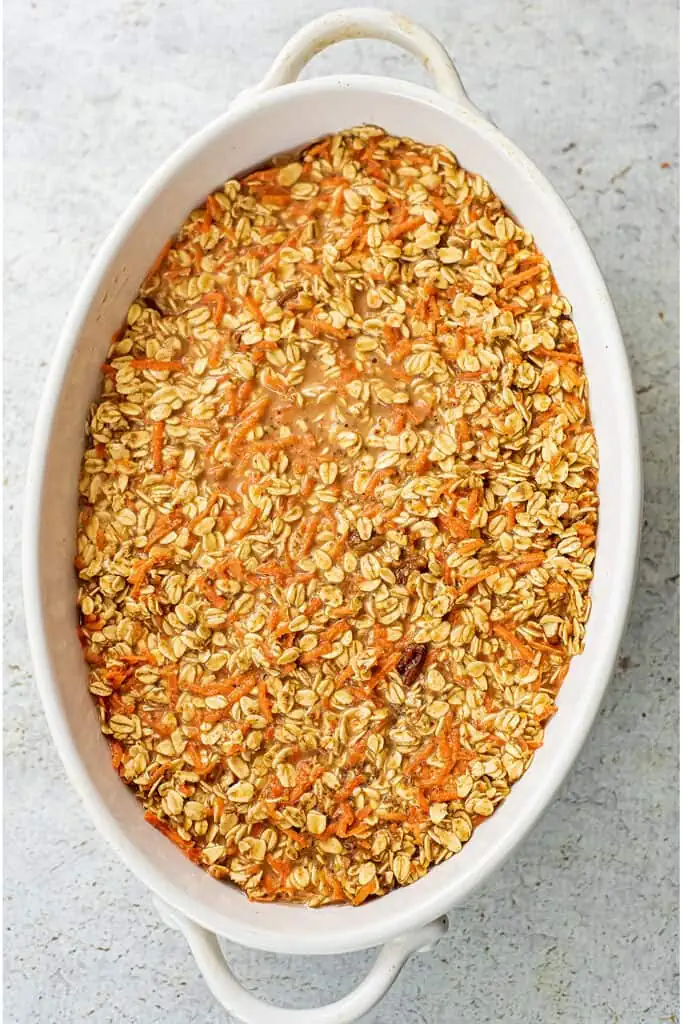 Bake at 350F for 50 minutes. Take out of the oven and allow to cool 10-15 minutes before cutting into the baked oats, as it needs time to set up while cooling.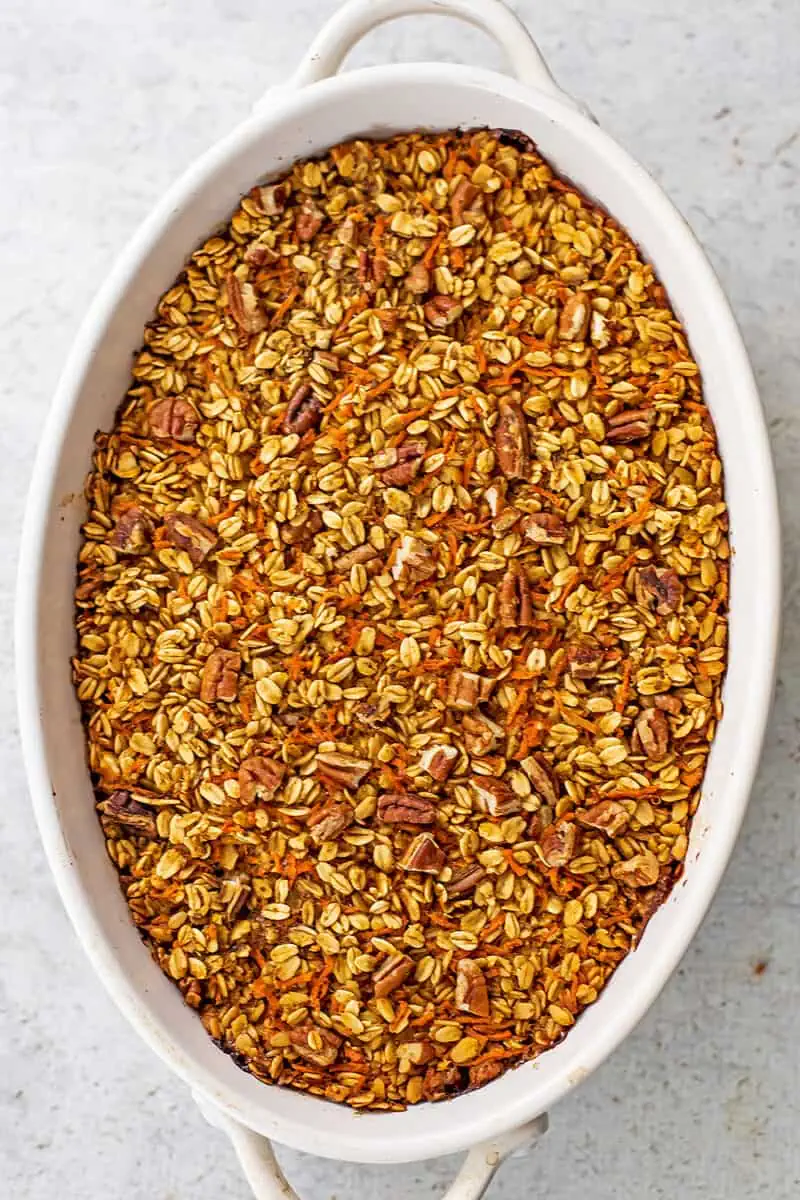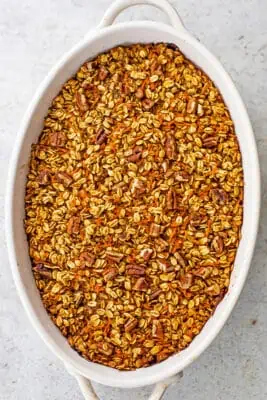 Make the dairy free frosting if desired to add to the top for extra richness. Drizzle the dairy free maple frosting on top of the baked carrot cake.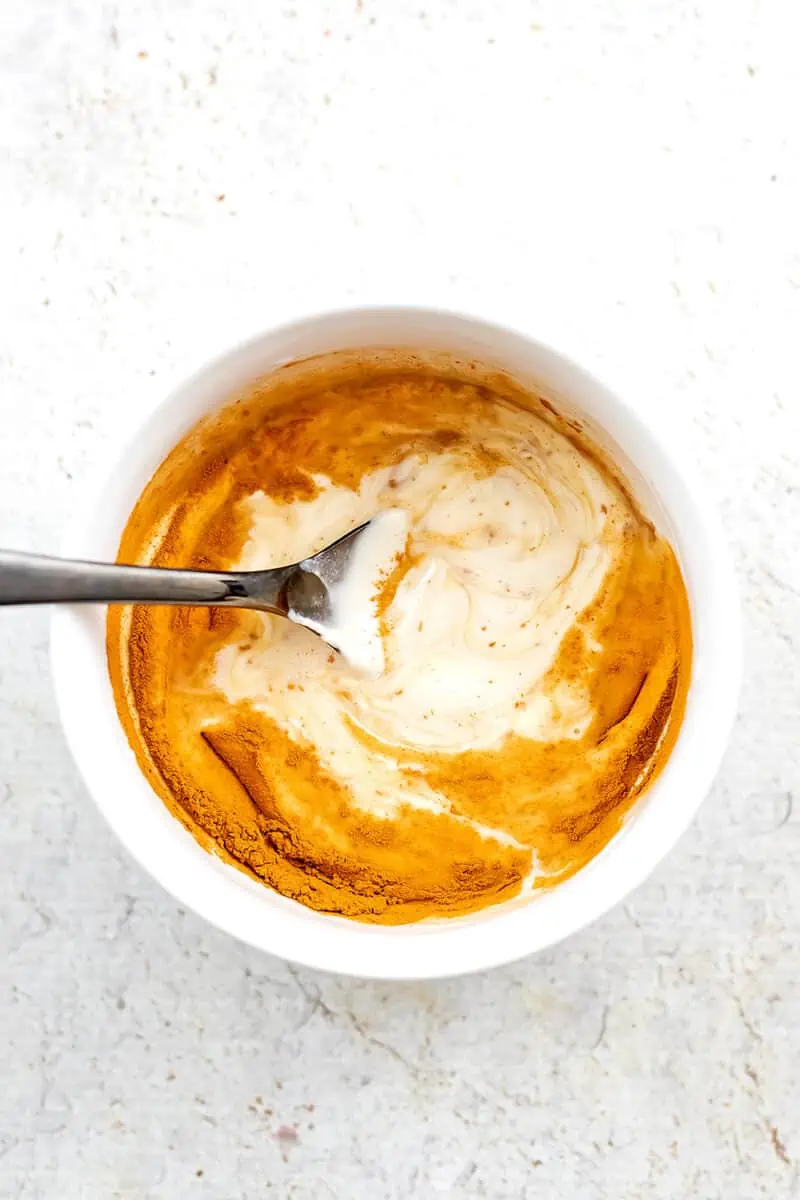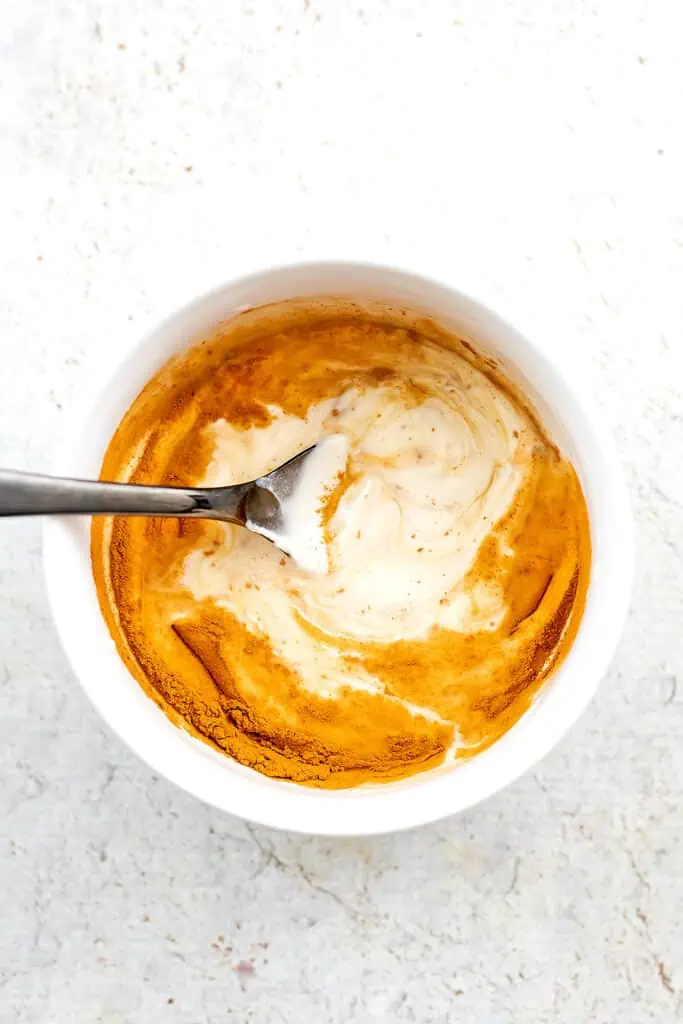 Ingredients for dairy free frosting
Dairy free Greek yogurt: I love Kite Hill for this. You could also use a thick coconut yogurt as well!
Maple syrup: this naturally sweetens the yogurt, you could also use honey or date syrup.
Ground cinnamon: This adds a bit of spice to the frosting and pairs well with the carrot cake spices.
To make your own dairy free frosting
Mix together the Greek yogurt, maple syrup and cinnamon.
Top Tips
Let it rest: Because this recipe does not use any eggs, the carrot cake baked oats need some time to set up while cooling. The oats will continue to thicken and set up after cooling for about 10-15 minutes. Cutting into this too early can lead to the oatmeal to crumble.
Be sure to use certified gluten free oats if you need this to be gluten free. Although oats are typically gluten free, they can experience cross contamination. If you need this recipe to be gluten free, be sure the package of oats indicates gluten free specifically. I would not recommend buying bulk oats if you need them to be gluten free.
Make it your own: If you love pineapple and raisins in your carrot cake, add them in! If you prefer less spice (cinnamon or ginger) reduce it according to your liking. This recipe is pretty flexible to use what you have on hand.
Wait to add the frosting until serving: The Greek yogurt frosting is best kept cool and I am unsure what the texture would be like if you warmed it up when reheating the baked oats. Because of this, I would recommend you make the Greek yogurt frosting and keeping it on the side until serving.
Make extra! This recipe freezes well and last about 5 days in the fridge. It's great for meal prep or just for a healthy snack to have on hand for the whole family! Double the recipe and bake in a 9X13 dish (you may need to add 5 minutes to the baking time as well).
Don't have carrots on hand? Make this chocolate chip baked oats instead!
Other mix-in ingredients for carrot cake baked oats
Raisins, dried sweetened cranberries, chopped dates
Coconut flakes
Pineapple chunks or crushed pineapple
White chocolate chips
Shredded apple
Other spices: Nutmeg (1/2 -1 tsp) or allspice (1/2 – 1 tsp)
Hemp hearts – these add protein to the dish and will mix in well without overpowering any of the flavors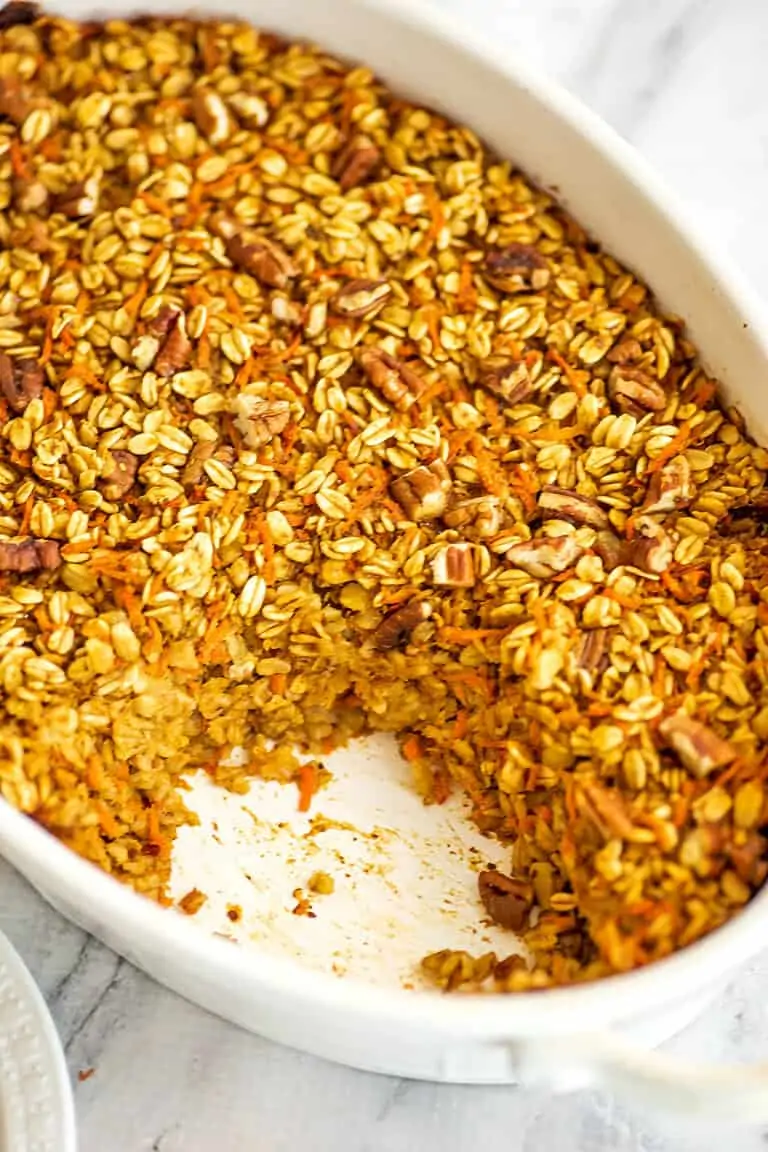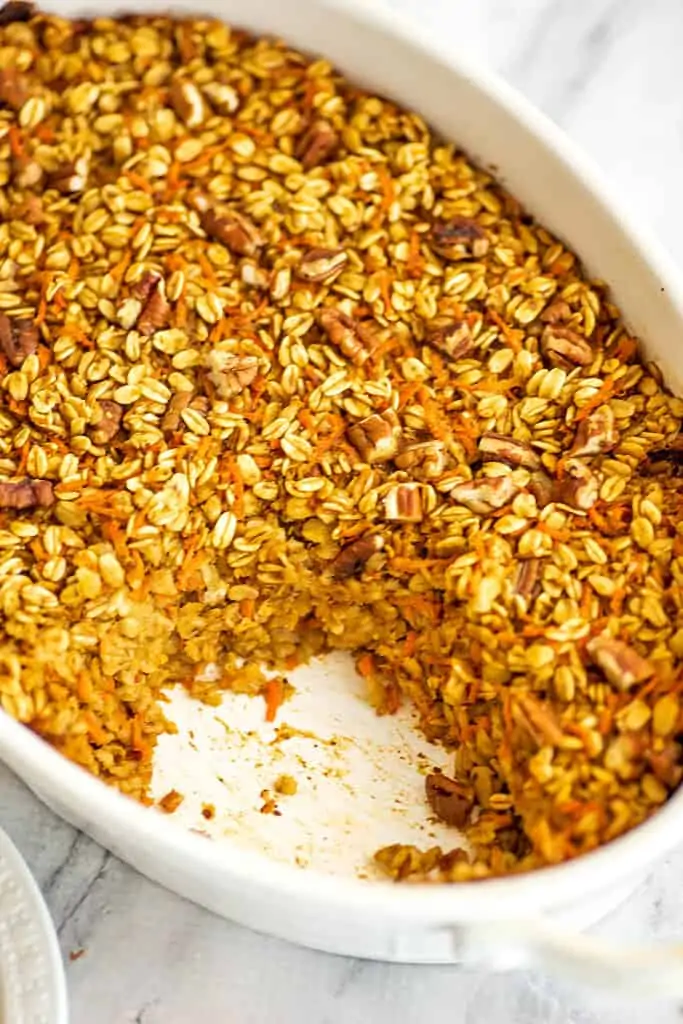 Other toppings
Drizzle with nut butter: Almond butter, cashew butter, sunflower seed butter, peanut butter. You could use this instead of the frosting or on top of the frosting layer.
Maple cashew frosting: If you don't have dairy free Greek yogurt, use this maple cashew frosting recipe instead!
Maple butter: Just like the nut butter, you could use this instead of the frosting or on top of it for an extra sweet treat.
Whipped cream (dairy free): I love coconut whipped cream and have recently found oat milk whipped cream (in a can) that would be great to add on top of this recipe.
Cream cheese frosting: If you absolutely want an indulgent carrot cake baked oatmeal to serve for a holiday breakfast, you could also make your own cream cheese frosting. Kite Hill makes a great dairy free cream cheese you could use or if you are not dairy free, use whatever cream cheese you love! You can control how thick or thin you want to make your cream cheese frosting for this recipe.
Common questions
How to shred carrots
Most carrots do not need to be peeled before they are grated to be included in this recipe. I like to use the small holes in the grater but you could also use the larger holes if you like very visible chunks of carrot in your carrot cake.
Hand grater: Simply grate the carrot by hand using the smaller holes on the hand grater. This can take 2-5 minutes depending on how fast you are with grating carrots.
Food processor: Add the grater attachment to your food processor and grate the carrots by feeding them through the feeding tube. This takes seconds (but will require you to clean your food processor).
Can you use steel cut oats to make baked oats?
Steel cut oats take longer to cook and would not be a good substitution for rolled oats in this recipe. If you only have steel cut oats, you will want to find a recipe that specifically states steel cut oats (vs. rolled oats) in the recipe.
Can you use quick cooking oats in this recipe?
Yes, if all you have is quick cooking oats, you can use them, however the texture will not be exactly the same. The rolled oats have more surface area and create the best texture in my opinion.
Can you make baked oatmeal in the air fryer?
Yes, however you will need to cook it in small ramekins so it can fit in the air fryer basket. Check out all the tips on how to make air fryer baked oatmeal in under 20 minutes!
What makes this recipe healthier
Fiber: Rolled oats, ground flax and shredded carrots add much needed fiber to your diet. Most people don't eat enough fiber and added carrot cake baked oats to your day can be an easy way to increase your daily dietary fiber intake!
Protein: Rolled oats and Greek yogurt (dairy free or regular) can add protein to your day. Protein helps you feel full longer and is incredibly satiating. To add even more protein, you could mix in collagen peptides (not vegan) or hemp hearts (vegan) to the batter before baking.
Veggies: Carrots in the carrot cake baked oatmeal add to your daily intake of veggies! If you have a hard time getting in more veggies, make this your go-to snack!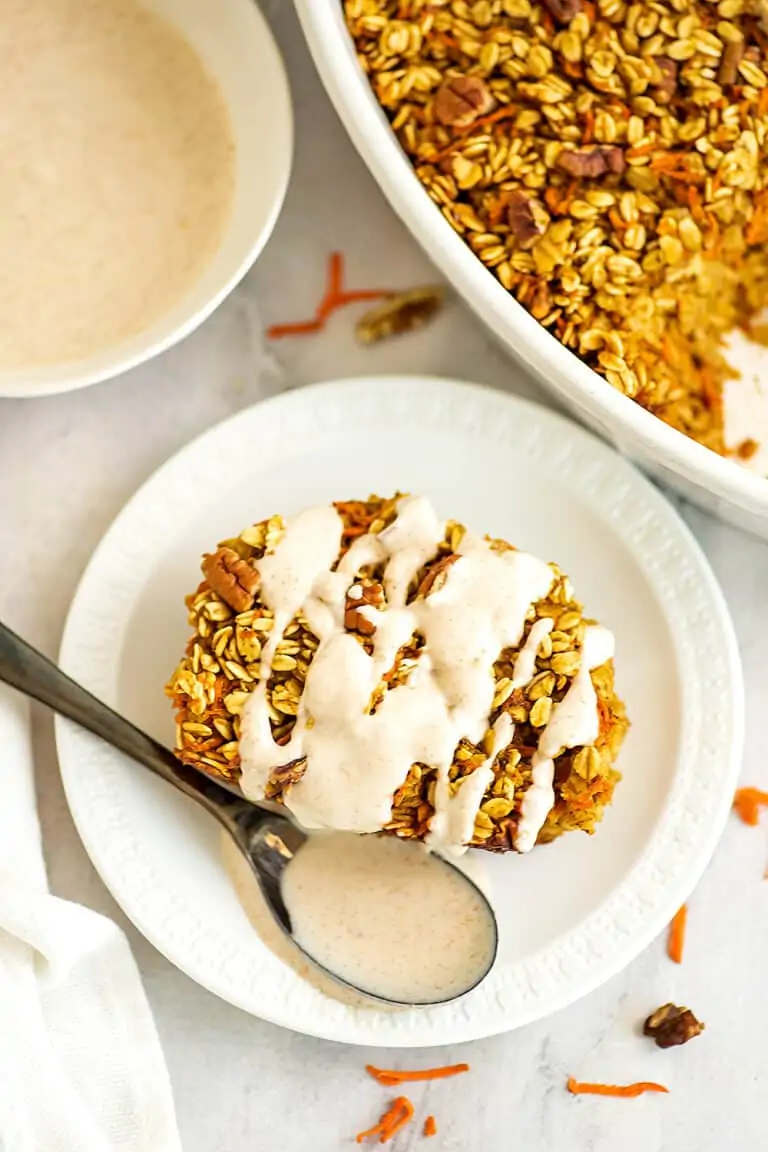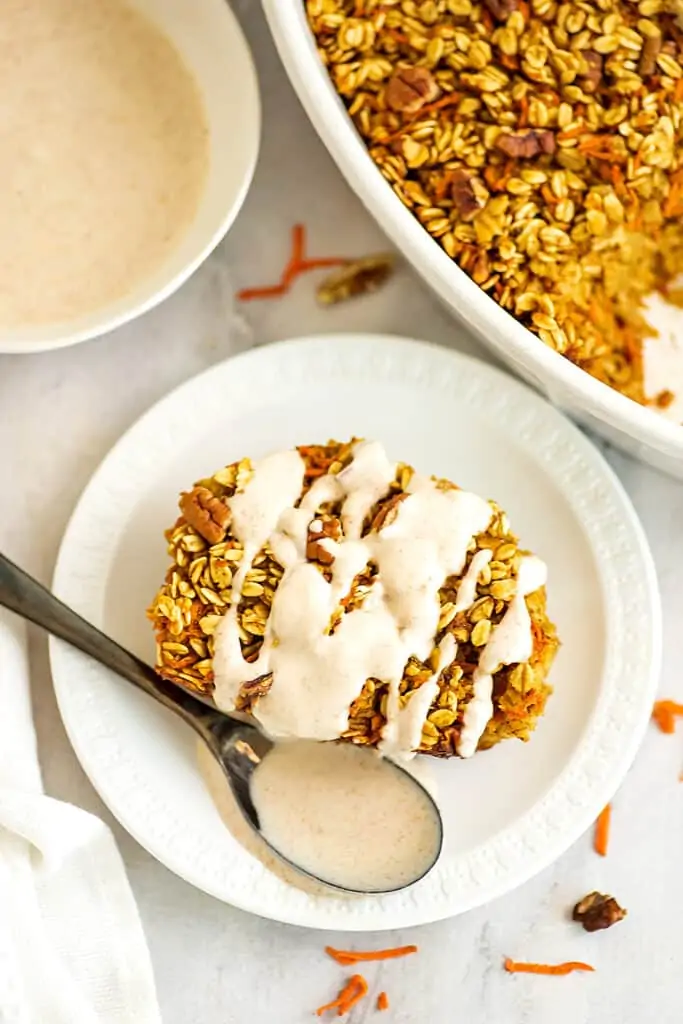 Storing leftover carrot cake oatmeal bake
Fridge: Store leftover vegan carrot cake oatmeal in the fridge for 5 days in an airtight container.
Freezer: Store leftover oatmeal bake in the freezer for up to 2 months. Tip: Portion the oatmeal into slices and freeze in individual servings. You can even bake this in souper cubes in 1 cup portions and once they cool, store them directly in the freezer for easy portioning. Once frozen solid, remove from the silicone and store in a freezer safe bag.