Grilled buffalo shrimp are the perfect appetizer or weeknight meal and ready in under 10 minutes. Grilled shrimp tossed in a quick and easy buffalo sauce can be served with ranch or blue cheese dressing and veggies or on a salad or tacos for a quick and easy meal!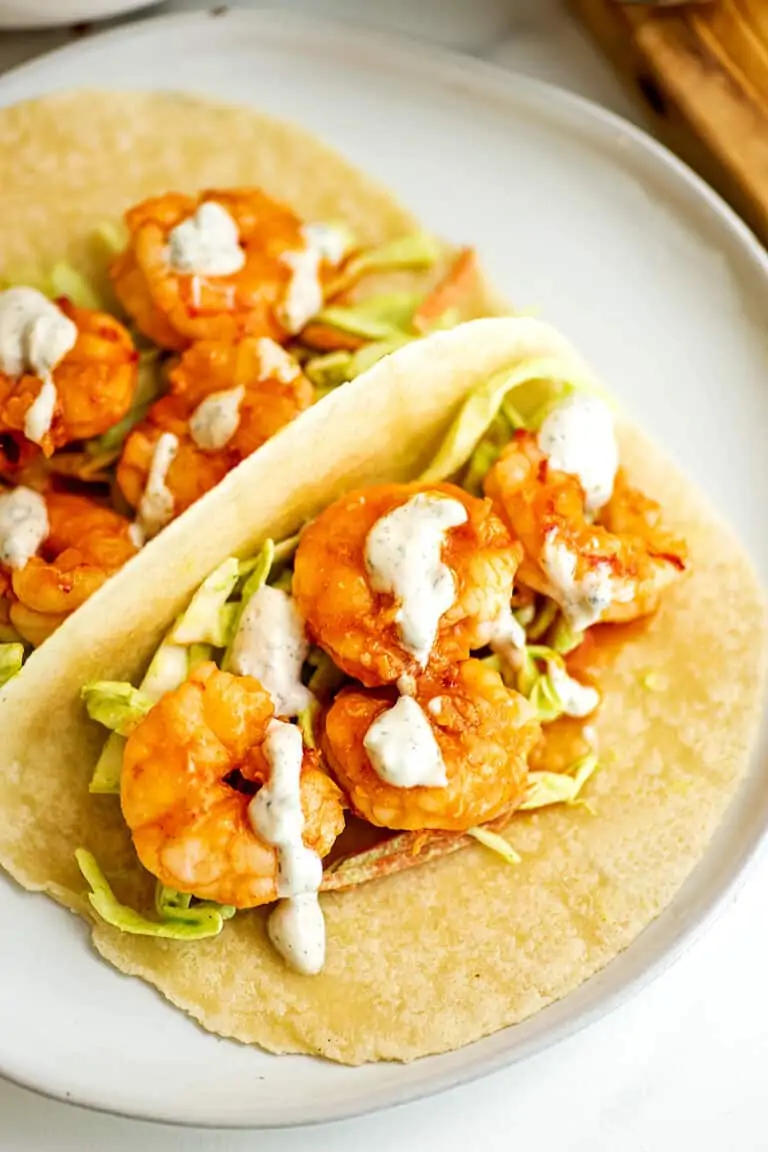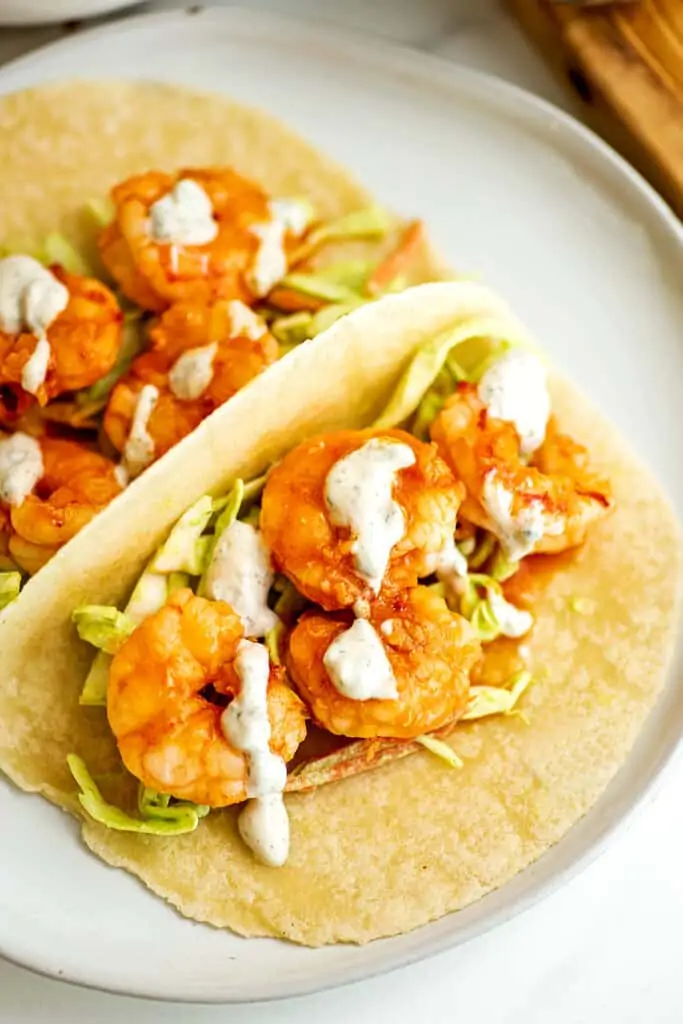 This post contains affiliate links. As an amazon associate I earn from qualifying purchases.
Click here to read my policy
and more about affiliate links.
Why you will love this recipe
Grilled buffalo shrimp are packed with flavor and so simple to make! Use your grill (outside) or a grill pan (indoor cooking). The shrimp is spiced with smoked paprika before grilling and tossed in a simple buffalo sauce.
The simple buffalo sauce is so easy to make – just 3 ingredients and comes together in just a minute.
Serve the grilled buffalo shrimp with homemade ranch dressing or blue cheese dressing for dipping with celery and carrots for a simple appetizer. You can use the grilled buffalo shrimp over salad or in tacos as well for a simple healthy dinner. Great for parties too!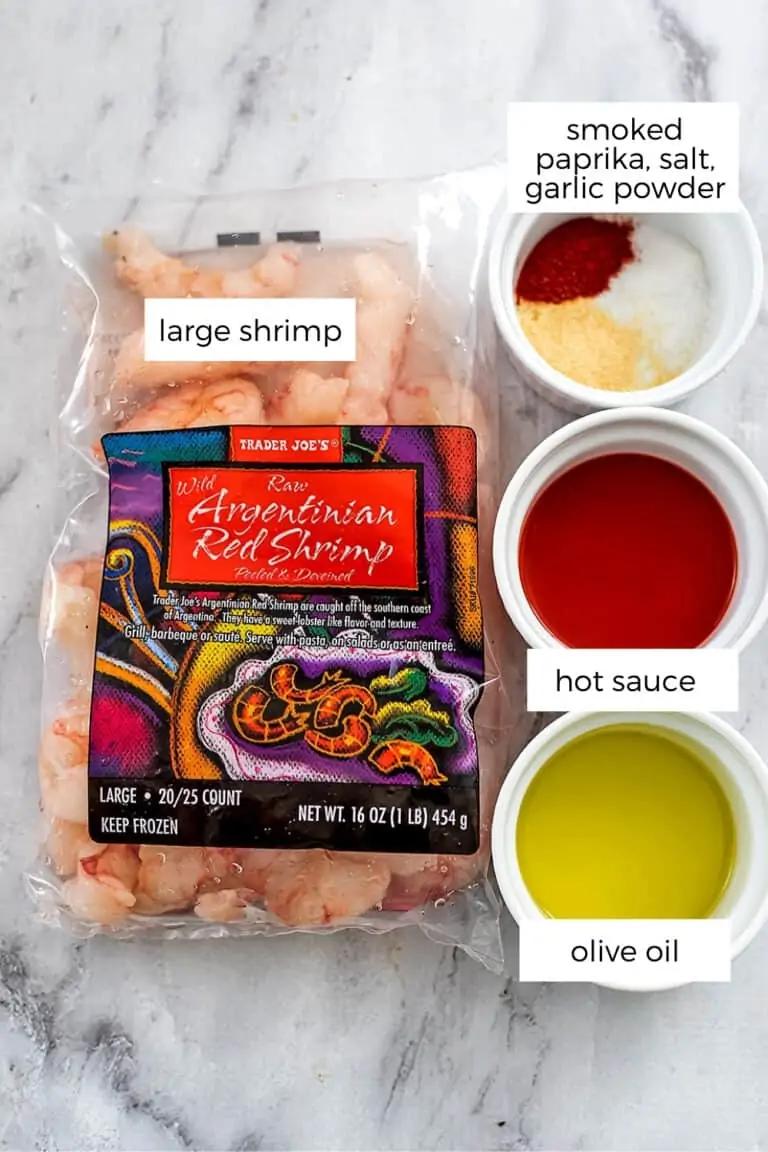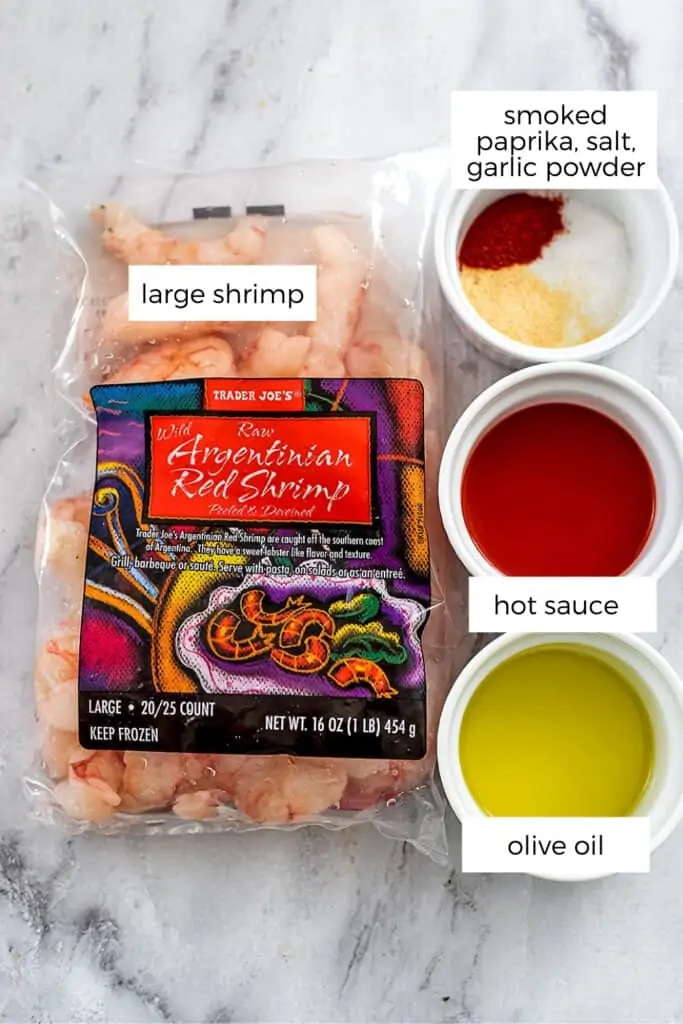 Ingredients
Large or extra-large shrimp (20-25 count): use a large shrimp to ensure it doesn't overcook on the grill. Shrimp cooks really quickly and can easily overcook on the grill so large shrimp are best for this.
Spices: Smoked paprika, Garlic powder, salt: these spices are used to add some flavor to the shrimp before adding the buffalo sauce. These spices are optional.
Hot sauce: I like to use Texas Pete hot sauce to make this buffalo sauce. Use your favorite hot sauce for this.
Olive oil: This helps to take the edge off the hot sauce (as it can be very intense without some fat). You could also use melted ghee or melted butter in place of the olive oil.
How to make buffalo grilled shrimp
Check out this step by step story on how to make healthy buffalo shrimp!
In a large bowl, combine the defrosted shrimp, smoked paprika, garlic powder, salt and olive oil. Toss well to ensure the shrimp is well coated.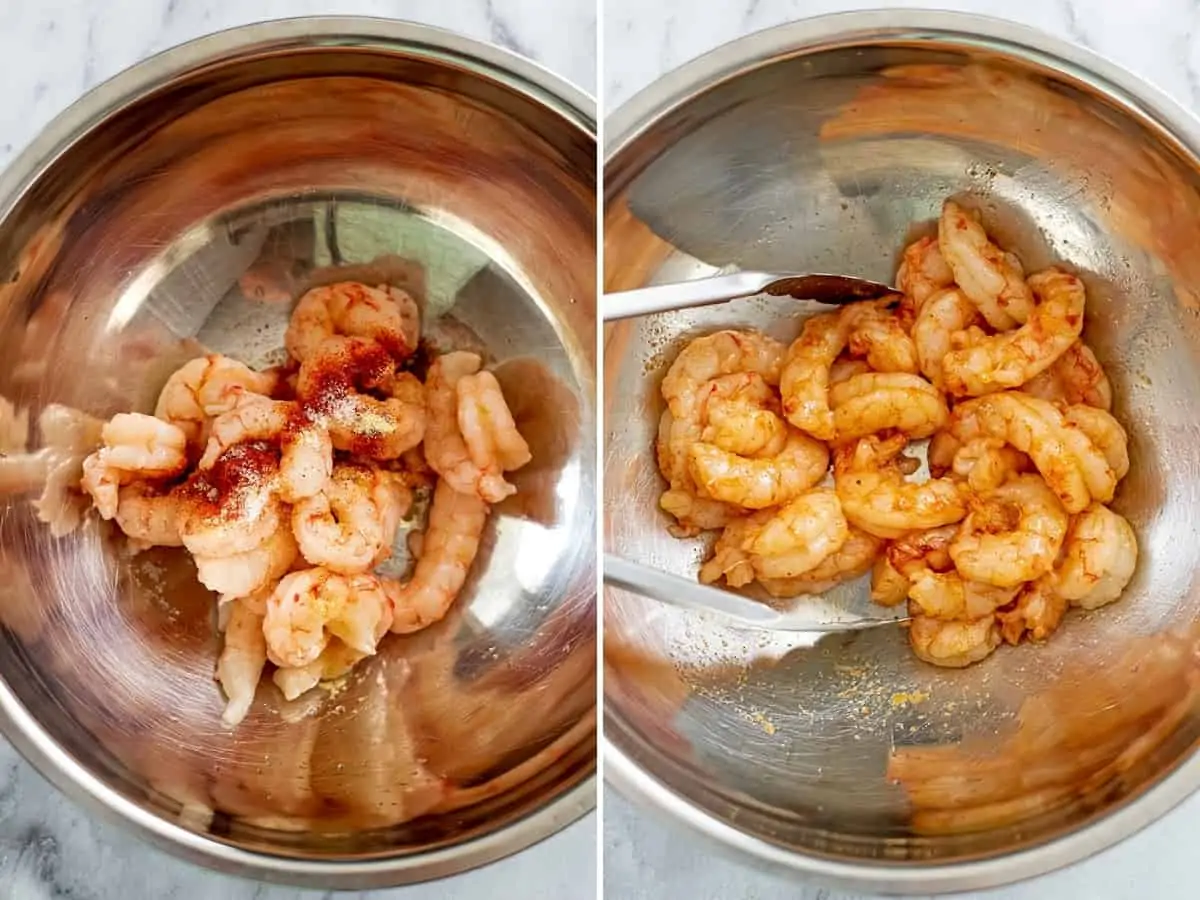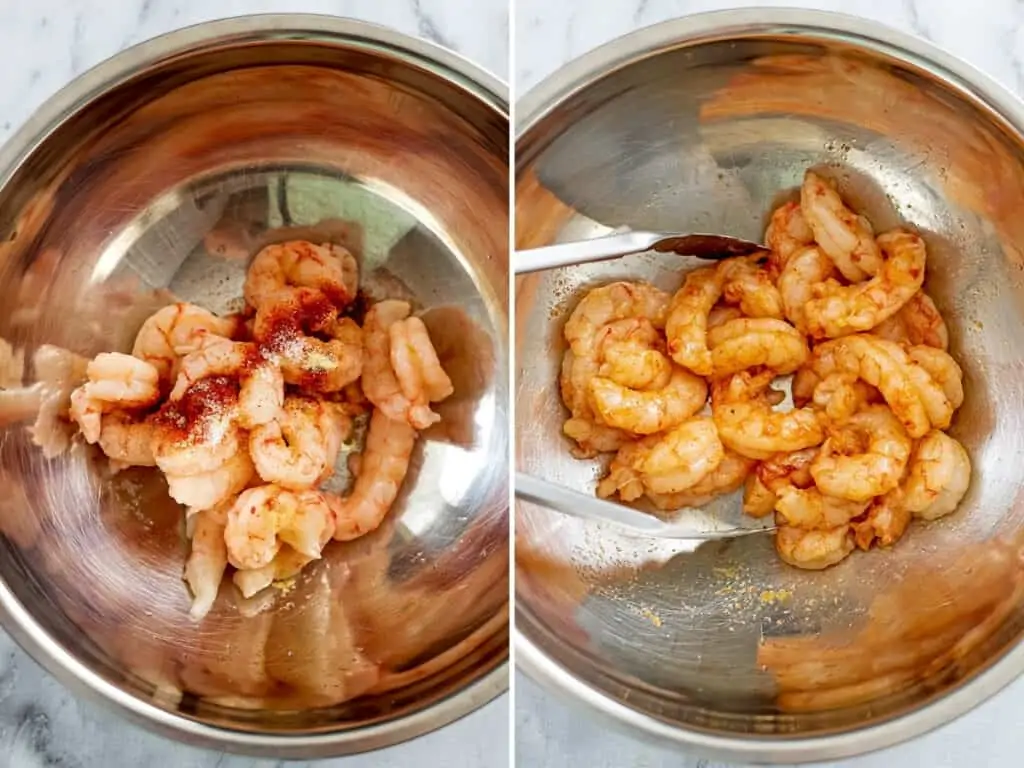 Preheat the grill (medium heat) or preheat a grill pan over medium heat for about 5 minutes.
Once the grill or grill pan is hot, add the shrimp (don't overcrowd the pan) and allow the shrimp to cook for at least 3-4 minutes.
Using tongs, turn the shrimp over. Allow the shrimp to cook 2-4 more minutes depending on how large your shrimp is. To know if the shrimp is done, you will notice it curls up into a C-shape and is firm to the touch.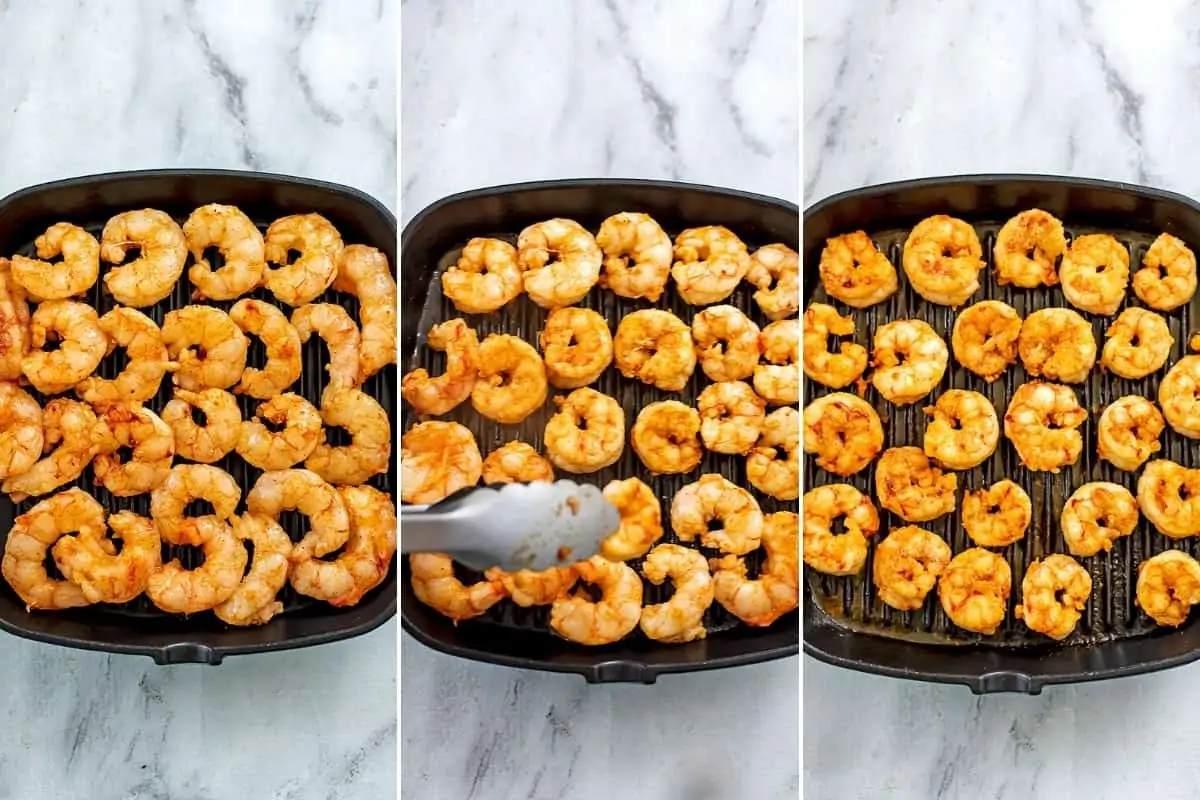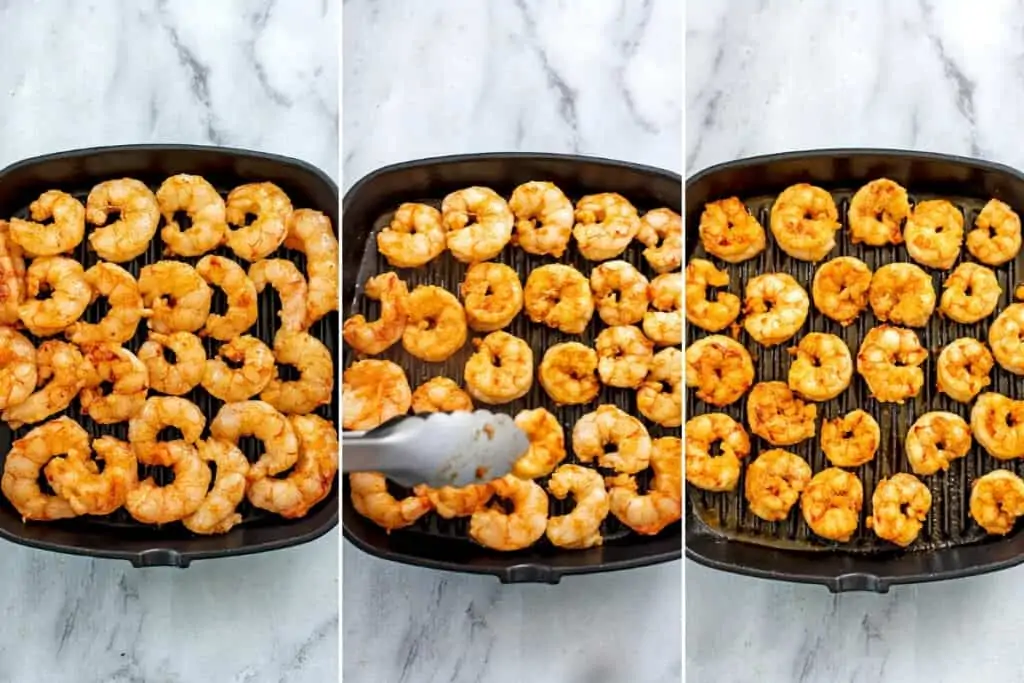 While the shrimp is cooking, combine hot sauce, olive oil and garlic powder in a bowl.
When the shrimp is done cooking, add it to the bowl with the buffalo sauce mixture. Stir well.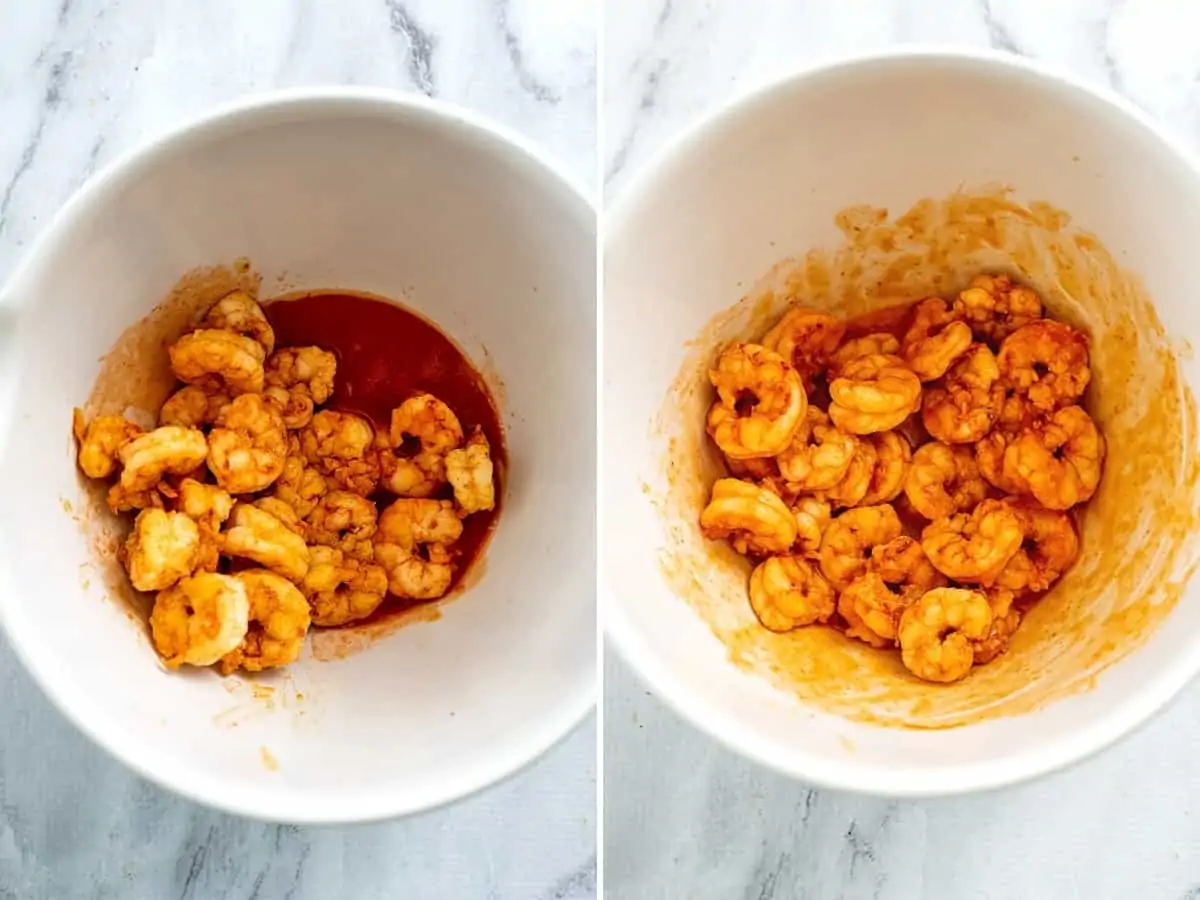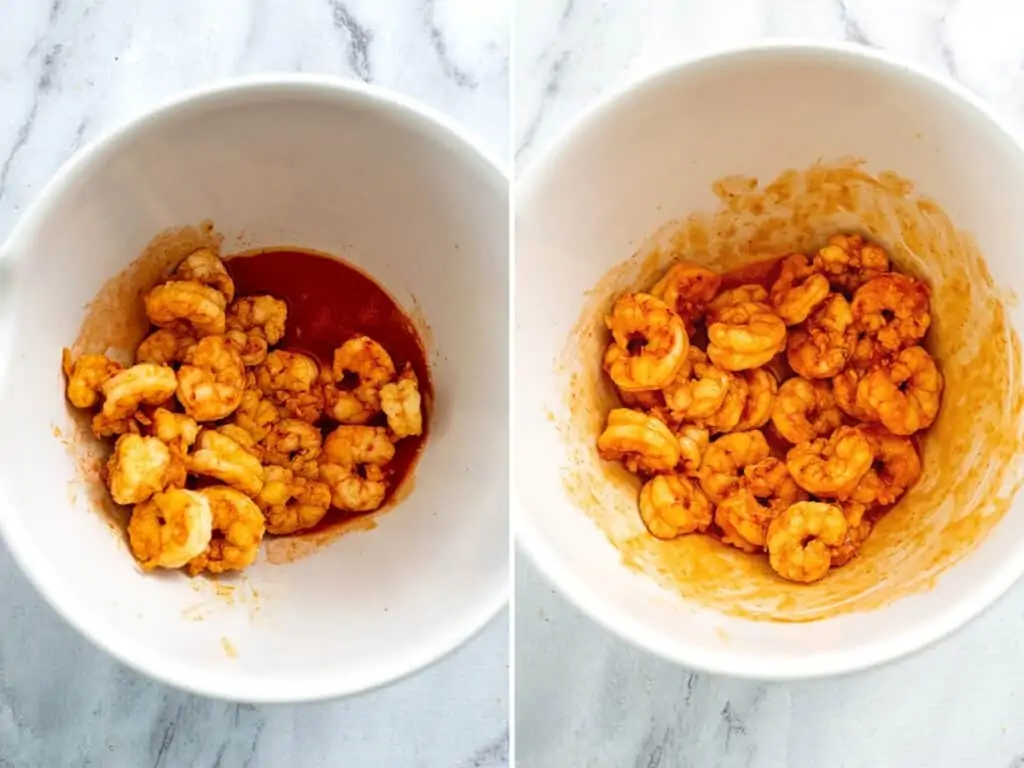 Serve the buffalo grilled shrimp hot or at room temperature.
Top tips
You can use a grill or grill pan: I personally love to make shrimp on a grill pan in the house as it cooks up quickly and doesn't get the kitchen too smoky (like chicken or other foods I've tried to grill inside). Be sure to keep the grill or grill pan over medium heat, as you don't want the shrimp to overcook (they cook up quickly).
Make your own buffalo sauce. I know there are a lot of buffalo sauces you can buy in stores, but it is so easy to make your own buffalo sauce! Simply combine your favorite hot sauce with some fat (olive oil, melted ghee, melted butter) for a quick and easy buffalo sauce ready in just 30 seconds.
Use wooden skewers or metal skewers if you are making a big batch. Because shrimp can be tough to turn on the grill one at a time, it can be helpful to use wooden or metal skewers to flip all the shrimp at once. If you are using wooden skewers, be sure to soak them in water for 15-30 minutes before use so they don't catch on fire on the grill.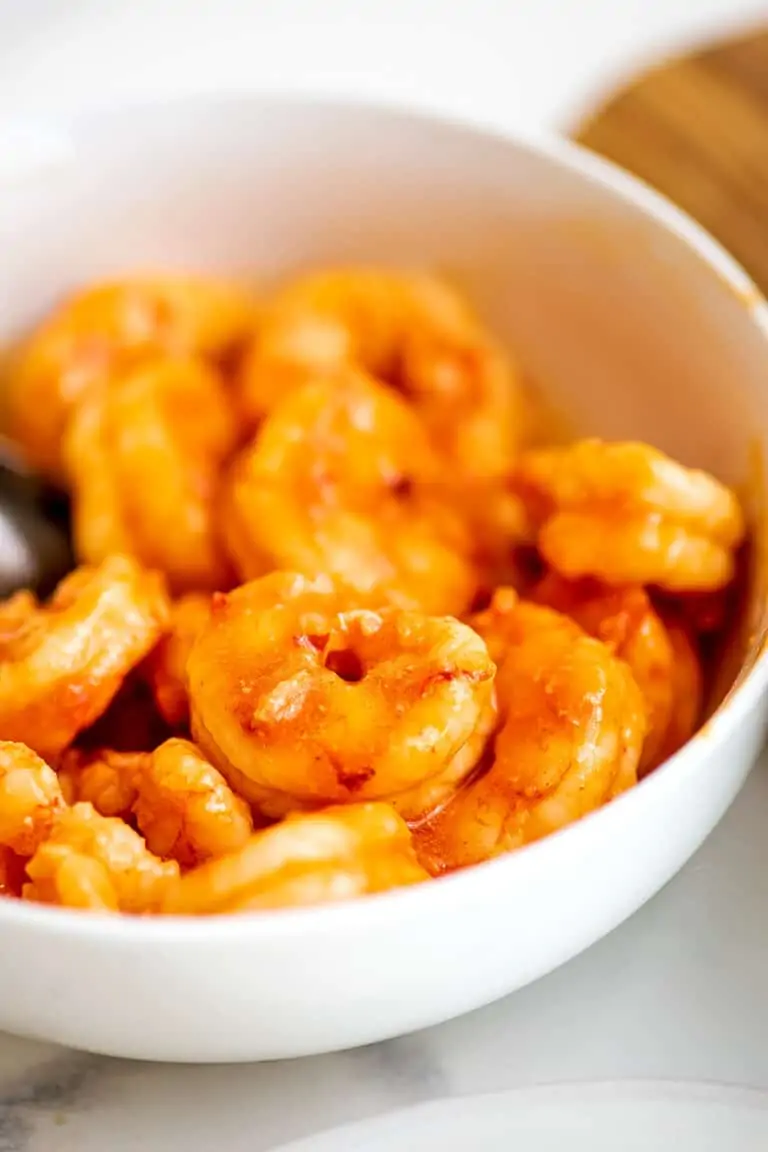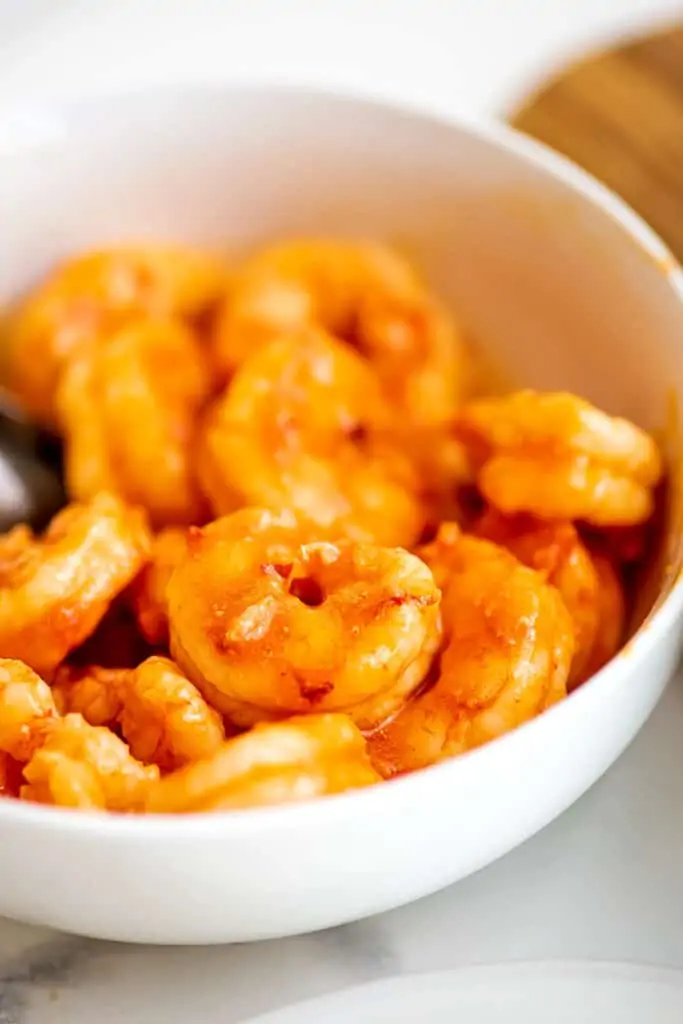 Tips for cooking shrimp
What kind of shrimp is best for grilling
The best shrimp for grilling is already deveined and shelled. You may find shrimp with the tails still left on them, which you can easily remove before or after grilling.
I prefer to buy wild caught shrimp vs. farm raised shrimp. Wild caught is often more expensive but you can often find it on sale frozen. I buy frozen Wild Caught Argentinian Pink Shrimp from Trader Joe's.
Did you know that most shrimp sold in the grocery store was previously frozen? Unless it says "fresh" shrimp, it was likely shipped frozen and defrosted for sale. This means that if you buy shrimp frozen, you can defrost it at home and get the same quality.
How long does it take to cook shrimp on the grill?
Shrimp cook very quickly – typically between 5-8 minutes flipping halfway through. Cooking time will depend on how thick the shrimp are.
What size shrimp is best for grilling?
Typically you want to use a large or extra large shrimp for grilling. This way the shrimp are easy to flip on the grates of the grill and won't overcook as you are turning the other shrimp over.
If you are using small shrimp, you may want to take the time to thread them on a wooden or metal skewer to make flipping the shrimp easier. Note that the cooking time may be closer to that 5-6 minute mark with medium size shrimp.
How do you tell when shrimp is done cooking?
As shrimp cook, they start to curl up into a tight C-shape and become very firm when you press down on the thickest part with your tongs. If you started with blue shrimp, you will notice they start to turn pink as they cook.
Shrimp can overcook quickly so once you notice that C-shape, you want to start getting them off the heat. The shrimp will continue to carry over cook off the heat.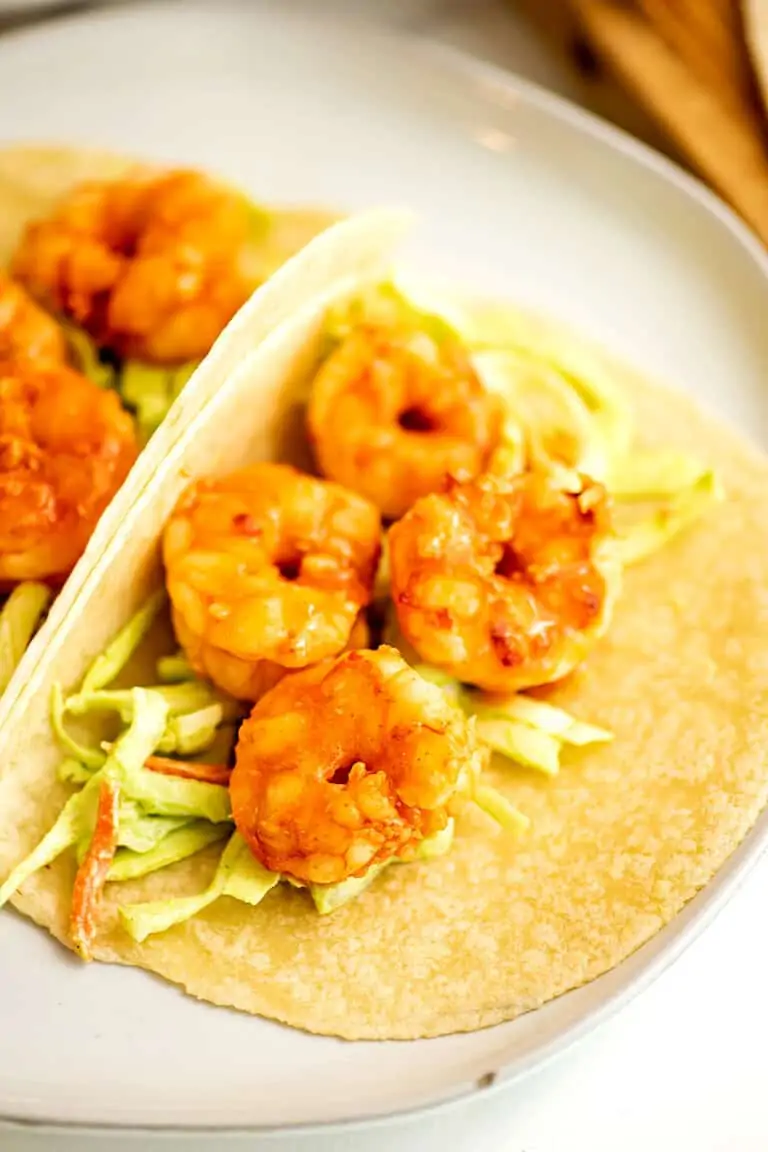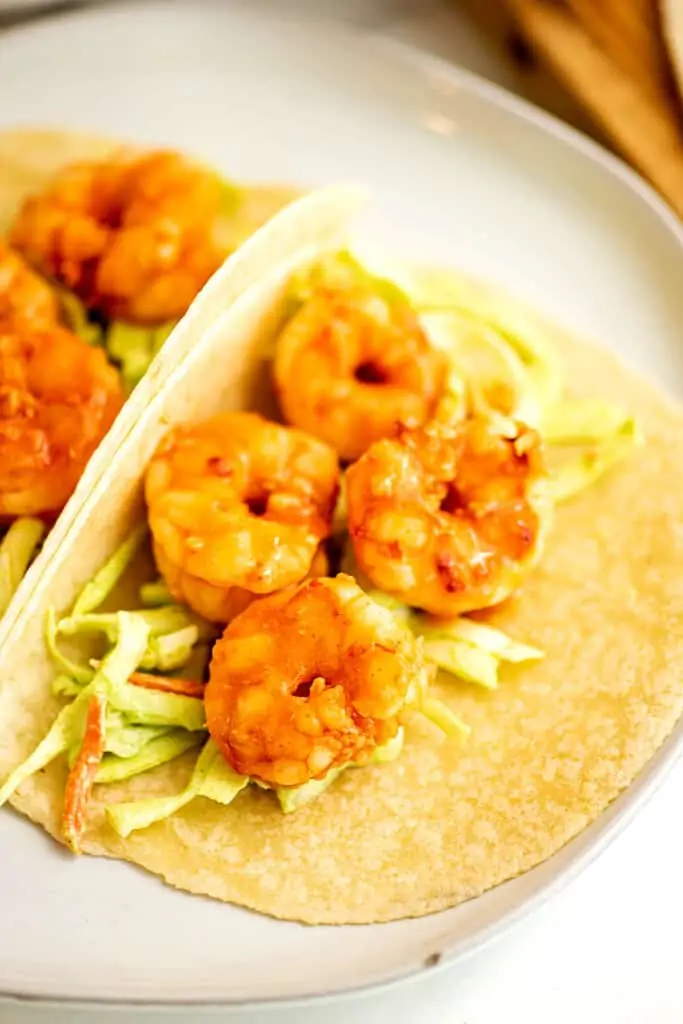 Can you use frozen shrimp?
Shrimp defrost very quickly, so you can pull the shrimp out of the freezer the morning of a cookout and you will have defrosted, ready to cook shrimp by the afternoon. Just store them in the fridge to defrost. If you are really short on time, you can defrost them in the sink with cold water. This takes about 30 minutes or so.
What if you don't have a grill?
You can cook the shrimp on the stove over medium heat in a large skillet. Be sure to preheat the skillet over medium heat to help keep the shrimp from sticking.
You can also cook the shrimp on a parchment paper lined baking sheet for 10 minutes at 400F. No need to flip the shrimp on the baking sheet.
What to serve with grilled buffalo shrimp
Storage
Store leftover shrimp in the fridge in a well sealed container up to 3 days. It's best to serve leftover shrimp cold on salads or dipped in dressing as reheating shrimp can cause it to overcook.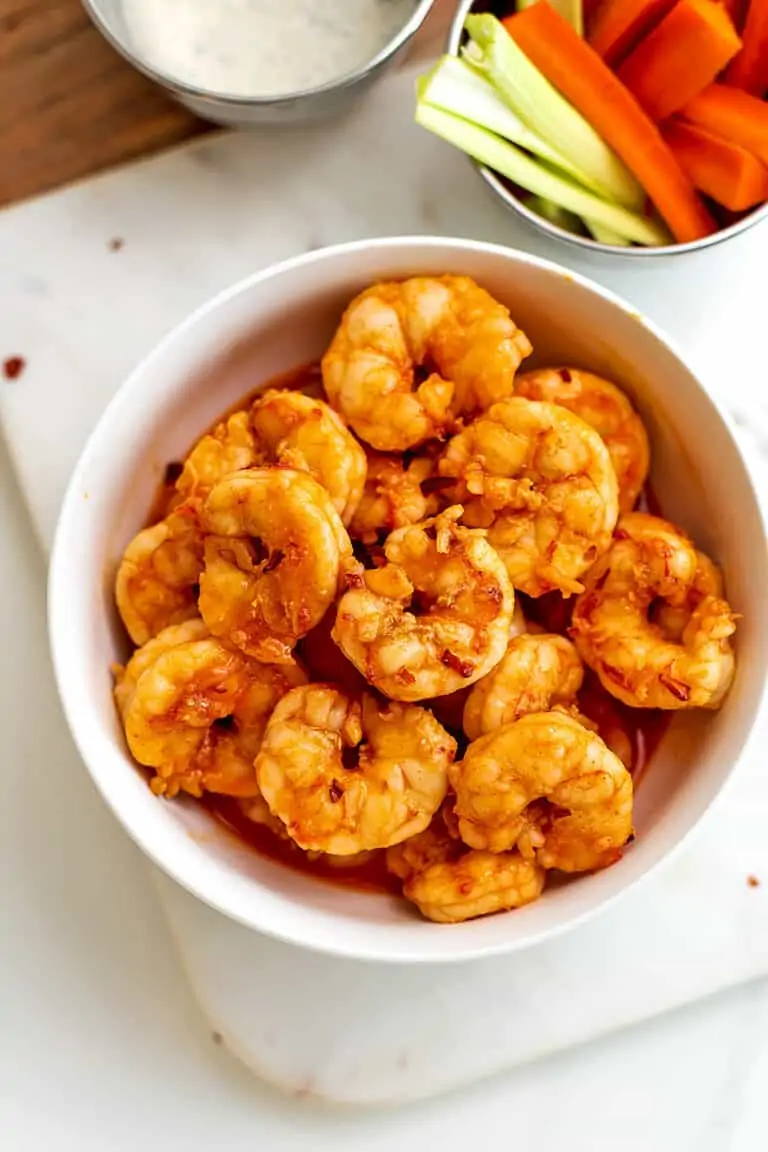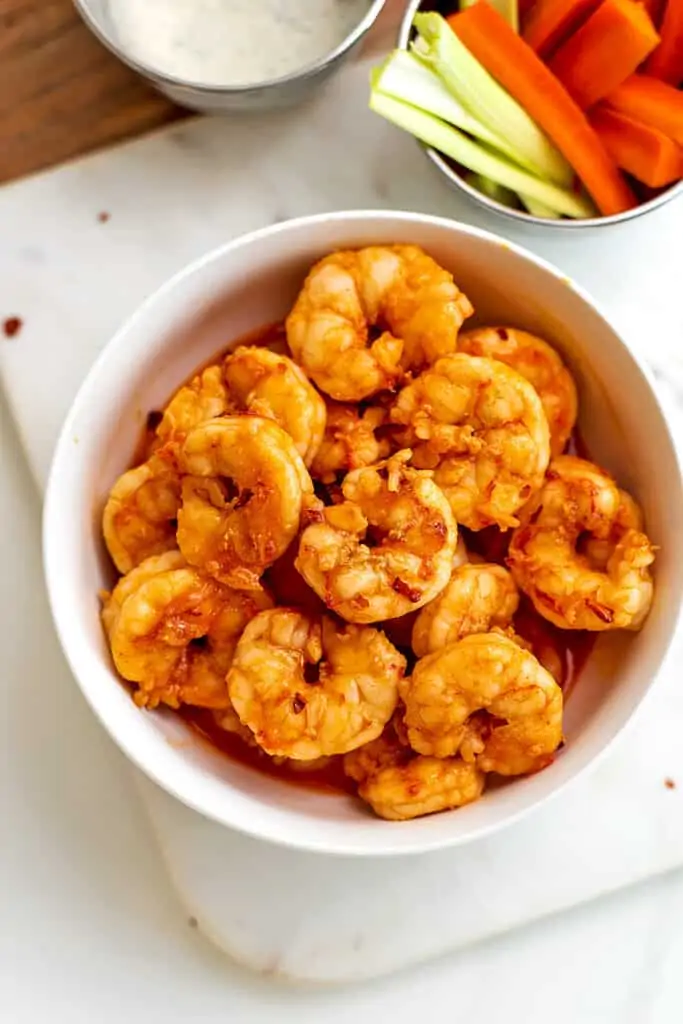 Substitutions
Shrimp: Shrimp is quick cooking and perfect for weekday meals. You could also try this recipe with chicken tenders or pieces of salmon (skin removed). You may need to cook the chicken tenders a minute or two longer than the shrimp.
Spices: Smoked paprika, garlic powder, salt: These are all optional. Omit what you don't have on hand.
Hot sauce: Hot sauce is pretty important when you are making buffalo sauce. You could try to use 1-2 tsp. of apple cider vinegar + 1-2 tsp. chili powder + ½ tsp cayenne pepper.
Olive oil: Olive oil is used to help cut through the hot sauce and help get the sauce to stick to the shrimp. You can also use melted ghee, melted butter or avocado oil in place of olive oil.
If you love this recipe, you should try:
★ Did you make this recipe? Please give it a star rating below!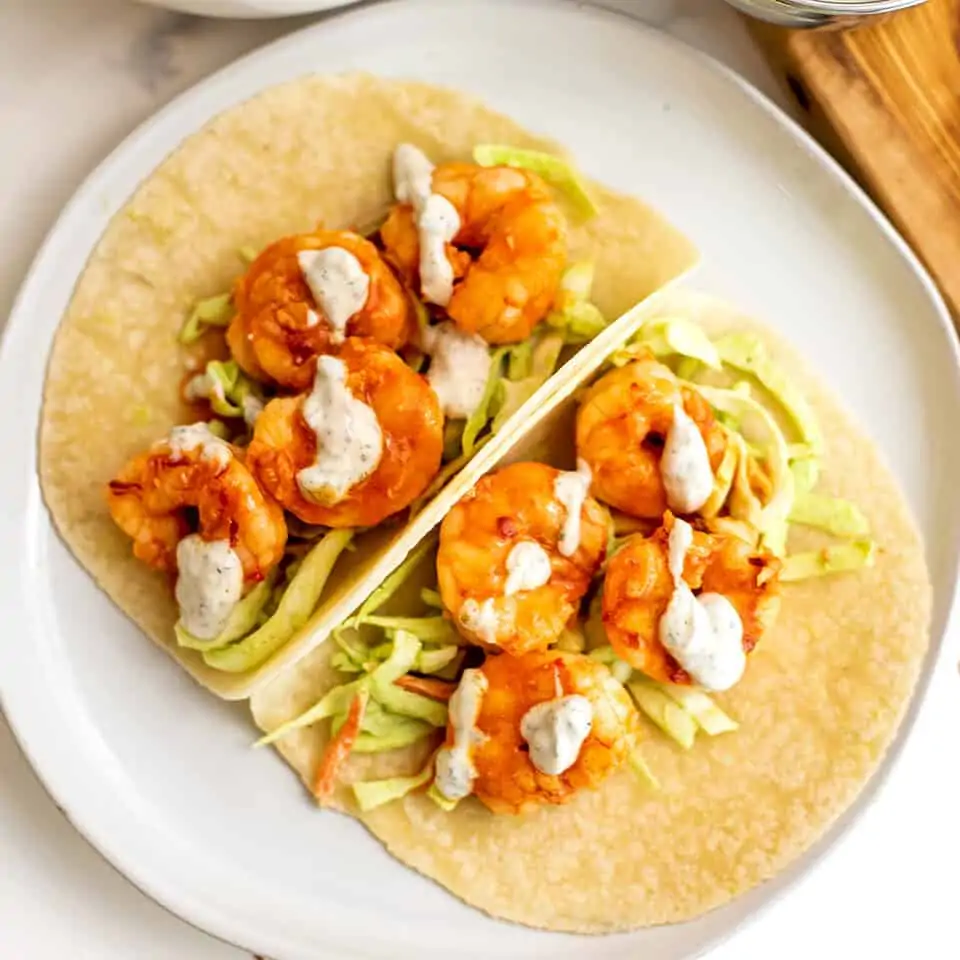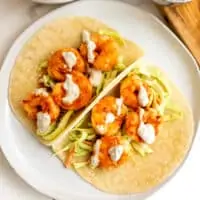 Buffalo Grilled Shrimp
$11.13 Recipe/$2.78 Serving
Buffalo grilled shrimp is perfect for quick and easy dinner or as an appetizer! Ready in 10 minutes this buffalo grilled shrimp is great on salad, dipped in ranch or blue cheese or serve in tacos!
Print
Pin
Save
Saved!
Rate
Instructions
Preheat a grill pan over medium heat or preheat your grill to medium heat.

In a large bowl, combine the shrimp, smoked paprika, garlic powder, salt and olive oil. Stir well.

Add the shrimp to grill pan or grill. Cook 2-3 minutes.

Carefully flip the shrimp and cook 2-3 more minutes (I like to use tongs for this).

While the shrimp cook, combine the buffalo sauce ingredients in a large bowl.

Remove the shrimp as soon as the shrimp starts to curl into a tight C-shape.

Add the shrimp to the bowl with the buffalo sauce and stir well.
See how I calculate food cost
.
Nutrition Information
Nutrition Facts
Amount per Serving
Where does nutrition info come from? Nutrition facts are provided as a courtesy, sourced from the USDA Food Database.
DID YOU LOVE THIS RECIPE?
Let others know by rating and leaving a comment below!