Healthy bang bang shrimp is the perfect weeknight meal! Ready in less than 15 minutes, this creamy spicy shrimp recipe is going to quickly become part of your weekly rotation!
Serve with cauliflower rice or stuff it in tacos for quick and delicious bang bang shrimp tacos!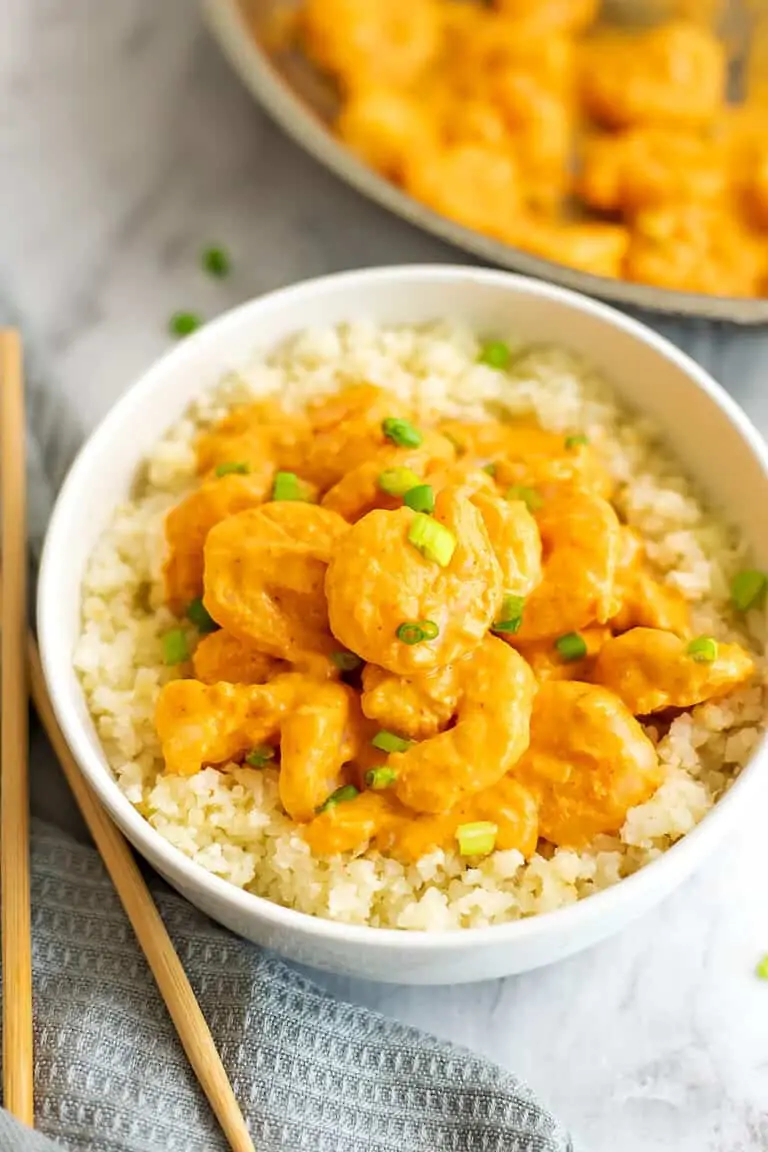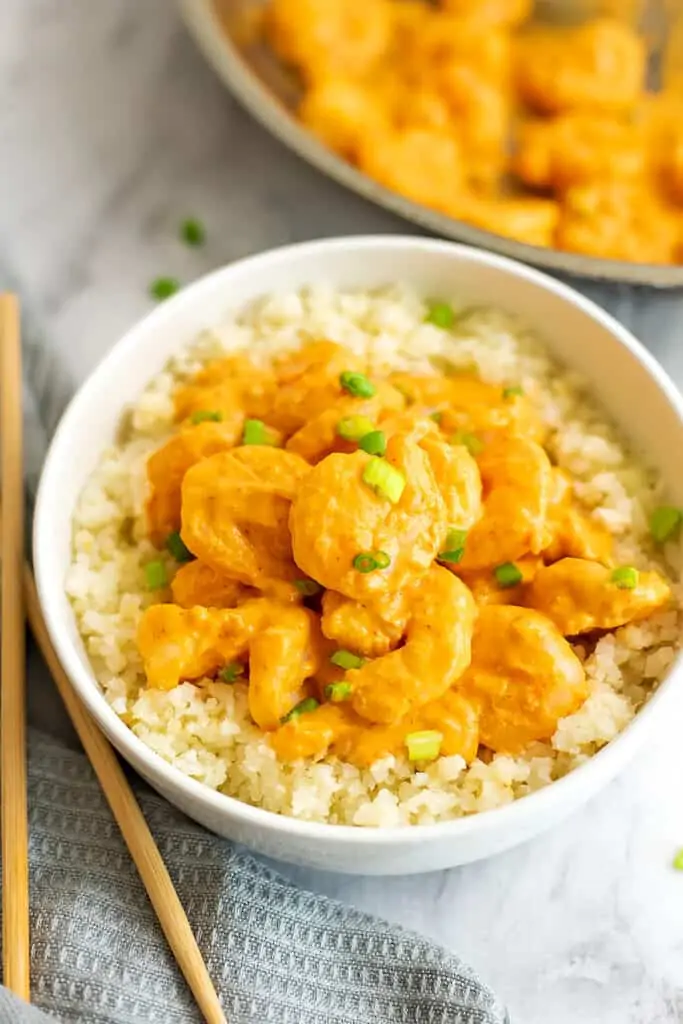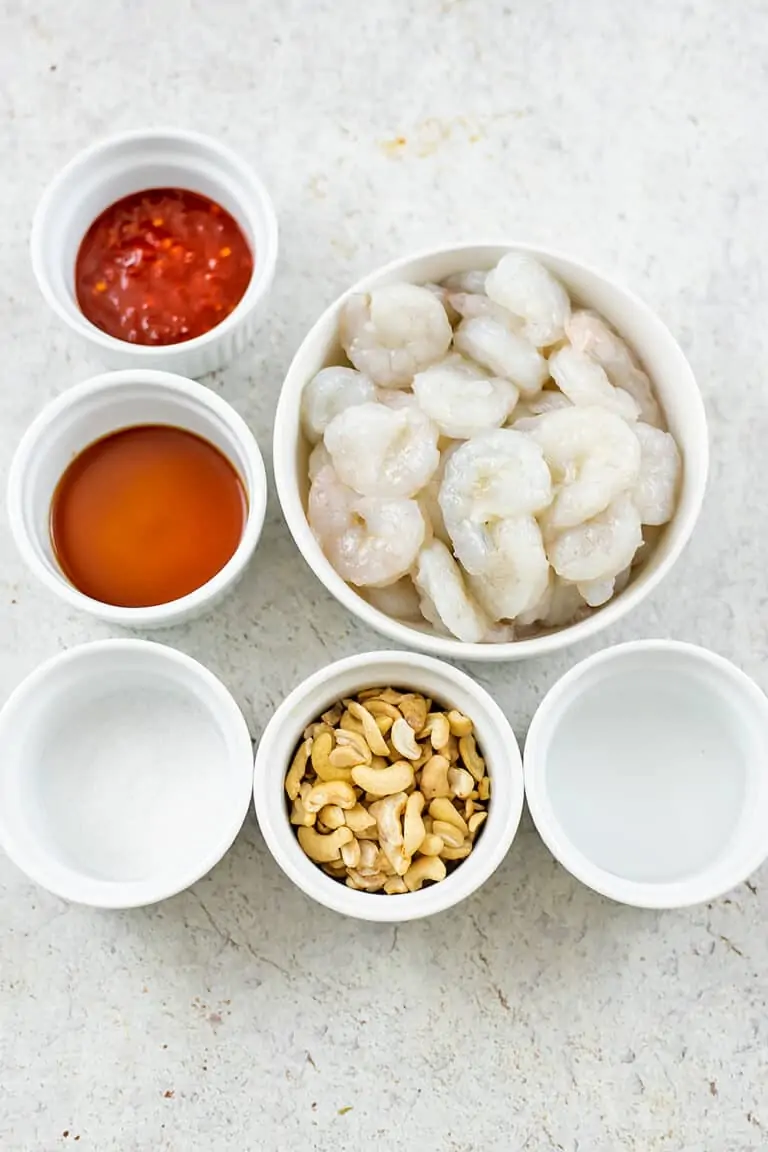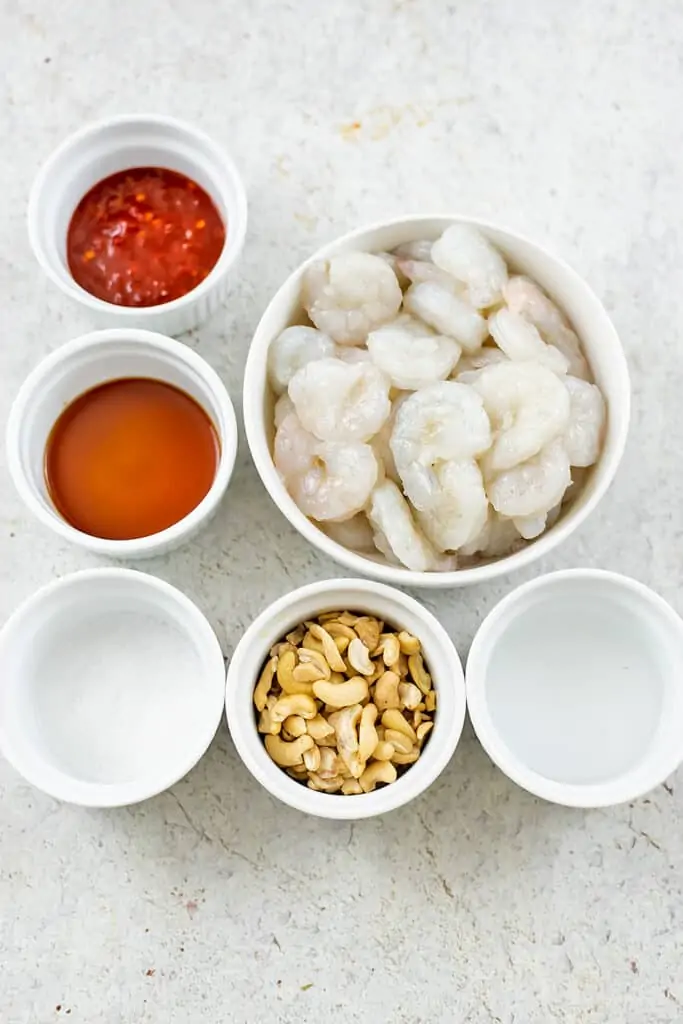 Ingredients
Shrimp
Cashews
Water
Sriracha (or garlic chili sauce)
Coconut aminos
Salt
How to make bang bang shrimp
Check out the step by step stories on how to make healthy bang bang shrimp (no breading) at home!
Step 1: Start by soaking the cashews in boiling water or covering them in water and microwaving them for 2:30 (be sure to use a large glass where there is room for the water to boil).

Let the cashews soak 2-3 minutes.

Step 2: Add the shrimp to a large skillet sprayed with avocado oil or olive oil spray. Cook over medium heat 2-3 minutes per side.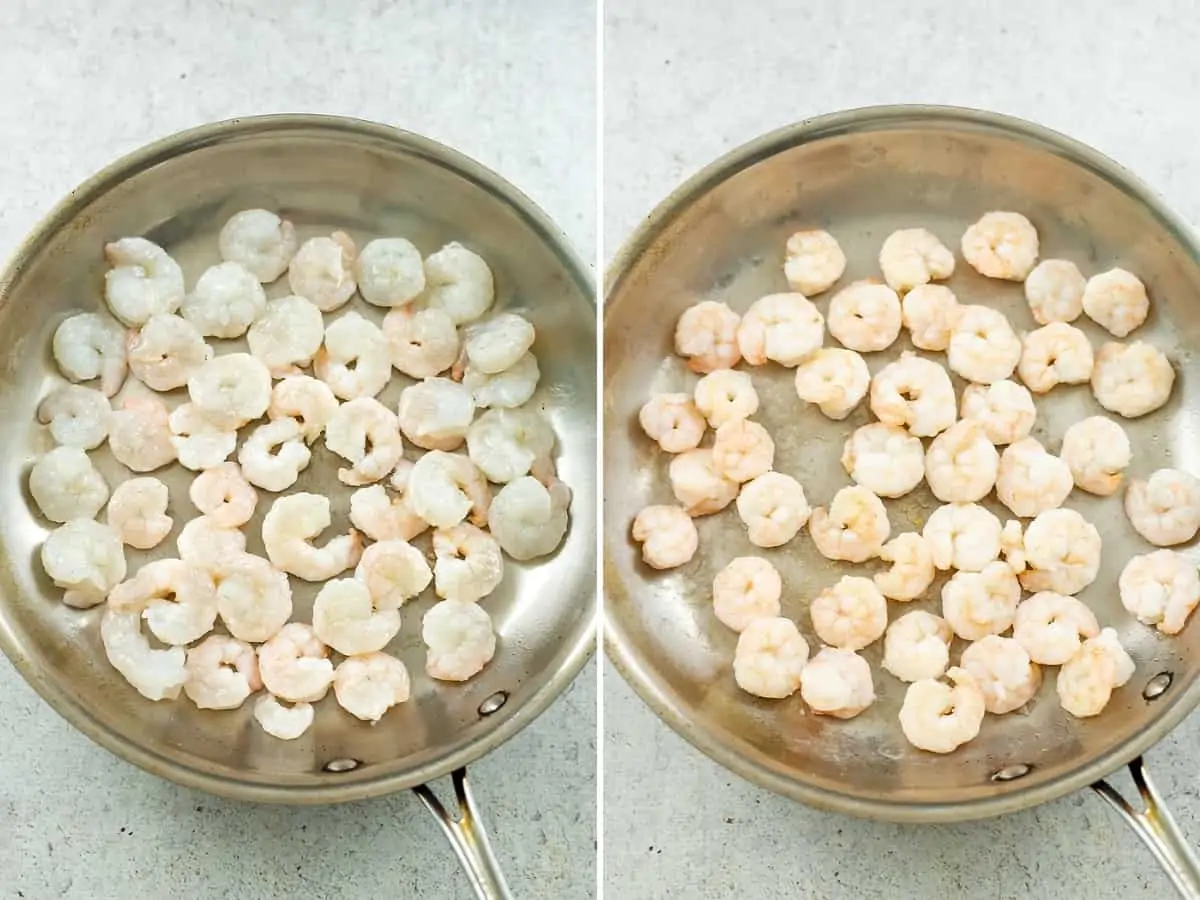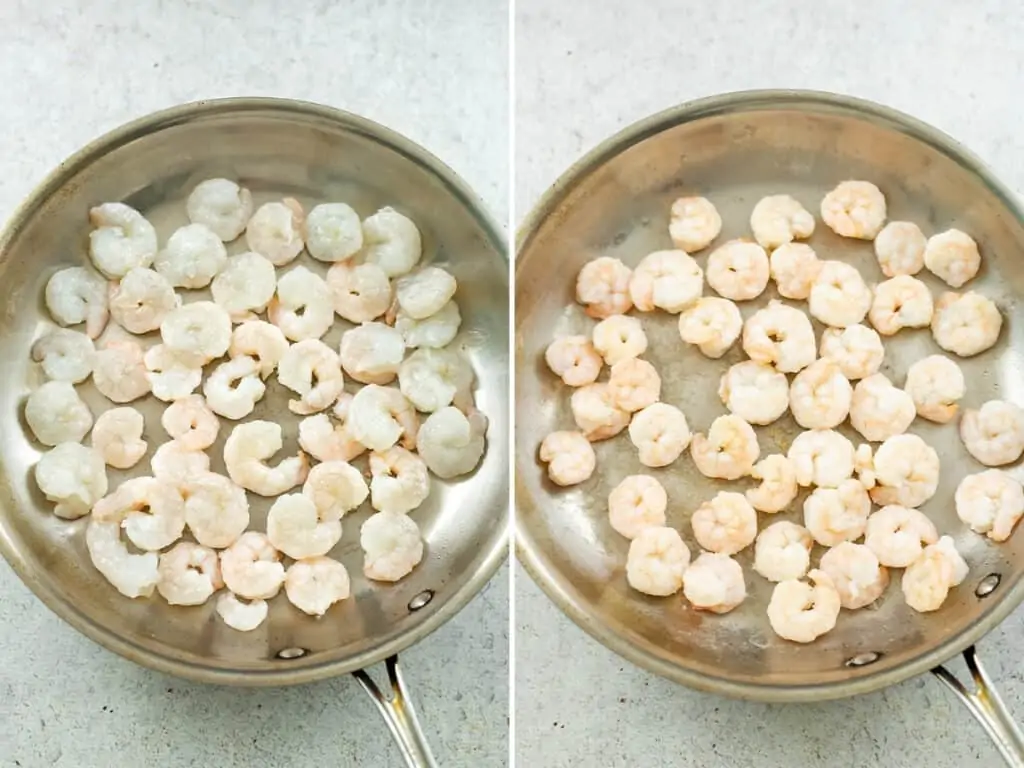 While the shrimp are cooking, drain the cashews and discard the water from soaking.

Step 3: Add the cashews, fresh water, sriracha, coconut aminos and salt to a high speed blender (I use my bullet blender). Blend on high 1 minute.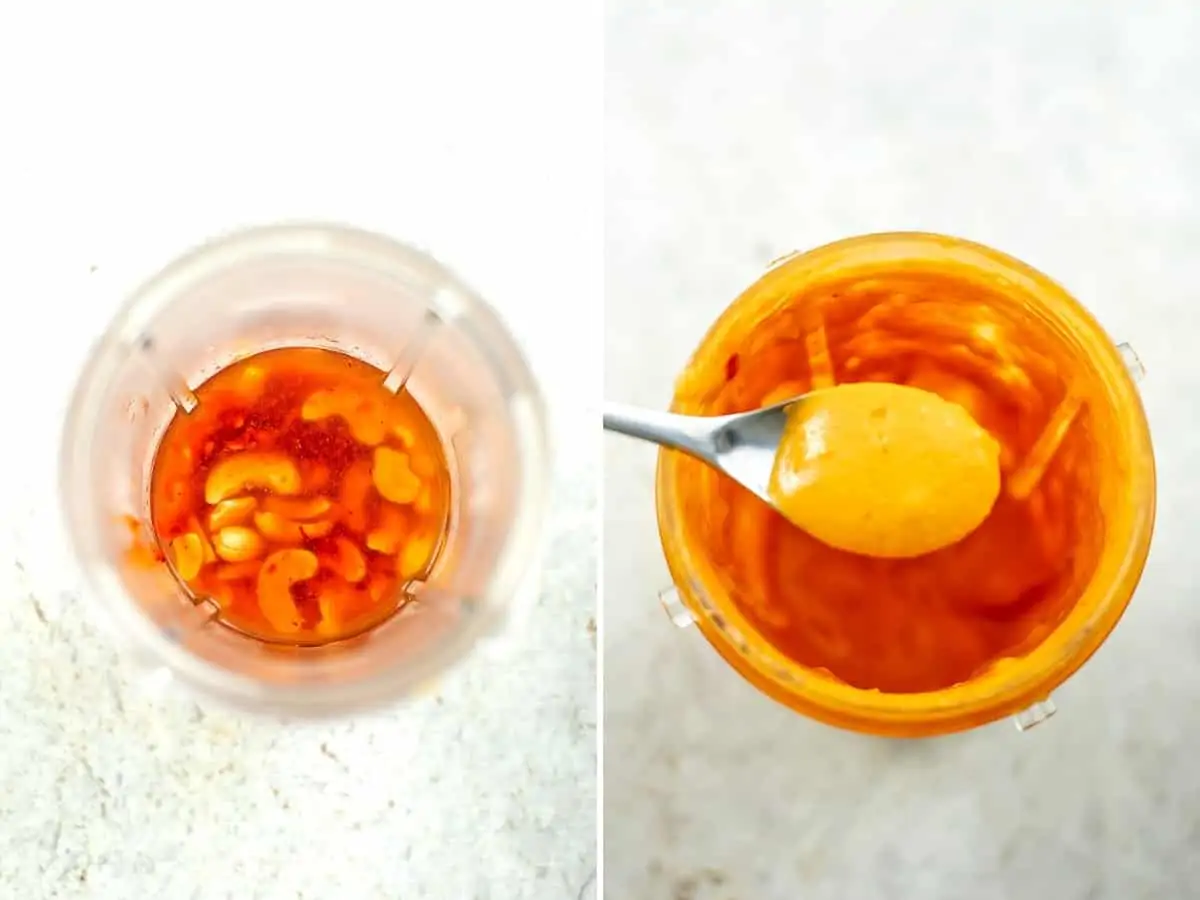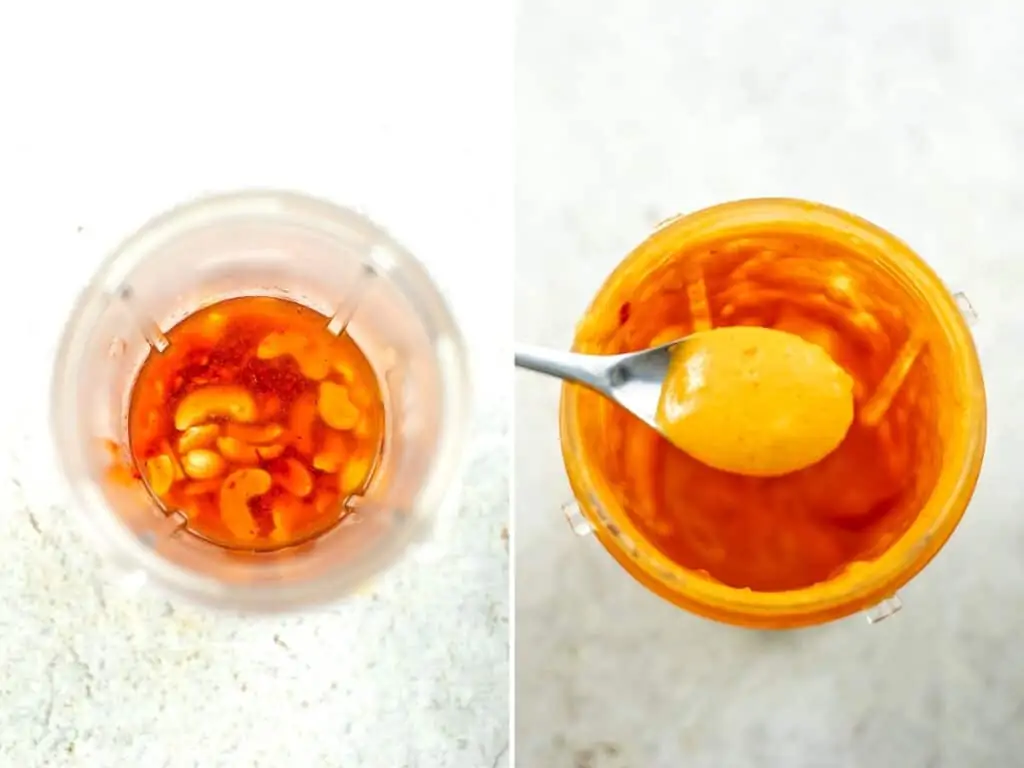 After shrimp are done (they will have formed tight C shapes and feel firm to the touch), remove them from the heat.

Step 4: Add the sauce and stir well.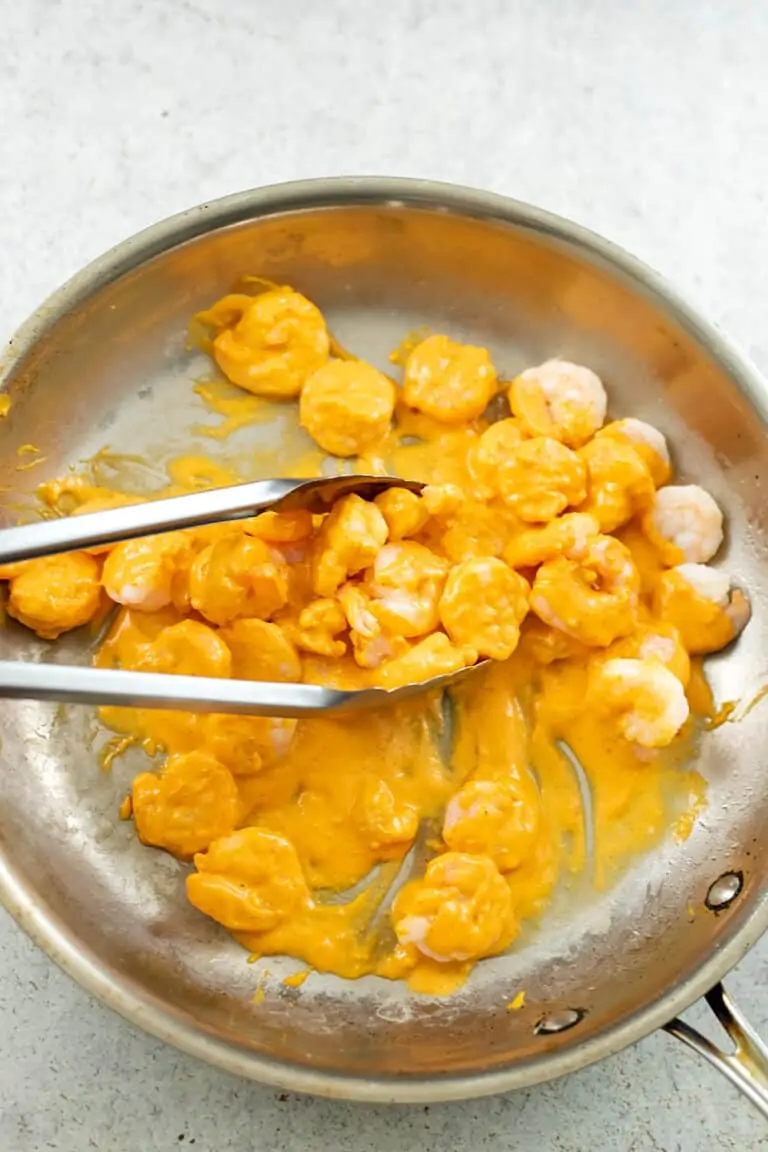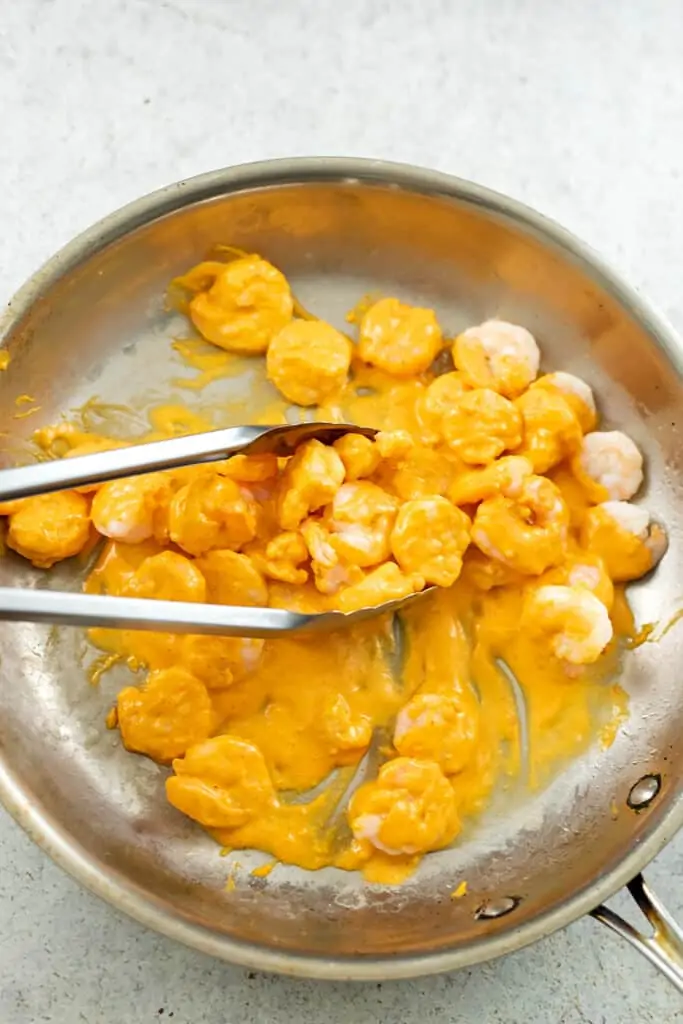 Serve over cauliflower rice, rice, slaw, lettuce or as tacos!
Pro tips
Before you start this recipe, be sure your shrimp are already defrosted (if previously frozen), peeled, deveined and the tails removed.
You can soak the cashews up to 8 hours ahead of time. The sauce can be made up to a day in advance and stored in the fridge. Take it out of the fridge about 15-30 minutes before cooking so it has time to get up to room temperature so it doesn't make the shrimp cold after cooking.
If you need the sauce to be less spicy, add up to 2 tablespoons of ketchup to the sauce. The ketchup will help offset the heat from the sriracha (be sure to use a Whole30 ketchup if you are doing a Whole30).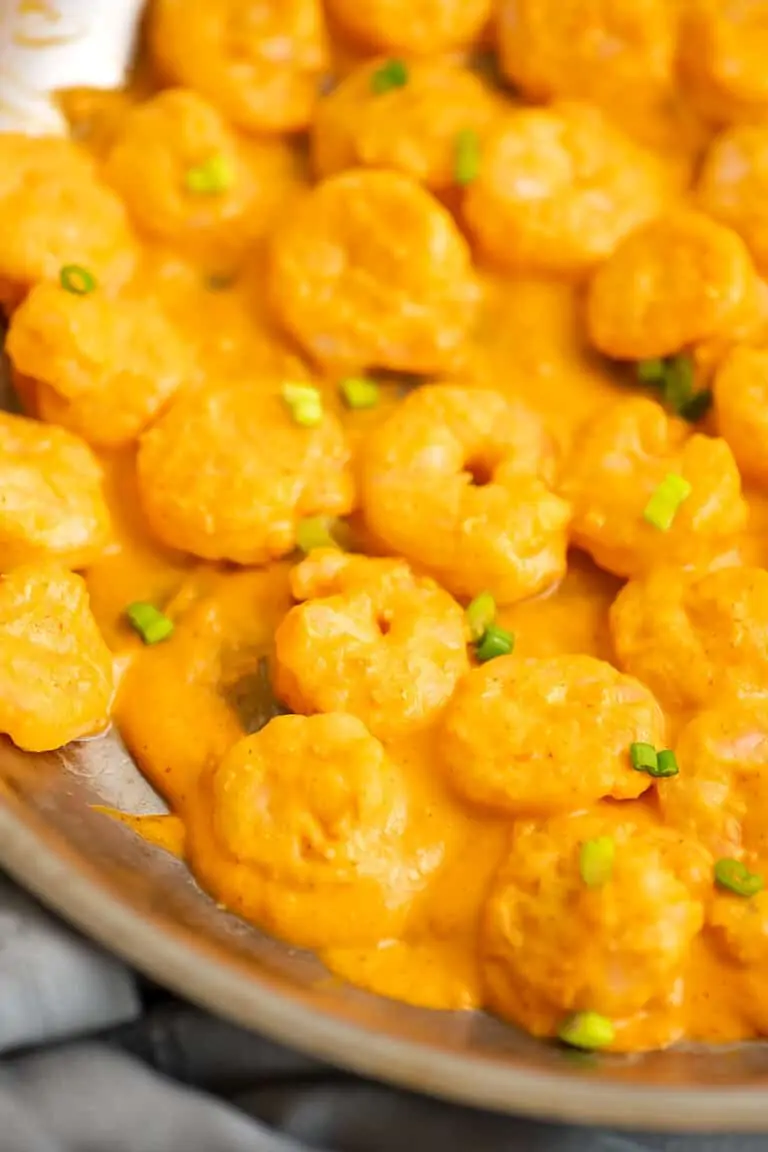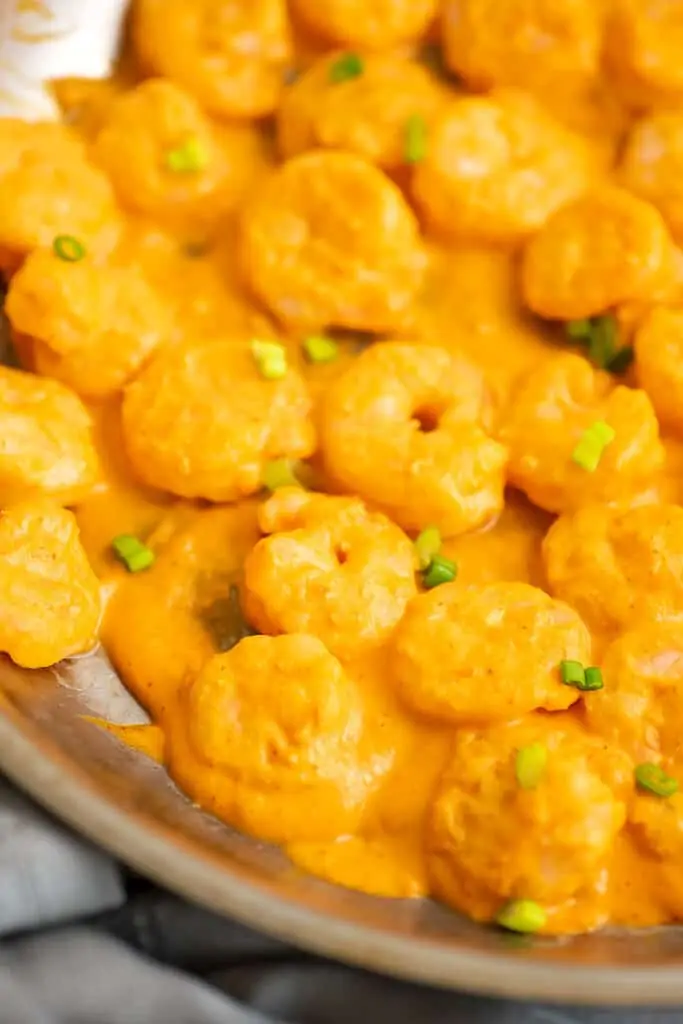 Bang bang shrimp common questions
What to serve with keto bang bang shrimp
Whole30 and keto bang bang shrimp is often served with slaw or as tacos at most restaurants.

The crispy shrimp and spicy sauce are usually an appetizer but can sometimes be a main course meal as well. I like to eat the shrimp as a meal. Here are my favorite ways to serve it:
Can you use frozen shrimp?
Yes! Defrost the shrimp first. You can defrost shrimp in cold water, changing out the water every 10 minutes or so (this process takes about 30 minutes).
You can also defrost the shrimp in the fridge overnight (be sure to put the bag of shrimp in a container in case it starts leaking from the bag). Do not use hot water to defrost the shrimp, this changes the texture of the shrimp and makes it rubbery and tough.
Do not cook the shrimp from frozen, as the outside of the shrimp will overcook by the time they are defrosted in the pan.
What is the best shrimp to buy?
The reason this recipe is so quick is because I buy shrimp already peeled, deveined and tails removed. This can be more expensive but I find it's worth the investment. You can often find shrimp in-the-shell on sale but it takes 10-15 minutes to shell and devein shrimp, it is a process that I do not prefer to go through.
You will want medium to large shrimp. Usually a count of 20-35 per pound. If you find smaller shrimp you want to use, keep an eye out as they may cook quicker than the recipe indicates.
If you have frozen cooked shrimp, defrost using cold water and add the shrimp to the pan and only cook 2-3 minutes total, allowing the shrimp to just heat up. You really don't want to overcook the shrimp.
What if you don't love shrimp?
You could also use scallops in place of shrimp to make this a bang bang scallops recipe!
If you are not a big seafood eater, you could use white beans (vegan) or even chicken. If you want this to still be a quick cooking meal, cut the chicken into small bite size pieces and cook it 8-10 minutes in the skillet until it's cooked through.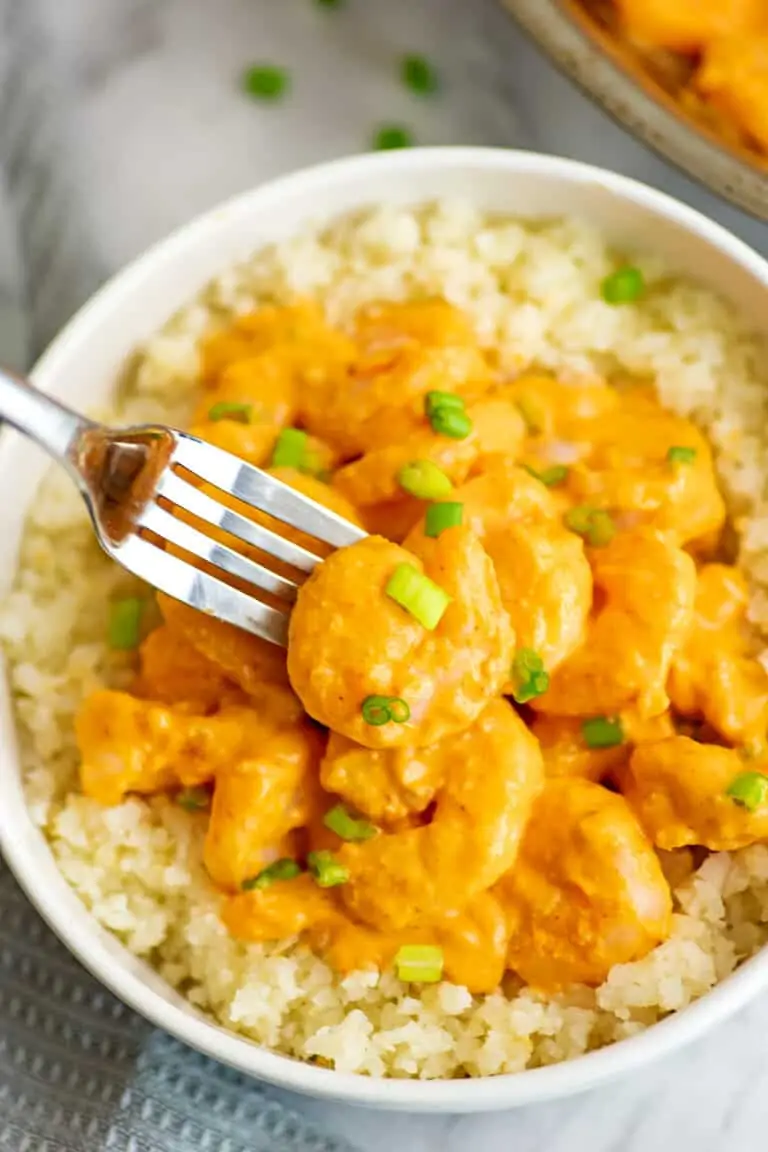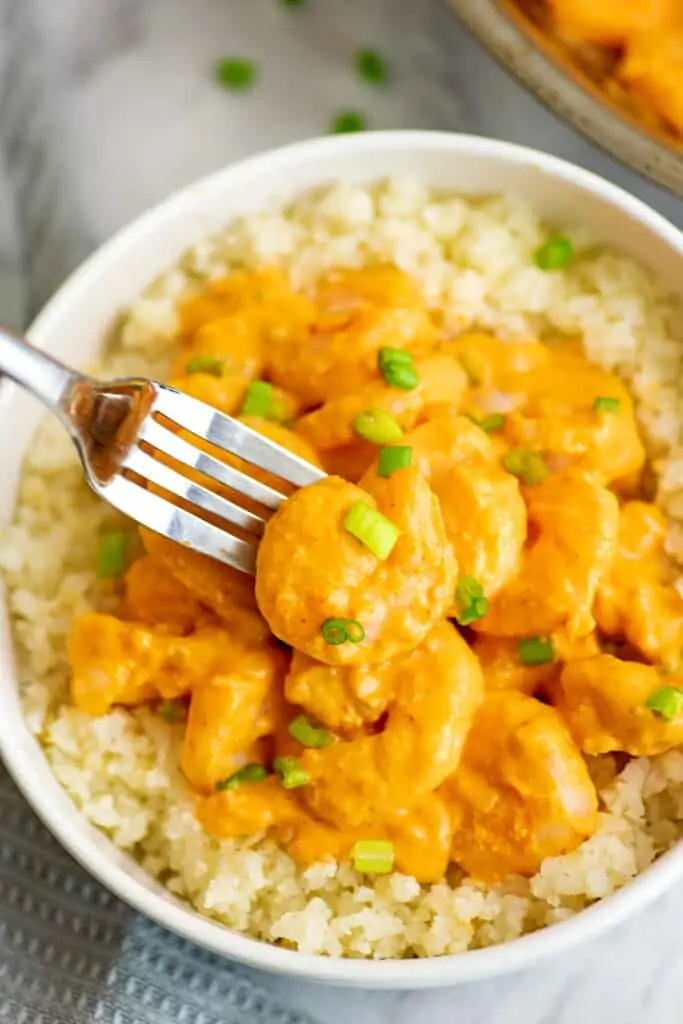 3 ways to soak cashews
In order to make a creamy thick sauce, it's best to soak cashews so they are soft and blend up easily. After the cashews are soaked, be sure to drain off and discard the soaking liquid before making the sauce. There are 3 ways to easily soak cashews:
On the counter: Soak cashews in fresh water for 6-8 hours. This is the easiest way to soak cashews, but takes the longest.
In the microwave: Cover with fresh water and microwave on high 2:30. I usually use an extra large mason jar to ensure there is enough space for the water to boil.
On the stove: Bring the water to a boil. Boil the cashews for 3-5 minutes.
How to store bang bang shrimp
Fridge: Store any leftover shrimp and bang bang sauce in the fridge in a well-sealed container for up to 3 days.

Shrimp can quickly get tough and rubbery if overcooked, so reheating the shrimp takes time. Reheat the shrimp in sauce in a 350F oven for 6-8 minutes, stirring occasionally.

Reheat: You could also reheat in the microwave using short 20-30 second intervals and stirring after each interval making sure the shrimp doesn't get too hot (take about 1 – 1:30 minutes).
Freezer: You can make extra bang bang sauce and freeze it for later (up to 3 months). Since shrimp cook up so quickly, I wouldn't recommend freezing the shrimp and the sauce, because of how rubbery shrimp can get if overheated when reheating.

Store the sauce in ice cube trays and once frozen, transfer the cubes into a freezer safe bag with a label. Defrost the cubes in the fridge overnight.