Ranch roasted chickpeas are the perfect healthy snack! So easy to make and packed full of flavor, these oven roasted chickpeas are vegan, gluten free and super inexpensive! The perfect afternoon snack or salad topping!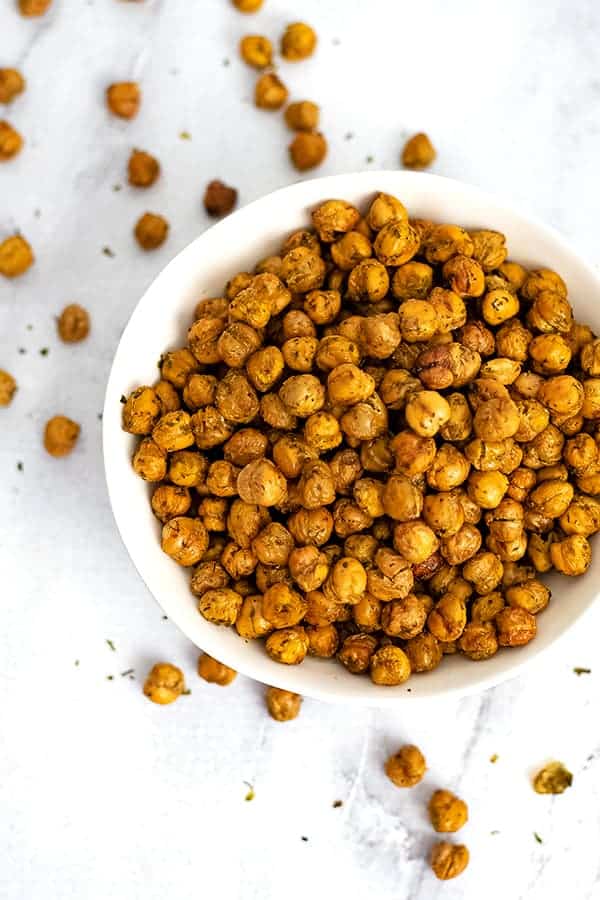 I started making roasted chickpeas years ago as a way to tame my craving for salty, crunchy snack food! By roasting the chickpeas, the chickpeas get crispy and crunchy but are still super satisfying!
I have to admit these ranch flavored roasted chickpeas are addicting! So if you are sharing these with someone, you may want to double the recipe!

MY LATEST VIDEOS
The great news is that chickpeas are super inexpensive and this homemade ranch seasoning is so easy to throw together! You only need a few key ingredients and a hot oven!
What I discovered over many years of making ranch roasted chickpeas is that you need a really hot oven and patience to make the perfect roasted chickpea!
But if you follow the directions below, you are guaranteed to get perfectly crispy chickpeas, with minimal burning and no need to peel the skin or towel dry your chickpeas ahead of time!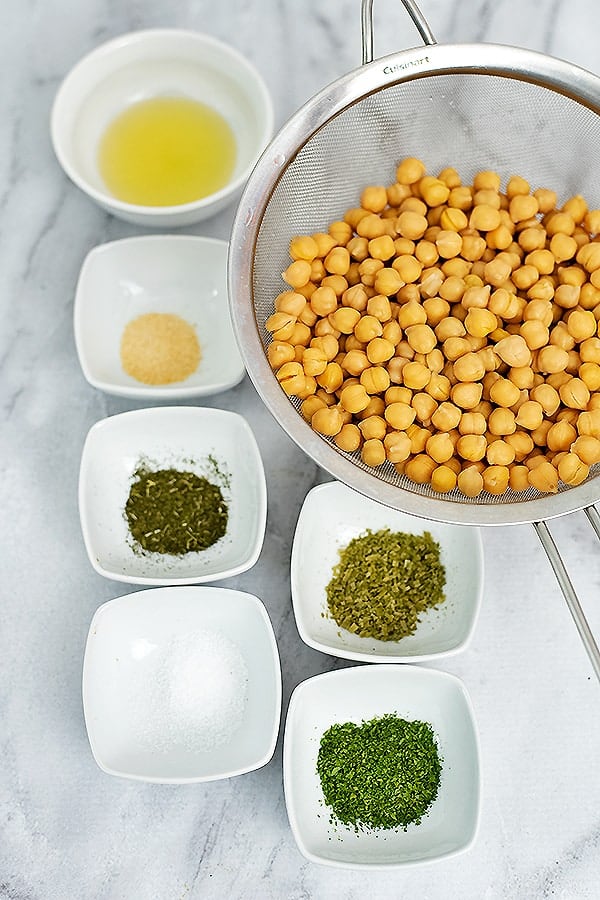 What do you need to make ranch roasted chickpeas?
Canned or cooked chickpeas, rinsed and drained of water
Avocado oil (or coconut oil)
Dried chives (or onion powder)
Dried parsley
Dried garlic powder
Salt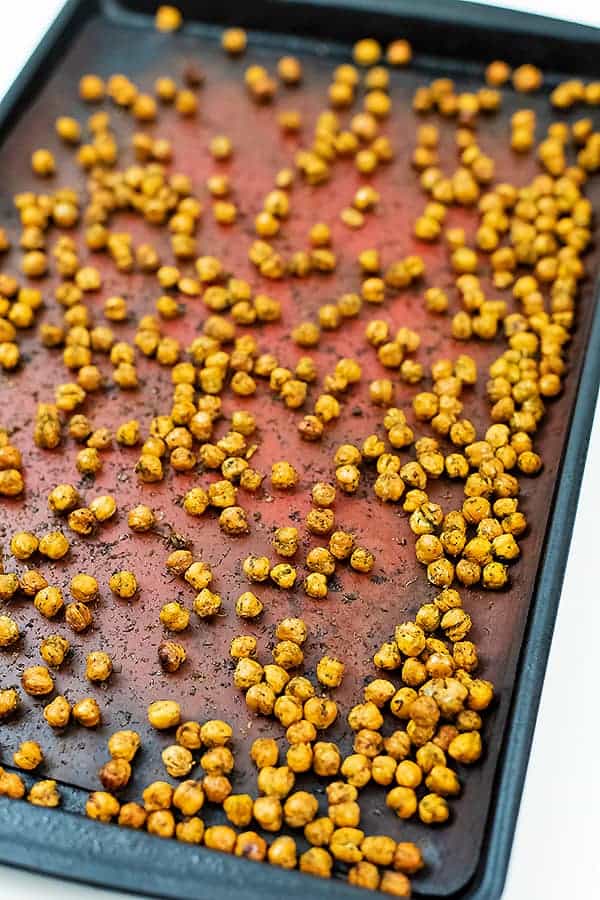 How do you make perfectly roasted chickpeas every time?
The trick to making the perfect roasted chickpea is to start the chickpeas in a hot oven (450F) for 25 minutes and then turning off the oven, leaving the chickpeas in the oven for an additional 15 minutes.
Let the chickpeas cool completely to get maximum crunch once you remove them from the oven!
How to make ranch roasted chickpeas?
Start by rinsing canned chickpeas well using a mesh strainer. Do your best to get rid of as much of the water after rinsing as possible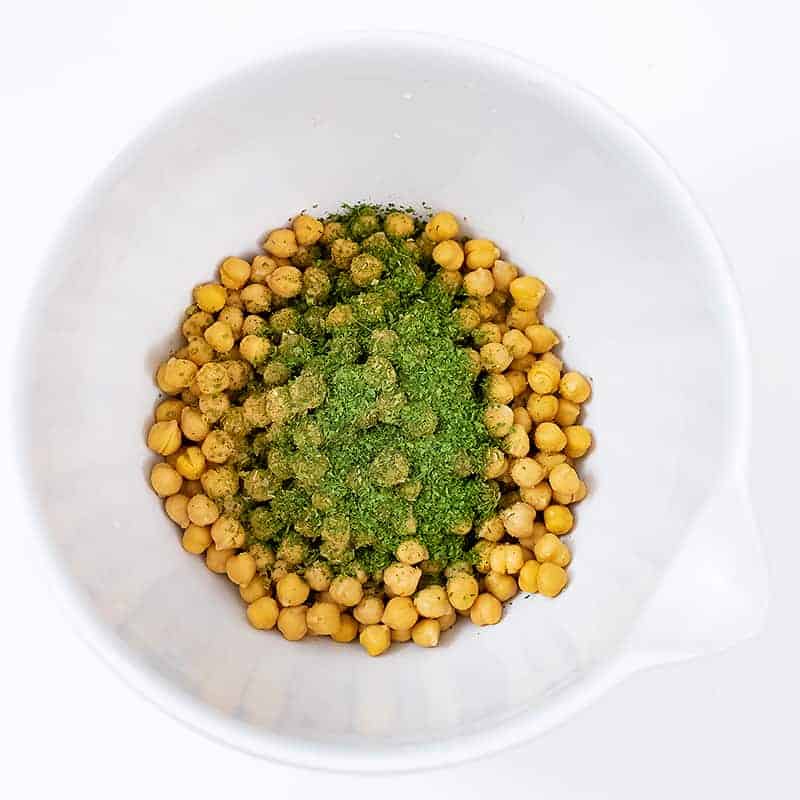 Add the chickpeas to a large bowl. Add the avocado oil and the spices and stir well.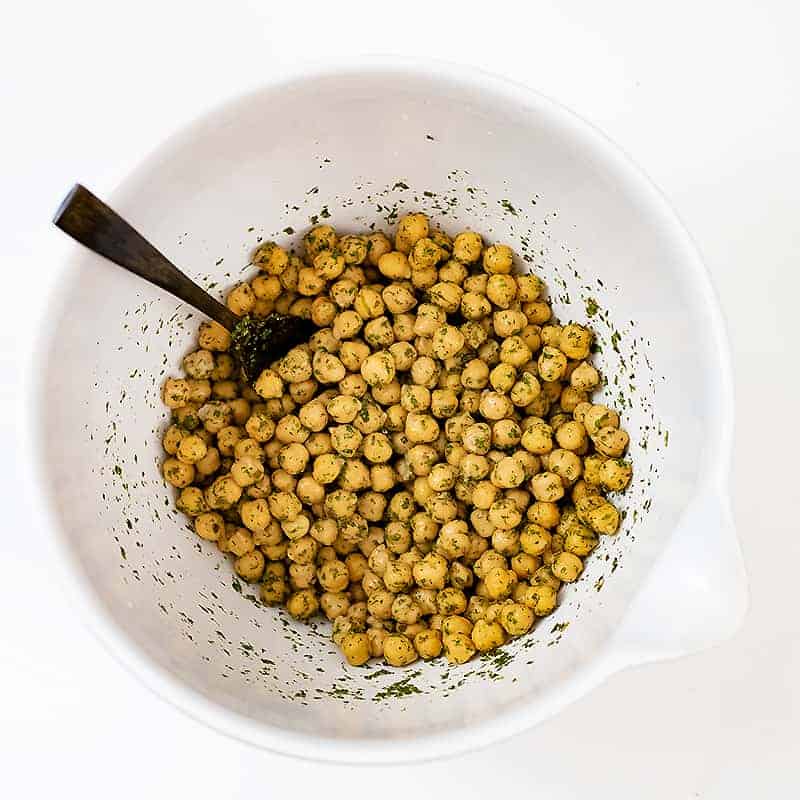 Place a parchment paper liner or silicone liner on a rimmed baking sheet. Spray it lightly with non-stick spray (avocado oil)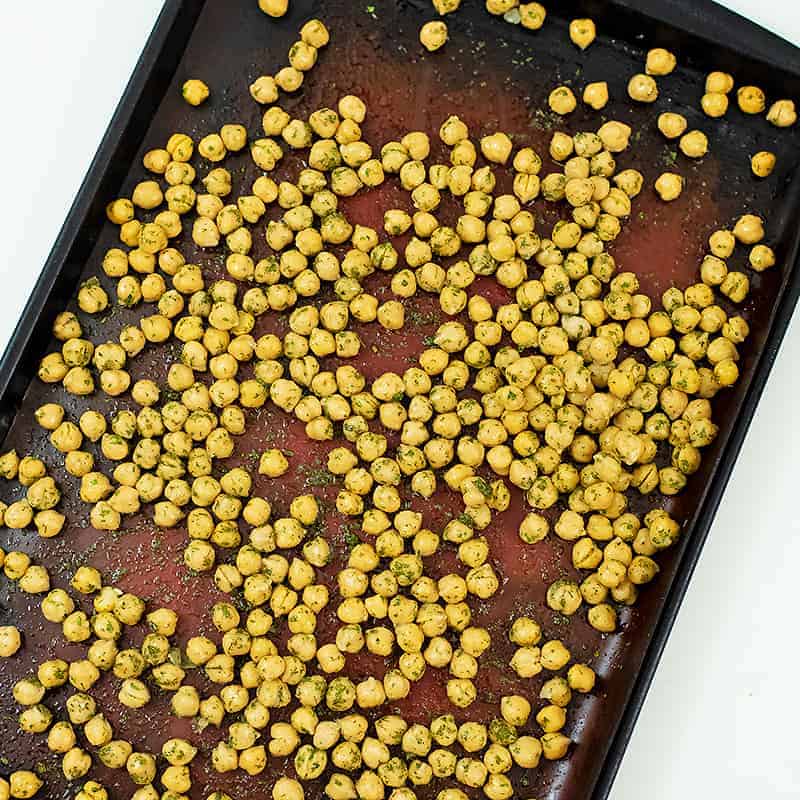 Pour the chickpeas onto the baking sheet and put in a preheated 450F oven for 25 minutes.
Turn the oven off but don't take out the chickpeas. Let sit for 15 minutes
Allow to fully cool on the counter before storing or eating.
Tips on how to store roasted chickpeas
If you have ever made roasted chickpeas before, you know that they can get mushy overnight if you store them in a sealed container.
Instead allow the roasted chickpeas to sit in an open container for the first 24 hours before sealing. After this time, add a small square of paper towel to the top of the chickpeas before sealing the container to help absorb any extra moisture and keep the chickpeas crunchy.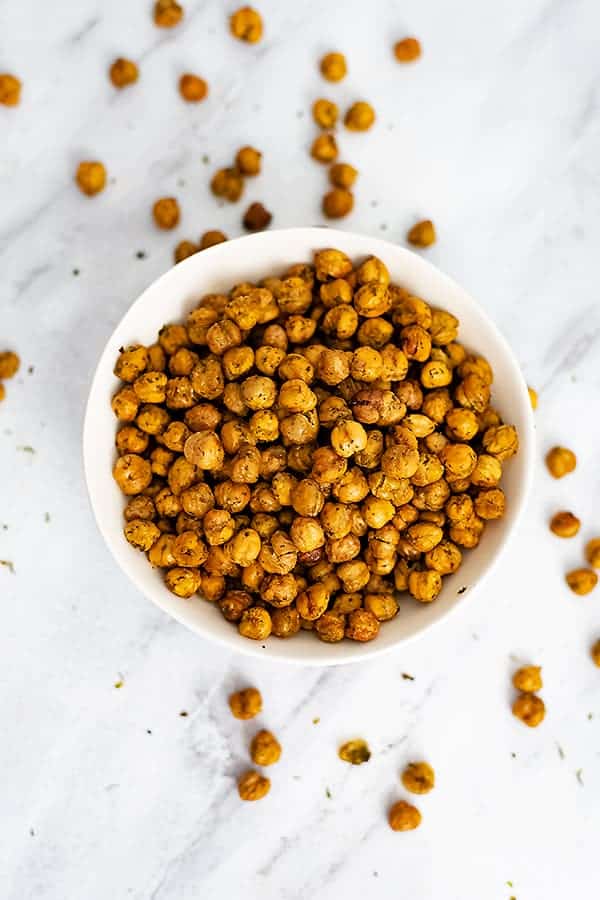 Do you need to peel the skin of the chickpeas to get them crunchy?
No! I've tried this recipe with the skin on and peeling the skin and I don't notice any difference in the crunch. Also peeling the skin off of chickpeas is torture.
What are some uses for ranch roasted chickpeas?
Healthy snack (replace chips, pretzels, popcorn)
Salad topper instead of croutons
Add them to savory trail mix with cashews, almonds and pumpkin seeds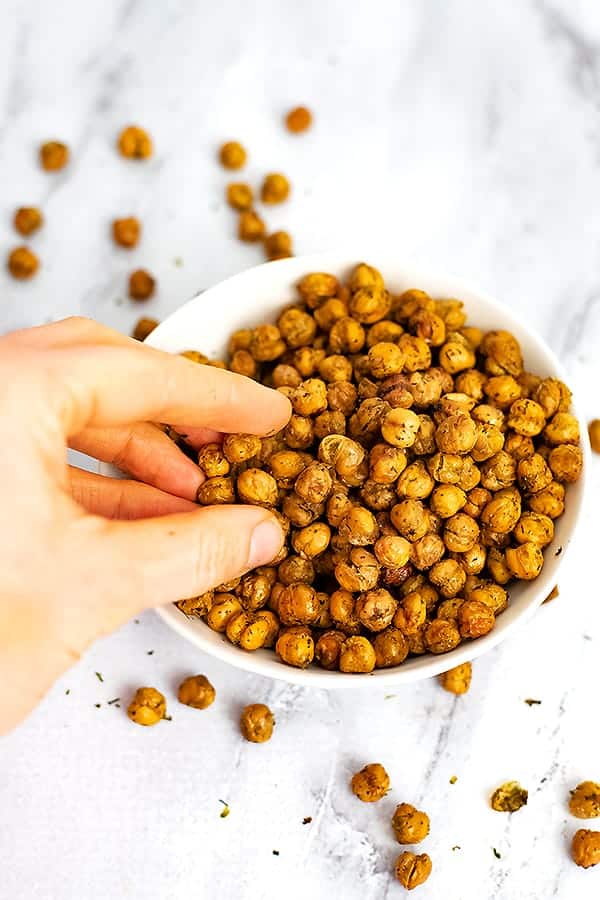 How can you spice up roasted chickpeas?
Chipotle powder and smoked paprika to make them smoky and spicy
Lime juice and cumin to make them more southwestern ranch
If you love roasted chickpeas and want to try them as a sweet treat, check out this pumpkin spice chickpea recipe!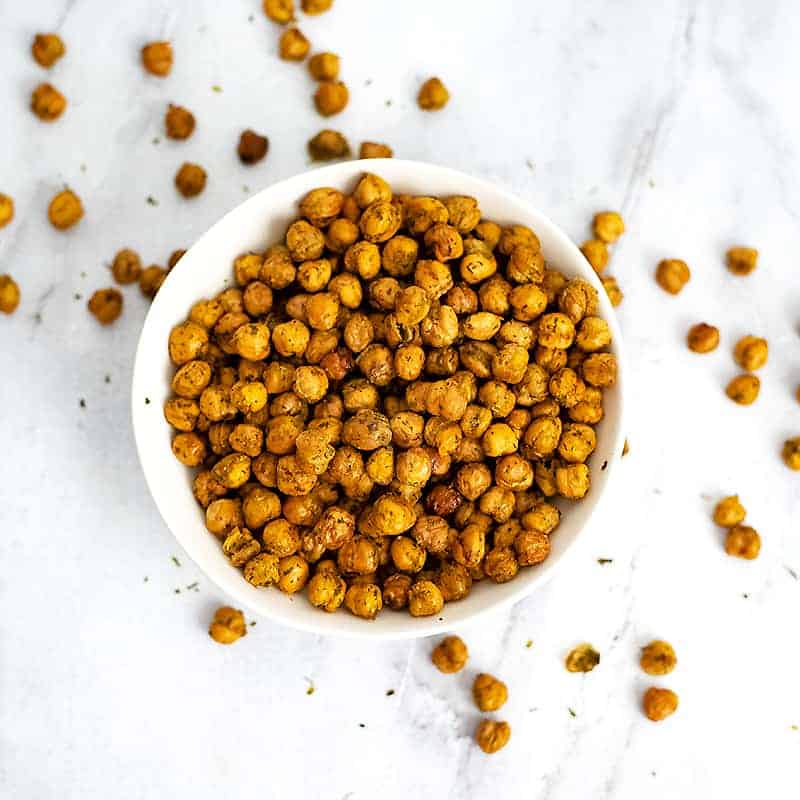 Ranch Roasted Chickpeas
Ranch roasted chickpeas are the perfect healthy snack! Made from chickpeas in a can, the chickpeas are roasted in the oven and coated in homemade ranch seasoning! Gluten free, vegan and so easy to make you are going to love these crunchy crispy roasted chickpeas as a snack or as a salad topping!
Print
Pin
Rate
Ingredients
2

can

cans organic chickpeas

rinsed and drained after soaking in fresh water for 2-3 minutes

1

tbsp

avocado oil

or coconut oil

1.5

tsp.

dried chives

or 1/2 tsp onion powder

1

tsp.

dried parsley

1/2

tsp.

dried dill

1/2

tsp.

garlic powder

1

tsp.

salt

black pepper to taste
Instructions
Preheat the oven to 450F.

While oven is preheating, drain and rinse the chickpeas. Add fresh water to the chickpeas and allow them to soak in fresh water for 2-3 minutes.

Drain the fresh water.

Add the chickpeas to a large bowl. Add the oil and the spices and stir well to coat.

Add parchment paper to a baking sheet (with a rim) and spray with nonstick spray (I used avocado oil spray).

Add the chickpeas to the pan, and place in the oven for 25 minutes to roast (450F).

Turn off the oven and allow the chickpeas to sit in oven as it cools off, 15 minutes.

Let the chickpeas cool completely on the counter before eating or storing. See tips on how to store the chickpeas in the post (or they will be soggy after 1 day)
Nutrition
Calories:
110
kcal
|
Carbohydrates:
16
g
|
Protein:
5
g
|
Fat:
2
g
|
Sodium:
378
mg
|
Potassium:
199
mg
|
Fiber:
5
g
|
Vitamin A:
1.3
%
|
Vitamin C:
1.4
%
|
Calcium:
5.8
%
|
Iron:
10.2
%