Peanut butter protein cookies are soft, chewy and the perfect dessert or afternoon snack!
Just like the peanut butter cookies you grew up with, these protein peanut butter cookies are so easy to make, all you need is 1 bowl and a spoon! These vegan protein cookies are also gluten free, dairy free and egg free!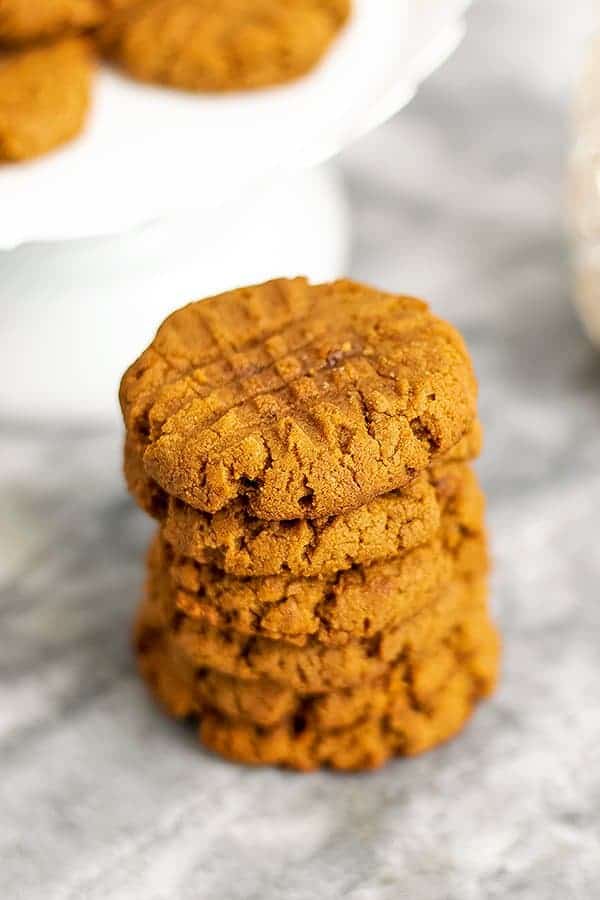 Why you will love peanut butter protein cookies
Vegan peanut butter protein cookies are so simple to make, you don't even need a mixer. These are just like peanut butter cookies you probably had as a kid, but made with protein powder. This makes them more filling and even a perfect post workout snack!
You are going to love having these cookies on hand whenever a sweet craving hits! Made with maple syrup, these are naturally sweetened but not overly sweet!
These are also dairy free, egg free, gluten free and can be grain free!
Add a chocolate kiss or chocolate chips and they make the best holiday gift!
Great to make ahead and freeze! Make a big batch and store them in the freezer to have them on hand anytime! If you are looking for a protein powder free recipe, try my Sunbutter Cookies for delicious healthy treat that is kid-approved!
This post contains affiliate links. As an amazon associate I earn from qualifying purchases.
Click here to read my policy
and more about affiliate links.
Ingredients
Peanut butter
Apple sauce
Maple syrup
Protein powder (vegan)
Gluten free flour
Baking powder
How to make vegan protein cookies
Step 1: Combine peanut butter and unsweetened applesauce in a large mixing bowl. Mix together
Step 2: Add the maple syrup and protein powder. Mix until fully combined
Step 3: Add the gluten free flour and baking powder. Mix well to incorporate the baking powder throughout, dough will be thick.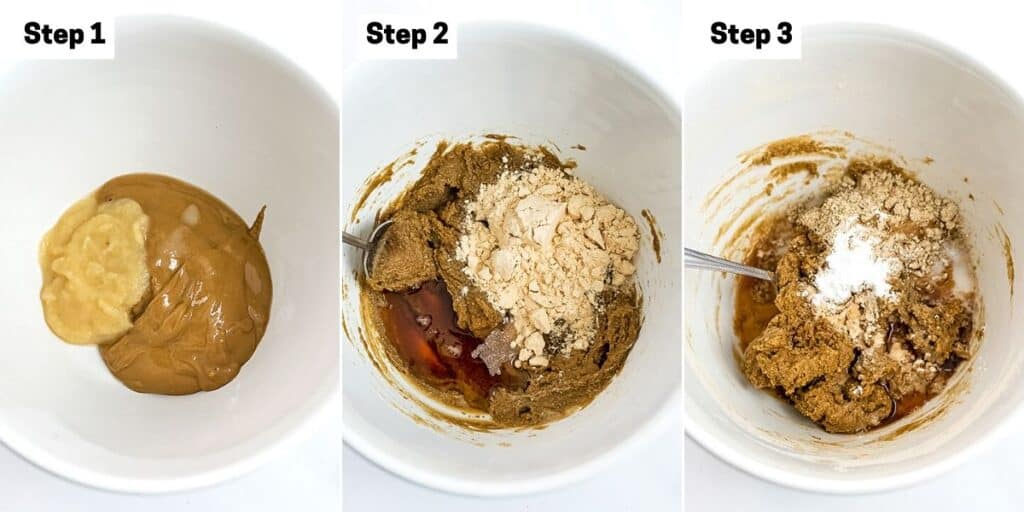 Step 4: Using a tablespoon (or regular spoon), spoon out about 1 tbsp of batter onto a parchment lined baking sheet. Roll into a ball and flatten with your fingers or palm of your hand
Step 5: Use a fork and create the hatch like markings by pressing it into the cookies and then turning it 90 degrees and pressing again.
Step 5: Bake at 350F for 12-15 minutes (12 minute for thinner cookies, 15 minutes for thicker cookies).
Step 6: Let the cookies cool completely, they need to harden a bit on the baking sheet before serving.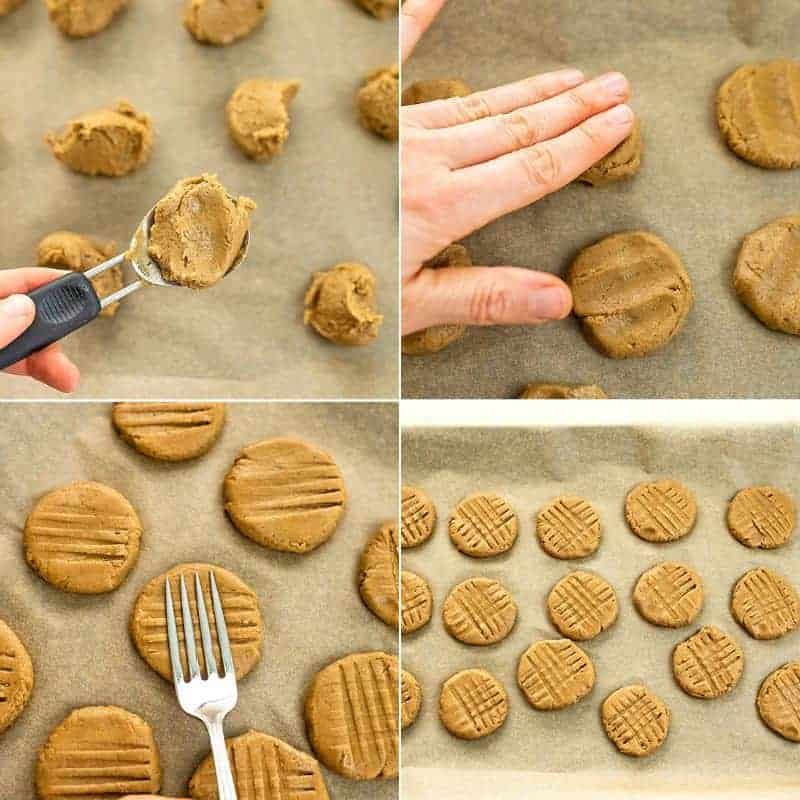 Recommended kitchen tools
Peanut butter protein cookies tips
This dough will be thick but should still be pretty easy to stir. If you find it is getting too dry (due to the kind of protein powder or peanut butter), you can add 1-2 more tbsp. apple sauce.
You may notice as you are rolling the dough into balls that the dough seems oily. This is because you used a drippy peanut butter (that is not stabilized by hydrogenated oils). It's fine that they seem oily at this stage, the oil from the peanuts will re-absorb during baking.
You want to press down the dough with your fingers or a fork to ensure that the cookies are all relatively even in thickness. This will help them all cook evenly and ensure you don't get over or undercooked peanut butter cookies.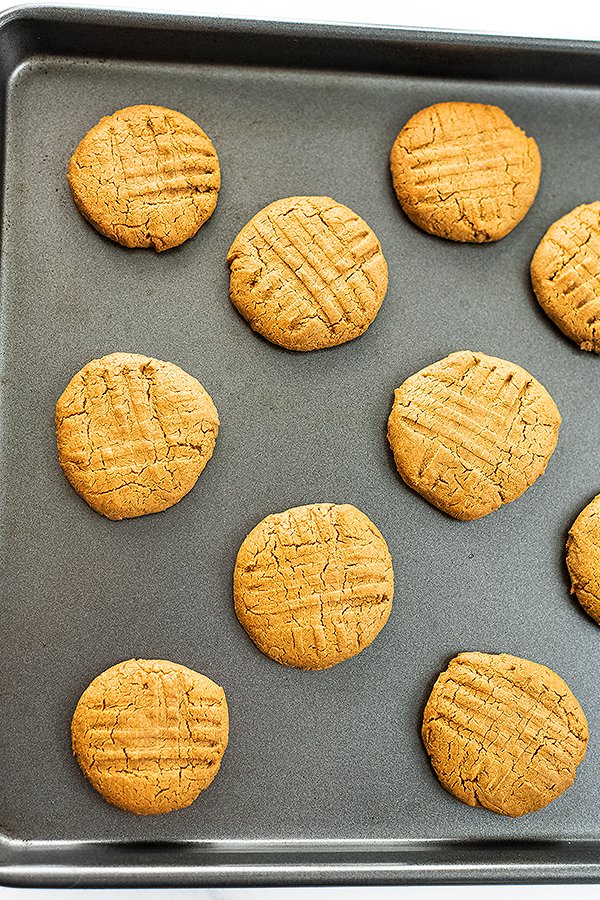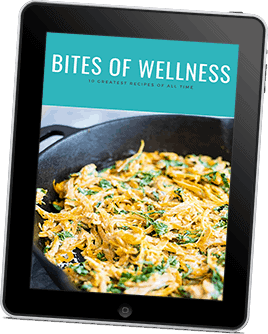 GET 10 OF MY ALL TIME GREATEST RECIPES
IN THIS FREE EBOOK
Peanut butter protein cookies mix-ins
Instead of pressing the cookies down with your fingers, you can add a Hershey's kiss to the center to make these peanut butter chocolate protein cookies.
Other great mix-in's include:
Dairy-free chocolate chips or chopped up peanut butter cups
Crumbled up freeze dried raspberries, strawberries or bananas
Raisins or dried cranberries
Favorite toppings
Melted chocolate to drizzle on top or coat the bottom of the cookies.
Raspberry or Strawberry Jam (make these thumbprint cookies by using your thumb to flatten and leaving an indentation to be filled with jam after baking).
FAQs
What kind of peanut butter to use for baking
Not all peanut butter is made the same way. There are typically two kinds of on the shelves:
Natural: Made with only peanuts and maybe salt in the ingredient list. This is often referred to as "drippy", which you have to stir the oil on top into before using the first time.
No-stir: Has hydrogenated oils and sugar to stabilize the peanut butter, thus making it no-stir.
Most baking recipes will actually use the no-stir because it's more stable, however I always use the natural, drippy. I don't love the use of the hydrogenated oil and added sugar so I will take a slightly more crumbly cookie as a trade off.
Note: If you do use a sweetened peanut butter (check the label), you may not need as much maple syrup to sweetened the cookies.
What kind of protein powder to use
All protein powders are not created equally.
This recipe is written to replace most of the flour with vegan protein powder. Vegan protein powder typically absorbs liquid just like traditional flour would in a recipe. It does not provide quite the same stability as flour, which is why I always add a few tablespoons of flour as well any time I'm baking or making pancakes with vegan protein powder.
I do not recommend using a whey protein powder to make these cookies. I highly suggest you find a recipe written specifically for whey, as whey tends to dry out baked goods and can result in a crumbly, dry cookie when substituted 1:1 with vegan powder.
My go to protein these days is Nuzest. It's got a clean ingredient list and is grown in an area where heavy metals are not in the soil (note: heavy metal contamination can be an issue with other brands of vegan protein powder).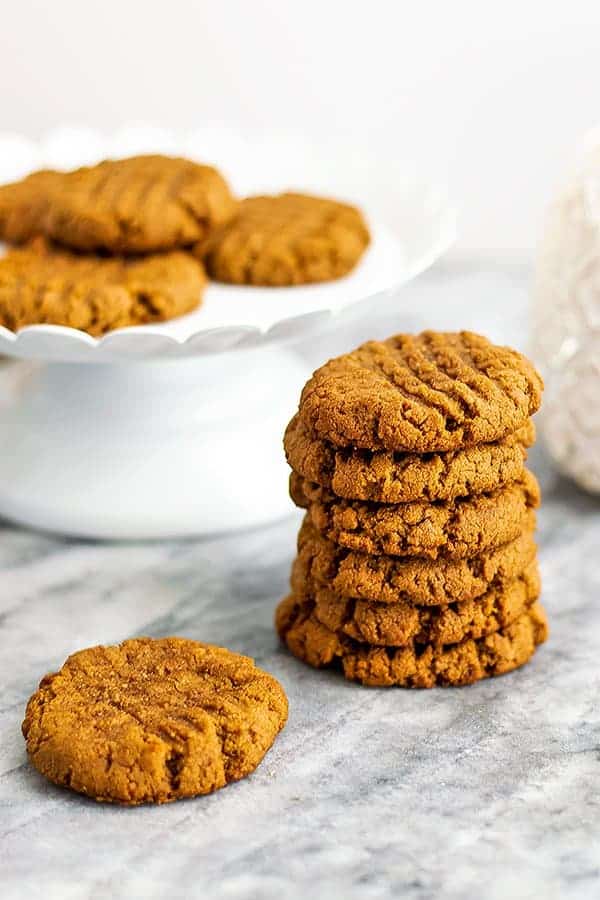 Can you make the dough ahead
Yes! You can make the dough ahead and store the batter in the fridge until ready to use, up to 2 days before baking.
Can you freeze the dough before baking
Yes, put a piece of wax paper on a baking sheet that will fit in your freezer. Roll out the dough into cookies and press them down, creating the hatch design you will want after baking on the wax paper. Once frozen, take the cookies off the wax paper and store them in a freezer-safe bag.
When you want to bake the cookies, you can place directly into oven from frozen at 350F and bake for 17 minutes.
Can you eat this cookie dough raw
Yes! Since these vegan protein cookies don't have eggs, the cookie dough is safe to eat raw.
How to store peanut butter protein cookies
Freezer: After baking, you can also freeze the cookies for up to 3 months. To ensure they don't stick together when freezing, let the cookies cool completely first. Once cool, place them on a a sheet of wax paper and freeze them for 2-3 hours until solid. Once frozen solid you can place them in a freezer safe bag for up to 3 months.
Substitutions
Peanut butter: If you can't have peanut butter you can use tahini, sunflower seed butter, almond butter or cashew butter in this recipe. To make this allergy friendly, you will want to use the sunflower seed butter or tahini.
Protein powder: Can use 1/3 cup of your favorite gluten free flour in place of protein powder.
Gluten free flour: Use your favorite all purpose gluten free flour. I prefer cassava flour, as it is also grain free and measures just like all purpose gluten free flour in recipes.
Maple Syrup: You could also use brown rice syrup or honey (not vegan). If you want to make these lower in carbs, try Monk Fruit Syrup instead of maple syrup!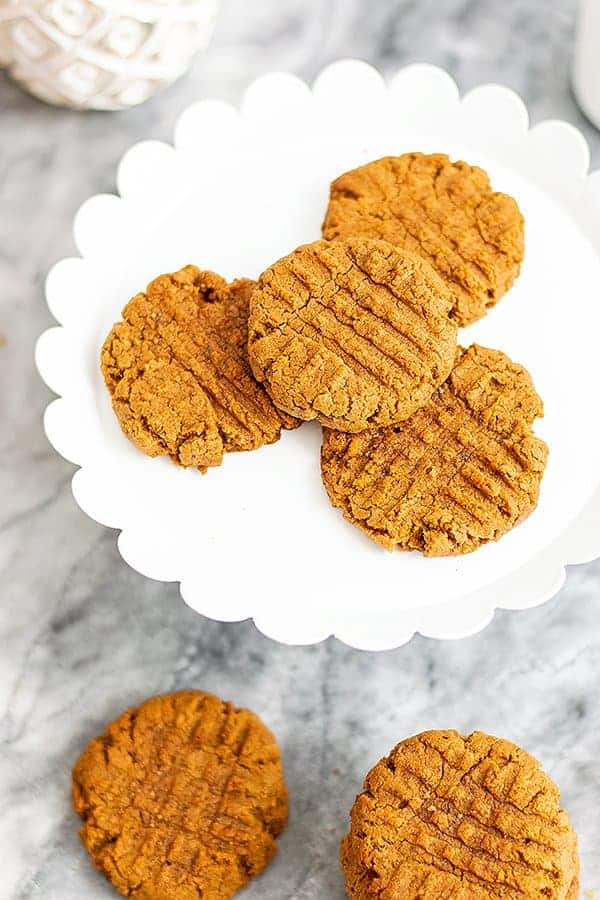 If you love cookie recipes, you should try
★ Did you make this recipe? Please give it a star rating below!
Peanut Butter Protein Cookies
$4.09 recipe/$0.23 cookie
Peanut butter protein cookies are the perfect dessert or afternoon snack! These healthy cookies are so easy to make, only require one bowl and a spoon, and are naturally vegan, dairy free and gluten free! Ready in just 15 minutes and easy enough for a novice baker!
Print
Pin
Save
Saved!
Rate
Instructions
Mix together the peanut butter and apple sauce.

To the peanut butter mixture, add the maple syrup and protein powder and mix well.

Add the gluten free flour and baking powder and stir well, the batter will be thick.

Place parchment paper on a baking sheet.

Using a tablespoon, portion out 1 cookie and roll it in your hands. Place on parchment paper and repeat with rest of the dough.

Use your middle three fingers to press down on the top of each cookie to start flattening out the round ball of dough.

Use a fork and create the hatch like markings by pressing it into the cookies and then turning it 90 degrees and pressing again.

Bake at 350F for 12-15 minutes (12 minutes for thinner cookies, 15 for thicker cookies).

Take out of the oven and allow to cool at least 5 minutes.
Notes
Storage:
Counter: Store on the countertop in an airtight container 2-3 days.
Fridge: Store in the fridge in an airtight container up to 7 days. Fridge is best!
Freezer: Freeze for up to 3 months. Allow cookies to cool completely before freezing on a wax paper lined tray until frozen solid (2-3 hour). Once frozen, cookies can be added to a freezer safe bag and stored up to 3 months.
Substitutions:
Peanut butter: Can also use sunflower seed butter, tahini, almond butter, cashew butter.
Protein powder: If you want a recipe without protein powder, I would suggest you follow this recipe and use peanut butter instead of sunflower seed butter.
Maple Syrup: Brown rice syrup or honey can be used. Also to make it lower in carbs, you could use monk fruit sweetener.
GF Flour: Make this grain free by using cassava flour or tigernut flour in place of the gluten free flour.
See how I calculate food cost
.
Nutrition Information
Nutrition Facts
Amount per Serving
Where does nutrition info come from? Nutrition facts are provided as a courtesy, sourced from the USDA Food Database.
DID YOU LOVE THIS RECIPE?
Let others know by rating and leaving a comment below!