Vegan avocado ranch dressing is the perfect salad dressing or healthy dip with all your favorite ranch flavors.
Instead of traditional mayo and sour cream, this dressing uses avocados for a fun twist on ranch dressing. So easy to make, this vegan avocado dressing is Whole30 and keto friendly!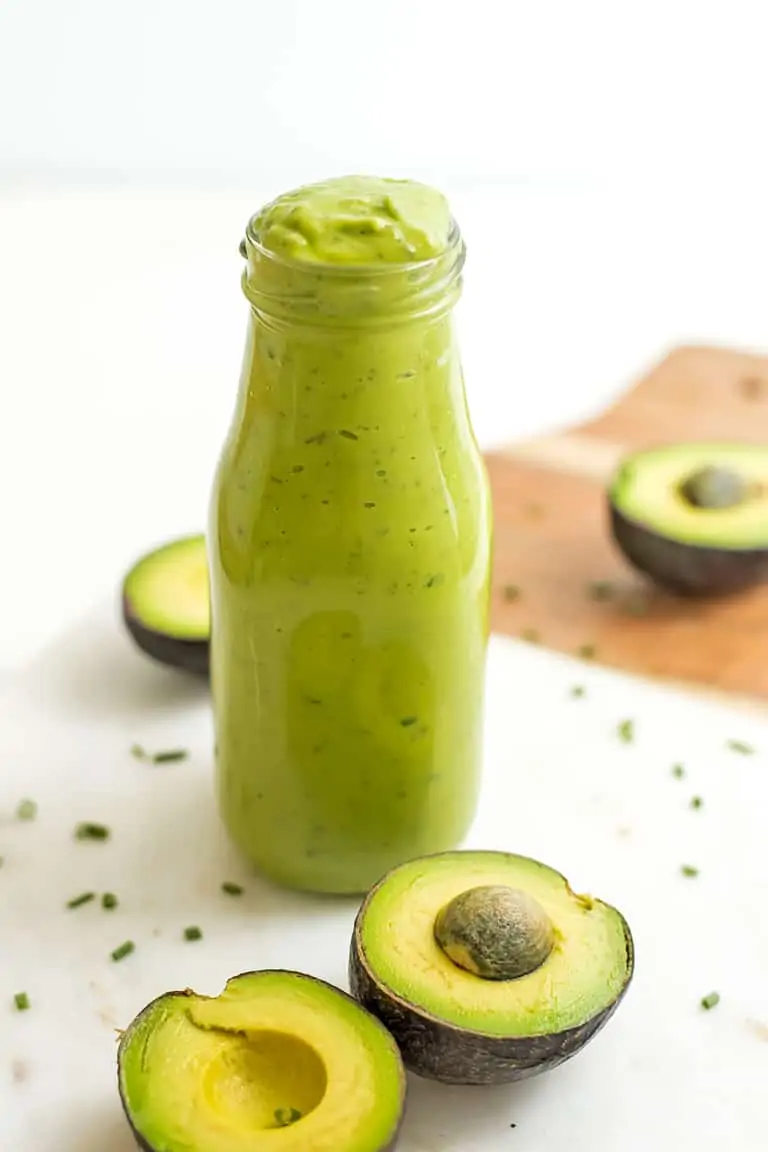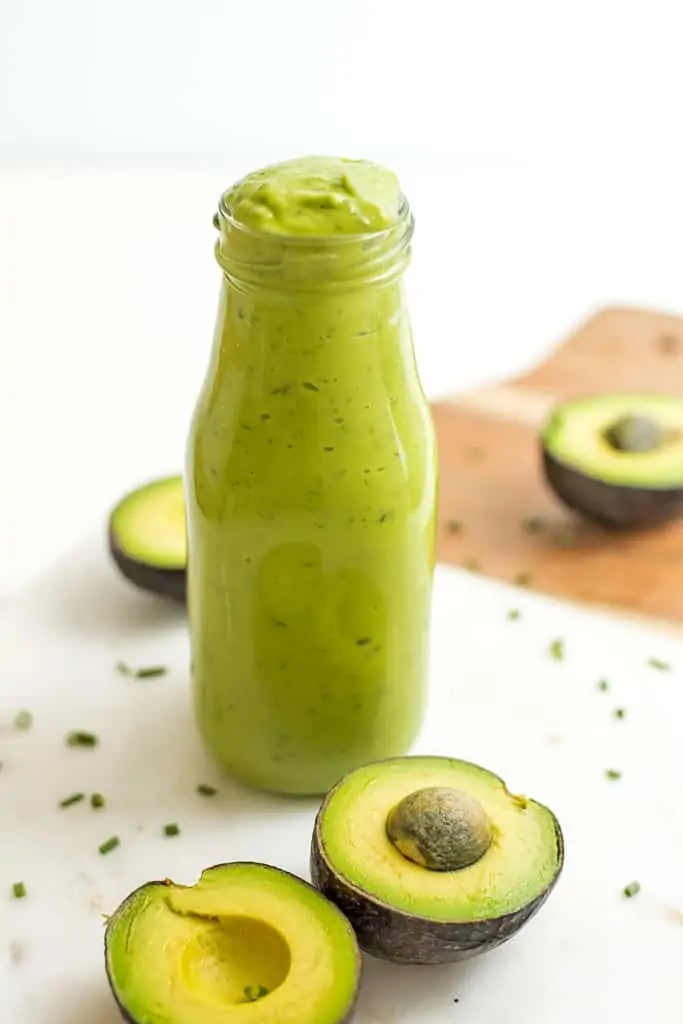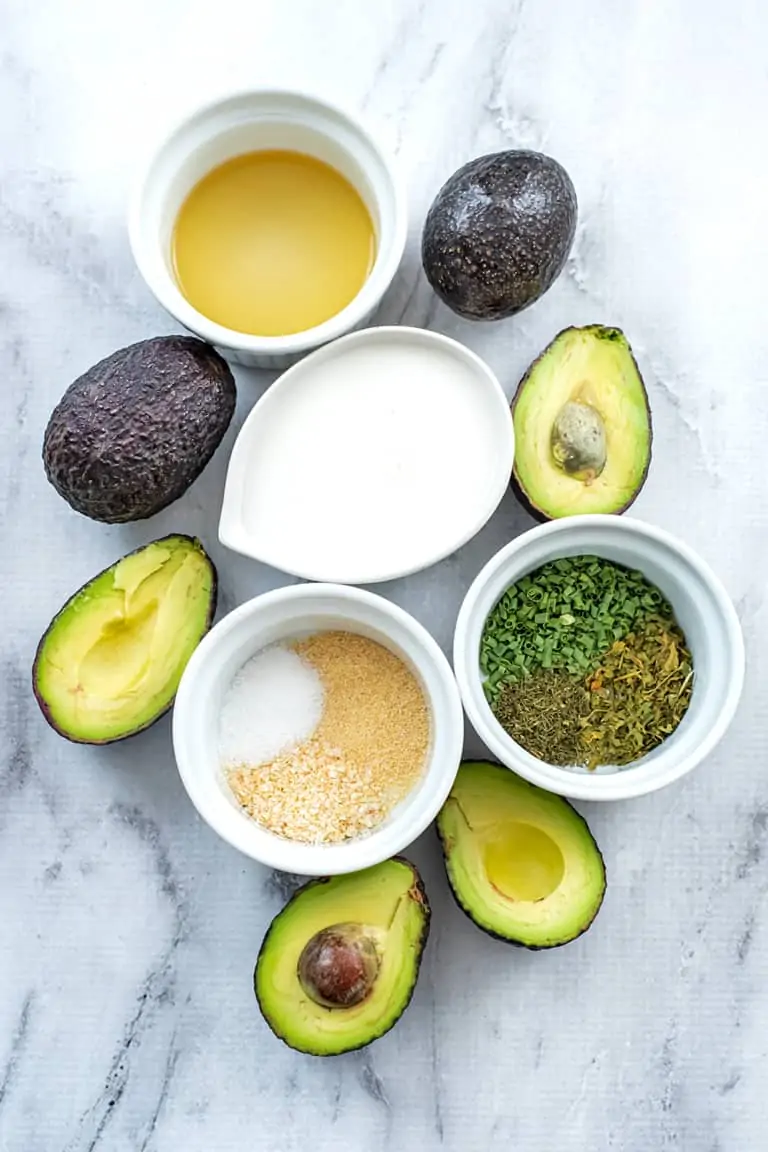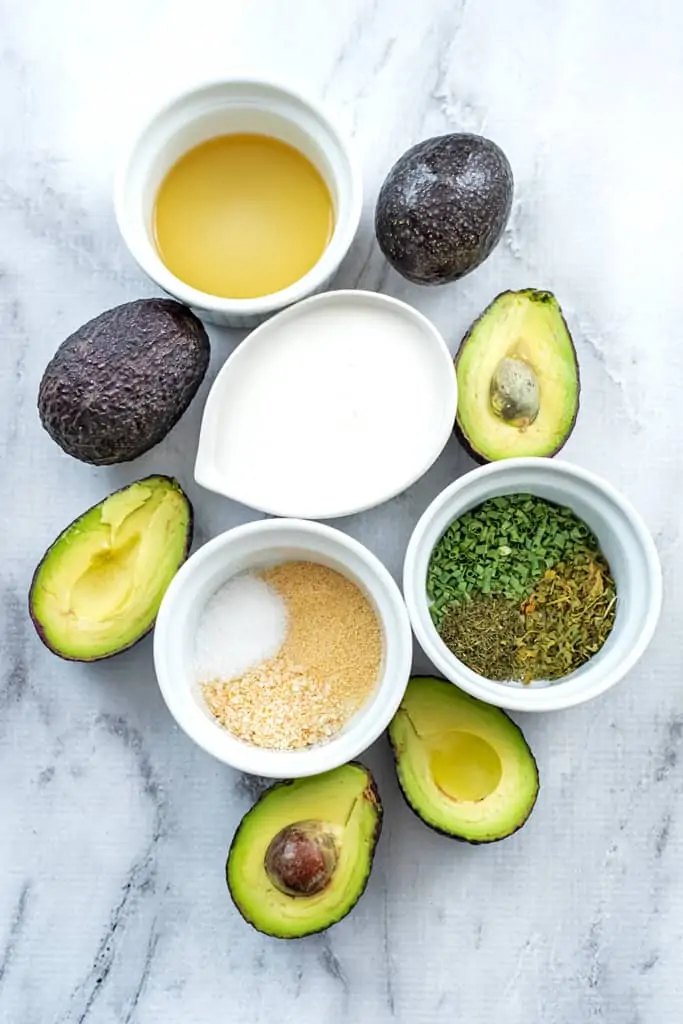 Ingredients
Avocado – you want ripe avocados that have not yet started to turn brown.
Dairy free milk – this along with the apple cider vinegar creates that "buttermilk" flavor for the dressing
Apple cider vinegar – adds the tang you normally get from buttermilk
Salt – helps to elevate all the flavors
Onion flakes (or onion powder) and garlic powder – onion flakes or onion powder and garlic powder help to lend that ranch flavor. Even if you don't have the other dried herbs, just these ingredients alone can make a great vegan avocado ranch dressing.
Dried chives, dried parsley, dried dill (optional) – these help to really take the dressing to the next level. These are the typical herbs included in ranch dressing.
How to make vegan avocado ranch dressing
Check out a step by step story on how to make Whole30 avocado ranch dressing.
Cut the avocado and remove the pit. Carefully spoon out the flesh into the blender.
Add the rest of the ingredients and blend on high until smooth.
Check the consistency, add more liquid (up to ½ cup of water or more dairy free milk) to get to the consistency you desire.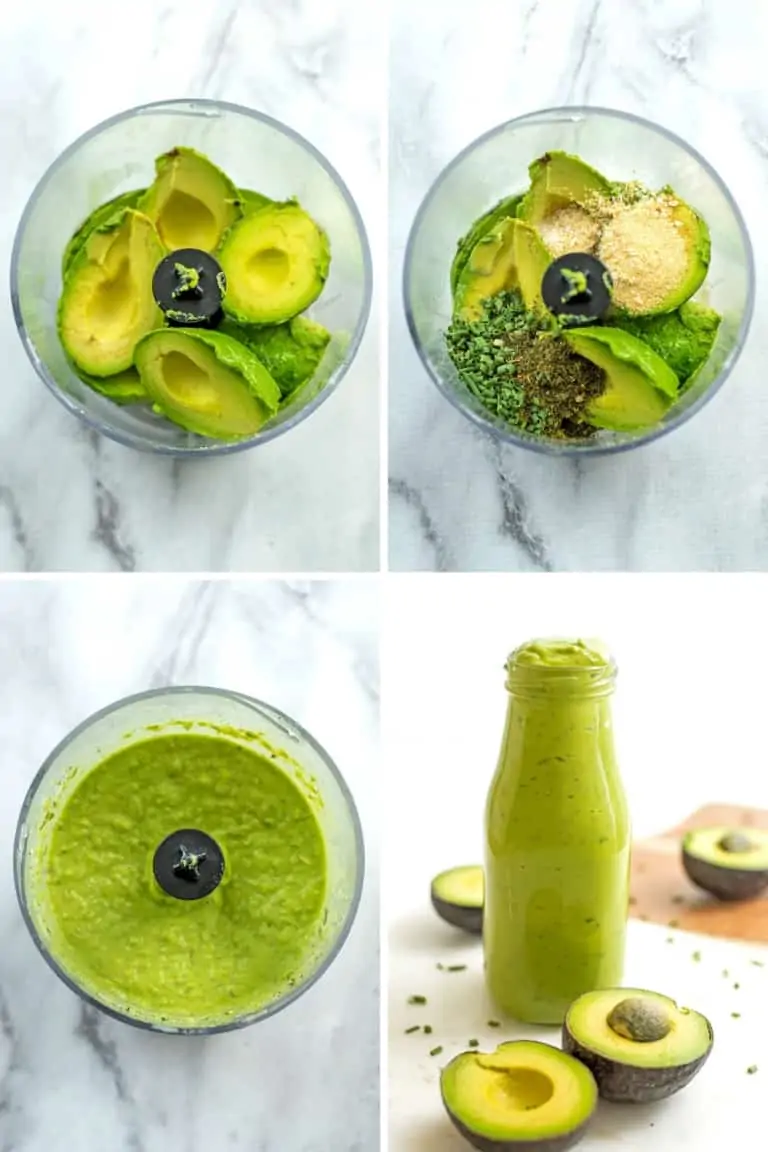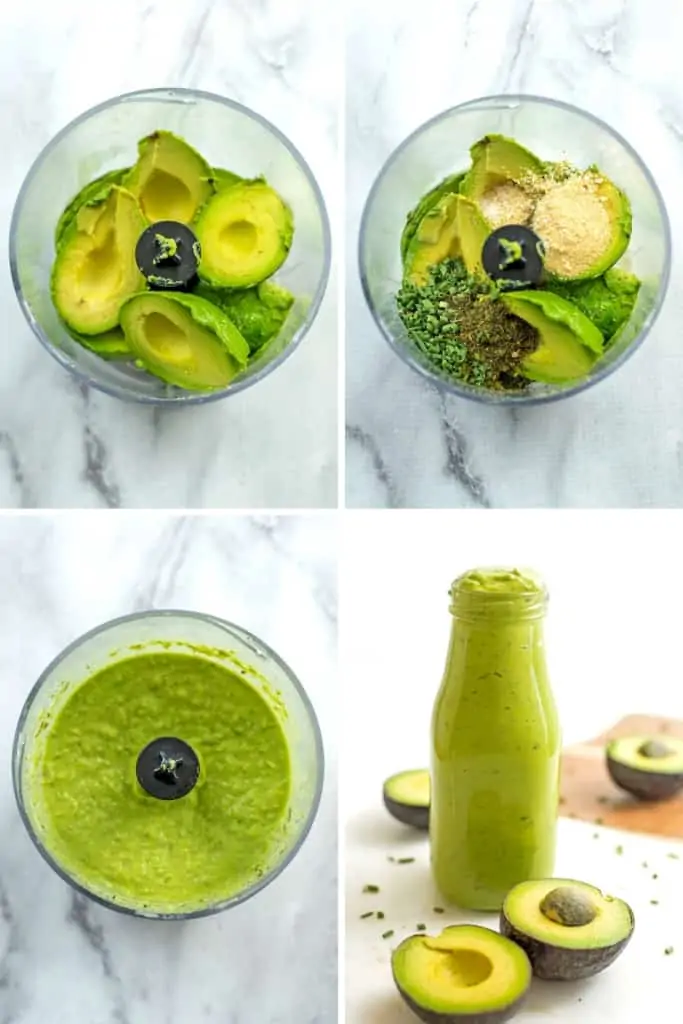 Top tips
Let it sit in the fridge for an hour or two. The flavor gets better after all the ingredients have time to rest in the fridge after an hour or two. This vegan avocado salad dressing is good right away but even better if you have time to let it rest.
You choose how thick or thin you want this dressing. If you want to make this avocado ranch dressing into a dip for veggies, keep it thick and creamy. If you want it to be pourable over salads, add more water or dairy free milk to get the desired consistency.
Cover the leftovers well. Just like avocados, this will oxidize in the fridge as it sits overnight. Typically you can just spoon off the top layer that is browning and the rest is great. You can also try putting plastic wrap directly in contact with the top of the dressing to keep the air from oxidizing it.
Other flavors you could add
Smoky – to make this dressing smoky, you could add ½ tsp. chipotle powder or 1-2 chipotle in adobo to the blender.
Spicy – add ½ tsp. crushed red pepper flakes or 1 jalapeno pepper (no seeds) to the blender.
Mexican twist – add ¼ cup cilantro leaves and stems to the blender.
Lime twist – make this Vegan Avocado Ranch Lime Dressing – add the juice of a lime to change the flavor profile.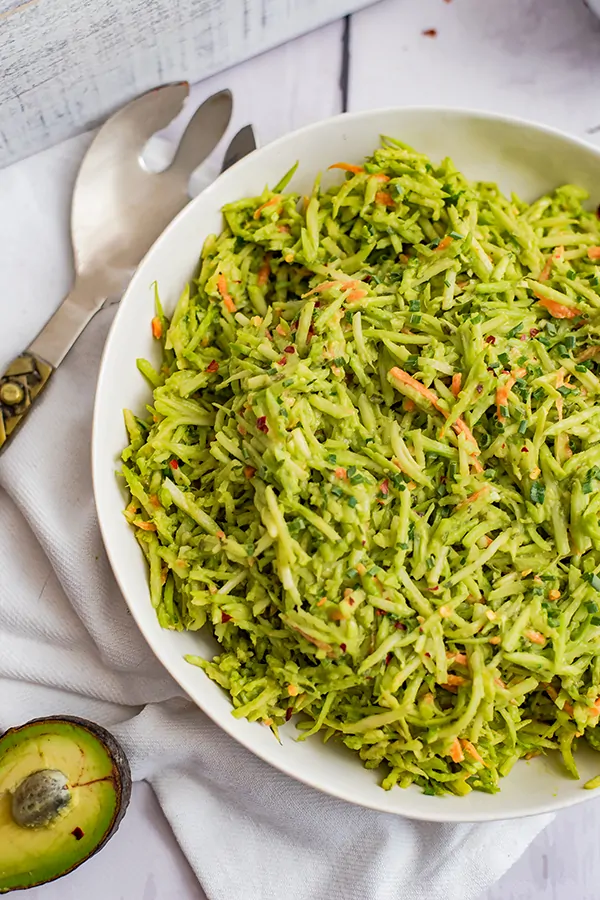 Ways to serve this vegan avocado dressing
This dressing is great on salads or on slaws (one of my favorite things to serve it on is broccoli slaw)
Can you use fresh herbs?
Yes! Fresh herbs are great but often it can get expensive to buy fresh herbs for just one recipe but if you have them growing in your garden or on hand, they are a great addition. Typically you want 3-4 times more fresh herb than dried herb. For 1 teaspoon of dried you will want 1 tablespoon of fresh (or more) depending on the potency of your fresh herbs and your personal preference.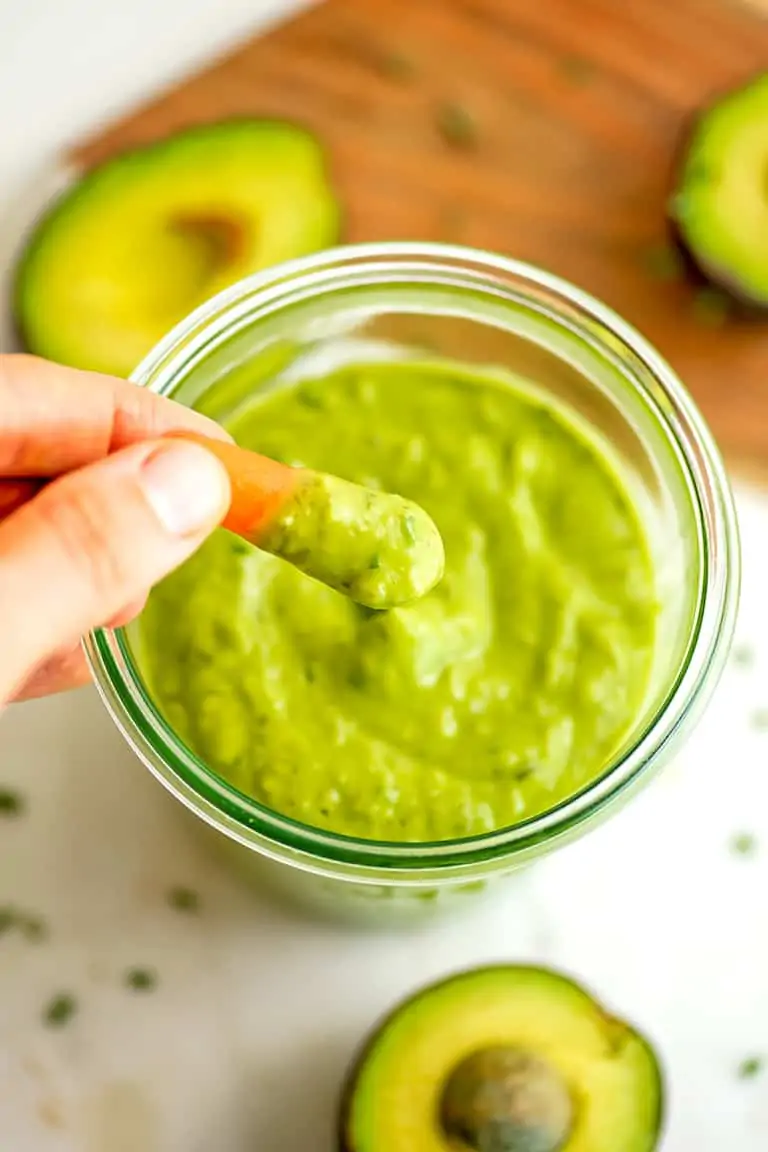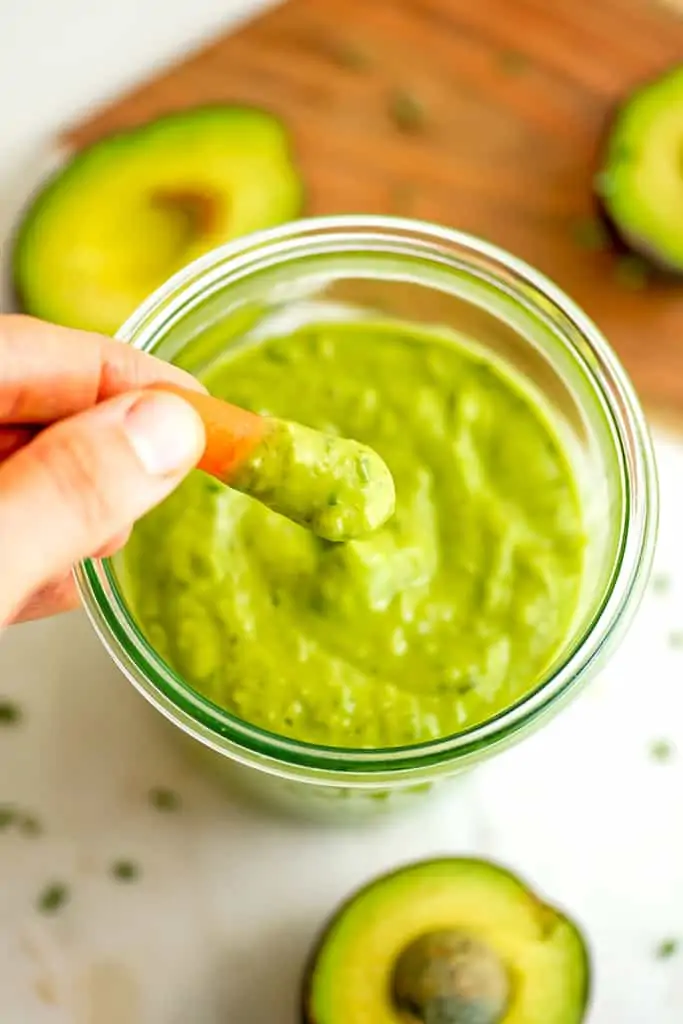 How to store leftover avocado ranch dressing
This vegan avocado dressing would be best in 2-3 days in an airtight container (if you want to ensure the top doesn't brown quickly, press plastic wrap down on the top of the dressing). Typically, I store the dressing in a leftover bottle from an old salad dressing and just spoon off any brown parts I see before shaking/serving. Otherwise, you can get your own salad dressing bottles.
You could freeze this but you may want to re-blend it upon defrosting as the texture will be different. But avocado freezes well.