This recipe for dairy free ranch dressing is going to quickly become your go to recipe for ranch dressing! Made with just a few ingredients, this creamy vegan ranch dressing is made without eggs or coconut milk! Ready in just 5 minutes, this dairy free ranch is vegan, gluten free, dairy free, paleo, low carb and Whole30 friendly!
If you love homemade salad dressing, you should try Cashew Caesar Dressing or Creamy Tahini Balsamic Dressing.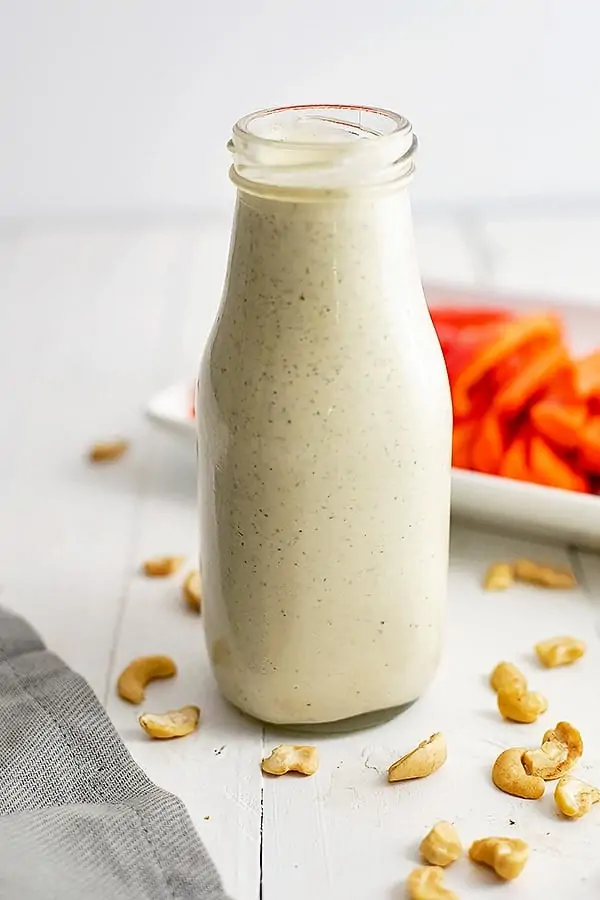 This post contains affiliate links. As an amazon associate I earn from qualifying purchases.
Click here to read my policy
and more about affiliate links.
Why you will love this recipe
Thick and creamy without any dairy! This dairy free ranch dressing is made with soaked cashews and comes out thick, creamy and slightly tangy with easy to find ingredients! Best of all, it's ready in just 5 minutes and is less expensive than the higher end ranch dressings at the store!
Ranch dressing is so versatile. There is something about ranch dressing that you can't deny! It makes vegetables disappear and adds so much depth and flavor to a dish!
High quality ingredients. Typical ranch dressing that sold at grocery stores is full of unwanted ingredients (like hydrogenated oils and unnecessary sugars). The versions sold in the store without those ingredients are typically incredibly expensive, and it's much more budget friendly to make it at home.
No mayo and no coconut milk! No need to make your own mayo with eggs and oil in this recipe. It's so easy and you don't have to worry about the emulsion of the eggs with the oil. You get all the same flavors with cashews instead!
Great for dipping, salads or pouring over any meal! Again who doesn't love ranch dressing! Some of our favorite ways to use this dressing is as a dip for chicken nuggets, tater tots or for dipping fries!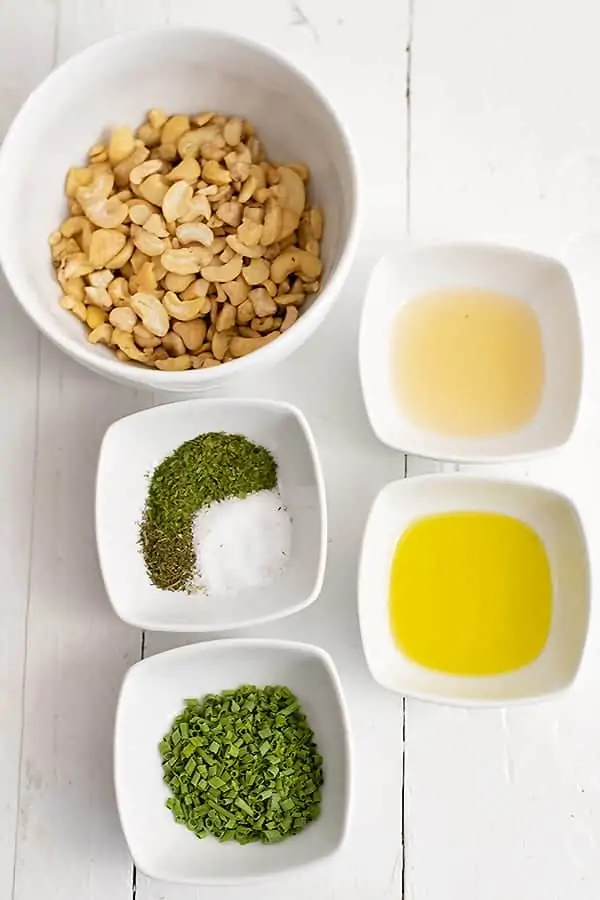 Ingredients
Raw cashews (soaked) – cashews when blended create a super thick and creamy base that is perfect for homemade creamy dressing. I recommend using raw cashews but you could also use roasted cashews. If the cashews are salted, soak them in water for about 1 minute then drain off the water. This will help ensure the dressing isn't too salty.
Water – water is used to help thin out the dressing and to blend the cashews.
Apple Cider Vinegar – apple cider vinegar adds the tart, acidic flavor that you would usually get by using buttermilk when making ranch dressing.
Spices: Dried Chives, dried Parsley, garlic powder, dried dill, salt – these spices help to give the ranch dressing its iconic flavor.
How to make dairy free ranch dressing
Start by soaking the raw cashews. I recommend soaking cashews in boiling water for at least 5 minutes (or longer if you don't have a high speed blender). Check out the tips below on other ways to soak cashews.
Once the cashews are softened, drain the soaking water.
Add the cashews, fresh water, and apple cider vinegar to a high speed blender. Blend on high for 1-2 minutes until completely smooth.
Add the spices and blend just quick enough to incorporate.
Note: If you add all the ingredients to the blender at once, you will get a light green dairy free ranch dressing. The taste will still be amazing but because you blend the dried herbs for so long, they will turn the dressing green! I may or may not have learned that from first hand experience!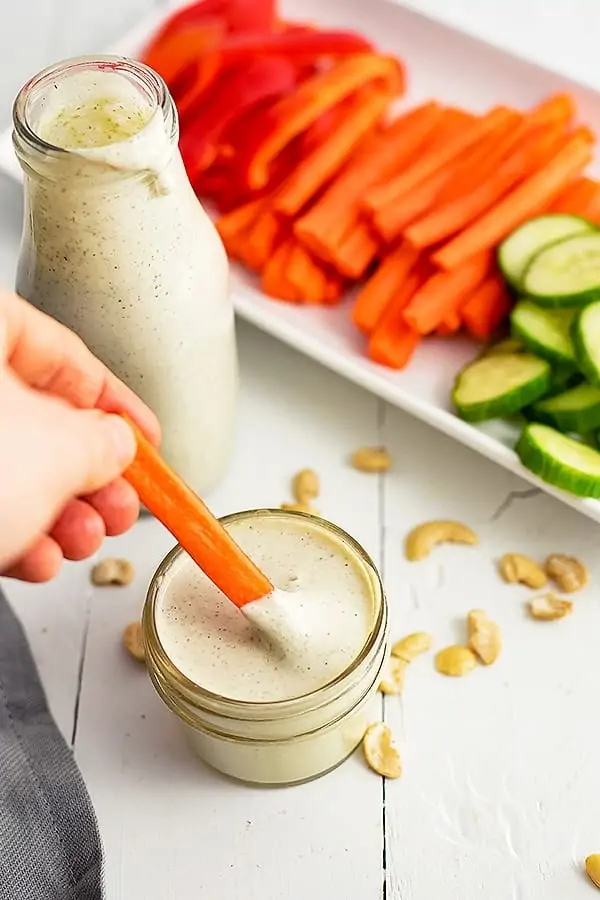 How to use creamy vegan ranch dressing
Common Questions
Can you make cashew ranch dressing without a blender?
If you don't have a high speed blender (I use a little ninja bullet blender) you could also try to make this recipe with an immersion blender or in the food processor. However, I think the texture will be tough to get exactly right in the food processor.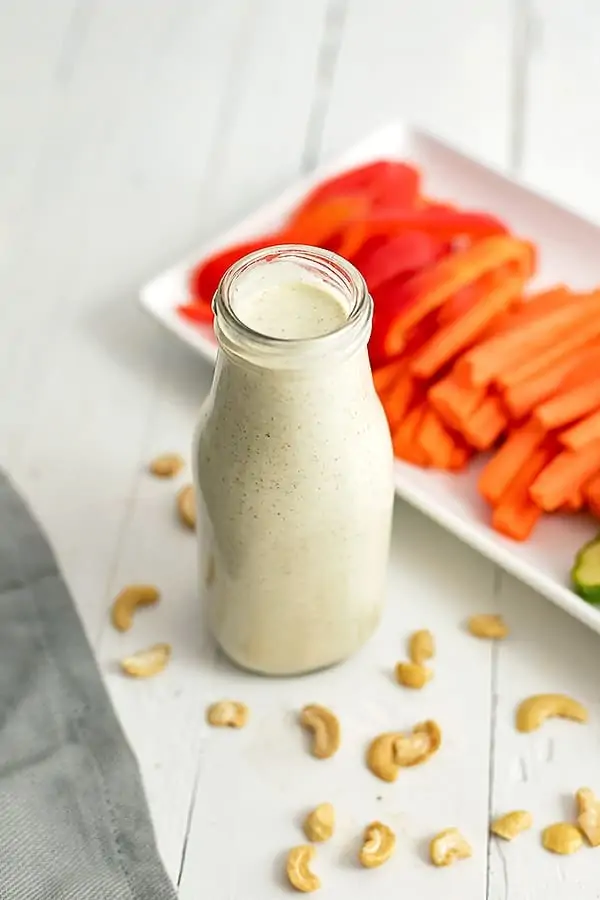 How to thicken or thin out cashew ranch dressing
If your cashew ranch dressing seems a little thin after blending, it will thicken in the fridge. The dressing should thicken up within 30 minutes to 1 hour in the fridge.

If the dressing still isn't thick enough, you can soak about 1/4 cup of cashews in boiling water, drain the water and blend the cashews into the dressing previously made.

To thin out the dressing, simply add 1-2 tbsp of water at a time and blend with the blender or using a spoon.
Can you make vegan ranch nut free
Yes, if you need this recipe to be nut free, you can use raw sunflower seeds or hemp hearts. Soak the sunflower seeds, but the hemp hearts do not require any soaking.
How to soak cashews
Soaking cashews helps to soften the cashews, which ensures they will break down completely in the blender. You want a super creamy dressing (with no gritty texture). Even if you have a high speed blender, I recommend soaking them for a few minutes in hot water.
Note: after the cashews are done soaking, discard the soaking water, do not use that water in the dressing.
Here are 4 ways to soak cashews before blending:
Pour boiling water over top – this is my go-to method. I use an electric kettle to quickly bring the water to a boil. Once the water has come up to a boil, pour it over the cashews and let them soak at least 5 minutes.
Boil on the stove – If you don't have an electric kettle, you can add the cashews and water to a pot and bring it to a boil. Once boiling, cook for 2-3 minutes then allow to cool at least 5 minutes before using the cashews.
Microwave – Add the cashews to a large cup or bowl. Add just enough water to cover the cashews. Microwave for 1:30-2 minutes. Allow the cashews to rest in the microwave for at least 5 minutes. Remove carefully with oven mitts (the container can get really hot).
Countertop – add water to a bowl or glass with cashews. Leave out on the counter for 8 hours to soften the cashews. If you plan on leaving them out longer to soak, put them in the fridge.
How long does vegan ranch dressing last?
This dairy free ranch dressing should last about 5-7 days in the fridge in a sealed container.
How to store dairy free ranch dressing
I usually store most leftovers and homemade sauces in glass containers so I can easily see what we have on hand. For storing the leftover dairy free ranch dressing I like to use:
Mason jars or leftover salsa jars that have been run through the dishwasher
Glass bottles or leftover kombucha bottles with wide mouths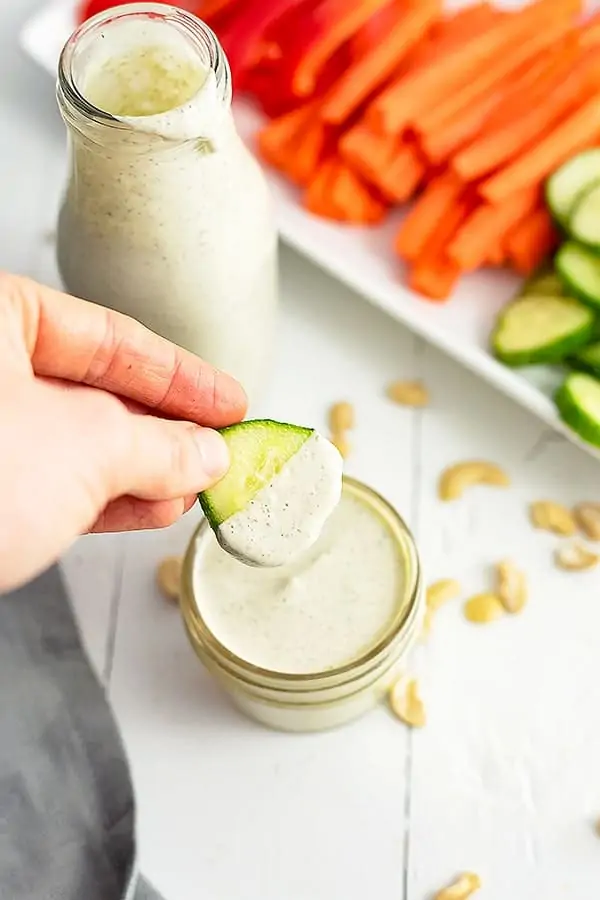 Substitutions
Apple Cider Vinegar: What if you don't have apple cider vinegar? You can use lemon juice, lime juice or red wine vinegar. The vinegar is the kick that gives the ranch dressing the tang that you would normally get from buttermilk so it's important that you don't skip this ingredient!
Cashews: If you are nut free or can't tolerate cashews, you could also try this recipe with hemp hearts or raw sunflower seeds. I have used hemp hearts and raw sunflower seeds in the past but they are not as sweet as the cashews so you may need to add 1 tsp. of maple syrup to help the flavor come together. You will need to soak the sunflower seeds just like the cashews, the hemp hearts do not require soaking.
Dried Herbs: You can certainly use fresh herbs to make this recipe as well. The rule of thumb is to double or triple fresh herbs for dried. This means if you want to use fresh chives, for example, you would want 3 tbsp fresh chives since the recipe calls for 1 tbsp. dried.
If you love this vegan ranch dressing you should also try
★ Did you make this recipe? Please give it a star rating below!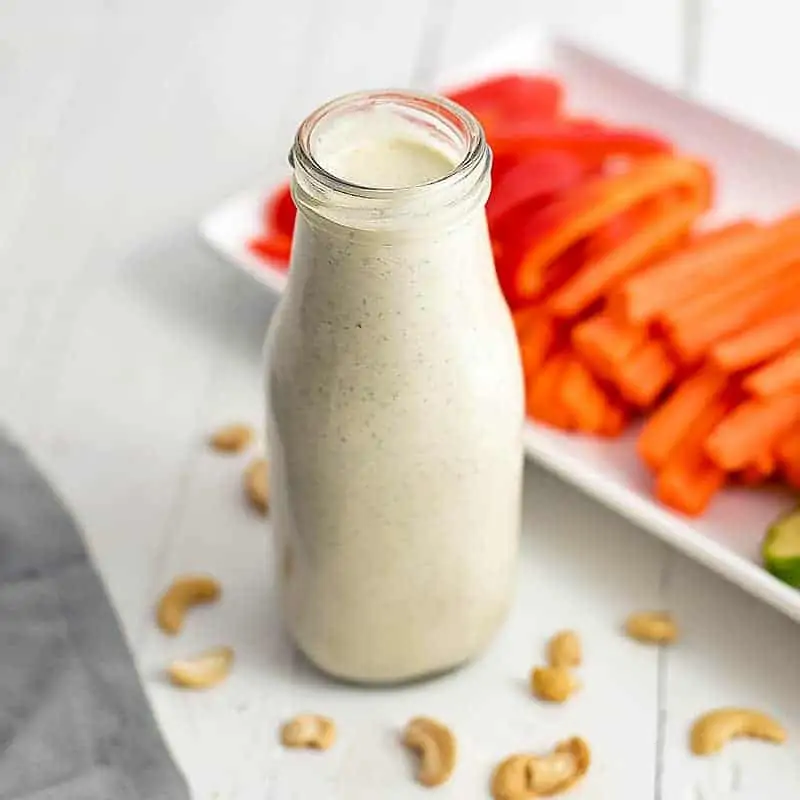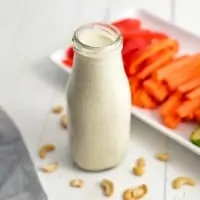 Dairy Free Ranch Dressing
$2.86 Recipe/$0.36 Serving
This dairy free ranch dressing is ready in 5 minutes and is the perfect thick and creamy dressing recipe! Made with cashews, this recipe is egg free, dairy free, vegan, low carb, paleo and Whole30! You won't believe how easy this is to make! Perfect for dipping vegetables or pouring over salads!
Print
Pin
Save
Saved!
Rate
Instructions
Soak the raw cashews on the counter 2-8 hours or cover them in boiling water and soak for 4 minutes.

Drain the water from the cashews.

In a high speed blender, combine the cashews, fresh water, garlic olive oil and apple cider vinegar. Blend for about 45 seconds

Add the rest of the ingredients and blend quickly (5-10 seconds) to incorporate

Refrigerate 30 minutes to 1 hour to allow to thicken slightly.
Notes
* To make this recipe low FODMAP, replace the garlic powder with 2 tbsp. garlic olive oil.
To ensure that your dressing does not turn green, wait to add the spices until the last 5-10 seconds of blending.
Store leftover dressing in a air tight container for up to 5 days.
Budget tip: you can often buy small quantities of dried herbs and spices at your local health food store in bulk. This means you can buy just a few teaspoons at a time if you don't usually cook with these herbs/spices.
See how I calculate food cost
.
Nutrition Information
Nutrition Facts
Amount per Serving
Where does nutrition info come from? Nutrition facts are provided as a courtesy, sourced from the USDA Food Database.
DID YOU LOVE THIS RECIPE?
Let others know by rating and leaving a comment below!