This simple spiralized rutabaga recipe is so easy to make and only has 4 ingredients! This simple rutabaga noodle recipe is gluten free, grain free, vegan, low FODMAP, Whole30, paleo and lower in carbs than traditional pasta! And it's ready in under 10 minutes!
This post contains affiliate links. As an amazon associate I earn from qualifying purchases.
Click here to read my policy
and more about affiliate links.
Spiralized Noodles
Spiralized rutabaga noodles are the perfect replacement for traditional pasta! They hold up well to any sauce but are also delicious on their own! Once you try this simple recipe, you are going to have a new favorite vegetable!
Rutabaga's are not something I grew up eating, in fact, I don't think I had even tried one before about a year ago. But Dave was going through a major stomach flare and his gastrointestinal doctor asked him to follow the low FODMAP diet for 6 weeks. That diet is pretty strict and he was quickly running out of favorite foods to eat.
I had stumbled across a post for rutabaga fries and decided to buy a few the next time we were at the store. Because let's be honest, anytime you can make a vegetable into fries, they always taste so much better.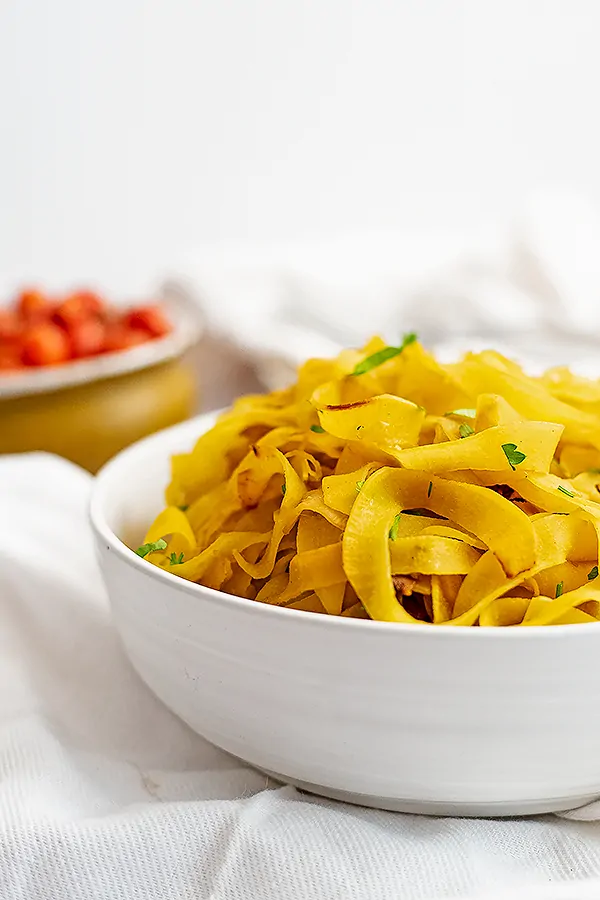 What I discovered was that rutabagas are actually delicious! They are a little bit sweet and have a great texture! So I looked around the internet and found that rutabaga is also great spiralized and used as pasta! Well that soon became my favorite way to make them, it's easier than cutting them into fries and it takes less time!
My sister came over last weekend when I was making these rutabaga noodles and she was seriously skeptical of them. She had never tried rutabaga before! But she loves pasta (and anything shaped like pasta) and is gluten free, so she was happy to try this simple spiralized rutabaga recipe! She ate about 1 full rutabaga worth of pasta and claimed that was one of her new favorite dishes of mine! Success!
What does rutabaga taste like?
Rutabagas are a cross between a turnip and cabbage, but don't let that fact discourage you from trying them! When you cook rutabaga this way, they get really caramelized and almost sweet, but have a savory undertone and are the perfect pasta! Trust me, this spiralized rutabaga recipe is going to turn you into a rutabaga lover!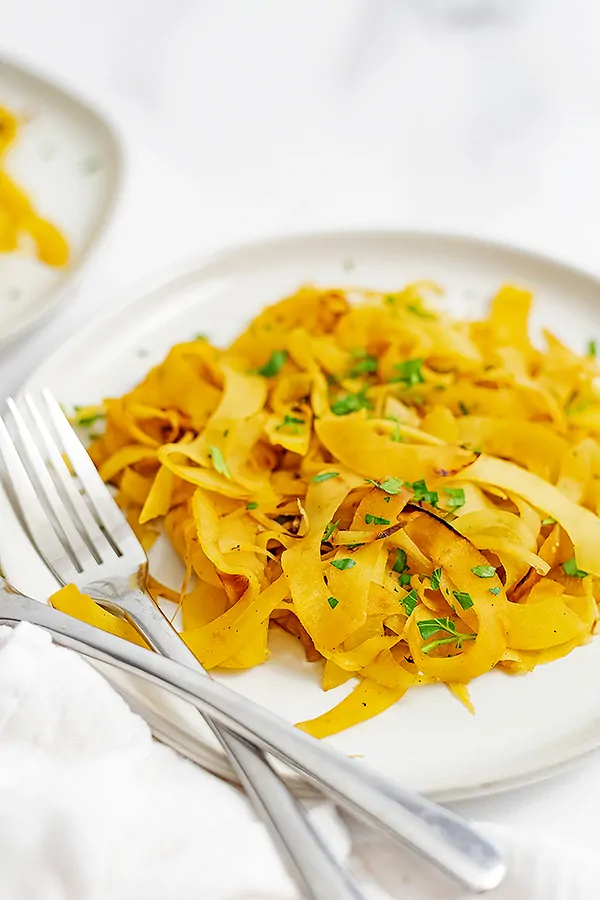 How to peel a rutabaga
Rutabagas are sold with a layer of wax on them to help keep them from drying out. Because of this, it's important to peel the rutabaga before using them in any recipe! To do this, simply use a hand peeler and start at the neck of the rutabaga and work your way around. Try going around the rutabaga instead of up and down, similar to how you would peel an apple!
How do you make rutabaga noodles
It is actually quite simple to make rutabaga noodles
Peel the rutabaga
Choose the appropriate blade for spiralizing. I like Blade B, the blade that makes fettuccine sized noodles
Place the rutabaga on your Inspiralizer, and make sure the Inspiralizer is suctioned down to the countertop.
Spiralize the rutabaga into noodles. If the Inspiralizer gets stuck, turn the rutabaga around and try to spiralize it from the other side as well. Sometimes with larger root vegetables they can get a little soft inside and tough to spiralize.
How to make simple spiralized rutabaga recipe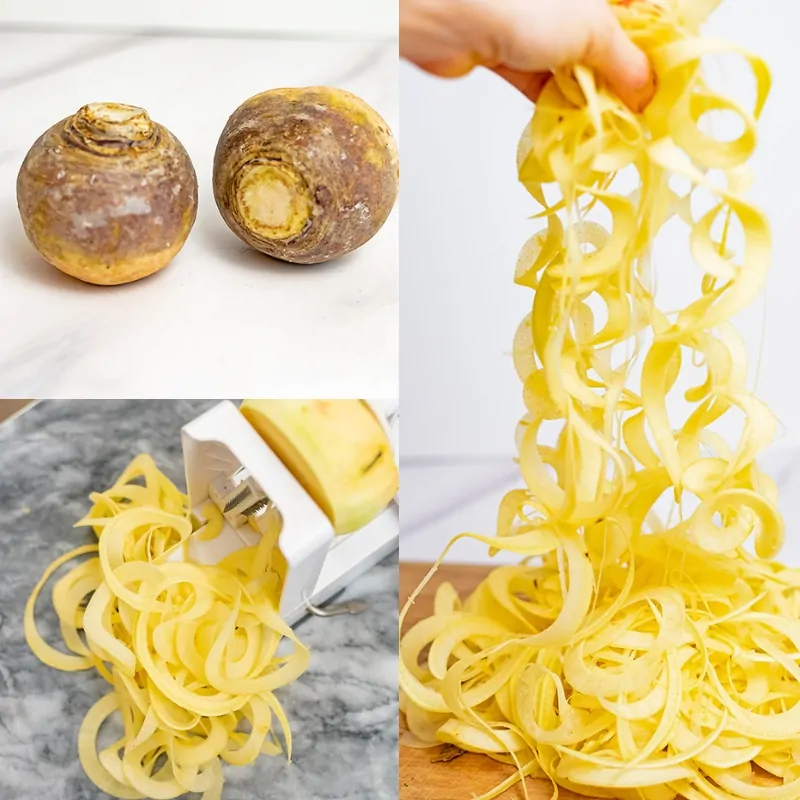 Peel the rutabaga and spiralize it using the Inspiralizer
Preheat a cast iron skillet over medium heat until hot (3-4 minutes)
Cut the spiralized rutabaga noodles into smaller noodles using kitchen scissors or breaking them with your hands
Once the cast iron is hot, add 1 tablespoon of avocado oil to the pan and add 1/2 of the spiralized rutabaga noodles
Cover the pan and cook for 6 minutes over medium heat.
After 6 minutes, add 1 tablespoon of garlic olive oil and 1/2 tsp of salt. Stir well.
Cook 2-3 more minutes and serve hot.
More recipes using the spiralizer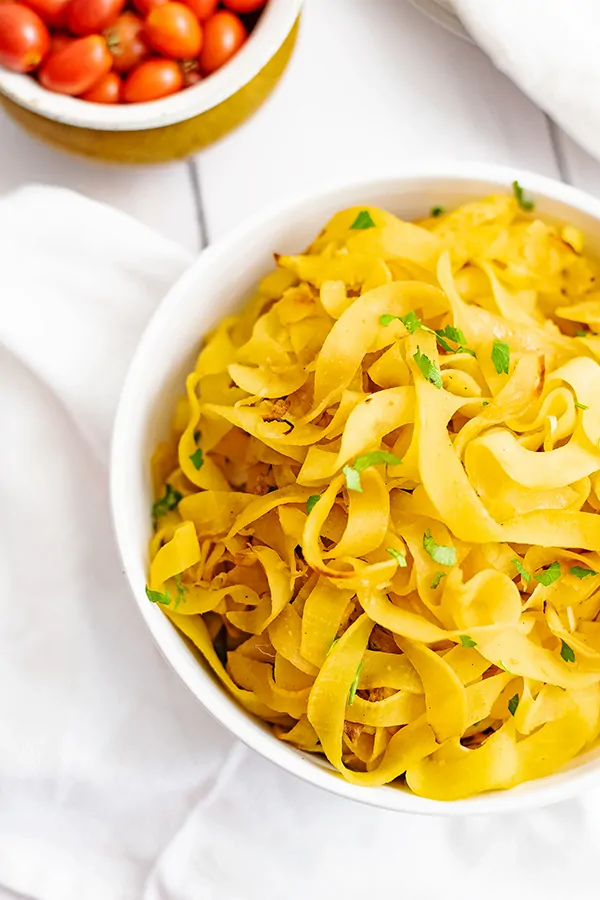 Spiralized Rutabaga Video
See how simple it is to spiralize and make this delicious recipe in minutes in the video below. Have you tried rutabaga noodles before? So good! Let me know if you have any questions below.
If you loved this recipe, you should try
★ Did you make this recipe? Please give it a star rating below!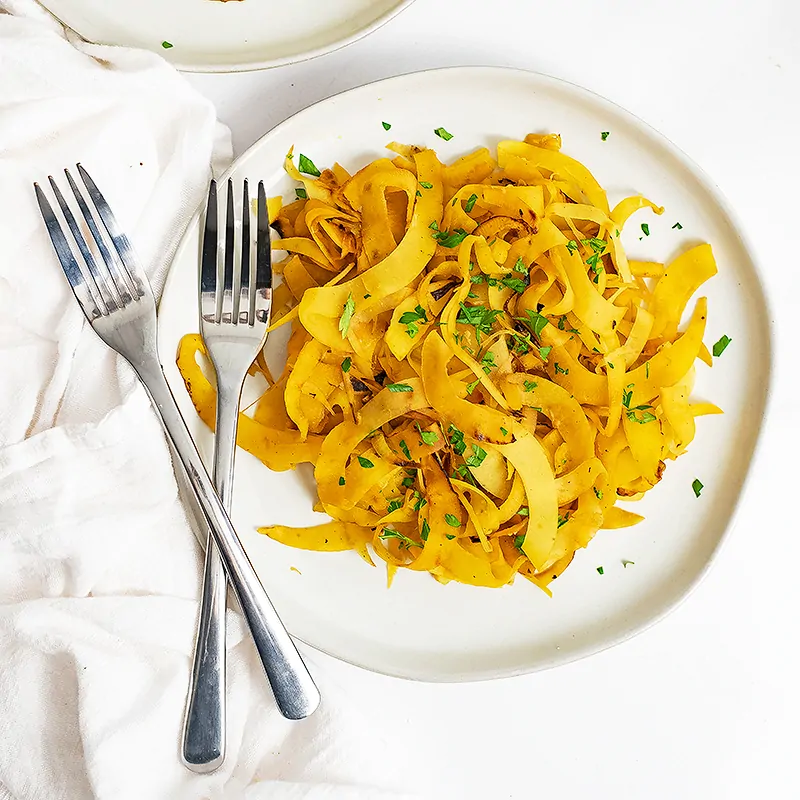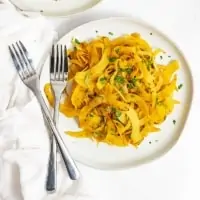 Simple Spiralized Rutabaga Recipe
$6.78 Recipe/$1.70 Serving
Simple spiralized rutabaga noodles are a quick and easy side dish that everyone will love! Naturally gluten free, these noodles are vegan, paleo, Whole30 and lower in carbs than traditional pasta! Ready in just 10 minutes and only 4 ingredients, rutabaga noodles are going to become your new go-to dish on busy weeknights!
Print
Pin
Save
Saved!
Rate
Instructions
Preheat a cast iron skillet over medium heat 3-4 minutes until hot.

Be sure the spiralizer is properly suctioned to the counter top. Choose the appropriate blade (blade B) to create fettuccine like noodles


Place the rutabaga on the spiralizer and spiralize

Cut the spiralized rutabaga noodles down with scissors or use your hand to break them up, as they are quite long and hard to work with .

Add 1 tbsp of avocado oil to the preheated pan. Add 1/2 of the rutabaga noodles and cover the pan. Cook 6 minutes

After 6 minutes, remove the lid and add 1.5 tbsp garlic olive oil (or 1.5 tbsp olive oil and 1/2 tsp garlic powder) and 1/2 tsp salt.

Cook an additional 2 minutes uncovered, stirring occasionally.

Repeat with the steps 6-8 above to cook the second batch of noodles.

Serve hot or at room temperature
See how I calculate food cost
.
Nutrition Information
Nutrition Facts
Amount per Serving
Where does nutrition info come from? Nutrition facts are provided as a courtesy, sourced from the USDA Food Database.
DID YOU LOVE THIS RECIPE?
Let others know by rating and leaving a comment below!