This spicy peanut spiralized sweet potato pasta is the perfect quick and easy dinner recipe! It's ready in just minutes, gluten free, grain free, vegan and packed with flavor!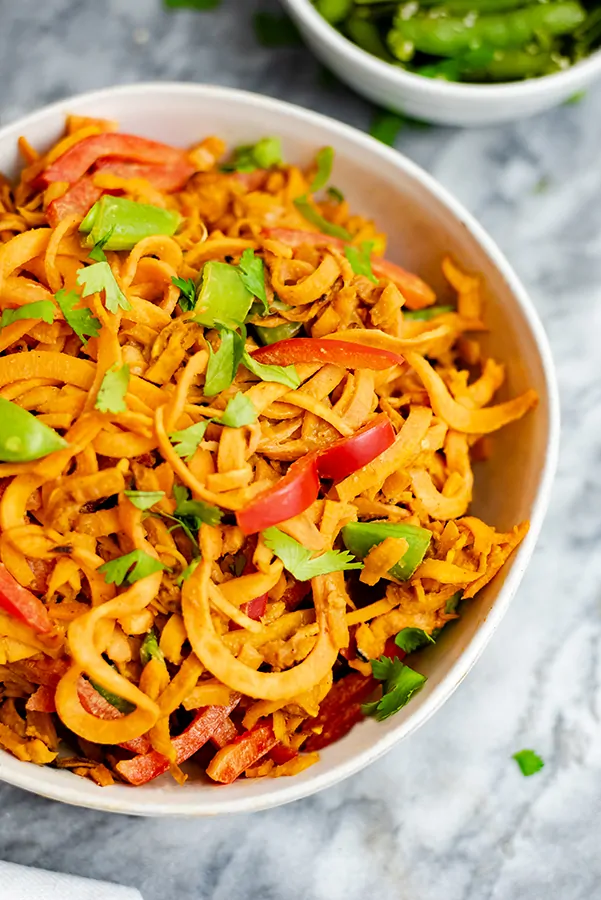 This post contains affiliate links. As an amazon associate I earn from qualifying purchases.
Click here to read my policy
and more about affiliate links.
Why you should make spiralized sweet potato pasta
Lately, I've been all about simple meals that only take a few minutes to put together but are packed with flavor! This spicy peanut spiralized sweet potato pasta recipe is just that. Ready in under 15 minutes, this dish is perfect for dinner or even served cold the next day, so be sure to make extra for leftovers!
The one thing you will need to make this recipe is a spiralizer! I've had mine for over 3 years, and Dave and I actually bought it to run our healthy meal prep business here in Charlotte! It has honestly spiralized hundreds of zucchinis in its lifetime and is still going strong!
I highly recommend the Inspiralized brand spiralizer It sticks to the counter and doesn't require that you change out the blades (which is really why I wanted this brand specifically). It's also super easy to clean!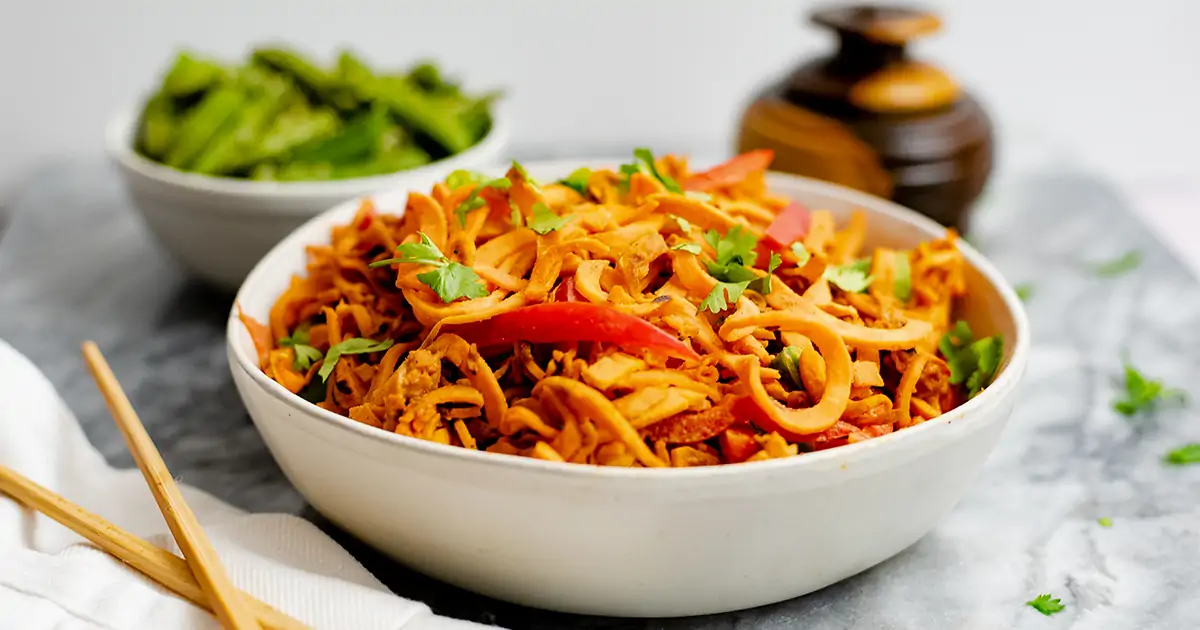 I have to be honest though, for quite some time I only used my spiralizer to make zucchini noodles. So if you are in the same boat, don't worry, this sweet potato pasta dish is a great recipe to get your spiralizer working for you! Once you find out how quickly you can get a sweet potato peeled and spiralized you will no longer pay for the grocery store to do it for you, I promise!
Some of my other top posts of this year also feature spiralized vegetables! Creamy garlic butternut squash noodles and low carb pasta, both of which I think you should put on your list to make after you try this spicy peanut spiralized sweet potato pasta!
I actually made this dish as an accident! I made too much of the spicy peanut sauce when I was making this Asian Cabbage Slaw with Peanut Lime Dressing! and that spicy peanut sauce is too good to waste, so I decided to cook up some sweet potato noodles and have it as a quick and easy dinner that night.
An added bonus? The sweet potato pasta is extremely filling and because the sweet potato is spiralized, it cooks up in just a few minutes on the stove! So it's the perfect recipe for those busy nights when you want something that tastes really good but you are short on time!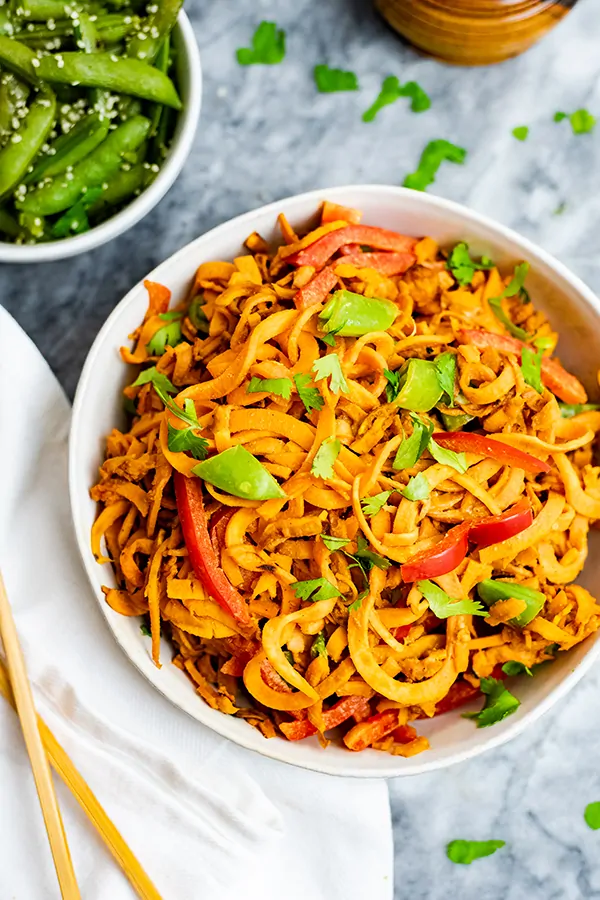 Tips for making sweet potato pasta
Pick out a thicker sweet potato, this way you will get long sweet potato pasta noodles when you spiralize!
Be sure to peel the sweet potatoes before spiralizing them. This way the texture is consistent throughout the dish.
Don't use the thinnest blade of the spiralizer, make the noodles a bit thicker. On the Inspiralized spiralizer, I use Blade B.
Don't boil sweet potato pasta noodles, they will break up into mush. Instead, cook them in a hot skillet.
When you cook sweet potato noodles in the skillet, use a lid and try not to move them around too often. They do break easier than regular pasta. Also, be sure you use some oil in the pan or they may stick.

How to make sweet potato noodles
Wash and peel the sweet potato
Cut off the ends of the sweet potato so there is a flat surface on each end for the spiralizer.
Set up the spiralizer. Make sure it's securely attached to the counter and turn it to the correct blade.
Set up your sweet potato on the spiralizer, be sure the center of the sweet potato is set up on the blade.
Apply even pressure as you begin to spiralize. If you notice that the sweet potato noodles are starting to be half moons, stop and re-center the sweet potato on the blade.
Heat a cast iron skillet (or other non-stick skillet) over medium heat. When hot, add avocado oil and the sweet potato noodles. Cover and cook 6-7 minutes, stirring halfway and again at the end.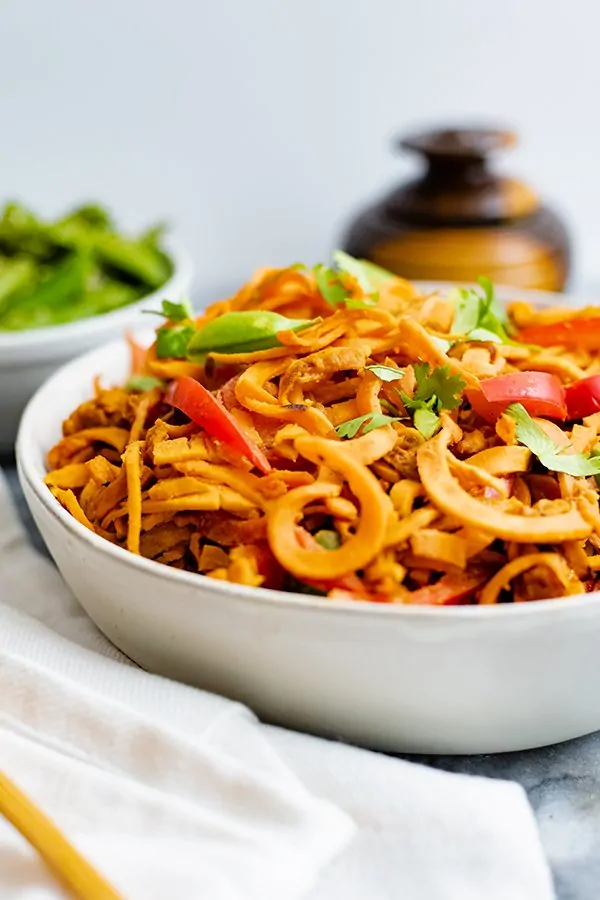 If you love this recipe, you should try
Instant Pot Asian Chicken and Noodles
★ Did you make this recipe? Please give it a star rating below!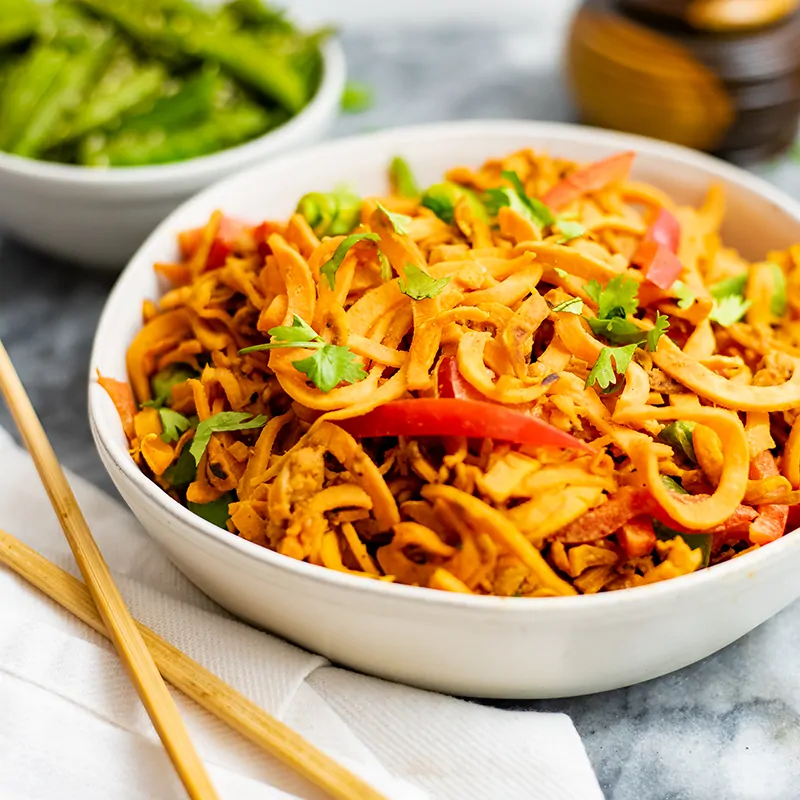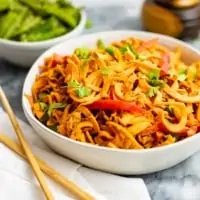 Spicy Peanut Spiralized Sweet Potato Pasta
This spicy peanut spiralized sweet potato pasta is the perfect meatless meal! Gluten free, grain free, vegan and ready in 10 minutes! Perfect for a quick and easy weeknight meal or even served cold for lunch the next day!
Print
Pin
Save
Saved!
Rate
Ingredients
1

medium

red bell peppers
Instructions
Wash and peel the sweet potatoes. Cut off the ends to prepare to spiralize

Preheat a cast iron skillet or non-stick pan over medium heat. While the cast iron is preheating, spiralize the sweet potatoes.

Spiralize the sweet potatoes into thick spaghetti noodles

Chop the red bell pepper into thin strips.

Once hot, add non-stick spray or avocado oil and add the red bell pepper. Cook for 1 minute before adding the sweet potato noodles.

Cover and cook on medium heat for 7 minutes, Tossing only once to twice so you don't break the noodles too much.


Make the sauce while the noodles are cooking by combining all the ingredients in a bowl and stirring well.

Pour the sauce over the noodles and serve hot or cold.
See how I calculate food cost
.
Nutrition Information
Nutrition Facts
Amount per Serving
Where does nutrition info come from? Nutrition facts are provided as a courtesy, sourced from the USDA Food Database.
DID YOU LOVE THIS RECIPE?
Let others know by rating and leaving a comment below!