Coffee banana protein smoothie is the perfect quick and easy breakfast recipe!
This protein packed coffee banana smoothie is full of healthy ingredients and of course caffeine (cold brew or homemade brewed coffee)! You are going to love this gluten free, dairy free, vegan coffee smoothie!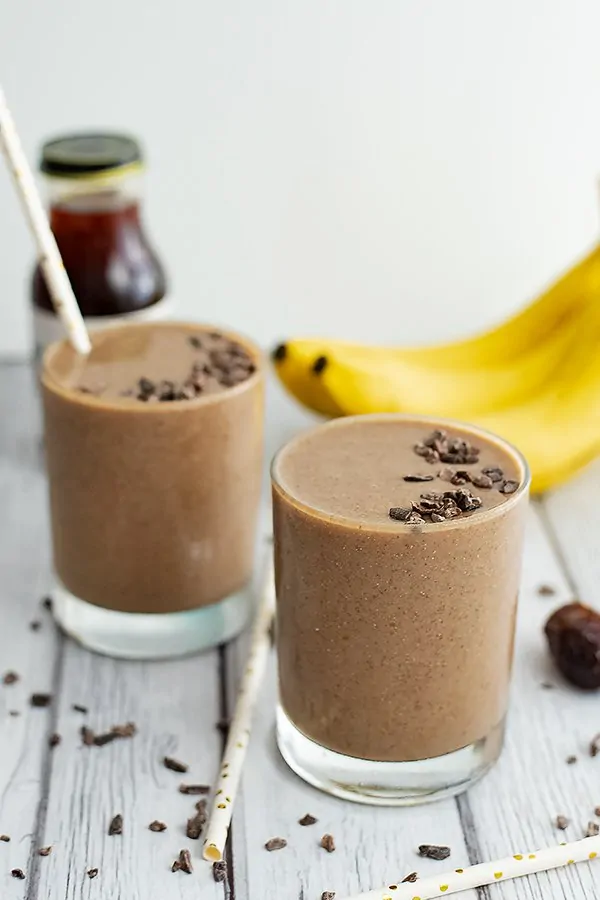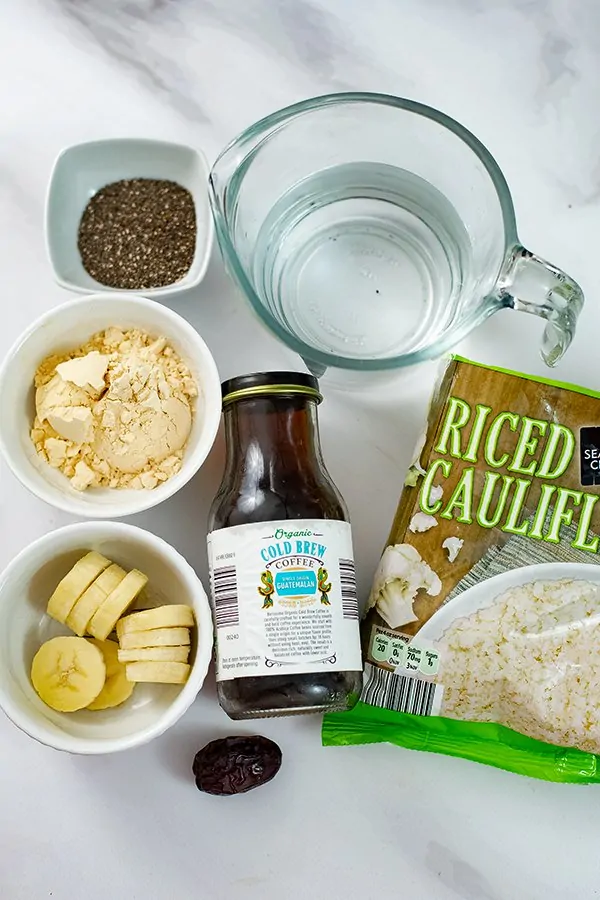 Ingredients
Water (or dairy free milk) – this is the base of the smoothie. If you want a super creamy smoothie, use your favorite dairy free milk (almond milk, cashew milk, oat milk, coconut milk).
Cold Brew Coffee (store bought or homemade) – you can buy cold brew coffee in the grocery store or make your own. If you think ahead, you can make brewed coffee the night before and store it in the fridge so it's cold for the next day to make this even more budget friendly!
Cauliflower Rice (or frozen zucchini or frozen spinach) – frozen cauliflower rice is the key to making this smoothie thick, creamy and so filling! You will not even taste the added veggies! You can also use frozen zucchini or frozen spinach if you don't have cauliflower rice (the spinach will change the color).
Banana (frozen) – I like to cut up 2-3 bananas into coins and freeze them on a parchment paper lined baking sheet at the beginning of the week. You can use those frozen banana coins in smoothies, dipped in chocolate for a snack or defrosted in banana bread. If you don't have frozen banana, you can use fresh.
Medjool Date (or maple syrup) – adding just a touch of natural sweetness with a pitted medjool date or maple syrup will help balance the flavor of the cold brew. If you prefer a less sweet smoothie, you can omit this.
Chia seeds (to help thicken the smoothie) – chia seeds are a great source of fiber and healthy fats. They also help to make the smoothie thick and creamy since the chia seeds absorb moisture as they are blended up. You can also use ground flax but the flavor will be slightly different. If you are worried about the chia seeds sticking in your teeth, you can grind them up in advance and store the ground chia seeds in the fridge (like I do for mango chia pudding).
Protein powder (or protein of choice) – protein powder helps to make the smoothie super filling and a great breakfast on the go. I use Nuzest (vegan pea protein) or almond protein powder when making this smoothie. You can use whatever your go to protein powder is.
How to make a coffee protein shake
Add all the ingredients to the blender in the order stated.
Blend on high for 1 minute until smooth.
Coffee Banana Smoothie topping ideas
This coffee banana smoothie is actually quite thick and could easily be poured into a bowl to be a smoothie bowl. You can add any of the following toppings to make super fun and delicious smoothie bowl:
Chocolate chips (regular or mini) – I love Enjoy Life mini chocolate chips on top of a smoothie bowl. Trader Joe's now makes a dairy free and soy free dark chocolate chip that is super budget friendly!
Cacao nibs – these are unsweetened nibs of raw cacao that are crunchy and have a slightly bitter chocolate flavor.
Coconut flakes – you can use regular coconut flakes or toasted. I love toasted coconut flakes if you can find them.
Chopped nuts or seeds – walnuts, almonds, pecans, peanuts, sunflower seeds, pumpkin seeds, hemp hearts
Nut butter or peanut butter – you can drizzle the smoothie or smoothie bowl with almond butter, cashew butter, sunbutter, peanut butter or my favorite cashew coconut butter.
Fruit: Sliced bananas, strawberries, raspberries or cherries (fresh or frozen) would all be delicious on top.
Common questions