Coffee banana protein smoothie is the perfect quick and easy breakfast recipe!
This protein packed coffee banana smoothie is full of healthy ingredients and of course caffeine (cold brew or homemade brewed coffee)! You are going to love this gluten free, dairy free, vegan coffee smoothie!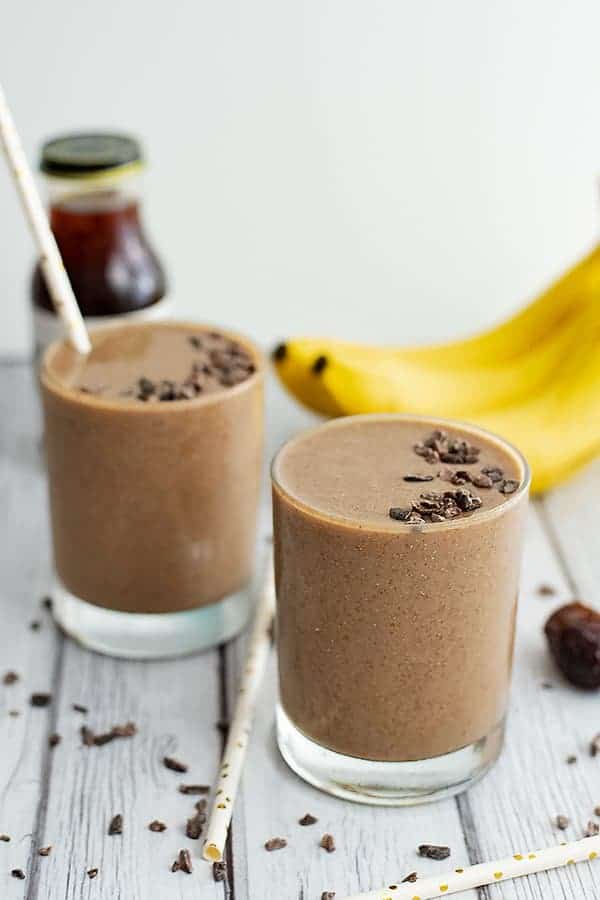 Why you will love this coffee banana smoothie
Great for quick and busy mornings! Smoothies are a great on the go breakfast! The added bonus is the extra caffeine kick!
You can add veggies to your breakfast without even noticing them! Add frozen cauliflower, frozen zucchini or even frozen spinach, you won't even taste them!
Start your day with a healthy, filling breakfast! This coffee banana protein smoothie is filled with protein, fiber and veggies! The protein and fiber will help you feel fuller for longer!
Great for meal prep! You can prep coffee protein shake ahead of time and simply add the prepped ingredients to the blender and have breakfast ready in 1 minute.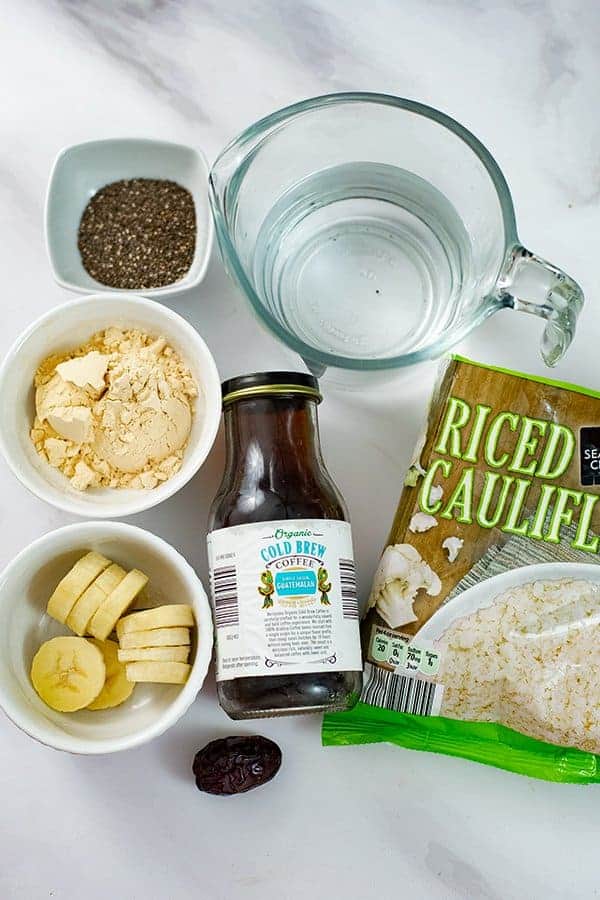 This post contains affiliate links. As an amazon associate I earn from qualifying purchases.
Click here to read my policy
and more about affiliate links.
Ingredients
Water (or dairy free milk) – this is the base of the smoothie. If you want a super creamy smoothie, use your favorite dairy free milk (almond milk, cashew milk, oat milk, coconut milk).
Cold Brew Coffee (store bought or homemade) – you can buy cold brew coffee in the grocery store or make your own. If you think ahead, you can make brewed coffee the night before and store it in the fridge so it's cold for the next day to make this even more budget friendly!
Cauliflower Rice (or frozen zucchini or frozen spinach) – frozen cauliflower rice is the key to making this smoothie thick, creamy and so filling! You will not even taste the added veggies! You can also use frozen zucchini or frozen spinach if you don't have cauliflower rice (the spinach will change the color).
Banana (frozen) – I like to cut up 2-3 bananas into coins and freeze them on a parchment paper lined baking sheet at the beginning of the week. You can use those frozen banana coins in smoothies, dipped in chocolate for a snack or defrosted in banana bread. If you don't have frozen banana, you can use fresh.
Medjool Date (or maple syrup) – adding just a touch of natural sweetness with a pitted medjool date or maple syrup will help balance the flavor of the cold brew. If you prefer a less sweet smoothie, you can omit this.
Chia seeds (to help thicken the smoothie) – chia seeds are a great source of fiber and healthy fats. They also help to make the smoothie thick and creamy since the chia seeds absorb moisture as they are blended up. You can also use ground flax but the flavor will be slightly different. If you are worried about the chia seeds sticking in your teeth, you can grind them up in advance and store the ground chia seeds in the fridge (like I do for mango chia pudding).
Protein powder (or protein of choice) – protein powder helps to make the smoothie super filling and a great breakfast on the go. I use Nuzest (vegan pea protein) or almond protein powder when making this smoothie. You can use whatever your go to protein powder is.
How to make a coffee protein shake
Add all the ingredients to the blender in the order stated.
Blend on high for 1 minute until smooth.
Recommended kitchen tools
Coffee Banana Smoothie topping ideas
This coffee banana smoothie is actually quite thick and could easily be poured into a bowl to be a smoothie bowl. You can add any of the following toppings to make super fun and delicious smoothie bowl:
Chocolate chips (regular or mini) – I love Enjoy Life mini chocolate chips on top of a smoothie bowl. Trader Joe's now makes a dairy free and soy free dark chocolate chip that is super budget friendly!
Cacao nibs – these are unsweetened nibs of raw cacao that are crunchy and have a slightly bitter chocolate flavor.
Coconut flakes – you can use regular coconut flakes or toasted. I love toasted coconut flakes if you can find them.
Chopped nuts or seeds – walnuts, almonds, pecans, peanuts, sunflower seeds, pumpkin seeds, hemp hearts
Nut butter or peanut butter – you can drizzle the smoothie or smoothie bowl with almond butter, cashew butter, sunbutter, peanut butter or my favorite cashew coconut butter.
Fruit: Sliced bananas, strawberries, raspberries or cherries (fresh or frozen) would all be delicious on top.
Common questions
How do you add protein to smoothies?
The easiest way to add protein to this smoothie is with protein powder. I love using a vegan protein powder, it helps thicken the smoothie and gives them an almost frosty like consistency. I love Nuzest protein and almond protein powder and highly recommend giving either of these a try! You could also use:

– Nut butter (almond butter, peanut butter, tahini)
– Hemp hearts
– Greek yogurt (dairy free or regular)
– Collagen peptides (not vegan)
– Peanut flour
– Chia seeds
How do you make cold brew coffee at home?
1. Use coffee ground for french press (a larger ground than what you find in traditional pre-ground coffee)
2. Add coffee to a french press and top it with fresh filtered water
3. Store the french press in the fridge overnight
4. In the morning, press the coffee and viola, homemade cold brew coffee!
5. Drink immediately or store for up to 48 hours in the fridge.

There are also really great cold brew coffee kits that you can make a pitcher of cold brew coffee at a time by just adding a pod of coffee to a large pitcher of water.
How do you freeze coffee?
If you have leftover coffee or want to make it specifically for smoothies, you can freeze the leftovers in ice cube molds. Once the coffee is frozen, you can pop the coffee cubes out of the molds and store them in a freezer safe container for easy use!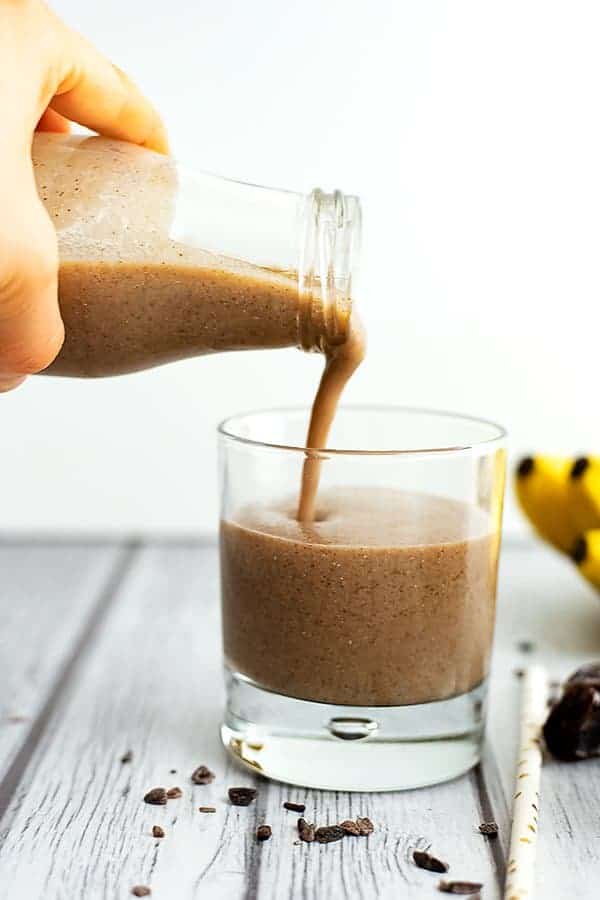 How do you meal prep smoothies?
Smoothie packs are a great way to make your smoothies in advance. By having all the ingredients already measured out, you can make your smoothie in less than 2 minutes on those busy mornings! Simply take a few minutes on the weekend or when you have free time to make 3-4 smoothie packs at once.

To make a smoothie pack, simply measure out the ingredients that can be stored in the freezer ahead of time and store them in individual bags. My favorite bags are Stasher bags which are made from silicone and great for the environment!
How do you make smoothie packs for banana coffee smoothies?
To make a smoothie pack for these coffee banana protein smoothies you would put these ingredients in the bag:

– Frozen cauliflower
– Banana
– Chia seeds
– Cold brew coffee cubes (if you are using cubes instead of fresh cold brew)

The day you plan on making these smoothies, you just dump the smoothie pack in the blender with dairy free milk (or water), protein, cold brew coffee and 1 date (pitted). Blend on high until smooth!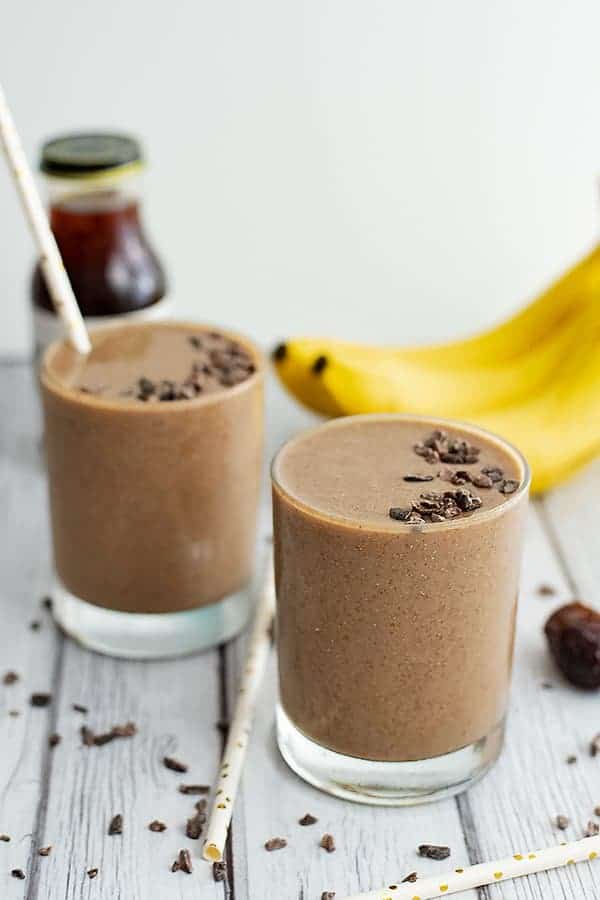 Substitutions
Water (or dairy free milk): You can use almond milk, cashew milk, oat milk, coconut milk or hemp milk in these smoothies to make them a bit thicker and creamier than using just water. If you want to make this thicker and don't have a dairy free milk on hand, add about 1/2 tablespoon of almond butter, peanut butter or cashew butter to the blender along with water.
Banana: To make this coffee smoothie without banana, you can add extra cauliflower rice and 1-2 more dates. If you are trying to keep this lower in carbs, you could also use your favorite low calorie sweetener.
Protein powder: If you don't want to use protein powder, you could also use:
Nut butter (almond butter, peanut butter, tahini)
Greek yogurt (dairy free or regular)
Collagen peptides (not vegan)
Chia seeds
Coffee: You could also use espresso shots. You will want to use 1 or 2 shots of espresso depending on how strong you want the coffee flavor. You may need to add a few cubes of ice if your espresso it hot.
Medjool dates: The dates add sweetness to the smoothie. You could also use 1-2 tablespoons of maple syrup or honey or omit the date completely if you don't care for super sweet coffee drinks.
Cauliflower Rice: Frozen cauliflower rice helps make the smoothie thicker and also adds veggies to your breakfast. You could also use frozen zucchini, frozen spinach or you can omit it from the recipe.
If you love this recipe, you should try
★ Did you make this recipe? Please give it a star rating below!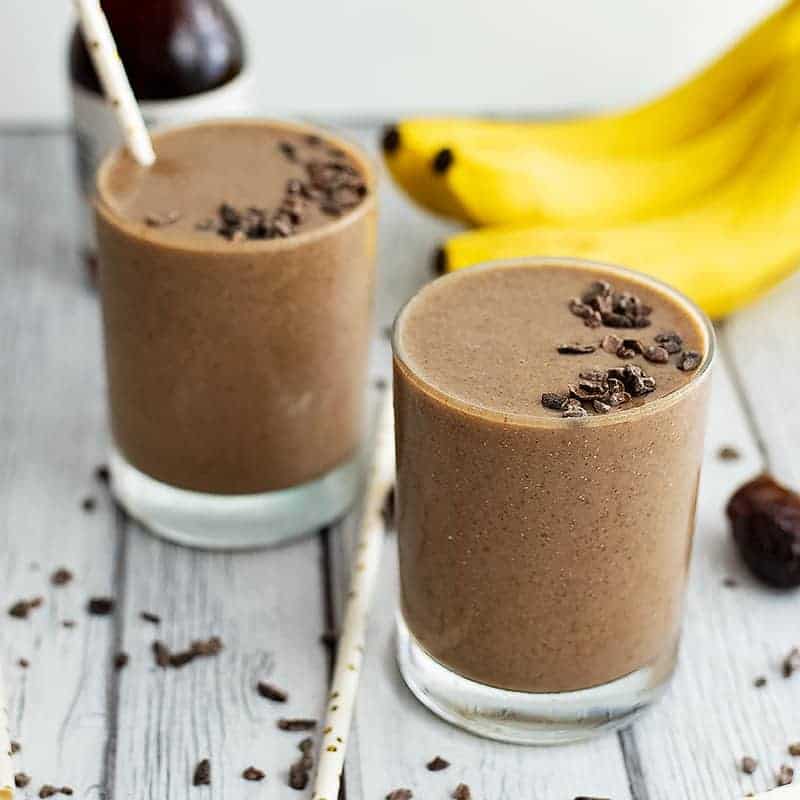 Coffee Banana Protein Smoothie
$4.03 Recipe/$4.03 Serving
Coffee Banana Protein Smoothie is the perfect healthy breakfast that is ready in under 2 minutes! This easy recipe is packed with protein, fiber and veggies! Vegan, gluten free, dairy free and so simple to make!

Print
Pin
Save
Saved!
Rate
Instructions
Add all the ingredients to a high speed blender in the order listed.

Blend on high until smooth.
See how I calculate food cost
.
Nutrition Information
Nutrition Facts
Amount per Serving
Where does nutrition info come from? Nutrition facts are provided as a courtesy, sourced from the USDA Food Database.
DID YOU LOVE THIS RECIPE?
Let others know by rating and leaving a comment below!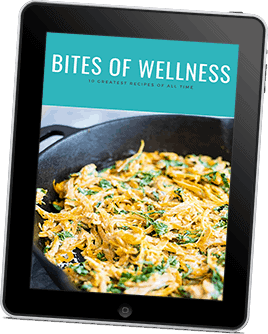 GET 10 OF MY ALL TIME GREATEST RECIPES
IN THIS FREE EBOOK