Protein puppy chow (muddy buddies) is the perfect sweet snack during the holidays or any time of the year.
Made with dark chocolate, peanut butter and protein powder, this gluten free, vegan recipe is the perfect snack. Kids love it too!
Best of all there is no sugar high to come down off of so you can feel great about serving it at parties! Please note that this delicious treat is not for doggies, sorry pup!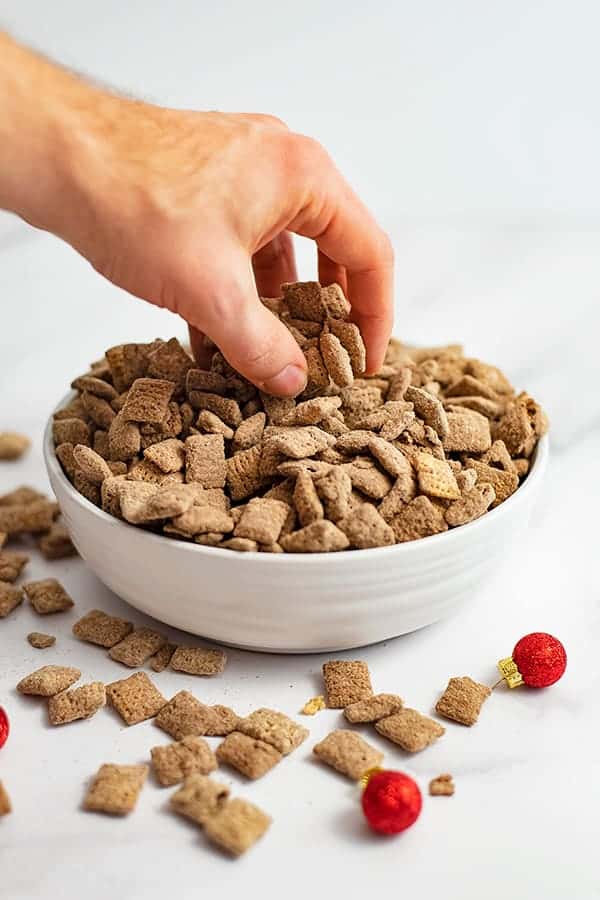 I don't remember my mom ever making puppy chow, probably because the usual recipe is a sugar bomb and we would have been bouncing off the walls for hours.
But I do remember having this at various parties and thinking that I could eat the entire bowl in one sitting. There is something about chocolate and peanut butter that just makes me do a little dance.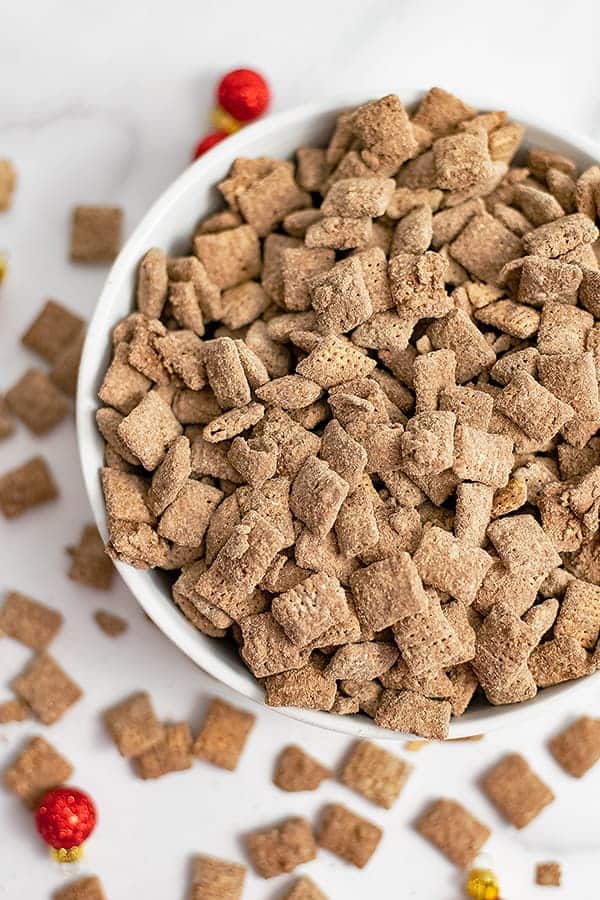 This post contains affiliate links. As an amazon associate I earn from qualifying purchases.
Click here to read my policy
and more about affiliate links.
What is puppy chow?
Never had puppy chow? Stop everything and go buy some Chex Cereal. You don't know what you are missing! Puppy chow is also called muddy buddies or moose munch (but I've never heard anyone use those terms).
Puppy chow is a recipe where peanut butter, butter, and melted chocolate are mixed together and then poured over Chex Cereal, coating the cereal in a base of chocolate peanut butter goodness. While the chocolate peanut butter mixture is still fresh, you then blanket everything with a coating of powdered sugar.
Sounds pretty much like every child's dream right? Well it's pretty exquisite. Naturally, I wanted to make this holiday favorite without so much added sugar.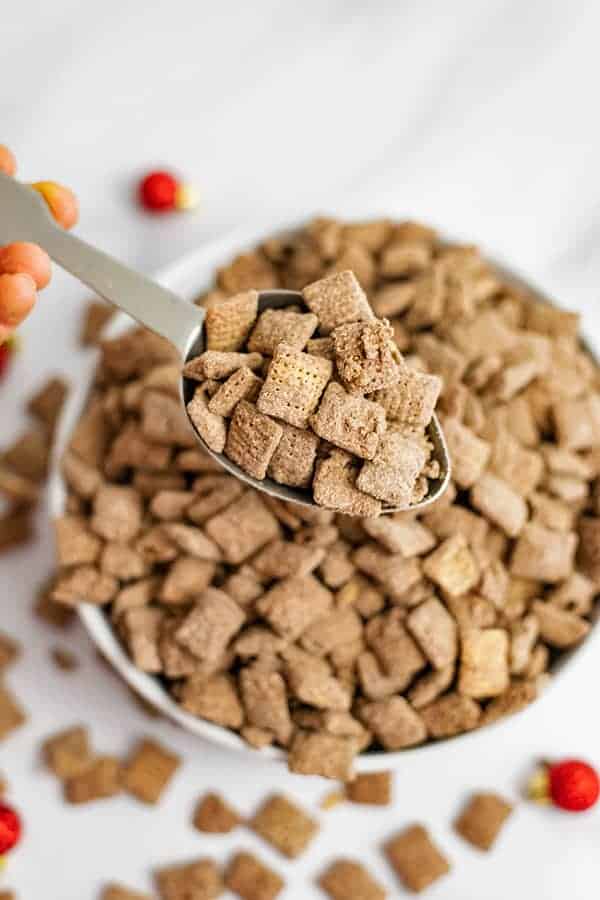 How to make muddy buddies
To make protein puppy chow, I used protein powder instead of powdered sugar. Genius right?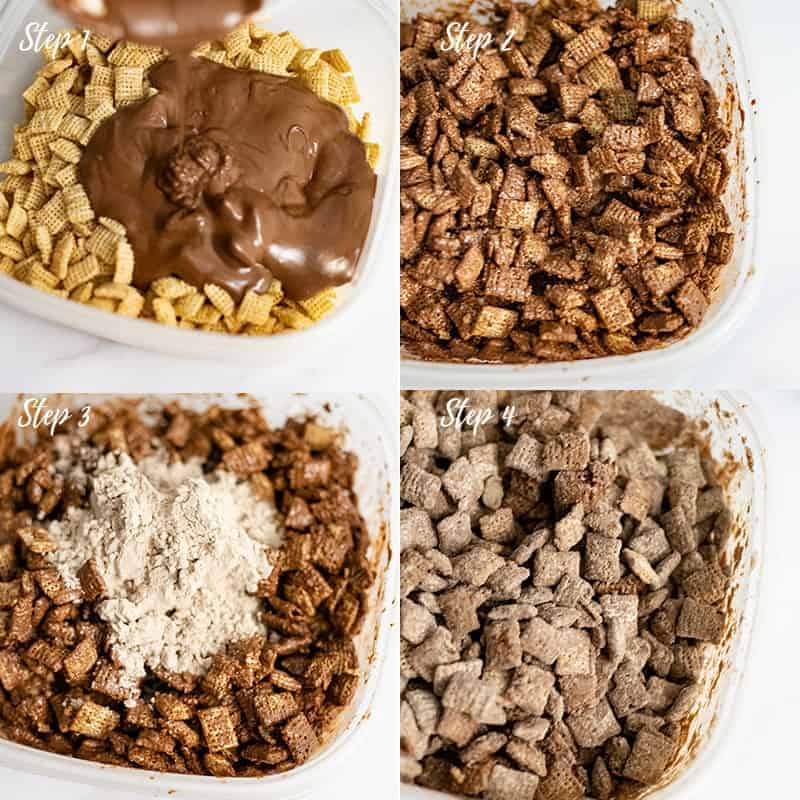 The process is still mainly the same.

Step 1: Melt together chocolate chips and natural peanut butter (the runny stuff with the oil on top when you buy it). Add a tablespoon of coconut oil or avocado oil to help thin it out. Add a serving of protein powder to help it stick to the rice cereal.

Step 2: Pour the chocolate peanut butter mixture over the rice cereal in a large tupperware or gallon zip lock bag and stir, stir, stir (should look like the photo in step 2).
Step 3: Once coated, add the protein powder and cover the tupperware with a lid.

Step 4: Shake shake shake!
What is the best protein powder to use
Adding protein is a great way to make a snack more filling, and by removing most of the added sugar, there is less of a sugar high to come down from. But I will tell you that this gluten free puppy chow is just as addictive as the traditional recipe. And it can disappear quickly if you aren't careful! So do your best to be mindful or you will quickly be wondering where all your protein puppy chow went!
For the protein, I used Nuzest chocolate protein with this recipe. You can use chocolate or vanilla protein powder from your favorite brand. Be sure that you enjoy the flavor of your protein, as it is a very big part of the flavor of this dessert.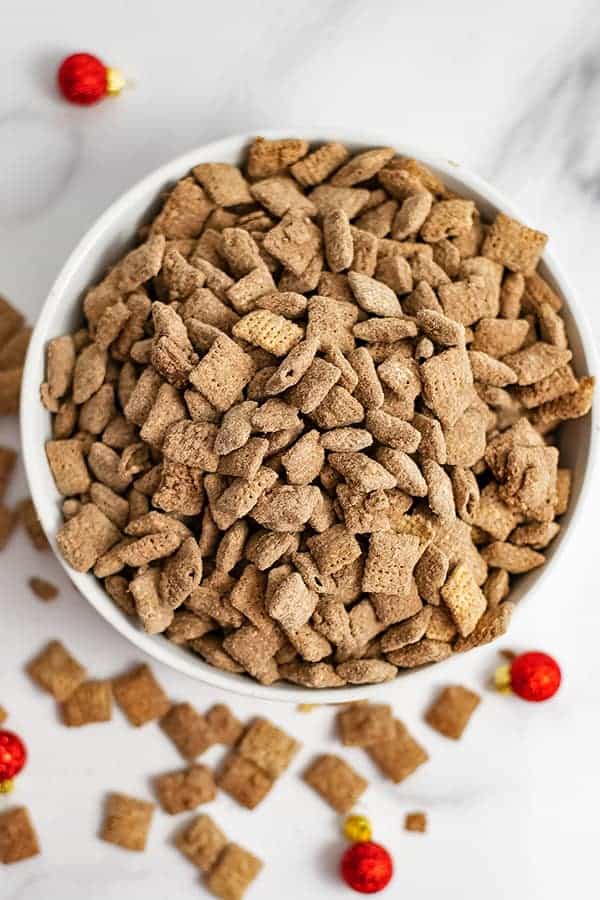 How to store muddy buddies
On the counter: You can store leftover puppy chow on the counter for 1-2 days in an airtight container.

In the fridge: I prefer to store the leftovers in the fridge, as the chocolate hardens a bit in the fridge. Store in the fridge in an airtight container for 3-4 days.

In the freezer: Store 2-3 months in the freezer in a freezer safe bag or container.
Substitutions
Chex Cereal: I like to use the Rice Chex Cereal, as it's gluten free and vegan friendly. You can use whatever Chex cereal you enjoy. You could also use pretzels or puffed rice in place of the Chex cereal.

Peanut butter: It's important that you use a natural peanut butter (the kind that comes with the oil on top) as that kind of peanut butter typically is thinner and easier to combine with the melted chocolate to pour over the cereal. You could also use almond butter, tahini, or sunflower seed butter if you don't have peanut butter or can't have peanuts.

Melted chocolate: I like to use Enjoy Life or Pascha Brand Chocolate as it's dairy free and gluten free and soy free. I love the Pascha 100% cacao or 85% cacao because it's lower in sugar than most other brands of chocolate. You could also use melted white chocolate or Lily's Chocolate for a Sugar Free Chocolate.

Coconut Oil: Coconut oil helps to thin out the chocolate and make it easier to pour over the cereal. You can also use avocado oil in place of the melted coconut oil.

Protein Powder: You can use vegan or whey protein powder, whichever you love. You could also use powdered sugar, make your own powdered maple sugar or sugar free powdered sugar in place of the protein powder.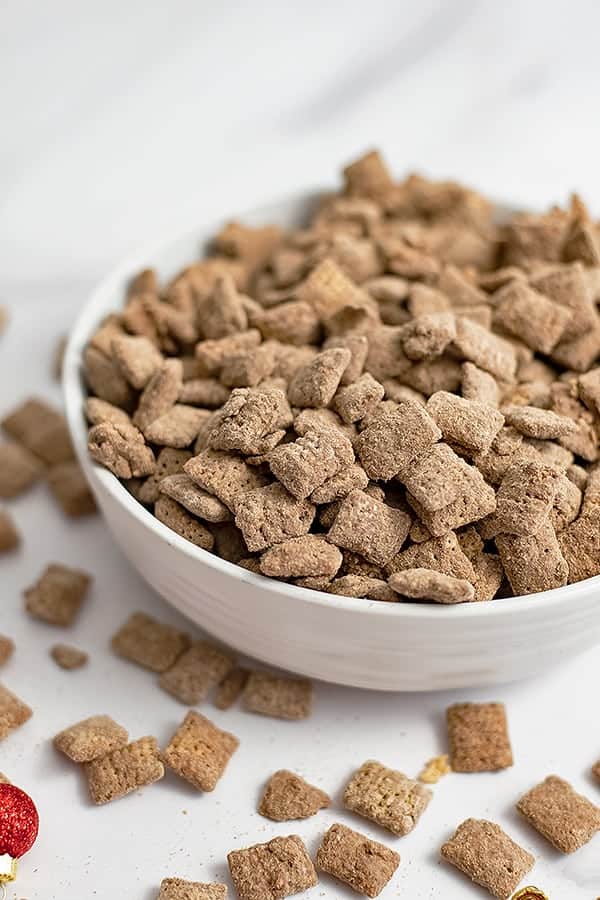 More protein packed recipes you will love
★ Did you make this recipe? Please give it a star rating below!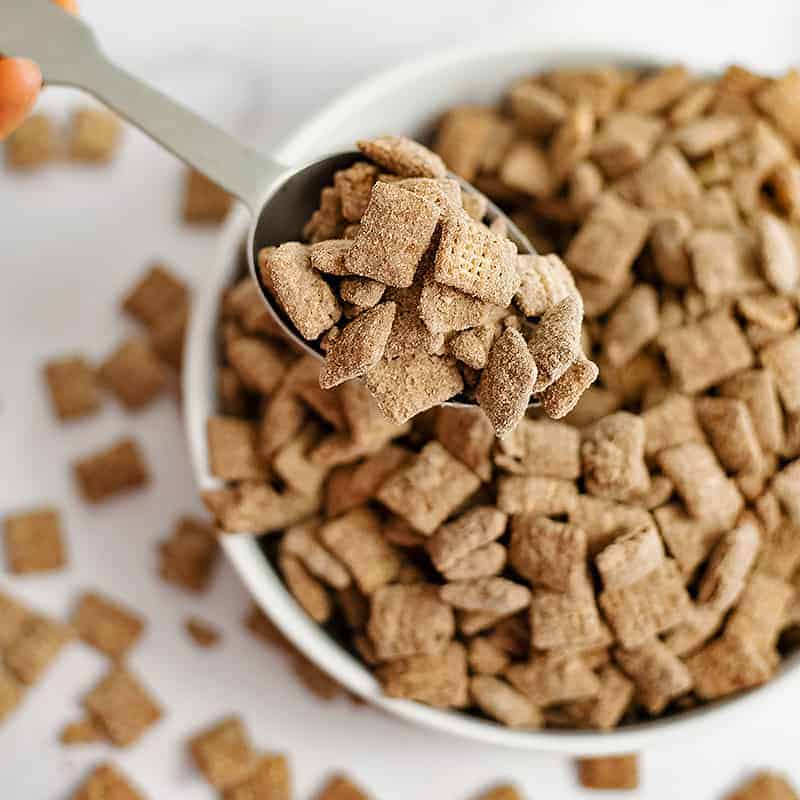 Protein Puppy Chow
This grown up puppy chow (muddy buddies) is high in protein, gluten free and simple to make. It will feed a crowd and can be modified to what you have on hand! The best part, no sugar high to come down from!
Print
Pin
Save
Saved!
Rate
Instructions
In a microwave safe dish, melt dark chocolate chips in 30 second increments (for about 1 minute).

To the melted chocolate, add the peanut butter and coconut oil. Stir well until everything is incorporated.

In a large bowl, add Chex cereal.

Pour chocolate mixture over cereal and mix until all pieces are covered in chocolate.

Add 1 serving of protein powder to the chocolate peanut butter mixture and stir well.

Pour cereal into a Tupperware container with a lid. Add protein powder and shake shake shake.

Shake until all cereal pieces have a thin coating of chocolate protein.

Refrigerate 5-10 minutes to allow chocolate to set.
Notes
*For a vegan option use only Rice Chex.
See how I calculate food cost
.
Nutrition Information
Nutrition Facts
Amount per Serving
Where does nutrition info come from? Nutrition facts are provided as a courtesy, sourced from the USDA Food Database.
DID YOU LOVE THIS RECIPE?
Let others know by rating and leaving a comment below!