Creamy garlic butternut squash noodles are the perfect quick and easy weeknight meal! Butternut squash noodles are a healthy alternative to pasta and are just as filling and delicious! This recipe is vegan, dairy free, gluten free, paleo and Whole30 friendly!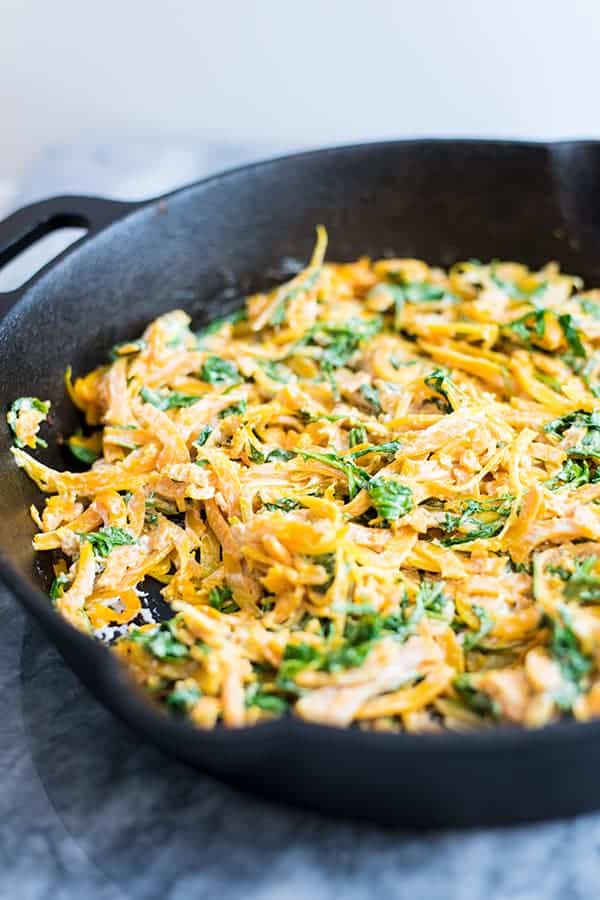 Why this recipe works
Butternut squash noodles are made by spiralizing a butternut squash. These noodles are nutritious, packed full of vitamins and minerals and are just as delicious as regular pasta!
The creamy garlic sauce is allergy friendly and dairy free! All you need is 4 ingredients to make this sauce!
This recipe is naturally gluten free, dairy free and Whole30 friendly! Add your favorite protein (like this ranch chicken or shredded chicken thighs) to make it even more filling!
This post contains affiliate links. As an amazon associate I earn from qualifying purchases.
Click here to read my policy
and more about affiliate links.
How to make butternut squash noodles
To make butternut squash noodles, you will first need a spiralizer! I recommend this spiralizer– it's easy to use and super sturdy.
Next, peel the butternut squash and trim away the top stem and the bottom bulbous part. You will be spiralizing just the long neck part of the squash.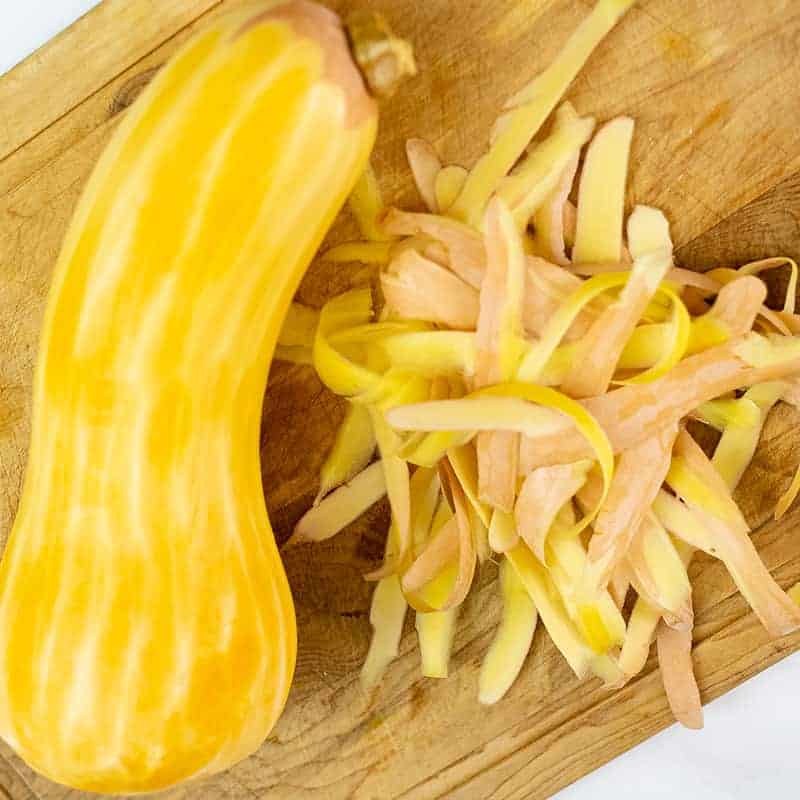 TIP: When shopping for butternut squash to spiralize, look for one with a long neck, this way you get more noodles!
Set the spiralizer to the thickest noodle blade and secure the spiralizer to the countertop. Make sure you have a cutting board or your sheet pan under the end of the spiralizer to catch the butternut squash spirals.
Place the butternut squash on the spiralizer and press the tongs at the end firmly into the end. Spiralize the butternut squash into long noodles.
Trim the noodles down into more manageable pieces.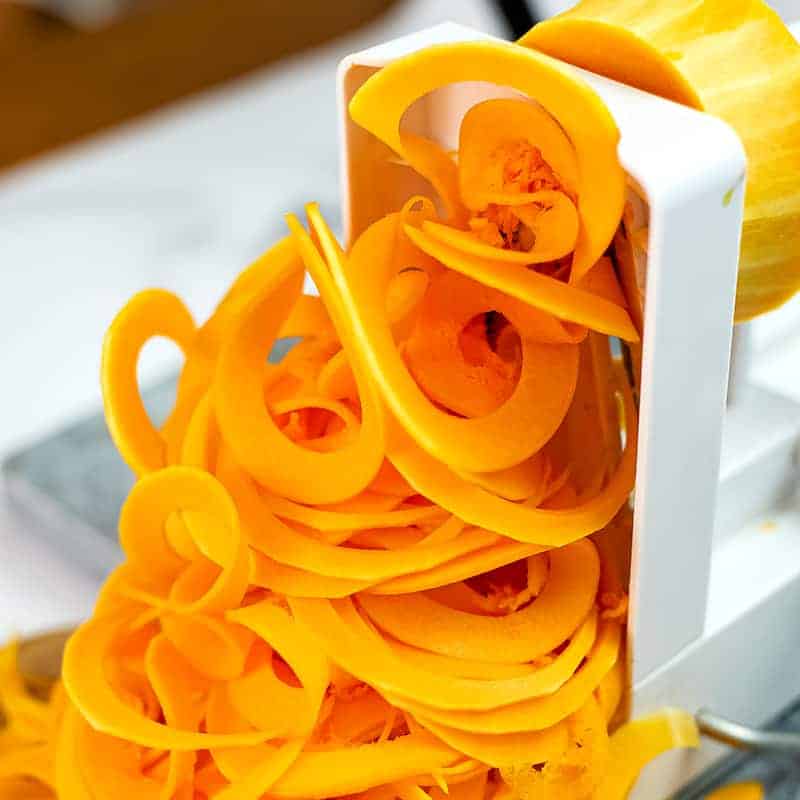 How to cook butternut squash noodles
Cooking spiralized butternut squash in the oven
My favorite way to cook butternut squash noodles is in the oven.
Spray the pan with non-stick. Make a thin layer of the noodles (divide between 2 pans if needed). Bake at 400F for 12-15 minutes.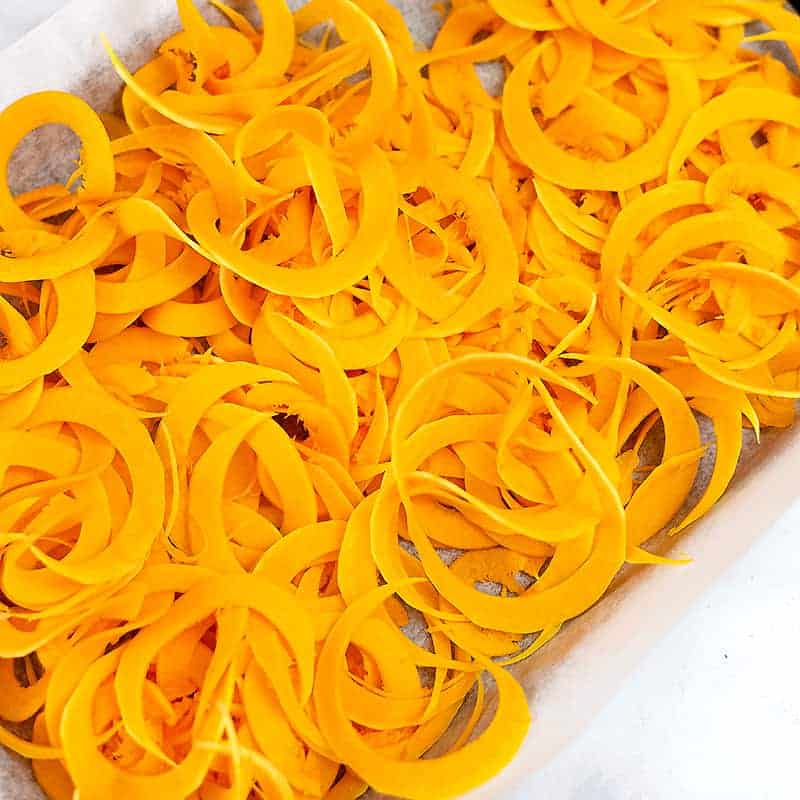 Don't overcook the noodles or they will easily crumble when tossing them in the sauce. Check at 12 minutes.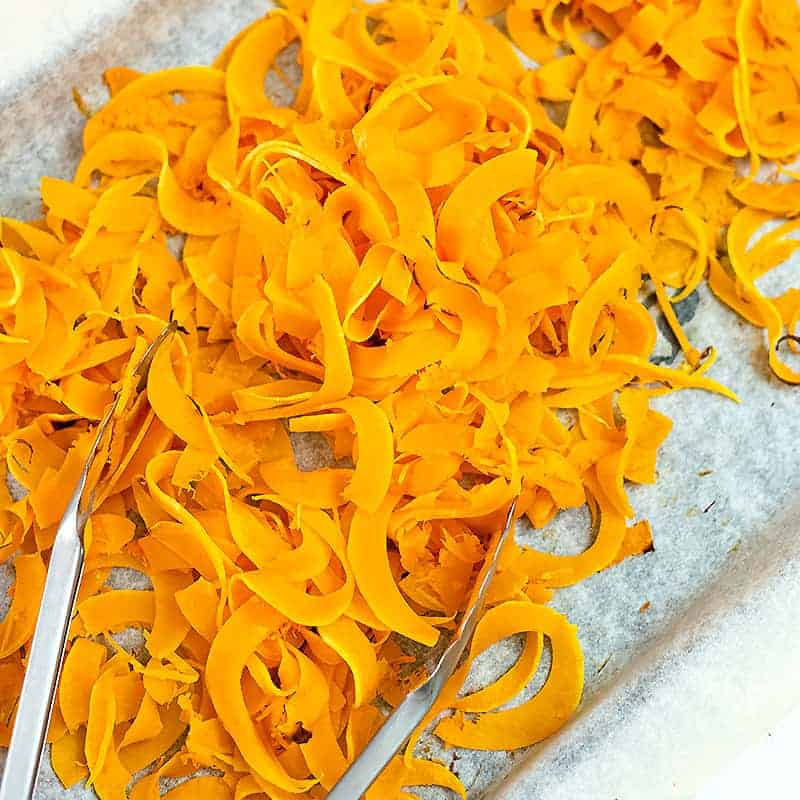 Cooking spiralized butternut squash on the stove
You can also sautee butternut squash noodles in a large saute pan with 1-2 tablespoons of oil or ghee for 7-10 minutes. The noodles do tend to break the more you stir them so it's best to use tongs. Do this in batches if the pan is overcrowded.
The butternut squash noodles can also be boiled. The noodles can quickly over-cook with this method so stay vigilant. Cook for 2-3 minutes in boiling water.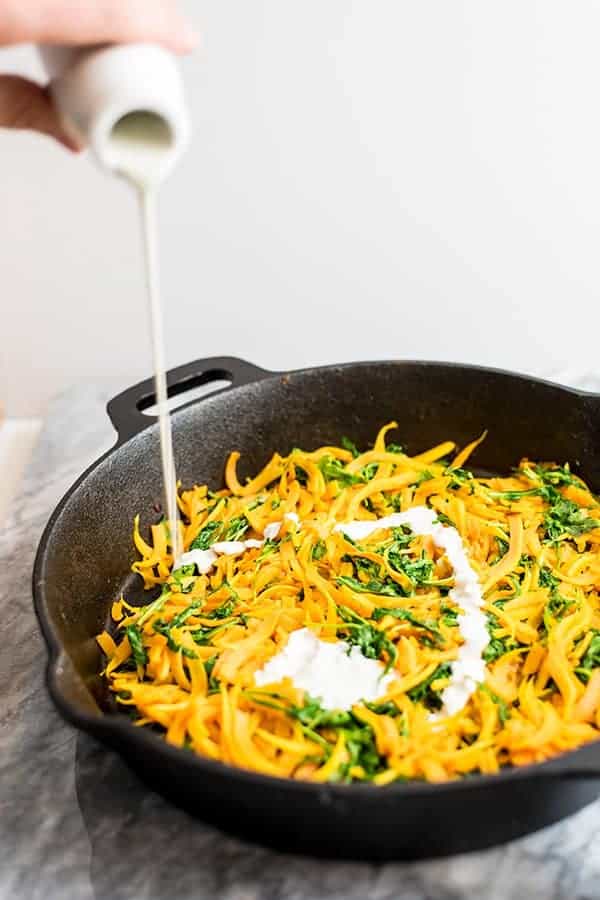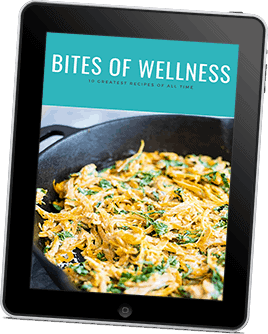 GET 10 OF MY ALL TIME GREATEST RECIPES
IN THIS FREE EBOOK
How to make the creamy garlic sauce:
Combine hemp hearts or soaked cashews, water, garlic olive oil and salt in a high speed blender. I use a bullet blender for this. Blend on high for 1 minute.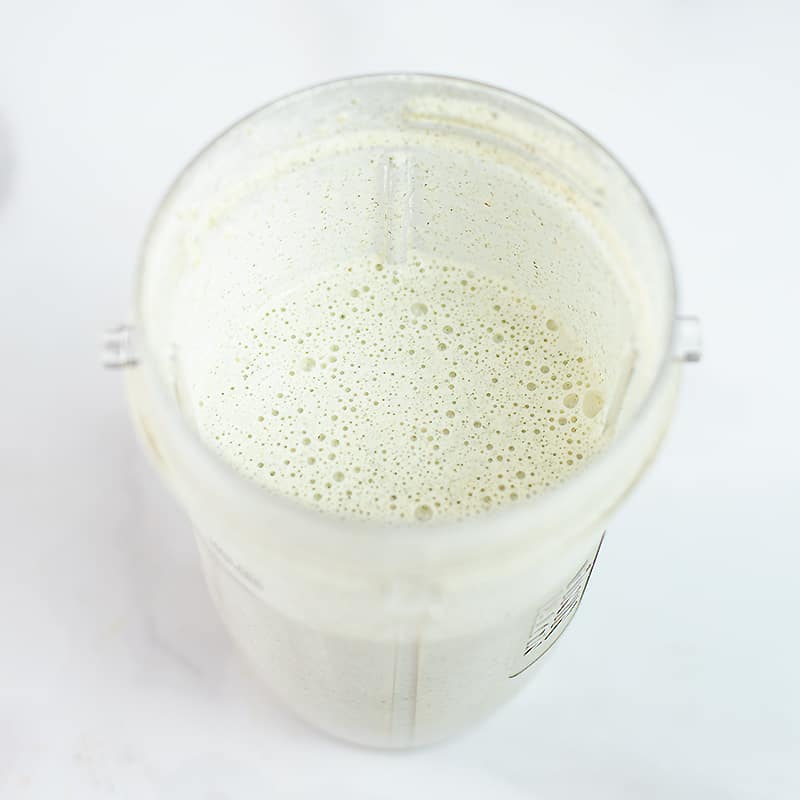 If you don't have hemp hearts on hand, you can also use soaked cashews. Not sure how to soak cashews? See my tips on how to soak cashews!
If you love this creamy garlic sauce, you should try vegan spinach artichoke dip or spinach artichoke stuffed mushrooms!
How to make creamy butternut squash noodles
Step 1: Peel the butternut squash
Step 2: Spiralize the butternut squash.
Step 3: Place parchment paper on 2 baking sheets. Add the butternut squash noodles into a single layer.
Step 4: Bake the butternut squash noodles in the oven at 400F for 12-15 minutes.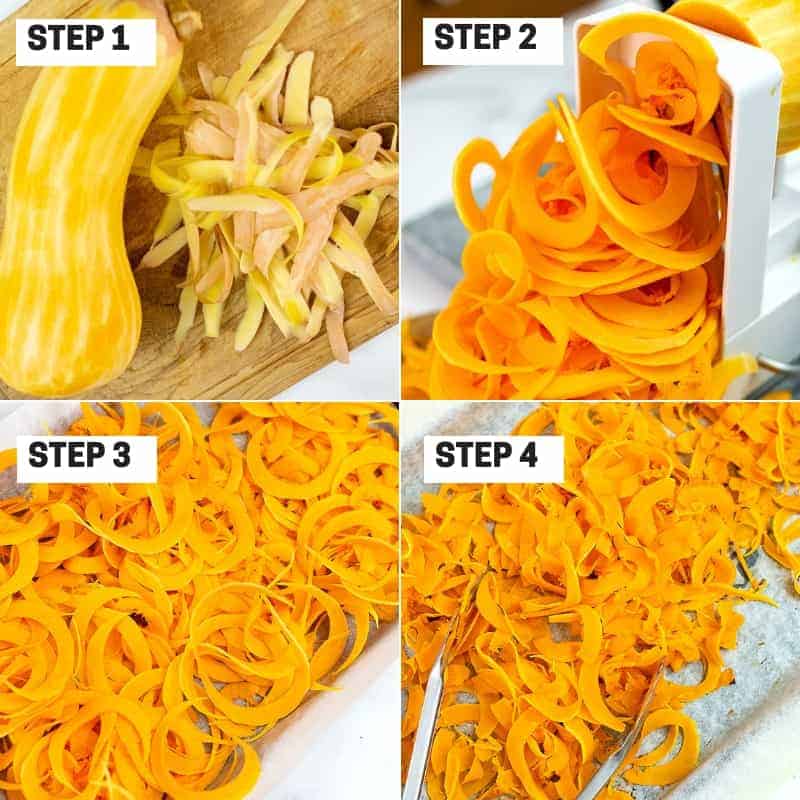 Step 5: While the squash is baking, make the garlic cream sauce.
Step 6: Heat a large skillet over medium low heat. Add 1 bag of arugula or spinach and a pinch of salt. Add a lid and wilt the arugula (or spinach).
Step 7: Once the arugula is wilted, remove from the heat. Add the butternut squash noodles and stir to incorporate.
Step 8: Add the garlic cream sauce and stir well with tongs. Don't over mix.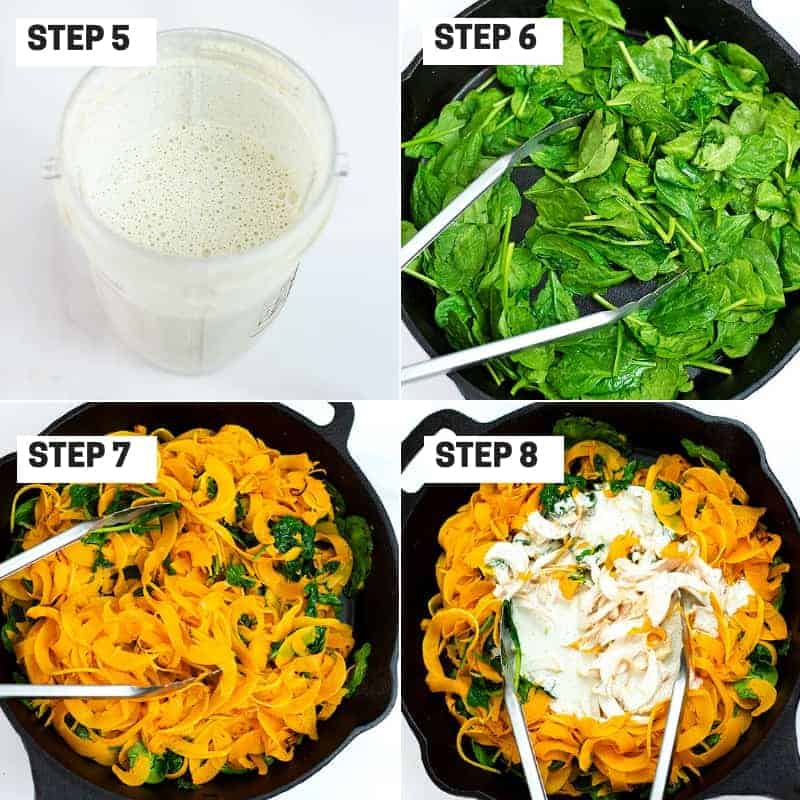 What if you don't have a spiralizer?
If you don't have a spiralizer, you can also find butternut squash noodles in many grocery stores now. Whole Foods, Trader Joes and other stores now carry them in the refrigerated produce section of the grocery store.
What if the butternut squash is not easy to spiralize?
A tip is to place the squash in the microwave for 2-3 minutes to soften it, making it easier to spiralize.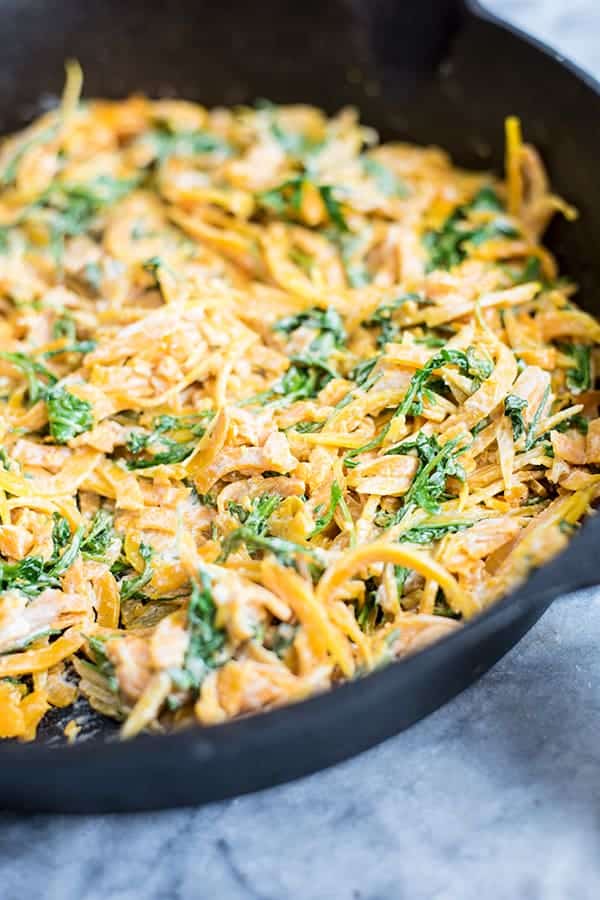 Can you store butternut squash noodles in the fridge?
Yes, after cooking you can store this in the fridge for 3-4 days.
You can also peel and spiralize the butternut squash and store it in an airtight container 5 days before cooking it. This is great for weekend prep!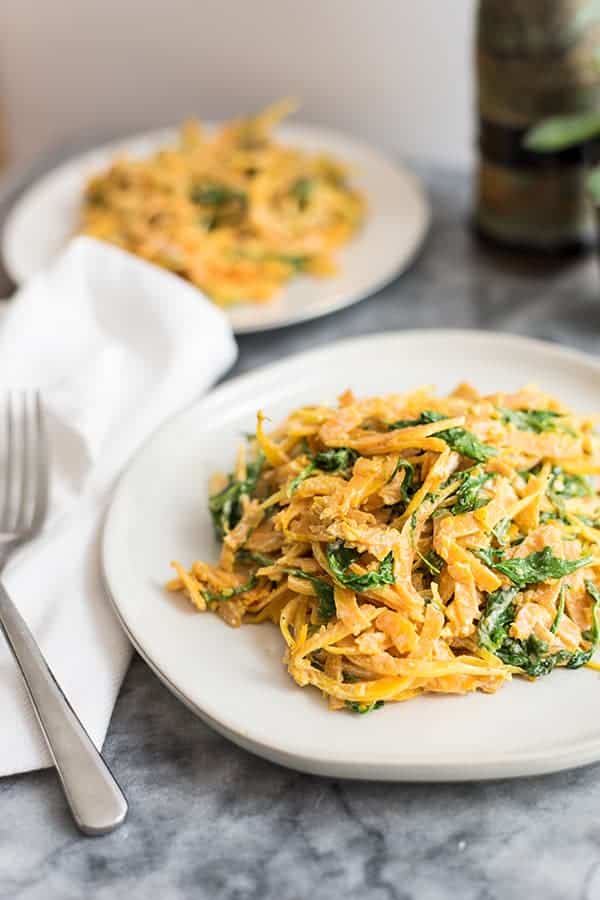 More Spiralized Veggie Recipes
★ Did you make this recipe? Please give it a star rating below!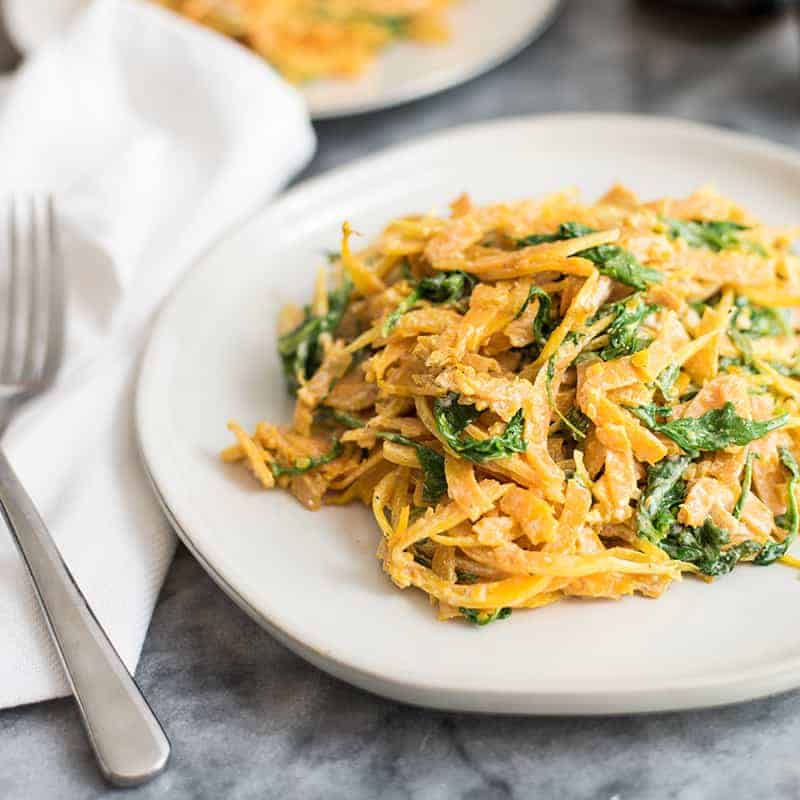 Creamy Garlic Butternut Squash Noodles
This creamy garlic butternut squash noodles recipe is going to be your new go to pasta recipe! It's Whole30, dairy free, paleo, vegan and allergy friendly!
Print
Pin
Save
Saved!
Rate
Ingredients
1

butternut squash, spiralized

-

see notes in post on instructions

1

tbs

avocado oil

4

cups

arugula

-

or fresh baby spinach

1/4

tsp

salt
Instructions
Peel and spiralize the butternut squash

Divide the butternut squash between 2 baking sheets (lined with parchment paper) and bake at 400F for 12-15 minutes

While the butternut squash noodles are baking, make the sauce

Place all the ingredients for the Creamy Garlic Sauce in a high speed blender and blend for 1 minute (I used our Ninja bullet)

Heat up a cast iron skillet or large pan. Add 1 tbs. avocado oil and the organic arugula. Season with salt and saute 1 minute.

Cover arugula with a lid and cook 1 minute, until wilted.

Add the butternut squash noodles to the arugula and pour the sauce onto the noodles. Stir well
Notes
For tips on how to soak cashews, check out this post!
If you don't have garlic infused olive oil, add 1 tsp of garlic powder to 2 tablespoon of olive oil.
TIP: If you cannot easily spiralize your butternut squash, microwave it for 2-3 minutes first. This will make it easier to spiralize.
If you do not have a spiralizer, you can buy spiralized butternut squash at the grocery store. Check the refrigerated produce section. Sweet potato noodles could also be used here.
See how I calculate food cost
.
Nutrition Information
Nutrition Facts
Amount per Serving
Where does nutrition info come from? Nutrition facts are provided as a courtesy, sourced from the USDA Food Database.
DID YOU LOVE THIS RECIPE?
Let others know by rating and leaving a comment below!
Update Notes: This recipe was originally posted in January of 2018, but was published again in June 2019 to include step by step directions, recipe notes and video.