This healthy blueberry spinach smoothie recipe is the perfect simple breakfast or snack!
Perfect for breakfast on the go, this smoothie is deliciously thick and creamy and packed full of nutrition!
Why this recipe works
This blueberry spinach smoothie is made without bananas or sugary ingredients, so it's low in carbs and won't spike your blood sugar like other smoothies might!
Packed with protein, healthy fats and fiber, this blueberry smoothie is the perfect balanced meal and you can eat it on the go! The perfect solution to your busy mornings!
Hate drinking your breakfast? Eat your smoothie in a bowl with your favorite toppings like this homemade granola to make it even more filling and enjoyable! It's super thick and satisfying!
This post contains affiliate links. As an amazon associate I earn from qualifying purchases.
Click here to read my policy
and more about affiliate links.
Ingredients
Frozen spinach
Frozen blueberries
Ground flax seeds (or chia seeds)
Nut butter or coconut butter (almond butter, peanut butter or tahini work great too)
Vanilla protein powder
Dairy free milk
How to make a blueberry spinach smoothie
Blueberry smoothies with spinach can be thrown together in under 5 minutes. To get tips on how to get them together even faster be sure to check out the meal plan tips below!
Start by getting out all of the ingredients.
Measure the ingredients and add them to your high speed blender.
Blend on high until smooth. Serve in a cup or pour into a bowl and top with your favorite toppings.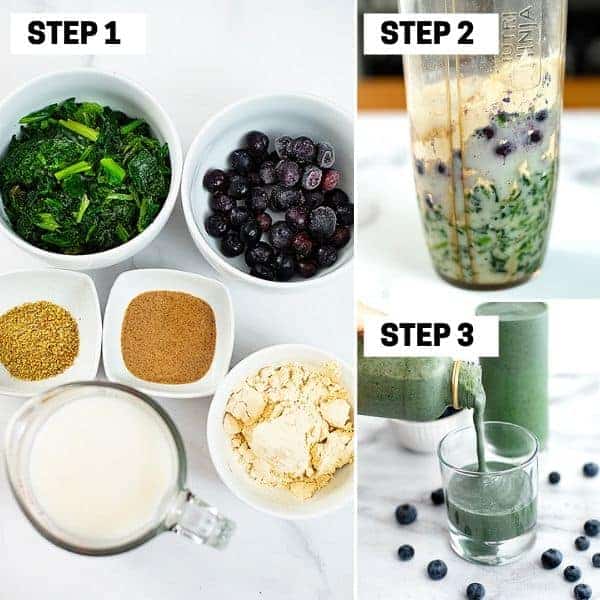 How to make a smoothie more filling
Protein – Protein is known to be very satisfying and the lack of protein in a meal can actually be what makes you feel very hungry very fast. Adding protein will make your smoothies instantly more satisfying!

This recipe uses protein powder to add protein. Protein powder is easy to digest and a great choice when you are trying to get breakfast on the go in under 5 minutes!

Healthy fats – Fats help fill you up and are also very important for the absorption of other vitamins and minerals. One of the easiest ways to add fats by adding a nut butter. Almond butter, coconut butter, sunflower seeds butter or even peanut butter all work here!
Vegetables – vegetables not only add a ton of vitamins and minerals but they also help add more fiber and volume to the smoothie, making it more filling.
Fiber – fiber is known to help you feel physically full after eating. By adding ground flax seeds or chia seeds, this adds a ton of fiber and also helps thicken the smoothies, making them more like a milkshake consistency!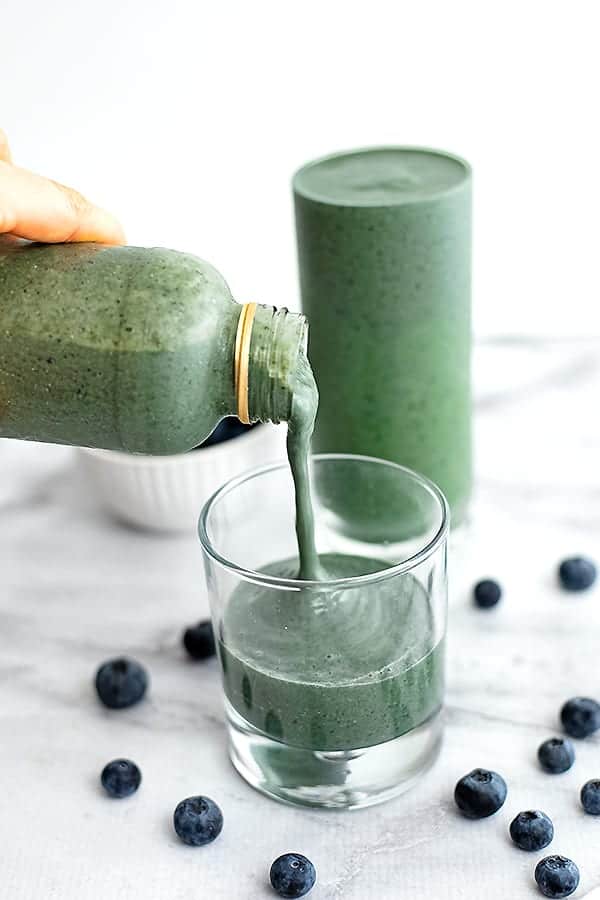 Smoothie bowl toppings to add
Sliced fruit
Chopped nuts
Drizzle of nut butter (this honey sunbutter or this walnut cashew cookie butter would be great here)
Toasted coconut flakes
How to meal prep smoothies
You can measure out certain ingredients and divide them into freezer safe bags or containers so you can make smoothies even faster in the morning.
For this blueberry spinach smoothie, you can measure out the frozen blueberries, frozen spinach, ground flax and store them all in a freezer safe bag.
In the morning, simply add the contents of the bag to the blender. Add a serving of protein powder, dairy free milk and a tablespoon of your favorite nut butter. Blend on high.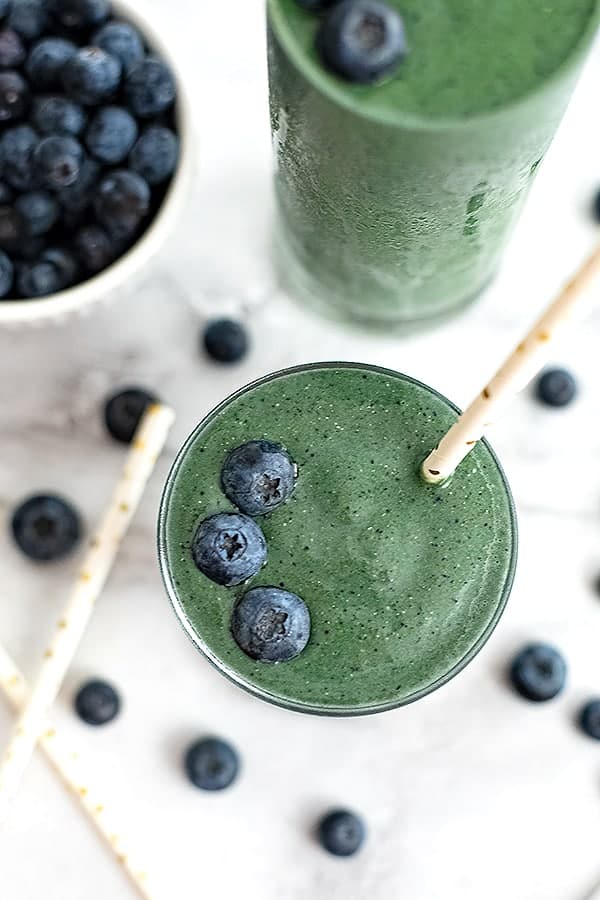 Blueberry smoothie common questions
The best blueberries to use in smoothies
I recommend buying frozen blueberries for smoothies. Since they are frozen, they help keep the smoothie cold and thick when blending.

Try to grab organic or wild frozen blueberries when you are at the store. Blueberries are highly sprayed and are always on the dirty 15 list, so grab organic when you can!
The best dairy free milk to use in smoothies
I always recommend using a unsweetened dairy free milk. Here are some of my favorites:

– Almond milk
– Cashew milk
– Oat milk
– Hemp milk
– Coconut milk (in the carton not in the can)
The best nut butter to use in smoothies
The nut butter adds healthy fats and also helps add a creamy consistency to the smoothies. Here are some great ideas:

– Coconut butter
– Almond butter
– Sunflower seed butter
– Cashew butter
– Peanut butter
– Tahini
The best protein powder to use in smoothies
I used a vegan protein powder. Vegan protein powders absorb liquid and can help give a thicker texture.

If you cannot tolerate vegan protein powders or prefer not to use it, you can also you whatever your favorite protein powder is: whey, collagen, egg white, beef. If your protein powder is unflavored, you may want to add vanilla extract to help enhance the flavor.

You could also omit the protein powder and add hemp hearts (vegan) or greek yogurt for more protein.
How to sweeten a smoothie without banana
This low carb smoothie is sweetened by the blueberries and also gets additional sweetness from the protein powder.

If that is not sweet enough, you can 1 tablespoon of maple syrup or honey to your smoothies or you could add sweeter fruits like frozen cherries or 1-2 pitted dates.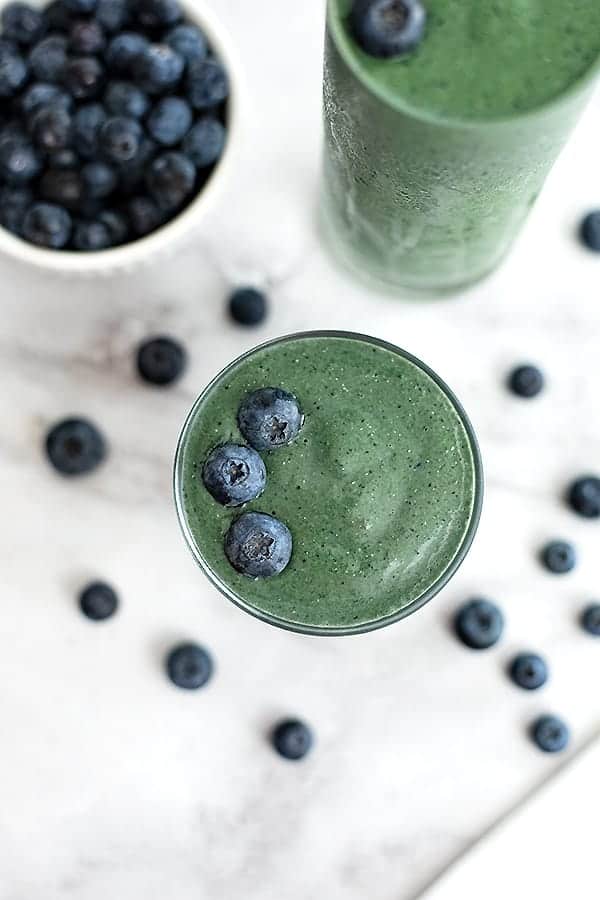 If you don't have frozen spinach
You can also use frozen kale, frozen cauliflower rice or even frozen zucchini in place of the frozen spinach. You can also use fresh spinach but the texture may not be as creamy and thick.
If you don't have ground flax seed
The ground flax helps to thicken the smoothie. If you don't have any ground flax seed, you can also use chia seeds. If you have whole flax seeds, you can grind them down in your blender before adding them to the smoothie.
If you are not able to add flax or chia seeds, you can omit them from the recipe however you may need to add a little less liquid (2 tablespoons up to ¼ cup depending on how thick you like your smoothies).
How to store smoothies
This smoothie can be stored in the fridge for 24-48 hours in a sealed glass container. I like to use mason jars with a tight fitting lid for this.
If you love this recipe, you should try
★ Did you make this recipe? Please give it a star rating below!
Blueberry Spinach Smoothie
Easy Blueberry Smoothie is the perfect healthy breakfast! Filled with protein and low in carbs, this vegan smoothie is made without yogurt or banana but is still super creamy and delicious! This healthy smoothie recipe is dairy free, gluten free and keto friendly!
Print
Pin
Save
Saved!
Rate
Instructions
Add ingredients to the blender in the order listed. Blend until smooth
Notes
Substitutions for coconut butter:
Almond butter
Sunflower seed butter
Cashew butter
Peanut butter
Tahini
Dairy free milk choices:
Almond milk
Cashew milk
Oat milk
Hemp milk
Coconut milk (in the carton not in the can)
If you cannot find frozen spinach try:
Frozen kale
Frozen cauliflower rice
Frozen zucchini
If you don't have ground flax, use chia seeds!
See how I calculate food cost
.
Nutrition Information
Nutrition Facts
Amount per Serving
Where does nutrition info come from? Nutrition facts are provided as a courtesy, sourced from the USDA Food Database.
DID YOU LOVE THIS RECIPE?
Let others know by rating and leaving a comment below!