Watermelon cucumber gazpacho is the perfect summer soup. Easy to make, packed full of summer vegetables, this sweet and savory soup is unlike anything you have ever tried. Once you try it, you will be hooked and make it on repeat all summer long!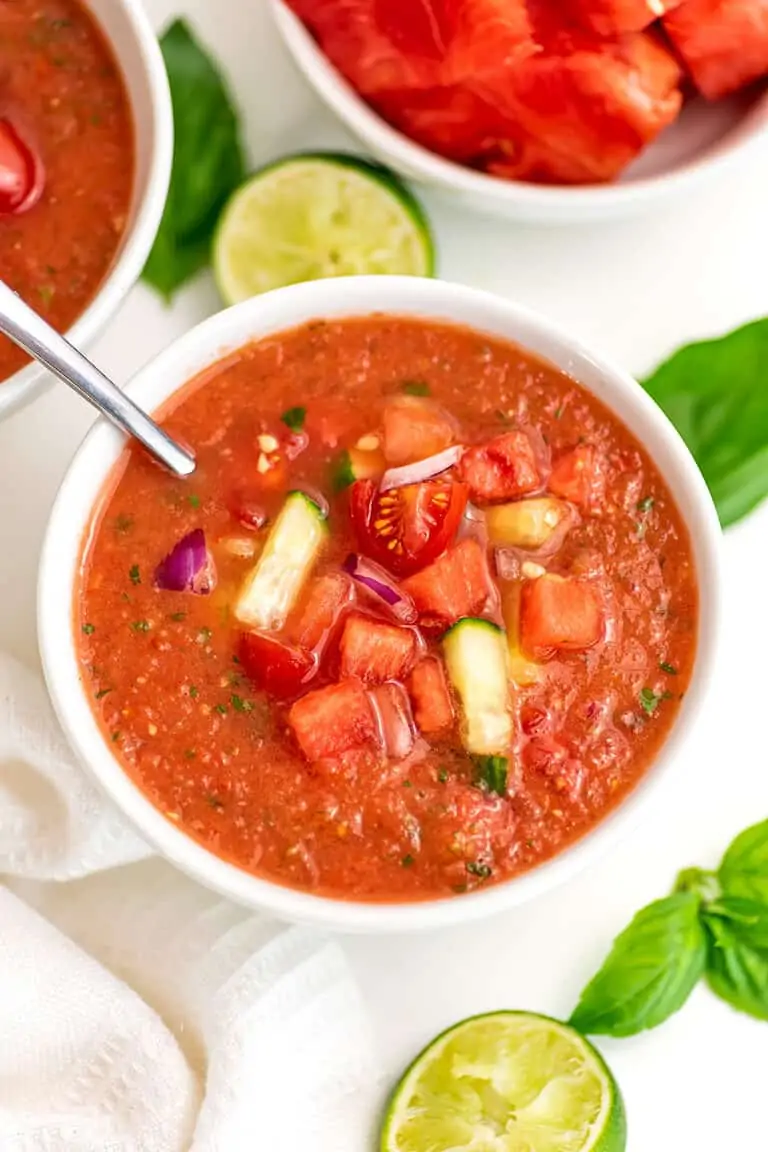 This post contains affiliate links. As an amazon associate I earn from qualifying purchases.
Click here to read my policy
and more about affiliate links.
Why you will love this recipe
Slightly sweet but mostly savory, this watermelon gazpacho is packed with flavor. You are not going to believe how delicious this soup is! Made with watermelon, tomatoes, cucumber and basil, this soup is a great way to use up all those summer veggies growing in the garden!
Gazpacho is a cold soup that can be served all summer long. It's the perfect appetizer or the perfect light meal when served with a salad or other small dishes.
Great way to use up extra watermelon! This healthy gazpacho recipe is the perfect way to use up extra watermelon so you never have to worry about watermelon going to waste again!
Watermelon gazpacho is the perfect dish to make when it's too hot to cook but you still want to impress your guests! Great for cookouts, parties, weeknight meals or even as part of a brunch menu! You can make this the day ahead so it's nice and cold for the party.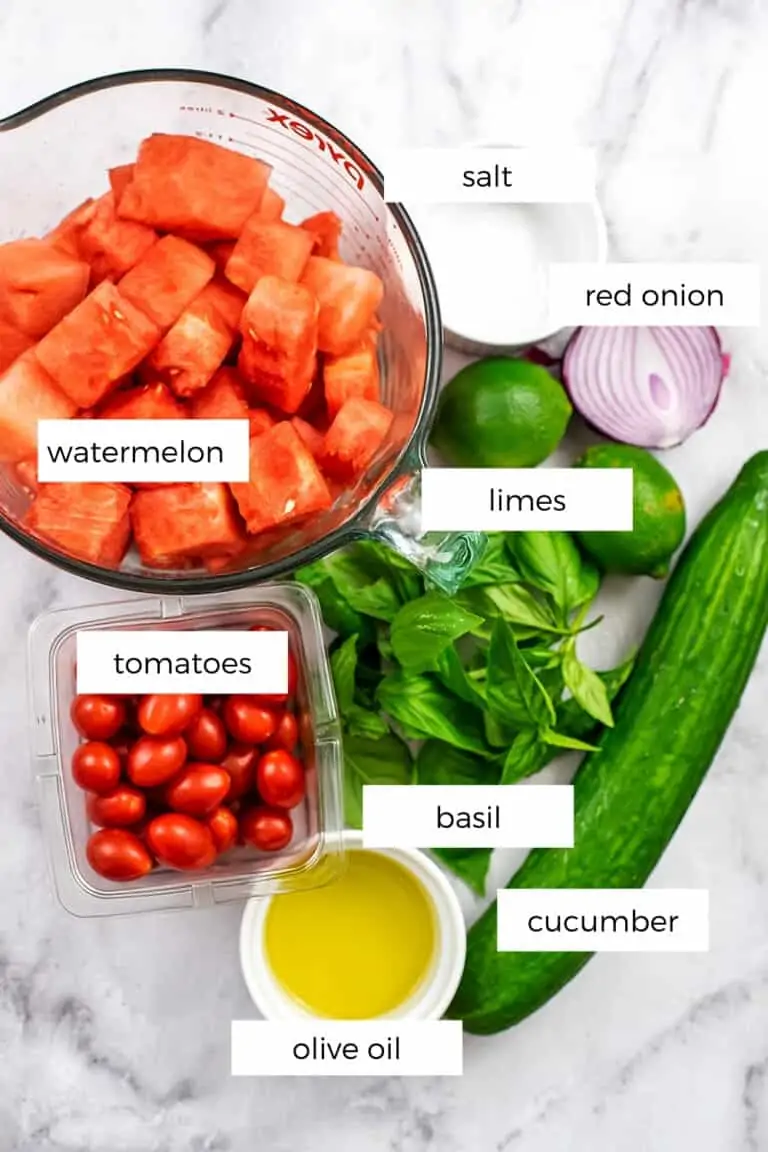 Watermelon cucumber gazpacho ingredients
Watermelon – instead of just tomatoes, this gazpacho uses mostly watermelon, to add a sweet element to the summer soup. Since you will be blending the soup, you want to make sure you are using a seedless watermelon for this soup.
English cucumber – I use English cucumber so that you don't have to worry about peeling the skin or scooping out the seeds. English cucumber has soft skin and very small seeds, so you can wash the outside and add the entire thing to the blender.
Tomatoes – I use cherry or grape tomatoes because I always have them on hand but you can use any size tomato you have on hand.
Red onion – red onion really helps to balance out the sweetness of the watermelon without overpowering the flavor of the soup. You could also use shallots or green onion for this as well.
Fresh basil – fresh basil really helps to make this a more savory soup. The basil has a very strong, distinct flavor and I think makes this watermelon gazpacho shine. You could also make this with fresh mint for an equally delicious dish!
Lime juice – lime juice provides acidity which helps to balance out the sweet from the watermelon and actually makes the dish lean to the more savory side.
Olive oil – this helps to give the soup balance and helps all to elevate all the flavors in the soup. You could also use avocado oil for this as well.
Salt – salt is really needed to help bring this to the savory side and also help all the flavors pop!
How to make watermelon gazpacho
Check out this step by step story on how to make vegan watermelon gazpacho.
Start by removing the thick rind of the watermelon, discard the rind. Cut the watermelon into chunks to make it easier to measure. You will want to add 6 cups of the watermelon to the blender and reserve 1 cup for topping.
Next wash the cucumber and reserve about ¼ of the cucumber for the topping. Chop the rest into large chunks and add it to the blender.
Reserve ¼ of the tomatoes for the topping. Add the rest of the tomatoes to the blender. For cherry or grape tomatoes, there is no need to slice them ahead of time. For whole large tomatoes, you may want to cut them in half or in quarters.
Cut ¼ of the red onion half and reserve it for the topping. Chop the rest into large chunks and add it to the blender with the rest of the ingredients.
Add the fresh basil leaves (not stems) lime juice, olive oil and salt to the blender.
Blend on high until smooth. Store in the fridge for 2-4 hours to allow the mixture to cool and all the flavors to come together.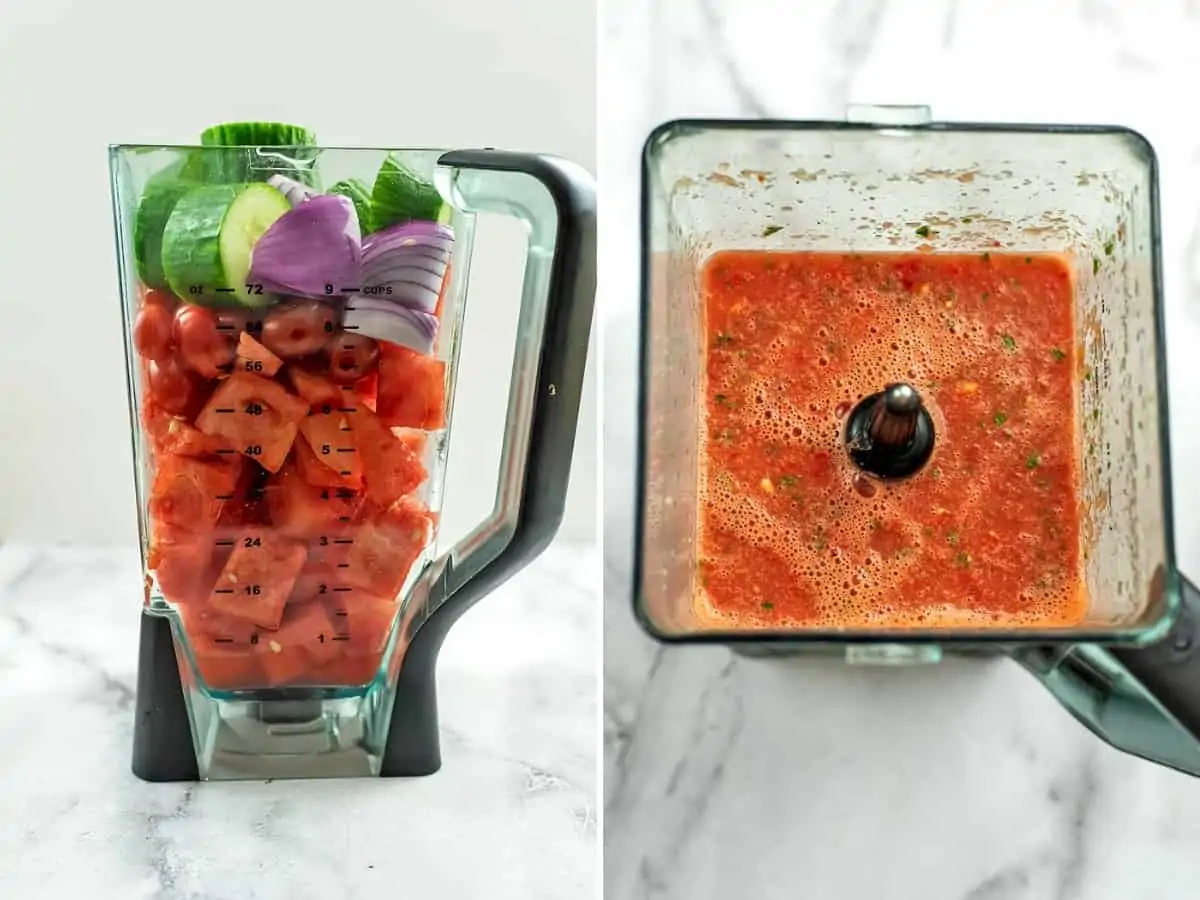 Chop up the leftover watermelon, cucumber, tomatoes and red onion into small, bite size pieces. Combine these and save them for topping. Store in the fridge until serving.
When ready to serve, divide the soup into serving dishes. Spoon the topping on top and serve cold.
Top tips
If you cut into a watermelon and discover it's not as ripe as you had hoped, this gazpacho is a great use for the watermelon, since it's blended with so many veggies. Never waste a watermelon again!
Be sure to use seedless watermelon! This gets blended and the seeds would ruin the gazpacho.
I recommend using English cucumbers for this soup. If you are using cucumbers from the garden, you may want to peel your cucumber and spoon out the seeds if you find your cucumber is very seedy.
This gazpacho reserves some of the veggies for a crunchy topping. This is the way I prefer my soup. However some people love a completely smooth soup. If that is you, just add all the ingredients to the blender at once, no need to reserve them for topping.
Be sure to give the gazpacho some time to rest in the fridge. This will ensure your soup is cold and all the flavors have time to come together. I recommend 2-4 hours but this can be made the night before if you are prepping for a party.
Don't worry about this soup being sweet, it is very savory. The lime juice, red onion, fresh basil and salt help to balance out the sweetness from the watermelon. I promise this soup is the perfect appetizer!
Great for meal prep too! This soup will last about 5 days in the fridge and is a great way to use up extra watermelon and summer veggies.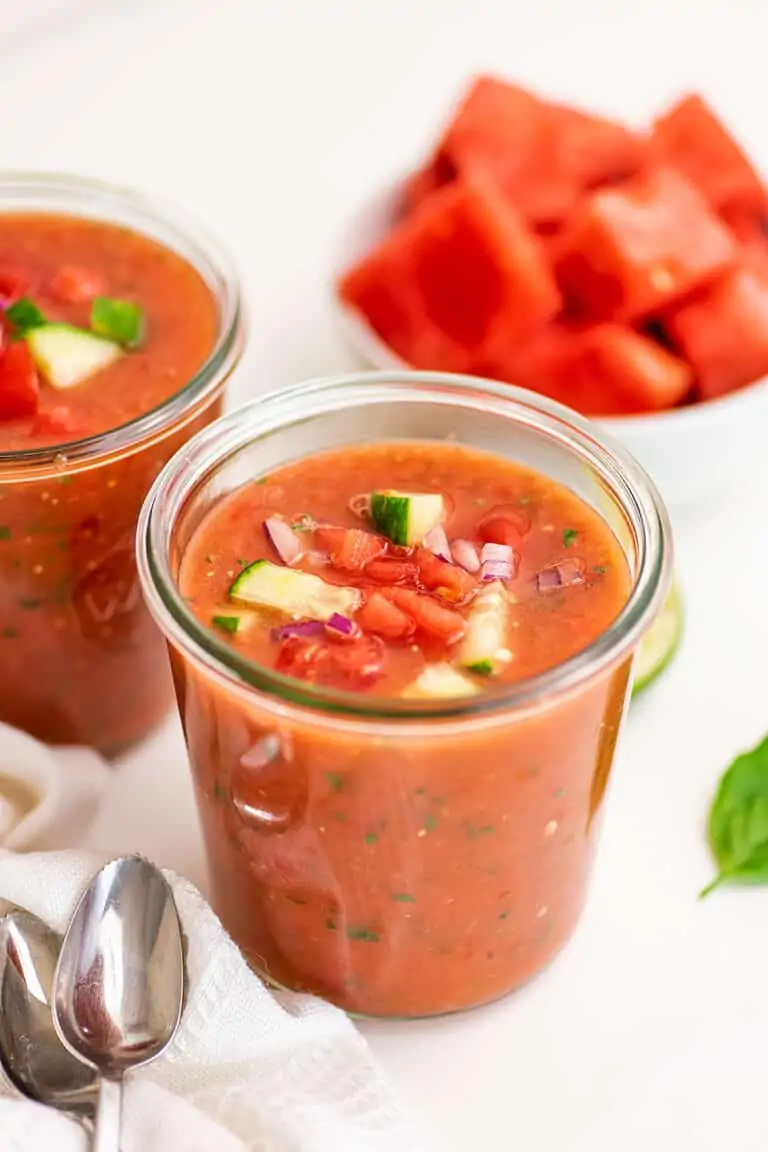 What else can be added to gazpacho
Fresh herbs: Cilantro, flat leaf parsley, mint, dill, green onion
Spice: Jalapeno, Fresno chilies, red pepper flakes, squeeze of sriracha, freshly grated ginger
Veggies: Zucchini, carrots, steamed golden beets, celery, microgreens for topping
Salty: Crumbled feta cheese or gorgonzola
Creamy: Avocado cubes or goat cheese
Protein: Lump crab, shrimp, hemp hearts, balsamic roasted tofu added at the end.
What do you serve with gazpacho
This is a very light dish on it's own. I would recommend serving it as an appetizer or with a light salad or a spread of veggies, crackers and your favorite dip! Here are some of my favorites: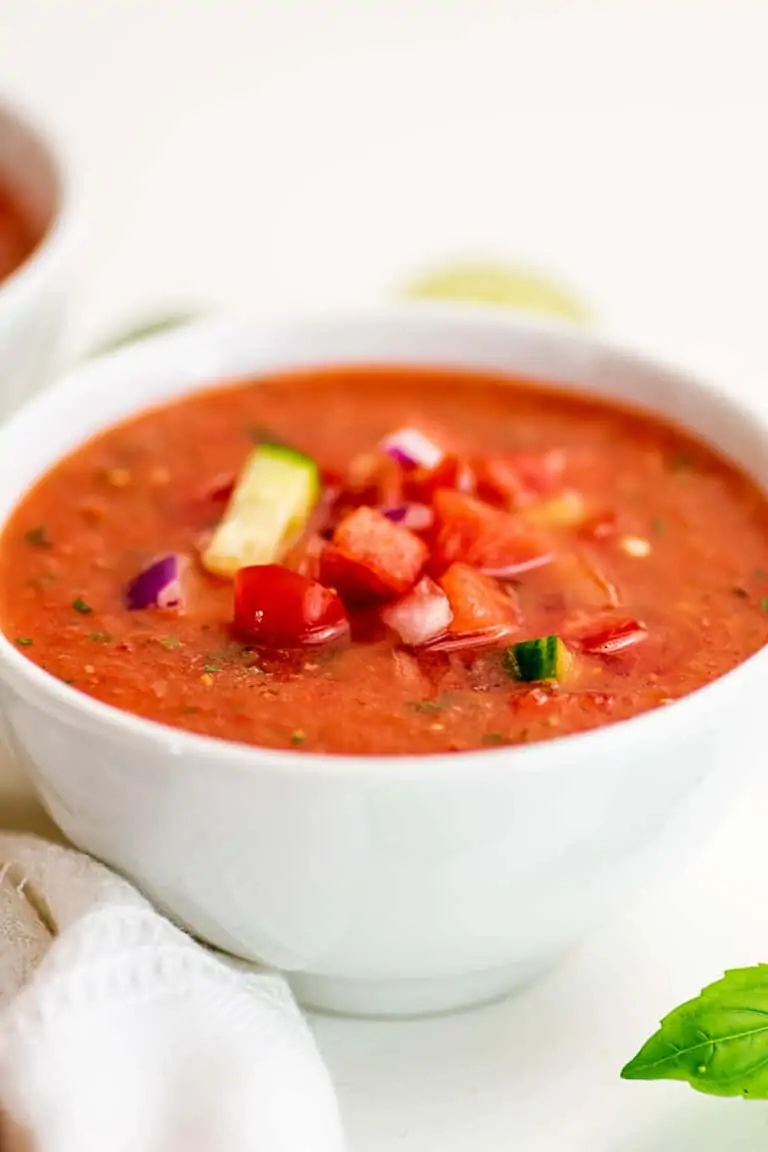 What is gazpacho
Gazpacho is a traditional dish from Spain. Typically it is made with tomatoes, cucumber, onion, peppers, olive oil and some sort of acid – typically shery vinegar. Some gazpacho recipes are thickened with bread but not all of them are.
Gazpacho is served cold and is a great way to use up summer produce.
In this recipe, instead of the abundance of tomatoes as the base, we use watermelon and the tomatoes become a supporting player instead of the main ingredient.
How to store watermelon gazpacho
If you are serving this gazpacho at a party and are making it ahead, store the soup and the toppings separate until serving so you can ensure that each soup is visually appealing when you are serving by adding the topping carefully to each dish.
If you just have leftover gazpacho you hope to enjoy the rest of the week, you can stir in the toppings before storing the soup in the fridge. The toppings help to add a fun crunch to the soup and bursts of sweetness when you get a small cube of watermelon. However they do not need to be stored separately from the soup.
I would not recommend freezing this soup unless you blend all the ingredients or decide to do fresh toppings with serving. The cucumber would get extremely watery when defrosting.
You may want to re-blend the soup after defrosting and adding a splash of red wine vinegar or fresh lime juice to add some new acidity and life into the soup after freezing.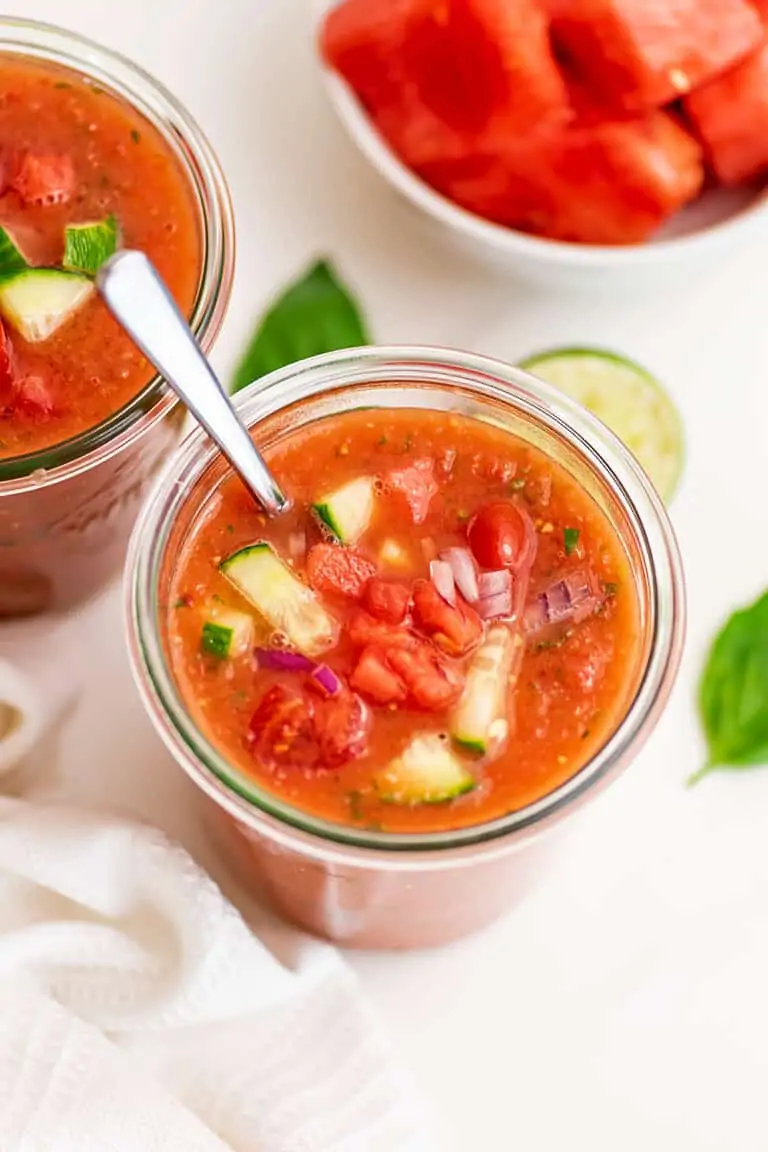 Substitutions
Watermelon: You could use all tomatoes instead. You would want a total of 8 cups of tomatoes if you are not using watermelon.
Cucumber: Cucumber adds a light savory note to the soup, much like cucumber added to water makes it more refreshing. You could add some zucchini, carrots (steamed) or celery in place of the cucumber but these will change the flavor slightly.
Tomatoes: Tomatoes help to balance out the watermelon flavor. You can omit the tomato and add more cucumber or zucchini, steamed carrots or some celery in place of the tomatoes, but these could change the flavor slightly.
Red onion: Red onion is really important to help make this soup savory. You could also use shallots or green onion in place of red onion.
Fresh basil: I love the combination of watermelon, tomatoes and basil in this dish. You could also use fresh mint in place of the basil for an equally delicious dish. Add flat leaf parsley, cilantro, dill or green onions in place of basil for a fun twist on this recipe.
Lime juice: I love the bright flavor from lime juice in this soup. You could also use red wine vinegar or sherry vinegar (traditional to gazpacho recipes).
Extra Virgin Olive oil: Olive oil helps to add balance to the dish. You could also use avocado oil if you don't have olive oil on hand.
If you love this recipe you should try
★ Did you make this recipe? Please give it a star rating below!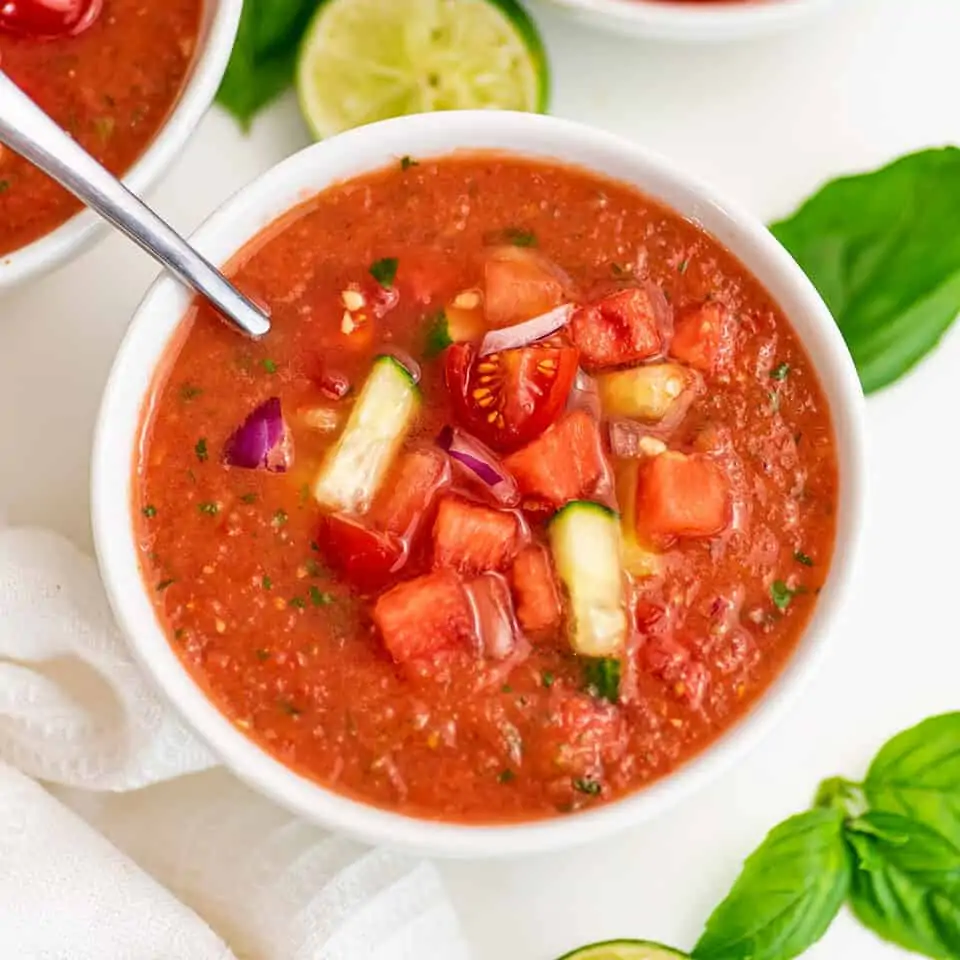 Easy Watermelon Gazpacho
$6.77 Recipe / $1.69 Serving
Easy watermelon gazpacho is the perfect summer dish. Serve chilled, no cooking required. This watermelon gazpacho would be great for brunch or dinner on a hot day. Vegan, Whole30, Gluten Free and Paleo friendly.
Print
Pin
Save
Saved!
Rate
Ingredients
7

cups

watermelon

-

$0.99

1

pint

cherry tomatoes

-

$2.49

1

English cucumber

-

$0.99

1/2

red onion

-

$0.17

2

limes, juiced -

$0.66

2

tbsp.

extra virgin olive oil -

$0.44

1/3

cup

basil leaves (about 25-30 leaves)

-

$1.00

1/2

tsp

salt -

$0.03
Instructions
Reserve 1/4 of the watermelon, cucumber, red onion and tomatoes for the topping.

Add the rest of the ingredients to the blender. Blend on high until smooth.

Chop the reserved vegetables into small cubes for topping.

Store the blended soup in the fridge for 2-4 hours to allow the flavors to come together. Store the cubed topping separate until serving.

When ready to serve, add the soup to the serving cups or bowls. Spoon the topping over the soup and serve cold.
See how I calculate food cost
.
Nutrition Information
Nutrition Facts
Amount per Serving
Where does nutrition info come from? Nutrition facts are provided as a courtesy, sourced from the USDA Food Database.
DID YOU LOVE THIS RECIPE?
Let others know by rating and leaving a comment below!