You are going to love this easy recipe for oven baked chicken breast!
This recipe creates tender, juicy, and flavorful chicken breast. Say goodbye to dry chicken for good!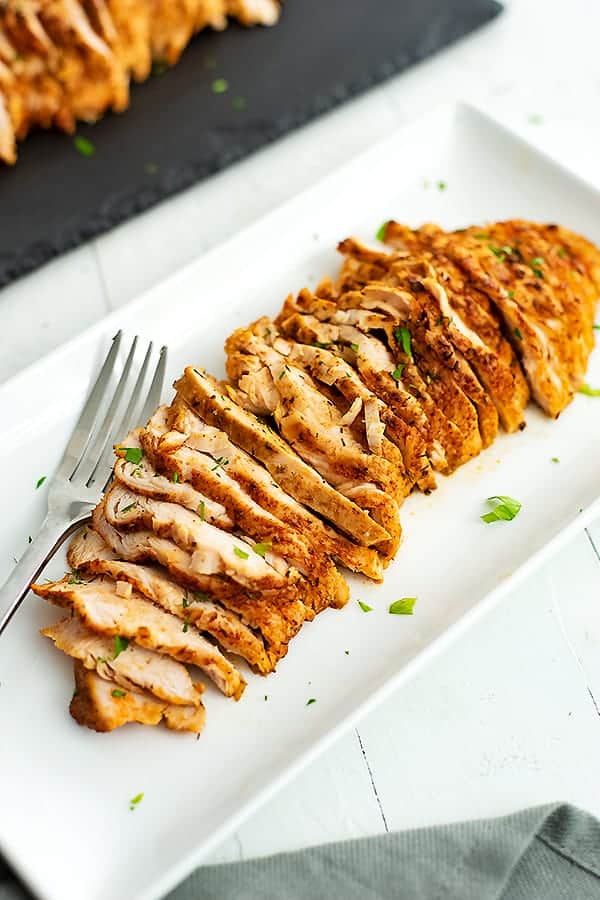 This post contains affiliate links. As an amazon associate I earn from qualifying purchases.
Click here to read my policy
and more about affiliate links.
Why this recipe works
In under 30 minutes, you get juicy, tender, moist chicken breasts from the oven.
This recipe is great for meal prep and you can easily make chicken for 2 or 6 using the same method.
Boneless skinless chicken breast is low in fat and high in protein, making them the perfect addition to almost any meal.
This recipe preparation is Whole30, low carb, and super simple to make.
Make ahead and serve over salads like this cruciferous crunch salad or serve it with a simple side dish like this instant pot cauliflower mash for a quick and easy dinner.
Tips to make the juiciest chicken breast in the oven
Chicken breast is not very forgiving. It dries out quickly and can become dry, rubbery and dull. To avoid this, you want to make sure you don't overcook the chicken.
The thickness of your chicken will determine the cooking time. For thicker breasts, you may need up to 30 minutes. Start checking around 25 minutes.
Be sure to coat the chicken in oil and spices before baking. This helps seal in the flavor and gives the chicken a crust to hold in the juices.
Don't immediately cut the chicken breast. All the juice you worked so hard to preserve will come spilling out.
Slice the chicken against the grain (against the fibers of the muscle) to get the most tender cut.
How to bake chicken breast
Step 1: Start by preheating the oven to 375F. Combine the olive oil and spices to form a paste.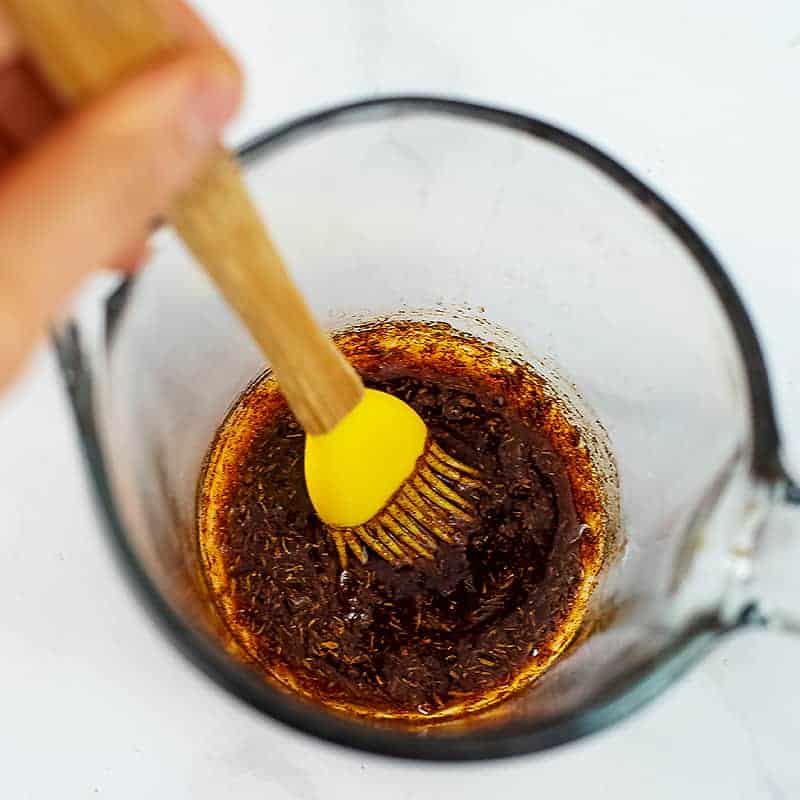 Step 2: Brush the paste over both sides of the boneless, skinless chicken breast. Alternatively, you can add the spices and olive oil to a bowl and coat the chicken but I find brushing the chicken to be much easier and requires less clean up.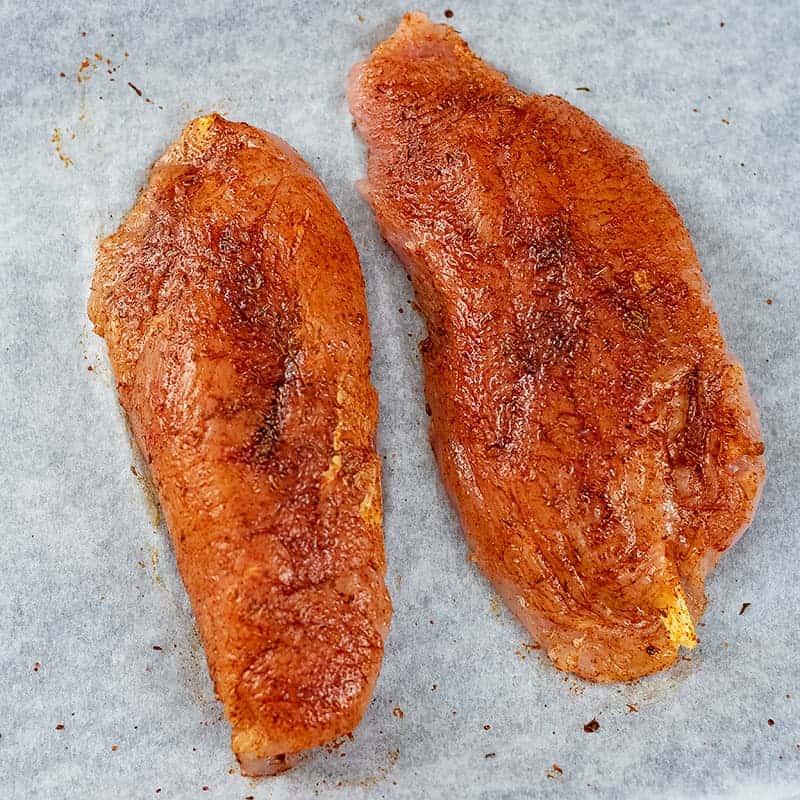 Step 3: Bake the chicken for 25-30 minutes at 375F depending on how big each breast is. Make sure the chicken reaches 165F.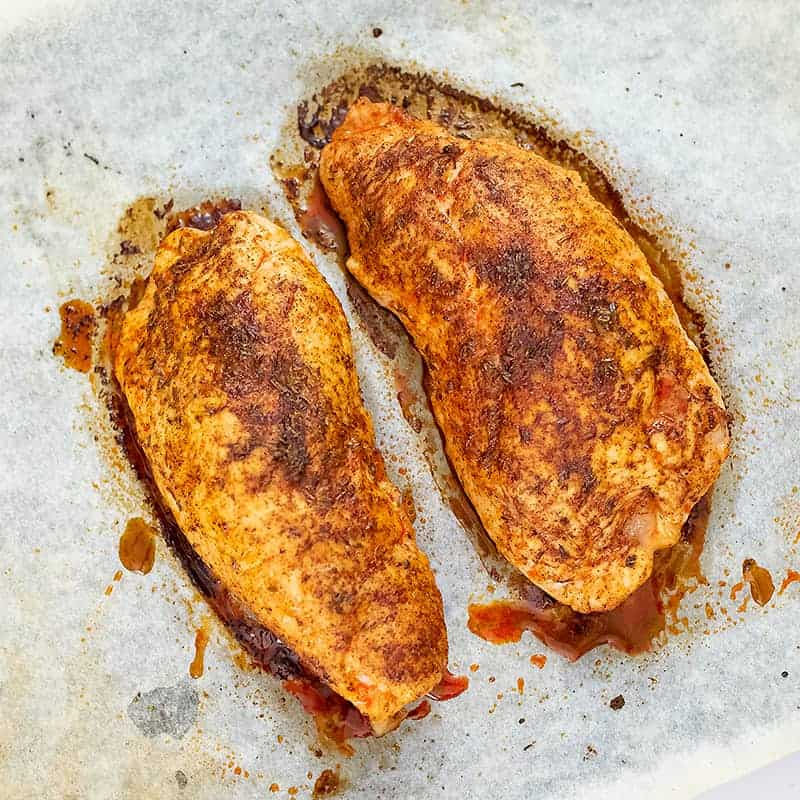 Step 4: Take the chicken out of the oven and allow it to rest for 5-10 minutes (you can tent it with foil to retain the heat). Thinly slice the chicken (against the grain if possible) to easily use it for meal prep during the week.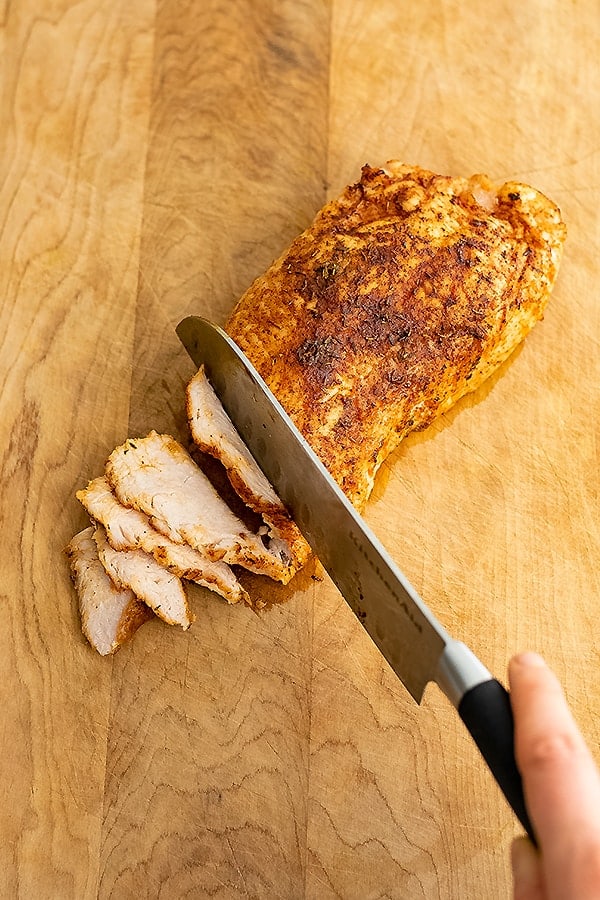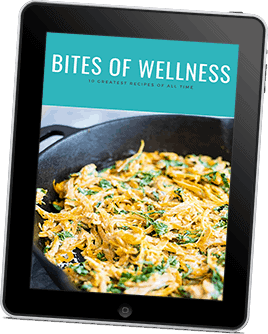 GET 10 OF MY ALL TIME GREATEST RECIPES
IN THIS FREE EBOOK
What seasonings are best for oven baked chicken breast
To make the most flavorful chicken breast that will go with almost any dish, here are the spices that work the best:
Paprika
Dried Thyme
Salt
Garlic olive oil or garlic avocado oil
NOTE: I use garlic olive oil as an additional way to add flavor to the chicken. If you don't have garlic olive oil, use olive oil + ½ tsp of garlic powder.
Other spices you can use
More easy ways to prepare chicken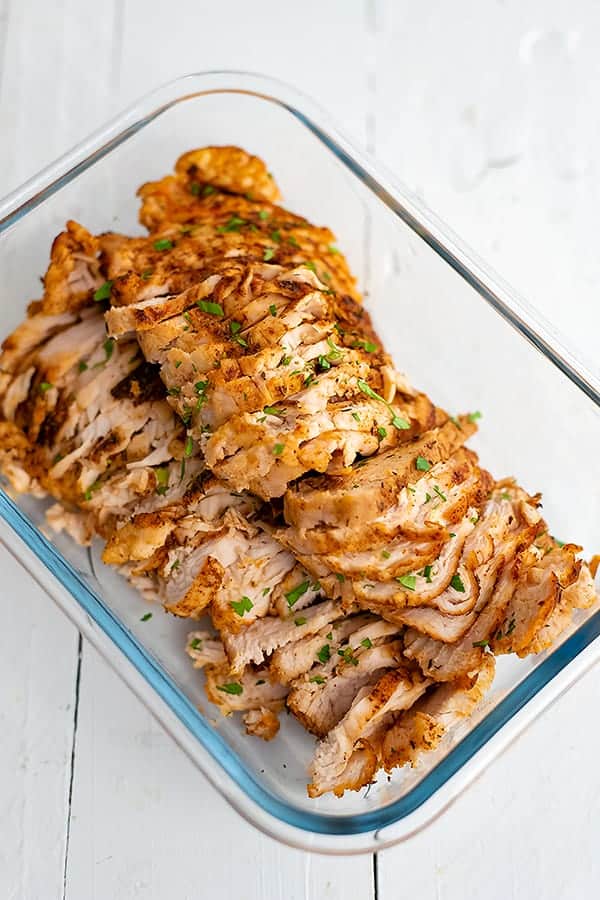 How to store/freeze baked chicken breast
Once cooled, store the chicken breast in an airtight container for 3 (max 4 days) in the refrigerator.
To store the chicken breast in the freezer, slice the chicken first and portion it into individual servings. Store in an freezer safe container for up to 3 months.
Juicy Oven Baked Chicken Breast Meal Prep Tips
Usually, I slice all the chicken after it's rested for 5-10 minutes so I can pack it away for the week and forget about it. However, if you have the time, the chicken is even juicier if you can allow the chicken to sit overnight before slicing.
Substitutions and FAQs
Can you use chicken tenders instead
Yes, however since chicken tenders are smaller, you will want to reduce the cooking time. Chicken tenders should be ready in 14-16 minutes at 375F.
How to speed up cooking time of boneless skinless chicken breast
Pound the chicken thinner (use a plastic bag and a meat mallet or a rolling pin)
Increase the oven temperature. You can increase the oven temperature to 450F and cook for 16-18 minutes, be sure the chicken reaches 165F).
Cut the chicken down into chicken tenders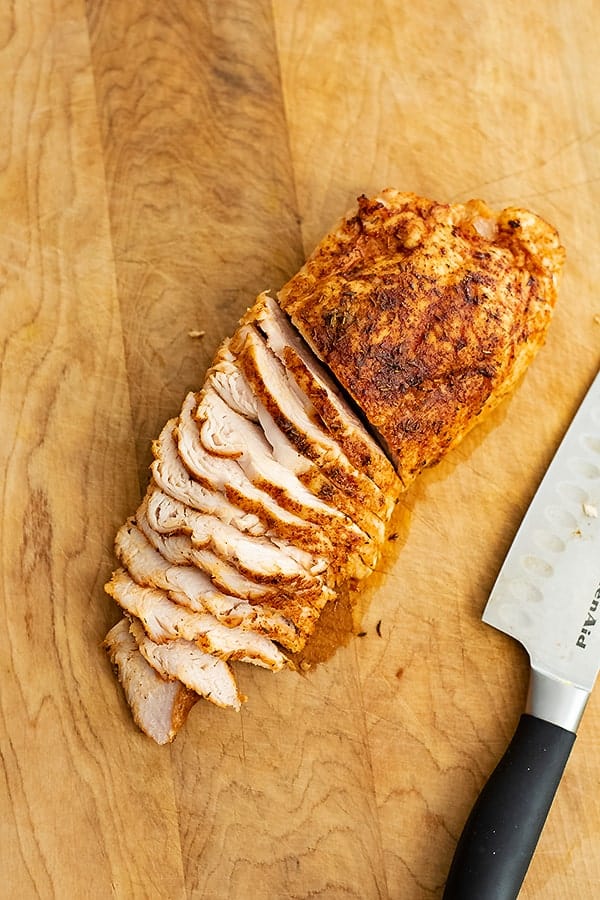 How do you know if your chicken breast is done
The best way to tell if chicken breast is fully cooked is to use an instant read thermometer. Stick the thermometer in the thickest part of the chicken (make sure you don't go all the way to the pan) and check the temperature. It should read 165F.
Chicken also has some carry overcooking, so if you take it out and the temperature is about 162F, it will likely reach 165F as it's resting on the counter waiting to be sliced.
Can you use frozen chicken breast
To get the best texture and juiciest chicken, it's best to fully defrost chicken breast before baking in the oven. If you need dinner quick, try using your instant pot with frozen chicken breast.
What side dishes would go well with this juicy oven baked chicken breast
★ Did you make this recipe? Please give it a star rating below!
Juicy Oven Baked Chicken Breast
$11.00 Recipe/$1.83 Serving
Juicy oven baked chicken breast in under 30 minutes! This healthy recipe is so easy to make and you won't believe how moist and tender the boneless skinless chicken breast becomes! Whole30, paleo, low carb and keto friendly!
Print
Pin
Save
Saved!
Rate
Instructions
Mix together the olive oil and spices.

Place the chicken breast on a parchment paper lined baking sheet.

Spread half the olive oil spice rub on the chicken breast. Flip and coat the other side

Bake the chicken in a 375F oven for 25-30 minutes (depending on thickness)

Remove from the oven an allow to rest for 5-10 minutes
Notes
To make this low FODMAP: Use 1 tbsp. of garlic olive oil to replace the 1 tbsp. olive oil + 1 tsp garlic powder)
Use a thermometer to ensure chicken breast reach 165F. Digital thermometers work best here.
TIP: Tent the chicken with foil while resting to retain the heat.
Storage: Store in the fridge for up to 3 days or freeze for up to 3 months in a well sealed freezer safe bag.
See how I calculate food cost
.
Nutrition Information
Nutrition Facts
Amount per Serving
Where does nutrition info come from? Nutrition facts are provided as a courtesy, sourced from the USDA Food Database.
DID YOU LOVE THIS RECIPE?
Let others know by rating and leaving a comment below!