Creamy, tangy Whole30 cauliflower potato salad is the perfect side dish for your summer cookout or weeknight dinner! Vegan, gluten free, paleo and super simple! Plus it's dairy and mayo free and will hold up in the heat of the summer BBQ.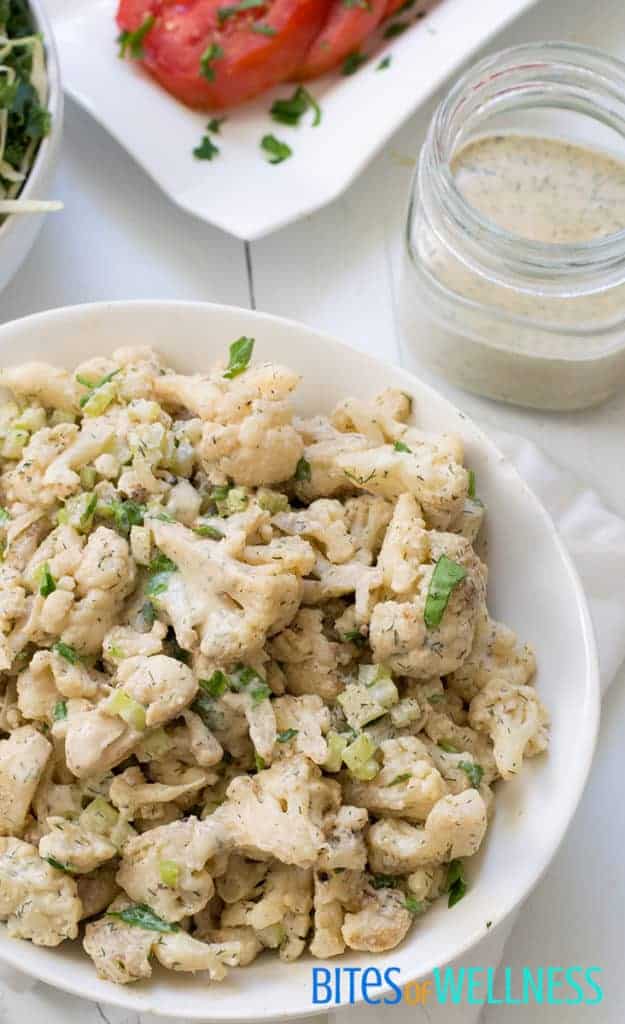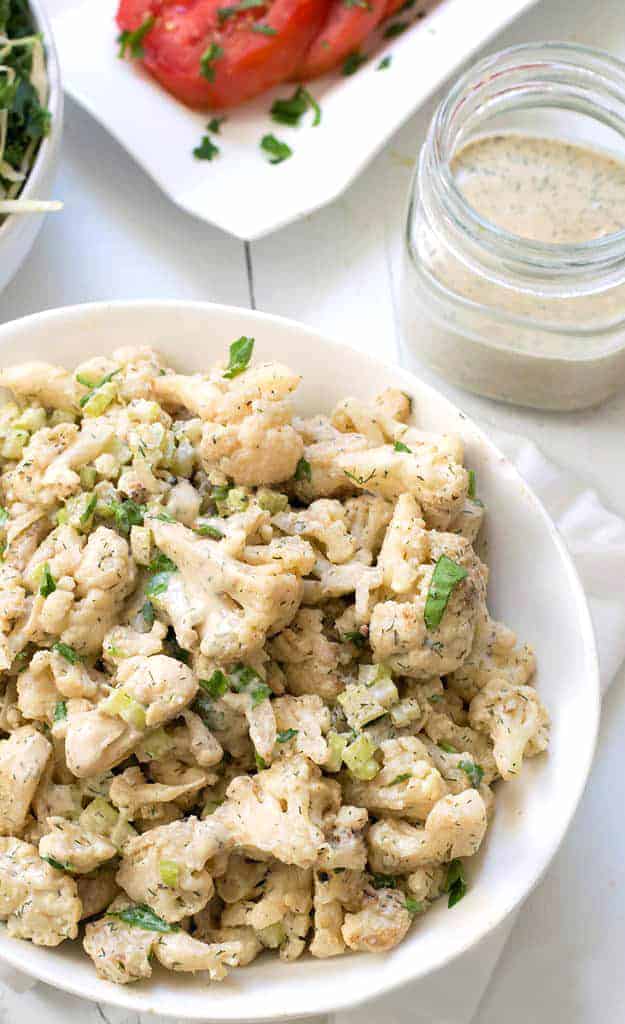 Eating Whole30 has been a fun adventure for me so far. I'm on day 15 and so far haven't had any trouble making my meals Whole30 compliant. Not relying on bottled dressings or sauces makes it a no-brainer for me. So when I was craving potato salad over 4th of July, I came up with this yummy recipe based on a suggestion from one of my clients. She said, have you ever tried potato salad but use cauliflower instead. And I love mashed cauliflower, roasted cauliflower and riced cauliflower, so I knew I had to try this!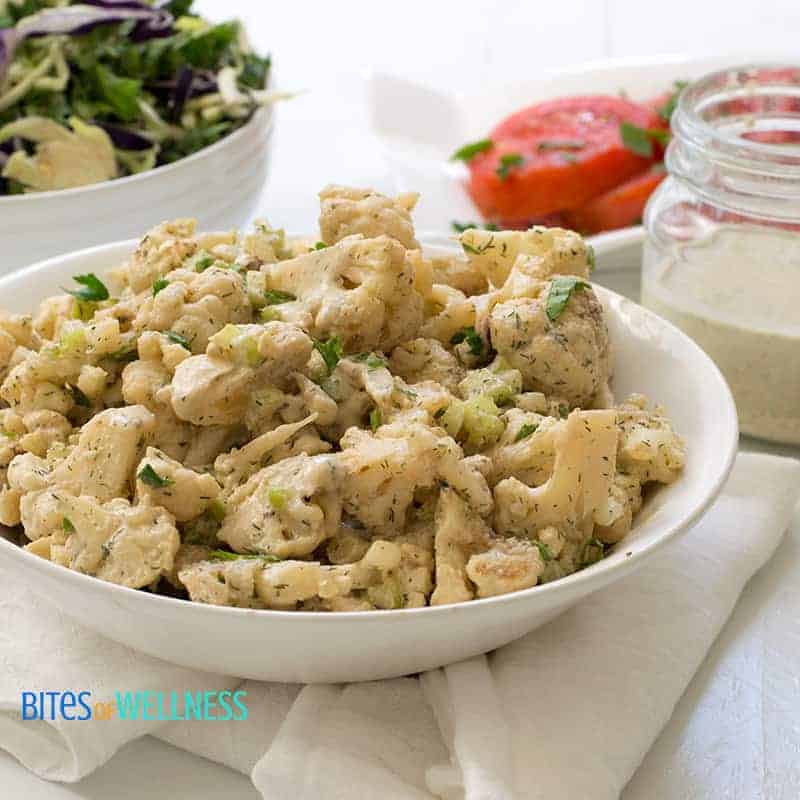 MY LATEST VIDEOS
Growing up my mom made my Grandpop's potato salad for all of our holiday meals and at least 2-3 times each summer. It is nothing short of addicting and I go a little out of control everytime she makes it. I love using the cauliflower in this potato salad because it helps full me up without that carb spike to follow. Plus it's made with super healthy fats and even some protein from the tahini dressing.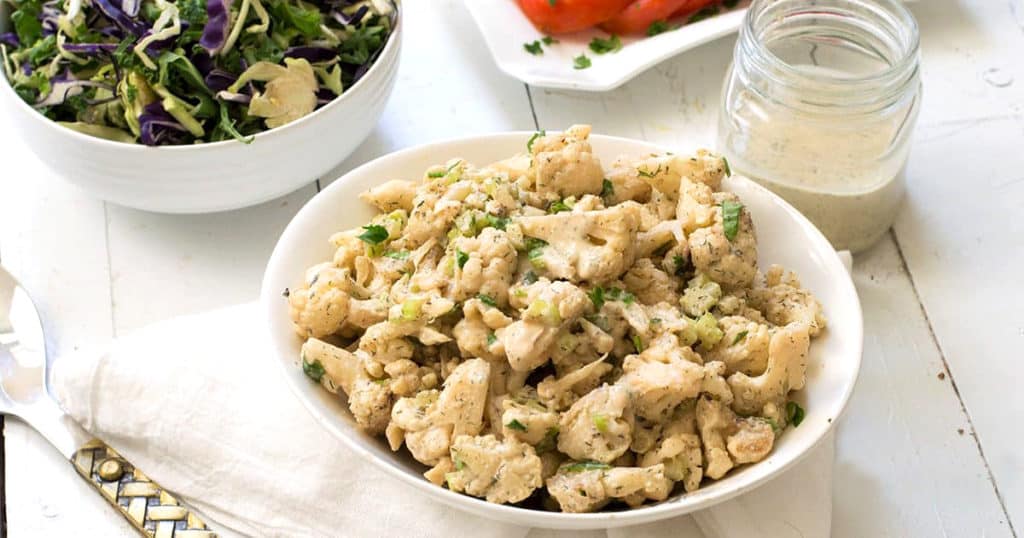 Even though the recipe I love is a mayo based recipe, I have to be honest, I don't love mayo. And since I can't have dairy on Whole30 (and greek yogurt really upsets my stomach recently – BOO!) making a creamy dressing with tahini was the perfect compromise. Do you keep tahini in your pantry? I'm so obsessed! When I first tried tahini I thought it was so nasty, but now I eat it on everything and it's my favorite base for dressing, even cauliflower potato salad.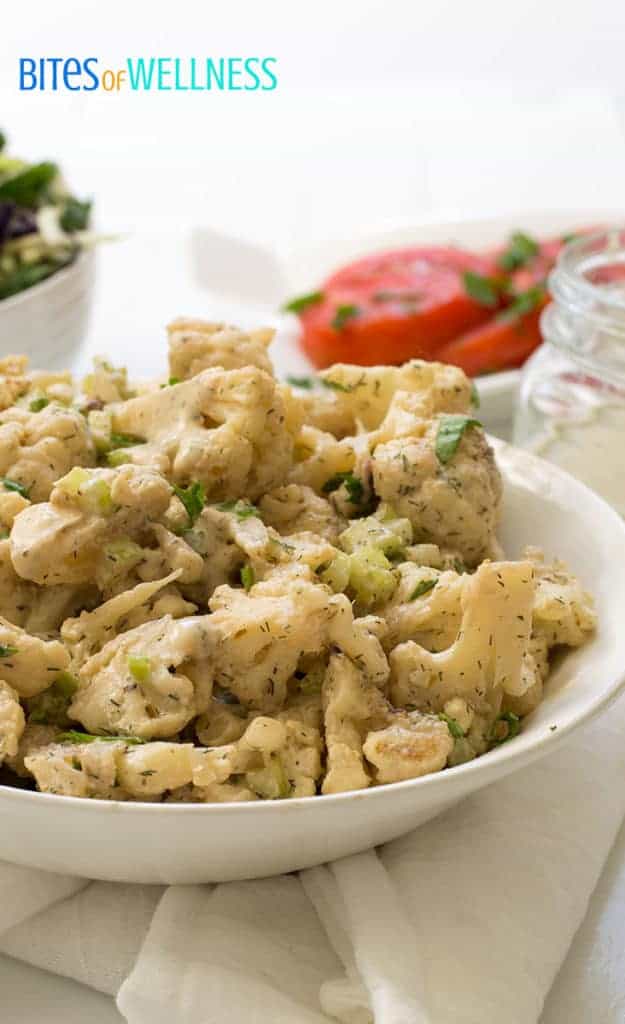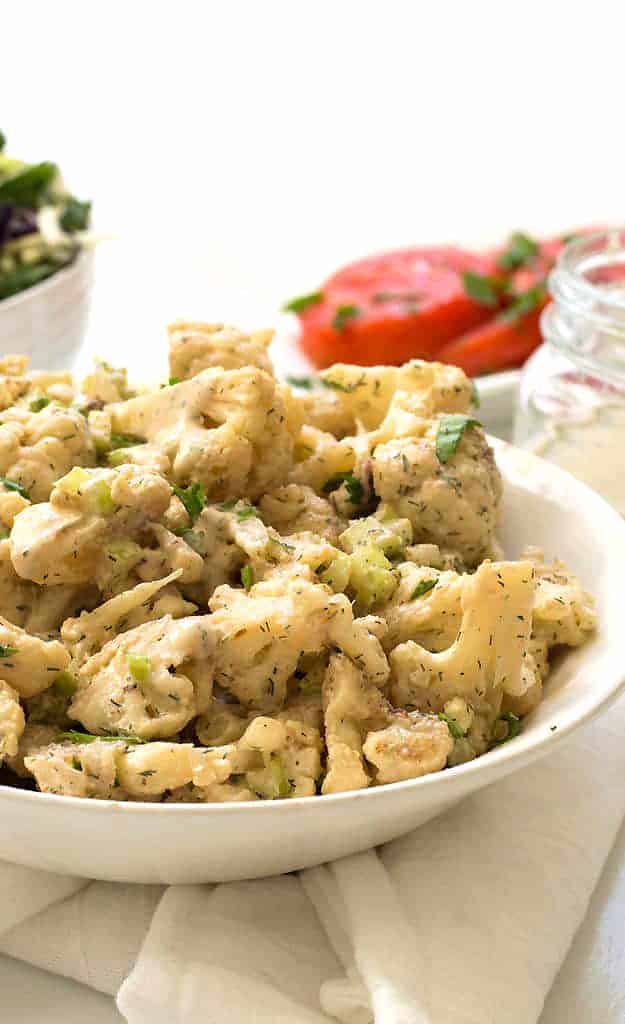 Keeping things a little traditional, this whole30 Cauliflower potato salad has chopped celery. I added Wildtree dill dip blend because I love potato salad with a touch of dill seasoning. You can also use celery seeds in this recipe as well! If you are grilling out, you can make this dish right on the grill with a cast iron skillet. Otherwise you can sautee it up on the stove before it gets too hot outside.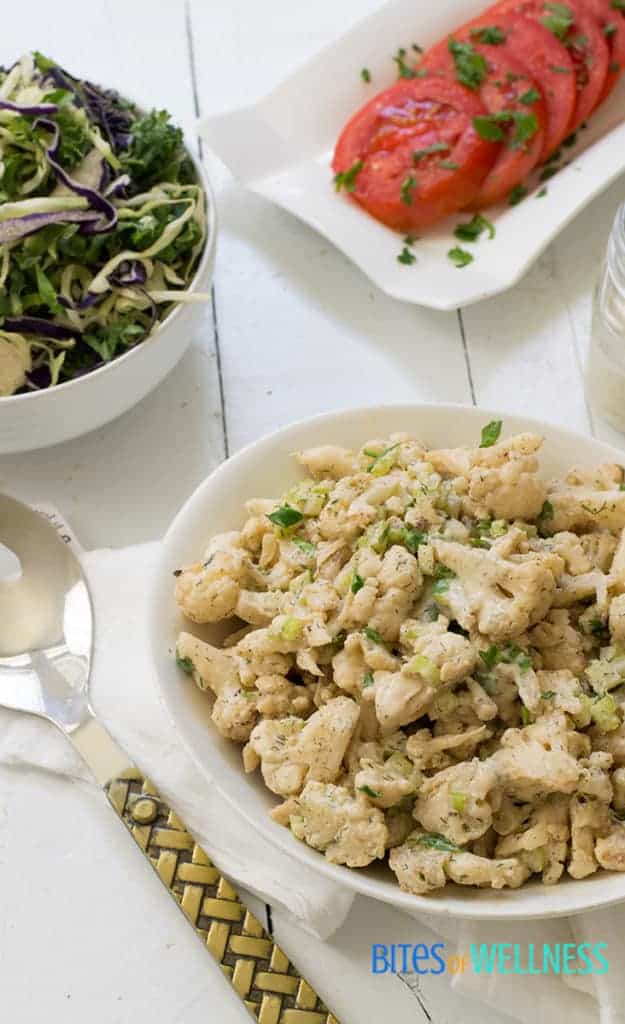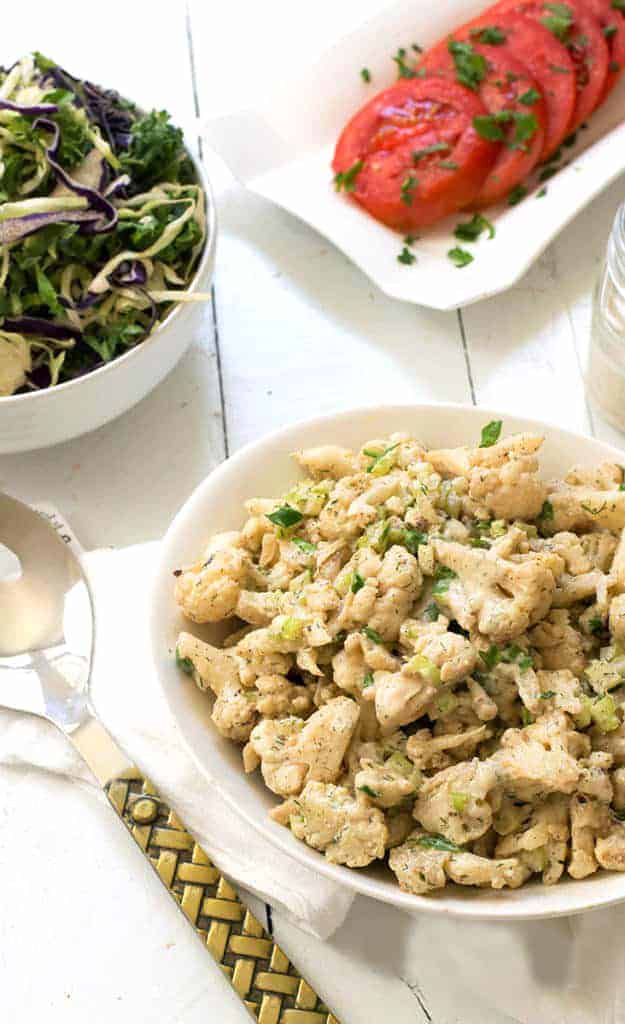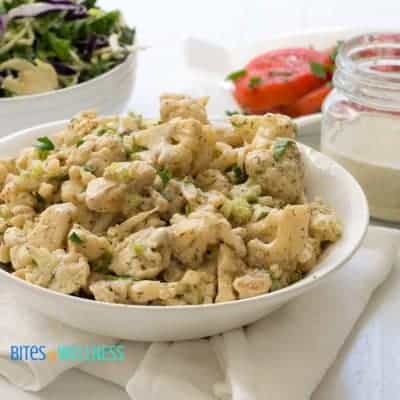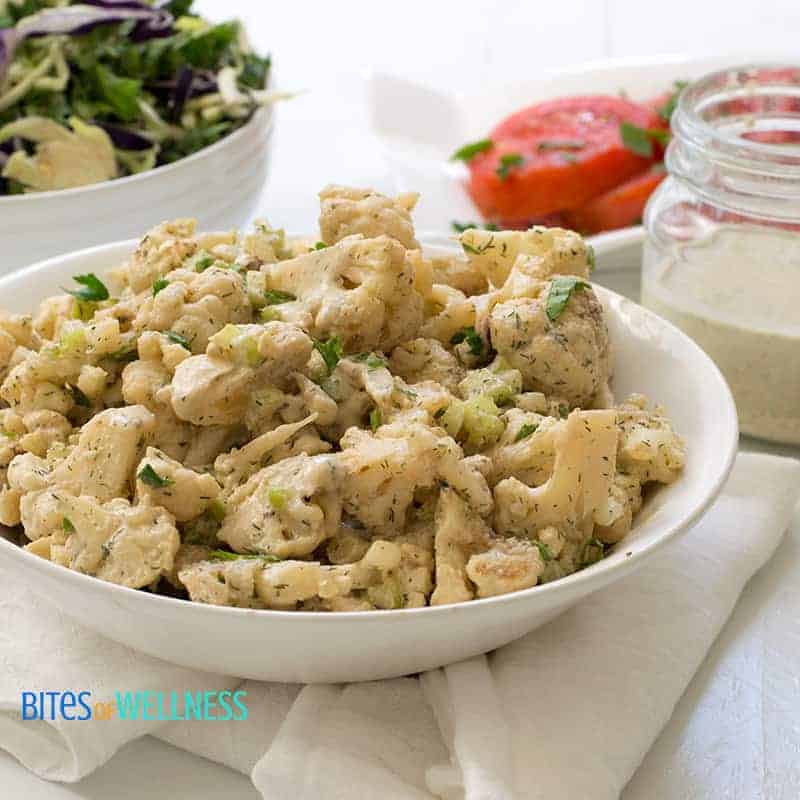 Whole30 Cauliflower Potato Salad
Creamy, tangy Whole30 cauliflower potato salad is the perfect side dish. Paleo, vegan and so simple! Made with an addiciting tahini dressing!
Print
Pin
Rate
Instructions
Heat a large skillet or cast iron pan over medium high heat.

Add the chopped cauliflower stalks and cook until lightly browned (about 6-7 minutes, stirring occasionally). Add 1/2 tsp. of salt.

Add 2-3 tbs. of water and cover. Cook additional 5 minutes until softened slghtly (don't allow cauliflower to get too soft)

Remove cauliflower from heat and make the dressing in a small bowl.

Combine the remaining 1/2 tsp. salt, tahini, apple cider vinegar, 2 tbs. water, garlic powder and dill dip blend. If too thick, add another tablespoon of water.

Chop celery and add to the cauliflower. Pour dressing over cauliflower and celery. Mix well to coat.

You can refridgerate until needed, can be made up to 2 days before
Nutrition
Calories:
111
kcal
|
Carbohydrates:
4
g
|
Protein:
2
g
|
Fat:
9
g
|
Saturated Fat:
3
g
|
Sodium:
506
mg
|
Potassium:
183
mg
|
Fiber:
1
g
|
Vitamin A:
1.8
%
|
Vitamin C:
17
%
|
Calcium:
3
%
|
Iron:
3.4
%