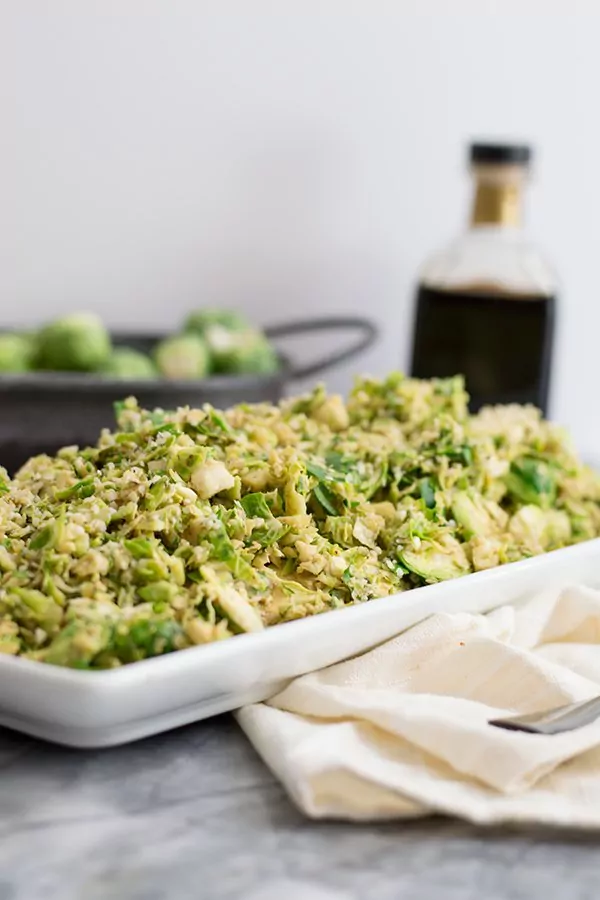 This shaved brussels sprouts salad with creamy balsamic dressing is going to become a new staple in your kitchen, I just know it! The salad comes together so quickly, it's incredibly filling and it's so easy to make! Vegan, paleo, Whole30 approved, this salad is perfect for breakfast, lunch or dinner and is even better the next day!
I've become a bit obsessed with brussels sprouts over the past few years. In fact, I start almost everyday with brussels sprouts and eggs. Up until about 2 months ago, anytime I would make brussels sprouts, Dave would turn his nose up and complain about how much he hated brussels sprouts. That's until I made the Whole30 Sriracha Brussels Sprouts and now I have to buy double the amount of brussels because he loves them too!
So of course I started thinking of other ways to incorporate brussels into our day! I really wanted a dish where I could make a huge batch and we could enjoy it over the next few days (like the cruciferous crunch salad with lemon tahini dressing). This shaved brussels sprouts salad with creamy balsamic dressing is quickly becoming my new favorite way to enjoy brussels sprouts!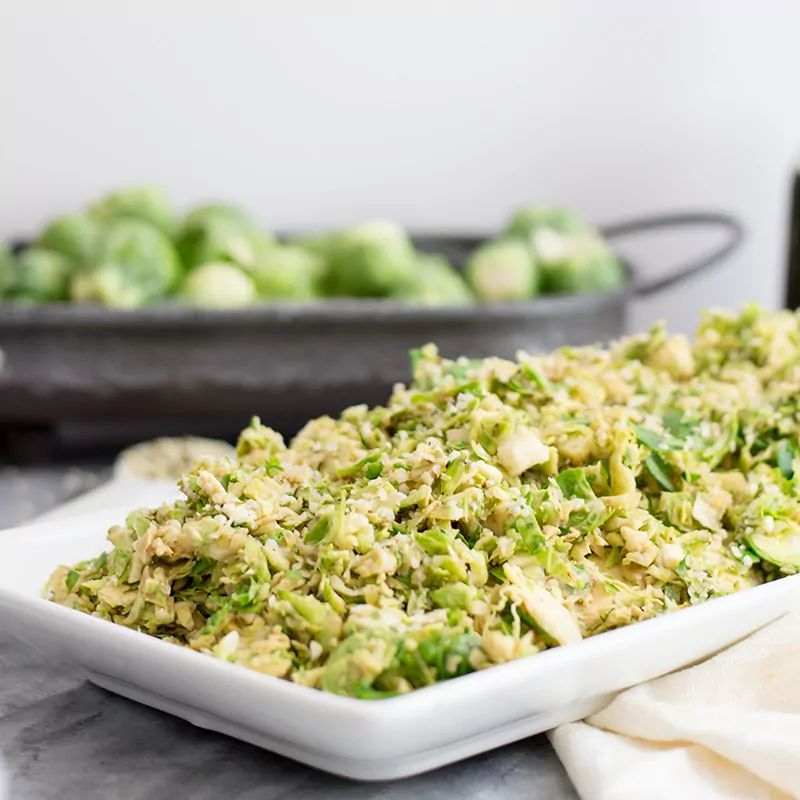 How to make shaved brussel sprouts?
Don't worry if you don't have shaved brussels sprouts in your grocery store!
Use the food processor! You can chop a pound of brussels sprouts in less than a minute! It's almost too easy! You don't even need the special attachment; I just use the regular blade and pile them in. Process on high and pour them into a bowl.
You may want to quickly dig through the bowl after you remove the blade, as there are usually 6-7 brussels that didn't fully get chopped up. You can just quickly chop these by hand.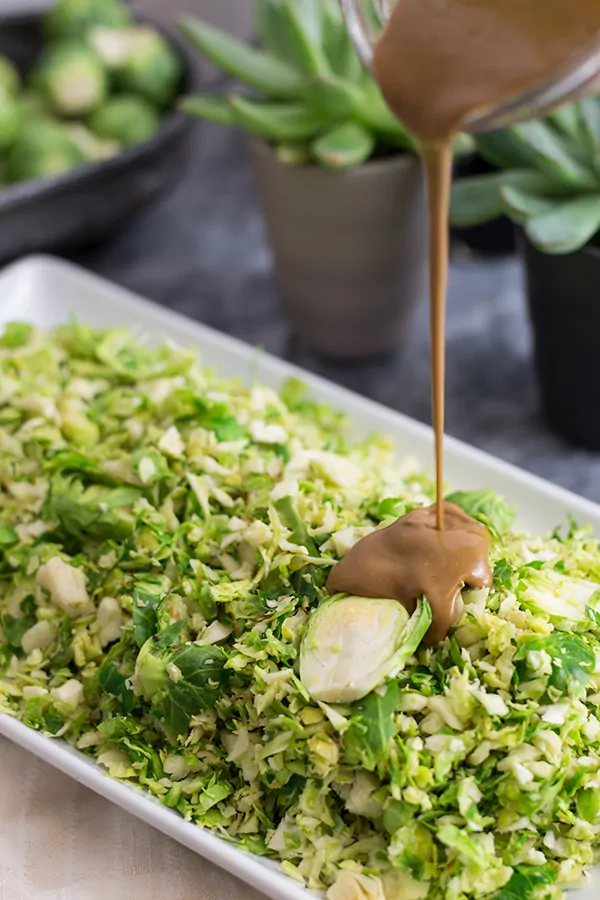 Why should you cook the brussel sprouts?
In this recipe, you will quickly saute half of the brussel sprouts on the stove to help break down the brussel sprouts since they can be a bit overhwelming raw. They are tough to chew and harder to digest when they are raw.
Once you have your shaved brussels sprouts, you will want to quickly sauté half of them on the stove. I use my cast iron skillet, sprayed with coconut oil. You just want to sauté these for about 3 minutes with a pinch of salt, stirring occasionally. When they are done, add the cooked brussels to the raw brussels back in the bowl and stir well. The heat from the cooked brussels will wilt the raw brussels and make them easier to digest.
While the brussels sprouts are cooling slightly, make the dressing. You won't need a blender or anything, it will quickly come together with just a fork! This creamy balsamic dressing is one of my favorite homemade dressing recipes and I think it will be yours too!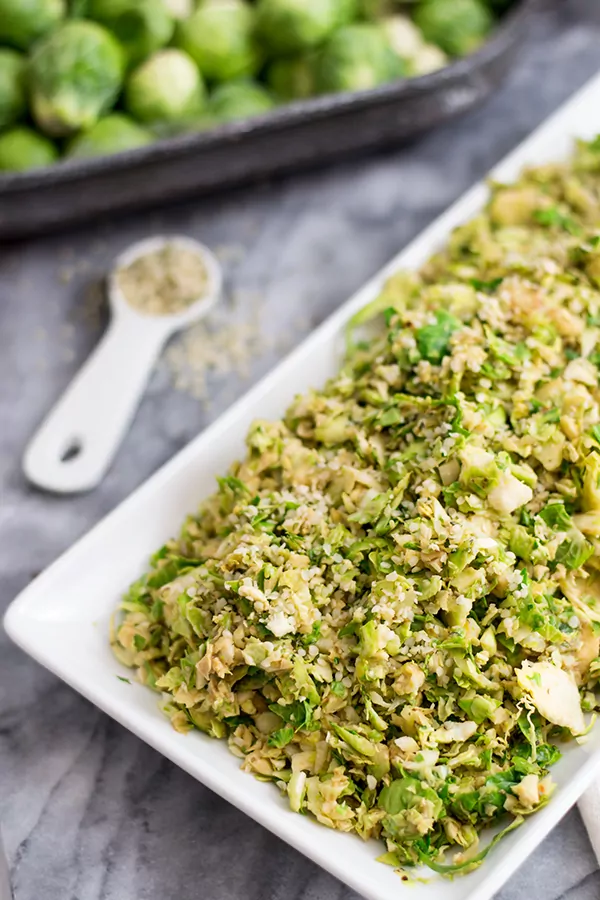 If you are looking for a quick and simple recipe that you can make during meal prep and enjoy for a few days at a time, you have to try this shaved brussels sprouts salad with creamy balsamic dressing!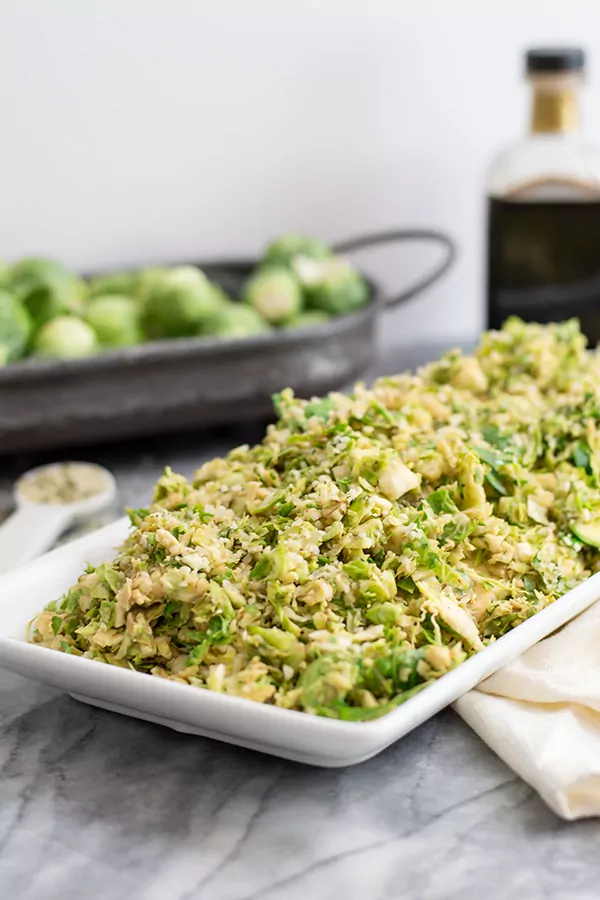 This post contains affiliate links. As an amazon associate I earn from qualifying purchases.
Click here to read my policy
and more about affiliate links.
If you loved this recipe, you should try
★ Did you make this recipe? Please give it a star rating below!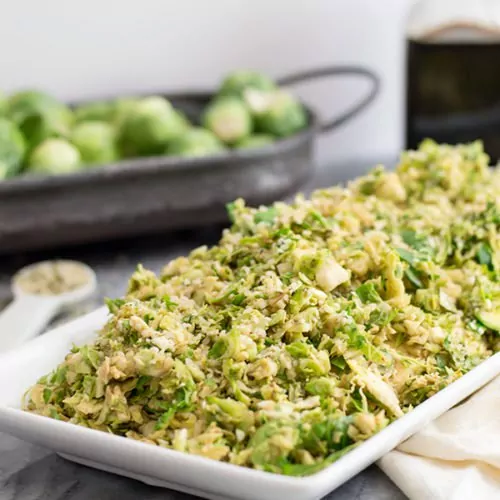 Shaved Brussels Sprouts Salad with Creamy Balsamic Dressing
This shaved brussels sprouts salad with creamy balsamic dressing is going be become your new favorite salad! Paleo, vegan, whole30 and so simple!
Print
Pin
Save
Saved!
Rate
Instructions
Inspect your brussels sprouts for brown spots. Cut them away if you notice them.

Add brussels to the food processor and process on high for 15-20 seconds until they are shredded down.

Pour brussels sprouts into a bowl. Use your hands, make sure there aren't any huge brussels sprouts left. If there are, remove them from the bowl and slice them with a knife

Preheat a skillet (I use cast iron) over medium heat. Spray with non-stick spray (I use coconut oil) and pour about 1/2 of the brussels sprouts in the skillet.

Add a pinch of salt (1/8 tsp) and stir the brussels around, cooking them down just a bit.

Once they are done cooking (about 3 minutes or so), add them to the raw brussels sprouts. Stir and let them sit while you make the dressing.

Make the Creamy Balsamic Dressing by combining all the ingredients in a bowl and stirring until fully incorporated.

Pour the dressing over the shaved brussels sprouts salad and stir well.

Top with optional hemp hearts or your favorite chopped nuts
See how I calculate food cost
.
Nutrition Information
Nutrition Facts
Amount per Serving
Where does nutrition info come from? Nutrition facts are provided as a courtesy, sourced from the USDA Food Database.
DID YOU LOVE THIS RECIPE?
Let others know by rating and leaving a comment below!