Hemp almond flax crackers are perfect for snacking and you are not going to believe how easy they are to make! You will never have to spend $5 for a bag of crackers again! These keto almond crackers are made with just a few ingredients and are naturally gluten free, grain free, egg free and vegan!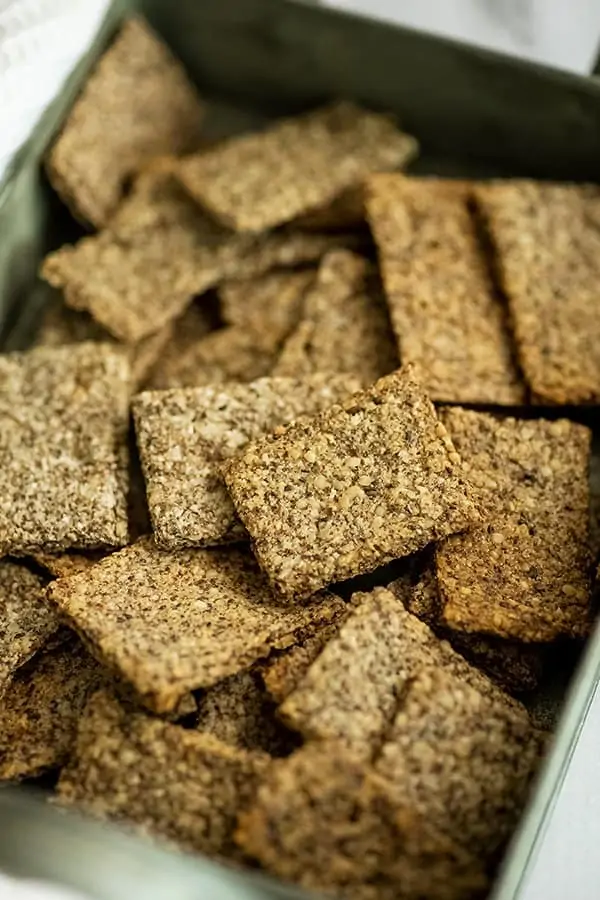 This post contains affiliate links. As an amazon associate I earn from qualifying purchases.
Click here to read my policy
and more about affiliate links.
Why I love this recipe
These hemp seed crackers have the perfect amount of flavor and crunch and hold up well to dipping in your favorite hummus or dip! You are not going to believe how crunchy they are!
Unlike some of the flax crackers you can buy in the stores, I give you tips on how to break down the ingredients so nothing gets stuck in your teeth! I love Flackers, but they always leave me feeling like I have to go floss!
You can change up the flavor of these hemp almond flax crackers to your liking! There are so many different flavor combinations you can create, so you will never need a new cracker recipe again!
Even if you are not grain free or gluten free, you are going to love the flavor from these crackers! What is even better is that they are so easy to make, you will never run out of crackers again!
Ingredients
Almond flour
Hemp hearts
Chia seeds (ground)
Ground flax
Water
Salt
Seasoning of choice (I love garlic powder and Italian seasoning)
How to make flax hemp crackers
Preheat the oven to 350F.
The trick to making flax crackers that don't stick in your teeth, take an extra 30 seconds and blend the ground flax and chia seeds in a high speed bullet blender or your coffee grinder. Blend them until they look like a fine powder.
Once the chia seeds and flax are ground, add them to a bowl with the rest of the ingredients and stir well.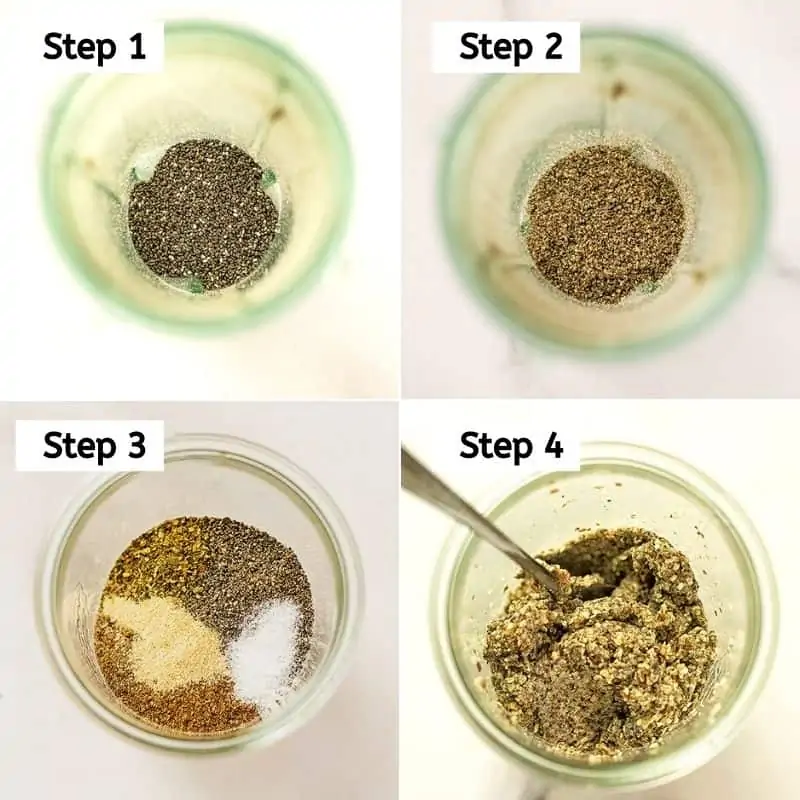 Place a sheet of parchment paper on a large cutting board. Spray it with non-stick spray. Add the dough to the parchment paper.
Take a piece of wax paper or parchment paper and spray it with non-stick spray and place the sprayed down side on top of the ball of dough, so you can roll it out on the cutting board.
Roll the dough with a rolling pin, wine bottle, can of beans, whatever you've got on hand (or you can use your hands and press the dough down into an even layer – which is how I used to do this in the past).
NOTE: Take the time to press out the center of the dough a little thinner than the edges, as the edges always cook faster.
Carefully peel off the wax paper or parchment paper from the top.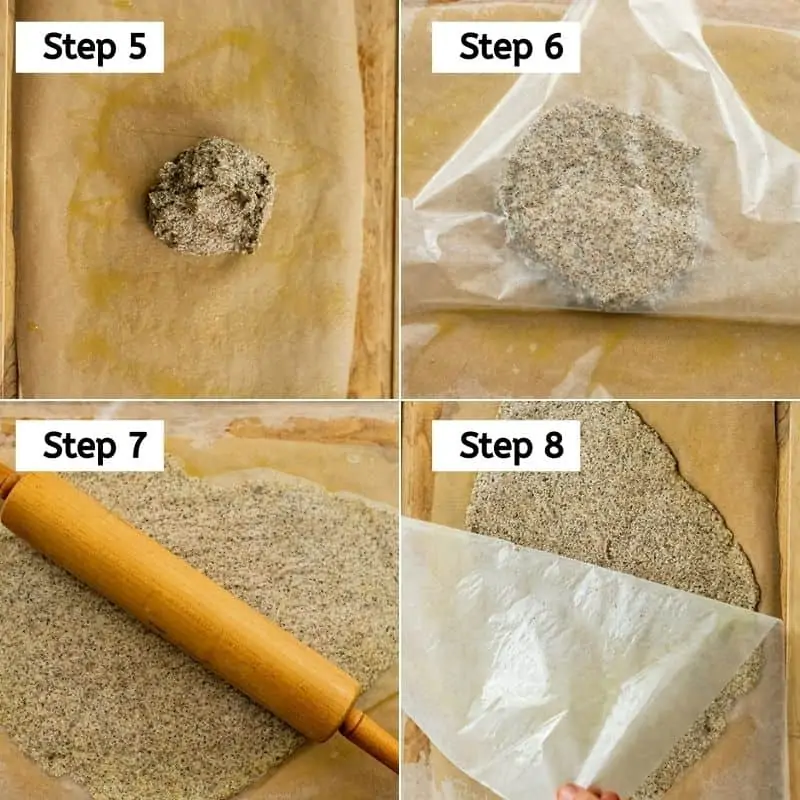 Take the time now to score the crackers with a knife or pizza cutter. If you want straight edges for all of your crackers, cut away the excess dough at this time too. You can collect it all and press it down (with your hands) into extra crackers on the side that you are ok with looking rustic.
Once all the dough is pressed out and scored, place crackers in the 350F oven for 20-25 minutes.
At this time you can turn off the oven. Cut the crackers into individual pieces and break them up so they can get some air around them. Take any of the very crispy crackers off the tray at this point.
If you notice that many of the center crackers are still a bit moist, place the tray back in the oven (with the heat turned off) for 30 minutes. This will allow them to slowly dry out without burning.
Once done cooking, allow the crackers to fully cool in the air until very dry (usually 24 hours) before putting them in an airtight container for up to 2 weeks on the counter or in the fridge.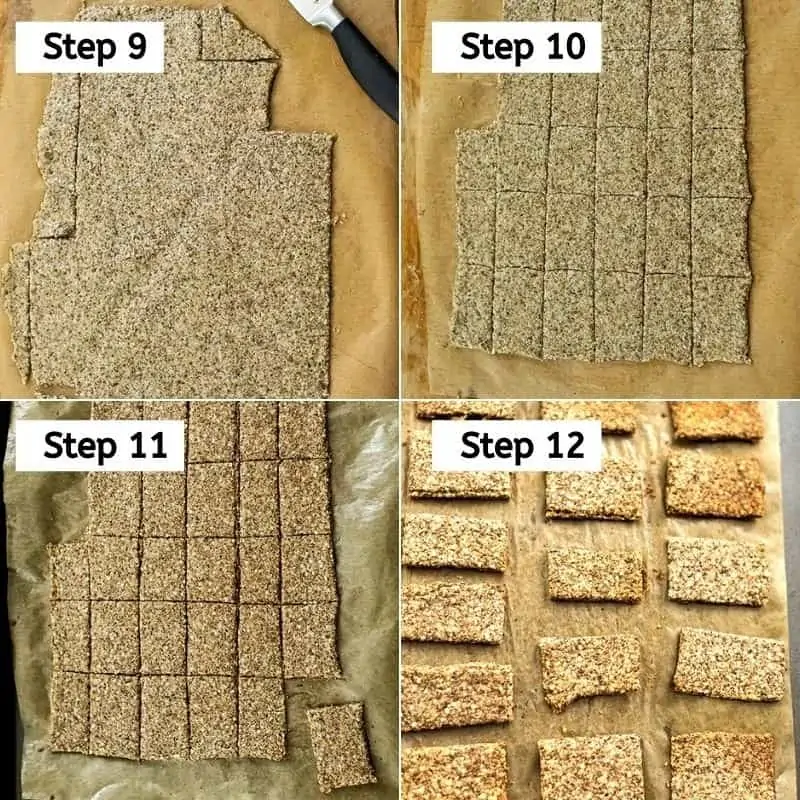 Tips on making the best keto crackers
These crackers are held together by ground flax and ground chia seeds. Ground flax has a tendency to go rancid very easily, so I always recommend that you store you flax seed and ground flax seed in the freezer in a well-sealed bag or container.
Note: Once flax seed (whole or ground) goes rancid, the oil in them starts to taste extremely bitter and almost fishy. It is not pleasant. If you have ever had flax crackers or bread and it was fishy tasting, this is why!
Ground flax on its own has a nutty flavor that can be really complimentary to almond flour. You may want to use golden flaxmeal or golden flax seeds to have the best tasting crackers, as golden flax tends to have a slightly nicer flavor.
Take the time to really roll out the dough into a very even layer, making the center of the dough a bit thinner than the edges. This is very important if you want the crackers to cook consistently. Even with this, you may still find some of the crackers are not all the way dry. To dry them out, turn off the oven and leave the crackers in the oven to dry out about 30 minutes.
If you find that after a few days the crackers are not as crispy, put them in a 350F oven, toaster oven for a few minutes to dry them out.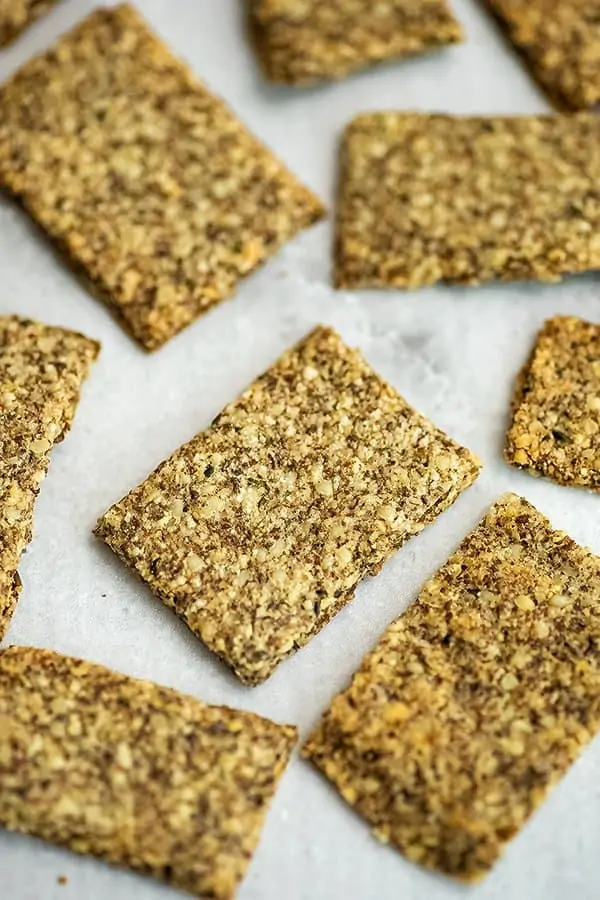 How to flavor your hemp crackers
These crackers are fantastic as is, however you can really be creative with adding flavor to the dough. Since there are no eggs in the dough, you can add your spices and taste it before baking, making sure you enjoy the flavor!
Here are some other spices you could add (instead of the garlic powder and Italian Seasoning or along side of them):
Everything but the Bagel Seasoning (1-2 tablespoons) Note, this has some salt in it so I reduce the salt to ¼ tsp in the dough
Dried basil, dried oregano, dried parsley, dried thyme (½- 1 tsp.)
Ground rosemary (fresh or dry) (1/2 tsp.)
Ground dried sage (1/8-1/4 tsp.)
Chili powder, cumin, smoked paprika (1/2-1 tsp.)
Nutritional yeast (vegan) Parmesan cheese or other hard cheese (2-4 tbsp.)
Turmeric, za tar seasoning, curry powder (1/2-2 tsp.)
Finely chopped sundried tomatoes (2 tbsp.)
Herbs de Provence (1 tsp.)
You can even make these sweet and omit all the seasonings and instead use coconut sugar and cinnamon (with a pinch of salt)
Top with flaky salt
What to serve with these crackers
These crackers are fantastic right out of the oven with nothing else. I've eaten half a batch standing by the stove! With that being said, they are also great for dipping or topping, the possibilities are endless! Here are some of my favorite things to serve with these hemp crackers:
Also because you can control how big or small the crackers are, you can make them longer and wider like a Wasa cracker for topping with things like cream cheese and smoked salmon or mustard and sliced turkey or chicken.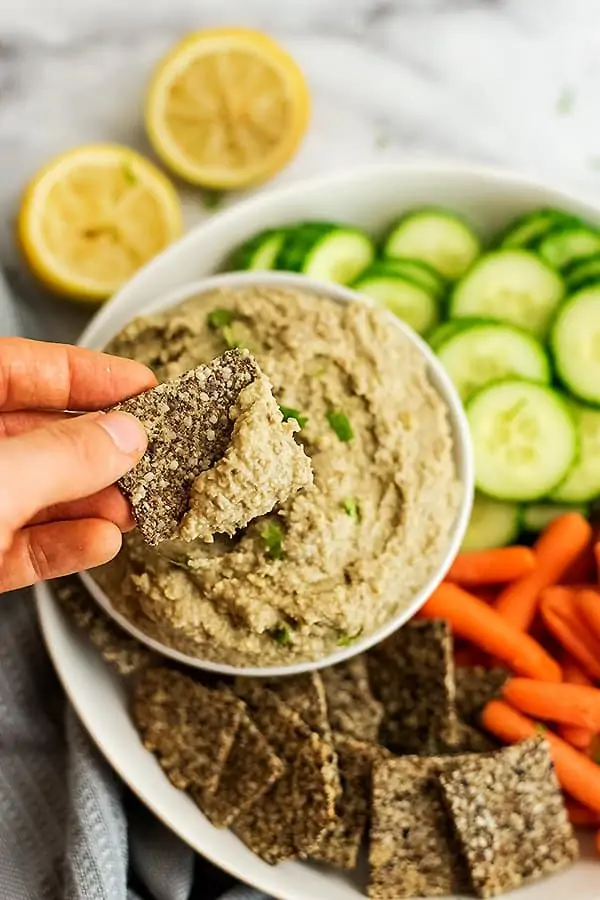 Other cracker recipes you will love
Common Questions
Can you make a bigger batch at once?
Yes, you can easily double, triple or even 4X the recipe and cook them all at once, however you will have to make some adjustments.
To double the recipe, you can either get a larger sheet pan (I love this extra large one and use it every day), or you will need 2 sheet pans to divide the mixture between. You do not want to try to get it all on one cookie sheet, they will be too thick and take forever to cook through.
If you want to triple the recipe, you will need 2 sheet pans (either the same size or 1 extra large and 1 regular) to evenly divide the mixture between.
If you want to 4X the recipe at once, you will need 2 extra large sheet pans.
How to store almond flax crackers
Before storing the crackers, make sure you give them time to dry out in the fresh air. If you seal them up too early, moisture from baking will get trapped and soften the crackers.
Once fully dry, store them in an airtight container on the counter for 1-2 weeks or in the fridge.
You can also freeze these crackers for up to 3 months. They defrost very quickly, although you will want to put them in the oven, a toaster oven or the air fryer and crisp them back up a bit after defrosting.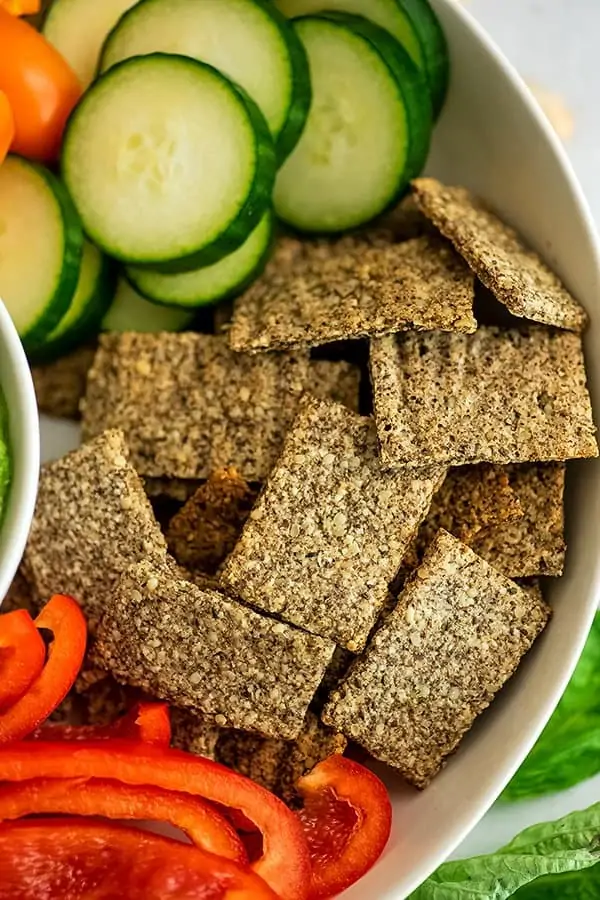 Substitutions
Ground chia seeds: You can use more ground flax in place of the ground chia seeds.
Ground flax: You can use ground chia seeds in place of the ground flax, although the flavor will change.
Almond flour: If you cannot tolerate almonds, you can make sunflower seed flour by putting roasted sunflower seeds in the blender and grinding them up into a fine powder.
Hemp hearts: these add protein and some texture to the crackers. You can use more almond flour if you don't have hemp hearts.
If you love this recipe, you should try
★ Did you make this recipe? Please give it a star rating below!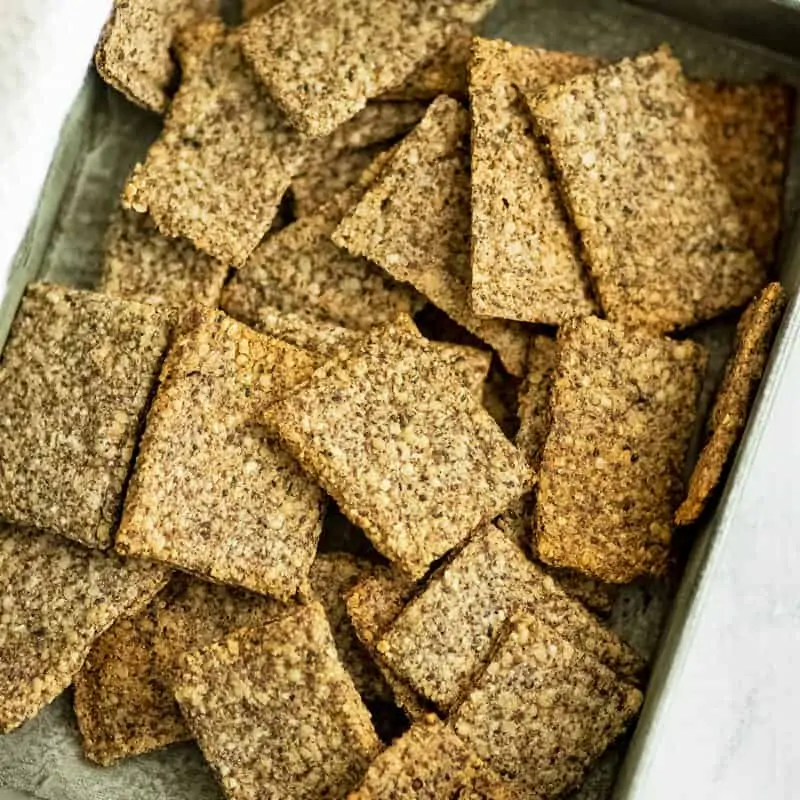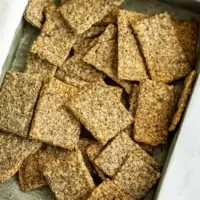 Hemp Almond Flax Crackers
Hemp Almond Flax Crackers – Grain free, gluten free, vegan, low carb – these healthy crackers are low in carbs and so easy to make! Crunchy and perfect for dipping, you will never have to buy store bought crackers again!
Print
Pin
Save
Saved!
Rate
Instructions
Grind up chia seeds in a high speed blender (optional) to ensure they won't get stuck in your teeth.

In a mixing bowl, combine almond meal, hemp seeds, ground flax, ground chia seeds. Add water and stir to combine. Add spices and salt. Stir until all spices are thoroughly mixed in.

Place a piece of parchment paper on a cutting board. Spray the parchment with non-stick spray. Scrape the dough to a ball and add it to the center of the parchment paper.

Spray a piece of wax paper or parchment paper with non-stick spray. Place on top of the ball of dough and push down. Roll out the dough with a rolling pin or press it flat with your hands .

Once the dough is flattened out, you can cut away excess dough to straighten up the edges (optional). Cut the dough into crackers.

Bake in 350F oven for 20 minutes.

Take the crackers out of the oven and cut them again with a sharp knife or a pizza cutter to divide up the dough. Pull the crackers apart so there is room between each cracker.

Put the crackers back into the oven and cook for another 5-15 minutes, depending on how thick the crackers are. You may want to watch the crackers on the outer edges, as they likely will cook quicker than the crackers in the center.

If you find that some of the crackers are crispy on the outside but still a bit soft on the inside, you can turn off the oven and leave the crackers in the oven to crisp up without the heat going.
Notes
Chia seeds and flax seeds can get stuck in your teeth, making the crackers less enjoyable. To make sure they are easy to eat, I recommend grinding up the chia seeds (and flax seeds if necessary) into a fine powder before mixing up all the ingredients.
Make sure you store your ground flax in the freezer to ensure it doesn't go rancid. If flax goes rancid, it will taste fishy and could ruin the crackers.
If you want a really nutty flavored cracker, use golden flax meal, as this has the best flavor.
Storage:
Let the crackers sit out 24 hours before storing in an airtight container so that the crackers can fully dry out before storing. Store on the counter 1 week or in the fridge up to 2 weeks.
Freeze the crackers in an air tight container for up to 3 months.
See how I calculate food cost
.
Nutrition Information
Nutrition Facts
Amount per Serving
Where does nutrition info come from? Nutrition facts are provided as a courtesy, sourced from the USDA Food Database.
DID YOU LOVE THIS RECIPE?
Let others know by rating and leaving a comment below!
Update Notes: This recipe was originally posted in December of 2014, but was published again in December 2020 to include step by step directions, recipe notes and new photos.