This mint avocado protein shake tastes just like a shamrock shake and can be enjoyed all year long! Made with just a few easy to find ingredients and ready in 5 minutes, this mint protein shake will quickly become your favorite on the go breakfast!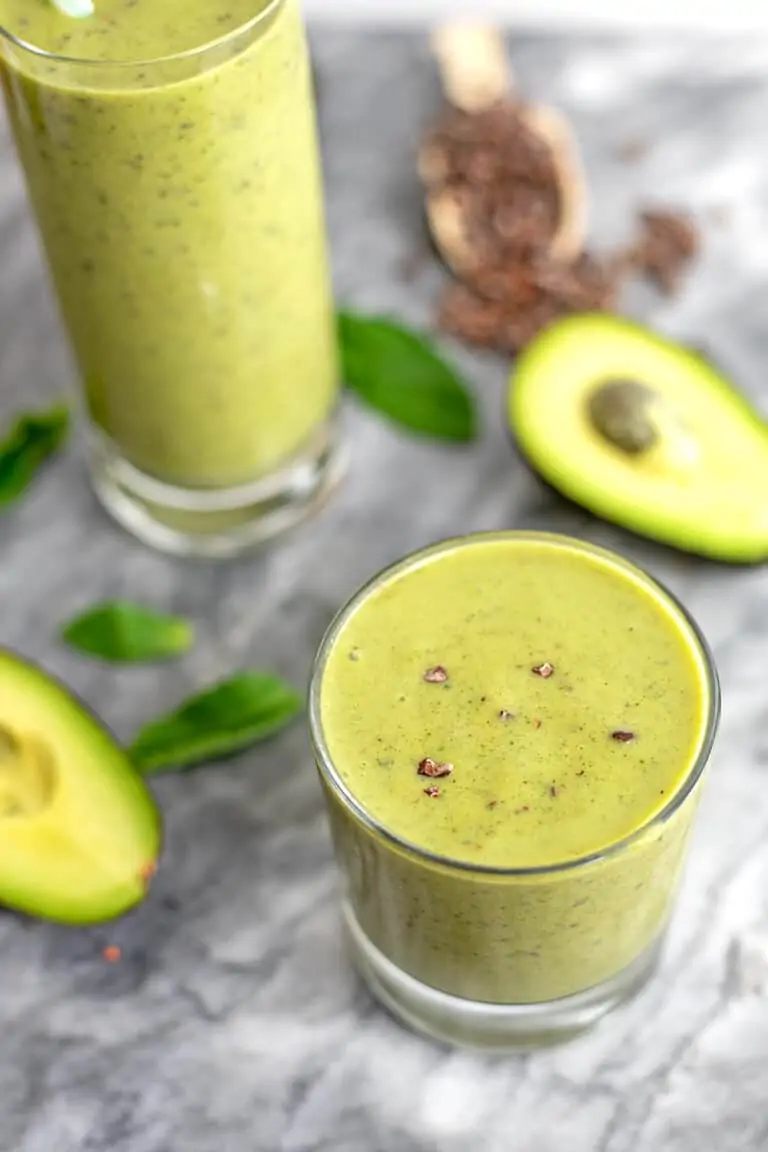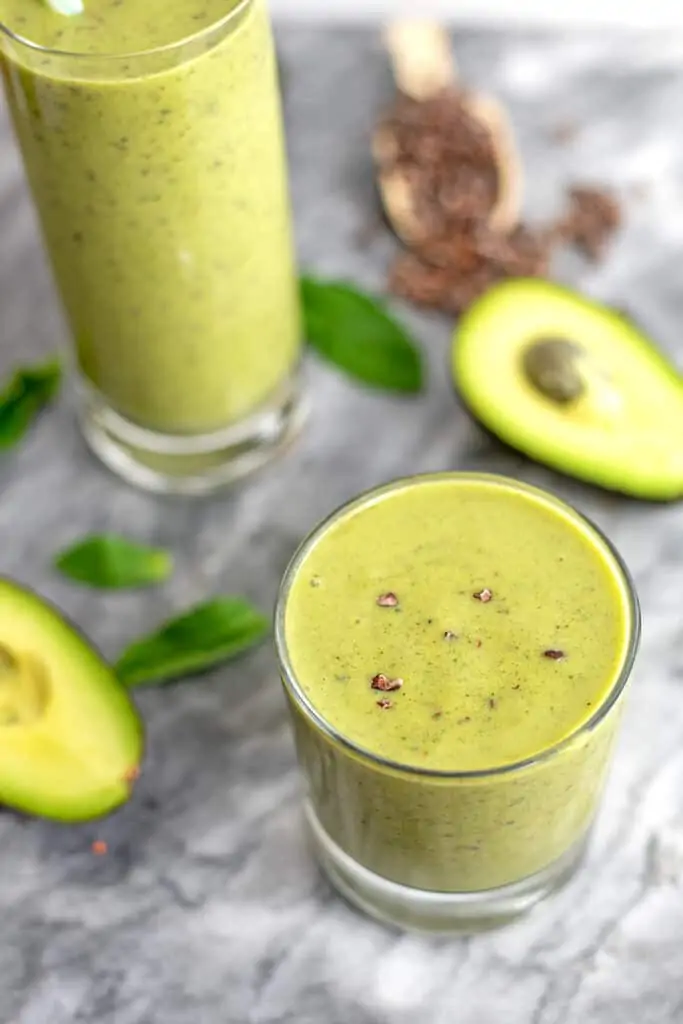 This post contains affiliate links. As an amazon associate I earn from qualifying purchases.
Click here to read my policy
and more about affiliate links.
Why you will love this recipe
Slightly sweet, minty and so creamy this mint avocado protein shake is like having dessert for breakfast! You can make it as thick or as thin as you would like and could even eat this out of a bowl just like ice cream!
Make it mint chocolate! Adding cacao nibs or mini chocolate chips makes this avocado smoothie into a mint chocolate chip protein shake and it's so fun to eat! I've heard a recommendation that for the best digestion, you "chew" your smoothies and the cacao nibs force you to do that! They are such a fun addition and once you try them in this avocado smoothie, you are going to want to add them every time!
Perfect for quick breakfast or breakfast on the go! You can make this smoothie in less than 5 minutes and it's perfect for breakfast in the car or on the go! It's super filling and won't leave you crashing from a sugar high 30 minutes later. Plus it's so much more budget friendly than getting a smoothie or shake on the way to work.
Made with ingredients that will make you feel great! Packed with healthy fats, fiber and protein, this mint protein shake is a well balanced mix of carbs/fat/protein to help you feel full and satisfied.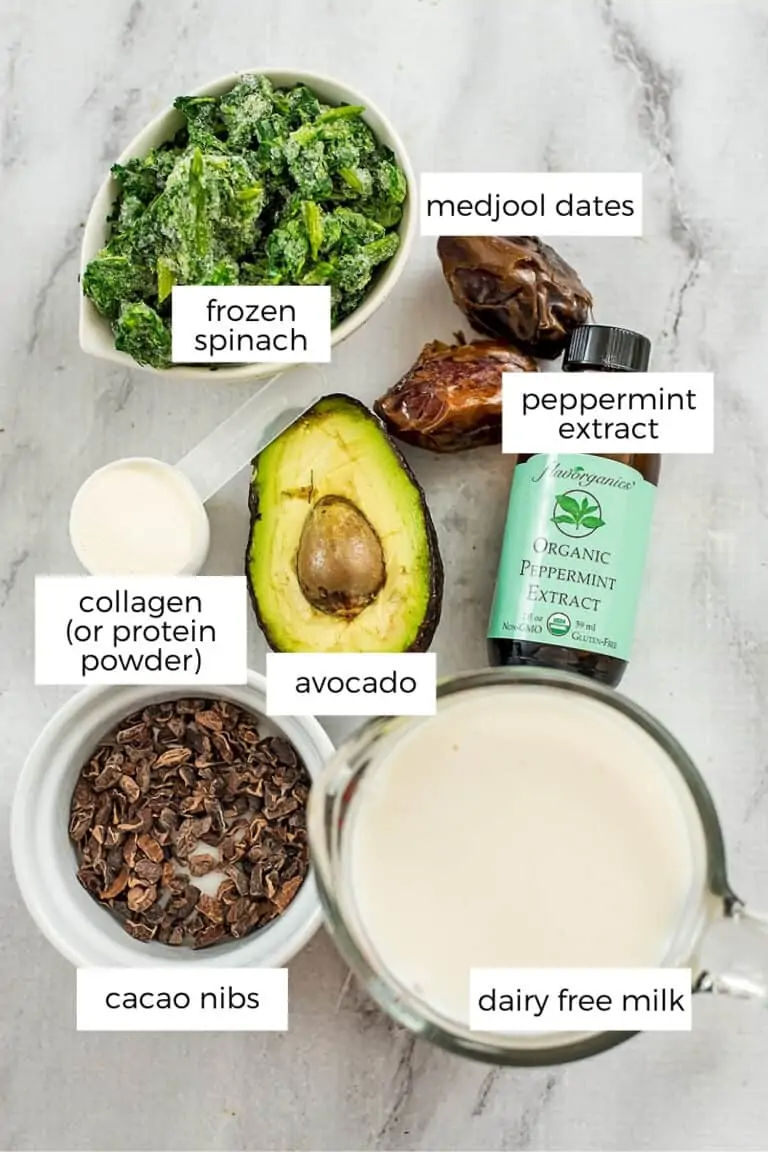 Ingredients
Dairy free milk – use whatever your favorite dairy free milk is. I would not recommend using canned coconut milk as that would be too thick.
Avocado – avocado makes this shake thick and creamy and blends right into the background. The mint is the main flavor of this shake.
Frozen spinach or frozen kale – the spinach just blends into the background and helps to add veggies and fiber to this shake.
Medjool dates (or maple syrup) – the dates add sweetness to the shake. If you are using a vegan protein powder with sweetener, you can omit the added sweetener.
Protein powder – Use whatever your favorite protein powder is! You can use a vanilla or chocolate vegan protein powder, whey protein or use collagen peptides (not vegan). The collagen will be unflavored and require you to use the medjool dates. You can also omit the protein powder and use Greek yogurt instead.
Mint extract – I like to use mint extract (not mint flavoring) vs. fresh mint because the flavor is much more pronounced, and I can easily keep mint extract on hand all year. You could also use fresh mint though if you have it growing in your garden!
Cacao nibs (optional) – these add a great crunch to the smoothie and also make it more like mint chocolate chip ice cream in smoothie form! They are great as a topping if you decide to make this into a smoothie bowl too!
How to make avocado protein shake
Start by removing the pit from the dates (if using them). To do this simply cut the date from top to bottom and remove the pit.
Next cut the avocado in half. You will want to add ½ of the avocado into the blender.
Add everything but the cacao nibs to the blender and blend on high 1-1:30 minutes until smooth. If you want the smoothie to be colder, you can add a few ice cubes and blend again.
Once the smoothie is smooth and everything is fully broken down, you can add the cacao nibs. Blend for 5 seconds to break them down a bit and distribute them throughout the shake.
Serve immediately or put into the fridge for storage up to 24 hours.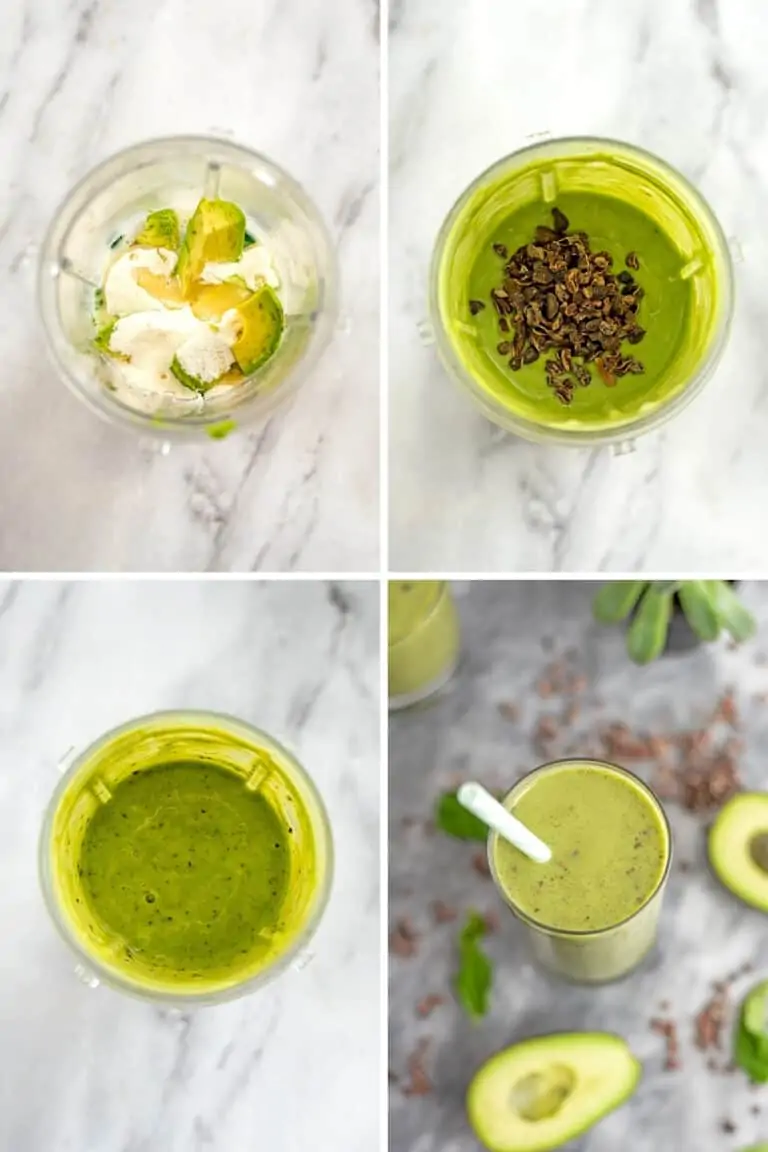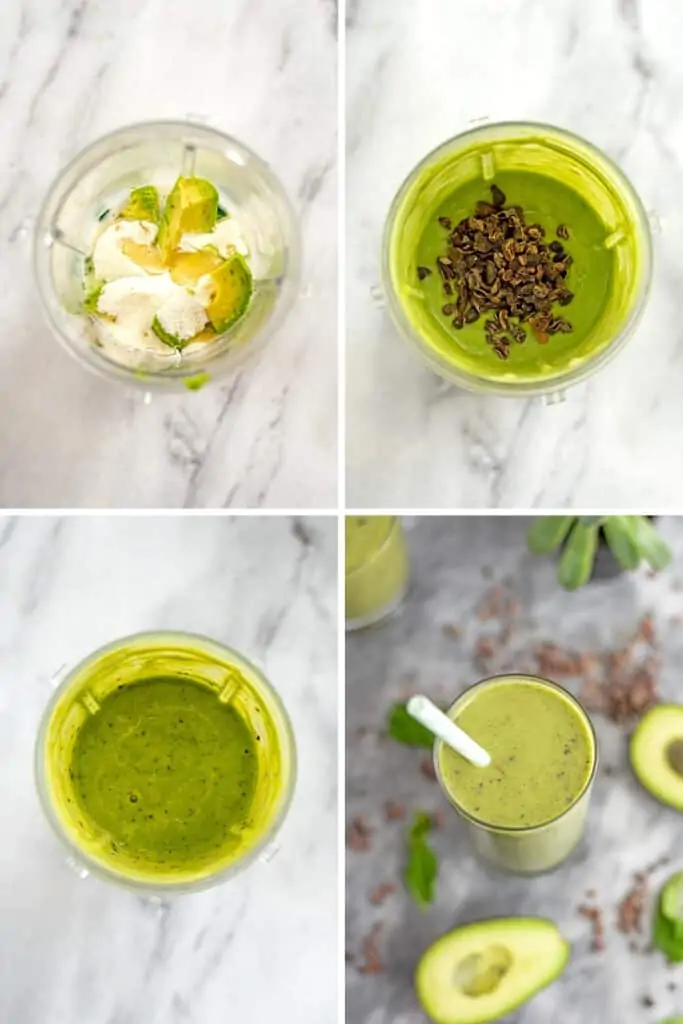 Top tips
You can freeze ripe avocado for smoothies! If you bought a few avocado and they all ripen at once, you can freeze the avocado whole, in chunks or mashed into ice cube trays for later! Check out the details below on how to do this easily!
Make this smoothie into a smoothie bowl: This smoothie is pretty thick, especially if you use a vegan protein powder. If you want to make it super thick for a smoothie bowl, you can decrease the dairy free milk or add 1 tbsp. chia seeds when blending. Pour the smoothie into a bowl and top with your favorite toppings.
If you don't have a very strong blender, first blend up the dairy free milk and frozen spinach/kale. This helps to ensure that there will not be chunks of spinach in your smoothie. Once it's smooth, add the rest of the ingredients (except the cacao nibs).
Common Questions
How to freeze avocado for smoothies
If you decide to freeze the avocado whole, you will need to defrost it overnight in the fridge before using in your smoothie.
I like to freeze avocado in ¼ sections with the skin removed and pit removed. This way I know how much I'm adding to smoothies easily. To do this, simply cut the avocado in half, remove the seed and peel the skin. Then cut these in half and freeze them in a freezer safe bag. If you are doing a large batch, freeze the avocado on a wax or parchment paper lined baking sheet first to keep them from sticking together.
You can also mash the avocado and spoon it into ice cube trays. Once frozen, transfer the cubes of avocado to a freezer safe bag. This is great if the avocado gets a little too ripe before freezing.
Other veggies you could use:
I like to keep smoothies easy to assemble, which is why I like to use store bought frozen spinach or frozen kale. Other veggies you could add include:
Frozen cauliflower rice – the cauliflower just blends into the background, you don't even taste it!
Frozen zucchini (you can freeze it in 1 inch chunks raw or steamed) – zucchini has almost no flavor at all. This could be a great addition if you are hesitant to use spinach as it has a very mild flavor.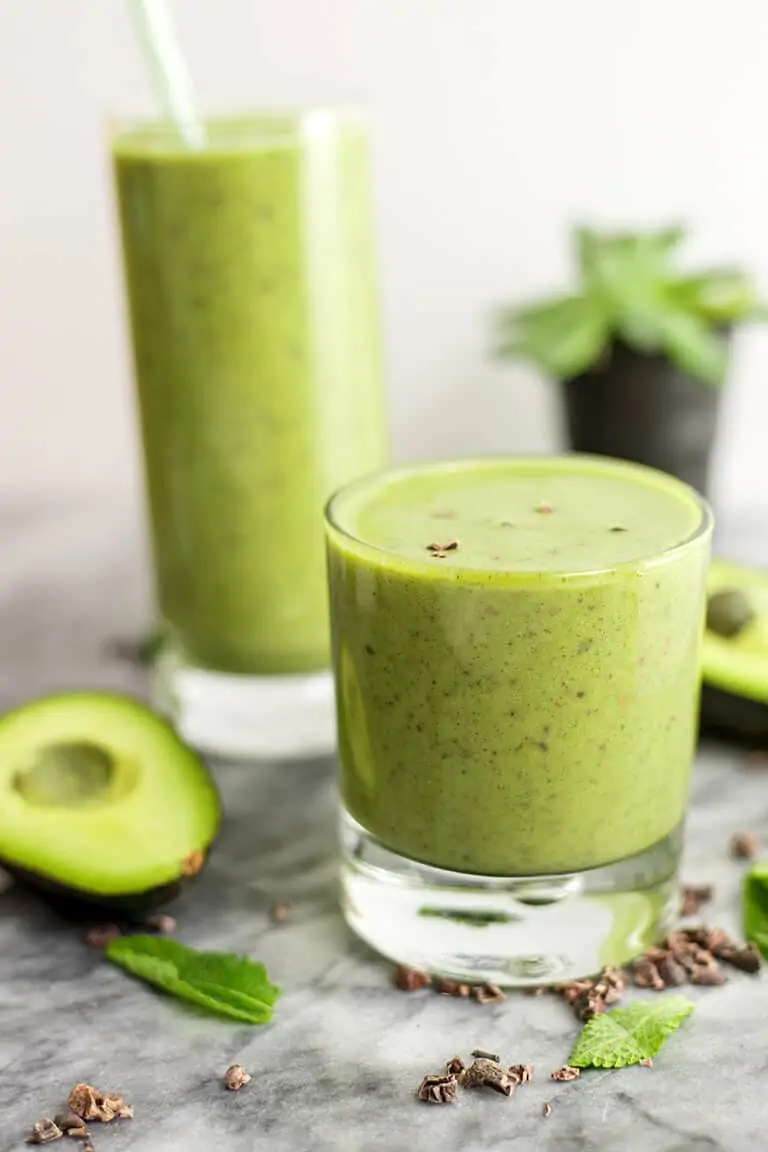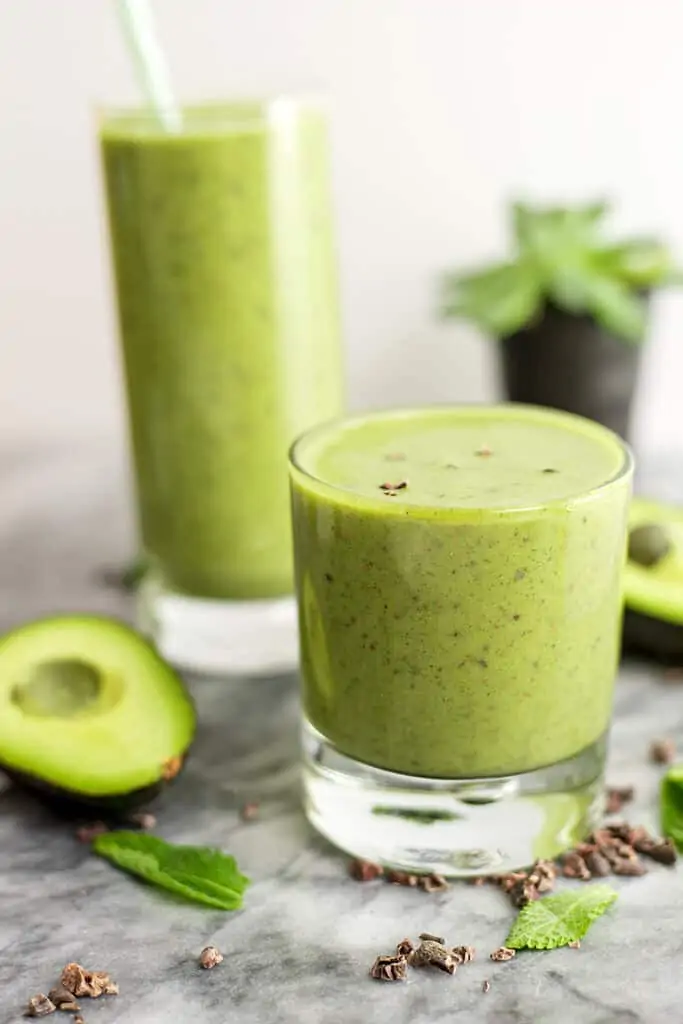 Ways to add protein to smoothies
Smoothies are a great breakfast on the go but can often leave you feeling hungry and crashing from sugar, especially if they are made from mostly fruits and fruit juices.
One of the best ways to ensure that a smoothie will be more filling is to make sure it's got a good balance of fiber, healthy fats and protein. The fiber in this smoothie comes from the veggies (frozen spinach and avocado) and the healthy fats are from the avocado.
You can add protein to this smoothie a number of ways. Here are some easy to add ideas:
Vanilla or chocolate protein powder – I love Nuzest for a vegan protein powder. It's easy to add and blends right in. You could also use whey but I don't have a recommendation. If your protein powder has a sweetener (most flavored protein powders do), you may not need to add the medjool dates to the avocado protein shake. This would make it a low carb smoothie.
Egg white protein – this is flavorless and is a great vegetarian option. You will want to use the medjool dates or maple syrup to add sweetness to the smoothie.
Collagen peptides – not vegan or vegetarian. These are tasteless and blend right into the smoothie. You will want to use the medjool dates or maple syrup with collagen as well.
Greek yogurt (vegan or regular) – Greek yogurt is a great way to add protein without a powder, and it can be found in most grocery stores. You may need to adjust the amount of dairy free milk to account for the yogurt, starting with just 1 cup of milk. Also if you use an unsweetened yogurt, you will need to add the medjool dates or maple syrup.
Hemp hearts – 3 tbsp. of hemp hearts have 10 grams of protein! These are great to add in addition to the vegan protein or collagen peptides for an additional boost of protein. Again, you will want to add the sweeteners if this is the only protein you are using.
Can you taste the avocado in this shake?
Nope! Avocado is relatively tasteless and provides a creamy base for the smoothie! Once you add the mint extract, the mint is the main flavor you taste!
What are cacao nibs?
Cacao nibs are made from crushed cacao beans (cacao beans are what make chocolate)! The cacao nibs are not sweetened and provide a crunchy dark chocolate flavor. They are perfect for adding to smoothies and baked goods to add a chocolate flavor and crunch without the added sugar! You can find cacao nibs online or in specialty grocery stores.
How to store leftover mint avocado protein shake
Because this shake has avocado and protein powder, it's best to drink it within 24 hours. Store it in the fridge if you make it ahead of time.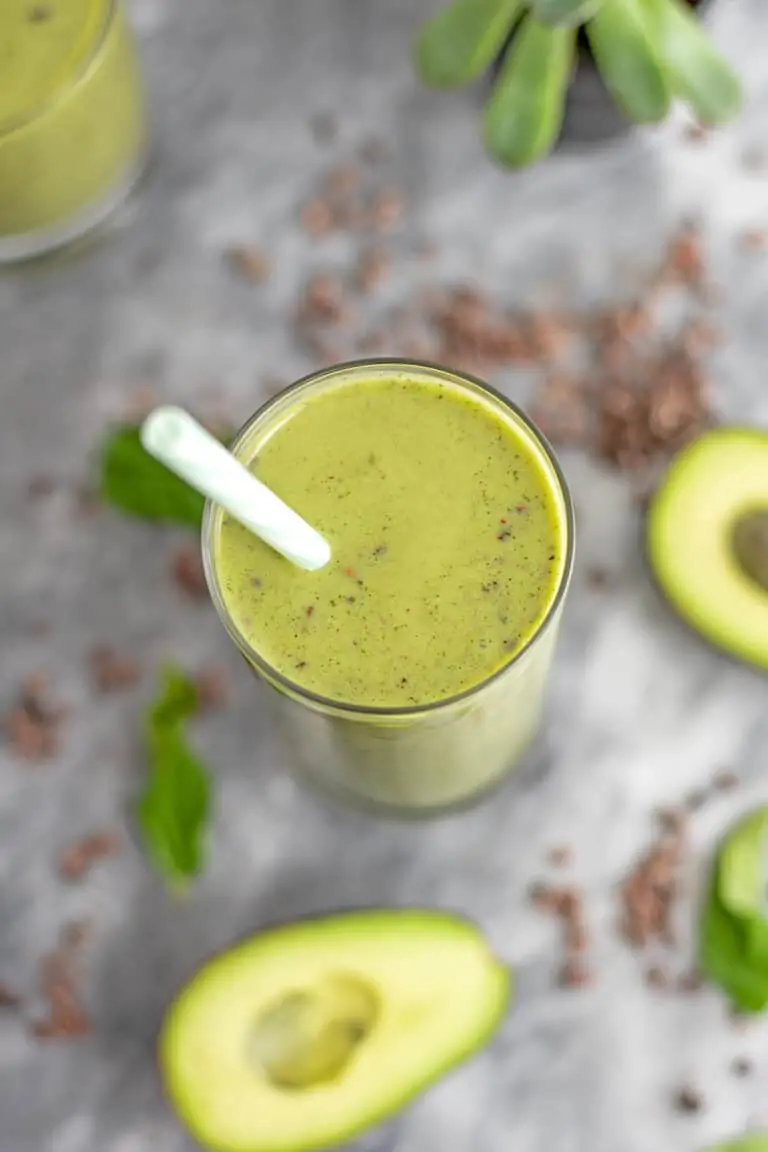 Substitutions
Dairy free milk: you can use regular milk or water if you don't' have dairy free milk on hand.
Frozen spinach or frozen kale: you can also use cauliflower rice or frozen zucchini in place of the frozen spinach or kale.
Avocado: Avocado is hard to replace in this recipe. You could add 2 tbsp. of cashew butter or almond butter in place of the avocado for healthy fats and to help make the same creamy texture.
Medjool dates: You can use 1-2 tbsp. maple syrup in place of the dates. Omit the dates if you are using a sweetened protein powder.
Protein powder: Omit or see the list above for substitutions.
Peppermint extract: Peppermint extract is what makes this taste like a protein shamrock shake. You could also use fresh mint (10-12 leaves depending on how minty you want the shake). Be sure to use peppermint extract vs. peppermint flavoring. The peppermint flavoring often is much more concentrated so you may only need 2-3 drops for the same flavor.
Cacao nibs (optional): You can omit these or use mini chocolate chips in place of the cacao nibs. Omit the cacao nibs for a protein shamrock shake and add 1 tsp. vanilla extract.
If you love this recipe, you should try:
★ Did you make this recipe? Please give it a star rating below!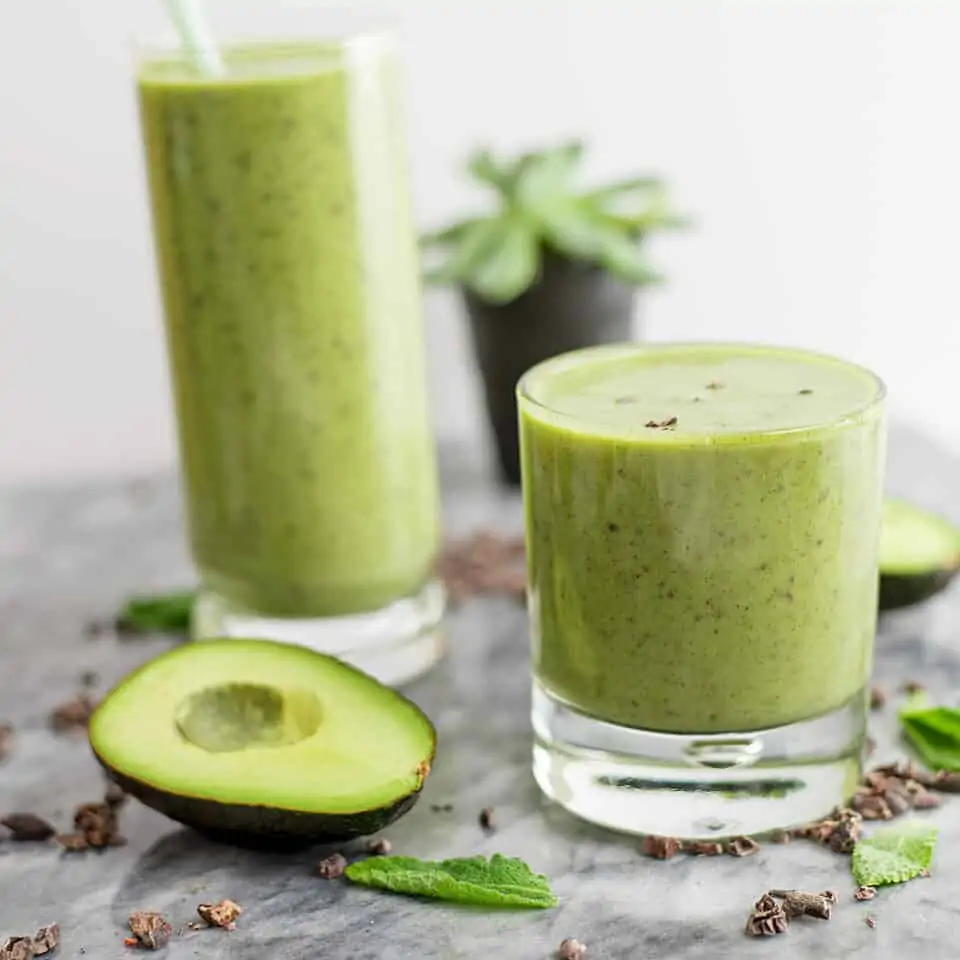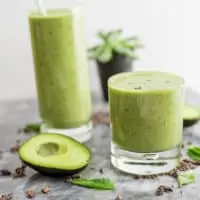 Mint Avocado Protein Shake
$3.65 Recipe/$3.65 Serving
Mint Avocado Protein Shake is ready in 5 minutes and made with easy to find ingredients. Great for breakfast on the go or an afternoon snack.
Print
Pin
Save
Saved!
Rate
Ingredients
1/2

cup

frozen spinach

-

$1.00

1/2

avocado

-

$0.40

1/4

tsp

peppermint extract -

$0.25

1.5

cups

dairy free milk -

$0.86

1

serving

vanilla vegan protein powder or collagen peptides

-

$0.49

1

tbsp

cacao nibs or chocolate chips

-

$0.15

2

medjool dates -

$0.50
Instructions
In a high speed blender, combine the frozen zucchini coins with the avocado, peppermint extract and 1 1/3 cups of water. Blend well until smooth

Once the zucchini mixture is smooth, add the protein powder and addition 1/3 cup of water. This water may not be needed with a whey or paleo protein powder. Blend well until smooth

Add 1 tbsp cacao nibs and blend 5 seconds, just long enough to break up the nibs and incorporate them.
Notes
If you do not want to use a sweetened vegan protein powder, you could also use 1/2 -1 cup of Greek yogurt (regular or dairy free) + 1-2 tablespoons of your favorite sweetener (honey, maple syrup, low carb syrup) or 1-2 dates to sweeten this shake. NOTE: you likely will not need as much water as stated without the protein powder.
If you do not have frozen spinach, you could also use 1-2 cups of frozen cauliflower rice or frozen zucchini in place of the spinach.
Store in the fridge up to 24 hours in a sealed container.
See how I calculate food cost
.
Nutrition Information
Nutrition Facts
Amount per Serving
Where does nutrition info come from? Nutrition facts are provided as a courtesy, sourced from the USDA Food Database.
DID YOU LOVE THIS RECIPE?
Let others know by rating and leaving a comment below!