Air fryer chicken drumsticks are so easy to make and only take about 20 minutes.
Create the perfect crispy, juicy chicken every time. No breading needed, the skin gets crispy and crunchy!
I promise once you try this recipe, you are going to want to put these air fryer drumsticks on your menu each week! Serve with your favorite side dish for a quick and easy meal!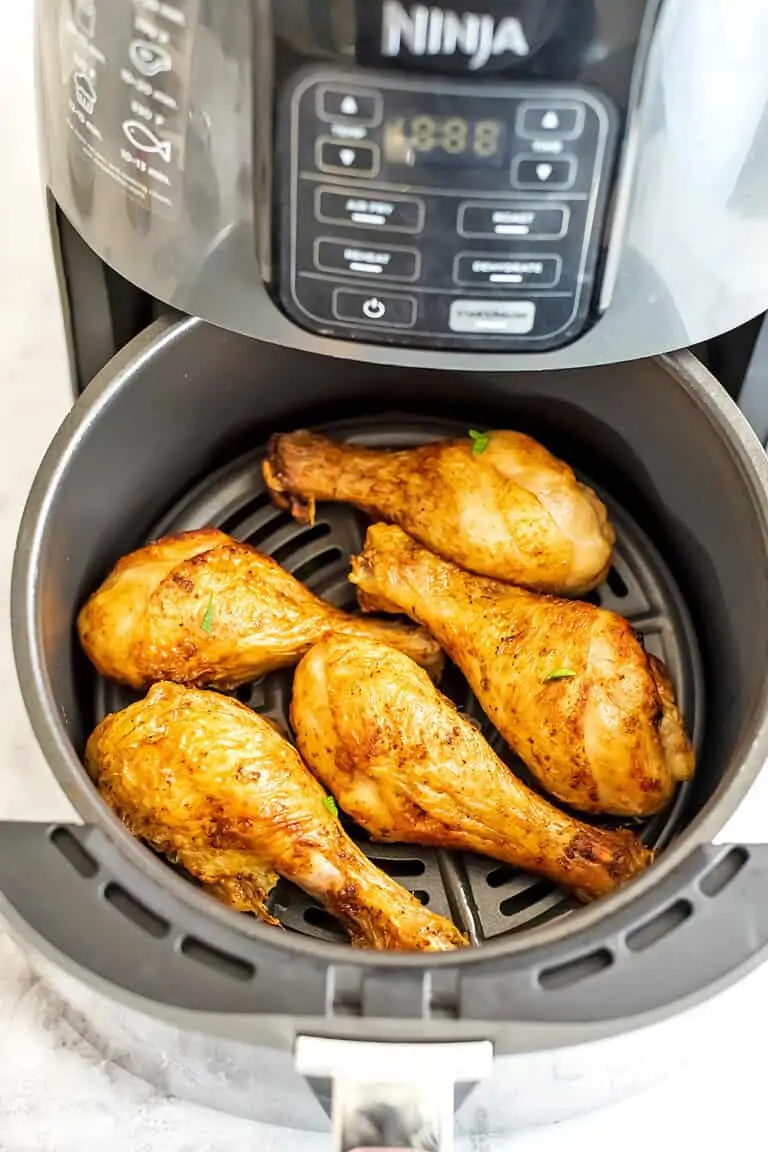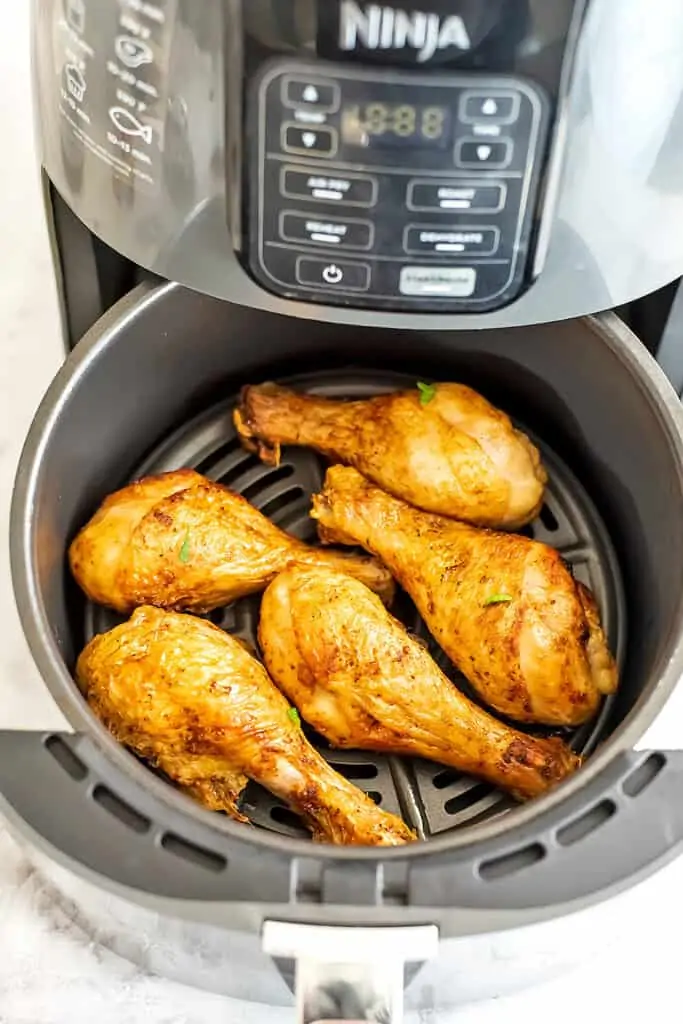 This post contains affiliate links. As an amazon associate I earn from qualifying purchases.
Click here to read my policy
and more about affiliate links.
Why you will love this recipe
The air fryer really shines with this recipe. The hot air circulating around the chicken drumsticks causes the skin to get crispy while not drying out the meat. This leaves you with a juicy, tender drumstick and crispy skin. The perfect combination!
Who doesn't love finger food! Kids love these drumsticks, as they can eat them with their hands and dunk them in their favorite sauces! Ranch or barbeque are always a big hit around here!
This recipe is so easy to make, Whole30, keto friendly and paleo and only needs a few ingredients. You can also make these chicken legs in the oven.
Budget friendly: These air fryer chicken legs are extremely budget friendly – in fact it's one of my "go to" meals each week to help keep our budget down. Typically I can get organic drumsticks for $1.99 a pound!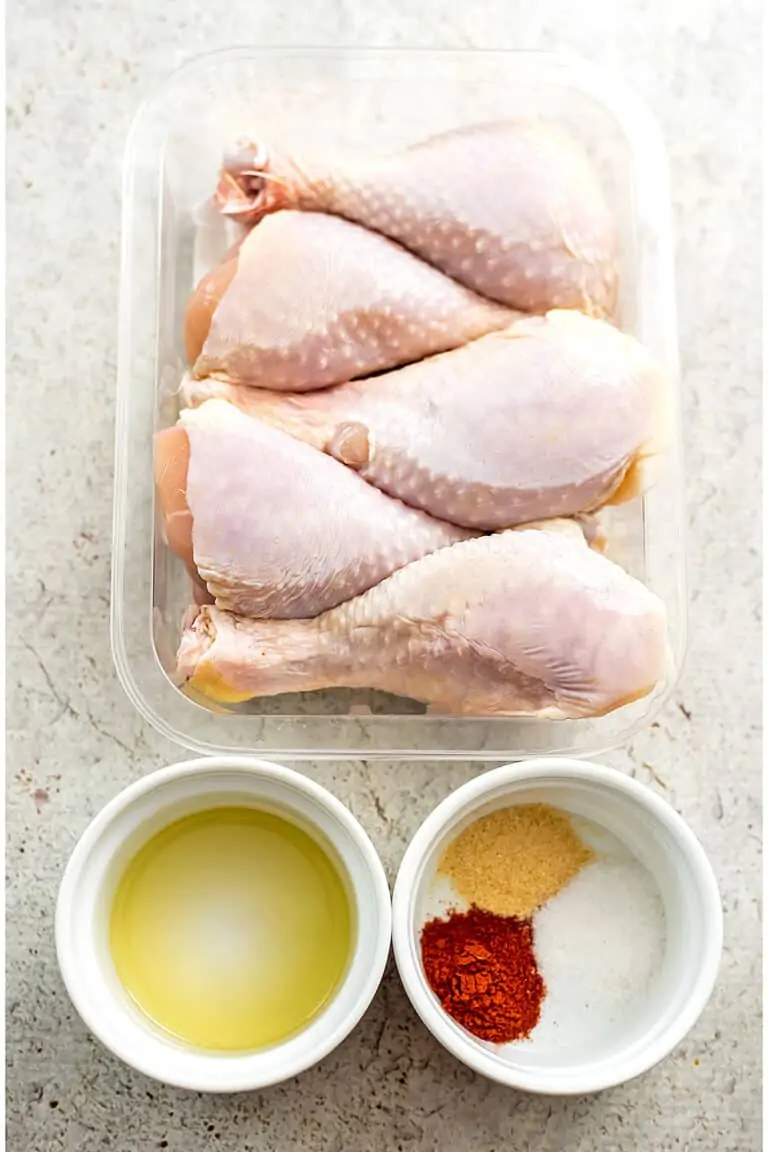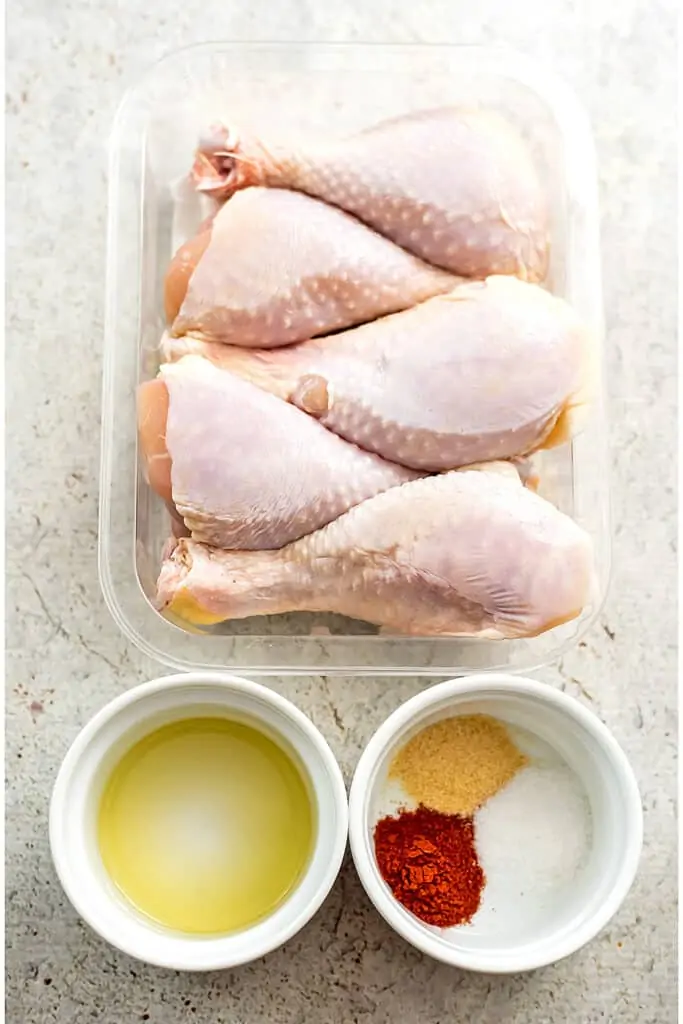 Ingredients
How to make air fryer drumsticks
Start by placing the drumsticks in a large bowl. If you are making more than 5-6 at a time, I recommend doing this in batches to make it easier to stir.
Add the olive oil and spices to the chicken and stir well, ensuring everything is well coated.
If your air fryer requires preheating, preheat it until it reaches temperature.
I like to add foil to the bottom of the air fryer to make clean up easier. If you do this as well, be sure to pull the foil from the sides, ensuring that air can circulate easily around the foil.
Place the drumsticks in the air fryer basket in a single layer (no overlapping). For most air fryers this means that you may need to cook your drumsticks in batches to ensure they can cook through and get crispy.
Cook the drumsticks at 400F for 18-22 minutes (depending on how big your drumsticks are).
After the chicken has been cooking for 13 minutes, pause the air fryer and carefully flip the drumsticks (I use tongs for this). This will ensure that the chicken is crispy on all sides.
Continue to cook for 5-8 more minutes. Check the temperature at 18 minutes with an instant read thermometer (you want 165F for chicken). Be sure to stick the thermometer in the thickest part of the meat without hitting the bone.

NOTE: If you want your chicken to be so tender it's falling off the bone, cook the chicken until 180F (this may take a few more minutes).
Serve immediately. The drumsticks are the crispiest right out of the air fryer.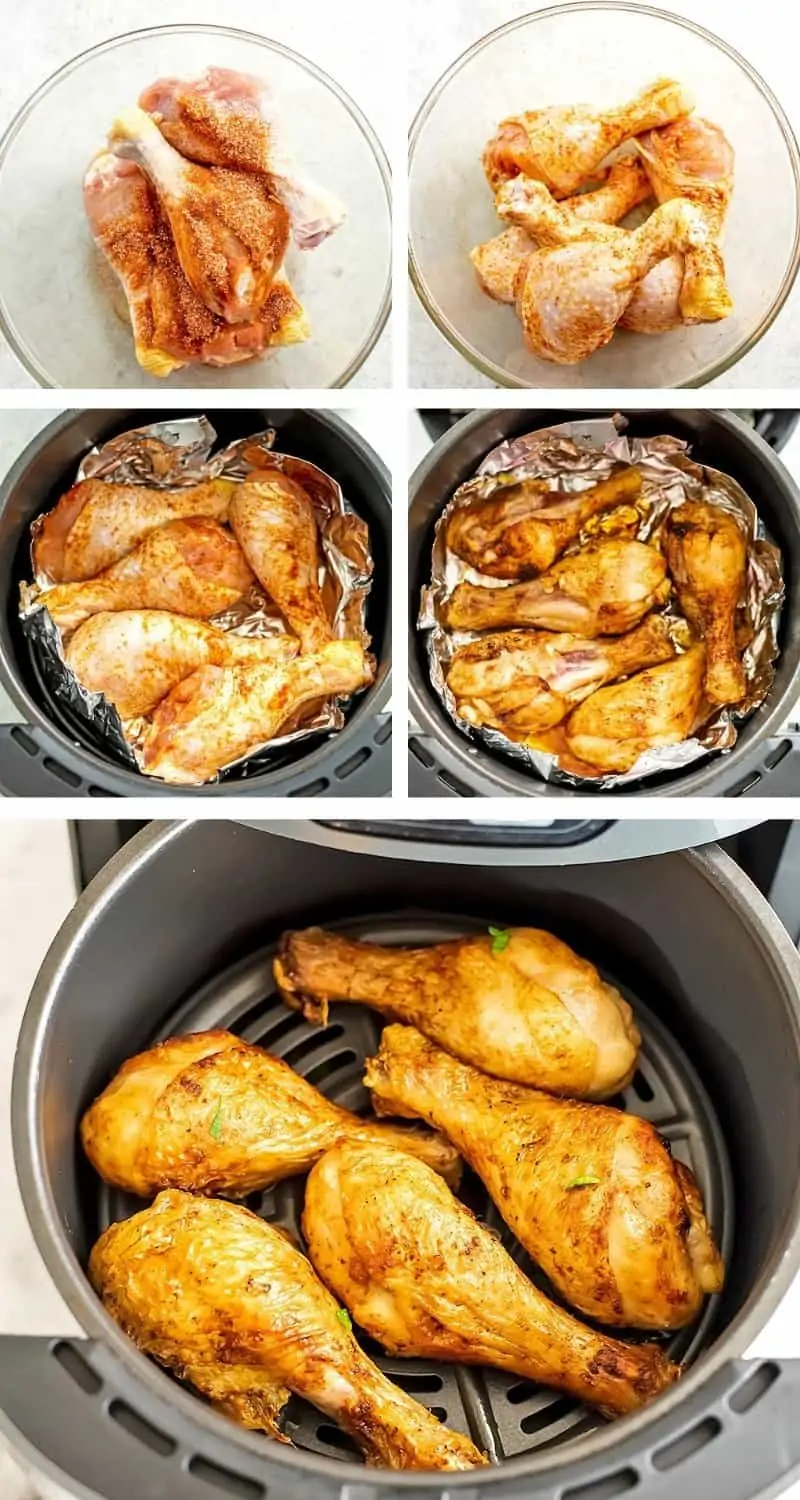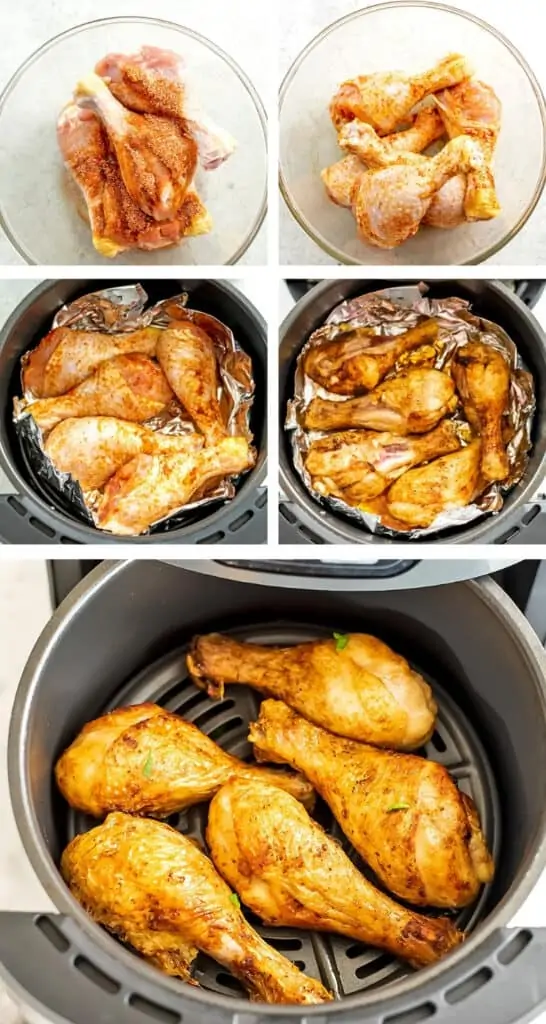 Other flavors you could try
I love this recipe because it's simple and uses easy to find ingredients. You could change the recipe up very easily though.
Top tips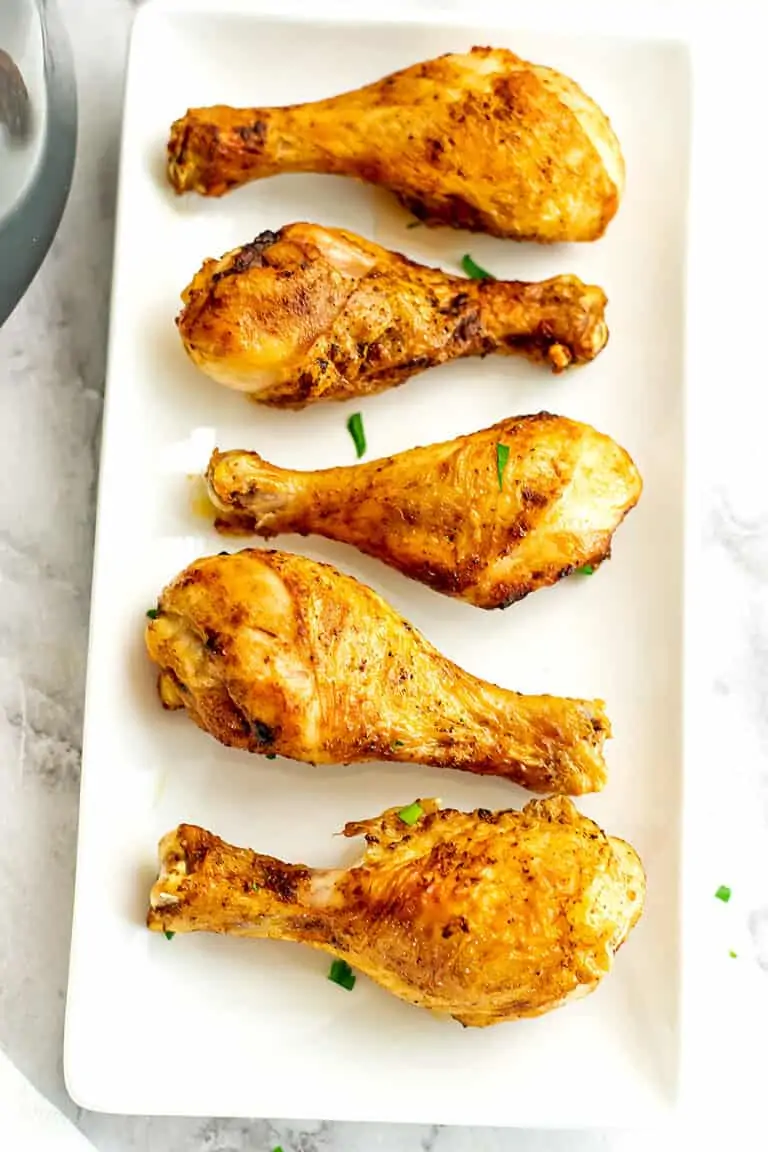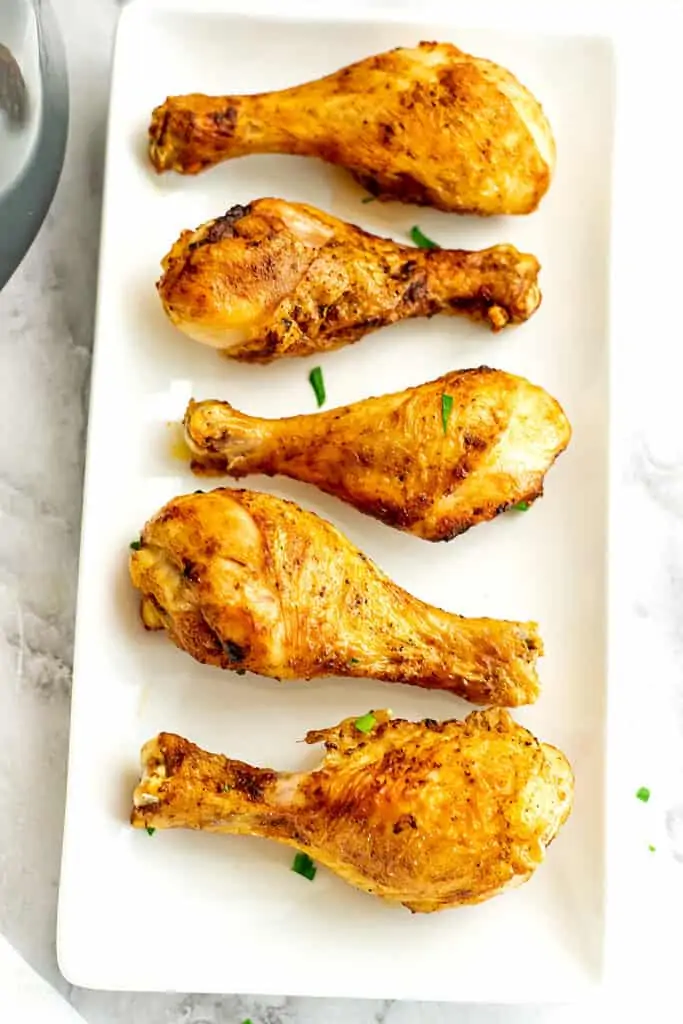 What to serve along side
These drumsticks are super versatile and delicious! Serve them with your favorite comfort foods for a super comforting meal! Some of my favorites include:
What is the best sauce for chicken drumsticks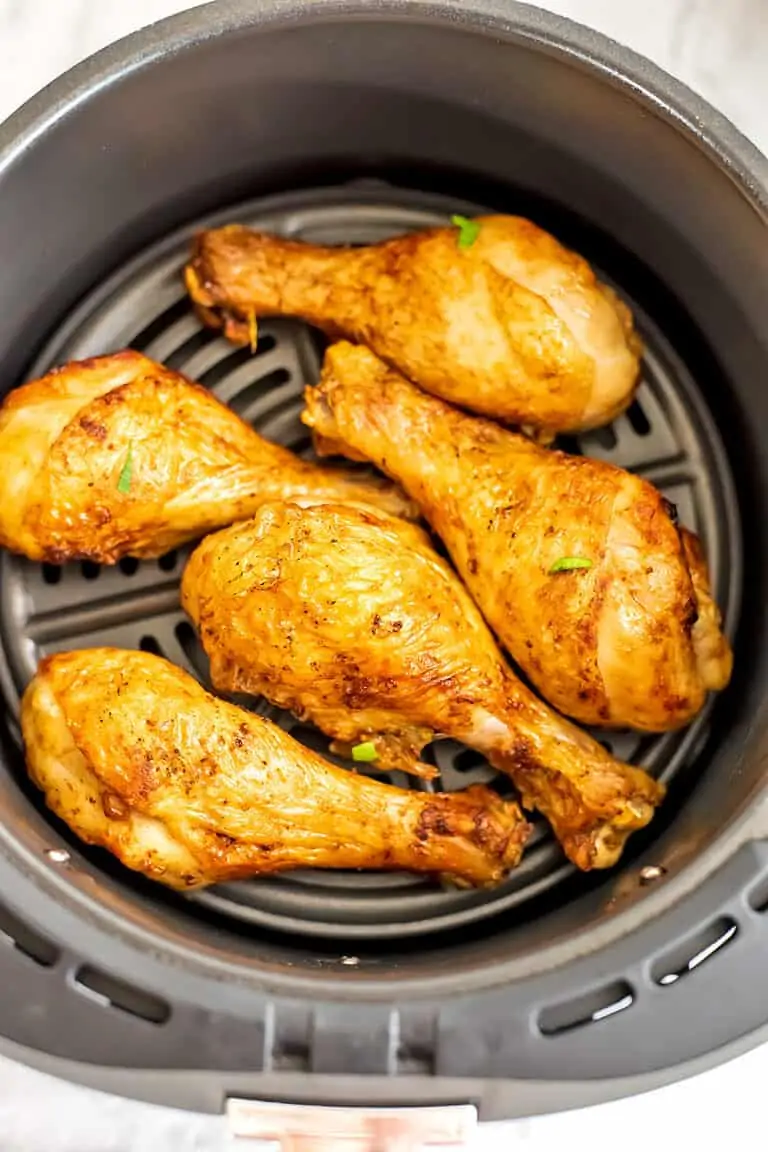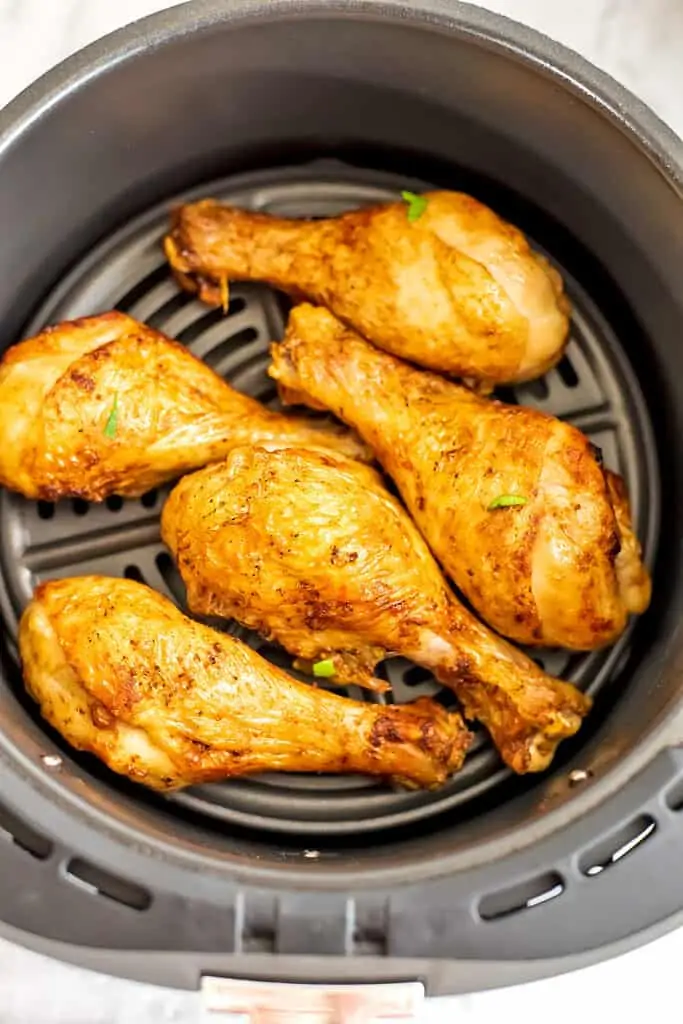 FAQs
Can you use frozen drumsticks
To ensure the chicken cooks through completely without burning the skin, the best option would be to defrost the drumsticks in the fridge overnight before cooking.
With that being said, others have mentioned having success with cooking the drumsticks from frozen for 26-28 minutes at 400F in the air fryer.
What if you don't have an air fryer
You can make crispy chicken drumsticks in the oven! All you need is a baking sheet and a cooling rack that fits on the baking sheet. I actually recommend using the oven method if you are making a large batch of drumsticks, as they will cook faster than doing 3-4 batches in the air fryer.
How to store air fryer chicken drumsticks
Fridge: Store leftover drumsticks in the fridge for up to 3 days. You will likely want to reheat these in the air fryer 400F for 4-5 minutes to re-crisp the skin.
Freezer: You can freeze the drumsticks after cooking, however the skin will not be crispy when defrosting. You will likely want to reheat these in the air fryer for 4-5 minutes (or more) at 400F to crisp the skin up again (after defrosting in the fridge overnight).
If you don't plan on reheating the drumsticks, you can always remove the skin and the chicken from the bone and discard the skin. Store the chicken in an air tight container for 3 days, using it in tacos, chicken salads or in soups or casseroles.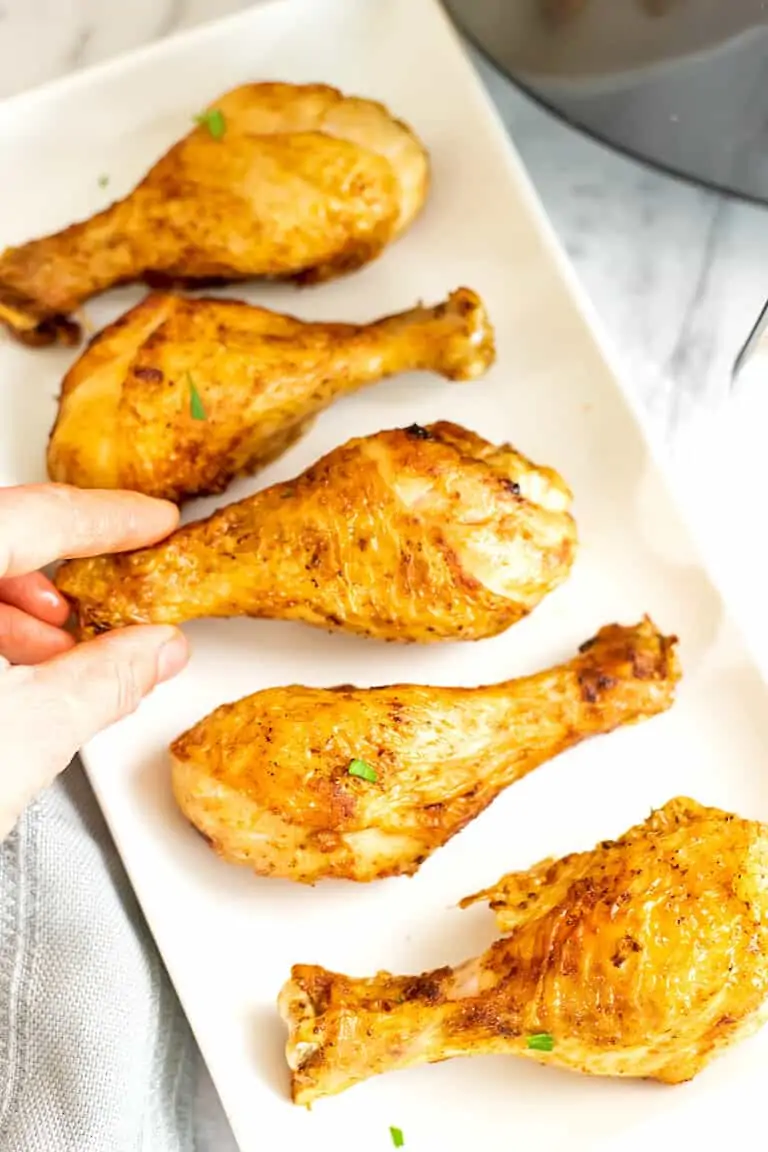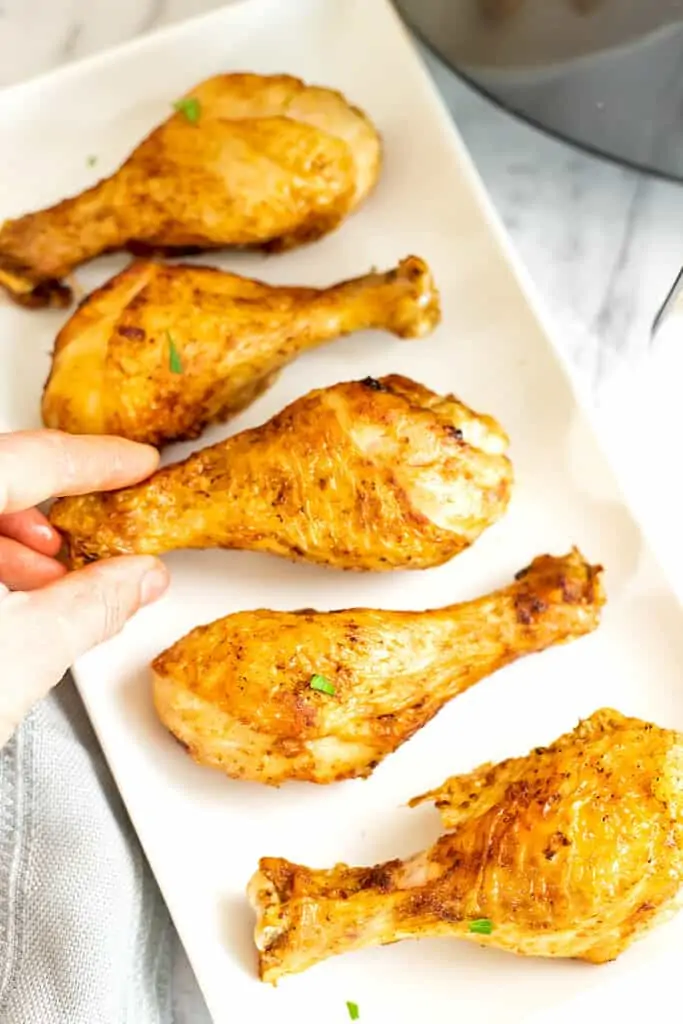 Substitutions
Chicken drumsticks – Drumsticks are really so easy to find, but you could also make chicken thighs in the air fryer. They will likely need to cook longer (24-30 minutes) to cook all the way through.
Olive oil – you can also use avocado oil, melted coconut oil or melted ghee in place of the olive oil.
Spices and salt – you can substitute any of the spices listed above to change the flavors or you can use no spices at all and simply sprinkle with salt.
If you love this recipe, you should try
★ Did you make this recipe? Please give it a star rating below!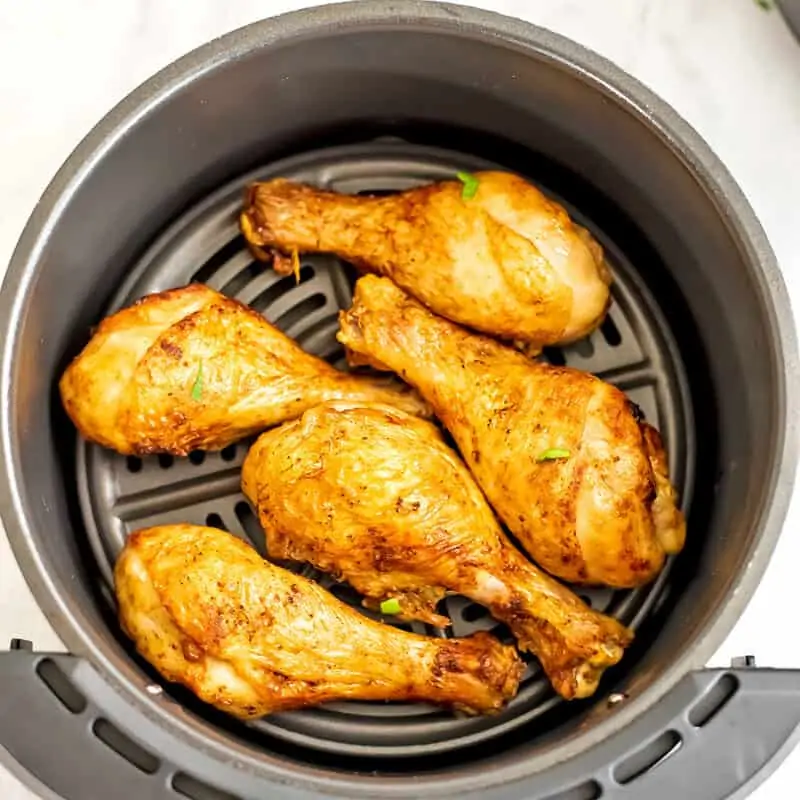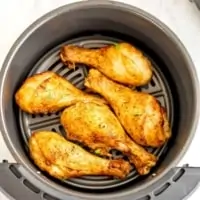 Air Fryer Chicken Drumsticks
$4.33 Recipe/$2.16 Serving
Air Fryer Chicken Drumsticks – Whole30, Paleo, Keto, Low Carb – crispy skin with juicy, tender chicken made in under 20 minutes! Perfect budget friendly weeknight meal!
Print
Pin
Save
Saved!
Rate
Instructions
Add the drumsticks to a large bowl. Pour olive oil, spices and salt over the drumsticks and stir well (I use tongs) to ensure the chicken is fully coated.

Preheat the air fryer to 400F (if necessary for your brand).

Add foil to the bottom of the air fryer basket (optional). Make sure the foil does not reach all the way to the edge, you want air to flow around the foil still.

Add the drumsticks to the air fryer basket in a single layer. Do not stack, instead cook in batches.

Cook at 400F for 18-22 minutes (depending on the size of the drumsticks).

After 13 minutes of cooking, pause the air fryer and carefully flip the drumsticks (I use clean tongs). Continue cooking at least 5 more minutes.

After 18 minutes, use a digital thermometer and check the temperature of the thickest part of the chicken, without hitting the bone. You want at least 165F.

If you want to ensure the chicken is super tender and falling off the bone, cook to 180F (this may take a few more minutes depending on the size).
Notes
If you are feeding a family of 4, you will want to double all the ingredients and cook in two batches in a smaller air fryer. If you have a larger air fryer (like the Breville), you will need to preheat the air fryer before adding the chicken and increase the temperature to 415F.
If you do not have an air fryer, you can make drumsticks in the oven as well!
Store leftovers in the fridge up to 3 days or in the freezer up to 3 months in a freezer safe container or ziplock bag.
Reheat chicken in the air fryer 4-6 minutes at 400F to recrisp the skin.
See how I calculate food cost
.
Nutrition Information
Nutrition Facts
Amount per Serving
Where does nutrition info come from? Nutrition facts are provided as a courtesy, sourced from the USDA Food Database.
DID YOU LOVE THIS RECIPE?
Let others know by rating and leaving a comment below!