Creamy roasted cauliflower hummus is the perfect snack and a great way to get in more veggies! This hummus is legume free (no beans) and gets the creamy consistency from the combination of the cauliflower and tahini. You are going to love this for parties or afternoon snacking!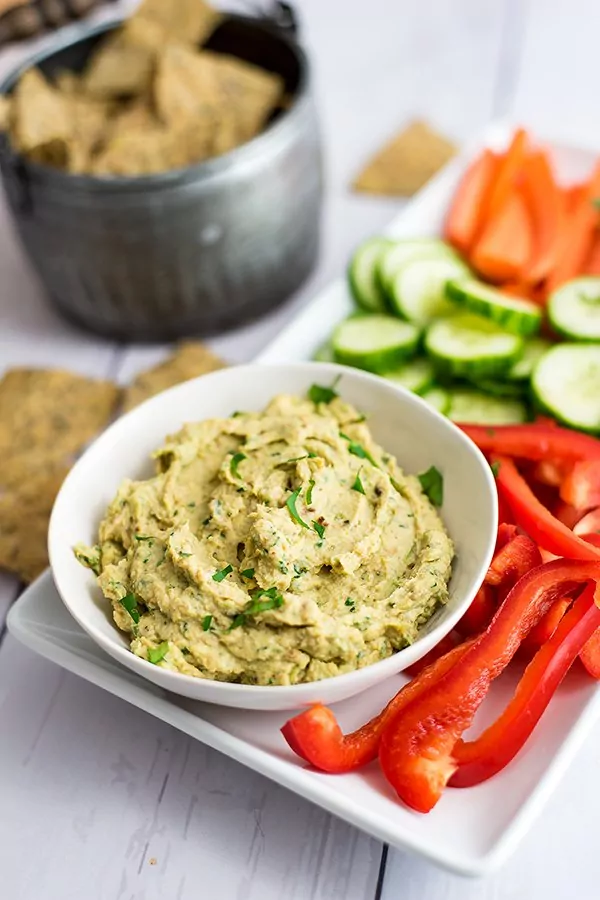 This post contains affiliate links. As an amazon associate I earn from qualifying purchases.
Click here to read my policy
and more about affiliate links.
Why you will love this recipe
Great way to get in more veggies – this creamy roasted cauliflower hummus is the perfect way to add more vegetables to your day! The roasted cauliflower gets silky smooth and has the exact same consistency as hummus! Use it as a dip, in sandwiches, grain bowls, buddha bowls or as a dip for fries!
Simple recipe – this recipe for roasted cauliflower hummus is pretty simple. If you make your own hummus at home, the steps are very similar, except you have to roast the cauliflower in advance. This recipe comes together quickly in the food processor after the cauliflower has roasted.
Versatile – you can use this roasted cauliflower hummus in so many ways. It's so flavorful and the perfect dip for veggies or chips or add a creamy base for wraps or sandwiches. You can even use it as a pasta sauce (check out my hummus pasta salad) or on salads or grain bowls for a creamy texture.
Healthy ingredients – this recipe is made with simple, healthy ingredients (the star is a vegetable). Because there are no beans in this recipe, it's Whole30, paleo, lower carb and vegan friendly!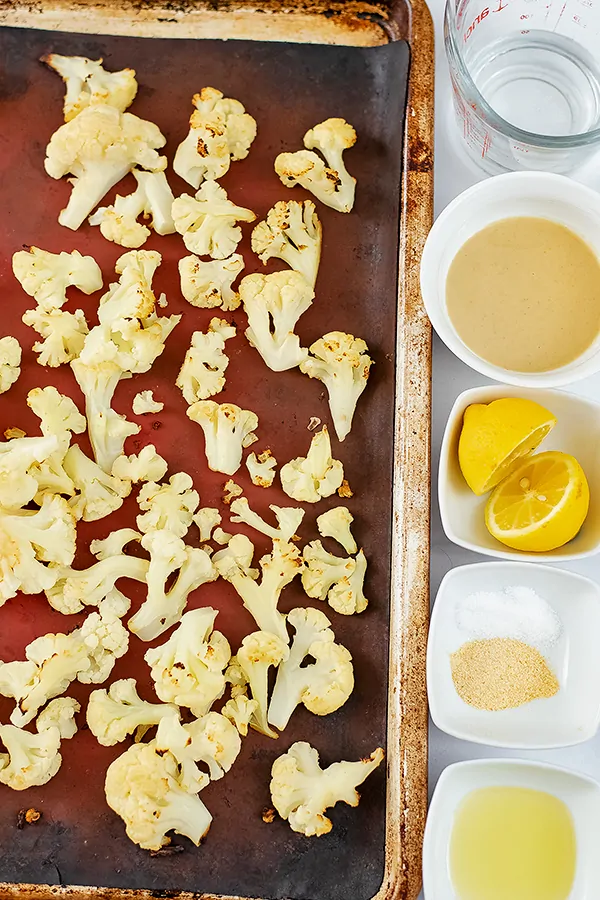 Ingredients
Cauliflower – to ensure that the cauliflower easily blends up into hummus, you will want to roast the cauliflower first. You can roast cauliflower in the oven or using the air fryer. You can even use frozen cauliflower!
Avocado oil – avocado oil is a very neutral oil that is perfect in this recipe as it allows the cauliflower to shine. You can also use extra virgin olive oil.
Lemon juice – lemon juice is traditional in hummus and helps to brighten the overall flavor of the hummus. You could also use lime juice.
Tahini – tahini is a thick paste made from ground up sesame seeds (just like peanut butter or almond butter). It adds a nutty, rich flavor to the hummus. Tahini is a traditional ingredient in hummus and helps make this cauliflower hummus taste authentic.
Spices: Salt, garlic powder – these spices just help to add some flavor to the roasted cauliflower hummus. I like to use garlic powder as it adds umami flavor and also helps ensure that the garlic flavor doesn't overpower the rest of the flavors in the hummus. Note: You can also use up to 4 cloves fresh garlic if you prefer a raw garlic flavor.
Water (optional) – add as much water as needed to get the consistency you desire from your cauliflower hummus.
How to make creamy roasted cauliflower hummus
Start by roasting the cauliflower in the oven until slightly brown. The cauliflower starts to caramelize, which is what makes this creamy roasted cauliflower so amazing! Don't skip this part, steamed cauliflower just isn't the same.
After the cauliflower is roasted, add it to a food processor with the tahini, lemon juice, salt, garlic powder and water. Process on high until there are no lumps and the hummus is thick and creamy.
Store in the fridge or serve immediately with your favorite veggies or chips for dipping.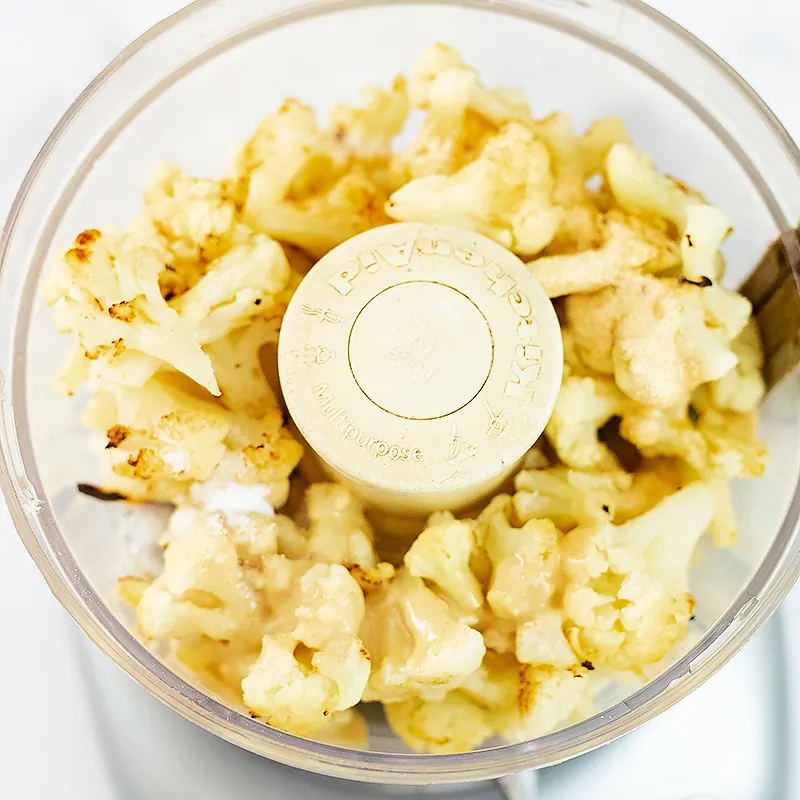 What to serve with cauliflower hummus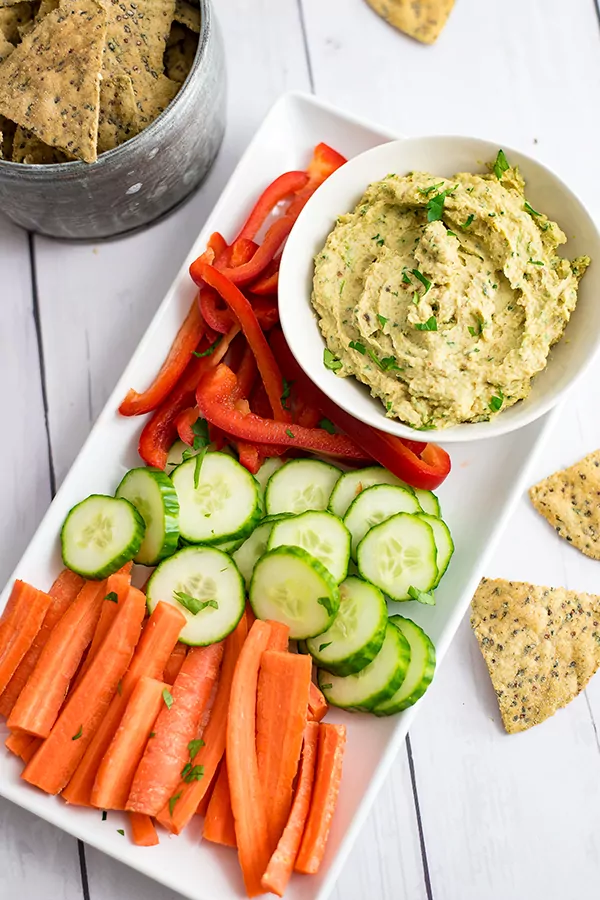 Common questions
What is tahini and where do I find it?
Tahini is a thick paste made from grinding up sesame seeds. The texture is similar to a runny peanut butter. Often you will have to stir in the oil that has come to the top of the jar before using it the first time. Tahini has a nutty, sesame flavor that is earthy and delicious in both savory and sweet dishes.
Tahini can be found in most grocery stores. It is often around the other nut butters (peanut butter, almond butter) but sometimes is in the international section of the store.
Some of my favorite brands are Trader Joe's, Whole Foods and Thrive Market. I also love Soom Foods Brand that can be found online and in some stores.
Can you use frozen cauliflower
Yes, you can roast fresh or frozen cauliflower to make hummus with. The cooking time is pretty much the same as fresh cauliflower. I do recommend taking the cauliflower out with about 10 minutes left and moving it around on the sheet to ensure it browns all around.
You can even use the air fryer to roast frozen cauliflower.
Is this Whole30 hummus good for you?
Cauliflower is high in fiber, low in fat, low in calories, and high in water. This makes it a fat loss friendly food. Cauliflower is high in Vitamin C, a great source of magnesium, potassium, vitamin K and other micronutrients.
If you know me, you know I love cauliflower in any form. But this creamy roasted cauliflower hummus is up there on my top 3 cauliflower dishes! My other 2 favorites are:
The other ingredients that make this hummus so great for your health, is tahini! Tahini is sesame seeds that are ground into a paste (like almond butter or peanut butter). Sesame seeds are a great source of calcium, Vitamin E and Vitamins B1, B2, B3, B5 and B15, magnesium, potassium and iron.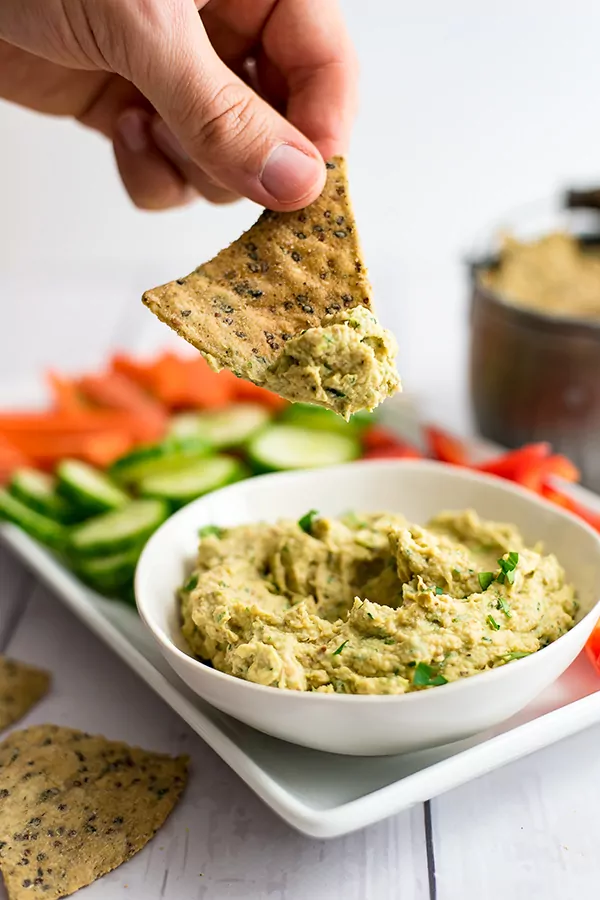 If you love hummus, you should try these other dips
★ Did you make this recipe? Please give it a star rating below!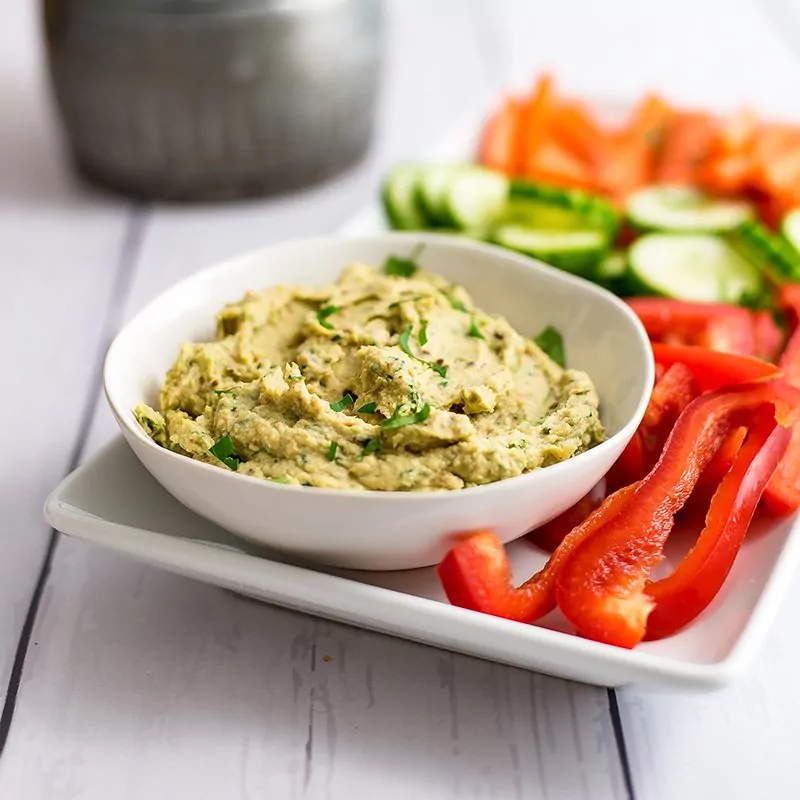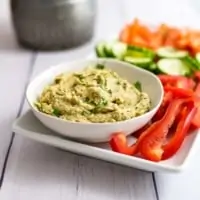 Creamy Roasted Cauliflower Hummus
This creamy roasted cauliflower hummus is the perfect snack. It's easy to make, This hummus is vegan, paleo, Whole30, and grain free!
Print
Pin
Save
Saved!
Rate
Instructions
Place the frozen cauliflower on a baking sheet lined with parchment paper. Bake in the oven at 450 for 30 minutes.

Once the cauliflower is roasted, add it to the food processor. Add the rest of the ingredients and blend on high until smooth.

Store in a sealed container for 3-4 days.
See how I calculate food cost
.
Nutrition Information
Nutrition Facts
Amount per Serving
Where does nutrition info come from? Nutrition facts are provided as a courtesy, sourced from the USDA Food Database.
DID YOU LOVE THIS RECIPE?
Let others know by rating and leaving a comment below!