This is the best ever mushroom soup! This creamy mushroom soup is easy to make, low carb, dairy free, vegan, paleo, Whole30 and keto friendly. Ready in about 30 minutes this recipe will soon become your go-to favorite soup recipe!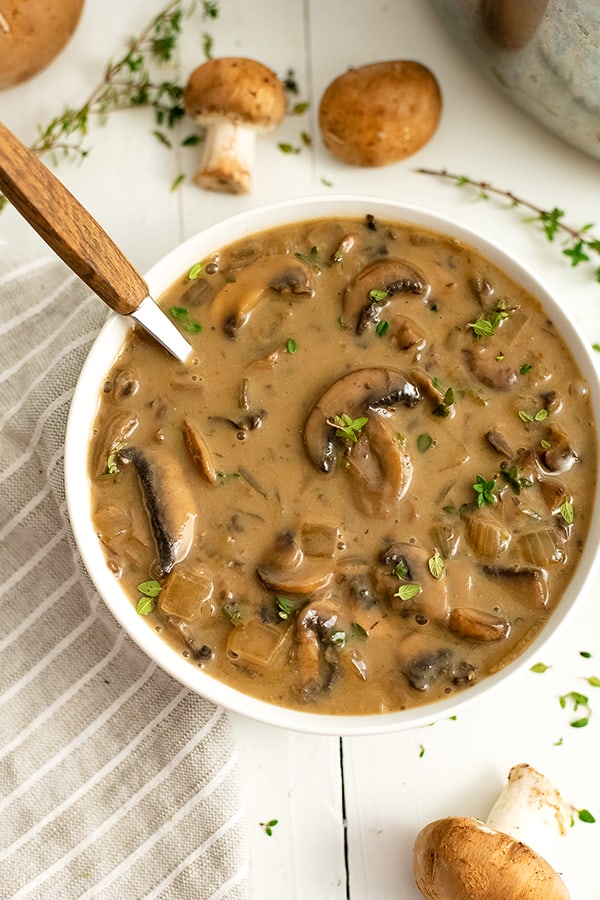 I have this wonderful memory of having lunch with a very good friend some 4 years ago and we both ordered the portabello mushroom soup. I laugh thinking back at the uncanny silence as we savored our lunch, since there was usually never any silence when were together, mostly because I never shut-up 🙂 But sometimes food can do that.
Since then, I've been trying to recreate a vegan mushroom soup that mimicked those flavors I still remember to this day. I think letting the ingredients shine through can really makes the difference between "the best I've ever had" vs. "well that was good", especially when you are talking soup.
Now one of my favorite vegan soup recipes, this best ever mushroom soup recipe is a way for me to flash back to the past. I hope it becomes one of your favorites as well!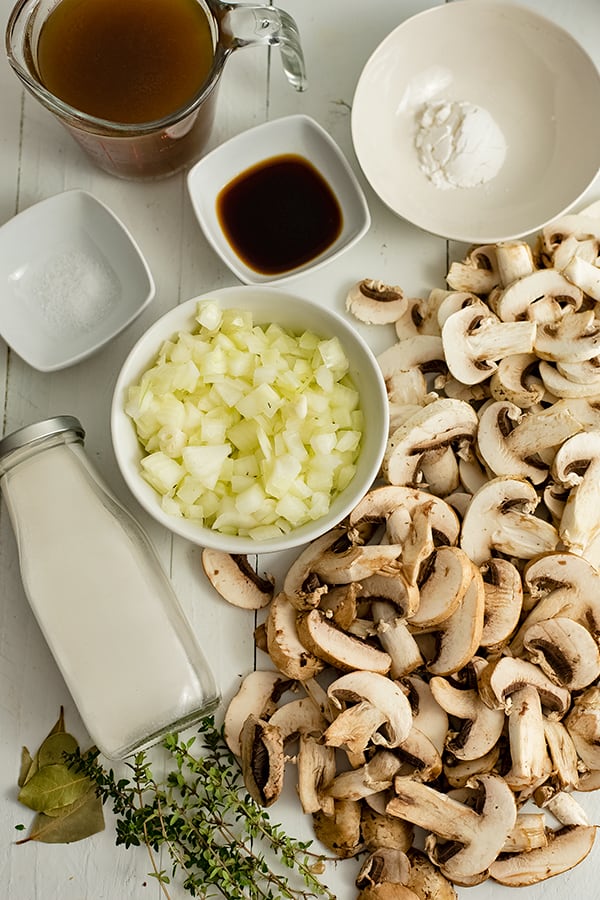 What do you need to make this best ever mushroom soup?
White or yellow onion
Mushrooms (I use cremini and white mushrooms)
Fresh thyme
Salt
Bay leaves
Coconut aminos (or liquid aminos or soy sauce)
Arrowroot powder (or tapioca or cornstarch)
Vegetable broth or stock
Dairy free milk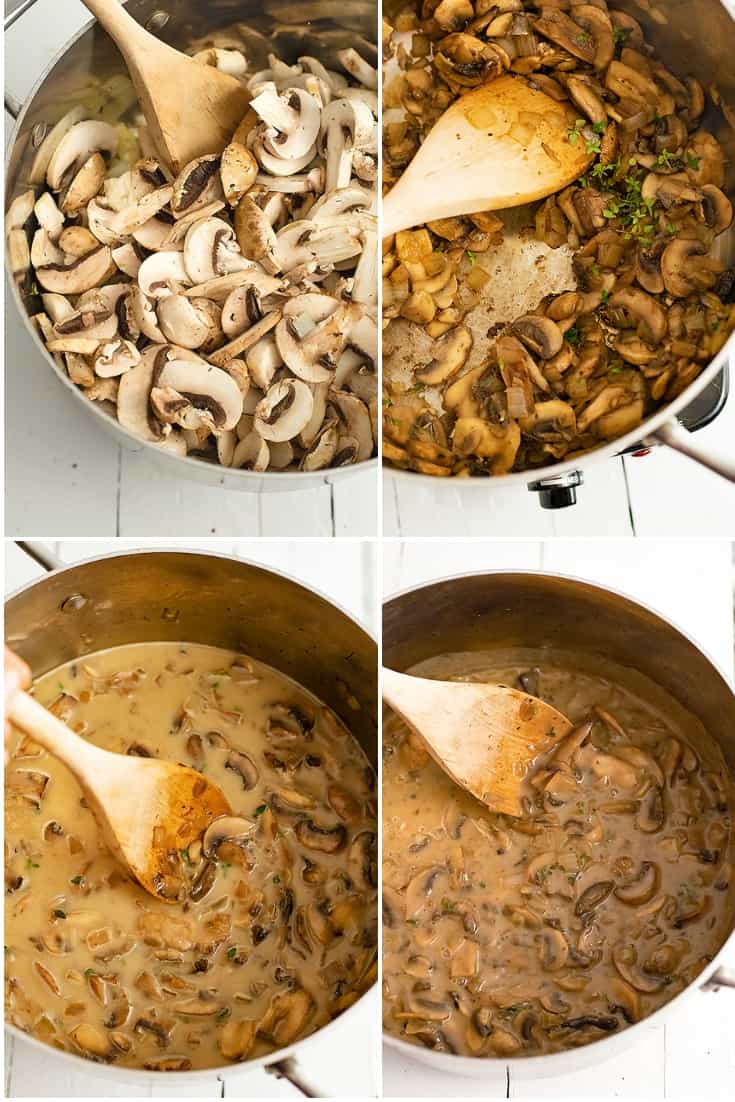 How do you make mushroom soup?
First chop the onions and slice the mushrooms.
Sauté the onions until slightly softened.
Add the mushrooms and allow the mushrooms to cook for 5-6 minutes.
Add the fresh thyme, salt, garlic powder, bay leaves and coconut aminos to the mushroom and onion mixture.
Mix the arrowroot powder into the vegetable broth and stir well until completely combined.
Pour the arrowroot powder and vegetable broth slurry and the dairy free milk into the mushroom and onion mixture and allow it to come to a simmer for 15 minutes to thicken.
After 15 minutes, serve hot or you can blend up some of the soup with an immersion blender to thicken the soup a little more.
Mushroom Soup Recipe Video
See how easy the best ever mushroom soup recipe is to make with the video below!
What mushrooms to use to make the best mushroom soup
This recipe uses a mixture of cremini mushrooms (baby portabella mushrooms) and white button mushrooms. The cremini mushrooms add a depth of flavor and umami that you don't get with just white button mushrooms. You could also use shitake mushrooms, but those are usually more expensive so I stick to cremini and white button to save money.
To save time, you can buy the mushrooms pre-sliced but I prefer to buy them whole and slice them myself since the pre-cut mushrooms can go bad faster.
Tips for working with mushrooms:
To prepare the mushrooms, use a dry paper towel to brush off any soil/dirt you see. Don't run mushrooms under water, as they are very porous and will absorb the water, and never really develop their flavor fully.
Wait to salt the mushrooms until after they have cooked down for some time. Adding salt too early can cause the mushrooms to not fully release all their water.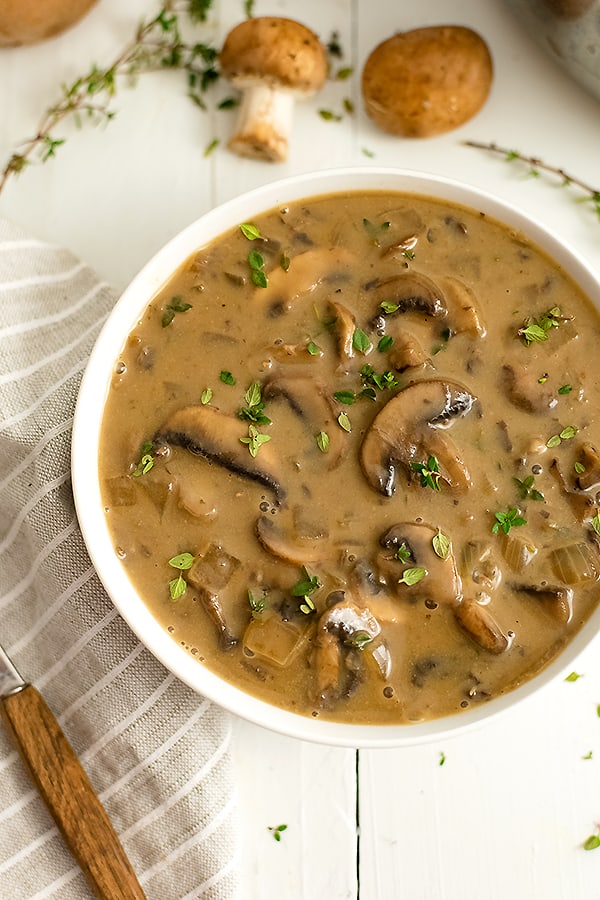 What herbs make this the best ever mushroom soup?
Fresh thyme! Fresh thyme and mushrooms are a match made in heaven!
To remove the little thyme leaves from the stalk, simply hold the stalk at the very top (so the leaves are pointing up) and run your fingers down the stalk pulling the leaves down with your fingers. The stalks can be very fibrous and tough, so be sure to remove as much of them as you can.
Don't have fresh thyme? You can always use dried! Just remember that the dried herbs are much stronger, so you will want to use about 1 teaspoon of dried thyme.
To get the most flavor out of dried thyme, it's best to rub the leaves between your fingers to crush them up before adding them to the soup to help release some of their natural oils!
Garlic powder is used in this recipe because fresh garlic can get a little overwhelming and burns easily. This way you get the garlic flavor without worrying about it burning!
Bay leaves! Bay leaves are one of the ways to take a soup to the next level, especially soups that don't have much cooking time. Add one or two bay leaves and let them do their magic! Just don't forget to remove them before serving the soup (or pureeing it).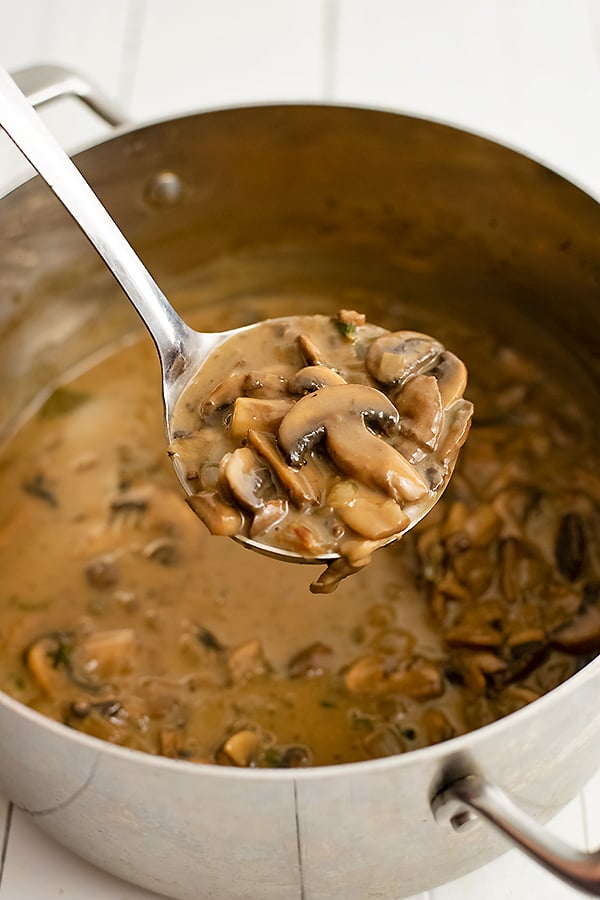 How to thicken vegan mushroom soup?
This recipe for the best ever mushroom soup uses arrowroot (or tapioca flour) to thicken the soup. It's important that you mix in the arrowroot powder into a cold or room temperature liquid before adding it to the heat. This is to ensure the mixture is smooth since the heat will cause any clumps to clump together more.
The vegan mushroom soup can also be made creamier with the addition of white beans to make the best ever vegan white bean mushroom soup, or boiled potatoes for a vegan and paleo recipe! Both of these are an awesome way to add creaminess to this vegan mushroom soup.
You could also add 1-2 tablespoons of vegan (or regular) cream cheese. The Kite Hill Chive Cream Cheese would be delicious stirred into this soup!
How do you make mushroom soup without cream?
Instead of cream, this vegan mushroom soup uses a mixture of vegetable broth and dairy free milk.
The soup is thickened with arrowroot powder (or tapioca flour) to help add body to the soup without the added cream.
If you wanted a creamier soup, you could blend half of the soup with an immersion blender or high speed blender to help thicken it more! You could also add pureed white beans or mashed potatoes to the soup to help thicken it without cream.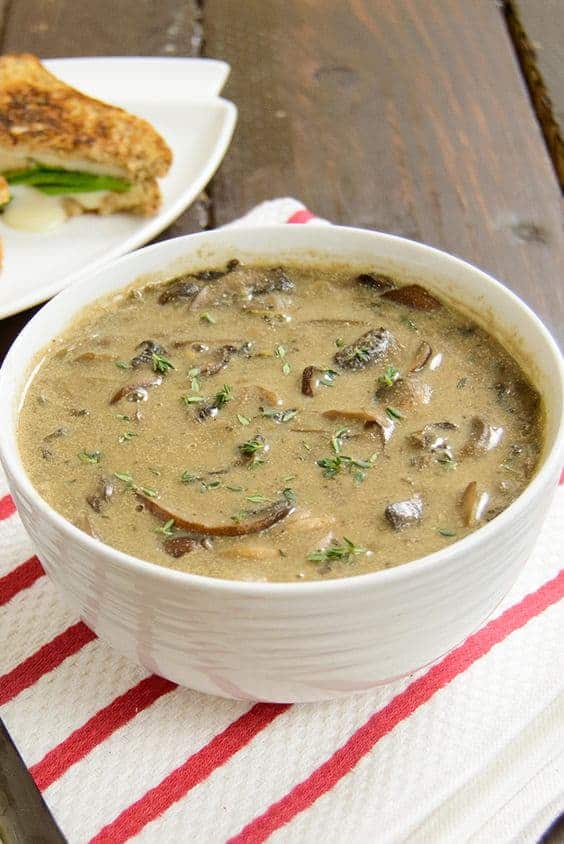 What milk can be used in this vegan mushroom soup?
Any dairy free milk you enjoy would be great! This includes but is not limited to:
Coconut milk
Cashew Milk
Almond Milk
Flax milk
Hemp Milk
If dairy does not bother you, you could also make this soup with regular milk; however, I have not tested that version myself.
Can you make this into cream of mushroom soup?
To make this cream of mushroom soup, reduce the vegetable broth by half and blend the soup in the blender in batches or using an immersion blender.
Once blended, continue to add more non-dairy milk as needed until it reaches your desired thickness. If you add too much liquid, you can always add in more arrowroot powder (just remember to dissolve it in water before adding it in so it doesn't clump).
Can this mushroom soup be made ahead of time?
This best ever mushroom soup is almost better the next day, so if you are having company, this would be a great make ahead meal. Just give the soup a few minutes to come back up to temperature over medium low heat before serving.
This recipe will last 4-5 days in the fridge once prepared. Be sure to store it in a covered glass container (I use mason jars for easy storage). Reheat in the microwave or on the stove!
Can you freeze this best ever mushroom soup?
This recipe only makes 2 servings, so it's best to be served hot or within 2-3 days.
Yes this recipe can be frozen. However, if you choose to freeze this recipe, the arrowroot powder can get a little gritty after freezing but this doesn't always happen, so I prefer to make it fresh!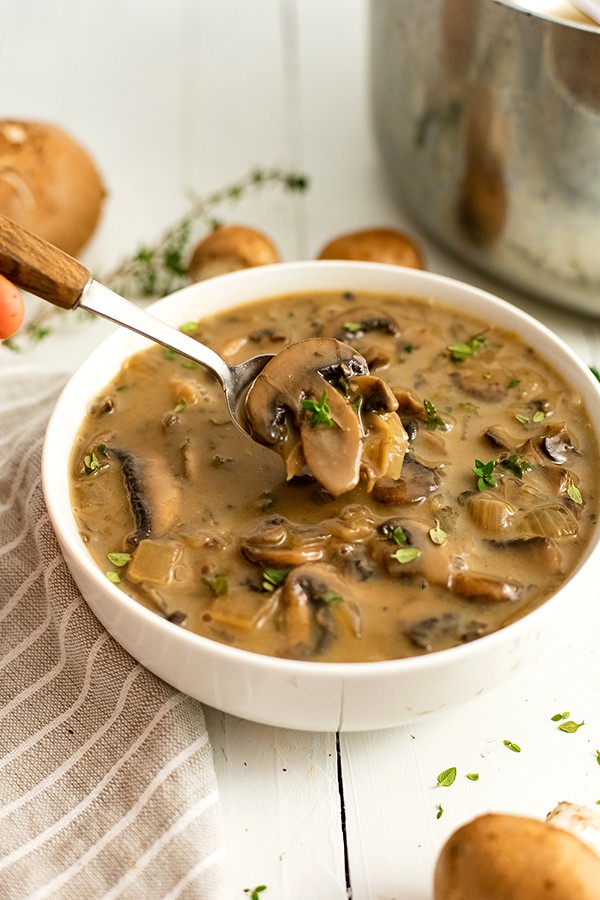 Is mushroom soup healthy?
Yes! This best ever mushroom soup is made without butter or cream and is full of vegetables! This recipe is vegan, low carb, paleo, Whole30 and keto friendly and is the perfect way to start a meal or to be served alongside of your favorite salad or sandwich for a quick and easy meal!
If you wanted to add more protein to this mushroom soup, you could also mix in collagen peptides (not vegan or vegetarian). The collagen peptides dissolve into hot liquid and are tasteless. They add about 10 grams of protein per scoop.
Looking for more mushroom recipes:
Looking for more soup recipes?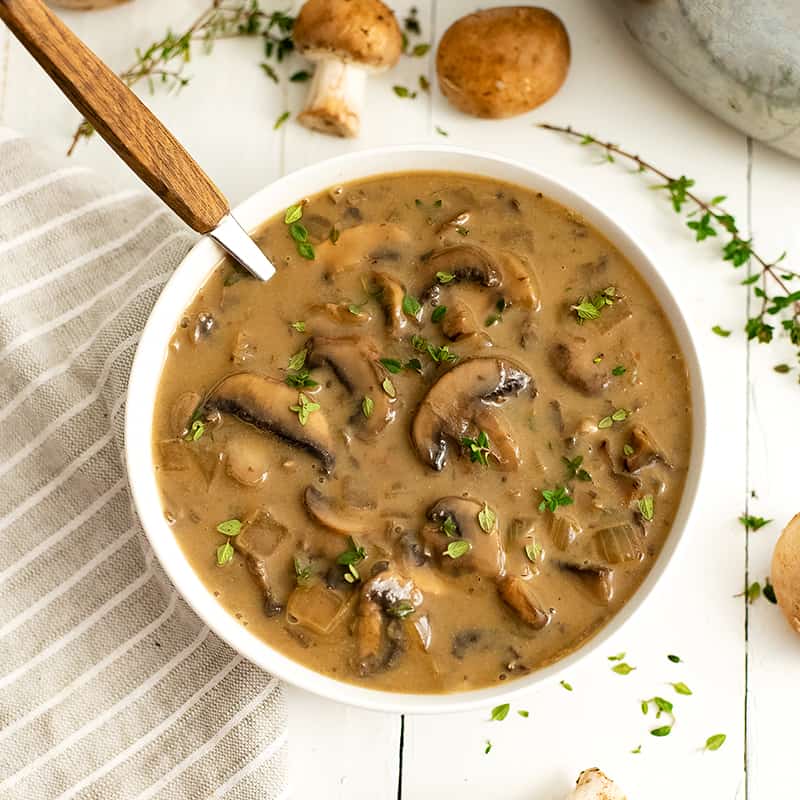 Best Ever Mushroom Soup
This is the best ever mushroom soup! This creamy mushroom soup is easy to make, low carb, dairy free, vegan, paleo and Whole30 friendly. Ready in about 30 minutes this recipe will soon become your go-to soup recipe
Print
Pin
Rate
Ingredients
1

large white onion

diced

1

package

white button mushrooms

10 oz sliced

1

package

baby portobello mushrooms

10 oz sliced

10

stalks fresh thyme

leaves removed

1

cup

organic vegetable broth

1

tbs.

tapioca flour

or arrowroot or cornstarch

1

cup

almond or cashew milk

unsweetened

1

dried bay leaf

1/2

tbs.

liquid aminos

coconut aminos for paleo or Whole30

1/2

tsp.

salt

freshly ground pepper

1/2

tsp.

garlic powder

optional
Instructions
In a large saucepan, over medium heat, add the diced onions. Allow to sweat while slicing the mushrooms. About 5-7 minutes.

Move onions to the sides of the saucepan and add mushrooms, allow to cook 5 minutes uncovered.

Stir the onions and mushrooms together. Add fresh thyme and allow to continue to cook, at least 10 minutes.

You will notice a substantial amount of water has come out of the mushrooms, and they are reduced in volume by half.

Add the bay leaf, the salt and the liquid aminos to the mushrooms.

Stir the 1 tbs. of tapioca starch into the organic broth. Add to mushrooms and stir. Add almond milk.

Allow to cook for at least 15 minutes, stirring occasionally. Taste and add freshly ground black pepper to taste.

This soup is amazing the next day as well and can easily be doubled.

Add cashew cheese, Parmesan cheese or enjoy the soup just as it is!
Nutrition
Calories:
116
kcal
|
Carbohydrates:
21
g
|
Protein:
6
g
|
Fat:
1
g
|
Sodium:
804
mg
|
Potassium:
766
mg
|
Fiber:
3
g
|
Sugar:
7
g
|
Vitamin A:
17.5
%
|
Vitamin C:
7.8
%
|
Calcium:
24.3
%
|
Iron:
7.2
%