This insanely creamy, earthy white bean mushroom soup is a remake of my Best Ever Mushroom Soup. It's vegan, gluten free and ready in 30 minutes. This soup is easy enough for dinner any day of the week, heats up well the next day, so make extra for lunch, I guarantee you will still be thinking about it the next day. Enjoy this white bean mushroom soup with your favorite red wine and crusty garlic bread or salad for the ultimate Sunday Supper meal. This recipe will change your mind about what mushroom soup is suppose to taste like, and it is easy enough to make that you should never have to buy the stuff in a can ever again. And after tasting this soup, you won't want to!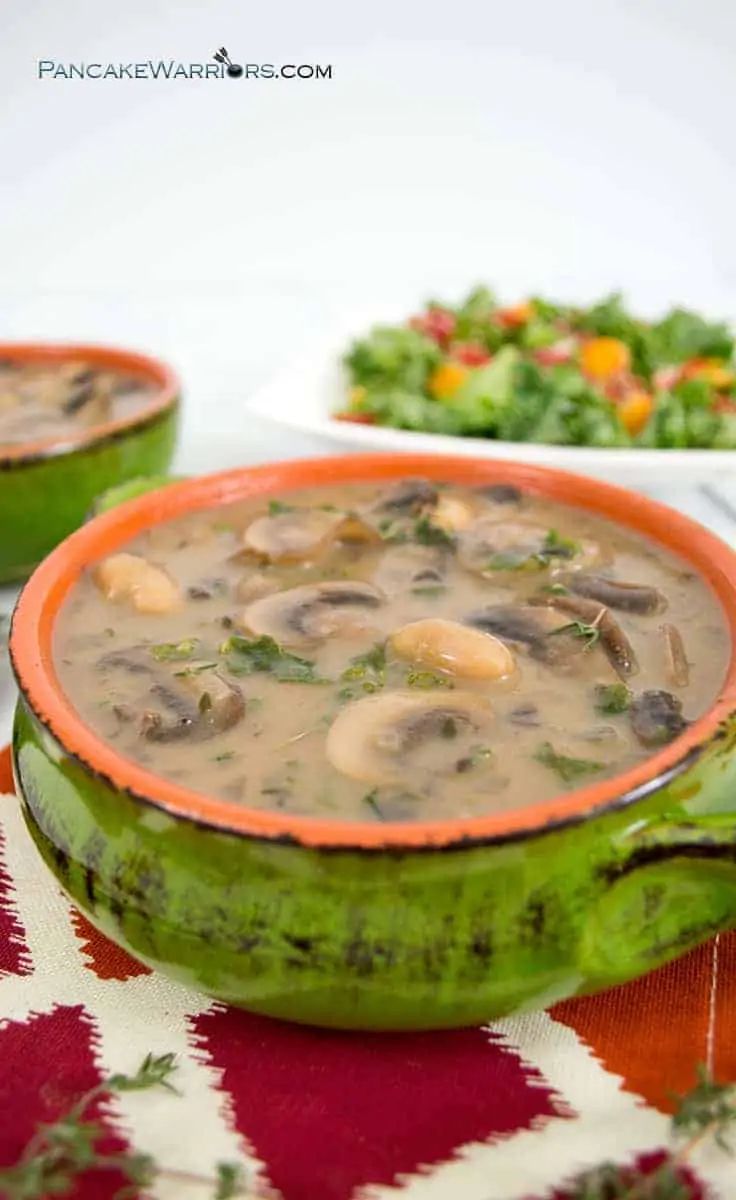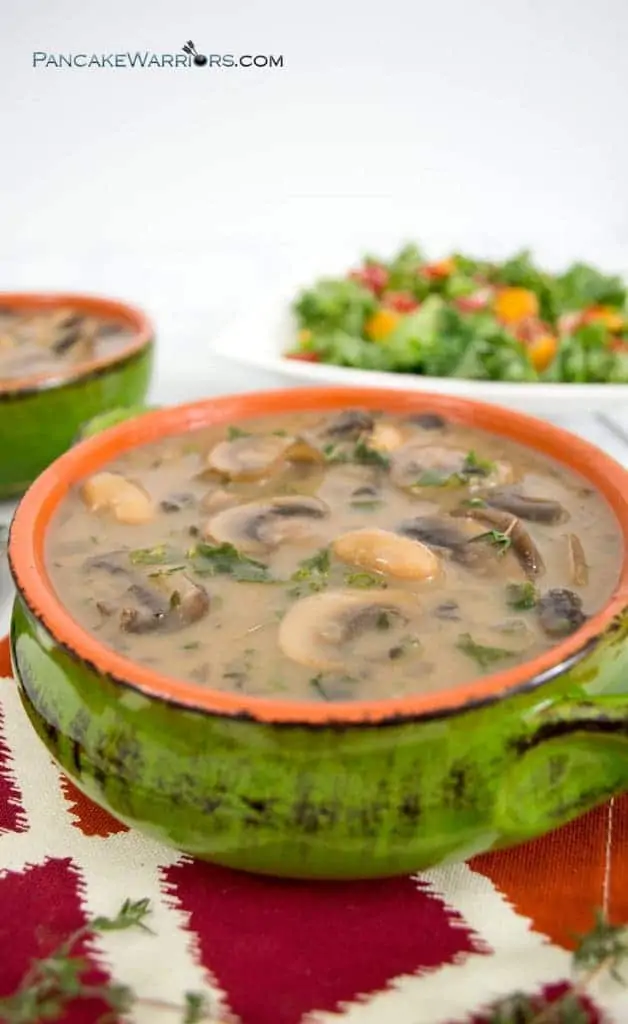 Why mess with a classic recipe? Well every time I make the Best Ever Mushroom Soup, I end up either eating the entire recipe in one sitting, or having to eat a sandwich or something else with the soup because although it's delicious, I found myself hungry after just one serving. This is not too surprising since it's essentially just mushrooms and stock. To add fiber and protein, I decided to add white kidney beans into the soup. Let me tell you the end product is an even creamier and richer soup.
The flavors literally coat your tongue and eating the soup becomes an experience of pure bliss! Well at least for me it does :)
What's the secret to an even creamier and richer soup white bean mushroom soup? I puree the white kidney beans in vegetable stock and add the pureed beans to the soup. The puree stirs right in and the soup instantly takes on a thicker texture. If you wanted a really thick soup, you could leave this on the stove to cook a bit longer to cook. But I love the flavor and texture right at the 30 minute mark.
Seriously, you might not want to share this with family, ti's that good!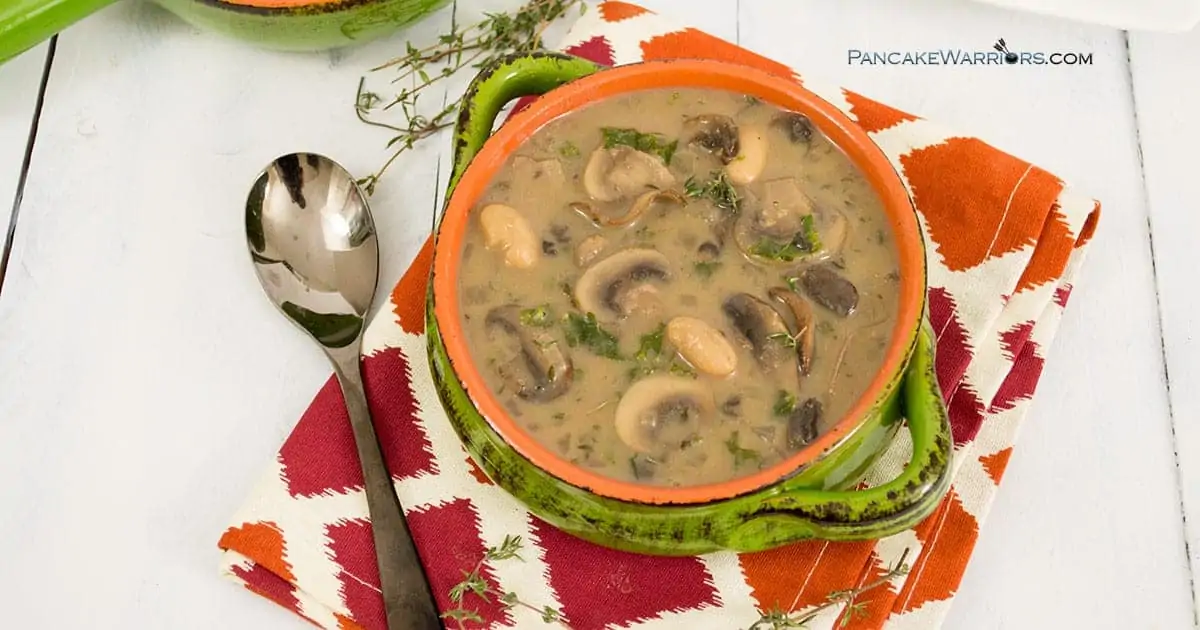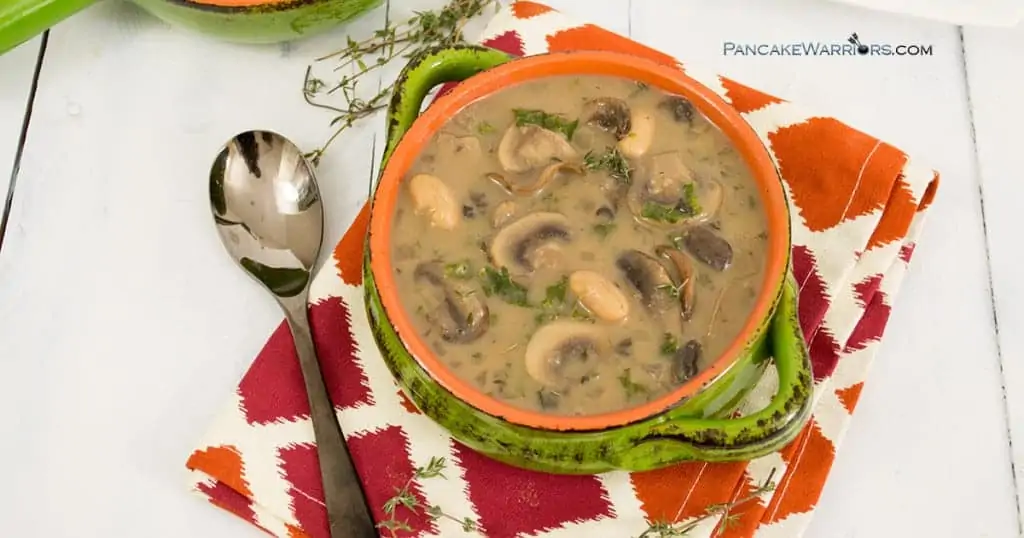 My focus when creating healthy recipes is to make them taste so good that you can't even tell they are healthy. That's the key to success when you are trying to help people gain new healthy habits that they can stick to long term. The best dishes are extremely nutritious but also satisfy cravings. This best ever white bean mushroom soup has all the flavors needed to make the dish extraordinary, I just cut out all the added cream and fat from the traditional recipe.
Knowing how to build flavors using stock, herbs and seasonings can get you far when learning how to cook healthy. Mushrooms and thyme are one of those go-to flavor combinations. Adding liquid aminos (or soy sauce or coconut aminos) helps bring out the meaty, earthy flavors of the mushrooms. Seriously, try this white bean mushroom soup, I dare you to tell me it's not the best ever!
This post contains affiliate links. As an amazon associate I earn from qualifying purchases.
Click here to read my policy
and more about affiliate links.
White Bean Mushroom Soup Recipe Tips
Tips on working with mushrooms:
Mushrooms are cultivated in the dirt. Although most mushrooms now a day are very clean, if you find that your mushrooms are a bit dirty, use a damp paper towel to lightly brush off the dirt. Never run mushrooms under water. They are like little sponges and will absorb the water and ruin the texture of the mushroom.
Mushrooms give off a lot of water when they cook, so using a big stock pot or large pot to fit all the mushrooms in the beginning.
Don't salt the mushrooms during the first 5 minutes of cooking. It keeps them from browning and the texture is never quite right.
Thyme and mushrooms should always be together. They were made for each other. Seriously, this is a rule in my kitchen.
Cutting mushrooms can be a bit of a chore, so if you want to buy pre-sliced mushrooms, just be sure they look fresh and there is no mold growing.
Tips on working with thyme:
When working with fresh thyme, the best way to get the leaves off the stalk it so hold the top of the stalk in one hand and use the other hand to gently pull down from top to bottom, collecting all the leaves. I do this directly over the mushrooms as they cook. Then just pinch off the top leaves and discard the stalks.
You can also use dried thyme if you don't have fresh. To get the best flavor, you will want to use at least 1 tsp. fresh thyme, and up to 2 tsp. depending on how fresh your herbs are. You may want to crush the herbs in your palm before adding them to the soup, this helps release the oils in the herb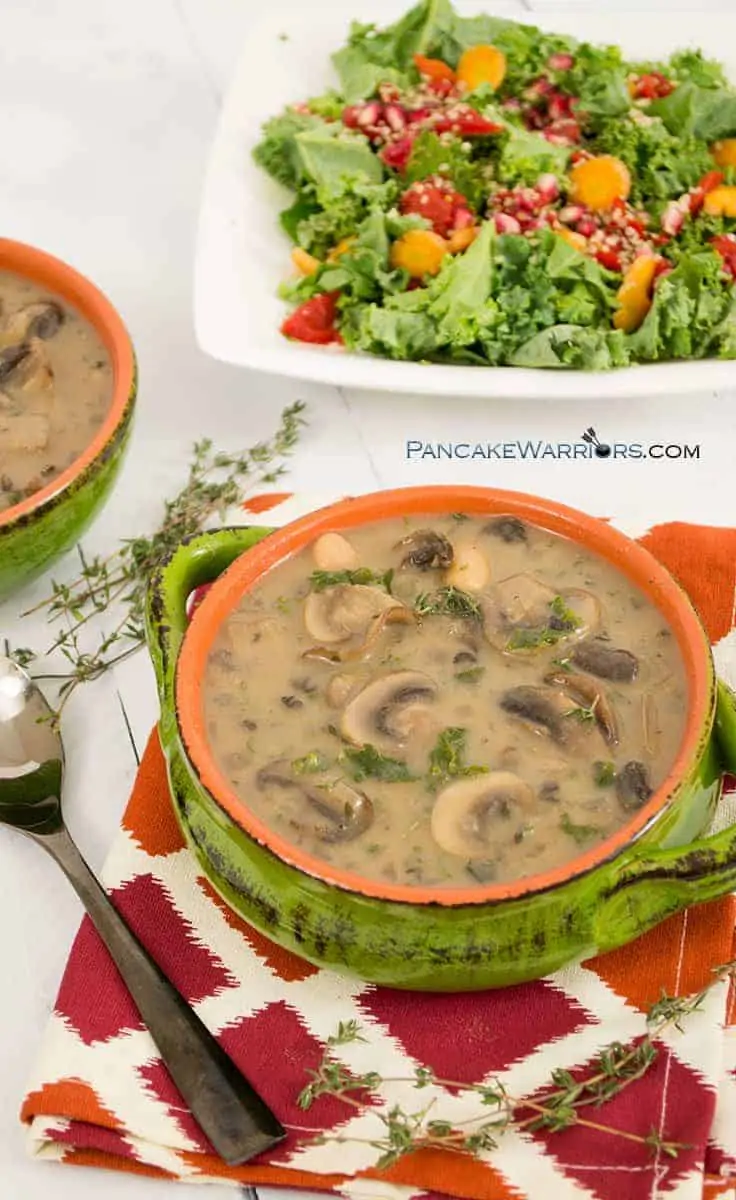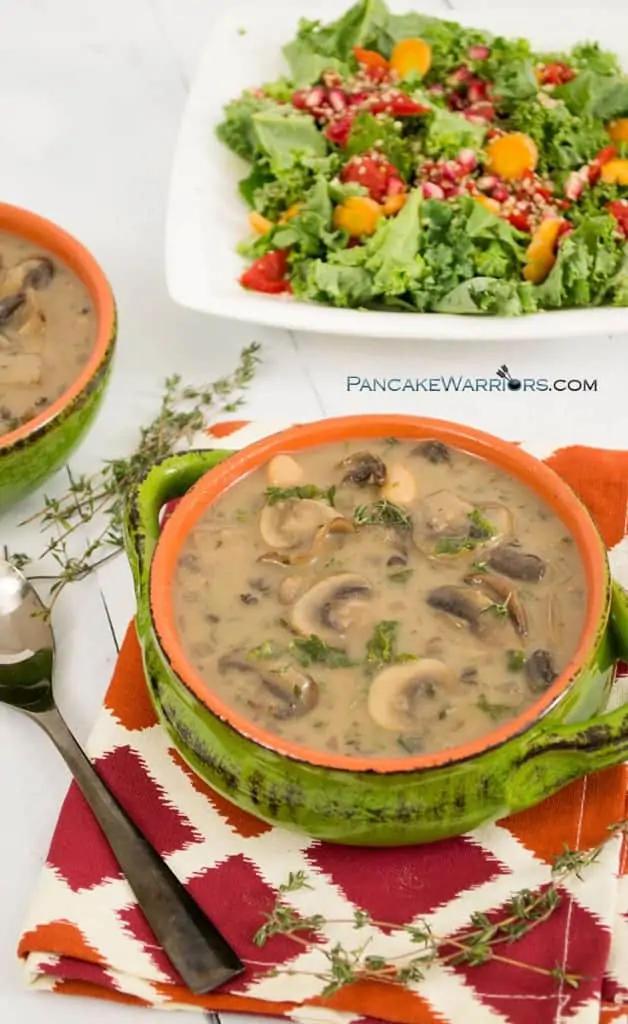 ★ Did you make this recipe? Please give it a star rating below!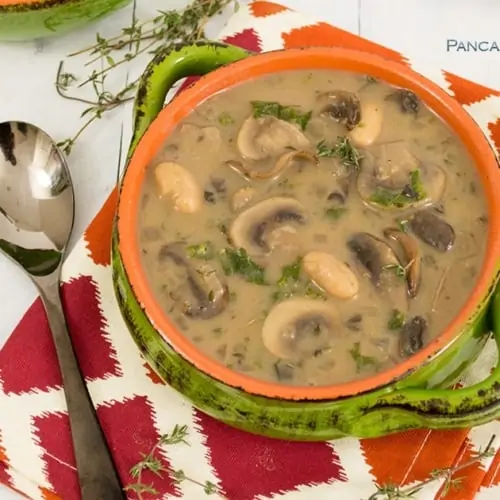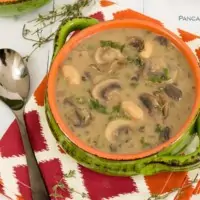 Best Ever White Bean Mushroom Soup
Creamy, rich and extremely flavorful, this white bean mushroom soup is the perfect dinner recipe. Ready in just 30 minutes, this filling soup is the perfect way to warm up on a cold night. Vegan, gluten free, low fat, high in fiber and protein.
Print
Pin
Save
Saved!
Rate
Ingredients
1/2-1

tbs.

coconut oil

1

large onion

-

diced

10

oz

package white mushrooms - organic if possible

10

oz

package cremini

-

baby portobello mushrooms - organic if possible.

10-15

springs thyme

-

leaves peeled from the stalks

1

tbs.

liquid aminos or low sodium soy sauce or coconut aminos

1

tbs.

arrowroot or tapioca flour

1 1/4

cup

organic vegetable broth -

divided

1

cup

unsweetened coconut milk

-

or almond milk or cashew milk

1

can white kidney beans

-

rinsed and drained

1/4

tsp.

salt

1-2

handfuls of kale

-

stems removed and finely chopped (optional)
Instructions
In a large pot or stock pot, add coconut oil and allow it to melt. Add diced onions and allow to cook 4 minutes

While onions are cooking, chop mushrooms.

Move onion to the side of the pan after cooking 4 minutes. Add mushrooms and thyme leaves and allow to cook 5 minutes. .

After 5 minutes, stir in onions and add pinch of salt. You will notice there is starting to be a lot of water in the pot, this is good.

Add the bay leaf and liquid aminos (or soy sauce or coconut aminos) and cook. 5 more minutes.

While the mushrooms are cooking, add tapioca flour to 1 cup of the organic vegetable broth. Stir well to combine. After mushrooms have cooked 5 minutes, add this and milk to the mushroom mixture and stir well. This needs to cook for about 15 minutes.

While the soup is cooking, rinse and drain the white kidney beans.

Add 2/3 of the can of drained white kidney beans and 1/4 cup organic vegetable broth to a high speed blender or into a bowl to use an immersion blender. Blend until smooth, this only takes about 30 seconds. Add this bean puree directly into the soup. Add the rest of the beans directly into the soup

If you want to add more vitamins and minerals, chop the kale and add it now.

After the 15 minutes is up, let the soup cool just a minute or two before serving hot!

This is two dinner portions or 4 appetizer portions of soup
See how I calculate food cost
.
Nutrition Information
Nutrition Facts
Amount per Serving
Where does nutrition info come from? Nutrition facts are provided as a courtesy, sourced from the USDA Food Database.
DID YOU LOVE THIS RECIPE?
Let others know by rating and leaving a comment below!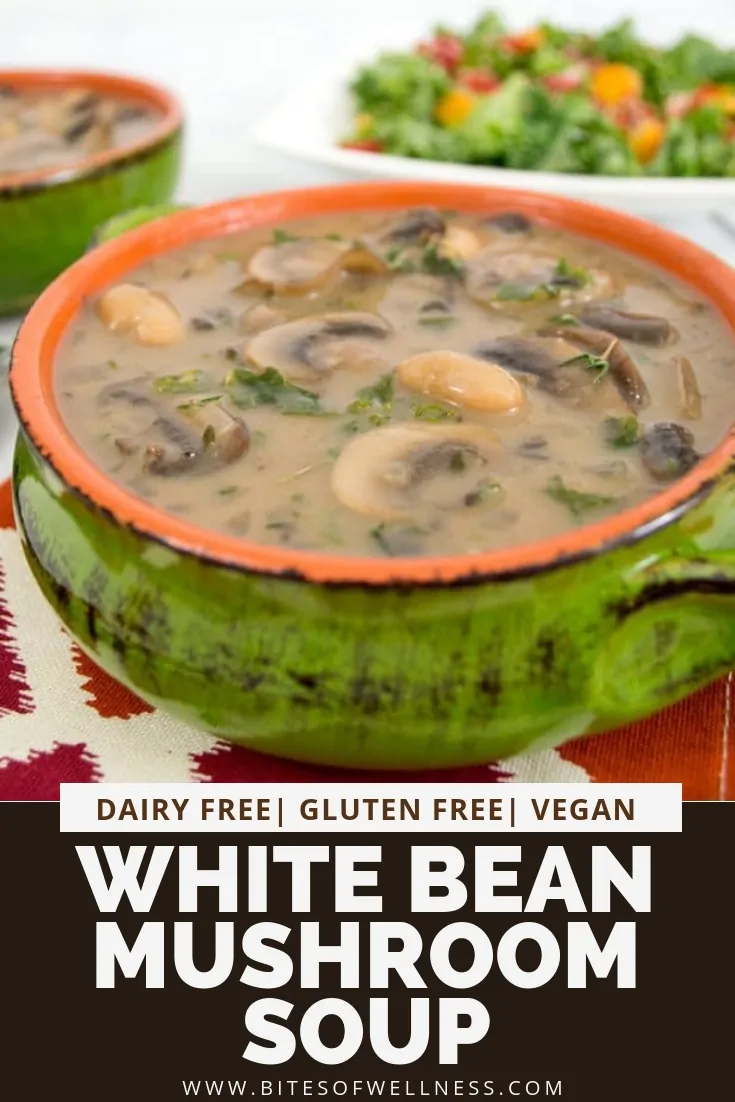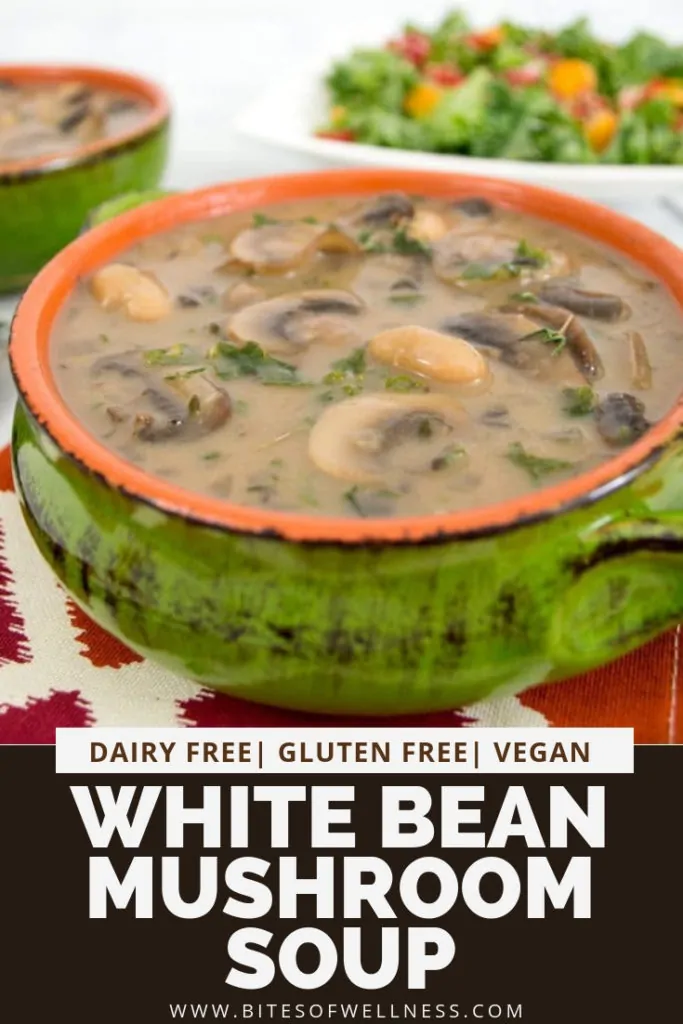 What about you?
What's your favorite soup recipe?
Have you ever made white bean mushroom soup before?
What's your favorite kitchen hack to add flavor to a dish?